Starting a weight loss journey can be overwhelming, especially when it comes to food. What to eat? When to eat? How many calories should someone eat to lose weight? So many questions! Although it's important to change your overall eating habits, here my favorite healthy recipes for weight loss.
I've been on my own personal weight loss journey since 2010 and I've learned a lot about food since then. I wrote about some of these lessons in this blog post.
However, the one thing I really wanted to highlight is the importance of meal prep. Yes, I know I talk about meal prep all the time but honestly, it's important, especially when you are embarking on a weight loss journey.
In fact, I strongly feel it's the most important habit you can start when trying to eat healthier and lose weight. In my experience, it's the only way to ensure healthy food is available to eat all week.
Healthy Recipes For Weight Loss
When it comes to food, I have a few meal prep recipes I'd recommend when starting a weight loss journey. Of course, you can eat just about any food if it fits within your daily calorie range.
But, if you're looking for some clean and healthy recipe recommendations that will make the biggest impact when trying to lose weight, then these are the meal prep weight loss recipes I typically turn to!
Green Smoothies
Without sounding overly dramatic, green smoothies have completely changed my life.
I will admit I didn't start drinking green smoothies until I was about 2 years into my weight loss journey, so I did lose weight without them. But, prior to discovering smoothies, I was tired, unfocused, and bloated. I also struggled with getting fruits and vegetables into my meal plan every day.
As much as I would like to think I'm the type of person who can munch on raw veggies all day, I'm not. I'll admit it!
Once I started drinking a daily green smoothie, I noticed a huge difference right away in the way I felt.
First of all, I was totally focused. The brain fog that I had grown accustomed to disappeared – this alone makes smoothies worth it.
Second, I had energy because I was hydrated. I've said this before, but it's worth mentioning again, I didn't even know I was dehydrated until I became hydrated. The difference in the way I felt was night and day.
Last, my belly bloat went away. Drinking green smoothies gives me more than a daily dose of fruits and vegetables which provides lots of fiber. We all know what this means? Yep, the pipes get cleaned out on a regular basis. Sorry if that's TMI, but it's true!
Anyways, I advise anyone starting a weight loss journey to add green smoothies right away, especially if you struggle with any of the symptoms I mentioned earlier.
This is one of my favorite meal prep recipes for breakfast (or any time of the day)!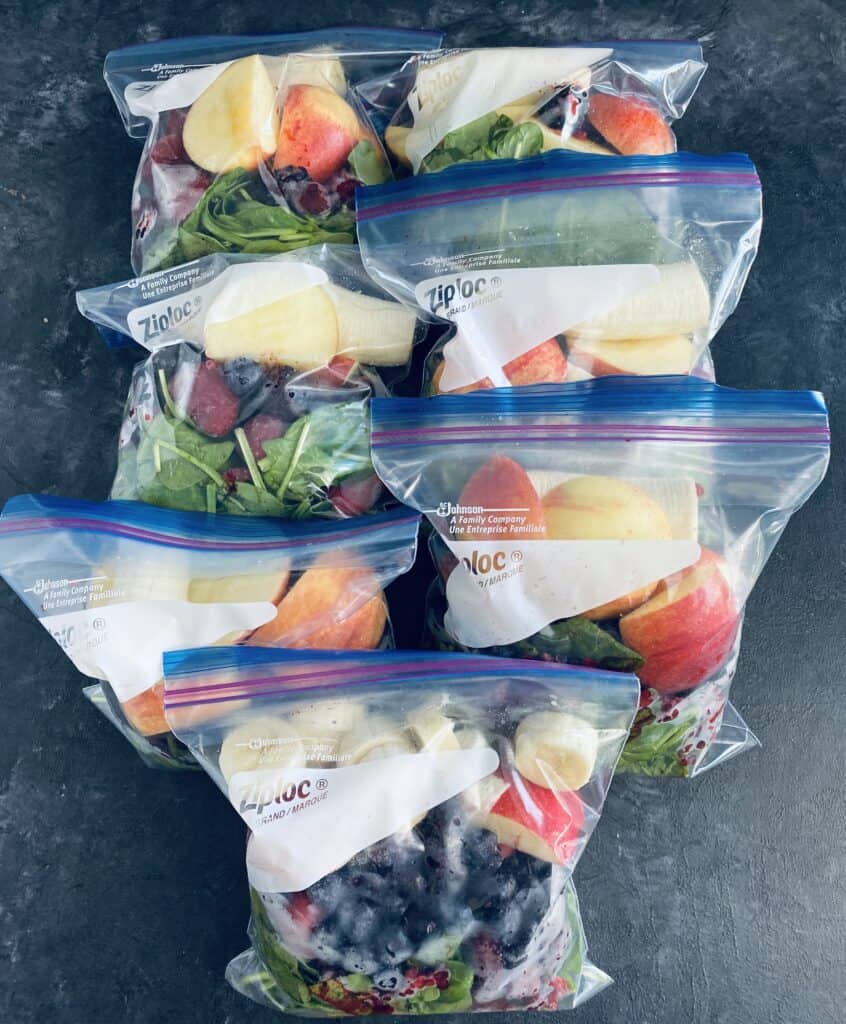 How To Prep A Green Smoothie
You might be wondering how to prep ahead a green smoothie. I do this two different ways.
My favorite way is to create a green smoothie freezer kit! You can see my full instructions HERE but basically, all you need to do is throw all the green smoothie ingredients in a bag and freeze. Yes, you can even freeze kale and other greens.
When you're ready to enjoy a green smoothie, then just throw the ingredients into a blender with some water or milk and blend everything together.
Another way I like to prep my green smoothies is to blend 1-2 smoothies ahead of time and keep them in the refrigerator. I store the smoothies in a 32-ounce mason jar container and use these plastic lids. The consistency does change a little bit but it doesn't bother me because I enjoy the convenience of having green smoothies made ahead of time.
The Best Blender To Make Smoothies
If you're going to take my advice and enjoy green smoothies on the regular, then I strongly recommend investing in a high-quality blender.
I personally have a Vitamix. Yes, it's expensive but it's an investment and worth it in my opinion.
When I first started drinking smoothies, I purchased cheaper blenders and each one broke within a couple of months. Not to mention, they didn't have the power to blend kale and fruit into a smooth smoothie.
If you don't want to invest in a Vitamix, check out this post I put together full of best blender for smoothies recommendations
Here are some of my go-to green healthy smoothie recipes: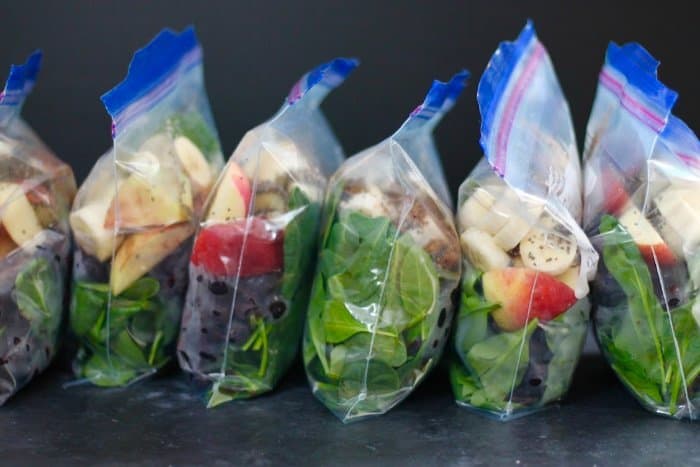 Mason Jar Salads
Mason jar salads have been a part of my weight loss journey since the very beginning. They come in as my second favorite meal prep weight loss recipe – although a very close second.
There's so much about these I absolutely love.
First, mason jar salads are filled with tons of vegetables and lean proteins so I'm satisfied and full without any bloat. When I enjoy a smoothie for breakfast and a mason jar salad for lunch, I feel like I can take over the world. Seriously, I get more energy in a day than I used to get in an entire month.
Second, mason jar salads are portion-controlled and portable. Each salad is measured out to keep calories and fat under control. Also, you can easily grab a salad and stick it in your bag as you're running out the door.
Third, you can make 5 mason jar salads on Sunday to enjoy for lunches all week. Personally, I feel like mason jars salads are the ultimate meal prep recipe!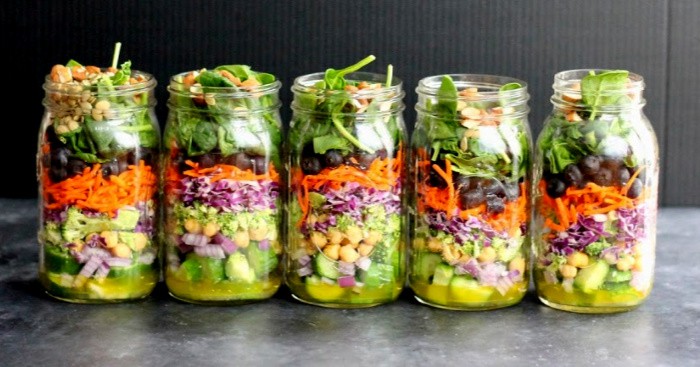 How To Prep Mason Jar Salads
When it comes to making mason jar salads, I always recommend keeping it simple at first. I started out just adding in my favorite veggies along with whatever I had in the fridge. Once I got the hang of it, I branched out and started trying different salad recipes.
Either way, start with the wetter ingredients at the bottom and build it up from there. Take a look at this tutorial I put together on how to make the best mason jar salad recipe!
Here are some of my favorite mason jar salad recipes: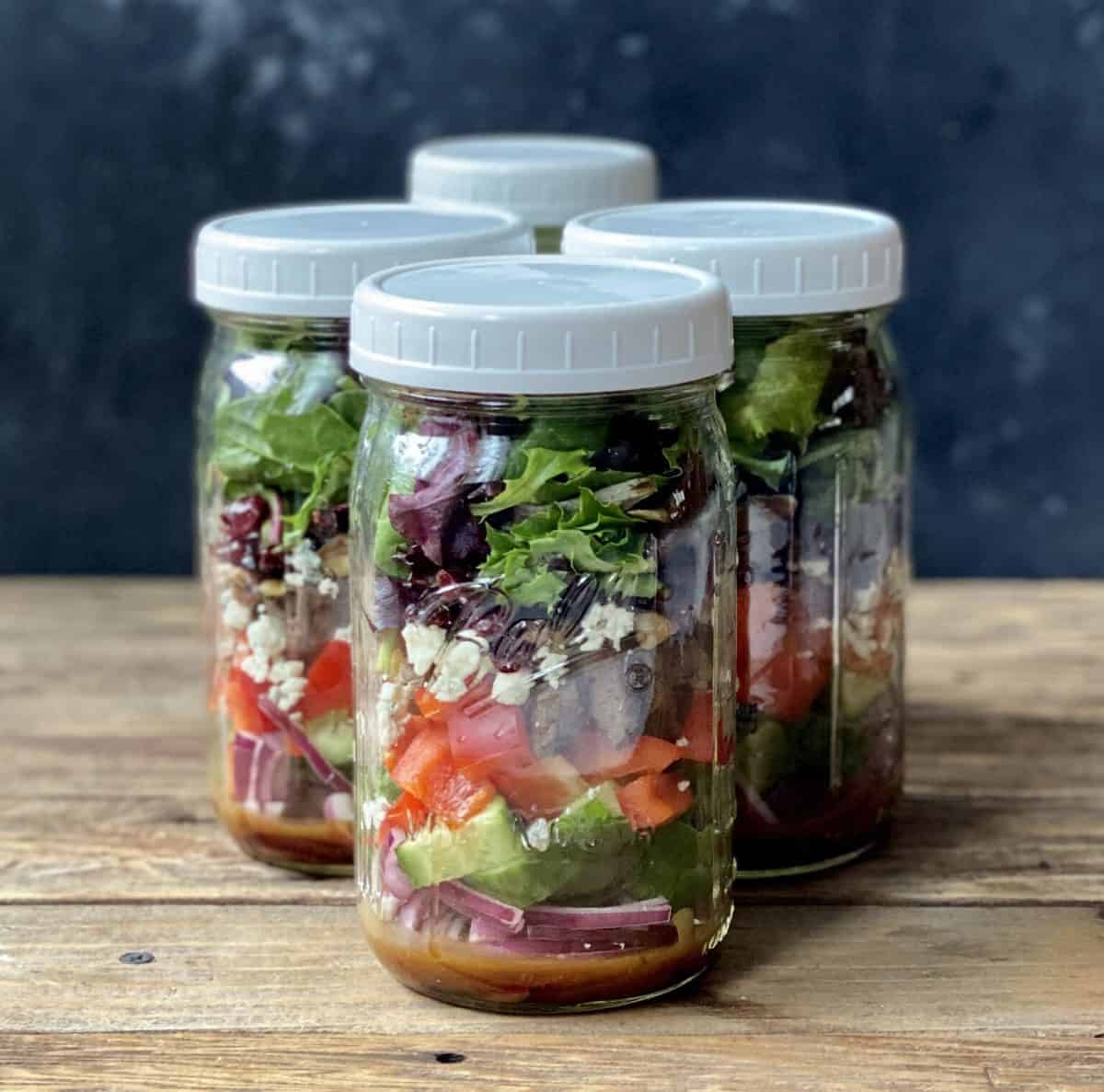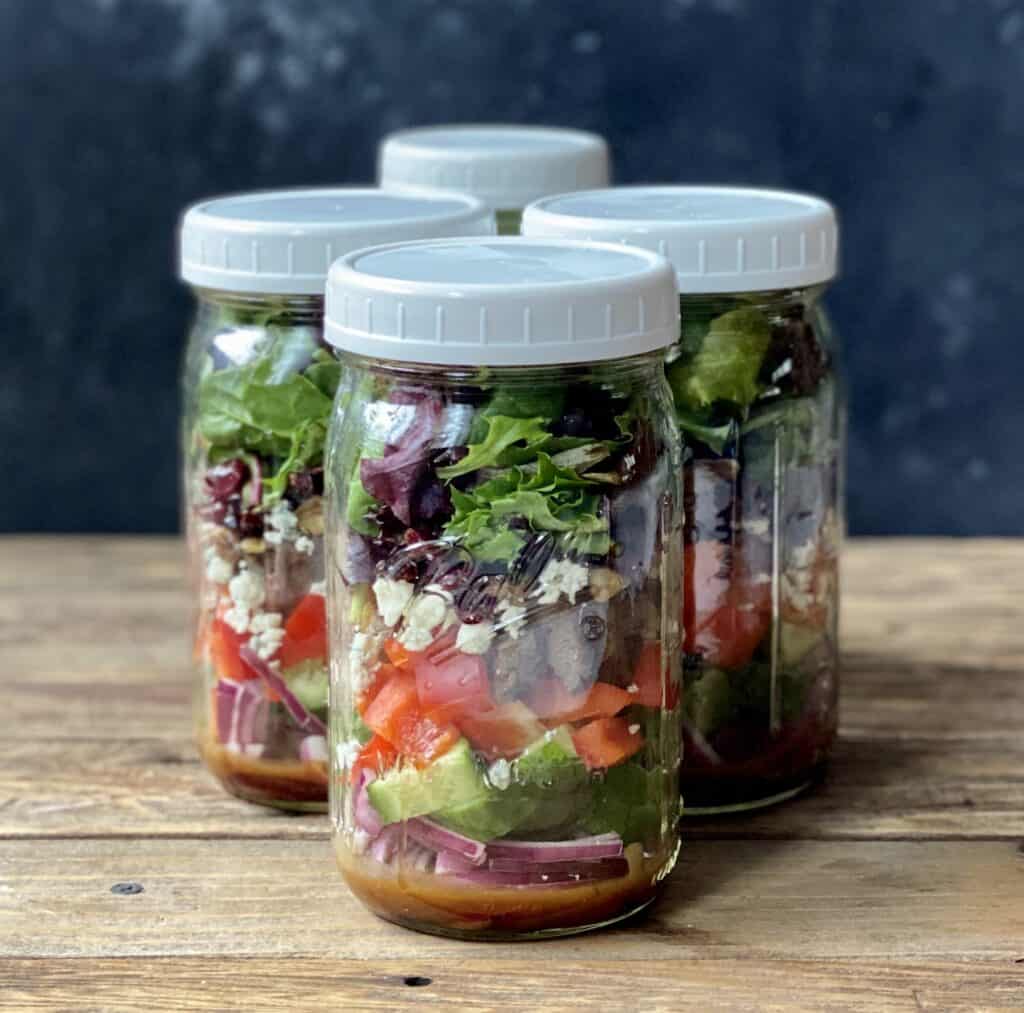 Low Carb Meal Prep Bowls
When I first started on my weight loss journey, I simply reduced the number of calories I ate to lose weight. I didn't worry about carbs at all!
As I got older, I realized living a low carb lifestyle made me feel better; so, today I keep carbs to a minimum.
Note: When I'm talking about carbs, I'm referring to refined white carbs like white pasta, rice, and bread. I will eat whole grains in moderation and I don't limit fruits and vegetables. However, white carbs, I try my best to keep off-limits.
Anyway, I prepared low carb meal prep bowls earlier in the year as an alternative to mason jar salads and also to enjoy as a dinner meal. I absolutely loved them and will be working on new recipes in the future.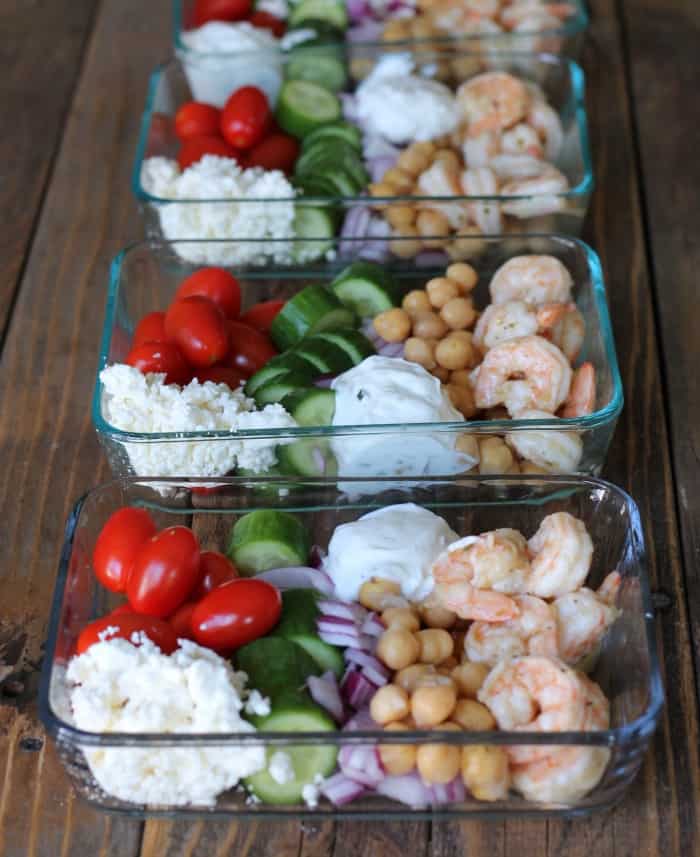 How To Prep Low Carb Bowls
Meal prep bowls are so easy to prepare ahead of time and last all week. I use these pyrex glass containers and find they keep food fresh longer compared to plastic.
Check out this blog post to find the best glass meal prep containers!
Here are my favorite low-carb meal prep bowl recipes: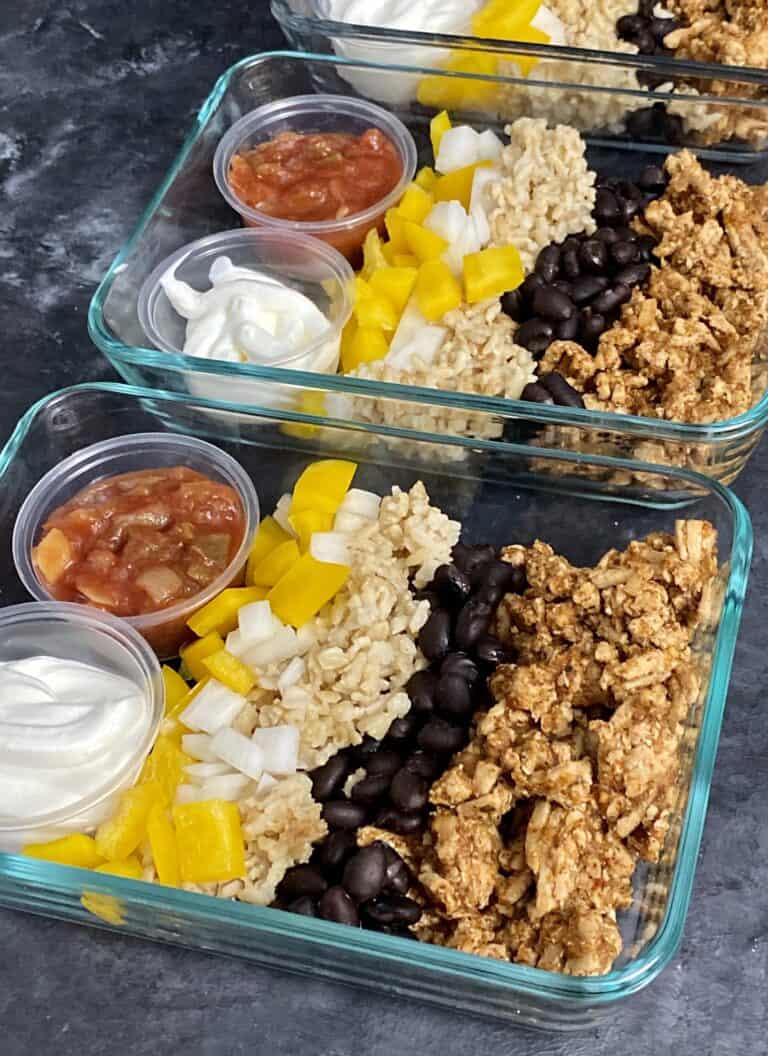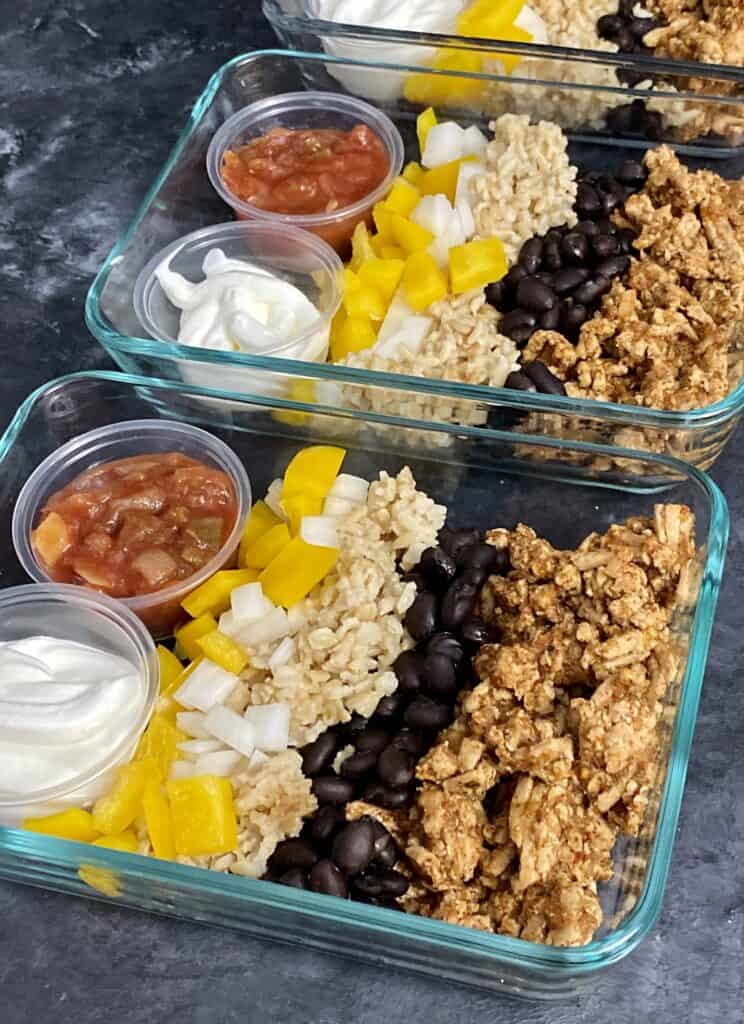 Low-Carb Protein Snack Packs And Boxes
I eat 5 times a day – 3 meals and 2 snacks. To carry me through to the next meal, I need snacks to be high protein and packed with fiber. If I eat chips or something sugary, all that does is make me hungrier.
This year, I started putting together low-carb protein snack recipes and I wish I would've made them sooner! I love having these snack packs and boxes in my refrigerator ready to eat. I don't need to take the time during the week to make anything and more importantly, I know what to eat ahead of time.
No guessing means no mindless eating. WIN!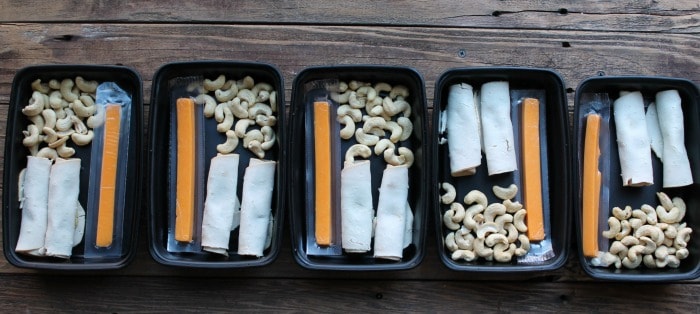 How To Prep Low Carb Snack Packs
I usually like to prep a ton of healthy snacks so I have enough to last me all week. Grab my snack pack instructions for you to try! If you don't want to just make snacks, take a look at this post I put together with some of my favorite store-bought low carb snacks.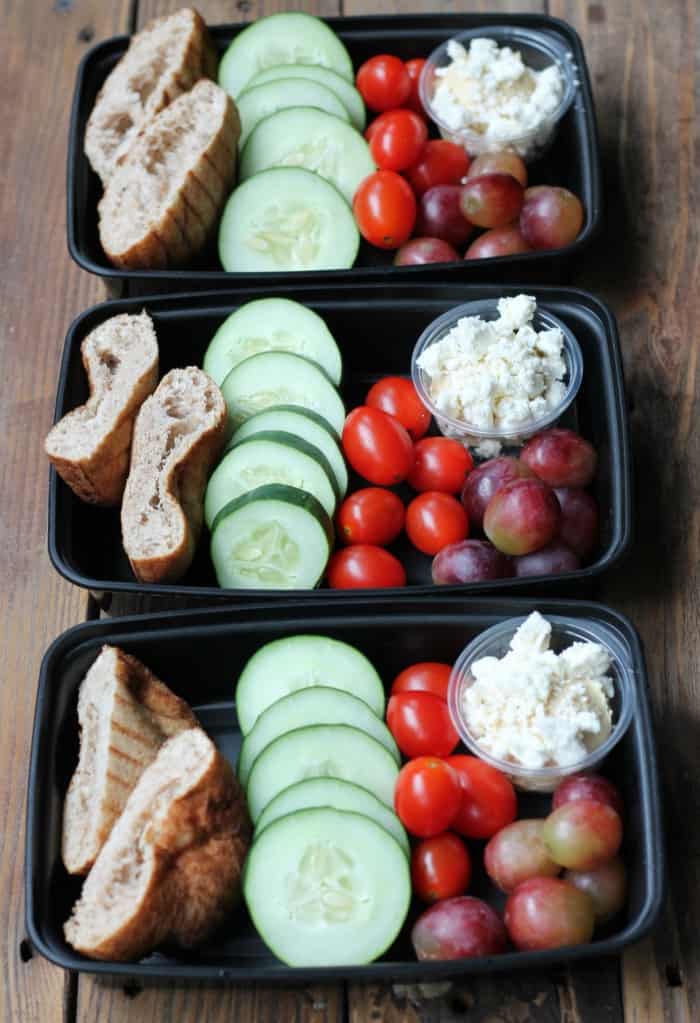 Homemade Lean Cuisines
Nothing makes me happier than to go into my freezer and grab a portion-controlled meal I simply need to warm up. Prior to starting my weight loss journey, I used to purchase lean cuisines all the time. Today, I make it a priority to cook meals at home.
However, I love the convenience of frozen meals so a few years ago I started making homemade lean cuisines.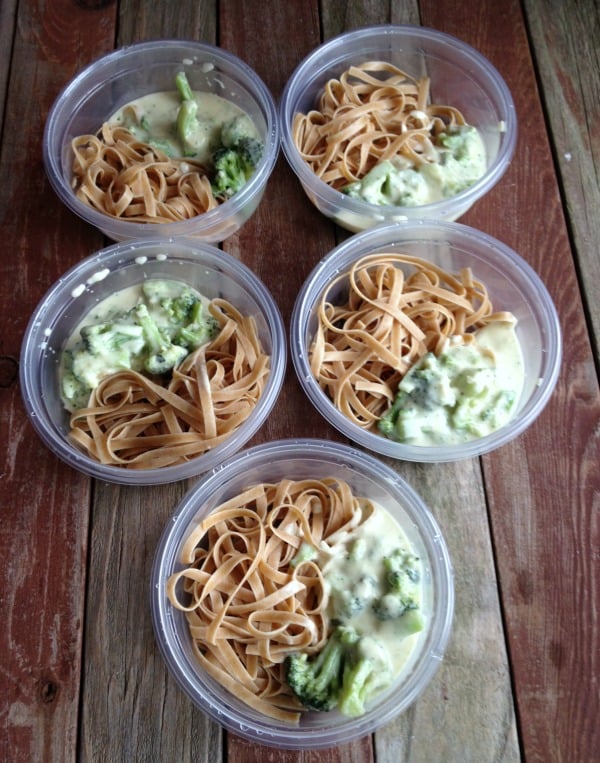 How To Prep Homemade Lean Cuisines
All I do is make a recipe, portion it out, and then freeze it. It's also helpful to write the nutritional information of the container to make tracking easier.
I recommend preparing 3-4 month recipes a month this way, which will make around 15 – 20 individual freezer meals. These are great to have for lunches but I find it most beneficial to have these meals ready for dinners.
Here are some of my favorite homemade lean cuisine recipes.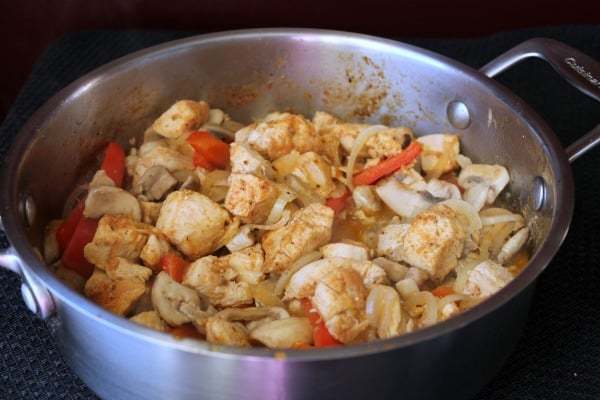 If you're starting a weight loss journey or getting back on track, I hope you find these recipes helpful! By preparing recipes ahead of time, you can track calories (and other nutritional information) in advance. This keeps you intentional with food and mindless eating under control.
As you work to change your eating, meal prep will become an essential habit to help you eat healthier.
Do you have any "go-to" meal prep weight loss recipes you'd recommend to someone starting a weight loss journey?
Get Instant Access to the 7-Day Getting Started With Meal Prep Email Series
Are you ready to learn how to meal prep? Awesome! Sign up now for a free 7-day Getting Started Meal Prep email series that I created exclusively for email subscribers! That's you. I will teach you my favorite meal prep methods and provide lots of delicious easy recipes to get you started with weekly meal prep. You got this, I can help!