Pizza Soup is everything you love about pizza transformed into a comforting low carb keto-friendy delicious soup recipe. As a bonus this soup is perfect for meal prep day because it only gets better as the days go on and can be frozen for a future meal.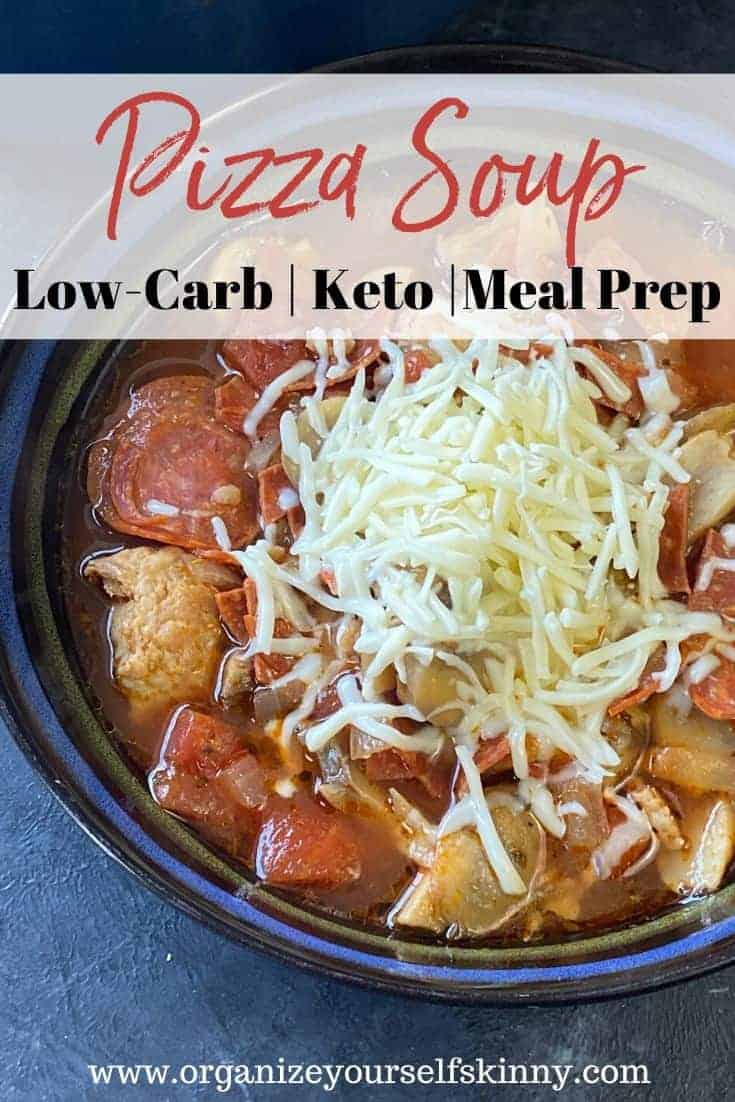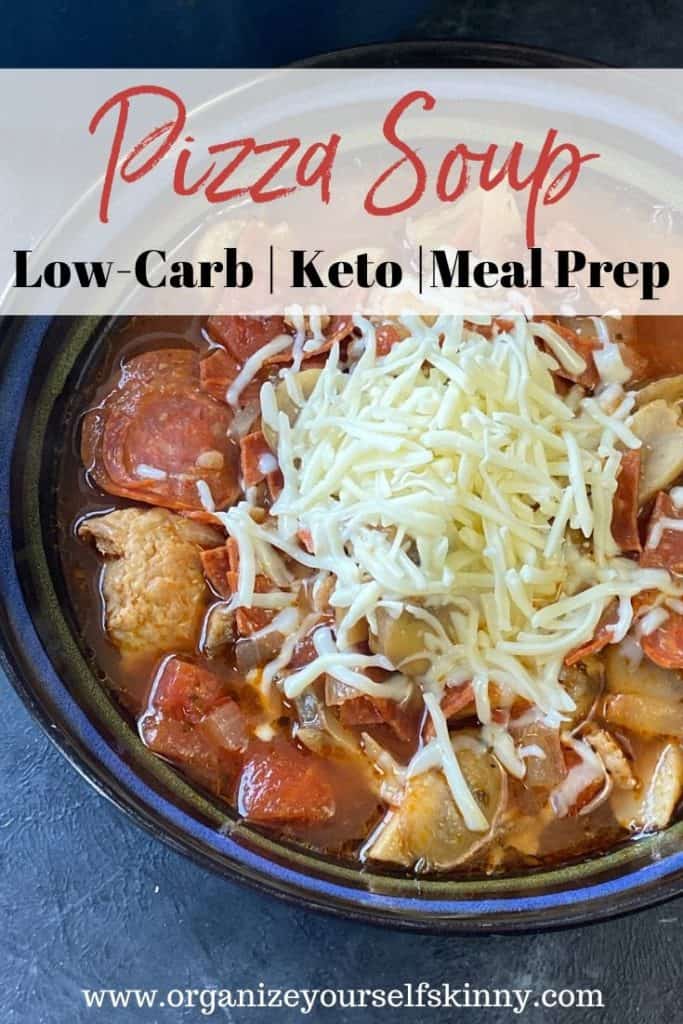 It's officially soup season so I thought what better recipe to start with than this delicious pizza soup recipe. Not only is it super tasty but it's perfect for all my low-carb ket0-friendly peeps out there. Plus, this pizza soup is perfect for meal prep and freezer cooking. I think it actually tastes better as the days go by – if it lasts that long!
Can I be honest here? I never heard of pizza soup until earlier this year. I signed up for the Keto meal plan with eMeals and Pizza soup was one of the recipes. It was easy to make and I loved it was low-carb.
Now that I'm n my 40s I try to eat low-carb as much as possible. As a pasta loving girl this can be quite depressing at times, but it's recipes like Pizza Soup that make me feel so much better. Also, my husband loved this soup so that makes it a keeper!
I've made this soup a few times and have added some of my own twists, since the first time I made it, so I wanted to share my take on Pizza soup. First, let's go over some basic questions.
Can pizza soup be made in the slow cooker?
Yes, but start it on the stove. Cook the sausage, pepperoni, onions, garlic, mushrooms and THEN add it to the slow cooker with the rest of the ingredients. Cook it on high for 4-5 hours or low 8 – 10 hours. Add salt and pepper, if needed.
Can I add my favorite pizza toppings to this soup?
Yes, this soup is super versatile. You can add bell peppers, banana peppers, spinach, and really any vegetable you'd like. Add the vegetables in with onions and garlic. Also, you can leave the mushrooms out if you want.
Also, the original recipe I used called for pork sausage and regular pepperoni. I opted to use chicken sausage and turkey pepperoni to lower the fat. But use whatever meat you'd like -just make sure to account for the fat and calories.
What if I want to add pasta or some other carb?
First, I envy you. Any small pasta would go great with this pizza soup recipe. Or if you don't want pasta then make a garlic bread to dip in the soup. Mmmmmm.
How do I meal prep this soup recipe?
This is the perfect recipe to meal prep and turn into a freezer meal. You can either make this recipe on Sunday to eat during the week. Store it in glass meal prep containers or portion it out using 16-ounce glass mason jar containers for an easy grab and go lunch or dinner. Store the soup the same way for the freezer just make sure to leave an inch from the top to allow for expansion – don't want a container of soup blowing up in the freezer.
Okay, let's get to the recipe.
Pizza Soup
This pizza soup recipe uses the simplest of ingredients. Besides the perishables everything needed could be found in your pantry.
Here are the ingredients – chicken stock, tomato sauce, diced tomatoes, tomato paste, Italian seasoning, salt, pepper, olive oil, chicken sausage, turkey pepperoni, onion, garlic, and mushrooms.
I used just over 1lb of chicken sausage. Don't worry if you have a little more, it will just create a chunkier soup.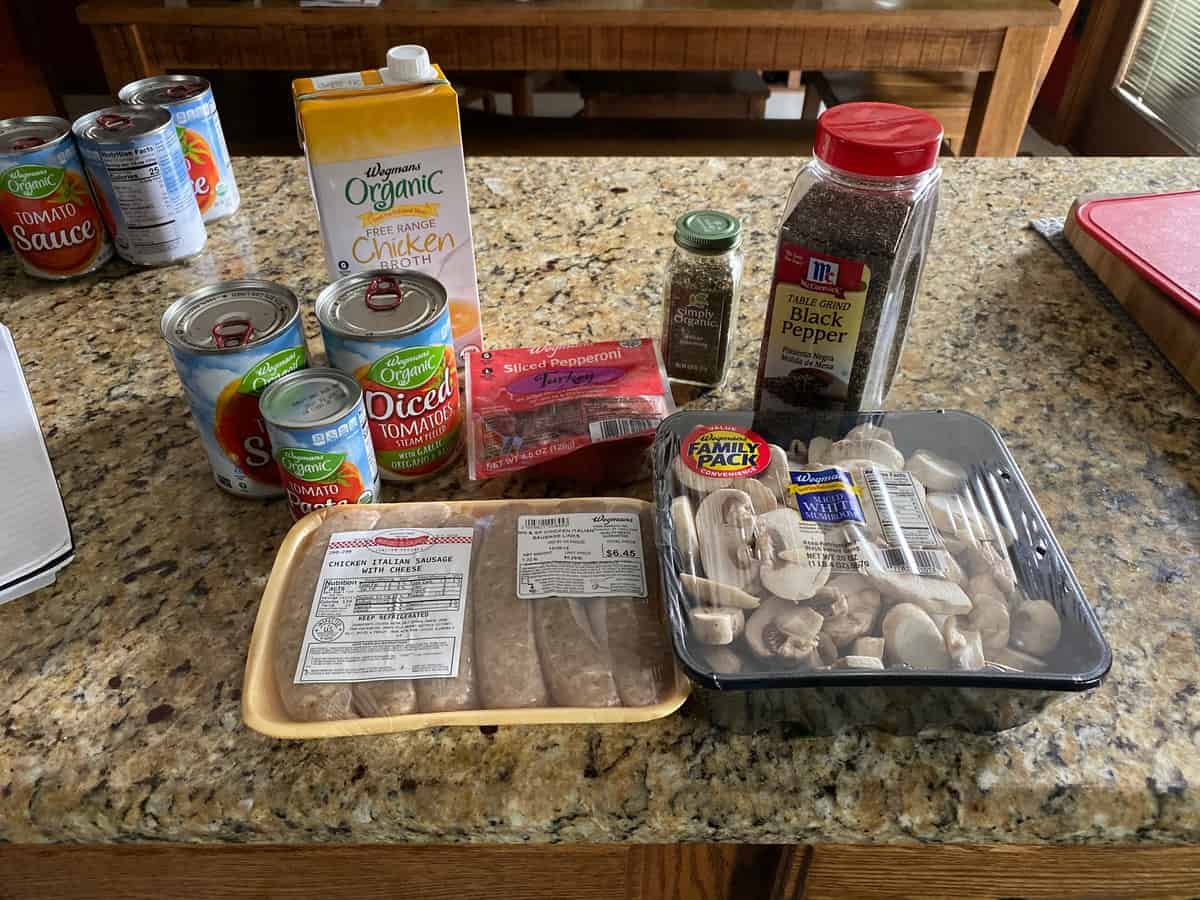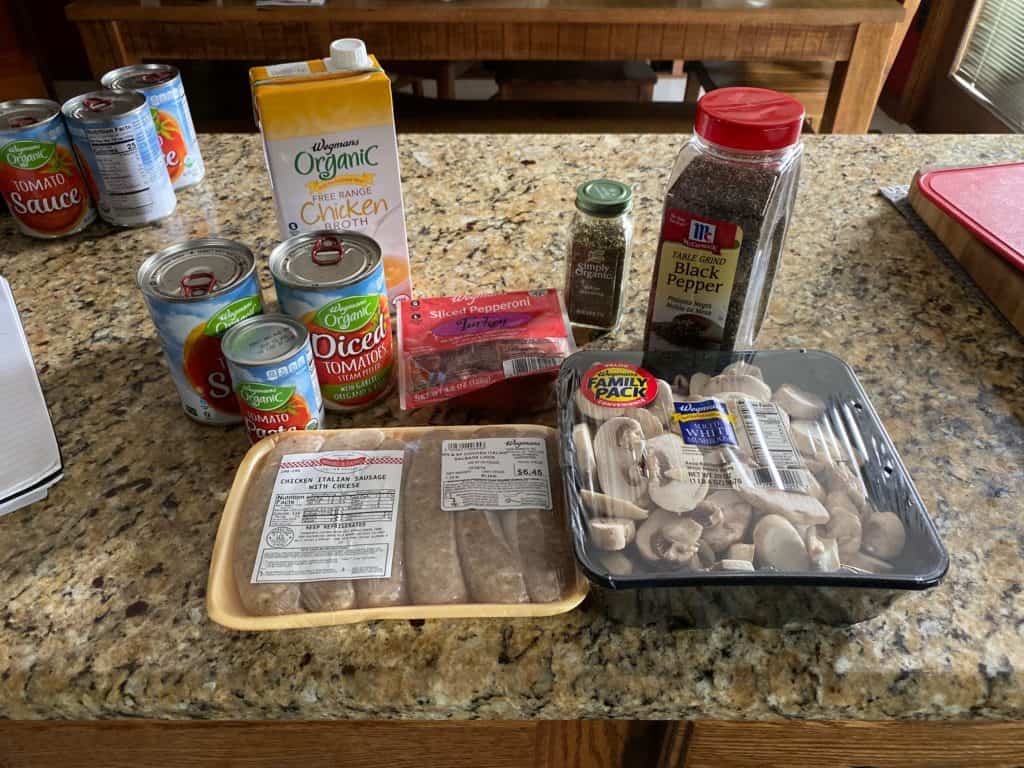 Okay, let's get to the recipe. Start with cooking the chicken sausage. Obviously, you'll need to remove the sausage from the casing first. As the sausage cooks break it up with a large spoon or spatula, you want there to be lots of chunks in this soup.
Once the sausage is just about cooked through then add in the pepperoni and cook until the sausage is no longer pink.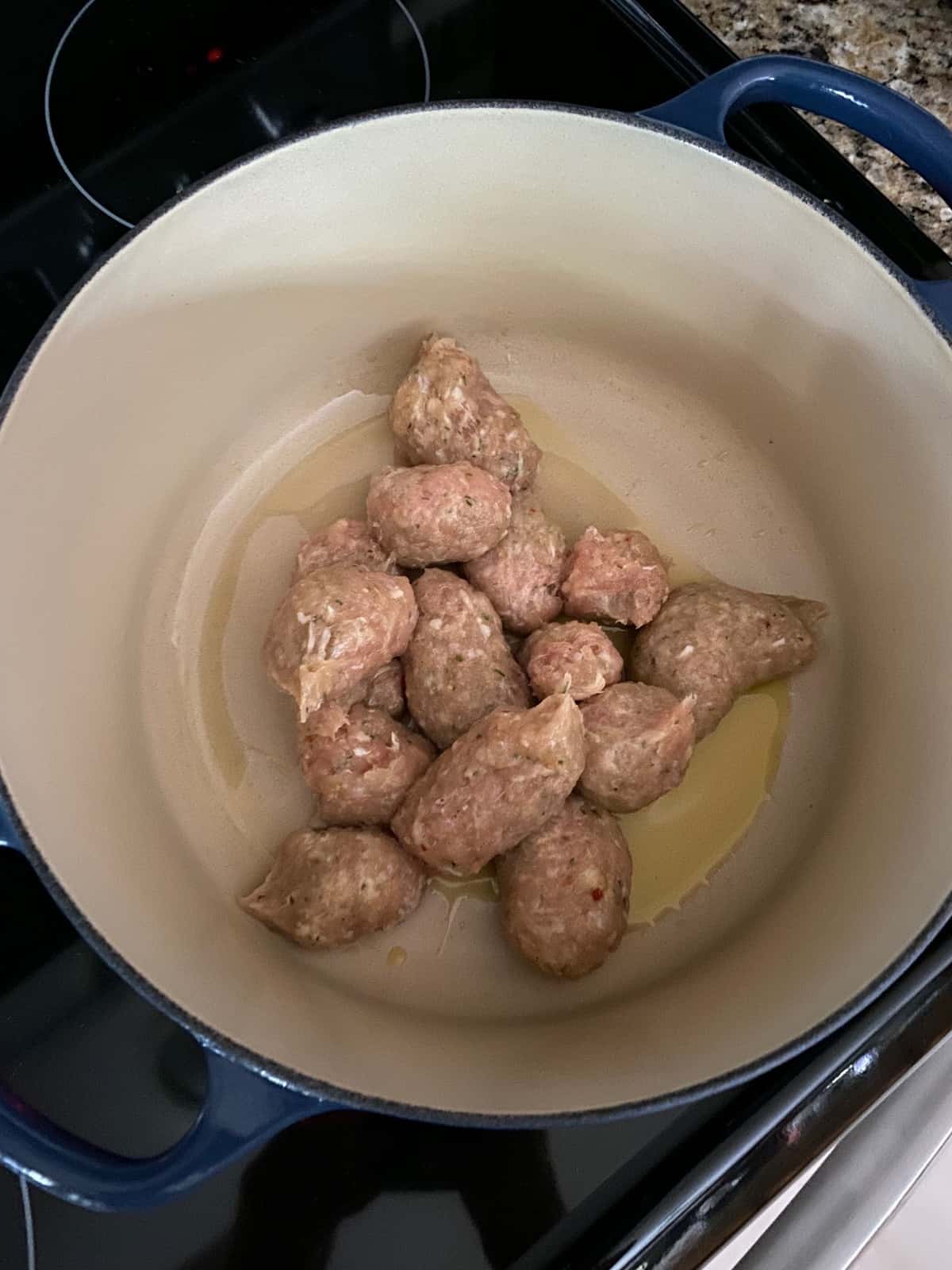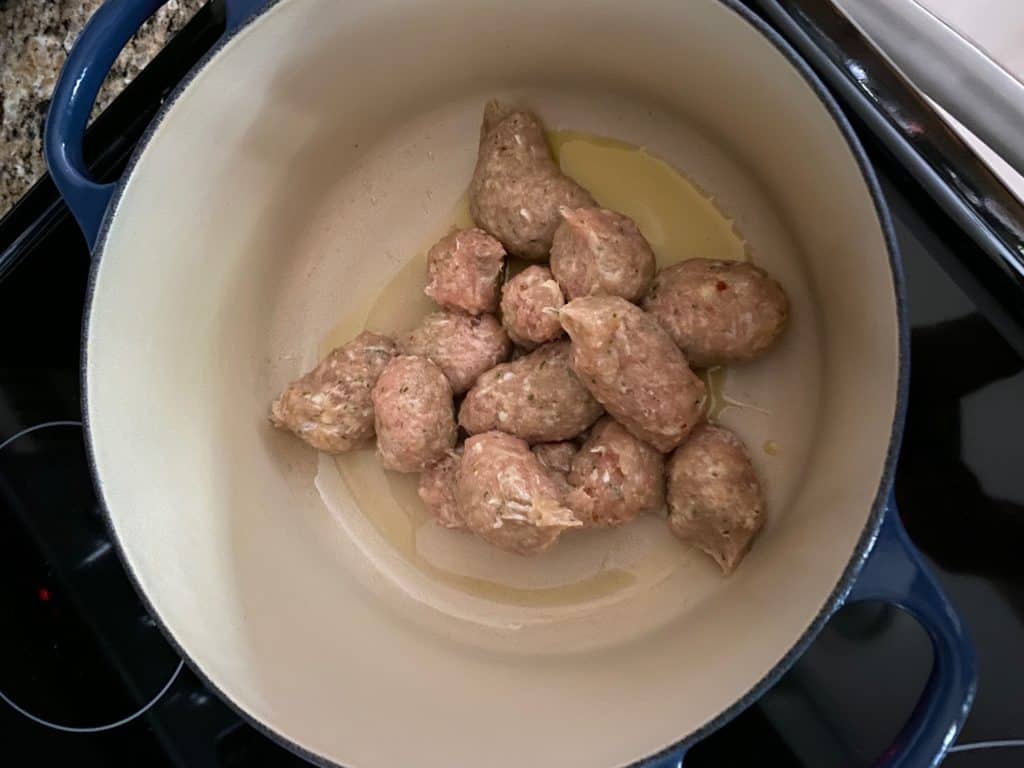 Set the sausage and pepperoni aside.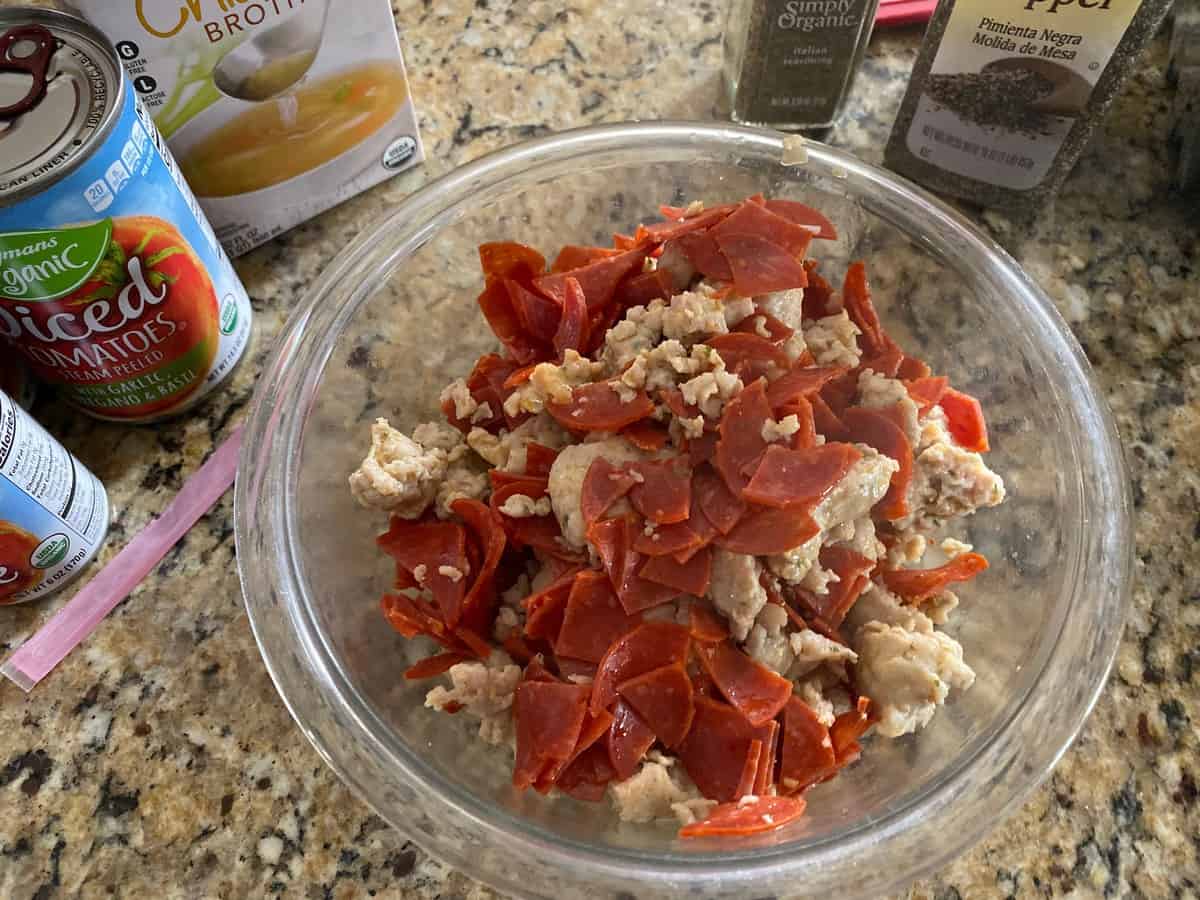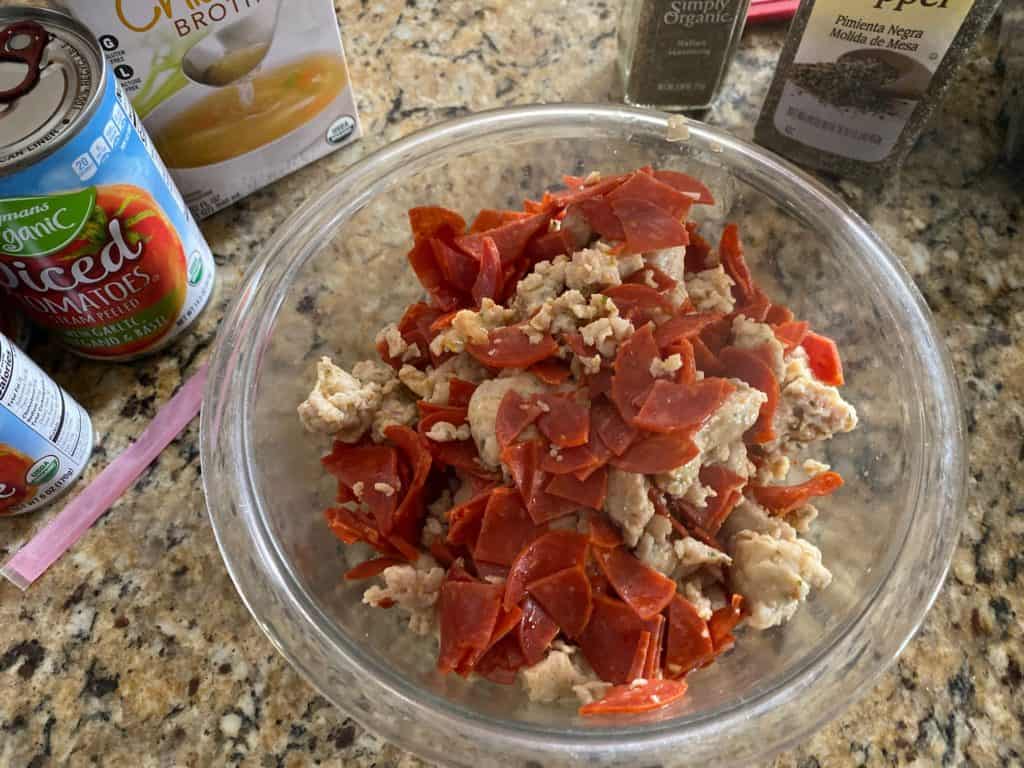 Now you'll cook the chopped onion in the same pan. Add a little bit more olive oil and then cook the onion until it's just about translucent. Add in the garlic and cook for another 2-3 minutes. You don't want to cook the garlic and onion at the same time because garlic cooks much faster and you don't want it to burn. Just a little tip 🙂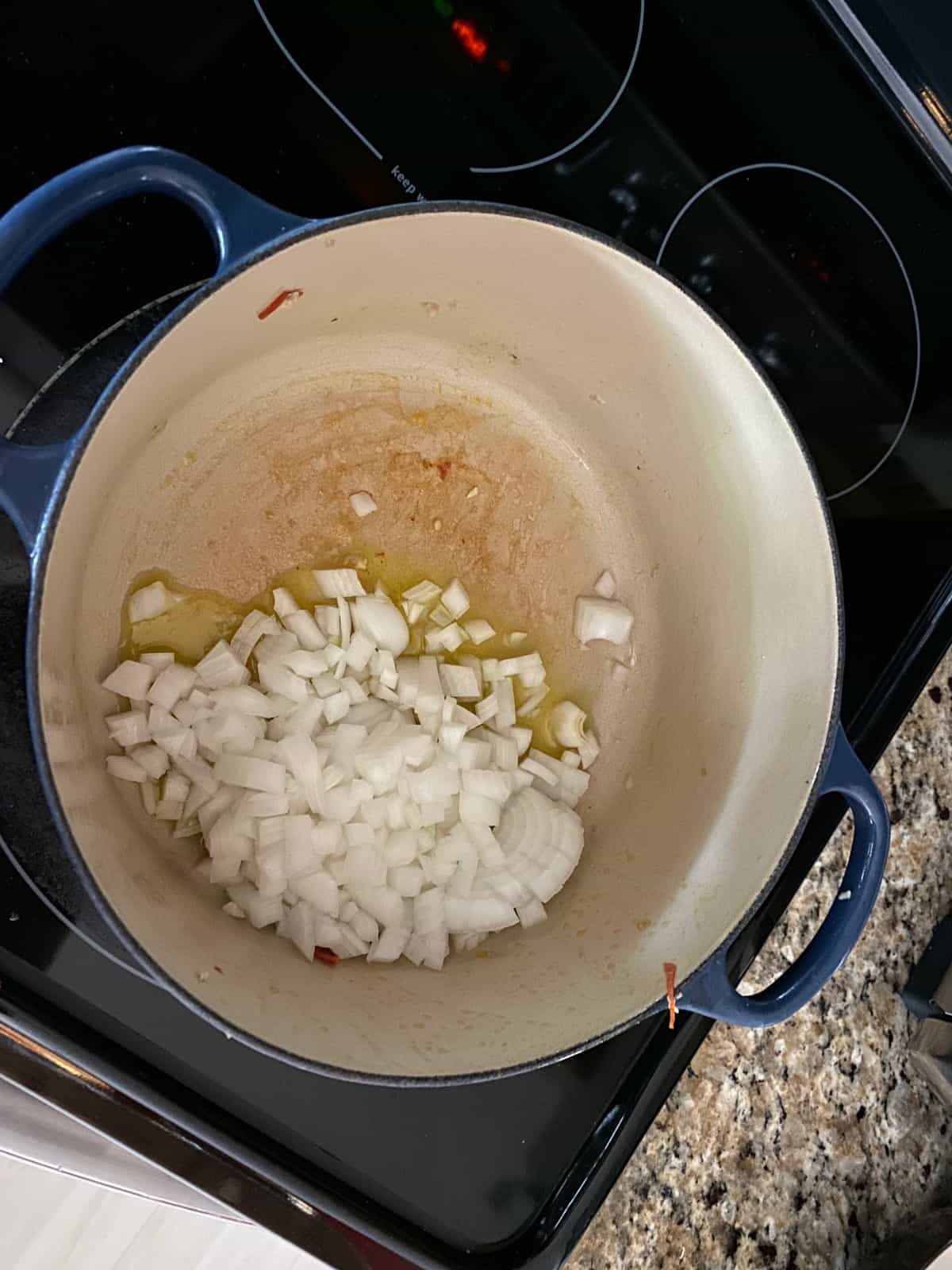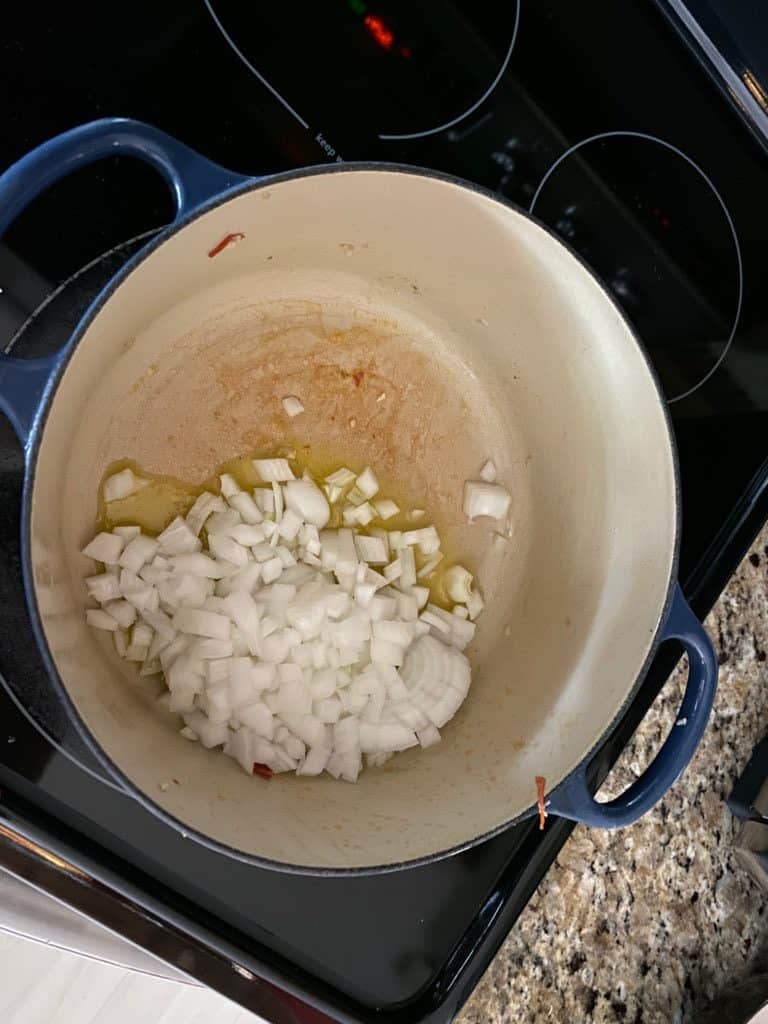 Add in the mushrooms. I purchased sliced white mushrooms but you can certainly use any mushroom you like and cut it any way you wish. Also, I used 1 lb of mushrooms because we are mushroom lovers over here but you can use less and that won't hurt anything.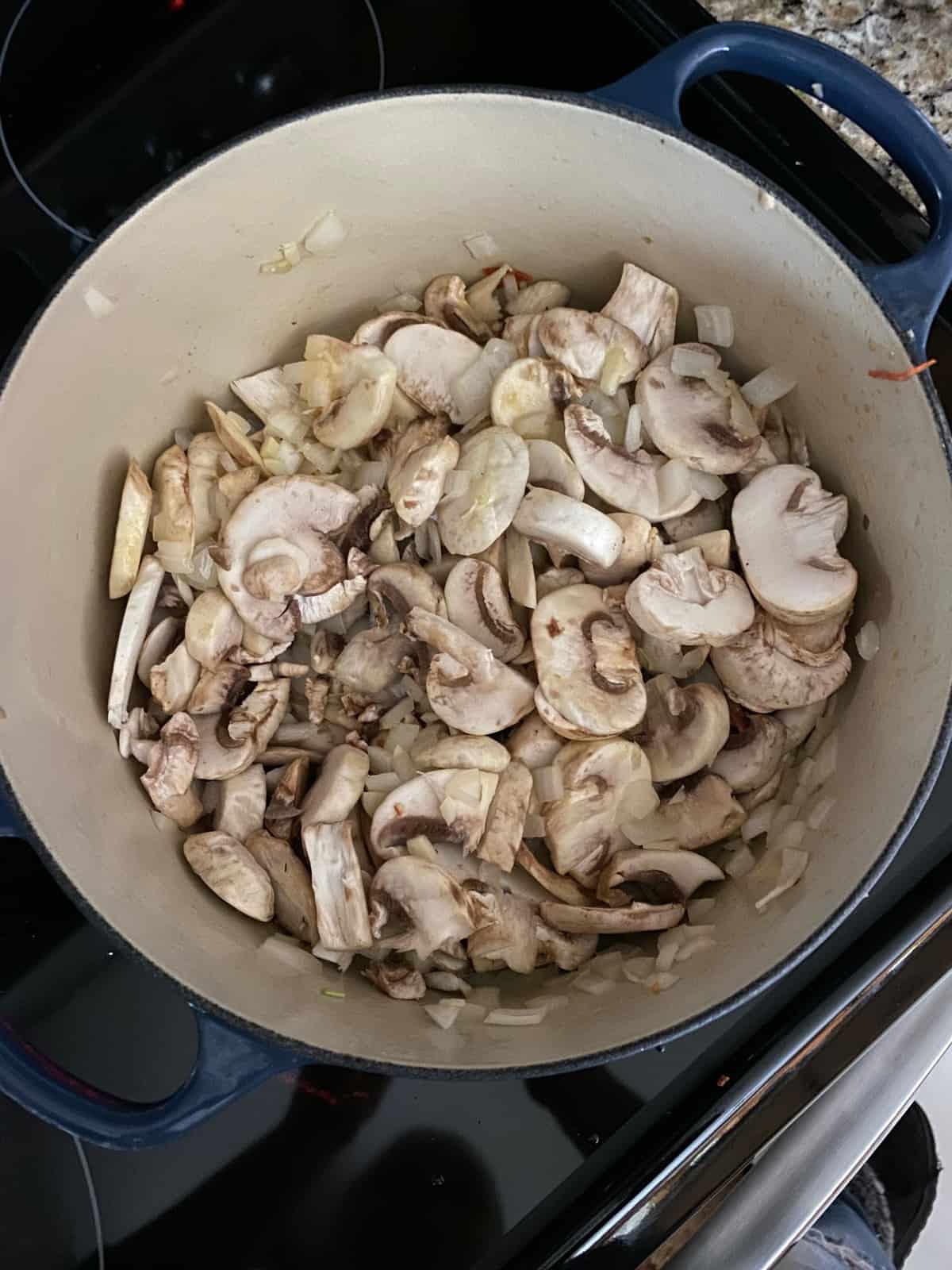 Once the mushrooms are softened stir in the sausage and pepperoni. Yum!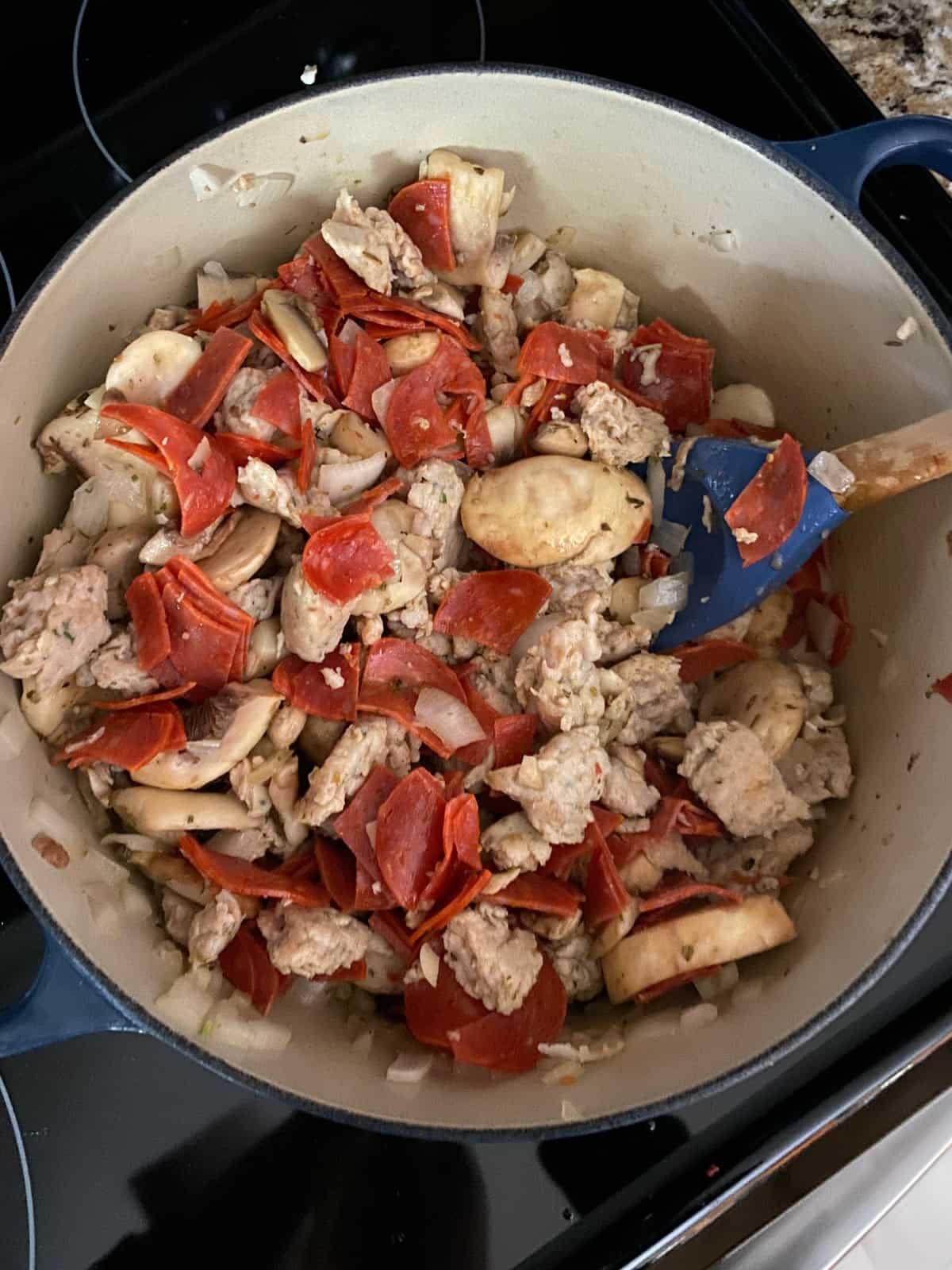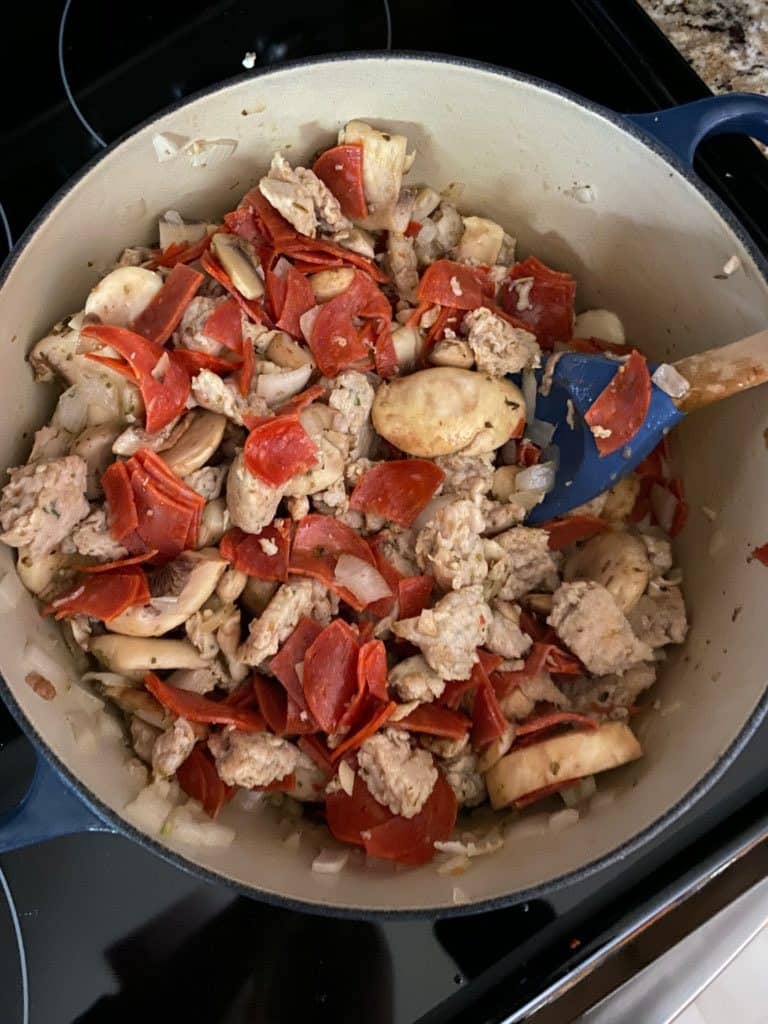 Last stir in the Italian seasoning, chicken stock, tomato sauce, diced tomatoes, tomato paste, and bring to a boil. Turn the soup down to a simmer and let it cook for about 45 minutes.
The soup will get become a dark rich red and your whole house will smell amazing.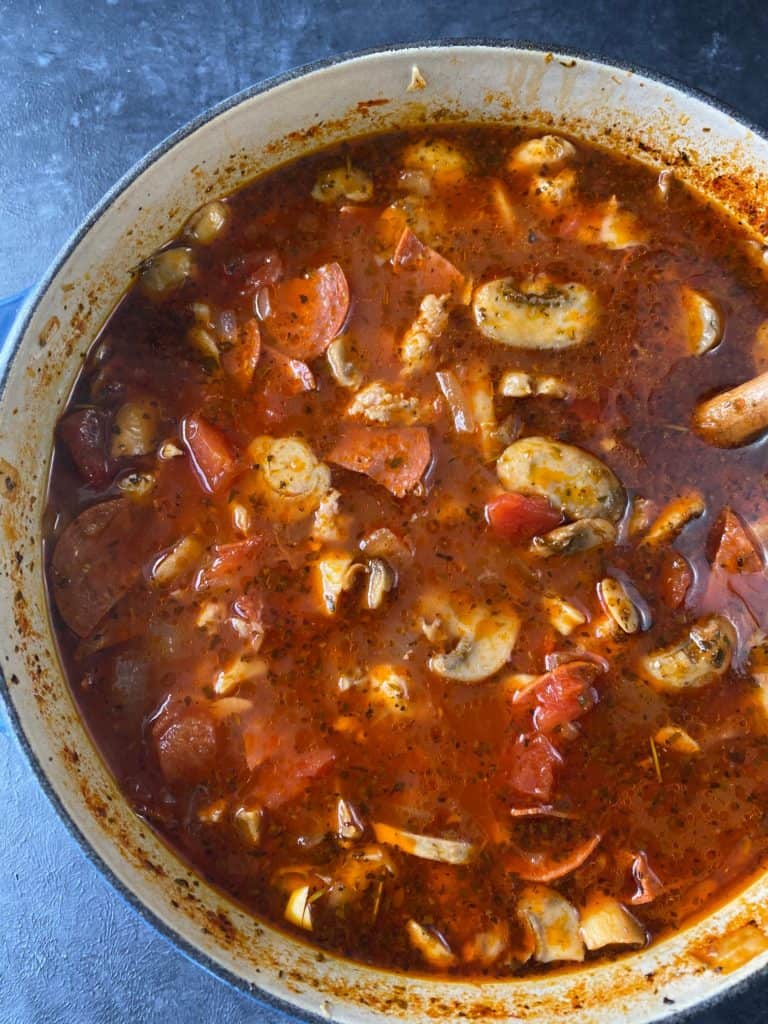 Serve this pizza soup with shredded mozzarella cheese. If you want to skip the cheese that's fine but I personally think the mozzarella cheese makes this soup. I love the way it melts on top!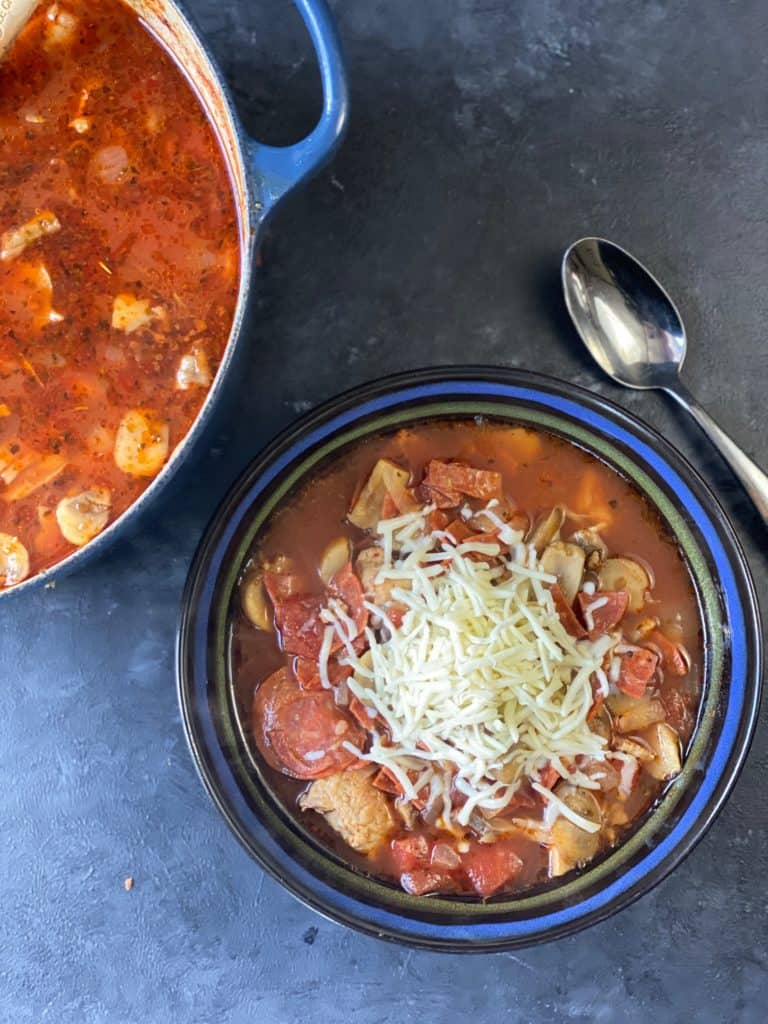 Every bite is filled with chicken sausage, pepperoni, and mushrooms. The flavor is beyond good and so satisfying. Also, be prepared for this soup to fill you up. I know it doesn't include pasta or bread but all of the protein will keep you full well into the morning.
However, if by some chance you do want some carbs to go with your pizza soup then pick up a loaf of crusty bread or serve it with a small short pasta.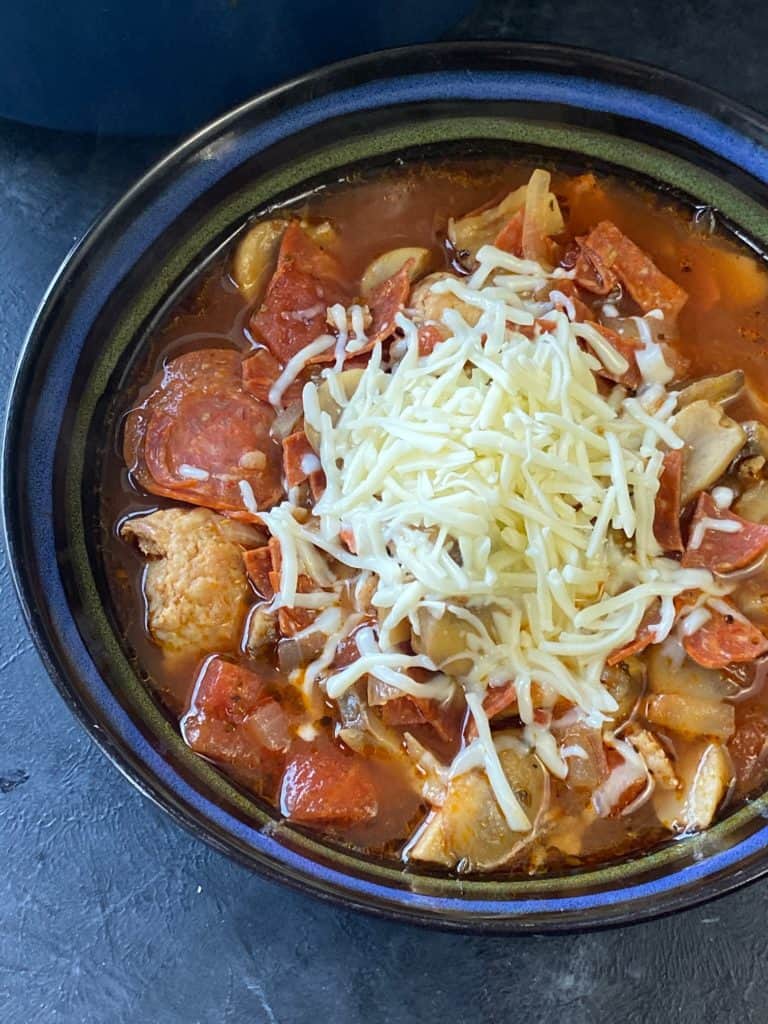 This pizza soup recipe is perfect for meal prep because you can make it on Sunday to eat during the week. It keeps great in the refrigerator and also reheats very nicely on the stove or in the microwave.
You can also portion out and freeze the pizza soup for dinner or lunch throughout the month. When you're ready to eat either heat it up on the stove or thaw overnight in the refrigerator and reheat in the microwave.
If you're looking for a low-carb keto-friendly soup recipe then this pizza soup is going to be your new favorite. Share a picture and tag me on Instagram or Facebook if you decide to try it!

Pizza Soup: Low Carb Keto Friendly Recipe!
Pizza Soup is everything you love about pizza but created in a comforting low carb keto-friendy delicious soup recipe. As a bonus this soup recipe is perfect for meal prep day because it only gets better as the days go on and can be frozen for a future meal.
Author:
Organize Yourself Skinny
Ingredients
1 lb Italian chicken sausage, casings removed
1 (4.5 ounce) package turkey pepperoni, chopped
1 medium white onion, chopped
4 garlic cloves, chopped
1 lb sliced white mushrooms
2 teaspoons Italian seasoning
1 (32 ounce) carton chicken broth
1 (14.5 ounce) can diced tomatoes
1 (14.5 ounce) can tomato sauce
¼ cup tomato paste
salt and pepper to taste
Shredded mozzarella
Instructions
In 5 or 6 qt soup pot heat 1 tablespoon of olive oil over medium heat. Place the chicken sausage in the pot and cook until almost cooked through. Break up the sausage, with a large spoon, as it cooks. When the sausage is almost cooked through then add the pepperoni and cook together until the sausage is fully cooked and no longer pink. Remove from pan and place in a bowl.
Add another tablespoon of olive oil and cook the onion. When onion is just about translucent add in the garlic and cook until fragrant, about 3 minutes. Next, add in mushrooms and cook until softened, about 5 minutes.
Stir in the seasoning, sausage, and pepperoni into the mushrooms, onion, and garlic.
Stir in the chicken broth, diced tomatoes, tomato sauce, and tomato paste.
Bring the soup to a boil and the reduce to a simmer and cook for 45 minutes. Give it a taste and add salt and pepper, if needed.
Serve with shredded mozzarella.
Notes
Meal Prep Instructions


This Pizza Soup recipe can be made ahead of time and stored in the refrigerator up to 5 days or frozen up to 3 months. I recommend storing in single portions for an easy grab and go lunch or dinner.
Nutrition Information
Serving size:
2 cups
Calories:
317
Saturated fat:
3
Carbohydrates:
18
WW Points +:
9
Fiber:
3
Protein:
33
Get Instant Access to My Best Weight Loss Tips & Strategies!
Sign up now for a free step-by-step 7-day email course that I created exclusively for my email subscribers! That's you. I will teach the best habits, strategies, and insider tips so you can enjoy a lifestyle that encourages and supports weight loss! Stop relying on willpower and take control back over your life! You can do this. Let me help!