This hearty Guinness Beef Stew is perfect to serve at a St. Patrick's Day get together or when you're craving some real comfort food for the soul. It's made with tender beef, chunks of potatoes, onions, carrots, and spices all simmered in a rich broth flavored with Guinness beer. It's absolutely delicious!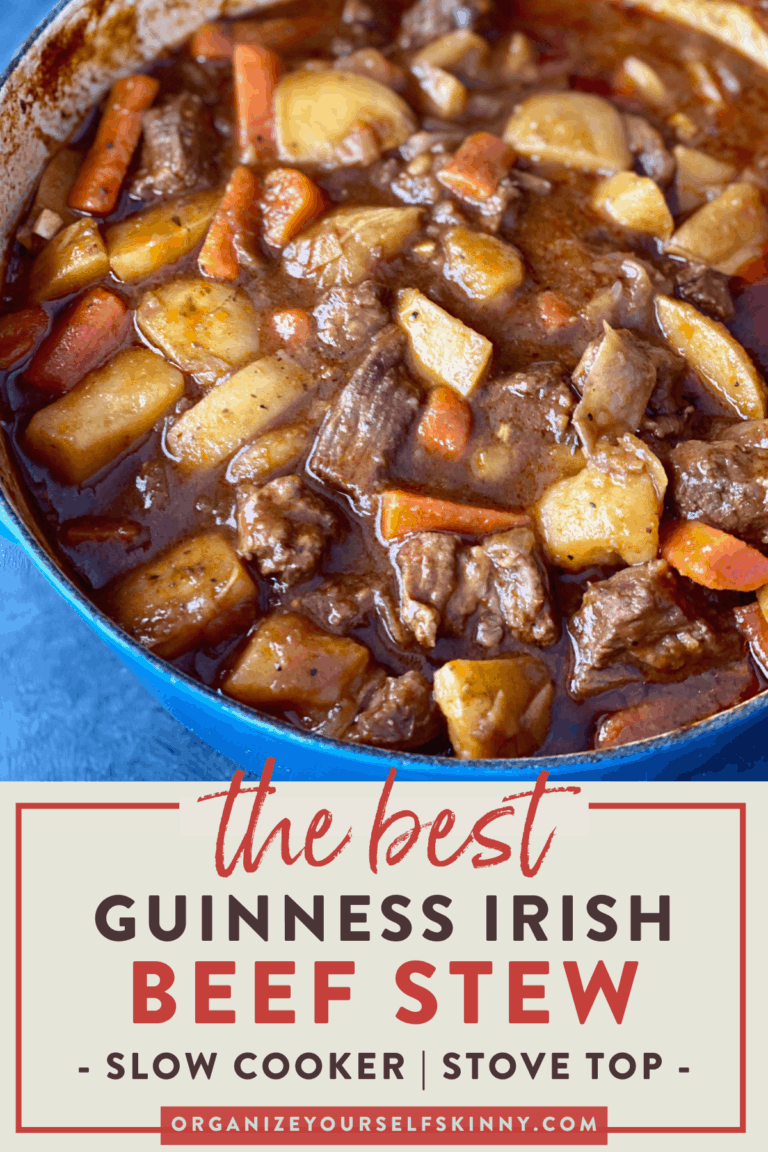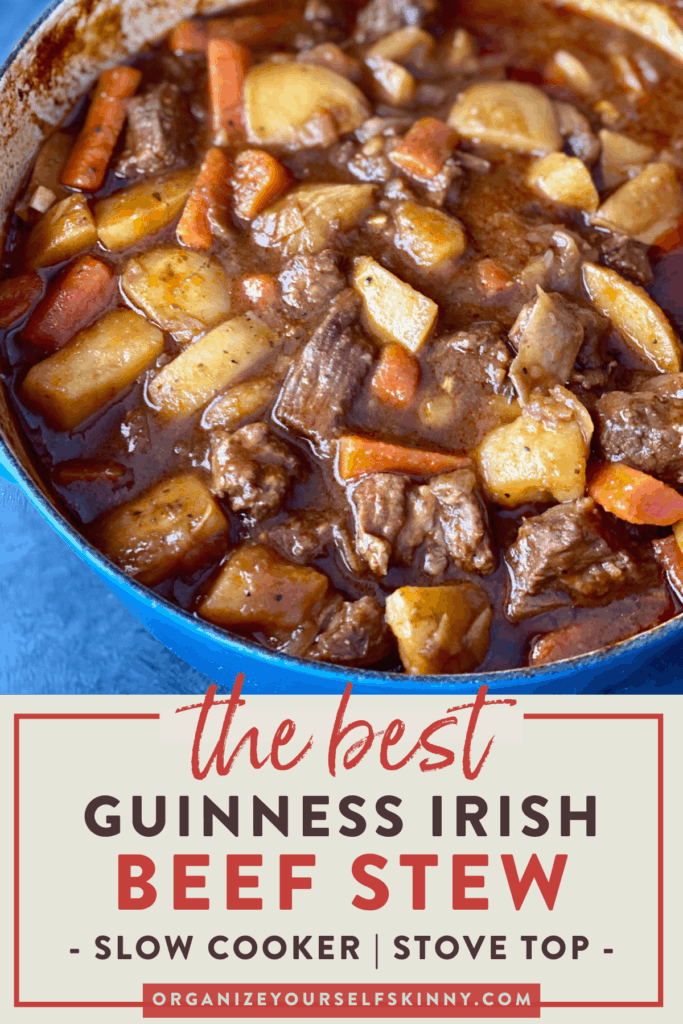 When it comes to beef stew recipes, this one takes the cake! And to be honest, I'm not a big stew person.
It's not that I don't like a good stew but it's just not a meal I grew up eating. I'm more of a spaghetti and meatball girl, but I decided to put together this Guinness Beef stew for my husband in celebration of St. Patrick's Day. He grew up in an Irish household so as much as he loves my Italian cooking, I know he appreciates something from his childhood every once in a while.
I went back and forth between calling this Irish Beef Stew or Guinness Beef Stew. I decided on Guinness Beef stew because this isn't really a "traditional" Irish stew recipe.
Irish stew typically uses lamb or mutton…and to be completely honest, cooking with those meats takes me way out of my comfort zone. So, I decided to keep it easy and stick with beef hence the reason for Guinness Beef Stew. It's basically a classic beef stew with an Irish twist. 😄
Don't Forget The Guinness!
Let's chat about the Guinness part of this stew recipe.
Guinness is a dark stout beer that gives this stew a deep rich color and flavor profile. Don't worry though- your stew won't taste like beer, but it will have a uniquely delicious flavor that you can only get with Guinness.
You might be wondering if you can use other stout beers. My answer to that is…probably. But, I've only used Guinness in this recipe so I can only speak to the amazing flavors developed by using this beer.
Guinness is readily available in most grocery stores. I found a 4 pack of 14.9-ounce cans and used one whole can in this recipe but I wouldn't use more than that. I feel like that is the perfect amount.
One-Pot Guinness Beef Stew
My husband and I loved how this stew turned out. It was so delicious!
The beef was fall-apart tender and the carrots and potatoes soaked up all of the flavors of the rich sauce. I brought some of this stew over to my father because he's a big stew person, and I knew he'd give me an honest opinion. Not that my husband doesn't but my dad doesn't sugar coat anything (can anyone relate?). If he hates it or it was just "okay", he'll tell me.
Anyway, I dropped it off and later that night, he texted me and said "Tammy, you outdid yourself with that stew. It's the best I've ever had" WOOHOO! I also brought some to my mother in law (who's 100% Irish) and she said it was absolutely scrumptious.
So, I think it's safe to say that this stew is a keeper. It's everything you want in a beef stew recipe elevated with the help of Guinness!
Here is a list of the ingredients I used for this beef stew recipe:
Chuck roast
Guinness beer
Yukon gold potatoes
Carrots
Tomatoes
Tomato paste
Beef broth
Onions
Garlic cloves
Fresh thyme
Bay leaf
All-purpose flour
Salt
Pepper
The great thing about all stew recipes including this one is they are relatively easy to make. Also, they are supposed to be rustic so you don't need to worry about the vegetables or meat being cut into perfect chunks.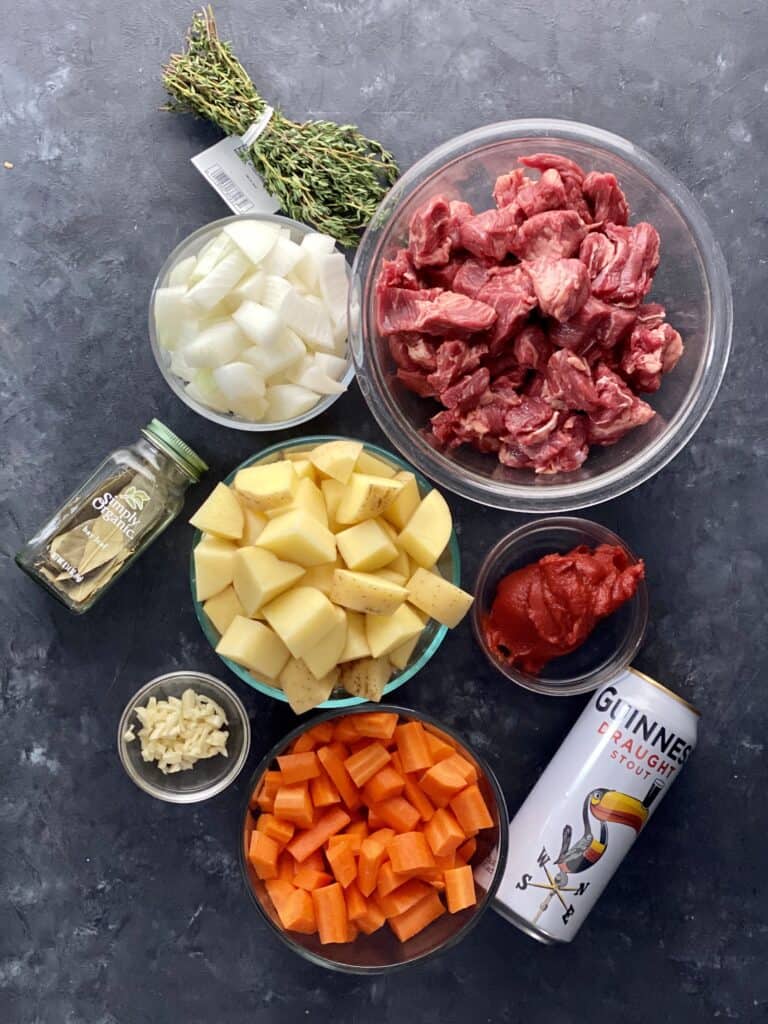 How To Make This Recipe For Guinness Beef Stew
There are a few steps when it comes to putting together this stew recipe but once everything is in the pot, it's smooth sailing.
Prep The Chuck Roast
I use 2 1/2 pounds of chuck roast for this beef stew. I prefer to purchase a whole chuck roast and cut it into chunks myself as opposed to purchasing already pre-cut stew meat. In my experience, this results in the beef being much more tender.
For this stew, you want the beef to be cut into big bite-sized chunks, at about 1 1/2 to 2 inches. Also, I purchase organic grass-fed beef for all my recipes including this stew recipe. I feel it provides the best flavor and it creates a healthier stew.
After the beef is diced, place the chuck roast into a medium bowl and sprinkle generously with salt and pepper. Add the flour and mix together until the beef is coated with flour. Heat up 2 tablespoons of olive oil in a 6-qt pot and add the beef in batches.
Cook the beef until it is browned on all sides and remove from heat to set aside.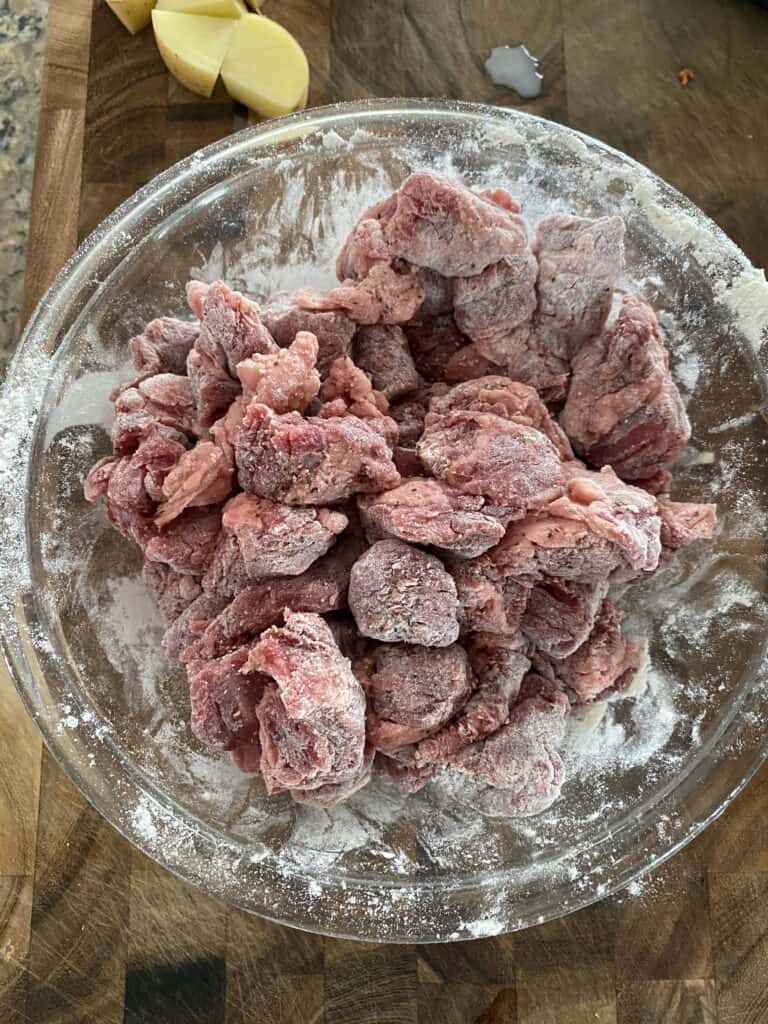 Chop Up All The Veggies
I chopped up some white onions and a couple of cloves of garlic to add to the stew. I'm known to measure garlic with my heart so I really had to pay attention to the amount of garlic I was using because – after all, this is an Irish recipe, NOT Italian.
In the same pot where you cooked the meat, heat another tablespoon of olive oil and cook the onions until translucent, about 3-4 minutes.
To make this beef stew as hearty as it is, I use about 4-5 medium-sized Yukon gold potatoes (also called butter potatoes). These are the best potatoes to use in any stew recipe because they result in a soft creamy potato that will still hold its shape even after cooking for hours. Other potatoes like russet or red potatoes will get grainy and fall apart.
I personally don't skin the potatoes so I just wash and chop them up!
Besides the potatoes, I also added some chopped carrots. Again, you don't need to get the cuts perfect, and really, you can cut them into whatever shape you want as long as they are on the thicker side.
Put the rest of the veggies to the side to add in last.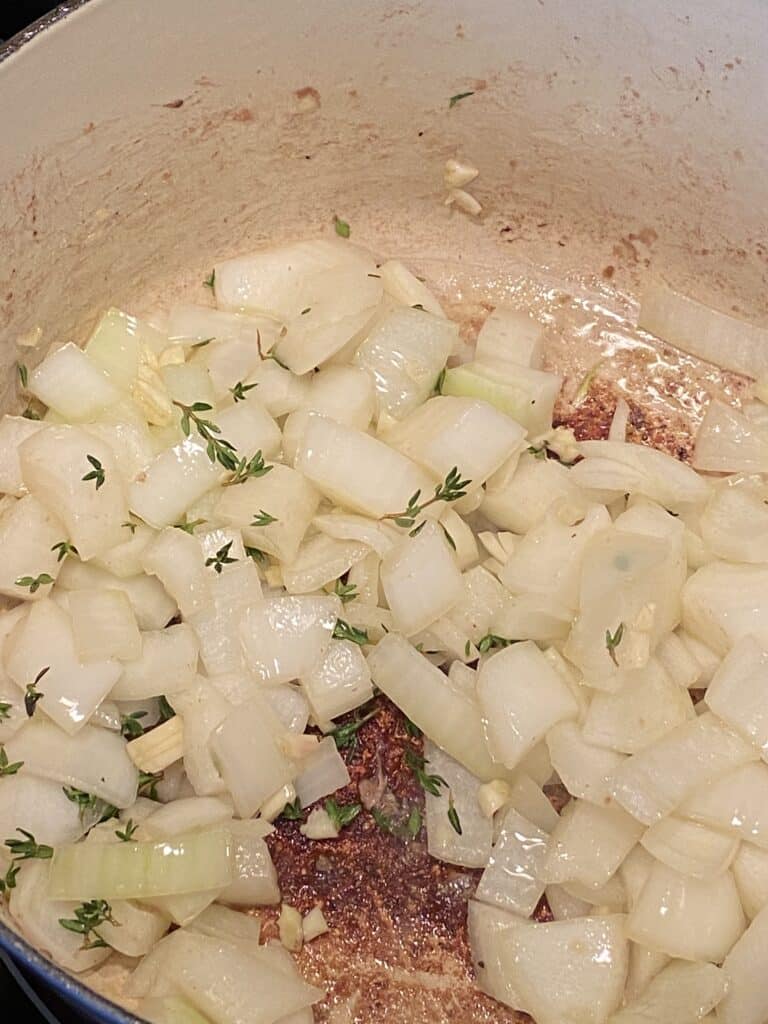 Add The Finishing Touches
After the onions have cooked down enough, add in the garlic and thyme to cook for a minute before adding in the Guinness, the star of the show.
You'll want to add the Guinness so you can deglaze the pan (make sure to scrape up all the brown bits on the bottom) and cook down the alcohol. As that's cooking down, I added a small can of tomato paste which helps with enriching the flavor and thickening up the sauce.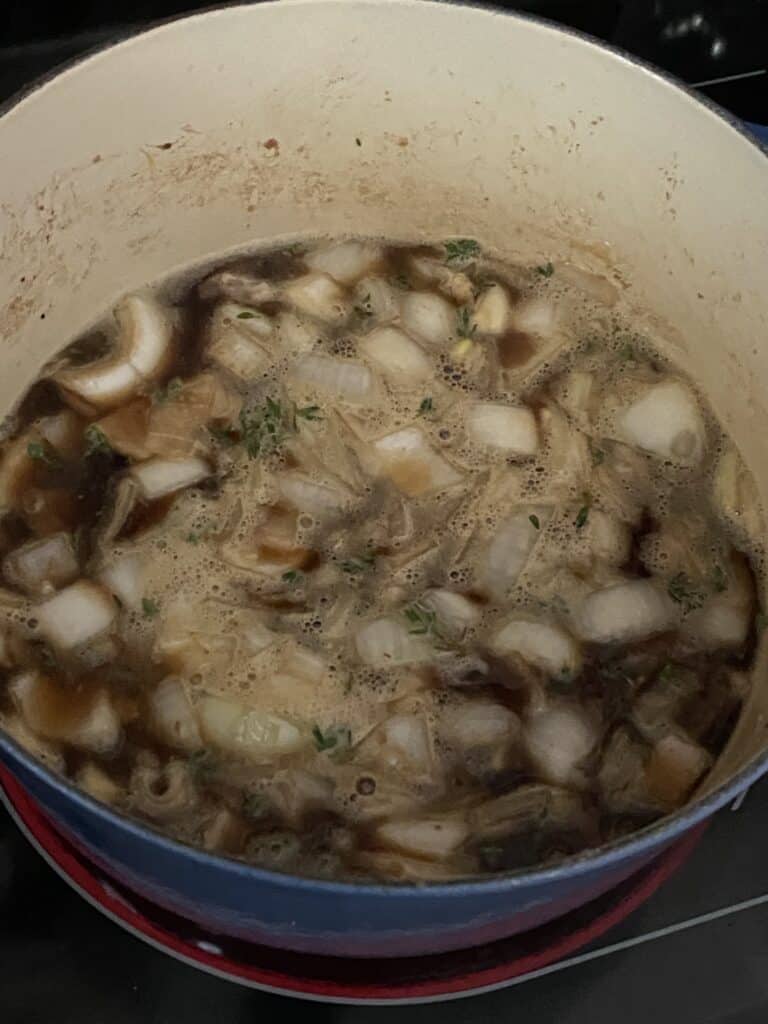 At this point, you can take all of the cooked ingredients and add them back to your dutch oven pot! Now's the time to add in the rest of the chopped veggies, spices, and beef broth as well.
For the spice, I used fresh thyme and one bay leaf. I also added about two cups of beef broth. I prefer beef broth over chicken because it helps to deepen the flavors. Not to mention it's a beef stew and I'm looking for the beef flavor to come through.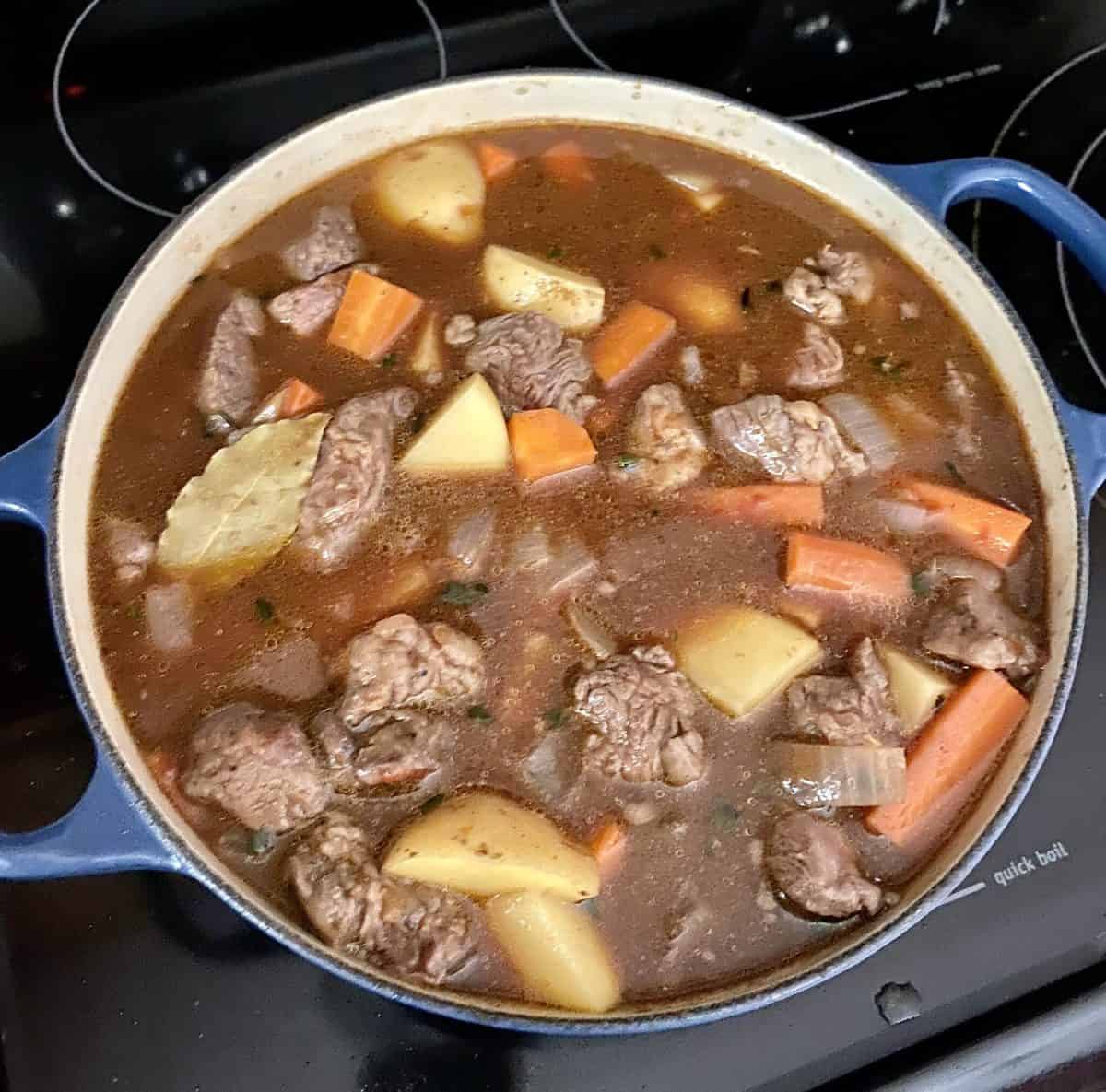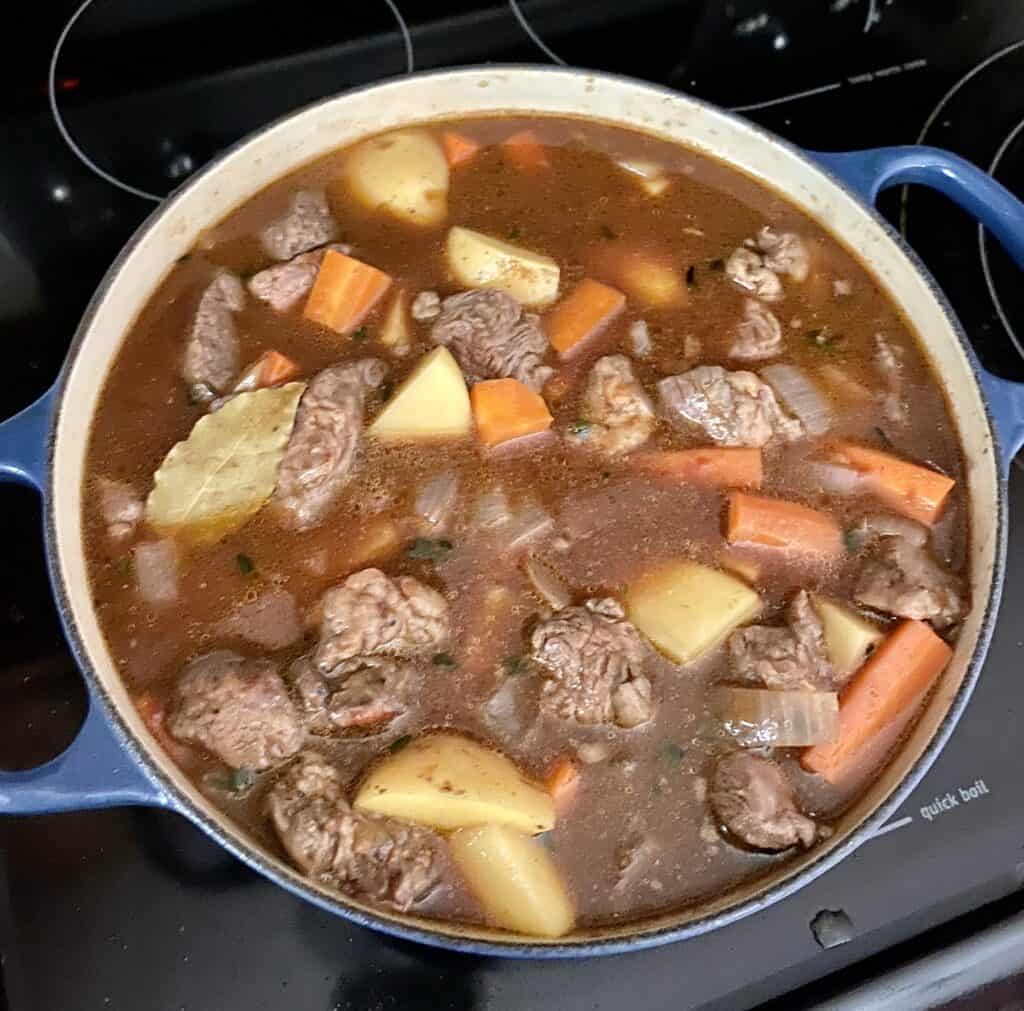 How to Cook This Beef Stew
Option One: Stovetop
You've got two options for cooking this stew. The first way, and my preferred method, is to cook it on the stovetop for 3-4 hours. I know that seems like a really long time, but you can put it on a simmer and let it cook as you go about your day.
I recommend this way of cooking it because a lot of that extra liquid will cook off and evaporate, leaving you with a thicker broth with condensed flavor.
Option Two: Slow Cooker
You can also make this stew in the slow cooker. I don't recommend this as much because the slow cooker won't allow for any juice to evaporate. This means you won't get that thick, flavorful broth.
On the other hand, this method is somewhat hands-off and can be easier sometimes. To make the stew in the crockpot first you're going to brown the meat in a large 5 1/2 – 6 quart pot. After the beef is browned place the meat in the crockpot. Then cook the onions and garlic in the same pot and deglaze with Guinness and add in the tomato paste. Cook the alcohol down and then add it to the crockpot with the meat and the rest of the ingredients. You'll want to reduce the beef broth by one 1 cup when making in the slow cooker.
I know it's annoying to take extra cooking steps prior to cooking it the slow cooker, but for recipes like this I think it's 100% worth it to make the extra effort.
Cook on high for 6 hours or on low for 8-10 hours. I usually prefer a high-temperature setting which results in less time. If the stew isn't thick enough then stir in a quick slurry (2 tablespoons flour and 1/3 cup water) and let it cook uncovered for another 1/2 hour.
Voila! You have this thick, silky, delicious Guinness Beef Stew.
One cooking tip I've learned over the years is to salt at the end, especially when you're cooking a dish for 3-4 hours. After this has cooked, I stirred in 1 teaspoon of salt and 1 teaspoon of pepper. This made all of the flavors explode!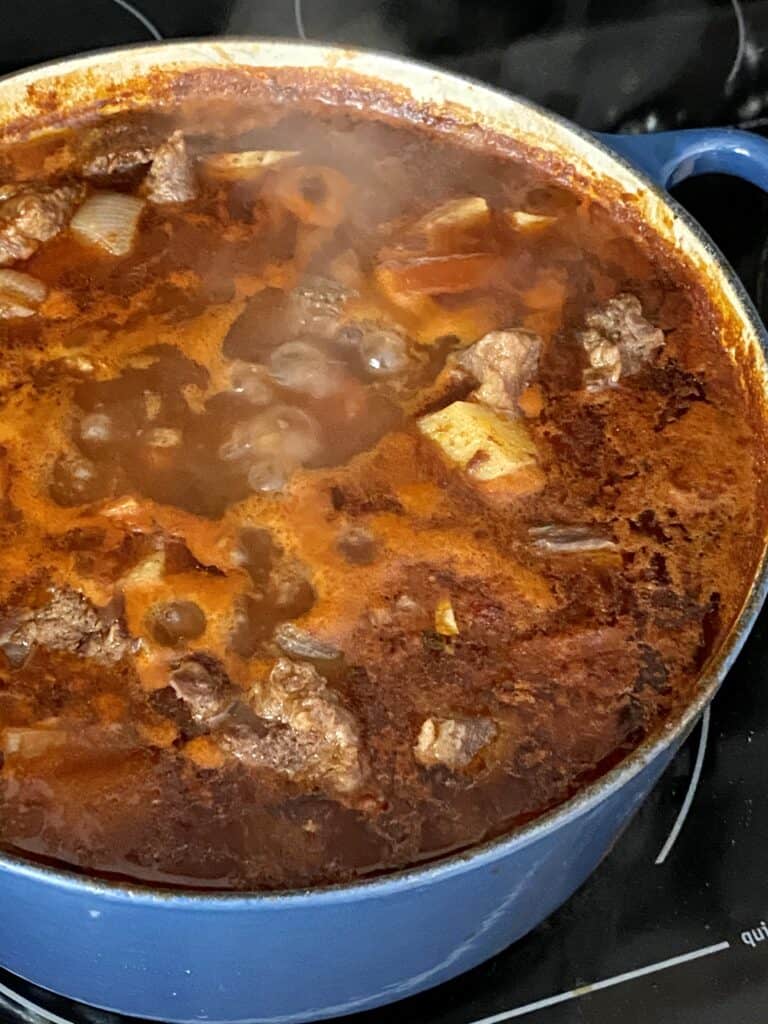 What To Serve With Guinness Beef Stew
I love to serve this stew with crusty bread (or even better with Irish Soda Bread!) or a side salad as a healthy option.
Honestly, you can easily enjoy it on its own because it's just that's good!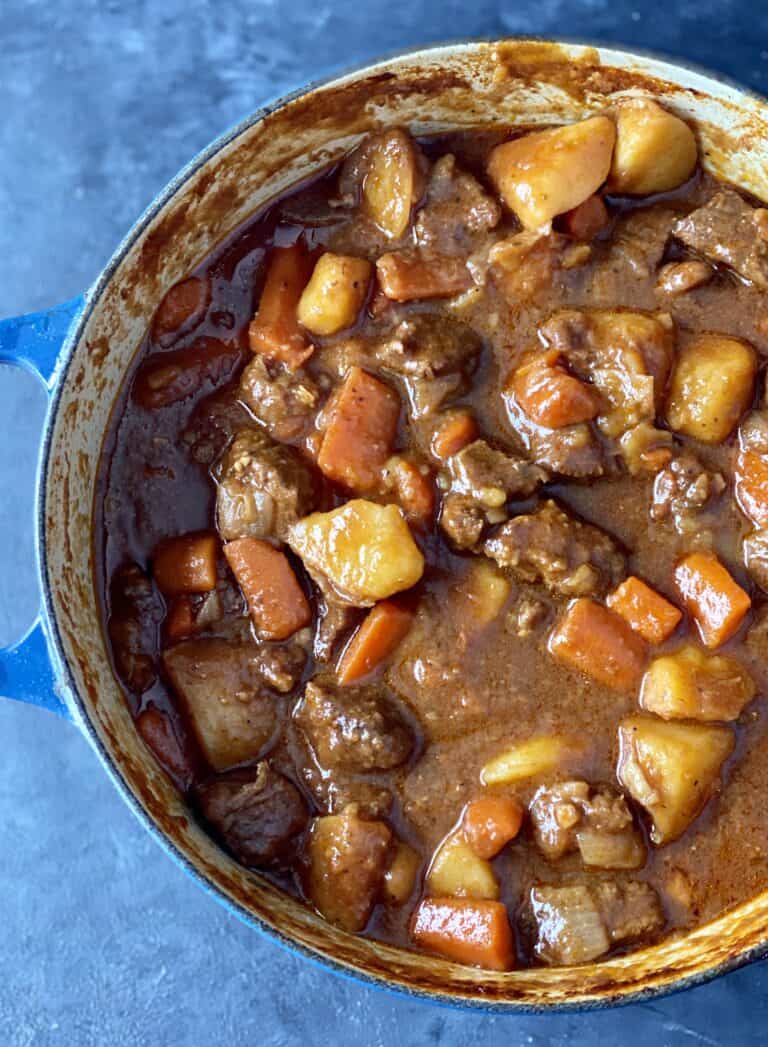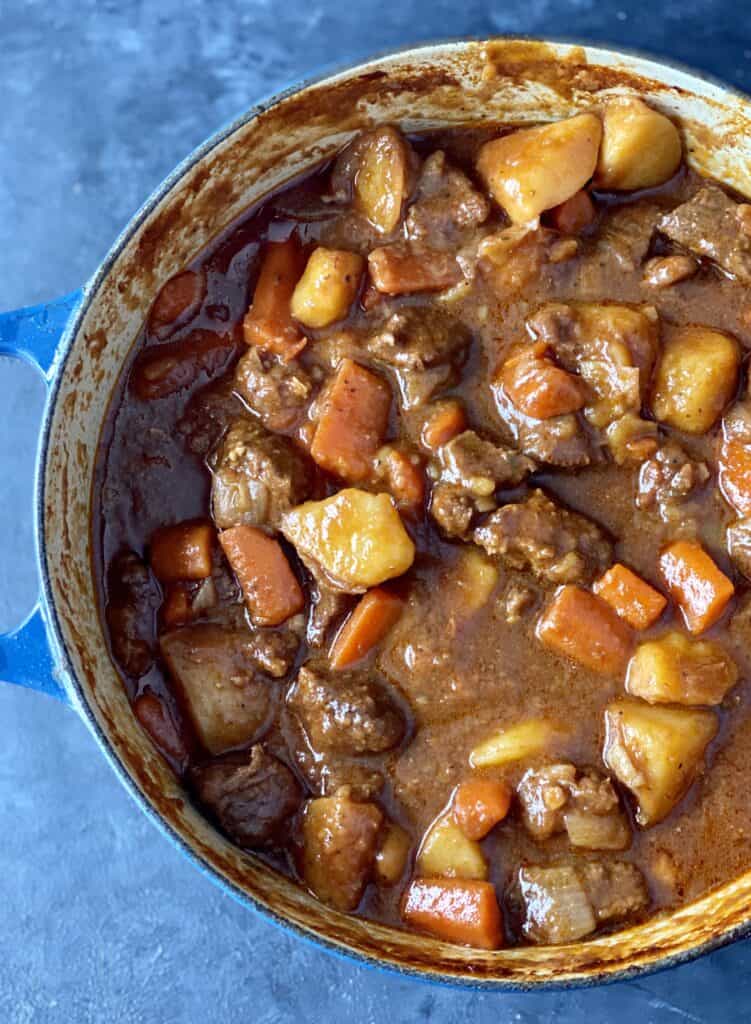 More One-Pot Recipes
If you loved this beef stew recipe, take a look at some of my other one-pot recipes. I think you'll really enjoy them!
Make this Guinness Beef Stew this St. Patrick's Day or whenever you are in the mood for a hearty comfort meal! Share a picture and tag me on Instagram or Facebook if you decide to make this!

Guinness Beef Stew
This Guinness beef stew is the perfect hearty comfort food! Each bite has seaoned beef and carrots in a flavorful homemade broth.
Author:
Organize Yourself Skinny
Ingredients
2 - 3lb chuck roast, cut into 1½ - 2 inch chunks
salt
Pepper
¼ cup flour
2 medium onions cut into chunks
4 garlic cloves
1 tablespoon fresh thyme
1 (14.9 ounce) can Guinness
1 (6-ounce) can Tomato paste
4-5 Yukon gold potatoes, cut into chunks
3-4 carrots Carrots, peeled and cut into chunks
3 cups beef broth
1 bay leave
Instructions
Place chuck roast into a medium bowl and sprinkle generously with salt and pepper. Add the flour and mix together until the beef is coated with flour.
Heat 2 tablespoons of olive oil into a 6-qt pot. Add beef in batches and brown on both sides. Remove beef and set aside.
In the same pot heat another tablespoon of olive oil and cook the onions until translucent, about 3-4 minutes. Then add in garlic and thyme and cook for another 2 minutes or until garlic is fragrant.
Pour in the entire can of Guinness and cook for about 3-4 minutes. While the Guinness cooks scrape up the brown bits on the bottom of the pot.
Stir in the tomato paste.
Add in the potatoes, carrots, beef, beef broth, and bay leaf. Cook uncovered for 2 hours. Stir every ½ hour or so. Cover for the last hour of cooking time.
Stir in 1 teaspoon of salt and 1 teaspoon of pepper. Serve hot.
Nutrition Information
Serving size:
1½ cups
Calories:
493
Fat:
18
Saturated fat:
8
Carbohydrates:
41
Fiber:
5
Protein:
43