Thrive Market is an online grocery store that offers natural and organic foods, household items, hygiene products, make-up, along with others items at comparable prices you'd find at your local grocery store. Even though I have access to numerous grocery stores I've been a member since 2015 because of the convenience and the ability to purchase specialty items that are hard to find. Here's my honest review of Thrive Market so you can decide whether or not it's a good fit for your lifestyle.
If you're ready to try Thrive Market, and don't want to read my entire review, you can use my link to get 25% off your first order! <– That's quite a deal!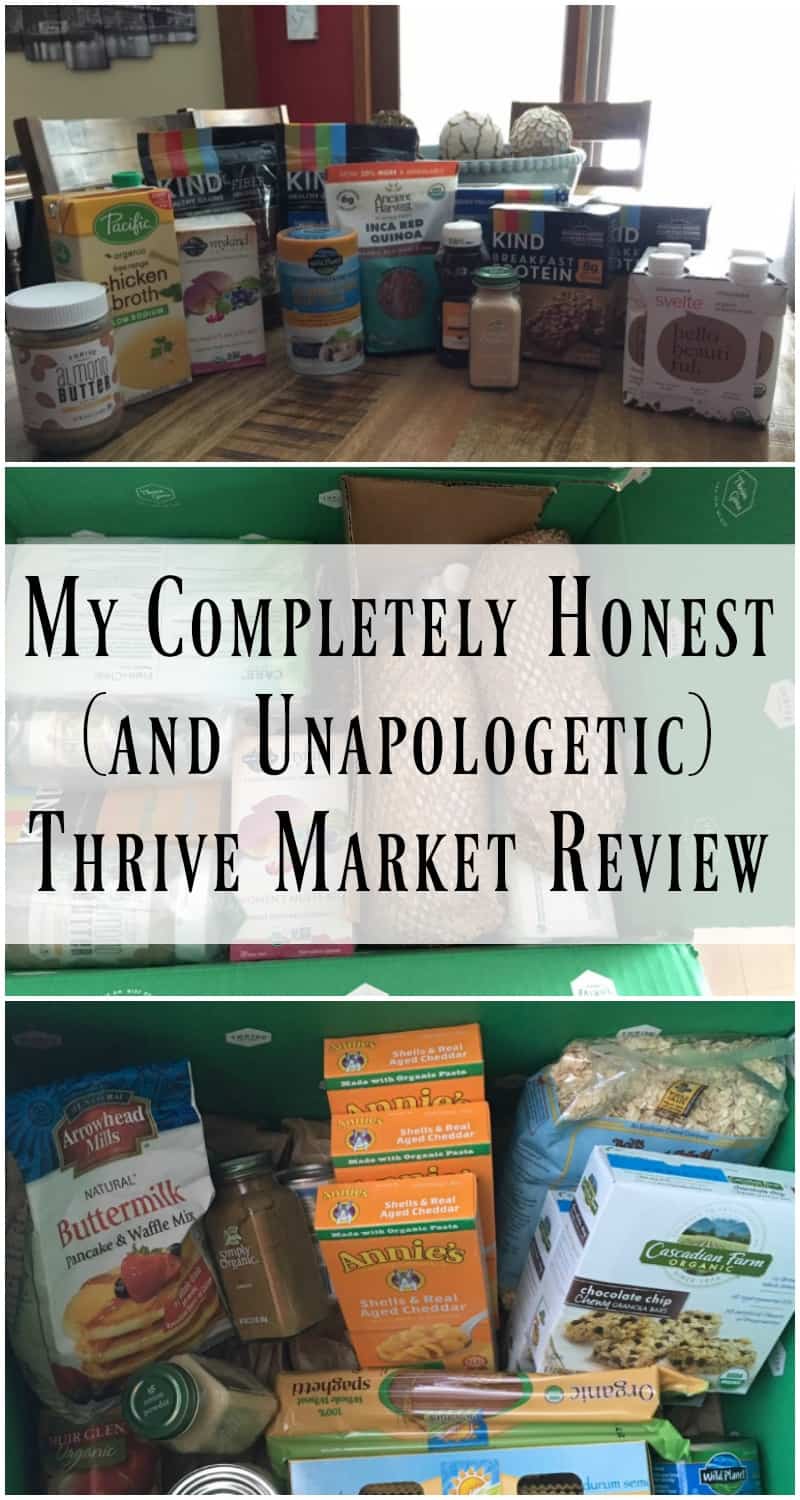 **This post may contain affiliate links. I only recommend products and services I use and believe in. All opinions are my own. If you use one of my links to make a purchase then thank you for supporting my site.**
Honest Thrive Market Review
Whether we agree with it or not our schedules leave little time for meal planning, the grocery store, and cooking meals. That's not to say we shouldn't or still do this – I think it's important to keep a healthy lifestyle a priority – but not many people want to work 40+ hours a week, drive around for activities, and then spend 2 hours at the grocery store on a Saturday afternoon. This is one of the reason fast food and convenience items are so popular, because people just don't want to spend their extra time grocery shopping and companies are taking notice. Over the last few years businesses have popped up everywhere working hard to make it more convenient for busy families to eat healthier. Up until then "convenience" or "fast" equaled processed and unhealthy. Well, fortunately, the tides are changing on this. Today, it's getting much easier to fit a healthy lifestyle into your busy schedule. I've talked about meal delivery services like Hello Fresh, Sun Basket, and Home Chef that create healthy recipes and then send all the ingredients right to your door. It's a beautiful thing when this box shows up. Some people are still not sold on these meal delivery service and honestly they're not for everyone. However, I think meal delivery kit services are great options for people who tend to order out a lot and/or don't have time to meal plan or get to the grocery store or who want to eat healthy but no clue where to start.
Anyway, you can read my reviews here:
Another option for people who want to eat healthier without spending hours at the grocery store is Thrive Market. Thrive Market is an online grocery store that offers organic and natural foods, cleaning supplies, and other items. It's kind of like the nature food section at Wegmans got it's own website. Anyway, I've been a Thrive Market member since 2015 and have regularly ordered groceries since then. I want to share my honest thoughts so you can decided whether or not Thrive Market would be a good fit for you and your family.
If you're ready to try Thrive Market, and don't want to read my entire review, you can use my link to get 25% off your first order! <– That's quite a deal!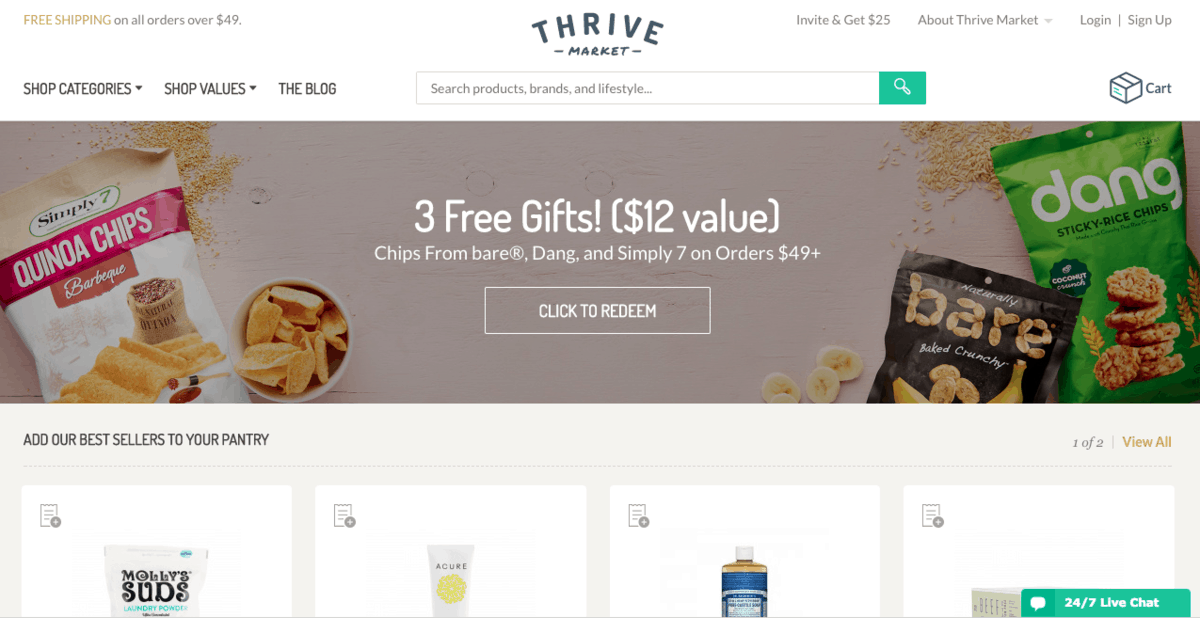 Is Thrive Market Worth The Membership Cost.
Let's start with the money part because that's the biggest concern with most people. First and foremost, Thrive Market charges a membership fee of $59.95 a year. They say this fee allows customers to enjoy wholesome products at wholesale prices because they don't have to mark up products like other stores do.  Thrive Market also provides a free membership to a family in need with every membership purchased.
Personally, I think $59.95 is a lot to shell out if you're not sure whether or not you'll use the website. However, Thrive Market does offer a 30-day free trial membership so you can look over all the products, do some price comparison, and put in a couple orders. But keep in mind. You do need to give a credit card and they will automatically charge you an annual membership if you don't cancel before the 30-days are up. From all the research I've done on Thrive Market this is the biggest complaint. This is listed a few different times across their website, so I don't feel they are trying to hide it. However, for whatever reason, people still miss it. Anyway, if you want to give Thrive Market a try then sign up for their free 30-day trial. I started with the 30-day trial and found it to be very helpful. I was able to get a good feel for the brands, prices, and whether or not I'd use it. Obviously it's a good fit considering I've renewed my membership twice already.
Alright let's talk prices. I think Thrive Market is very comparable to Wegmans, Tops, and other grocery chains. I did some price comparisons on some products I often purchase at Wegmans.
Pacific Chicken Stock (32-ounces): $2.99  Wegmans/ $3.49 Thrive Market
Simply Organic Garlic Powder: $5.99 Wegmans/ $4.99 Thrive Market
Spectrum Coconut Oil (15-ounce) Jar: $8.99 Wegmans/ $6.99 Thrive Market
Lundberg Organic Brown Short Grain Rice (2lb) bag: $5.99 Wegmans/ $3.95 Thrive Market
Near East Roasted Garlic & Olive Oil Couscous (5.9 ounce): $2.19 Wegmans/ $1.95 Thrive Market
Justin's Classic Almond Butter (16-ounce) Jar: Wegmans $9.99/Thrive Market $11.99
Annie's All Stars Pasta in Tomato and Cheese Sauce: Wegmans $2.49/Thrive Market $2.05
Annie's Organic Cheddar Snack Mix: Wegmans $4.49/Thrive Market $3.99
Annie's Shells and Real Aged Cheddar Macaroni and Cheese: $1.49 Wegmans/Thrive Market $1.89
Rao's Marinara Sauce (32 ounce): $5.99 Wegmans/Thrive Market $8.49
Kind Oats and Honey Granola (11 ounce) $4.99 Wegmans/$4.49/Thrive Market
Kind Almond Butter Breakfast Bars (4 bars) $3.49 Wegmans/ $2.79 Thrive Market
Luna Chocolate Dipped Coconut Bars (15 bars): $13.99 Wegmans /$12.49 Thrive Market
Dr. Bronner's Soap, Pure-Castile, 18-in-1, Hemp Lavender (32-ounces)  $10.99 Wegmans/$12.99 Thrive Market 
Mrs. Meyer's Multi-Surface Concentrate, Lemon Scent (32-ounces) Wegmans $7.99/$5.95 Thrive Market 
As you can see there isn't a huge price difference between shopping at Wegmans and ordering online at Thrive Market. Depending on the items you purchase the cost will balance itself out. Therefore, I don't think shopping at Thrive Market is about saving money more than it's about availability and convenience.
Now keep in mind these Wegmans prices are for items I purchase in the store. Meaning I need to drive to Wegmans, hope everything I want it is in stock, fight the crowds for my groceries, and then drive home. Wegman's now offers grocery delivery through Instacart which I often use.
Wegman's Instacart prices are a little more expensive than going into the store, plus I need to tip the driver each time, so if I compare those prices then Thrive Market will come out cheaper. The problem is Thrive Market takes a few days to get delivered so if I need an ingredient right away then ordering from Thrive Market isn't going to work. I'll talk more about this in a little bit.
If you're ready to try Thrive Market, and don't want to read my entire review, you can use my link to get 25% off your first order! <– That's quite a deal!
Overall, I think Thrive Market prices are comparable to popular grocery store chains. However, in my opinion I wouldn't compare Thrive Market prices to wholesale prices. I belong to BJ's wholesale and I can say that the prices there are always cheaper. Of course, they don't always carry the same brands but wholesale stores have grown leaps and bounds with their organic offerings. I can find organic meats, peanut butter, olive oil, pasta, rice, sauce, bread, and many other products. Yes, I need to purchase a larger size but the price is often much cheaper than any grocery store, including Thrive Market. So, in my opinion, I think Thrive Market can definitely compete with grocery chains but prices are not necessarily "wholesale pricing". If you still have questions about pricing then get the Thrive Market free trial and price compare your favorite brands and see for yourself if it's worth it.
Alright, I think I've established that Thrive Market's prices are reasonable and you're not going to get ripped off. In fact, I'll even say I think the $59.95 annual membership is worth it. Oh and did I mention you get free shipping with orders over $49? You do. So, let's move beyond prices.
Here's the thing.
I'm not shopping at Thrive Market because I'm getting the deal of the century. Sure they have sales, and offer coupons, but so do my local grocery stores. I'm shopping there because I'm busy and ordering groceries online make my life easier. It's convenient.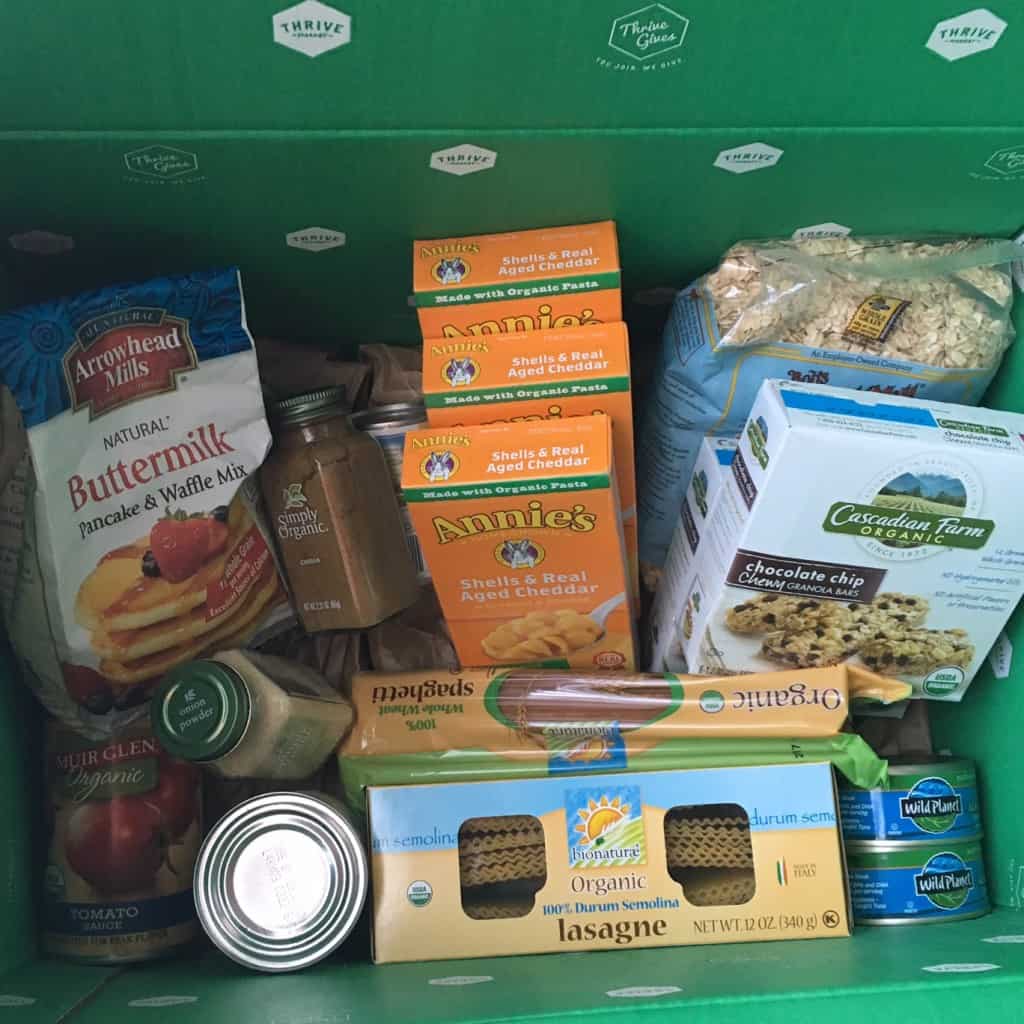 In my opinion there are 2 types of people that can benefit from shopping at Thrive Market. First, is the person looking for convenience ← that's me. Whether you agree or disagree, like it or not, we live in a very busy world and companies have taken notice and capitalized off this. There's no denying that ordering groceries online, and having them delivered to our door, is nothing short of amazing.
I know it's difficult for some people to wrap their brains around ordering groceries online. We are used to spending hours on Saturday mornings shopping for the week. However, think about this. Remember when ordering clothing online was considered abnormal? I certainly do. Well, today you can order just about anything online and it will show up on your doorstep in about 3 days. Grocery shopping has finally caught up with the rest of the online world. You can log into Thrive Market, place an order, and in about 3 days it will be at your home. Gone are the days of wasting Saturday morning fighting at the grocery store.
The second type of person that I think could really benefit from Thrive Market is someone who doesn't have access to larger grocery chains. I live in an area where I'm within driving distance to Wegmans, BJ's Wholesale, Trader Joes, and Whole Foods. If I need almond butter, coconut oil, or organic avocado oil it's very likely I can find it. Of course, that means I have to get in my car, drive there, and hope the store has it in stock – but I can still get there. However, many people don't have access to 4-5 major grocery stores.
For example, in the summer I spend a lot of time in the country. There's one small Tops Supermarket and an even smaller "natural food" store in town. The selection is limited and prices are outrageous. If I lived there full-time it would be quite the effort to get my hands on Justin's almond butter, Rao's marinara, or organic coconut oil.
Thrive Market provides access to quality organic food and products to people who quite possibly didn't have it before. I think this is a big deal! As a healthy lifestyle blogger I can't tell you then number of times people tell me they don't have access to natural and organic foods. That is no longer the case. Anyone with internet and a credit card can go onto Thrive Market and easily purchase brands they never had access too. Plus like I said earlier, the prices are comparable to grocery stores making it affordable to most people. In my opinion, this is a game changer.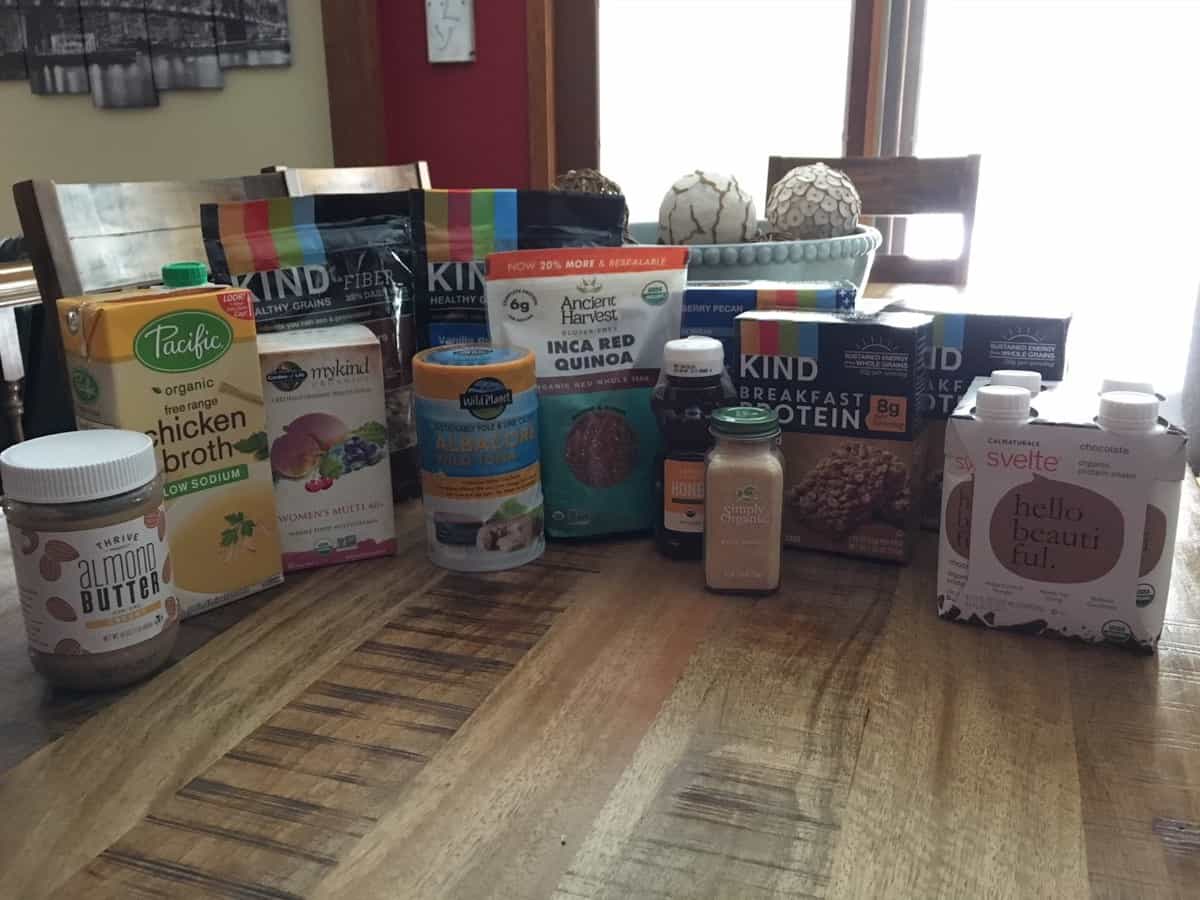 Now for the person I don't think would benefit from a Thrive Market membership.
If you have access to grocery stores, don't mind driving around and spending time at the grocery store, enjoy price comparison, and live for couponing and finding the best deals then I don't think Thrive Market is something you have a need for or will benefit from. Thrive Market does offer coupons but you're not going to get $1 toothpaste deals or .50 boxes of mac n cheese.
Also, if you're not concerned with organic and natural products then you probably don't need Thrive Market. There entire business is about offering organic and natural brands – they don't carry Froot Loops and Doritos.
If you're still on the fence with Thrive Market then maybe these pros and cons will help.
Pros:
You can shop organic and natural brands from the comfort of your home.

Thrive Market carries all the popular organic and natural brands like Annie's, Spectrum, Simply Organic, KIND, Newman's Own, Bob's Red Mill, Lara Bar, Eden Organic, and many others.
Thrive Market also carries hard to find organic and natural brands. A big perk for me is knowing whether or not an item is in stock simply by checking their website. I hate when I drive to a store only to find the item I want is sold out or they don't carry it. I don't waste any time with Thrive Market and that's a huge bonus.
Prices are very comparable, if not cheaper, than in-store prices.
Free delivery if you spend $49 or more and groceries get delivered in about 3 days.
Thrive Market sends regular coupons and deals to your email. For example, I receive a 15% of total order about once a month or so. I stock up when I get it.
Thrive Market is a good company that gives back to the community. For every membership purchased they give one to a family in need.
They offer a Thrive Market brand to help you save more money on organic and natural items.

Thrive Market has an app, making it very easy to add items to your list, along with ordering them. They app is also a great way to stay updated with sales and coupons.
All your orders are saved on the website. I find this helpful with keeping track of my grocery budget and when I need to reorder an item.
Cons
There is a $59.95 annual membership cost. However, if you don't make your membership up in savings Thrive Market will give you back the difference. So I guess that can be a pro.
You need to plan ahead. It takes 3 days (and sometimes longer) to get your items. This is an issue if you ordered an item you need right away. I recommend planning a few weeks at a time because of this. For example, if you eat KIND granola bars every week you're better off ordering for the month instead of trying to order by the week and then not getting the box in time.
You need to pay shipping for orders under $49. Therefore, if you need something small you either need to pay shipping or wait until you order more. However, Thrive market does offer free shipping on all purchase sometimes. Although this doesn't help if I need garlic powder now.
They don't offer perishables. This isn't a huge deal, but it would be nice to order meats, cheese, and other perishables from Thrive Market. Meal delivery services send perishables so maybe they'll consider it someday. I'm all about a one stop shop.
Helpful Tips for Shopping at Thrive Market
Okay, let's assume you signed up for the Thrive Market free trial. As a Thrive Marker customer for 2+ years I feel like I can offer some shopping advice.
Plan in advance. I know I said this already but I want to mention it again. Personally, I think Thrive Market works best when you shop for the month or at least 2 weeks at a time. Don't expect to get an order the next day – this isn't Amazon Prime. Put together a 2 week meal plan, look in your pantry, and then place an Thrive Market order. Give yourself 3-4 days for your groceries to get there.
Stay organized. If you're just looking to stock your pantry then it doesn't matter when you place your order. However, I recommend staying organized.  Keep track of the items in your pantry and make a list of the things that need to be reordered.
Create a shopping list inside Thrive Market. This is super helpful. It's easy to get overwhelmed with all the items Thrive Market offers. I recommend, after you join, to search out all your favorite products and save them to your favorites. There's a little heart next to all the items you can click to add to your favorites list. When you're ready to shop head into your favorites and add what you need to the cart.

Watch (or wait) for coupons. Like I said earlier I receive a 10 – 15% off total order coupon from Thrive Market on a regular basis. I add items to my favorites and then when my coupon arrives I stock up.
I hope you found my Thrive Market review helpful. If you're ready to try Thrive Market, you can use my link to get 25% off your first order! <– That's quite a deal!
If you have any other Thrive Market questions please ask in the comments below and I'd be happy to answer them. Also, I'd love to hear about your Thrive Market experience. What are your tips?
Get Instant Access to My Best Weight Loss Tips & Strategies!
Sign up now for a free step-by-step 7-day email course that I created exclusively for my email subscribers! That's you. I will teach the best habits, strategies, and insider tips so you can enjoy a lifestyle that encourages and supports weight loss! Stop relying on willpower and take control back over your life! You can do this. Let me help!