Is the Certified Organic Meal Kit Green Chef Worth It? If you're considering using Green Chef for your meal delivery needs, you might wonder if it's worth the investment, whether their meals are healthy, and if you can lose weight while using their service. Additionally, you may be comparing Hellofresh vs. Green Chef and trying to decide which is best for your lifestyle. Look no further because I'm here to provide an honest Green Chef review that answers all these questions.
In this Review of Green Chef, I will explain how their service works, showcase their top recipes, and evaluate whether it is the best choice for families looking for organic meal kits.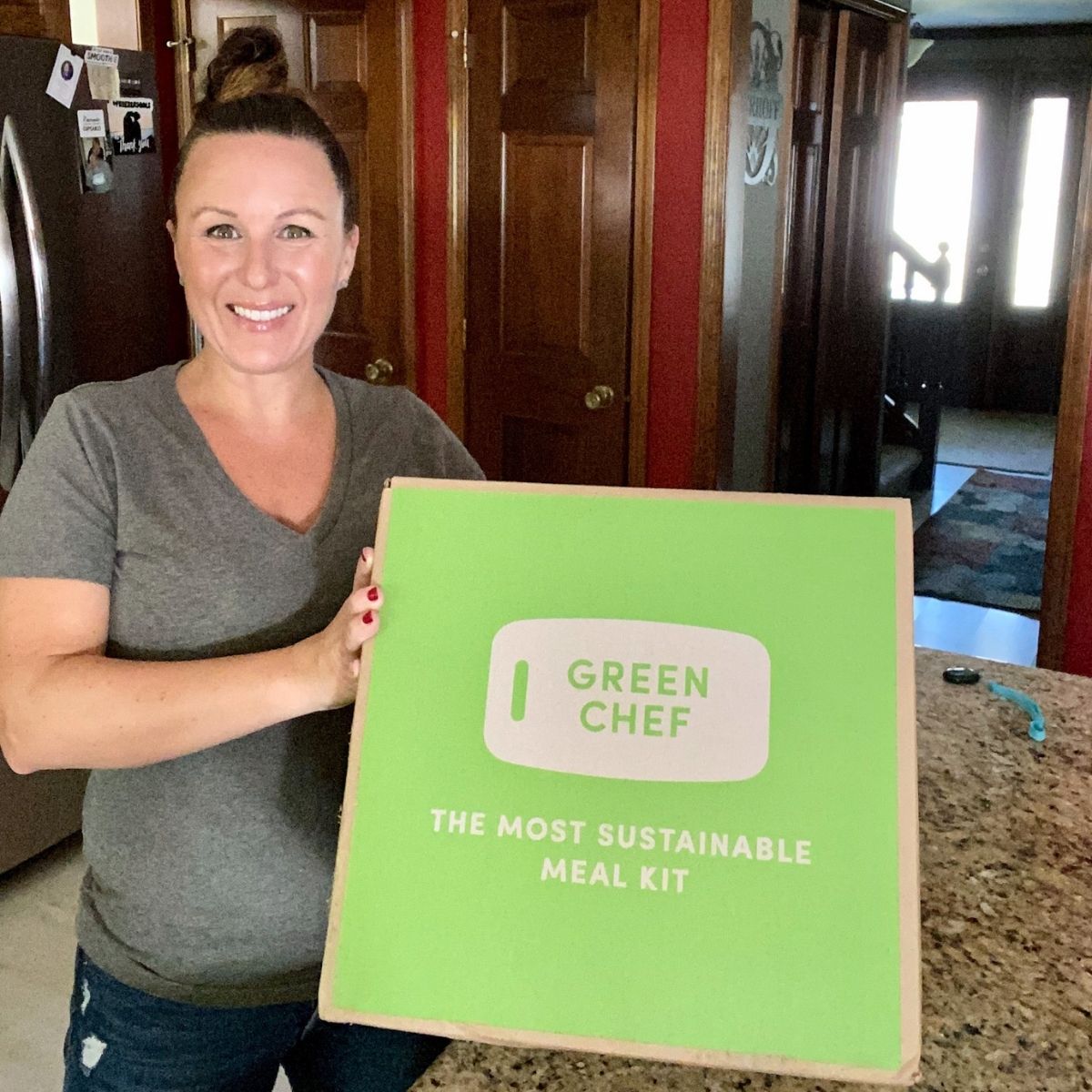 This post contains affiliate links. I will receive a small commission if you decide to subscribe to Green Chef. However, this is my honest review, and you are by no means obligated to use my links. If you do, thanks so much for supporting my site. Please see our review process for more information on how I review products, services, and companies.
My Honest Green Review 2023: Everything You Need to Know!
Are you a busy parent balancing work and family life while ensuring your loved ones get healthy, nutritious meals? If so, meal kits might be the solution you've been looking for!
With meal kits, you can say goodbye to the stress and hassle of meal planning, grocery shopping, and prepping. Select your meals online, and everything you need for dinner will be delivered straight to your doorstep.
Of course, choosing the right one for your family can be challenging with so many meal kit companies. Green Chef might be the perfect fit if you prioritize healthy, clean meals that use organic ingredients. They offer a variety of meal plans to suit different dietary needs, all while using high-quality, organic ingredients. Plus, their meals are super easy to prepare, even for those who might not consider themselves "kitchen-savvy."
If you're excited to order your first box from Green Chef, now is a great time to do it! You can get $250 off throughout your first five boxes as a first-time customer. Get the deal here 👇
Jump to:
What is Green Chef?
Green Chef is one of the original organic meal kit delivery services out there, and it's perfect for anyone who wants to stick to a clean-eating lifestyle or has dietary restrictions. While not every ingredient in their boxes is 100% organic, they only source the highest-quality items when they can't find certified organic options.
According to their website, all the produce and eggs in their boxes are organic unless otherwise noted. They also have strict animal welfare standards for their proteins, and every ingredient undergoes extensive screening to ensure it meets their high-integrity ingredient standards.
What's great about Green Chef is that they don't rely on heavy sauces or unhealthy ingredients like white pasta. Instead, they use wholesome, nutritious ingredients like whole grains, brown rice, and fresh veggies to create delicious recipes.
Not only does Green Chef provide healthy meals, but they also cater to specific dietary needs like keto, paleo, low-carb, and gluten-free. Unlike other meal kit services that offer limited options for those with dietary restrictions, Green Chef fills the gap by providing a wide variety of meal plans that cater to different lifestyles. And if you're worried about gluten, don't be! All ingredients in their keto and paleo meal plans are certified gluten-free.
One of my favorite things about Green Chef is that they are about convenience, which is why they do much of the prep work for you. Many ingredients have already been prepped, from pre-chopped veggies to homemade sauces, allowing you to save time without sacrificing flavor. Plus, their recipe cards and kit bags are color-coded, making it easy to find everything you need when it's time to cook. No more searching through piles of ingredients – everything you need is right at your fingertips!
Green Chef is worth considering if you're looking for a meal kit company that prioritizes clean eating and healthy meals.
How Does Green Chef Work?
When you sign up for Green Chef, you'll have a variety of different meal plans to choose from.
Here's what you can expect from each plan:
Keto + Paleo: These recipes are low-carb, high-protein, and free of gluten, grains, and soy. Perfect for those following a keto or paleo diet.
Vegetarian: This plan offers plant-based, meatless recipes for those who want to cut down on meat or are vegetarian.
Mediterranean: If you're a fan of the flavors of the Mediterranean, this plan will bring those flavors to your plate.
Fast & Fit: For those short on time, this plan offers simple recipes that are mostly keto, packed with veggies, and can be made in 30 minutes or less.
Vegan: This plant-powered plan features a variety of veggies, grains, and plant-based proteins for those who follow a vegan diet.
Gluten-Free: These recipes are full of flavor but free of gluten and soy, making them an excellent choice for those with gluten sensitivities.
Once you've chosen your plan, Green Chef's system will suggest the most relevant recipes for you first, but you'll have access to all their recipes each week.
You can easily change your plan in your account settings, skip weeks, or cancel at any time up to seven days before your next scheduled delivery.
As a Green Chef subscriber, you can choose 2-4 recipes each week but can't select more than four recipes at a time. You'll need to order a second box if you want more than four recipes.
After selecting your meal plan and customizing your box, you can choose a delivery date that works for you. Green Chef delivers boxes between Monday and Saturday from 8 a.m. to 8 p.m. based on your local time.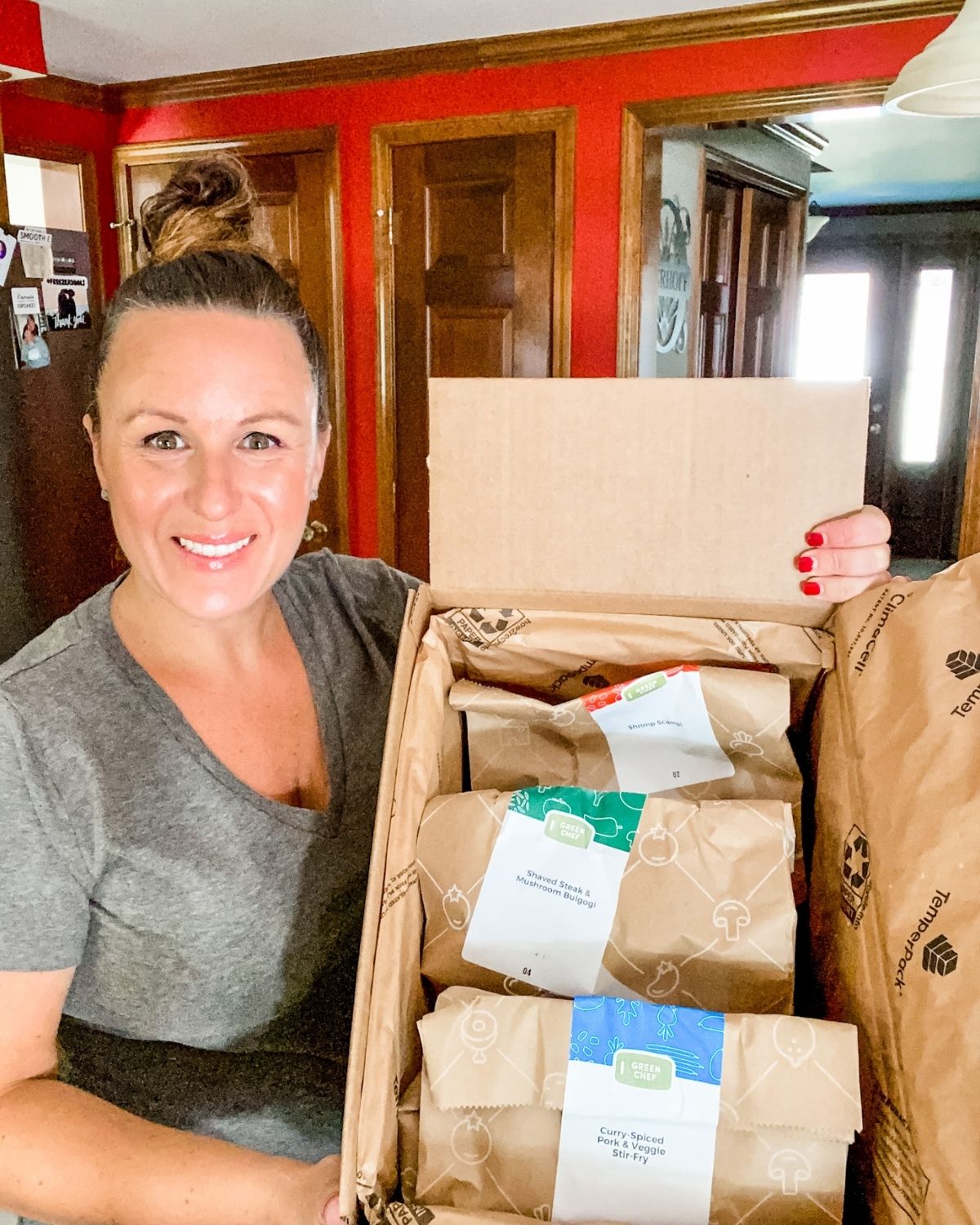 How much does Green Chef Cost?
Each meal at Green Chef varies between $11.49 to $13.49 per serving, depending on your meal plan and how many servings you order. Remember that the cost can differ based on the week's menu and any promotions they offer. Overall, the cost is reasonable considering the quality of ingredients and the convenience of having them delivered straight to your doorstep.
Can you change your meal plans?
You have the freedom to change your meal plan anytime you want. And if you need a break or are out of town, you can pause for a week. Just keep in mind that you need to make your selections before your box is prepared for shipment. The cut-off date and time vary depending on the delivery day you choose, and I suggest marking the cut-off date and time in your calendar to avoid receiving an unwanted box.
How do I cancel my Green Chef subscription?
Canceling your Green Chef subscription is a straightforward process; you only need to go to your account section and click "cancel subscription." Remember to do this before the cut-off time to avoid being charged for unwanted deliveries. You can also live chat with green chef's customer service if you have any questions.
Expert Ordering Tips
Here are some expert ordering tips to help you make the most of your Green Chef meal kit experience:
Check off the proteins you don't want: Select the meals you wish to receive, including the proteins you prefer. This step is crucial to ensure you get the recipes you love and avoid getting meals you don't want.
Choose a delivery day that works best for you: Green Chef offers various delivery days depending on your location. Pick the one that suits your schedule the best. For instance, if you like to meal prep on the weekends, choose Friday delivery, or if you prefer to cook during weekdays, opt for a Monday delivery.
Select your preferred delivery frequency: Green Chef can deliver your box every week, every other week, or every four weeks. You can skip any week if you don't need a delivery, but remember that if it's your scheduled delivery week, they'll send you a box.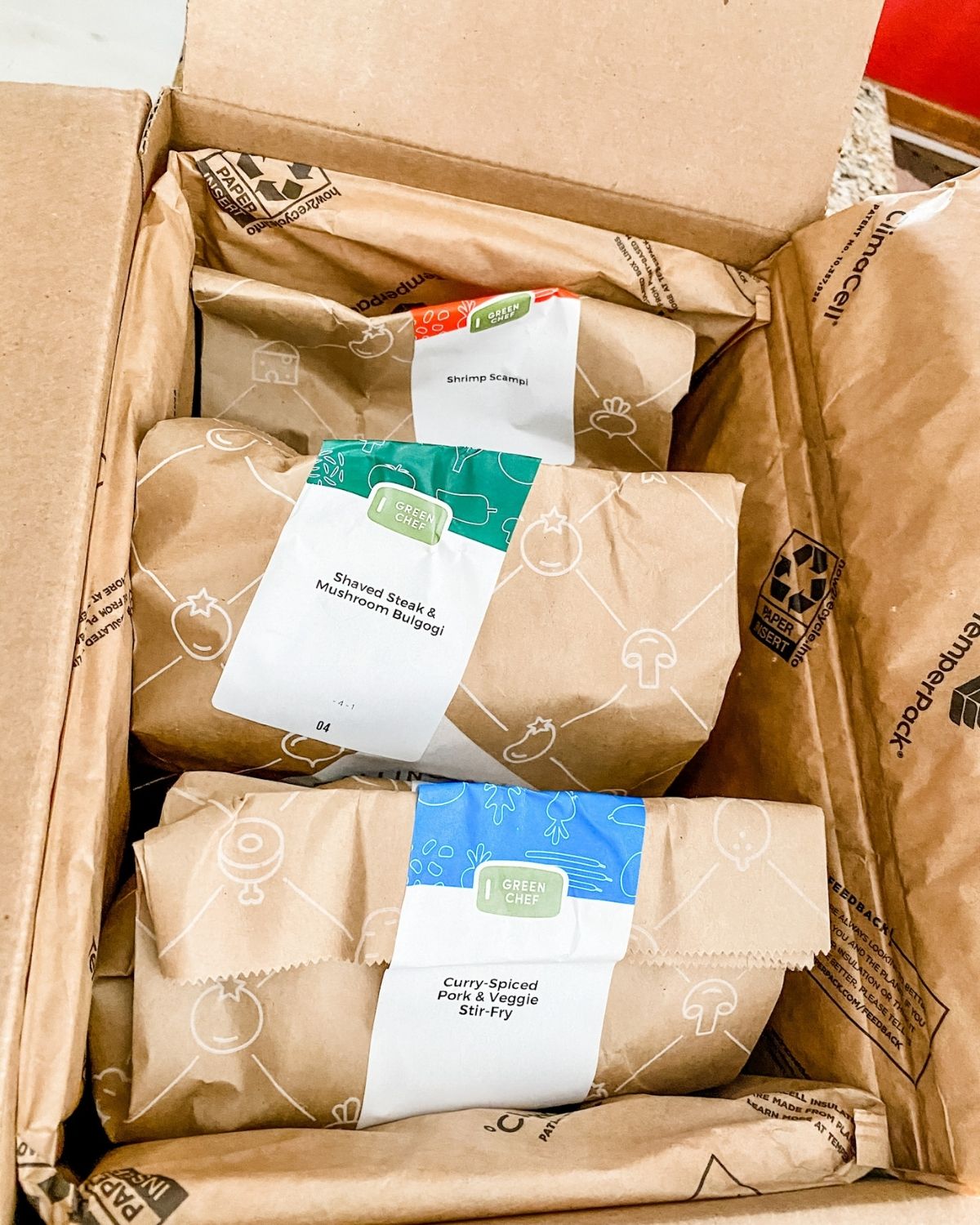 My Personal Green Chef Review
So, I've been using Green Chef for almost five years, and I can honestly say I've enjoyed most of their meal plans and recipes. I've been trying out their Paleo and Keto meal plans, which have worked well for me. Although I'm not strictly Paleo or Keto, I have a gluten allergy, and these plans cater to my dietary needs.
One thing I appreciate about Green Chef is the quality of its ingredients, everything is organic or super high-quality, and their sourcing standards are very high. I've also found that their recipes are flavorful and restaurant-quality, with lots of unique spice blends and sauces that I wouldn't usually think to use.
Another aspect that I love about Green Chef is the convenience factor. All the ingredients come pre-portioned and prepped, so I don't have to spend much time chopping and measuring. The recipe cards are straightforward to follow, with step-by-step instructions and photos.
If I had to nitpick, I would say that some of the meals can be a bit too "out there" for my taste. They tend to be on the eclectic side, with lots of fusion and global flavors, so if you prefer more classic dishes, you might not love all the options. That being said, I think they've been offering more traditional meals lately, so it's worth checking out the different plans to see what works for you.
Unboxing and Packaging
Before we dive into the delicious recipes, let me give you a quick overview of how Green Chef sends their meal kits. You'll receive a sturdy cardboard box with all the recipes inside when you order from them. The meats and other perishables are placed at the bottom of the box and surrounded by insulation and dry ice packs to keep them fresh. Meanwhile, the rest of the ingredients are sorted into labeled paper bags. This system is helpful because it keeps everything organized and easy to find. Plus, I've always received my box cold and fresh, which is essential when dealing with food!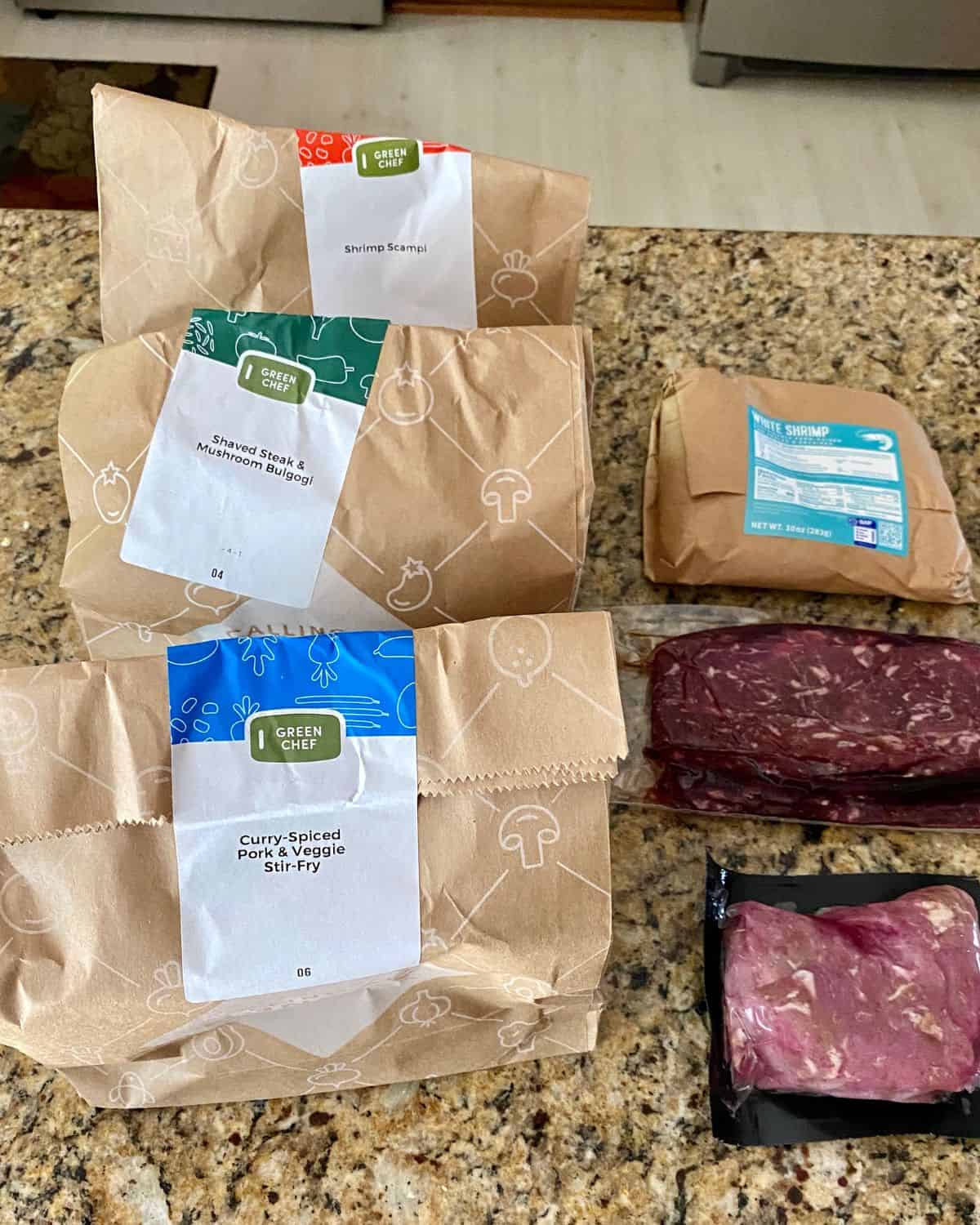 Green Chef Recipes
So, I tried three Green Chef recipes – Shrimp Scampi, Shaved Steak and Mushroom Bulgogi, and Curry-spiced Pork and Veggie Stir-fry. Here's what I thought about them:
Shrimp Scampi:
The recipe was pretty easy to prepare, although cooking the spaghetti squash took some time.
The shrimp was fresh and delicious.
It didn't take too long to make, and I finished cooking everything in under 40 minutes.
It was easy to meal prep and store. I just divided the scampi into two containers to heat and eat later.
This recipe was my favorite – I loved the taste, and using spaghetti squash instead of pasta was a great twist on the classic dish.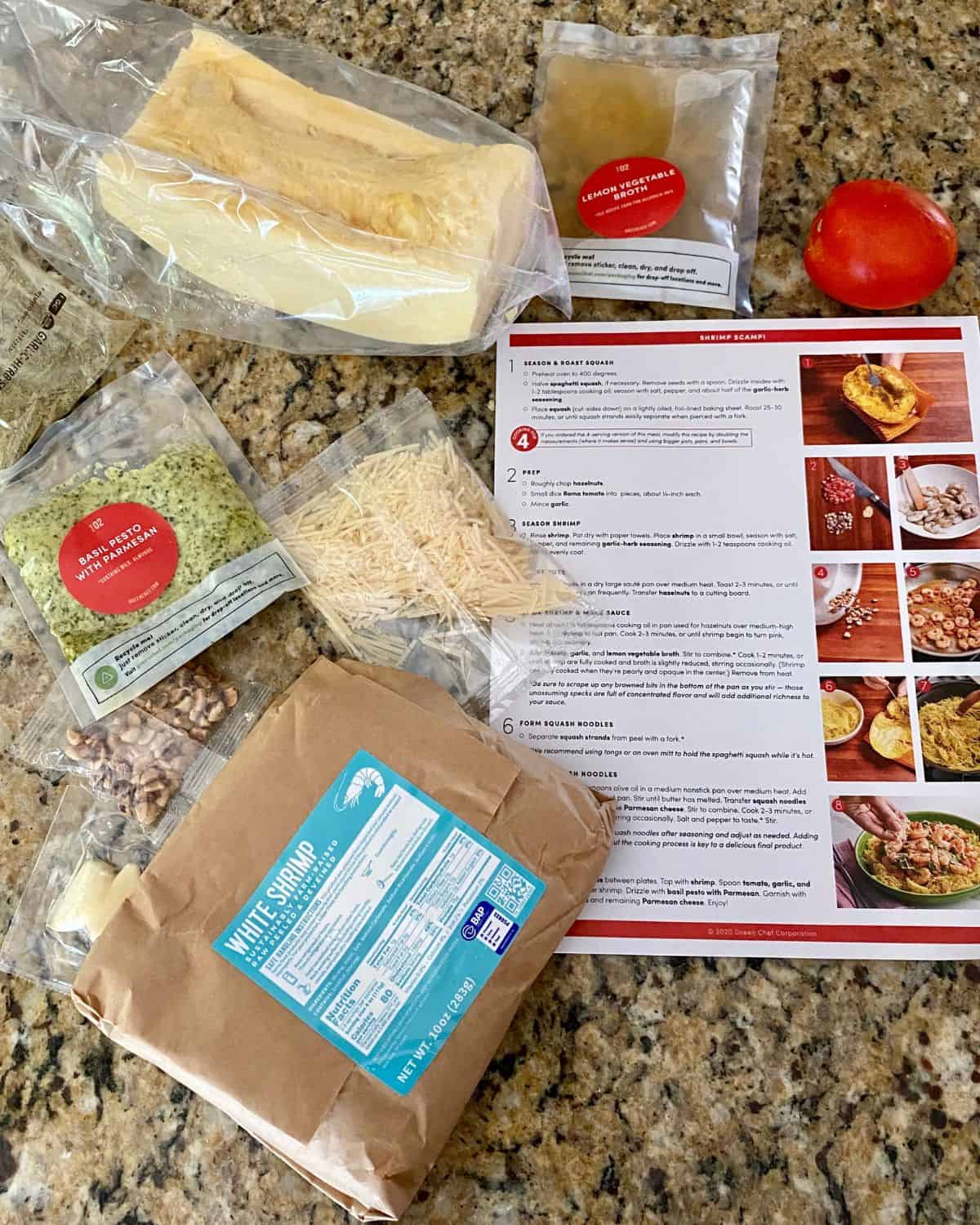 Shaved Steak and Mushroom Bulgogi:
This recipe was also easy to prepare, and the pre-sliced steak saved a lot of cooking time.
It only took about 30 minutes to make using one pan.
The meat was tender, and the bell pepper and broccoli were fresh and crisp.
The flavors were terrific, and I loved the combination of the steak and mushrooms.
I also divided this recipe into two meal prep containers for easy reheating later.
Curry-spiced Pork and Veggie Stir-fry:
The pork tenderloin was already chopped up, making cooking this dish easy.
This recipe, like the others, took less than 30 minutes to make.
I split the dish into two meal prep containers to eat throughout the week, just like the others.
Unfortunately, this recipe wasn't my favorite in terms of taste. I'm not a big fan of curry, so it didn't appeal to me. But if you enjoy curry, you'll probably like this one!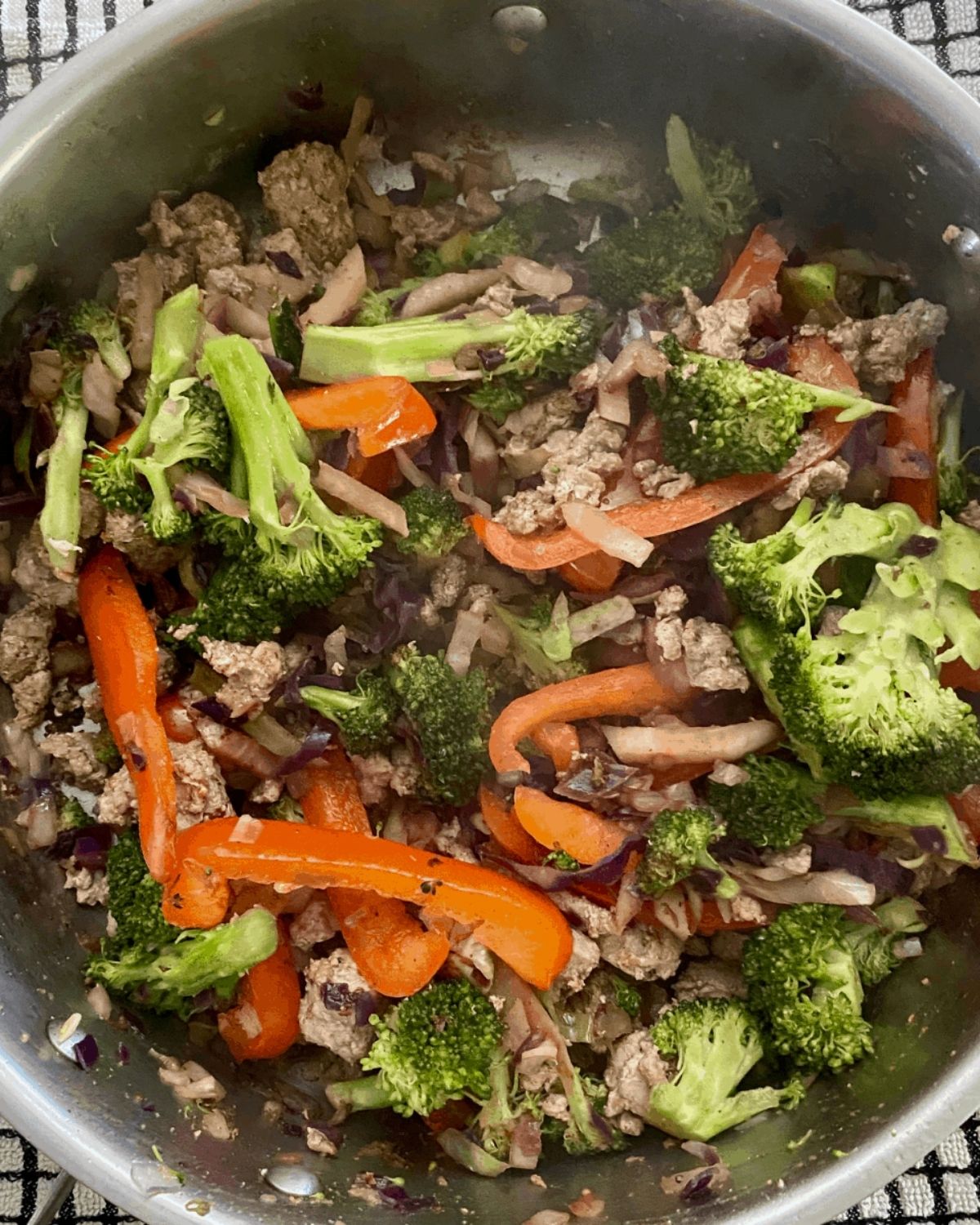 Overall, I enjoyed my Green Chef experience. The recipes were easy to follow, and the ingredients were fresh and high-quality. The vegetables were crisp and delicious and the chicken, shrimp, and pork were top-notch. I also thought the portion sizes were perfect!
Can you meal prep these recipes?
Regarding meal kit recipes, I always try to choose ones that can be meal prepped beforehand. Lucky for me, all of the recipes I picked from Green Chef were great for meal prep!
After preparing the dishes, I could easily divide them into containers and store them in the fridge. When it was time to eat, I heated my pre-made meals and they tasted just as delicious as they did when I first made them.
I've noticed this with every Green Chef box I've ordered – the recipes always hold up well when reheated, making them the perfect option for meal prepping.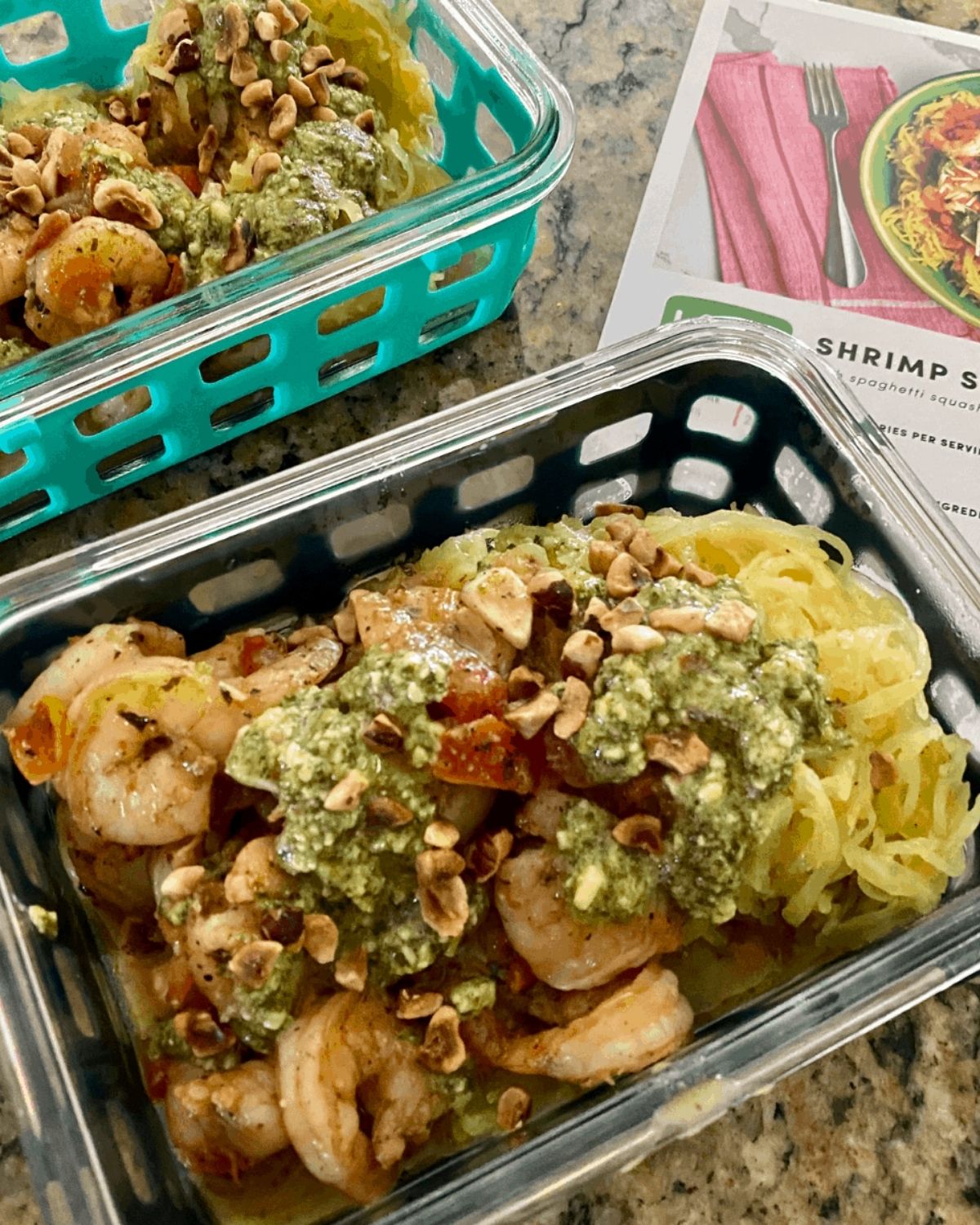 Pros of Green Chef
Green Chef only uses high-quality ingredients; everything is organic or meets high-integrity standards.
They offer specialized meal plans, including Paleo, Keto, Vegetarian, Vegan, and Gluten-free, making catering to specific dietary needs easier.
All the ingredients are prepped and portioned out beforehand, so you don't have to worry about chopping, slicing, or dicing. This saves a lot of time; some meals can be ready in 30 minutes or less.
Many recipes only require one pot or pan, making it easy to clean up after cooking.
The recipe ingredients are organized in bags, which can be used as a garbage bag while you prepare the recipe.
Each recipe comes with a recipe card featuring colorful photos and easy-to-follow instructions. Plus, the ingredients have color-coded labels to match the recipe card, so you can easily keep track of everything.
The restaurant-quality recipes include delicious spice blends and sauces that add flavor. If you enjoy trying new flavors, Green Chef is a great choice.
It's easy to skip weeks if you need a break or go out of town.
Canceling your Green Chef subscription is straightforward if you decide it's not for you.
Cons of Green Chef
Price: Green Chef can be more expensive than other meal kit delivery services, especially if you opt for specialty diet plans.
Limited recipe selection: While Green Chef offers a good variety of recipes, the selection can be limited, especially if you have specific dietary restrictions or preferences.
Packaging waste: Like most meal delivery services, Green Chef packages its ingredients in plastic and cardboard, which can contribute to environmental waste.
Cooking time: While the pre-prepped ingredients can save time, some recipes may still take longer to cook than anticipated, which can be a downside for busy individuals.
Who Would Benefit the Most?
If you want to eat healthy organic meals but don't have the time to plan or shop, Green Chef can help you out.
Green Chef can make it easier for you to start eating Keto, Paleo, Vegan, Vegetarian, or Gluten-free, whether you're a newbie or have been doing it for a while.
If you like eating out but want to cook more at home, Green Chef offers restaurant-style recipes that are easy to make in your kitchen, and it can save you some money compared to dining out.
If you value convenience and don't mind paying a bit extra, Green Chef's meal kit delivery service will work great for you.
Green Chef is an excellent fit if you prioritize eating organic or high-quality food with sustainable sourcing.
Who Wouldn't Benefit?
Green Chef's eclectic meal options might not work for you if you're a picky eater who prefers more traditional comfort food. However, you can still look at their meal plans and see if they have something you might like.
If you're looking for low-carb meals for yourself but want to feed your family with the same meal kit, you might have difficulty with the limited options available. The balanced living plan might work better for families.
If you don't see the value in having organic and sustainable-sourced ingredients delivered to your door, Green Chef might not be worth the cost. If you prefer to meal plan and shop for yourself, this service might not be necessary.
Hellofresh vs. Green Chef
If you're trying to decide between Hello Fresh and Green Chef, I can help you out. I've tried both meal kit companies numerous times (you can check out my Hello Fresh review for more info!), so I have some insight on which one might work better for you.
It's important to note that while Hello Fresh owns Green Chef, they differ in who they target and what they offer. So let's break down the distinctions between the two, so you can figure out which fits your budget and lifestyle the best.
Cost:
Green Chef is generally more expensive than Hello Fresh, with prices starting at around $9.99 per serving, compared to Hello Fresh's starting price of around $7.49 per serving.
However, Green Chef offers more specialized meal plans (such as Paleo, Keto, and Vegan) which can be worth the extra cost if you follow a specific diet.
Who would prefer each kit:
Green Chef is ideal for those who follow specific diets or have dietary restrictions. They offer specialized meal plans that cater to different diets, such as Paleo, Keto, and Vegan.
Hello Fresh is great for those who are looking for simple, easy-to-follow recipes and a variety of meal options to choose from.
Difference in recipes:
Green Chef's recipes are more complex and include various ingredients and spices. They offer restaurant-quality meals that may require more time and effort to prepare.
Hello Fresh's recipes are more uncomplicated and straightforward, with fewer ingredients and less preparation time required.
Quality of ingredients:
Both Green Chef and Hello Fresh use high-quality ingredients, focusing on using fresh, seasonal produce and sustainably sourced meats and seafood.
Green Chef places a greater emphasis on organic and non-GMO ingredients, while Hello Fresh offers more flexibility in terms of ingredient sourcing.
Other comparisons:
Green Chef's packaging is more eco-friendly, with their boxes made from recyclable and biodegradable materials.
Hello Fresh offers a wider variety of meal options each week, with up to 25 recipes, while Green Chef typically provides around 9-12 options.
Green Chef is a Certified B Corporation, which means they meet rigorous social and environmental performance standards, accountability, and transparency. Hello Fresh does not have this certification.
FAQs
Why is Green Chef so expensive?
It's important to consider that the higher cost of Green Chef's meal kits is due to their certification as an organic provider, and the use of either organic or high-quality ingredients. However, their prices are similar to other meal kit services that offer organic ingredients and specialty meal plans, such as keto, paleo, and gluten-free. While buying organic ingredients at the grocery store may be less expensive, Green Chef's meal kits are still more affordable (and healthier) than eating out or ordering take-out. If you tend to spend a lot on take-out or prepared foods, Green Chef can help you eat healthier and save you money in the long run.
Does HelloFresh own Green Chef?
Yes, Green Chef is owned by HelloFresh. HelloFresh acquired Green Chef in 2018, but they operate as separate brands. While they share the same parent company, each brand has unique offerings and meal plans. So, while they may be related in a sense, they are still two distinct companies with their own identities and services.
Which one is better HelloFresh or Green Chef?
Choosing between HelloFresh and Green Chef ultimately depends on your preferences and needs. HelloFresh offers more variety and flexibility in their meal options, while Green Chef specializes in organic and specialty diets like Paleo, Keto, and Vegan. Green Chef may be better for those who prioritize organic ingredients or need help planning meals around their dietary restrictions. However, Green Chef is generally more expensive than HelloFresh, so cost may also be a factor. It's best to weigh each service's pros and cons and determine which aligns better with your preferences and budget.
Where does Green Chef deliver?
Green Chef delivers to most of the continental United States. However, they do not deliver to Alaska, Hawaii, and parts of Louisiana. To check if they deliver to your area, you can enter your zip code on their website during the signup process.
Final thoughts: Is Green Chef worth it?
Yes, based on my experience, I believe Green Chef is worth the cost. It is an outstanding meal kit delivery service that caters to people who need assistance starting specialty diets. Green Chef offers meal plans that suit various dietary needs, including Paleo, Keto, Vegan, and Gluten-free. This is particularly beneficial for individuals who may not be knowledgeable in planning meals according to their dietary restrictions. In my case, I found Green Chef to be helpful as I needed to follow a gluten-free diet due to an allergy, and I had no idea where to begin.
Another great feature of Green Chef is that they prioritize using organic ingredients in their recipes. This is perfect for people who want to eat clean, healthy foods without harmful chemicals or additives.
However, one downside of Green Chef is that it is pricier than other meal kit delivery services. But, in my opinion, the quality of the ingredients and the convenience of having them prepped for cooking make it worth the cost.
Overall, Green Chef is an excellent choice for a meal kit delivery service that caters to specialty diets and uses high-quality, organic ingredients.
I hope my review of Green Chef was helpful to you! Now, I'd love to hear from you. Have you tried Green Chef before? If so, what did you think of their service and recipes? Did you find them easy to prepare and tasty? Or, maybe you have a different meal kit delivery service you prefer? Let me know in the comments! I'm always interested in hearing about people's experiences with meal kit services.
Check out my other reviews
See all of my reviews.