If you're looking for an honest review of Daily Harvest to help you decide if it fits your budget and lifestyle, you've come to the right place. In this comprehensive Daily Harvest Review, I'll cover how Daily Harvest works, highlight some of their best meals, and provide insight into who would benefit most from a subscription. Additionally, I'll share my experience using the service and offer tips on using Daily Harvest to eat healthier and lose weight.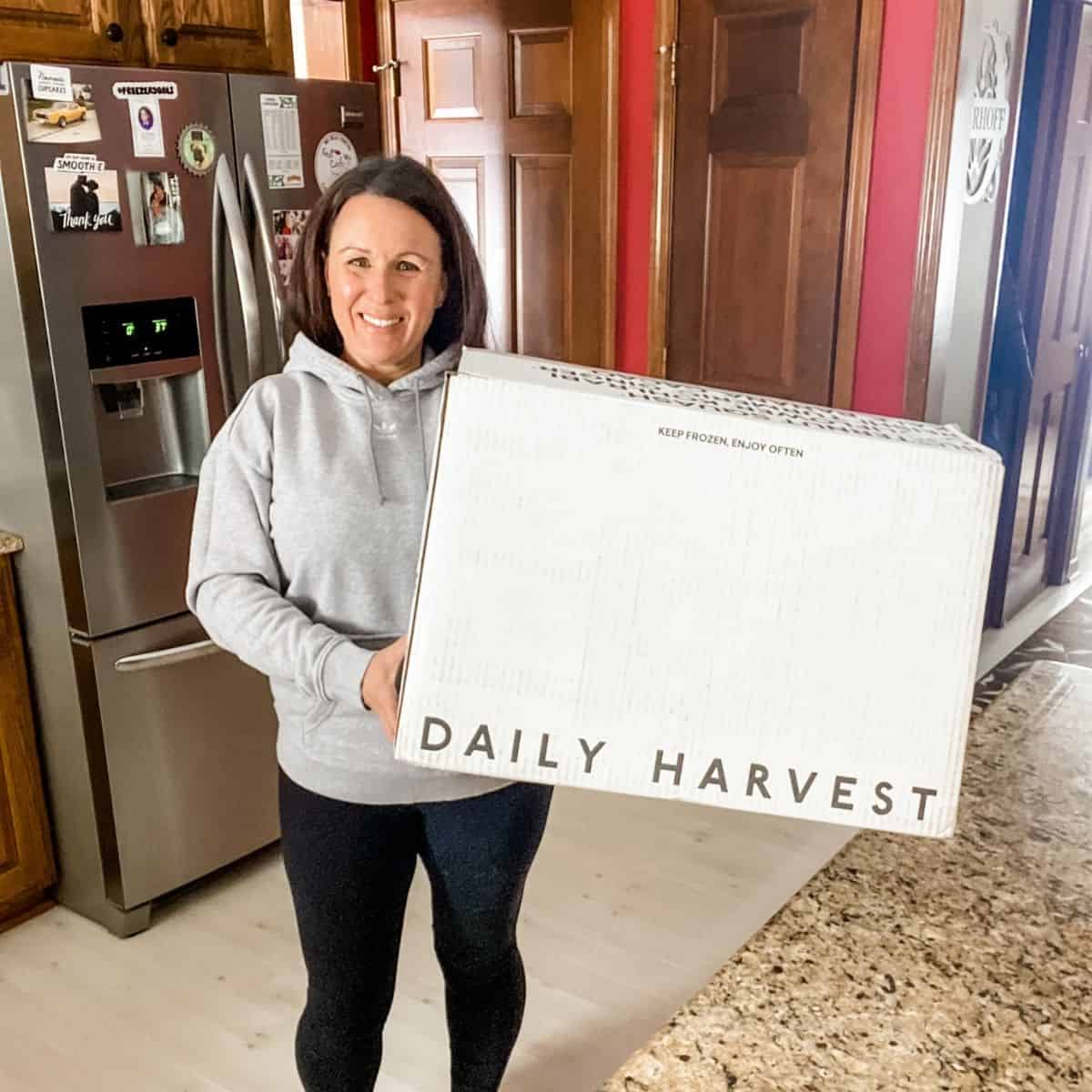 **This post contains affiliate links. I will receive a small commission if you decide to subscribe to Daily Harvest. However, this is my completely honest review and you're by no means obligated to use my links. If you do, thanks so much for supporting my site. Please see our review process for more information on how I review products, services, and companies.
My Honest Daily Harvest Review 2023: Everything You Need to Know!
I've been a Daily Harvest subscriber since 2017, so I've got a lot of experience with this vegan meal delivery service.
Even though I love to cook and usually meal prep every week (plus do a monthly freezer prep), I still find ordering a box of Daily Harvest meals every couple of months incredibly helpful. Sometimes, I need a break from cooking or looking for the convenience of healthy, pre-packaged meals in the freezer.
So, I'm excited to share my honest review of Daily Harvest with you! Whether you're a busy parent or just looking to simplify your meal planning, I'll give you all the details to decide if Daily Harvest is the right choice for you and your family.
Jump to:
What is Daily Harvest
Daily Harvest is a meal delivery service that specializes in vegan cuisine. Their chef-crafted meals are all frozen and delivered right to your door. Each meal is designed to serve one person and comes in a convenient cup. To prepare your meal, add a liquid and blend, warm up, or refrigerate overnight, depending on the cup you choose. Plus, their food is gluten-, dairy-free, and loaded with fruits and veggies.
Daily Harvest has a bunch of different meal options to choose from, including breakfast, lunch, dinner, and snacks. They've got everything from oat bowls, soups, flatbreads, harvest bakes, energy bites, desserts, and plant-based milk.
The best part is that their food is gluten- and dairy-free and packed with fruits and veggies. Daily Harvest makes it easy to eat healthy meals at home, and its motto is "we take care of the food so food can take care of us."
How Does a Daily Harvest Subscription Work?
So, how does a Daily Harvest subscription work? It's pretty simple!
When you sign up, the first thing you do is build your box. You can choose your favorite menu items to create a custom box or let Daily Harvest fill your box with their bestsellers.
You can head to the Daily Harvest website or app to pick your meals. You can check out the different meal options and get all the info you need there. You can read a description of the meal, see the ingredient list, get nutritional information, and even read reviews from other customers.
The cool thing about Daily Harvest reviews is that they don't censor them. So, if someone writes a negative review, it stays up so you can see other people's experiences. This can be super helpful when you're putting together your box.
Once your box is full, save it, and you're ready! Your meals will be delivered right to your doorstep, and you can start enjoying healthy, delicious food without any hassle.
How Much Does Daily Harvest cost?
So, you might be wondering, how much does Daily Harvest cost? It depends on how many cups you order – each is between $6.99 and $8.99. And the more cups you get in a box, the better the deal. For the best value, go for a 12 or 24 cups box.
Just remember, each cup is designed to serve one person. But when you compare the cost to take-out or restaurant meals, it's a pretty fair price. Plus, these meals are all vegan and packed with protein from plant-based sources. But if you're a meat lover, remember that you'll need to purchase your chicken or beef separately from the grocery store to add to a cup.
Is Daily Harvest worth the cost?
So, the big question on your mind might be: is Daily Harvest worth the cost? Well, in my opinion, absolutely! Between the convenience of having healthy, organic meals delivered right to your door, the high-quality ingredients, and the reasonable prices, it's definitely worth it.
Especially if you're someone who's always on the go and doesn't have a ton of time to cook or meal prep, Daily Harvest is the perfect solution. You can have delicious, healthy food ready in just a few minutes.
How to Make Changes or Skip a Box?
To make changes or skip a box with Daily Harvest, you can choose to have your box delivered weekly or monthly. Keep in mind that any modifications or skips must be made by the date listed below the delivery date. You'll receive the default box for that week or month if you miss the deadline. Don't worry; you can easily set a reminder on your phone or use their app to make changes to your account and future boxes. The app is super user-friendly, making it simple to manage your subscription.
Can You Cancel Your Subscription at Any Time?
Yes, you can cancel your Daily Harvest subscription at any time. Go to your account's settings page and click the cancel subscription button. It's as easy as that! Remember that canceling will only apply to future deliveries if you've already been charged for a box.
The Best Daily Harvest Meals
Let me tell you about Daily Harvest's shipping and packaging. Each order arrives in an insulated solid cardboard box, and they use dry ice to keep the cups frozen during shipment and delivery. Unlike other meal delivery services, everything arrives frozen, so getting the cups in the freezer is essential as soon as possible. They even include a reminder sticker just in case you forget.
I've been ordering boxes from Daily Harvest since 2017, and I've never had a problem with the ingredients showing up thawed.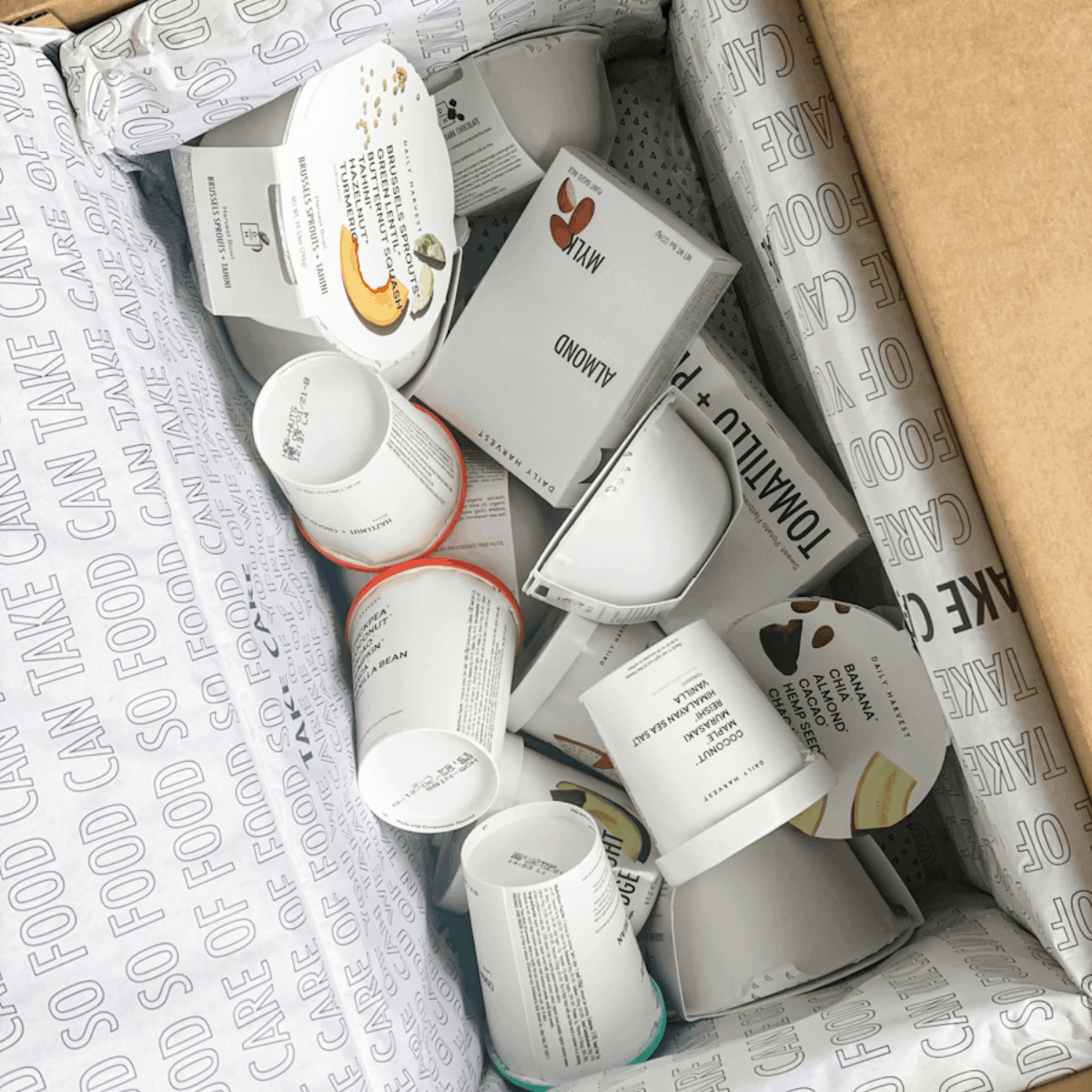 Daily Harvest Smoothies
I love getting Daily Harvest boxes and always include a few smoothies. They have a great selection of flavors, from fruity to green and creamy options, and I've tried them all!
One of the best things about Daily Harvest smoothies is that they're packed with nutrients. Each contains a mix of fruits, veggies, and superfoods, so you can feel good about getting a healthy boost with every sip.
Preparing the smoothies is super easy too. All ingredients are already chopped up and ready to go, so dump them into a blender, add your liquid of choice (I prefer coconut or almond milk), and blend away. The cup even has a hole in the lid for a straw to take it on the go. Of course, you can pour it into your favorite smoothie cup.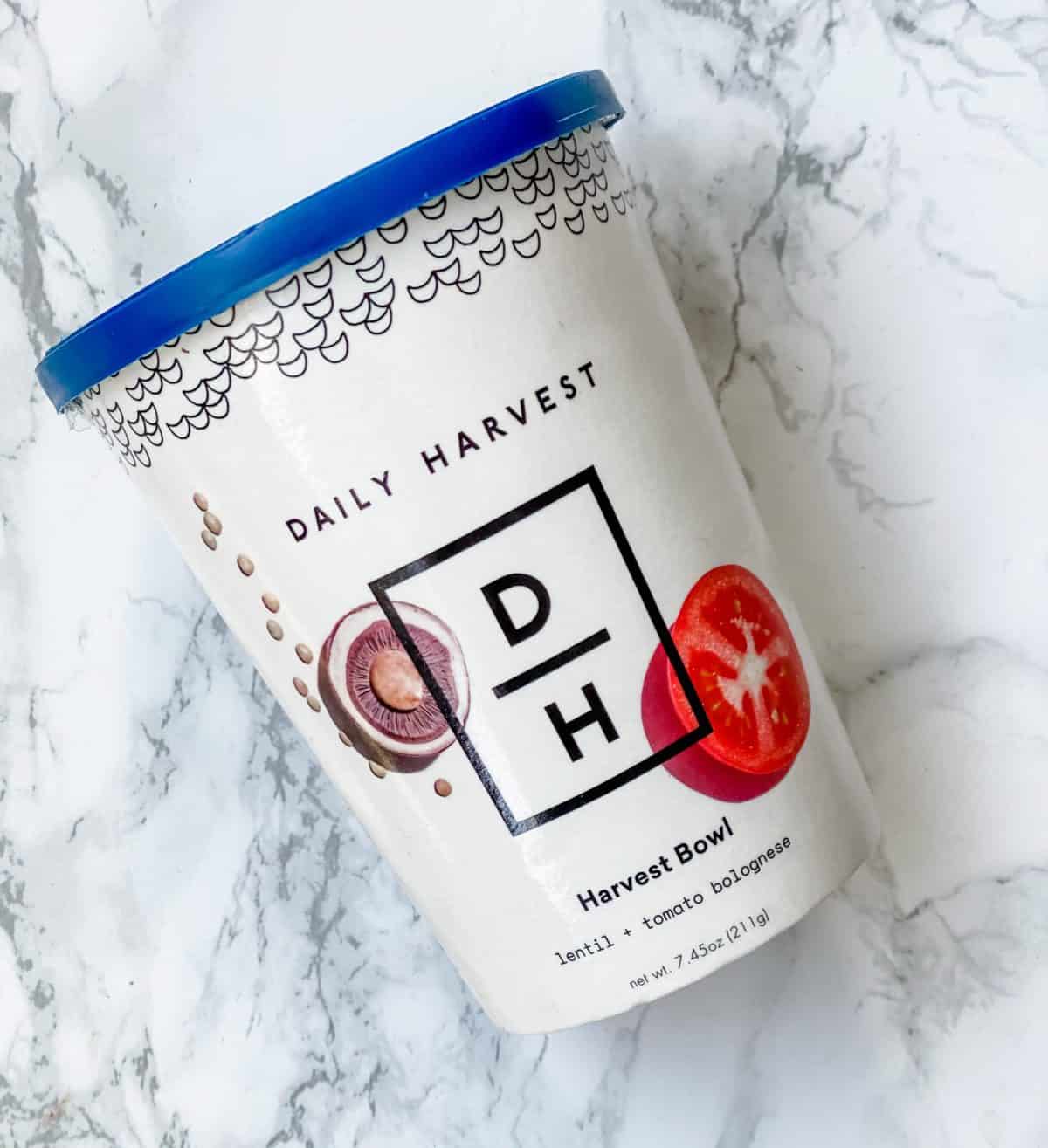 I love the convenience of these smoothies, and they taste great too.
My favorite Daily harvest Smoothies:
Carrot and cinnamon: Surprisingly delicious! It reminded me of carrot cake. They even have smoothies with sweet potato or squash that are delicious.
Chocolate and hazelnut: This one is decadent and thick, like a milkshake.
Chocolate and mint: This is another rich chocolate smoothie with the flavor of delicious mint.
Blueberry and chocolate: Rich and chocolatey, like a dessert.
Strawberry and peach: My youngest daughter loves this one, and it's sweet, refreshing, and kid-friendly.
Cucumber and greens: This smoothie has a healthy green juice taste and is perfect for those who enjoy green smoothies and juices.
Banana and greens: This is a delicious green smoothie that's more sweet and creamy because of the banana. It's a good option for those new to green smoothies, as the spinach isn't too noticeable.
Cold brew varieties: Unfortunately, these were my least favorite, and they were difficult to blend and had a strong coffee flavor that didn't appeal to me.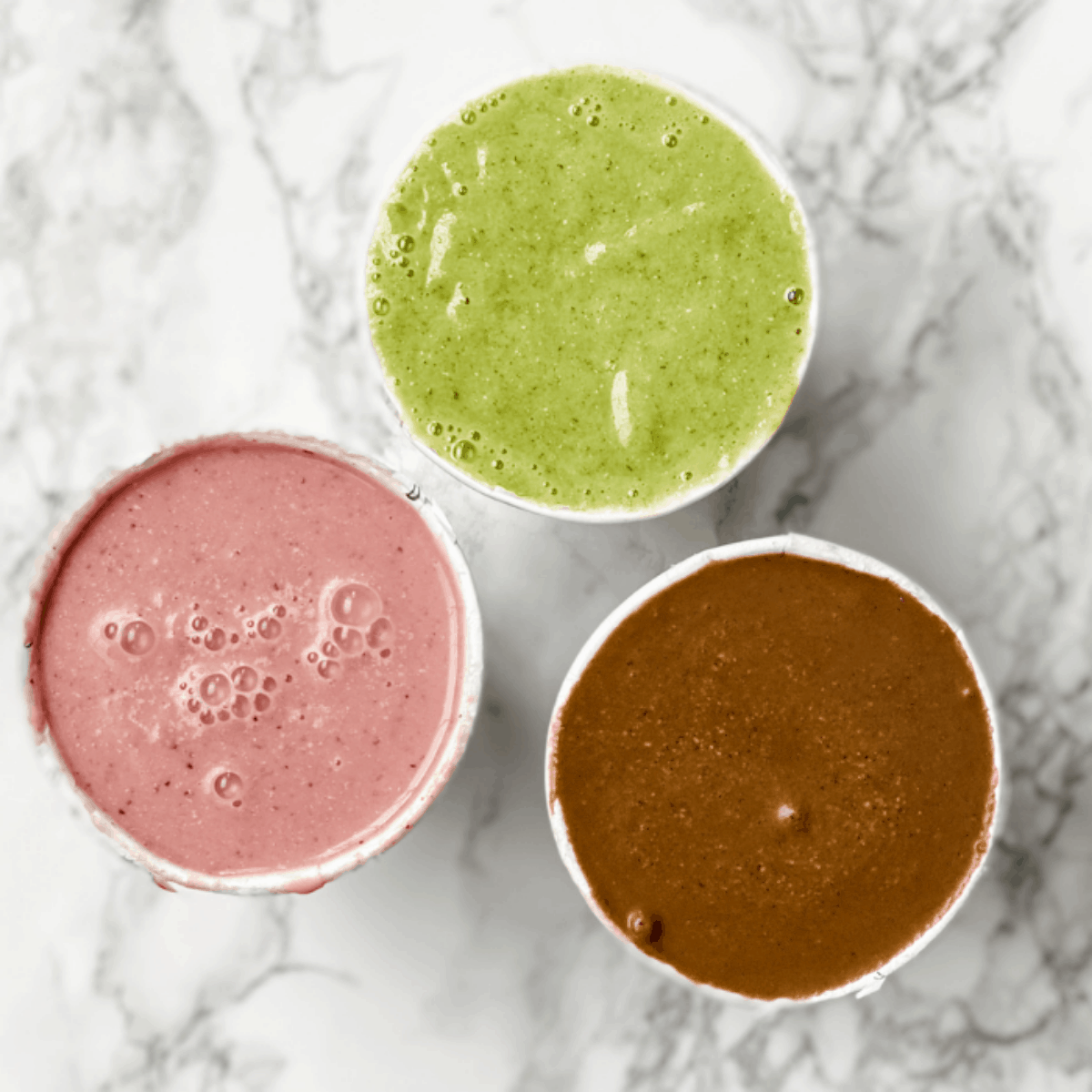 Daily Harvest Oat Bowls
I love the Daily Harvest Oat Bowls. Even though I make my overnight oat recipes, I still like to throw one or two of these bowls into my box because they're so delicious.
My personal favorite is the Mulberry and Dragon Fruit Oat Bowl. It's filled with various extras, and the flavors are amazing. Plus, the fruit is so fresh and juicy, which is a plus.
I've also tried a few other oat bowls from Daily Harvest, including the Cherry and Dark Chocolate Oat Bowl, Pumpkin and Chia Oat Bowl, and Apple and Cinnamon. All of them were delicious, and I prefer to eat them cold, but you could also warm them up on the stove or microwave if you prefer a hot breakfast.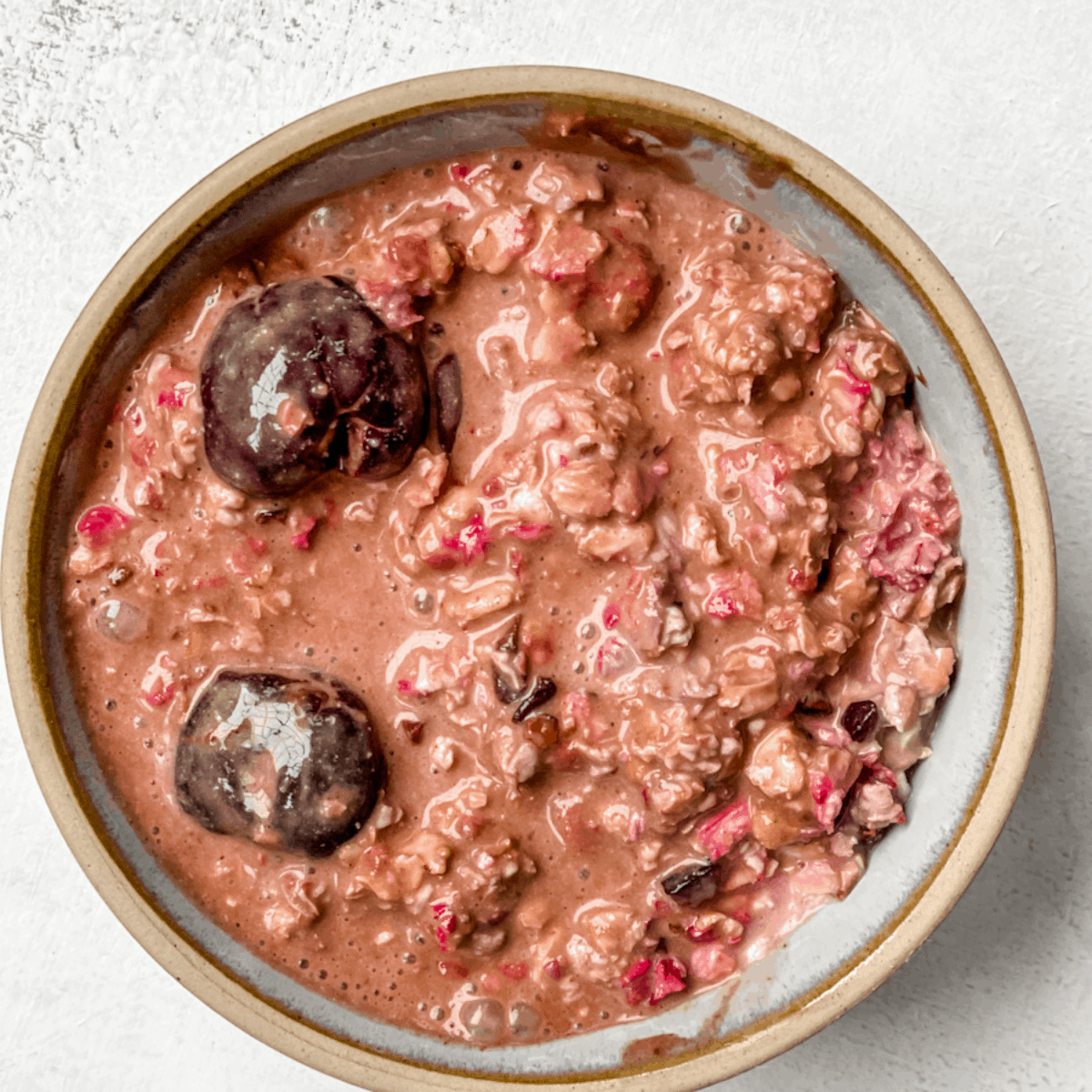 Daily Harvest Energy Bites
Those Daily Harvest Energy Bites are amazing! They taste so rich and indulgent that it's almost like having dessert. They're a great way to tide you between meals when you need a snack.
I could make energy bites myself too, but honestly, it's just easier to order a cup or two of these. And since each cup has seven bites, it's perfect for getting me through the week. My favorites are the Banana Cacao, Hazelnut and Chocolate, Cacao Nib and Vanilla.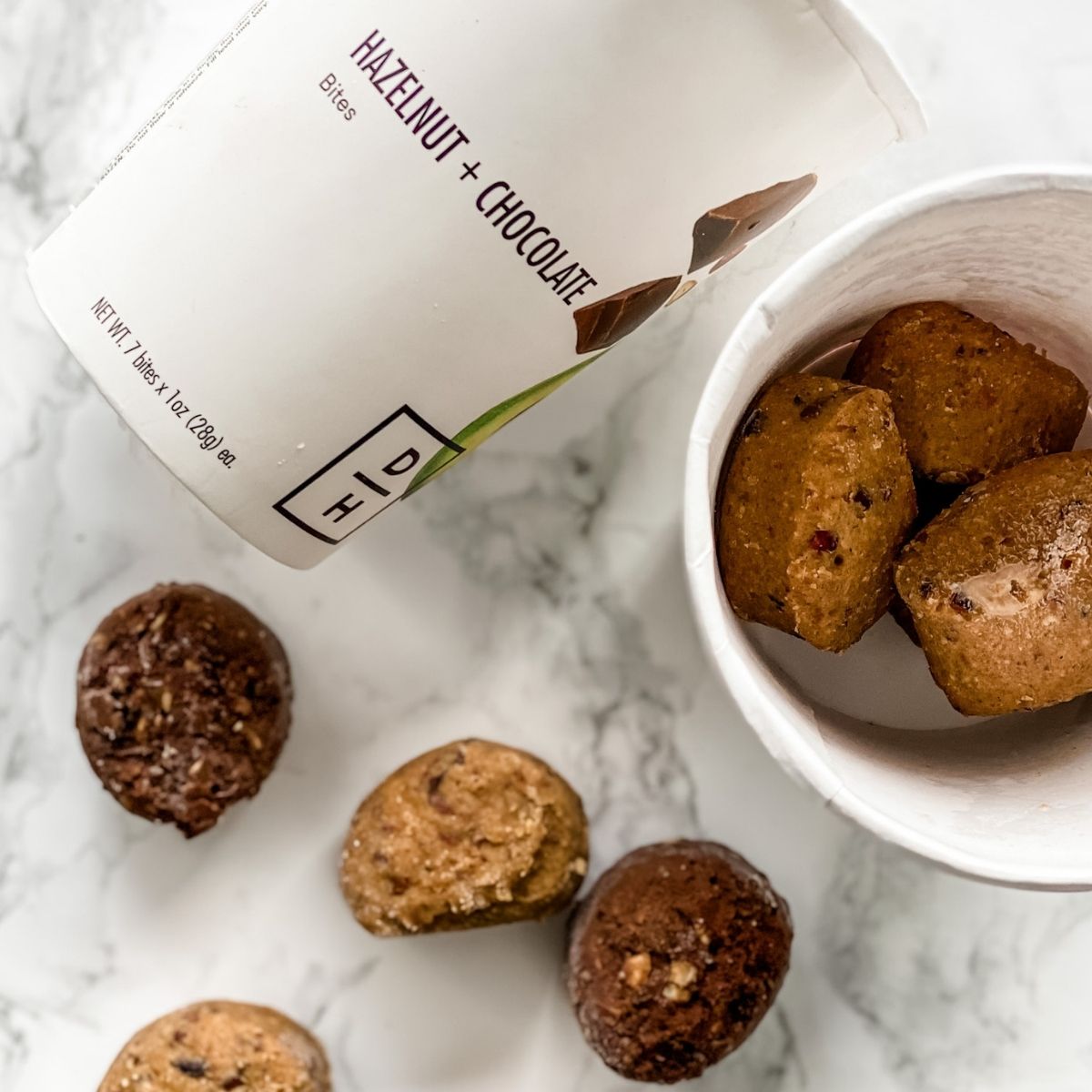 Daily Harvest Flatbread
I love Daily Harvest's flatbreads, and they're my latest obsession! One of the things I love about them is that they're all gluten-free, which is great if you're trying to cut back on gluten or have a gluten intolerance. Plus, they're so satisfying and delicious! Whenever I'm short on time or don't feel like cooking, I always order a few of these for a quick and easy lunch or dinner.
Of all the flavors I've tried, my top three favorites are the tomato and cremini, tomatillo and pepper, and artichoke and spinach. Each one is just bursting with flavor and fills me up nicely. Trust me; these flatbreads are a game-changer!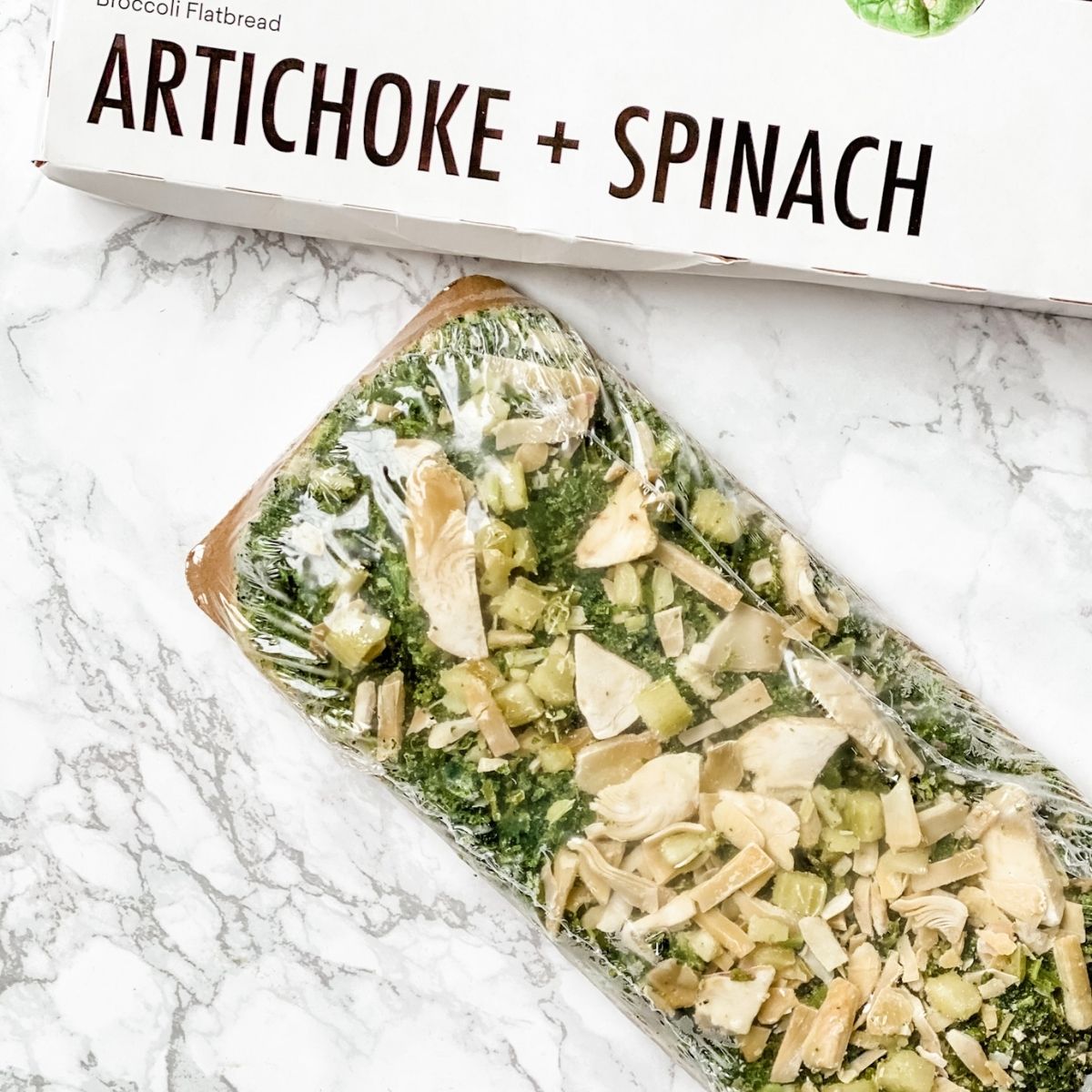 Daily Harvest Harvest Bowls and Soups
I love adding Daily Harvest bowls and soups to our box because they're the perfect solution for a quick, healthy lunch when working from home. I've tried all of the different varieties, and they're all packed with flavor and surprisingly filling.
Here are my favorite bowls and soups:
Broccoli and Cheese Harvest Bowl: This one tastes like broccoli and cheese soup, and it's my oldest daughter's favorite.
Brussels Sprouts and Tahini Harvest Bowl: I can't get enough of the fantastic flavor in this one! I like to pair it with a pita or some crackers.
Quinoa and Chipotle Harvest Bowl: If you like a little spice, you'll love this one. I eat it with corn tortilla chips.
Cauliflower Rice and Pesto Bowl: My youngest is a huge pesto fan, so this bowl is always a hit with her.
Lentil and Mesquite Chili Soup: This chili has a great flavor and is filling. It's one of my favorites.
Daily Harvest Lattes
I don't usually order Daily Harvest's lattes since I prefer their bowls, but I did try the Chaga and Chocolate Latte and the Coffee and Almond Latte, and boy, were they yummy! They taste like a healthy version of hot chocolate or cafe mocha. So if you're looking for a cozy and nutritious drink, I'd recommend trying these lattes.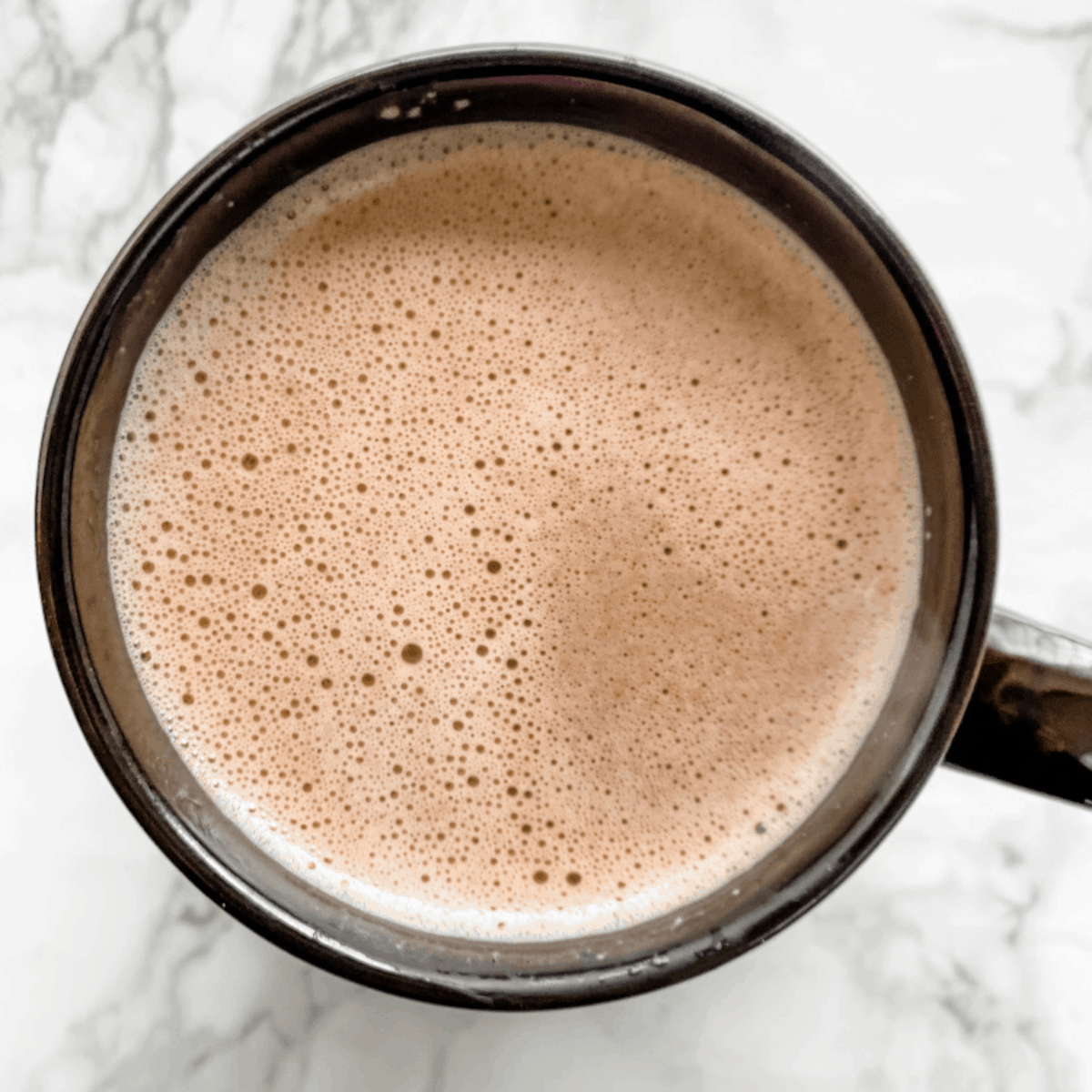 Daily Harvest Scoops
Daily Harvest Scoops is a type of vegan ice cream, and I have to say, we were blown away when we tried it. We decided to try three different delicious flavors.
My personal favorite was the Oooy Gooey Midnight Fudge. It's so rich and decadent that I couldn't believe it was vegan.
The Rich Berry Compote was also really good, with a refreshing coconut flavor that paired perfectly with the fruit.
And then there was the Sticky Sweet Salted Caramel, which was so creamy and satisfying, and it's a must-try for anyone who loves caramel.
Overall, if you're looking for a vegan ice cream option that won't disappoint, I highly recommend trying Daily Harvest Scoops.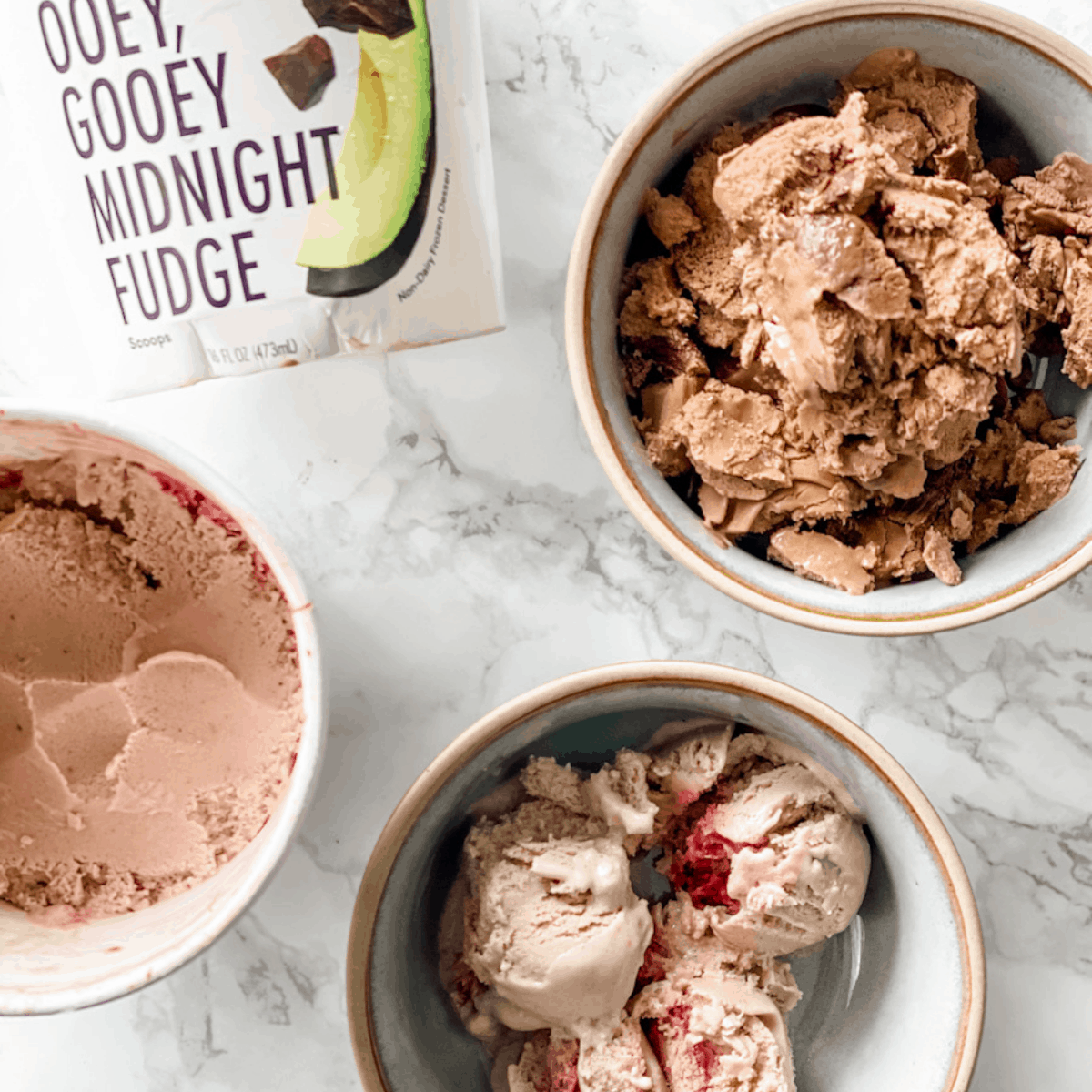 Daily Harvest Mylk
So, in my last Daily Harvest box, I decided to try their new plant-based mylk. I didn't know what to expect, but I was pleasantly surprised! The almond milk is so creamy, rich, and tasty – it's a huge step up from the store-bought options.
The only downside is that it's a bit pricey, so I don't order it with every box. But if you're a fan of almond milk and don't mind spending a bit more for a high-quality product, I recommend giving Daily Harvest's mylk a try!
Other Daily Harvest items
Did you know Daily Harvest recently introduced Forager Bowls and Harvest Oven Bakes to their menu? I'm excited to try them out! Although I haven't tried them yet, I've scheduled them all for my next box. I've heard great things about them, so I can't wait to try them!
Reasons I continue to order boxes?
Organic ingredients. 95% of the ingredients are organic; you can check the ingredient list on their website or the cups.
Plant-based and all of the ingredients include fruits and vegetables. So, it's 100% plant-based and vegan. Also, many of the bowls are high protein!
Gluten-free. I was diagnosed with a gluten allergy last year, so having gluten-free options is helpful.
Convenient. You can easily order your box using their website or app. Then everything is delivered in a sturdy insulated package to your front door.
Customizable. You choose the meals and snacks that go into your box.
Freezer meals. You don't have to worry about cooking the ingredients within a specific time frame because meals are delivered frozen.
Taste good. My teenage daughters love Daily Harvest meals, which says a lot. Everything tastes fresh and delicious.
Recipe options for every meal. Breakfast, lunch, dinner, and snacks are all available to put in your Daily Harvest box.
Who would love Daily Harvest?
Want healthy meals delivered to their doorstep without having to cook.
Are single and want portion-controlled, healthy meals for one without leftovers.
Need pre-made meals with controlled portions to help stay within a calorie range.
Struggle with meal prep but want to eat nutritious meals throughout the week.
You want organic, healthy, on-the-go meals that can be heated or blended quickly.
Have busy lifestyles and want a fast, easy, healthy meal option.
Who wouldn't love Daily Harvest?
If you prefer to cook fresh meals using non-frozen ingredients, Daily Harvest might not be the right fit for you. All their meals are pre-made and delivered frozen, so all you need to do is heat or blend them.
Daily Harvest is strictly vegan if you prefer meals that contain meat, so it may not meet your dietary preferences.
If having individual frozen vegan meals delivered to your home isn't a priority, Daily Harvest may not be your best option.
FAQs
Is Daily Harvest healthy?
If you're wondering whether or not Daily Harvest is healthy, the answer is a resounding yes! It's at the core of their entire business. They believe eating nutritious, plant-based meals is essential for feeling and performing your best.
One thing that sets Daily Harvest apart is its commitment to using only the highest quality ingredients. No additives, preservatives, or fillers. That means you can feel good about what you're putting in your body. Plus, each item is portion-controlled, which can be helpful if you're trying to lose weight or eat more mindfully.
Does Daily Harvest use organic ingredients?
Daily Harvest uses organic ingredients for 95% of its meals, which is a significant percentage. When browsing their selection of cups, you can easily see which ingredients are organic. Additionally, it's worth noting that all their meals are both gluten- and dairy-free, making them suitable for people with dietary restrictions.
Does Daily Harvest taste good?
In our experience, we find Daily Harvest meals to be delicious, and they taste fresh and healthy, which can be a change from processed fast food. But don't worry; you can always check the reviews under each recipe to see which meals work best for your taste buds.
I hope my review of Daily Harvest was helpful to you. If you have any questions, please drop them in the comments section, and I'll get back to you as soon as possible.
Check out my other reviews.