If you're looking for an honest review of Butcher Box to help you decide if it's a good fit for your budget and lifestyle, you've come to the right place. In this comprehensive and honest Butcher Box review, I cover how it works, highlight some of the best Butcherbox meats available, and explore if it is affordable to purchase organic meat and seafood online at Butcherbox. Whether you're new to Butcher Box or just curious about what it offers, this review is a must-read before ordering your first meat box.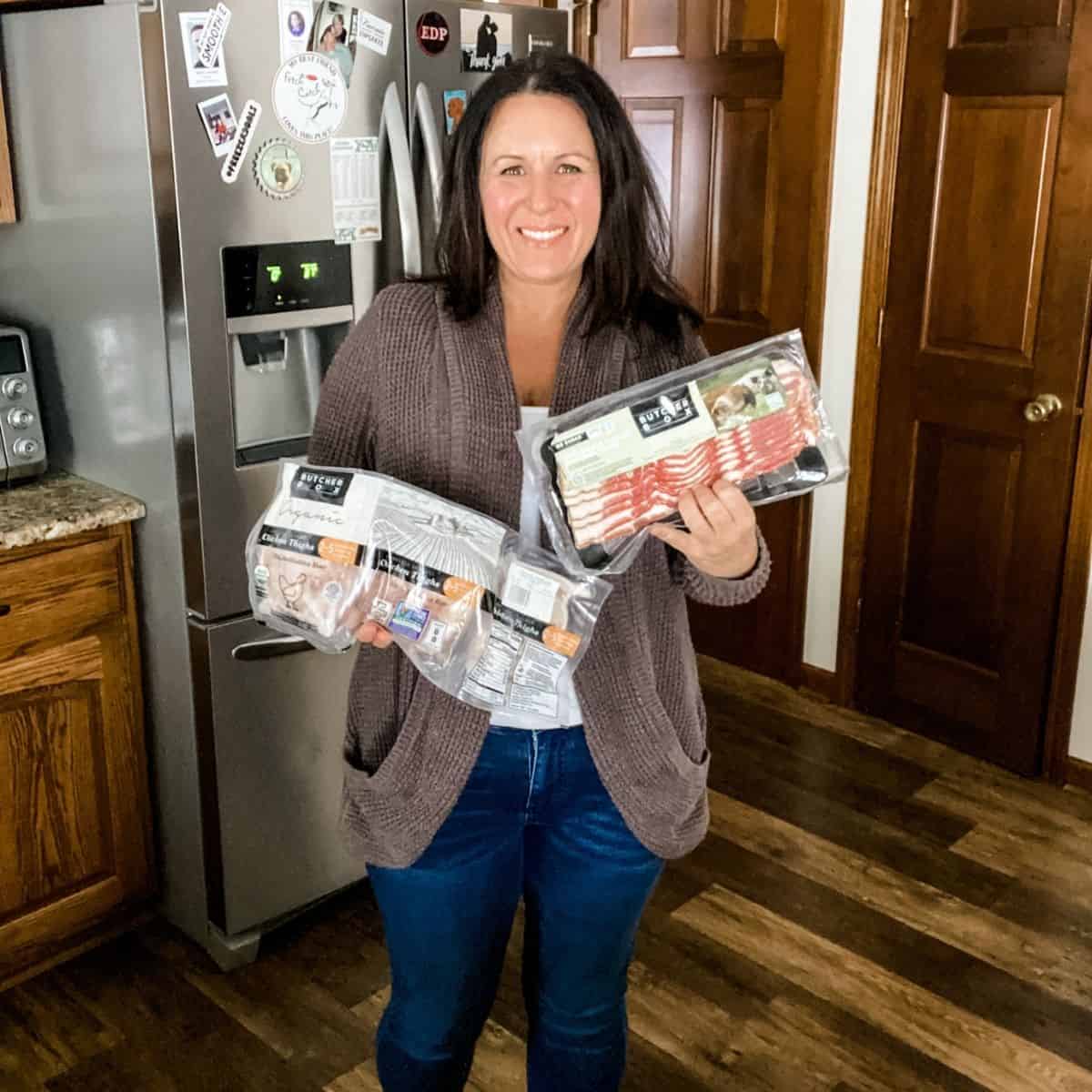 This post contains affiliate links. I am an affiliate for Amazon Associates and other brands and earn a small commission on qualifying purchases. You're by no means obligated to use my links but, if you do, thank you for supporting Organize Yourself Skinny. Please see our review process for more information on how I review products, services, and companies.
My Honest Butcher Box Review: Everything You Need to Know!
I've been a Butcher Box customer since 2018, and every 1-2 months, I order a large custom classic box and create meal plans around the meat to fit our grocery budget. As a long-time customer, I'm happy to share my experience and answer any questions you may have in this Butcher Box review, so you can decide if it's the right meat delivery service for your family.
I've tried Good Chop and Omaha Steaks, but Butcher Box is my favorite place to shop online for organic meats and seafood. Their selection, quality, and customer service are unbeatable.
I'm excited to provide an honest review of Butcher Box, covering everything from how it works to the best organic meats they offer. I'll also share how I make organic meats and seafood affordable for my family, along with answering some of your most common questions about Butcher Box, such as whether it is worth it, its pros and cons, and comparison to purchasing from your local grocery store, Costco, Sam's Club, and BJ's Wholesale.
If you're excited to order your first organic box of meats from Butcher Box, now is a great time to do it! As a first-time buyer, you can enjoy their amazing deals by visiting their website and checking out their latest specials. 👇
Jump to:
What is Butcher Box
So, what exactly is Butcher Box? It's a meat delivery subscription service that acts as the middleman between you and high-quality organic meat and seafood. They work hard to source the best products from farmers and cooperatives and sell them directly to consumers like you and me.
Butcher Box offers a variety of meat and seafood, including grass-fed and grass-finished beef, free-range chicken, heritage breed pork, and wild-caught seafood and shellfish. They never give the animals added hormones or antibiotics and ensured they are all humanely raised.
When you purchase meat from Butcher Box, you're not only getting the best quality, but you're also supporting local farmers. It's a win-win situation for everyone involved!
How Does Butcher Box Work?
Butcher Box is a convenient meat delivery subscription service that can be tailored to fit your needs. Depending on your preferences, you can choose your delivery frequency every two, four, six, or eight weeks. However, if your needs change, you can quickly reschedule for a different time to accommodate your schedule.
The most important thing to remember is your billing date, which you can find at the top of the website after logging in. Butcher Box will also send you a reminder email as the billing date approaches.
If you need to make any changes or reschedule your box, it's crucial to do it before the billing date. This way, you can ensure you receive the meats and seafood you want when you want them without any unwanted surprises or extra charges.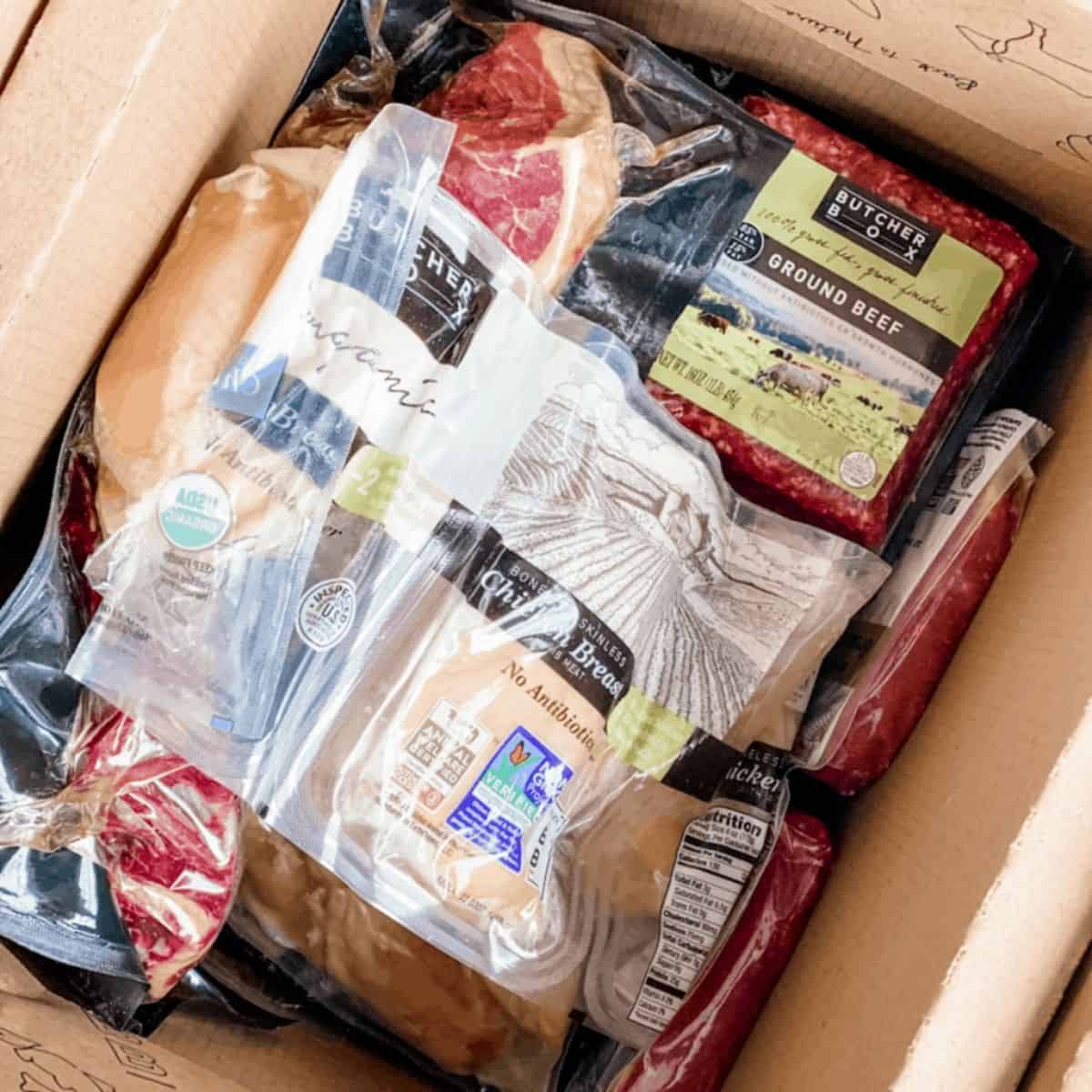 How Much Does Butcher Box Cost
Curious about Butcher Box's prices? Let me break it down for you.
The mixed boxes, which include a selection of meats, are priced at $146 and provide 8.5 to 11 pounds of meat.
If you want to customize your box, you can choose the custom box for $169 per month, which includes 20% more meat than the curated boxes.
When you sign up, you can choose from various meats and cuts to include in your box. Plus, when you order a custom box, you can change your meat selection as often as you like.
For those with larger families or who need more meat, bigger boxes are also available. And the best part? The more you buy, the more you save!
So, if you opt for a big box, you'll get more meat for a better price. The big curated boxes are priced at $269, while the big custom box costs $306 (18-26 lbs).
Ultimately, the type and size of box you choose will depend on your needs and budget. But with the variety and flexibility of options available, a Butcher Box is perfect for everyone.
Please note that these prices are current as of this review but are subject to change at any time.
Butcher Box Promotion
Butcher Box offers promo deals for new subscribers instead of a specific discount code. These deals constantly change so you can check their website for the latest Butcher Box promotion.
Butcher Box Package Options
Butcher Box has five package options to choose from, including:
Mixed box (chicken, beef, and pork)
Beef and Chicken Box
Beef and Pork Box
All Beef Box
Custom Box
The first four boxes are curated, meaning you can select the type of meat but not the cut. For instance, if you opt for the all-beef box, you'll receive different cuts of beef in each shipment.
Some of the cuts I've received in previous curated boxes include chicken thighs (bone-in and boneless), chicken breasts, chicken tenders, pork ribs, pork chops, boneless pork chops, round roast, shoulder roast, and sausage.
The mixed box is the most popular package option as it allows Butcherbox to choose the type and cuts of meat for you.
However, the custom box is your best bet if you prefer to pick your own. This option lets you choose the exact type and cuts of meat to be included in your delivery, and I typically go for the large custom box.
Remember, you can always modify your selection before your box ships.
The type of Butcher Box you choose depends entirely on your personal needs. While the curated boxes are less expensive, they may not be the best choice if you're not a fan of the specific cuts of meat they send. On the other hand, while custom boxes are pricier, they may be more cost-effective if you can plan your meals around the meat you receive, ensuring nothing goes to waste. I'll dive more into this later on.
If you're new to Butcher Box, starting with a curated box to test the meat quality might be a good idea. Then, you could switch to a custom box with your second box. That's what I did, and now I get a custom box every other month that fits my needs perfectly.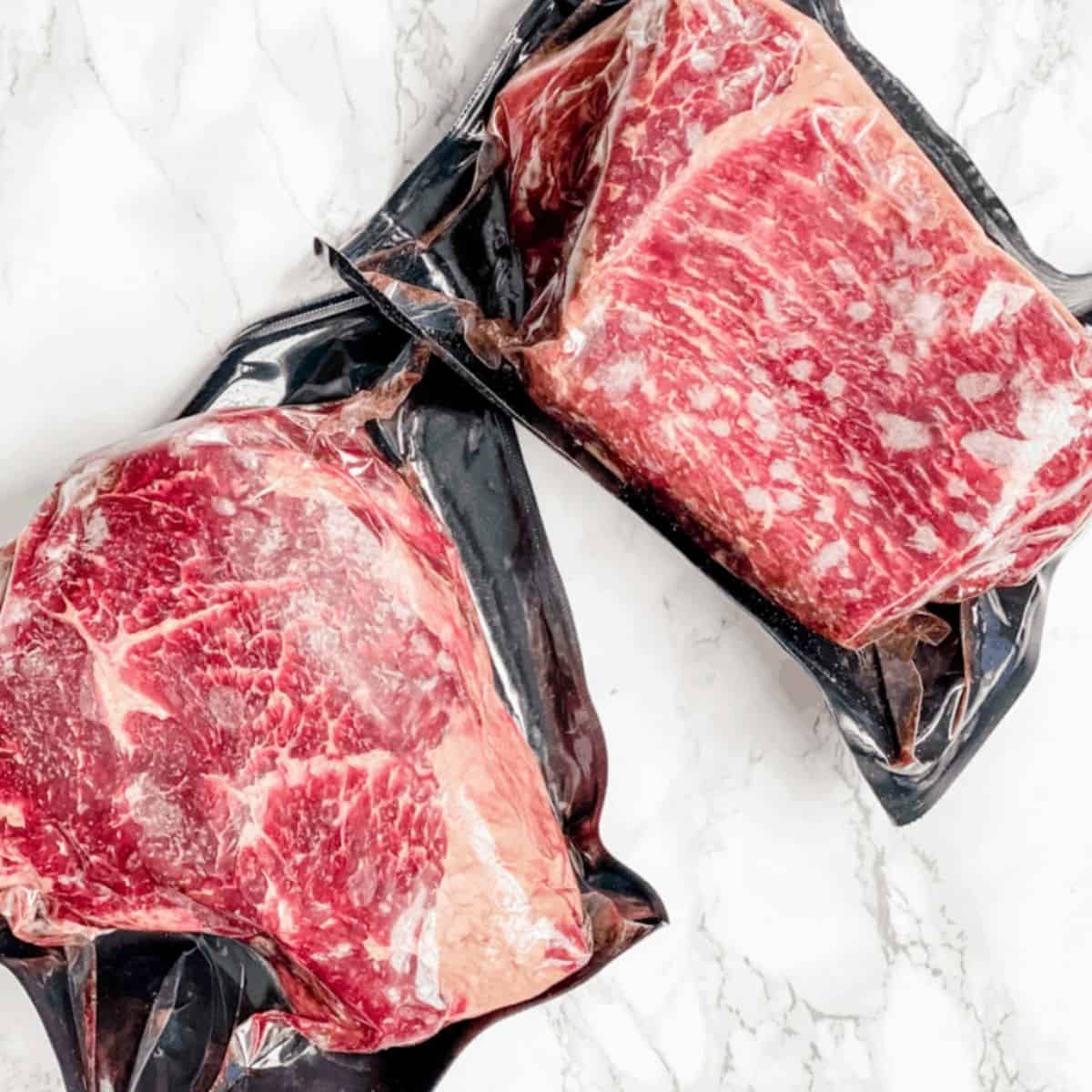 Can you skip months with Butcher Box?
With Butcher Box, you can skip a delivery, change the delivery date, or modify the contents of your box; make sure to do so before your next billing date, which you can easily find on the website.
Skipping a delivery is especially helpful if you're going out of town or have enough meat and don't need a box that month. And it's important to remember that if you don't take any action before your billing date, you'll receive a box as usual.
Is Butcher Box Worth It?
Do I think Butcher Box is worth it? Yes, I do. As someone who prioritizes eating high-quality meat, I was intrigued when I first heard about Butcher Box. I had been buying grass-fed beef and organic chicken for years, so I knew firsthand how expensive it could be to purchase high-quality meats and seafood.
After signing up for Butcher Box and receiving my first curated box of meats, I was impressed with the quality and variety of the cuts. Clearly, they were sourced from reputable farmers and were of a higher quality than I could find at my local grocery store.
When I shop at different grocery stores, I notice that high-quality meats and seafood prices vary. Sometimes they were around the same price as Butcherbox, and other times they were slightly more expensive. Plus, I couldn't always find the specific meats and seafood I was looking for in those stores.
That's why I switched to Butcher Box. Now I have access to a wide variety of high-quality meats and seafood that are not always available in local stores. Even though the prices are similar or slightly more expensive, the convenience and the assurance that I'm getting quality meats make it worth it.
But the convenience factor convinced me that Butcher Box was worth the investment. As someone with a busy schedule, having high-quality meats delivered right to my door was a game-changer. And with the option to customize my box and skip or change deliveries at any time, it was easy to fit into my lifestyle and budget.
Overall, I would recommend Butcher Box to anyone who prioritizes high-quality, ethically-sourced meats in their diet. While it may be more expensive than conventional meats, the health benefits and convenience factor make Butcher Box worth it, in my opinion.
Does Butcher Box Meat Taste Good?
I'm telling you, it's the best-tasting meat I've ever had! Every time I cook with their beef, chicken, pork, or seafood, the recipe turns out amazing. It's like the quality of the meat just elevates the dish to a whole new level.
Whenever my family or friends compliment my cooking, I always tell them it's because of the high-quality meat I use from Butcher Box. They never believe me until they taste it for themselves!
Some of my favorite meats to order from Butcher Box are the top sirloin and flat iron steaks, boneless skinless chicken breasts, boneless pork butt or chuck roast, ground turkey, ground Italian sausage, bacon, and ground beef. Seriously, every cut is just so delicious.
I've used Butcher Box meat in so many recipes, from meatballs and meatloaf (I've even made the meatloaf with ground turkey!), to stuffed peppers, pasta and rice bakes, casseroles, sheet pan dinners, sauces, chilis, and soups. You name it, I've cooked it with Butcher Box meat!
And the best part is, I feel good about eating meat that was humanely raised. The animals lived a good life, spent time grazing in pastures, and were treated with respect. It's just another reason why I love supporting Butcher Box.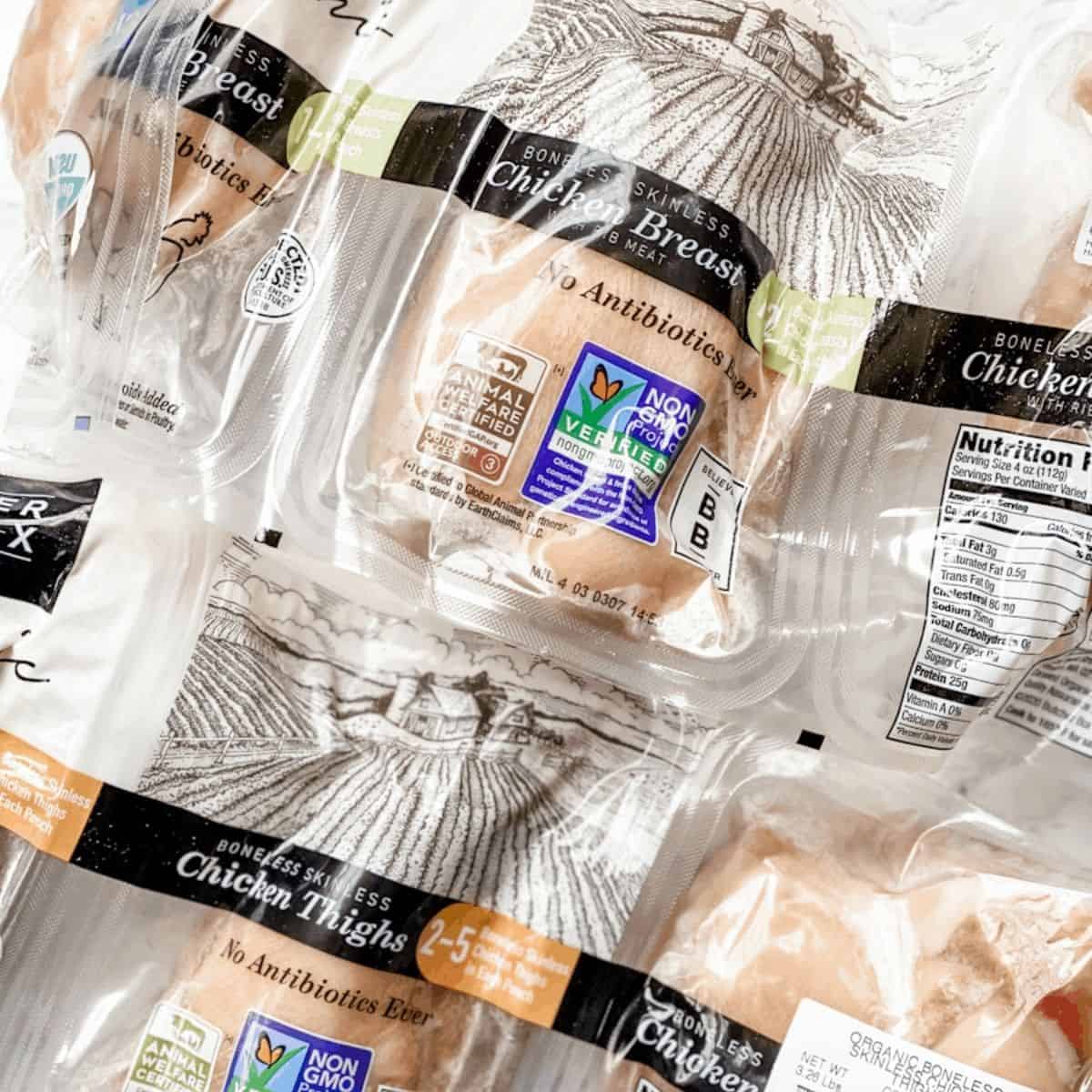 How to make Butcher Box affordable for your family?
If you're looking to buy high-quality meat for your family, you know that it can be pretty expensive whether you buy it in the grocery store or online from Butcher Box. But don't worry, there are some strategies that you can use to make it more affordable without sacrificing quality.
One strategy I use is to plan my meals around the meat I get from Butcher Box.
When I first started using the service, I ordered their mixed box for $129, which was a great way to get familiar with their service. However, I struggled to use up some of the cuts of meat that I wouldn't usually purchase. So, I decided to switch to ordering a custom box, which has been a game-changer for me.
Ordering a custom box makes it easier to plan my meals because I know exactly what I'm getting. This means I can purchase other ingredients I need before my box gets delivered and plan our meals for 3-4 weeks, which has helped me save money.
Ordering a custom box also helps keep Butcher Box affordable because I can plan meals ahead of time to grab other ingredients in bulk or on sale. Plus, I can stretch the number of servings by preparing recipes that use less meat or that stretch the meat I have.
For example, I can make steak fajitas that will feed four people with just two sirloin steaks or turn a 3lb chicken breast into five meals by making some shredded chicken recipes. The same goes for a chuck roast, which can be used in 3-4 meals.
Some of my go-to meals for stretching a pound of meat, chicken, or pork include classic chili, homemade hamburger helper, pasta fagioli, chicken quesadillas, detox chicken soup, buffalo chicken macaroni and cheese, steak salad, and shredded sweet and spicy pork.
And the best part? I've made these meals with just one small custom box of meat, and often there's still some meat left over!
Grab exclusive member deals and add-ons.
Another cost-saving strategy I use is to take advantage of their member deals and add-ons.
As a subscriber, you can choose add-ons like chicken breasts, ground pork, ground beef, ground turkey, and bacon packs to go into your box every month. I always include ground turkey and a pack of bacon, and sometimes I'll throw in an extra package of ground beef or chicken too.
But my favorite part is the exclusive member deals they offer. These change up depending on the season and what they have in stock, but they can include
stock-up bundles
grilling bundles
breakfast bundles
seafood bundles.
Whenever I order my box, I check to see if there's a member-exclusive deal I can take advantage of.
And for holidays like Thanksgiving, Easter, and St. Patrick's Day, they offer delicious meats like turkey, ham, and corned beef. I highly recommend trying out the Butcher Box turkey or Butcher Box ham – it's the juiciest, most flavorful one I've ever had.
So if you're a Butcher Box subscriber, check out their add-ons, member deals, and specialty meats to make the most of your subscription and get the best deals on high-quality organic meats and seafood.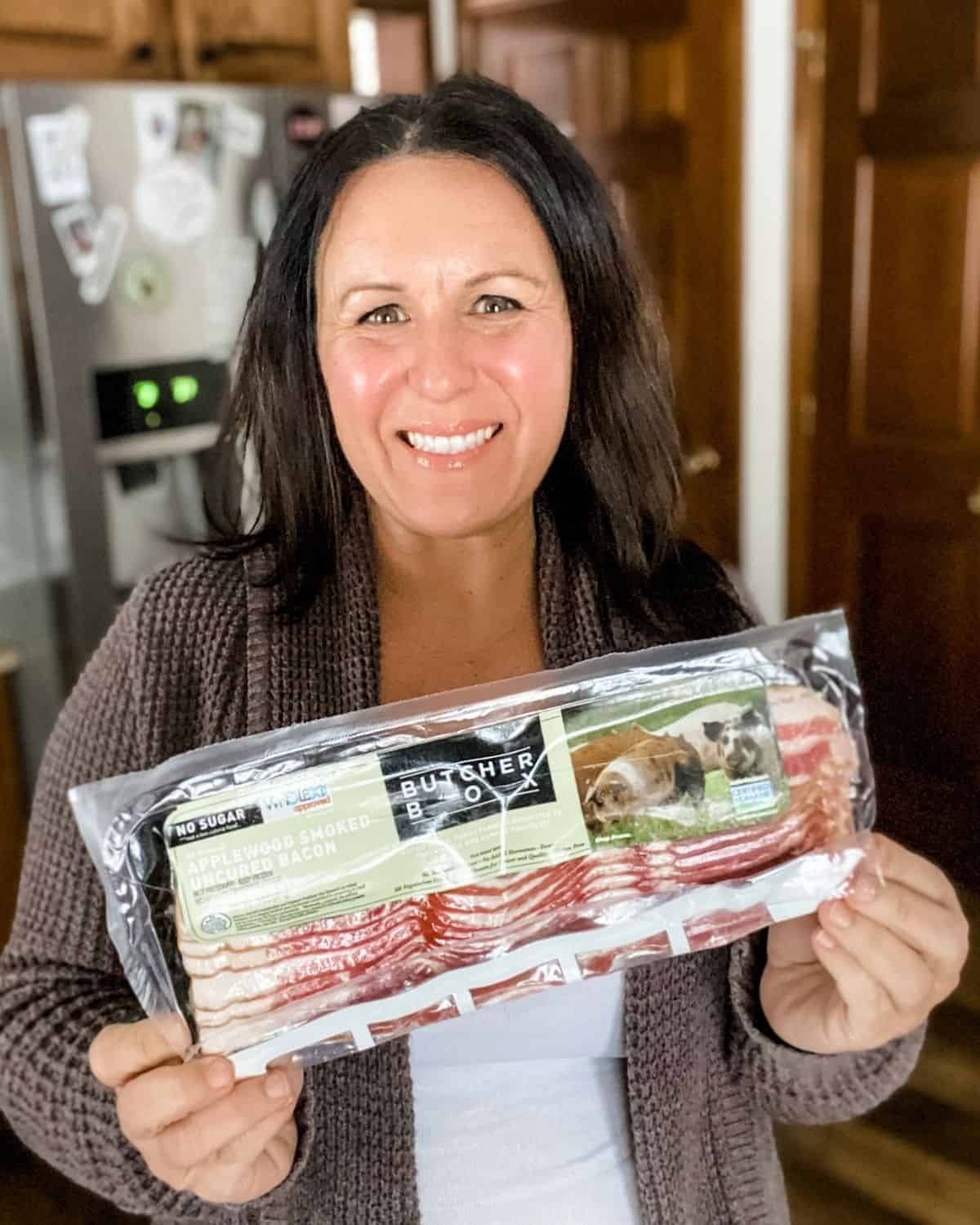 Pros and Cons
Pros of Butcher Box:
Convenience: You can get high-quality meat and seafood without leaving your house.
Organic options: You can find organic meats that may not be available in your local grocery stores.
Variety: Butcher Box offers a wide selection of meat and seafood, including chuck roast, pork tenderloin, chicken breast, steak tips, salmon, scallops, cod, and lobster, among others.
Fast shipping: You can usually receive your box in just 2-3 days after ordering.
Comparable prices: Prices are similar to grass-fed and organic meats in grocery stores, depending on the cuts and size of the box you order.
Customization options: You can order curated or custom boxes depending on your family's needs.
Excellent customer service: They go above and beyond to ensure your satisfaction with their service.
Proper packaging: Meat is packed in dry ice and continues to show up frozen solid.
High-quality and taste: The quality and taste of the meat are excellent.
Exclusive deals: Members get exclusive discounts on bundles of meat and seafood.
Seasonal options: You can seasonally find holiday meats like turkeys, ham, and corned beef.
Support for local farmers: You will support local farmers using Butcher Box.
Cons of Butcher Box:
Prices are comparable to local grocery stores, but some meat cuts can be pricier. However, you are paying for the convenience of high-quality meats and seafood delivered right to your door.
It does require some upfront grocery budgeting, especially if you're ordering a lot. Depending on what you order, you could be paying a large amount of money upfront for meat. For example, a large custom box costs $306; if you include any deals, you'll need to budget over $300 for meat.
During the summer, watching for your delivery is essential so the meat doesn't thaw in the heat. The boxes are packed in dry ice, but it's something to keep in mind if you live in a warmer climate. However, I've never had any issues with thawing, but I live in Buffalo, NY.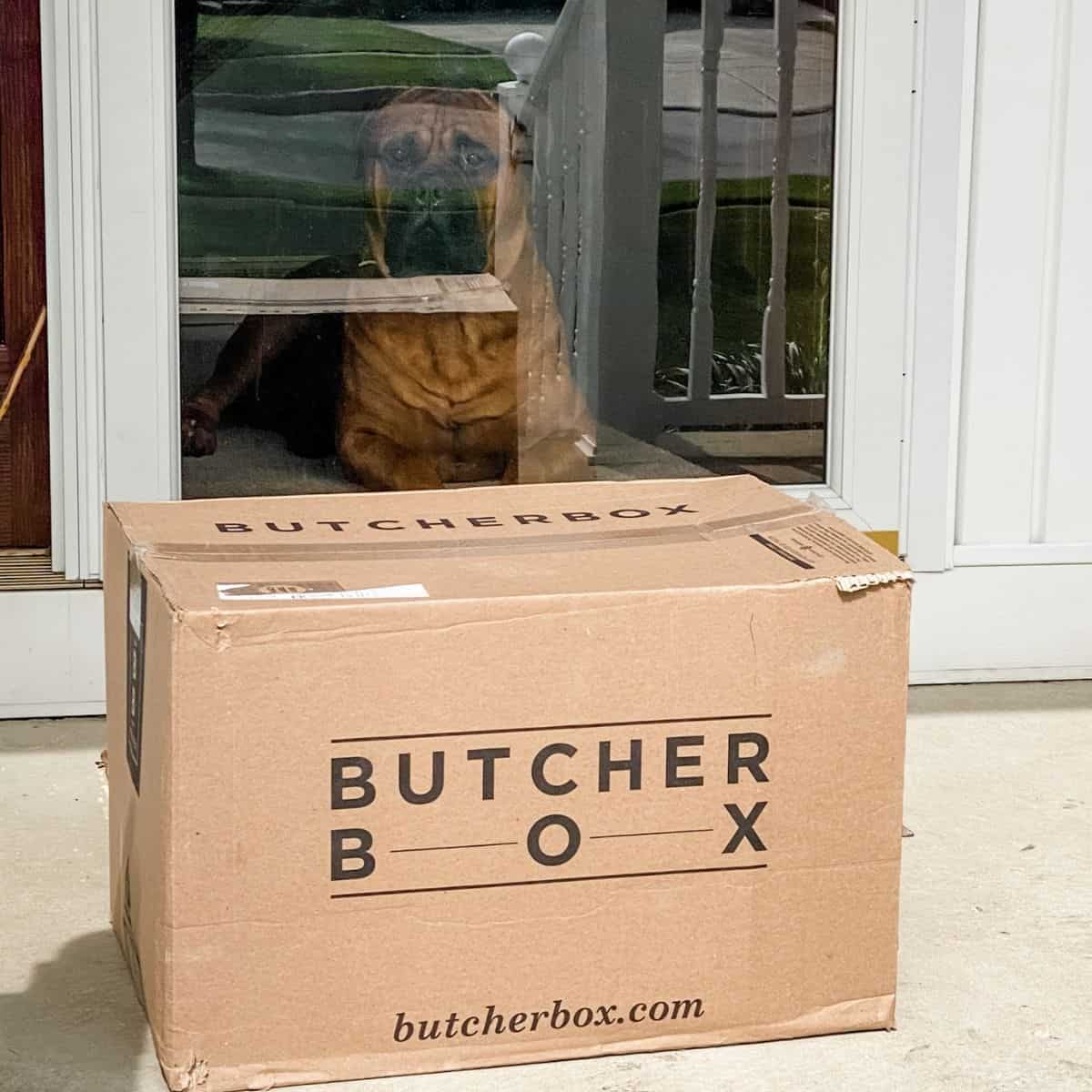 3 Reasons I Continue to Use Butcher Box
Of all the products and services I use, Butcher Box is one of my favorites. So, it's a happy day when my Butcher Box delivery arrives at my doorstep!
These are the three reasons I continue to order from Butcher Box.
First and foremost, high-quality organic meats are really important to me. I've been eating a clean diet for over a decade, and switching to organic meats was one of my first changes. While it may be a little pricier, I prioritize spending money on high-quality meat from Butcher Box because I know I'm getting the best.
Secondly, convenience is a significant factor for me. As a busy working mother, my time is limited, just like many other busy parents. It is extremely helpful to place an order for meat for the month and have it delivered straight to my front door. I've also found that ordering from Butcher Box is cheaper than ordering high-quality meats through a grocery delivery service like Instacart. Of course, this may vary depending on where you live and where you shop.
Lastly, availability is key. While convenience and quality initially drew me to Butcher Box, having access to high-quality meats and seafood is why I keep returning. Despite having access to several grocery stores that offer organic meats and seafood, I've found that they're not always available when I need them. It's frustrating to spend time grocery shopping only to come home empty-handed. Ordering from Butcher Box eliminates this problem – I can order the meats I want online, and they'll show up at my doorstep.
As a side note, I love shopping online at Thrive Market to stock up on healthy pantry staples. You can check out my review of Thrive Market for more information and my shopping lists.
Comparison with Costco, BJ's Wholesale, and Sam's Club
Wholesale clubs like Costco, BJ's Wholesale, and Sam's Club have improved their organic meat options and seafood quality. They may offer better prices on basic meat cuts like boneless skinless chicken breasts and ground beef.
However, what sets Butcher Box apart is its selection of cuts that these stores may not offer, like grass-fed organic chuck roast, pasture-raised pork roast, tenderloins, ribeye steaks, tenderloin steaks, breakfast sausage, whole chickens, chicken wings and drumsticks, ground Italian sausage, sausage links, ground chicken breast, shrimp, scallops, salmon, cod, and halibut.
To determine which option is best, I recommend checking what high-quality meats your local wholesale store offers and comparing prices with Butcher Box's website.
Remember if you use grocery delivery services like Instacart then often, in this case, using Butcher Box for meat purchases may be more cost-effective.
Who will love Butcher Box
Those who prioritize high-quality meat in their diet
Busy individuals who don't have time to source high-quality meats and seafood
People who want to reduce time spent in grocery stores
Those who don't have access to high-quality meat or experience sold-out meats at their local grocery stores
Who won't love Butcher Box
Those who are not concerned about the quality of their meat, such as organic chicken, grass-fed beef, heritage breed pork, or wild-caught seafood
People who have access to high-quality meats and enjoy grocery shopping.
FAQs
Is Butcher Box a reputable company?
Yes, Butcher Box is a reputable company. They have been around since 2015 and have gained popularity among consumers who value high-quality meats and seafood. They work with a network of farmers and fishermen to source their products and prioritize transparency in their sourcing and processing practices. Additionally, they have received certifications from various organizations that promote sustainability, animal welfare, and environmental stewardship. So overall, Butcher Box has a good reputation in the market for delivering high-quality meats and seafood to consumers.
Is Butcherbox FDA approved?
Butcherbox is not FDA-approved but follows FDA guidelines and regulations for food safety and quality. The FDA, or the Food and Drug Administration, is a government agency responsible for ensuring the safety and effectiveness of food and drugs in the United States. While the FDA does not specifically approve or endorse companies, it does provide guidelines and regulations that companies must follow to ensure the safety of their products. Butcherbox adheres to these guidelines and regulations to ensure the quality and safety of its meat products.
How long can Butcher Box stay outside?
According to ButcherBox's website, it's recommended not to leave your box outside for more than 6-8 hours after delivery. But from my personal experience, I've received about 20 boxes over the past few years, and every time the box has arrived cold, the meat has been frozen solid, thanks to the dry ice packing. Even on hot days, when I couldn't bring the box inside right away, I've never had any issues with the meat thawing out.

However, some people have had problems with thawing if they live in warmer climates. So if you're in a hot area, it's a good idea to have a plan for when your box arrives. Although you should aim to put the meat in the freezer immediately, don't worry too much if you can't get to it immediately. ButcherBox provides tracking information, so you can plan accordingly for when your delivery will arrive.

So, to sum it up, if you prioritize having high-quality organic meat delivered right to your doorstep, then I think Butcher Box could be an excellent option for you to consider.
With their convenient delivery options and commitment to quality, you can feel good about the meat you're putting on your table.
And if you're still on the fence, hopefully, my Butcher Box Review has given you some helpful insights to make an informed decision.
Check out my other helpful reviews
See all of my reviews.