In this honest Butcher Box Review, I'll go over the costs, if I think it's worth it, cuts of meat in curated and custom boxes, and share my experience.
I've been a Butcher Box customer since 2018. Every 1-2 months, I order a large custom box and create meal plans around the meat to fit our grocery budget.
I feel very comfortable with this company and can any questions you have. My goal is to give you all the information so you can decide whether or not this service is a good fit for your family.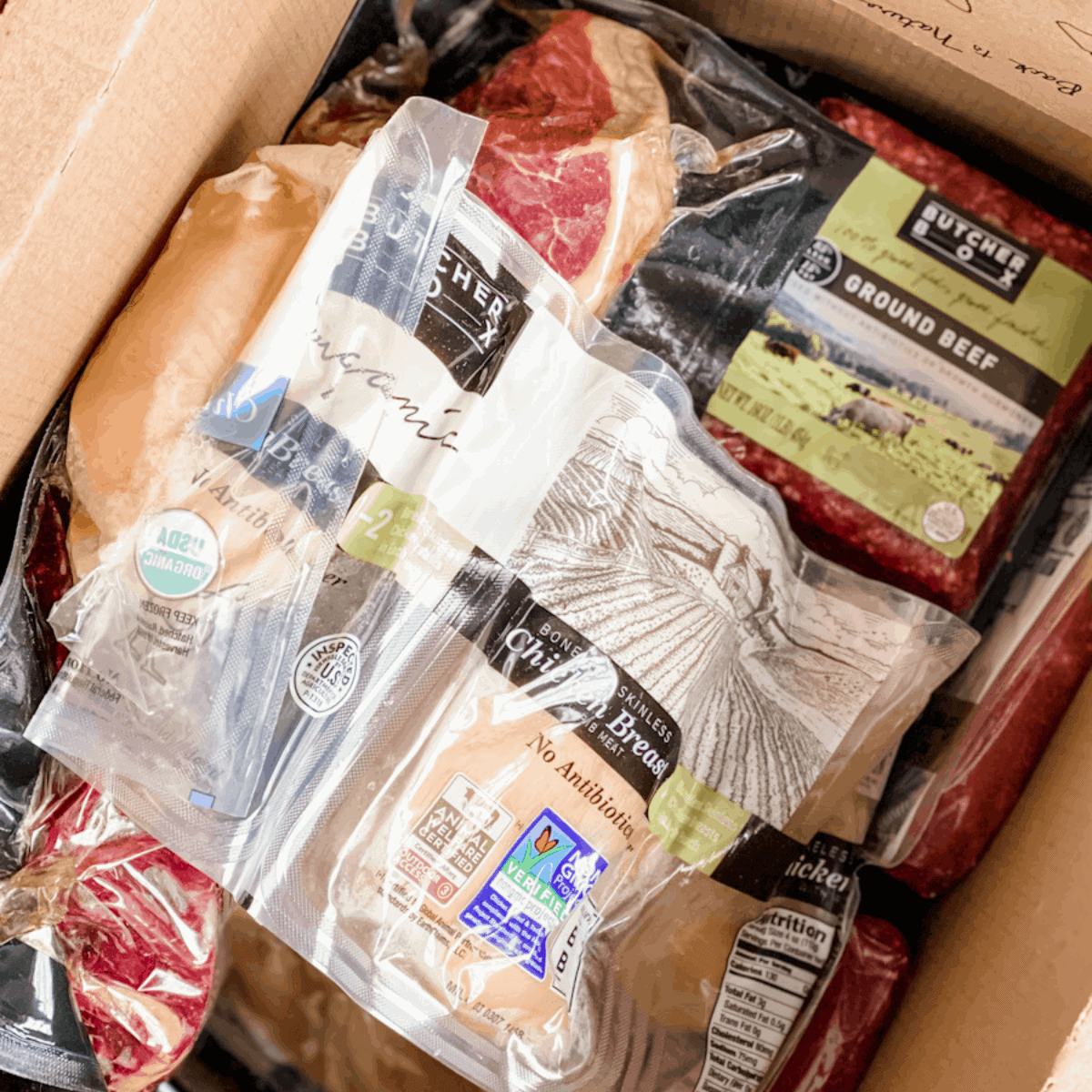 This post contains affiliate links. I am an affiliate for Amazon Associates and other brands and earn a small commission on qualifying purchases. You're by no means obligated to use my links but, if you do, thank you for supporting Organize Yourself Skinny.
Butcher Box is hands down my favorite source to purchase high-quality meat. Their free-range organic chicken, grass-fed ground beef, heritage ground pork, ground turkey, steak, and seafood are delicious.
I made the best meatballs using Butcher Box ground beef and sausage.
But it's not just the quality of the Butcher Box meat that has me singing their praises – it's the availability too.
For reference, I have access to numerous grocery stores, including Whole Foods, Wegmans, and many butchers. However, Butcher Box makes it easy and convenient to get high-quality cuts of meats without needing to leave the house.
Ordering from Butcher Box was especially helpful when grocery stores were out of meat or didn't have any organic chicken or beef available.
As a Butcher Box subscriber, I never went without meat at all – even when grocery stores were sold out of chicken and beef. Butcherbox pulled through!
For these reasons, I continue to be a happy customer.
Today, I want to share my honest Butcher Box Review with you. As a long-time customer, I can answer all of your questions and share my experience to help you decide whether this meat delivery service is a good fit.
Butcher Box Discount Code
Butcher Box doesn't offer a specific discount code; instead, they provide regular promo deals to new subscribers. Currently, Butcher Box is offering new customers 2lbs of FREE ground beef in every box for the life of their membership. I started with this deal, and so glad I did because I love getting extra ground beef in my box every month. You can get the deal here.
What is Butcher Box?
Butcher Box is a meat delivery subscription company. What does that mean?
They are the middle man. They source out high-quality and organic meats, build relationships with the farmers and cooperatives, and then sell that meat to you (and me).
Butcher Box only sources the highest quality meats – this is what makes them unique compared to other meat delivery companies.
The beef is grass-fed and finished, chicken is free-range organic, and pork is heritage breed. Not to mention all the animals are humanely raised.
When you purchase Butcher Box meat, you're getting the best AND supporting local farmers.
You can also purchase seafood, and just like their meats, everything is of the highest quality.
How Does Butcher Box Work?
Butcher Box is a subscription service. Depending on your needs, you can order a box of meat every two weeks, four weeks, six weeks, or eight weeks.
However, you're not necessarily married to that time frame. If your needs change, then reschedule for a different time.
The critical thing to remember is your billing date. The date is shown at the top of the website after you log in.
You'll also get a reminder email when it's getting close.
If you want to reschedule your box or make any changes, you need to make those changes before the billing date.
Butcher Box Package Options
Butcher Box offers five package options:
Mixed Box (chicken, beef, and pork)
Beef and Chicken
Beef and Pork
All Beef
Custom box
In the first four boxes, the meats are curated. You're able to pick the type of meat you'd like but not the cut.
Some cuts of meat that I've received in curated boxes are:
chicken thighs (bone-in and boneless)
chicken breasts
chicken tenders
pork ribs
pork chops
round roast
shoulder roast
sausage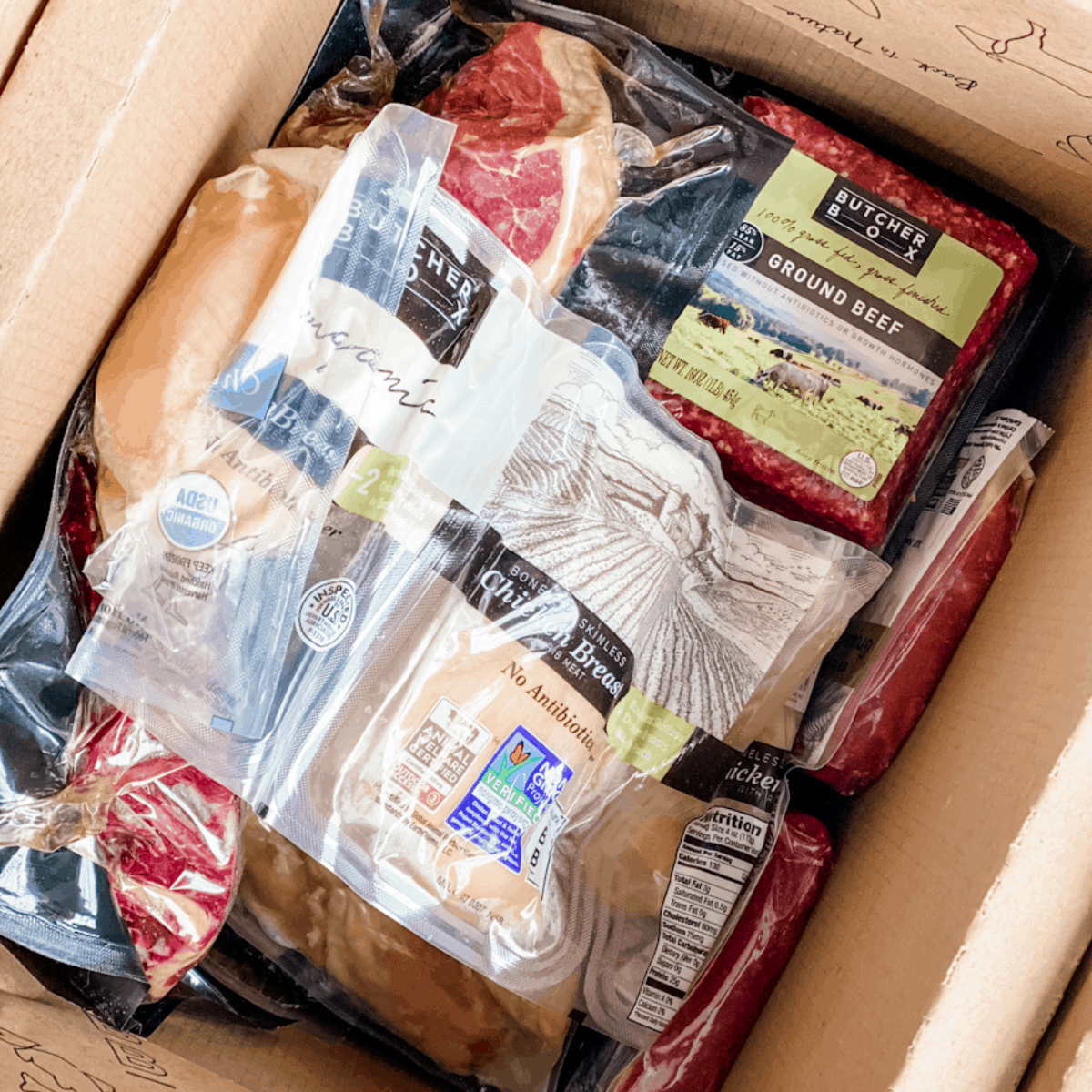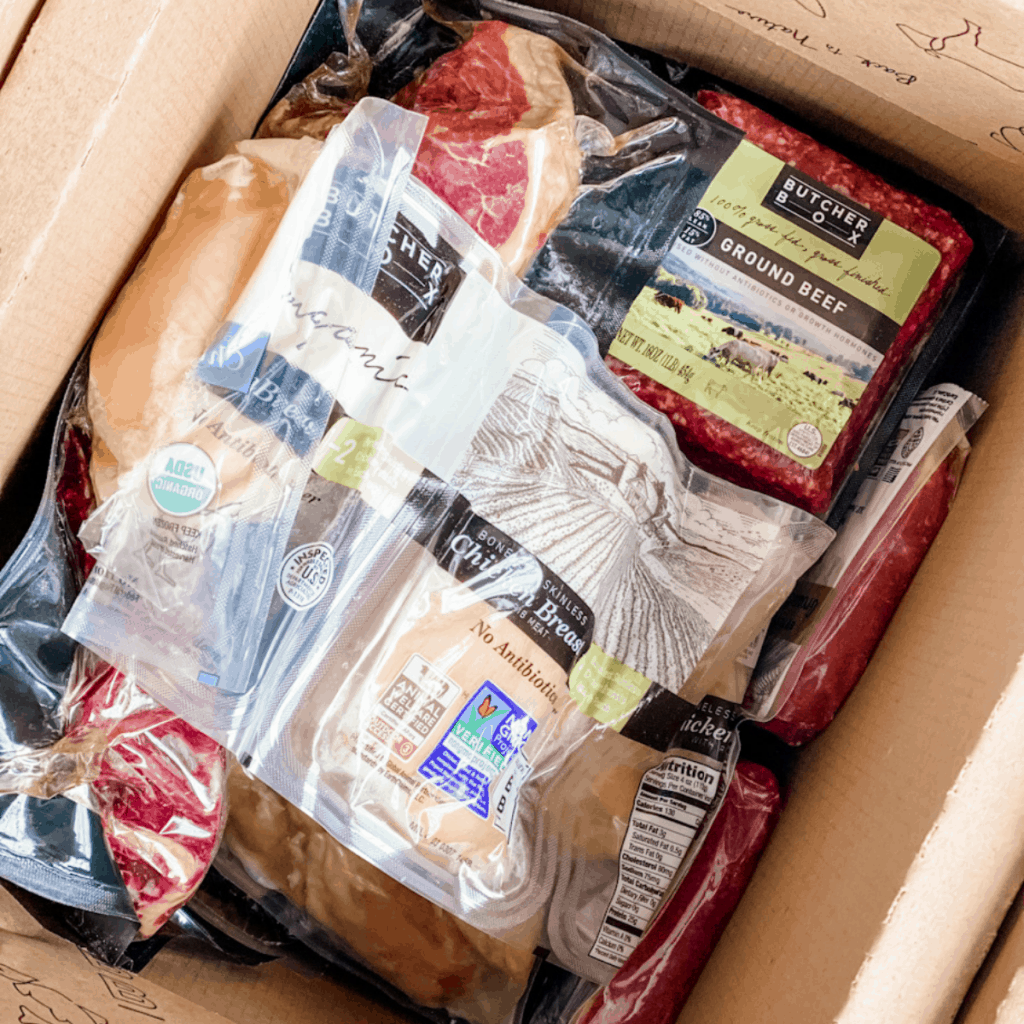 A curated box includes the available meats. You choose the type of meat, but Butcher Box decides on the cut. For example, if you pick the all-beef box you'll get a variety of beef cuts.
The mixed box is the most popular option, so many people are happy with the cuts of meat they've received.
In the custom box, you choose the exact type and cuts of meat sent in your box. This is the box I order.
Please know you can change these selections at any time before your box ships.
How Much Does Butcher Box Cost?
All of the mixed boxes are $129 and provide 8.5 – 11lbs of meat.
The custom box is $149 a month and has 20% more meat than the curated boxes.
After registering, you'll choose from a large selection of meats and cuts.
Whenever you order a custom box, you'll have the option to change the selection of meats.
For all the boxes, you can choose to purchase a larger box. If you have larger families or need more meat, the larger boxes are a great option.
Another benefit of buying a larger box is it's cheaper. So, just like with most bulk purchases, the more you buy, the less you pay.
The big curated boxes are $238, and the big custom box is $270.
The type of box (and how much) you order depends on your needs.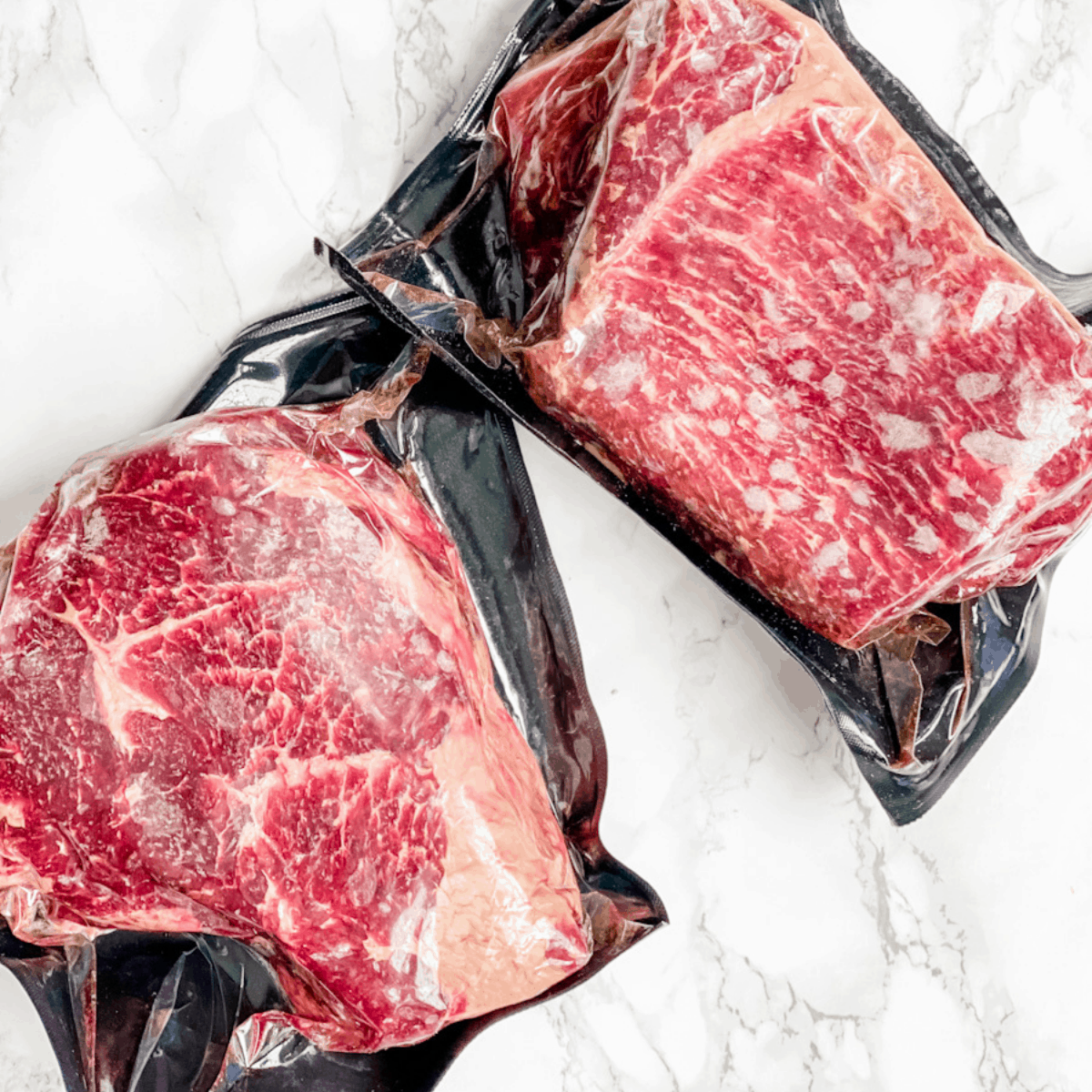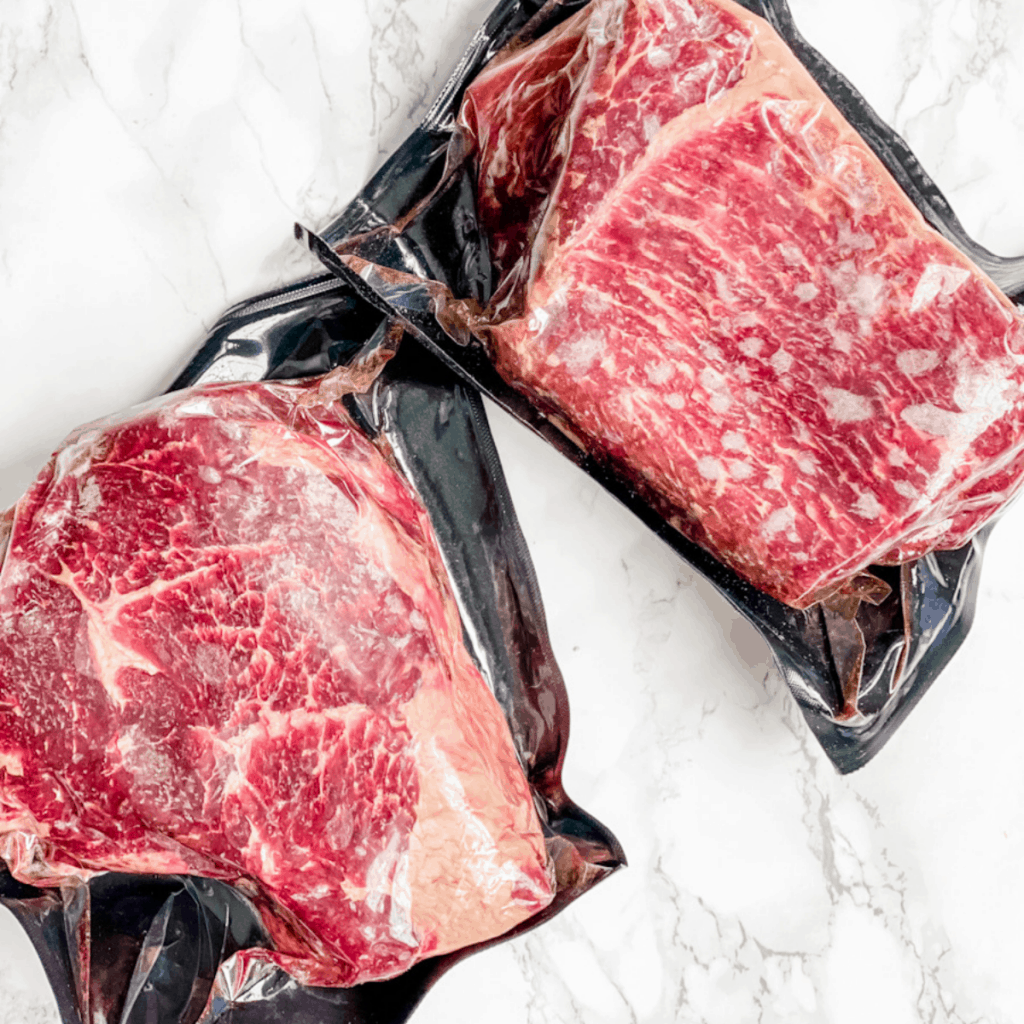 How to make Butcher Box affordable for your family?
Plan meals around the meat.
When I first started using Butcher Box, I ordered the $129 mixed box and was happy with the cuts. It was a great way to get familiar with the service. However, I found myself trying to use up cuts of meats that I wouldn't usually purchase.
So, after a couple of mixed boxes, I decided I wanted more control over the meats put into my box, so I decided to order a custom box and have been doing so ever since.
Ordering a custom box makes it easier to plan out my meals in advance since I know the meats I'm getting ahead of time. I can purchase the other ingredients I need before my box gets delivered. I can plan out our meals for 3-4 weeks at a time which saves me money.
Ordering a custom box essentially helps keep Butcher Box affordable because:
I can plan meals ahead of time so that I can grab other ingredients in bulk or on sale.
I can plan recipes to stretch the number of servings.
For example, if I order two sirloin steaks, I can plan to make fajitas that will feed four people, or I can turn a 3lb package of chicken breast into five meals by making a couple of different shredded chicken recipes.
Same with a chuck roast – I can turn that into 3-4 different meals.
Other meals I make to stretch a pound of meat, chicken, and pork:
Classic chili
Homemade hamburger helper
Pasta Fagioli
Chicken quesadillas
Detox Chicken Soup
Buffalo Chicken Macaroni and Cheese
Steak salad
Shredded Sweet and Spicy Pork
I can make all of these meals with one small custom box of meat. And often, there's meat leftover!!
In my experience, to make Butcher Box cost-efficient for my family, it's better to order a custom box AND plan meals around the meat I choose.
Grab exclusive member deals and add-ons
One of the biggest perks of being a Butcher Box subscriber is the add-ons and exclusive member deals. These are great!
The add-ons include chicken breasts, ground pork, ground beef, ground turkey, and bacon pack—basically, the essentials.
Once you choose an add-on, it will go into your box every month unless you make changes.
Every time I order a box, I include add-ons. My favorites are the ground turkey and bacon!
I always throw in an extra package of ground beef or chicken too because it won't waste in my house.
The exclusive member deals are my favorite.
These deals change up depending on the season and stock they have.
In the past, they've offered:
Stock-up bundles (Chicken breast, ground beef, or bacon)
Grilling Bundles
Breakfast Bundles
Salmon, Scallops, and other seafood bundles
I often grab a member-exclusive deal when I'm ordering my box, especially if they're having a big stock-up bundle sale.
Another member perk is they offer specialty meats for the holidays. For example, turkey for Thanksgiving, ham for Easter, or corned beef for St. Patrick's day are some of the meats I've purchased. All of the specialty meats I've tried are delicious but I highly recommend grabbing a Butcher Box turkey, it's the juiciest most flavorful turkey I've tried.
Is Butcher Box Worth It?
When I started to eat clean foods, one of the things I didn't compromise on (and still don't) was meat quality.
I've been purchasing grass-fed beef and organic chicken for years, so I'm used to paying a premium for meats. I know high-quality meats cost more than conventional and, I think it's worth it.
It's a cost I put right into my grocery budget.
So, do I think Butcher Box is worth it? Yes.
Of course, the common question is, "can't you purchase high-quality meats at the grocery store?"
Yes and no.
I live near a Wegmans and Whole Foods; both offer organic chicken and grass-fed beef. Their prices are very comparable.
Depending on the cut, the price can be a little lower or higher. For example, organic chicken tenderloins are $10.19 a pound, and grass-fed strip steak is $18.09 a pound.
I paid around $10 – $11 a pound for my custom meat box, so when all was said and done, it was cheaper to order from Butcher Box. And, to be honest, I felt the quality was better.
Not to mention, I need to drive to the store if I want to purchase meat. Shopping around costs me time and money. Is this a huge deal? Maybe, maybe not, but something to keep in mind.
Also, I live near two other grocery stores and a wholesale store that doesn't offer organic chicken and grass-fed options.
So, it's likely that some people don't have access to high-quality meats at their local grocery stores.
Last, we can't ignore the fact that it's possible many grocery stores can quickly sell out of organic, high-quality meat.
As a Butcher Box subscriber, I had access to high-quality meats when my local stores were sold out of chicken and beef. The availability of meats through Butcherbox keeps me a loyal customer.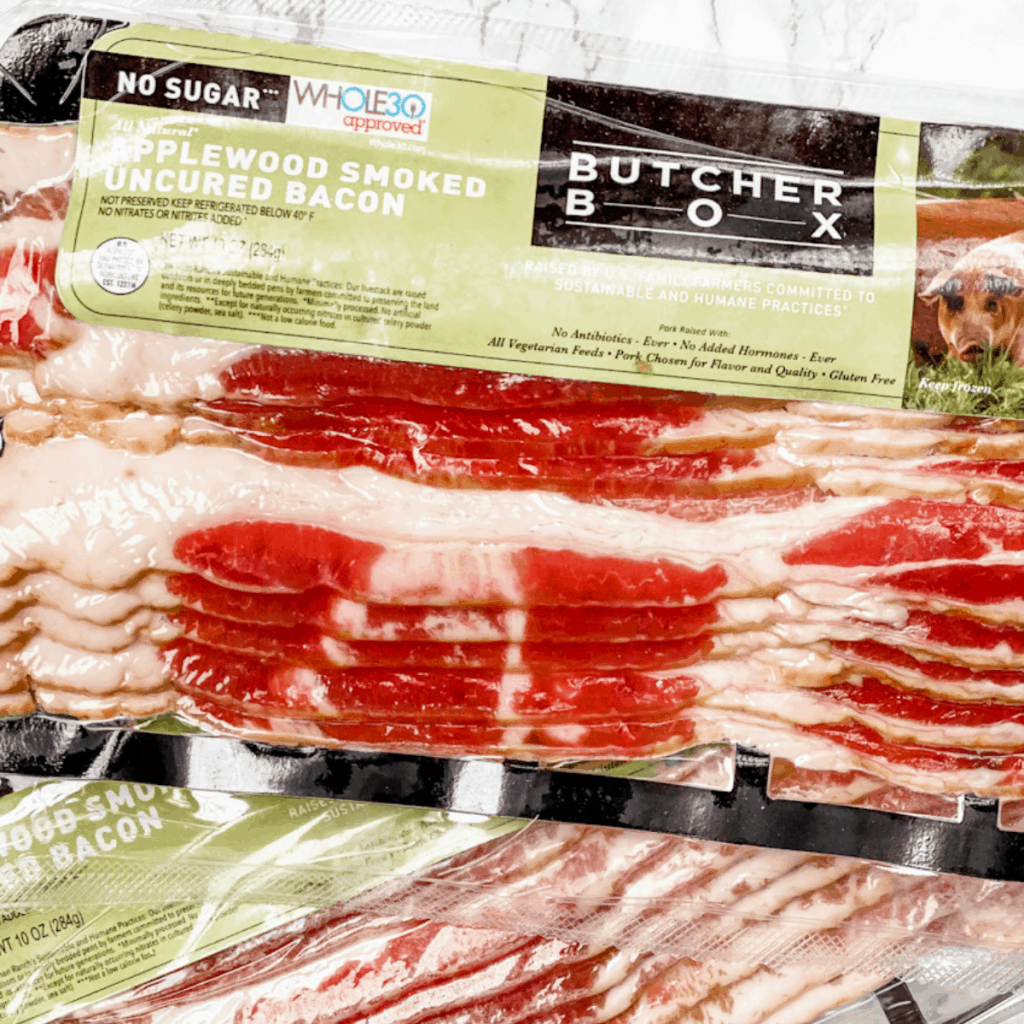 Another argument is it's cheaper to source local farmers to purchase meat.
Again, this is an option for some but certainly not all.
It didn't work for me. I loved the idea of purchasing locally but couldn't find a farmer that offered organic or grass-fed.
One time I did buy beef from a local farmer (not grass-fed); I had to organize with two other people because there was a lot of meat to go around.
It was a huge hassle, took a lot of time, required a significant upfront cost, and I didn't think the meat was that tasty.
Also, keep in mind, this was just for beef; if I wanted pork or chicken, I had to repeat that process.
In my experience, sourcing out local farmers didn't work for me.
With all that said, I think Butcher Box is worth the cost. I find their prices to be comparable considering the high-quality meat they conveniently deliver to your door.
Who Would Benefit from using Butcher Box?
People who put high-quality meat on the top of their priority list.
People who don't have time to go to the store or source farmers for high-quality meats and seafood.
People who want to limit the time spent in grocery stores.
Who Shouldn't Even Bother Using Butcher Box?
People who are not concerned with organic chicken or grass-fed beef.
People who have access to high-quality meats and don't mind grocery shopping.
My Personal Experience and Honest Butcher Box Review
Out of all the products and services I use, Butcher Box is one of my favorites.
Organic meat is a priority to me, and so is convenience. So, it's a happy day when my Butcher Box delivery shows up at my doorstep!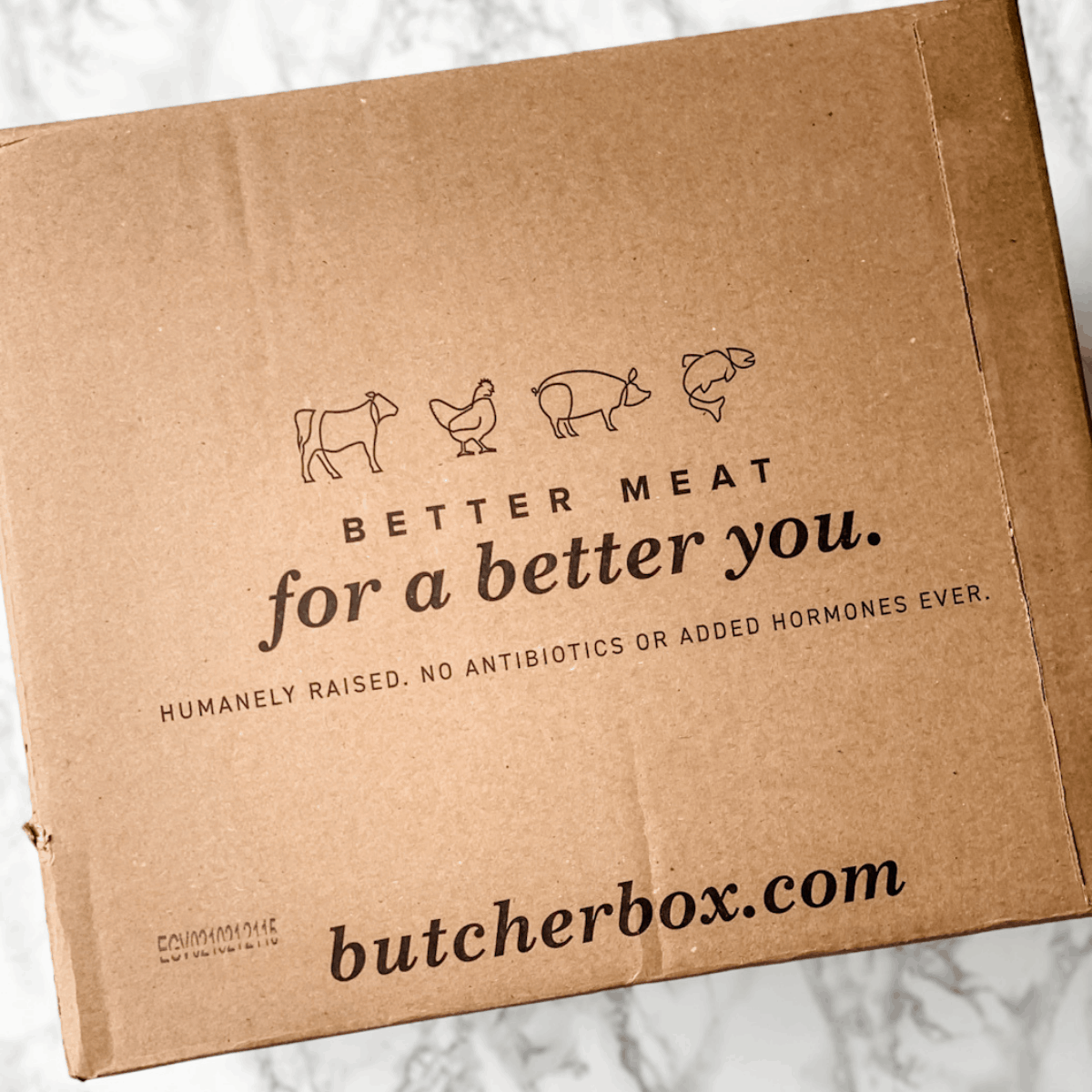 How long can Butcher Box Stay Outside?
The ButcherBox website states that you should not leave the box outside longer than 6-8 hours after delivery.
Over the last couple of years, I've ordered about 15 boxes, and every time my box is cold, and all the meat is frozen solid packed in dry ice.
And there have been many hot days I wasn't able to get the box in the house right away. So, I've never had a personal experience with meat thawing out.
Of course, you want to get the meat in the freezer as soon as possible, but I wouldn't worry if you can't get to it immediately.
You will receive tracking information, so that's helpful to plan for when the meat is delivered.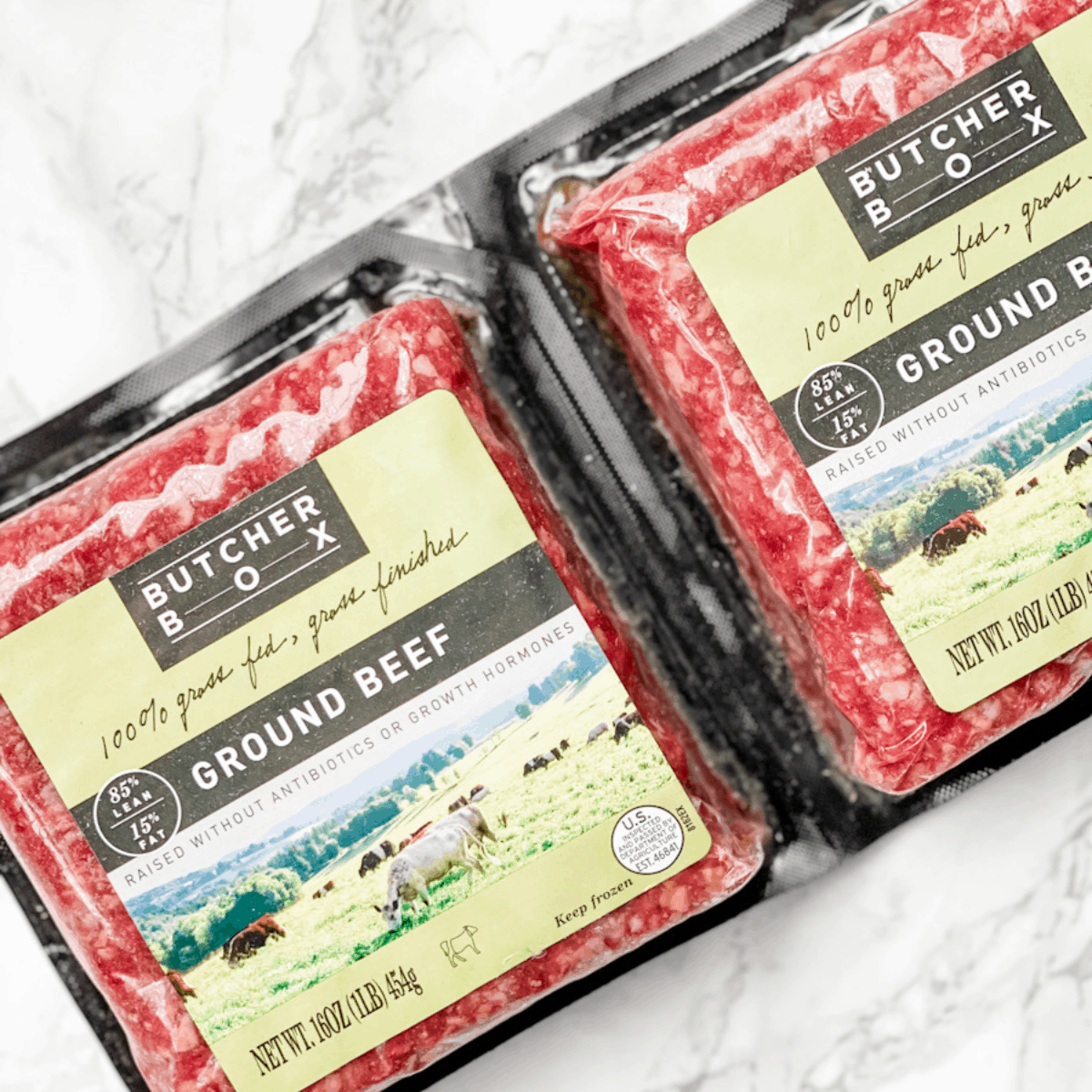 Does The Meat Taste Good?
Butcher Box is the best-tasting meat I've ever purchased.
Every recipe I make is elevated because of the Butcher Box beef, chicken, pork, and seafood quality.
Whenever my husband, kids, or guests say, "wow, this recipe is so good," I tell them it's because of the high-quality meat.
I've cooked just about every recipe with Butcher Box meat.
Meatballs
Meatloaf (also made this with ground turkey)
Stuffed Peppers
Pasta and rice bakes
Casseroles
Sheet pan dinners
Sauce, chilis, and soups
Also, I feel good eating meat that I know was humanely raised. These animals lived a good life and treated with respect.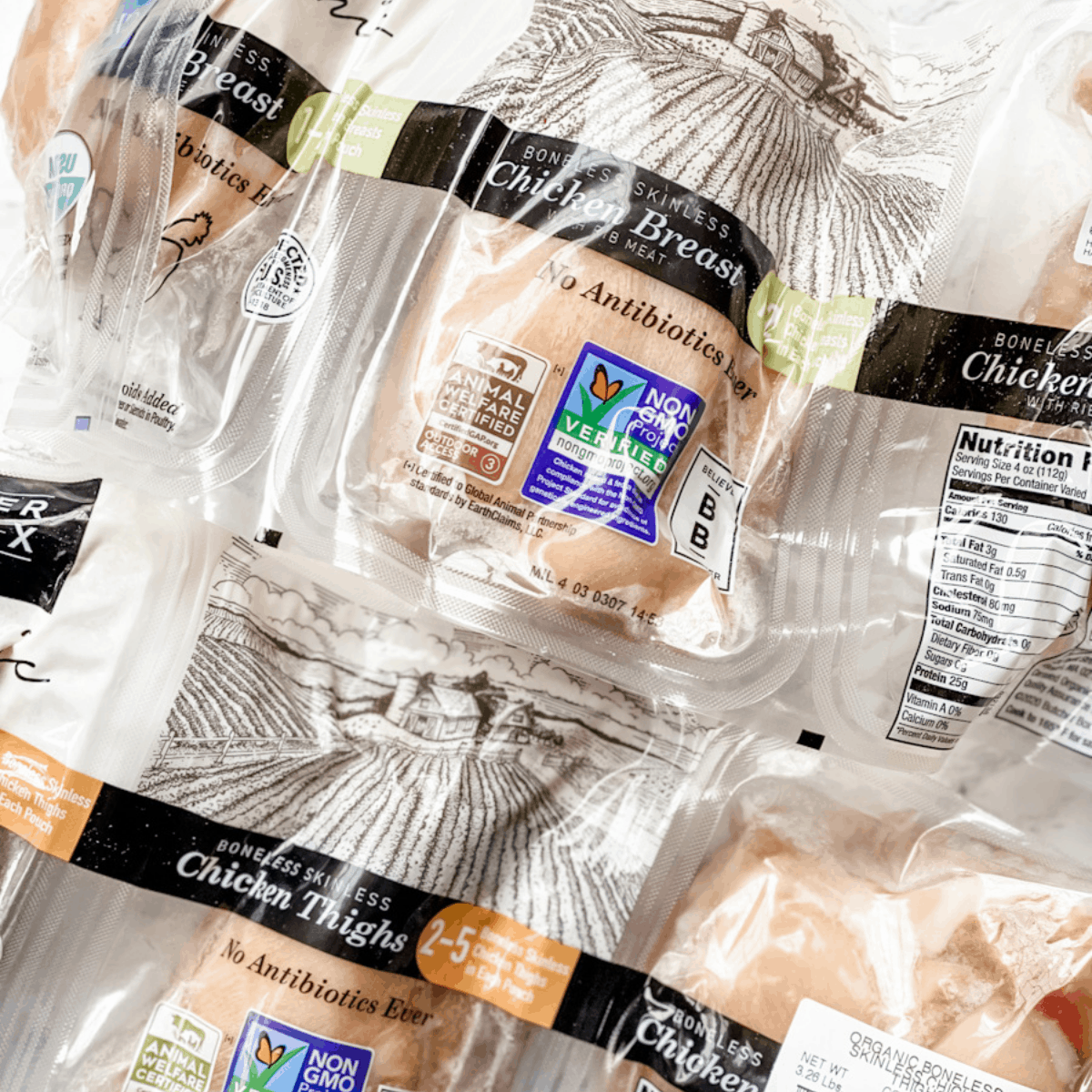 Overall Thoughts
Prices are comparable to grass-fed and organic meats in the store. Depending on the cuts, it could be a little more or less. I think having the option to purchase a larger box for less is good.
You can get a custom box. Personally, when I'm spending money, I like to choose my items.
Customer service goes over and beyond to assure that you are successful with their service.
Meat is packed in dry ice and continues to show up frozen solid.
The quality of the meat was as expected. Amazing!
They offer exclusive member-only deals!
Overall, I think Butcher Box is an excellent service for those that would benefit from it.
If you're looking for a service that delivers high-quality organic meat directly to your door, then I recommend trying out Butcher Box.
I hope my Butcher Box Review helps you make an informed decision about whether or not it's a good fit for you. Get your first box here.
If you love subscription boxes, then check out my other reviews.