Is Hello Fresh Healthy? Well, the good news is that it can be! It's often a healthier choice than grabbing take-out or fast food, especially if you make the right choices. If you're looking for an honest review of Hello Fresh and if it's a good fit for your family, lifestyle, and budget, you've come to the right place. If you're curious about Hello Fresh and want an honest review to see if it's a good fit for your family, lifestyle, and budget, you're in luck! I've got you covered with a comprehensive review of Hello Fresh.
In this Hello Fresh review, I'll explain how Hello Fresh works, highlight their best recipes, and dive into whether or not it's the healthiest meal kit option for your family.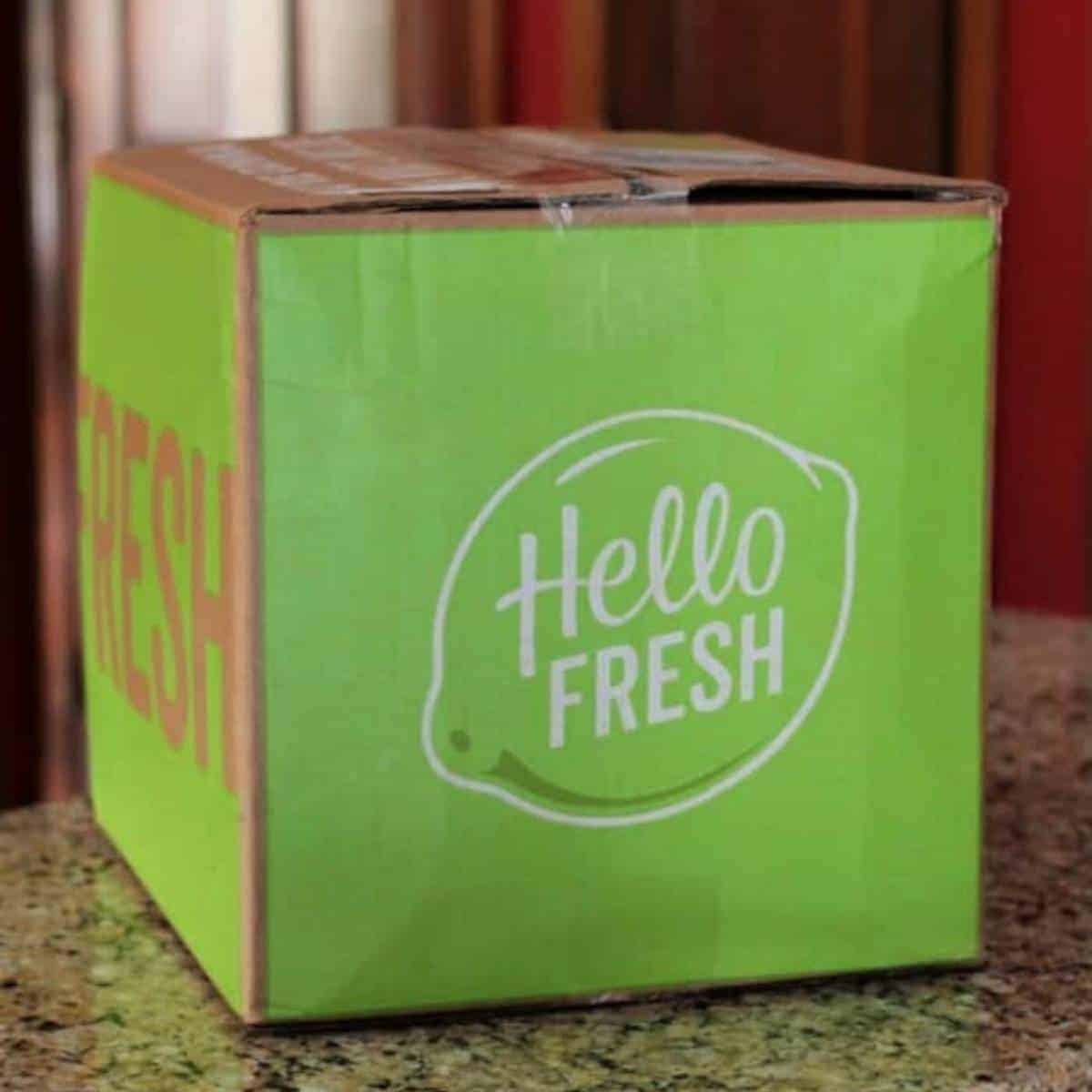 **This post contains affiliate links. I will receive a small commission if you decide to subscribe to Hello Fresh. However, this is my completely honest Hello Fresh review and you're by no means obligated to use my links. If you do, thanks so much for supporting my site.
My Honest Hello Fresh Review 2023: Everything You Need to Know
Nowadays, with people leading busy lives, finding the time to plan and cook meals for the family is becoming increasingly challenging. That's where meal kit delivery services like Hello Fresh come in. Hello Fresh has become one of the most popular meal kits because it takes the hassle out of meal planning and grocery shopping, making it easier for families to enjoy healthy, home-cooked meals together.
With Hello Fresh, all the hard work is done for you, and you don't have to spend hours searching for recipes or making multiple grocery store trips. Instead, Hello Fresh sends you everything you need to make delicious meals right to your door, from fresh ingredients to easy-to-follow recipes. This means you can spend less time worrying about what to cook and more time enjoying quality time with your family.
Another reason why Hello Fresh is so popular is that it's incredibly convenient. You can choose your delivery day and time to plan your meals around your busy schedule. Plus, the ingredients are pre-portioned, which means less waste and less time spent measuring ingredients. All of these factors have contributed to the popularity of Hello Fresh, making it a go-to choice for busy families who want to eat well and save time.
If you're excited to order your first box from Hello Fresh, now is a great time to do it! As a first-time customer, you can 16 Free Meals + First Box Ships Free + 3 Surprise Gifts Get the deal here 👇
Jump to:
What is Hello Fresh
Hello Fresh is a meal kit delivery company that simplifies meal planning and grocery shopping. Here's how it works: every week, Hello Fresh curates various recipes for you. Once you've made your selections, Hello Fresh will ship all the fresh ingredients you need right to your doorstep so that you can whip up homemade, healthy meals in your kitchen.
If you struggle with meal planning or finding the time to grocery shop, then you'll love how Hello Fresh takes care of all the hassle. The recipes are classic and family-friendly, with options like burgers, pasta dishes, one-pot rice dishes, stir-fries, and even Mexican-inspired meals like enchiladas. The best part? The recipes are easy to assemble, and the portions are plentiful, so you won't have to worry about going hungry.
Many people are turning to meal kit companies like Hello Fresh to save money and eat healthier. Instead of filling their kitchens with processed foods, ordering take-out, or eating out at restaurants, they're learning to cook and getting creative with Hello Fresh recipes.
How does Hello Fresh Work?
Step one: The first step to starting with Hello Fresh is to pick one of their meal plans. There are currently four options: Meat and Veggies, Veggies, Family-friendly, Calorie Smart, Quick and Easy, and Pescatarian.
Step two: After selecting a meal plan, the next step is choosing the right size for you. If you cook for one or two people, you can choose a plan for two people and select between 2-5 recipes per week. If you're feeding a family of four, you'll want to choose a larger plan for four people and select between 2-5 recipes per week.
Step three: Once you've picked your meal plan and size, it's time to input your payment information and set a delivery day. Don't worry; you can change this information anytime in the account section.
Step four: Now comes the fun part – picking your meals! You get to choose which recipes you want to cook each week from the selection curated just for you. This is where you can get creative and choose meals that suit your taste preferences and dietary needs.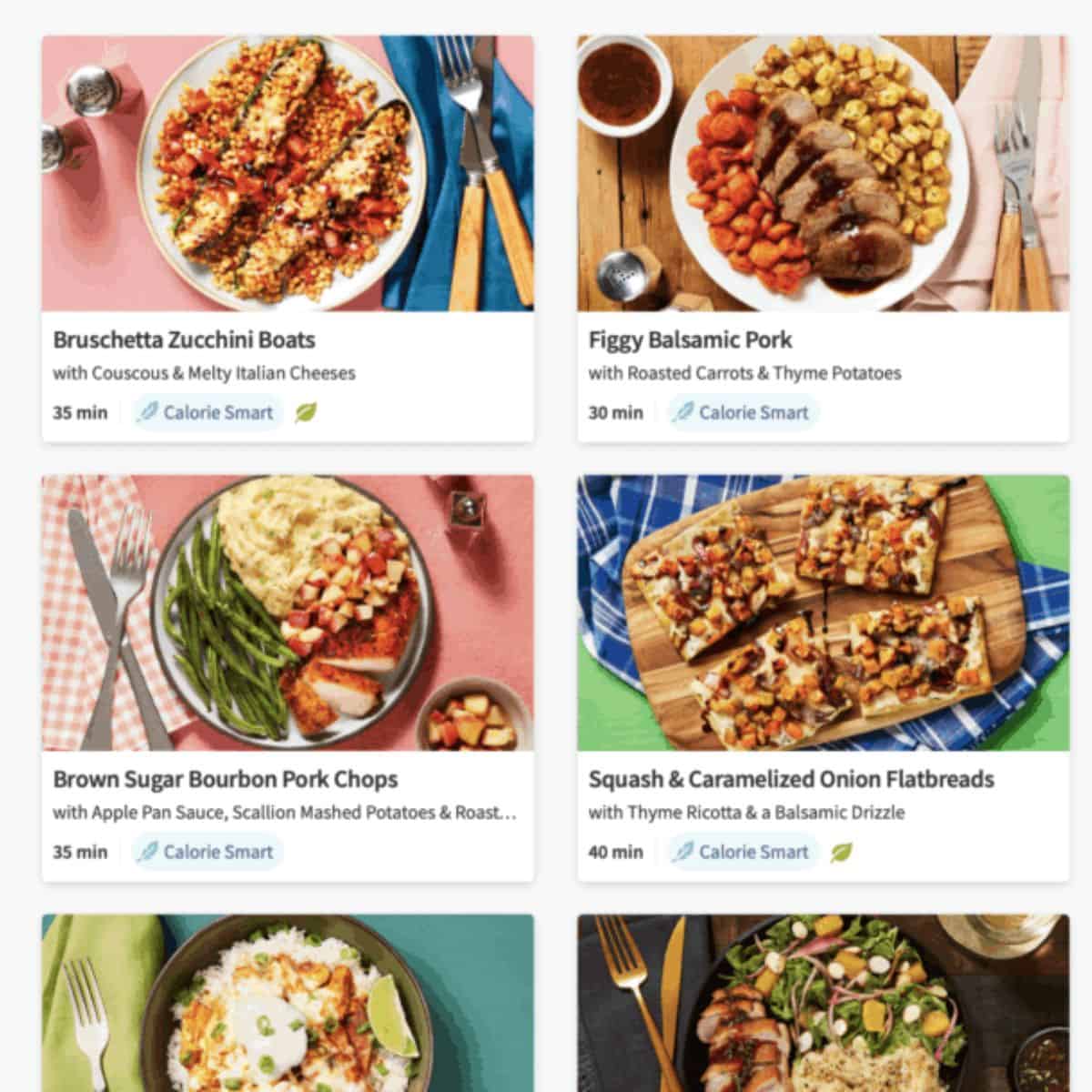 Hello Fresh Coupon
If you're excited to order your first box from Hello Fresh, now is a great time to do it! As a first-time customer, you can 16 Free Meals + First Box Ships Free + 3 Surprise Gifts Get the deal here 👇
How much is Hello fresh?
One of the most common questions people have when considering Hello Fresh is how much it costs. The good news is that the price of each plan is pretty straightforward and depends on the number of people and servings you choose. On average, you can expect to pay between $8.99 – $9.99 per serving. Remember that there is also a $7.99 shipping charge, which is pretty standard for meal kit companies.
It's important to note that some gourmet recipes come with an extra charge, but those prices are always listed on the recipe, so you know exactly what to expect. And if you're interested in any of the extras, like desserts or sides, those also come with an additional charge.
Overall, while the cost of Hello Fresh may vary depending on your meal plan and any extras you choose, the pricing is transparent and easy to understand. Plus, with the convenience of having fresh ingredients delivered straight to your doorstep, many people find the cost well worth it!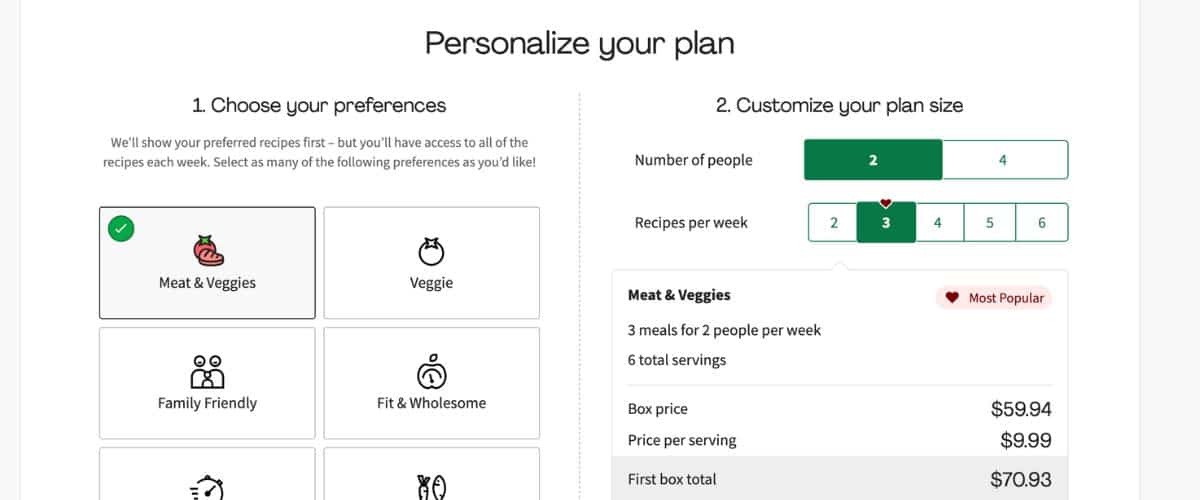 Can I skip a week?
If you ever need to skip a week of Hello Fresh meals, don't worry – it's really easy! You can use the website or the app to view upcoming weeks and select the ones you want to skip. This is an excellent option if you're going on vacation, have a busy week, or need a break from cooking.
So whether you're using the website on your computer or the app on your phone, take a few minutes to navigate to the "upcoming weeks" section and find the week(s) you want to skip. From there, it's just a matter of clicking a button to skip that particular week. It's as simple as that!
The ability to skip a week is an excellent feature of Hello Fresh that can help you customize your meal plan to fit your schedule and lifestyle. So don't be afraid to take advantage of it whenever necessary.
How to cancel Hello Fresh?
If you ever decide that Hello Fresh isn't quite the right fit for you, don't worry – canceling is easy. All you need to do is head over to the account settings and find the option to cancel your plan. It's usually located towards the bottom of the page, and you'll need to click the "cancel plan" button.
If you have questions or concerns about canceling, contact Hello Fresh's customer service team for help. They're available to answer your questions and provide support as needed. Whether you prefer to call, email, or use the online chat feature, there are plenty of ways to contact their friendly and knowledgeable staff.
Canceling Hello Fresh is a straightforward process that shouldn't take longer than a few minutes.
Is Hello Fresh Worth It
Yes, I think HelloFresh is worth it. I've been a loyal user of Hello Fresh for the past seven years, and I've got to say it's one of the most convenient ways to plan out my meals for the week. I appreciate having all the ingredients delivered to my doorstep, saving me time and hassle.
Even though I usually plan and shop for my meals, there are times when it's nice to have a delicious box of food waiting for me. And for me, it's worth every penny.
Is Hello Fresh Healthy?
If you're wondering whether Hello Fresh is healthy, the answer is yes! It's a better option than ordering take-out or dining out all the time. They use high-quality, fresh ingredients in all their recipes, so you don't have to worry about consuming processed foods.
That said, not all their recipes are low in calories or carbs. They offer options for those who want to watch their calorie or carb intake, but you'll have to check the nutritional information before making your selections. Some customers appreciate the variety in their menu, while others wish there were more low-calorie and low-carb options.
Remember that Hello Fresh ingredients are not organic, so if that's important to you, you might want to look for another meal kit service that offers organic options. For example, Sunbasket, Green Chef, and Purple Carrot offer organic ingredients and meal plans catering to different dietary needs.
Hello Fresh is an excellent choice if you want to cook more homemade meals and have a healthier option than take-out. Cooking at home is vital to maintaining a healthy lifestyle, and Hello Fresh can make that easier for you. Their meal kits offer well-balanced and tasty dinner options that you can cook in the comfort of your kitchen.
Even better, their recipes are of restaurant quality, so you can enjoy delicious meals without leaving your house. And, if you tend to eat out frequently, using Hello Fresh can save you money in the long run.
Overall, Hello Fresh is an excellent option for anyone looking to prioritize healthy eating habits while enjoying delicious meals. Review the nutritional information and choose recipes that fit your dietary preferences and goals.
My Favorite Hello Fresh Recipes
Let me share my personal experience as a long-time subscriber of Hello Fresh. I've received countless boxes and cooked many of their recipes, and I can honestly say that every time a box arrives, it feels like Christmas morning.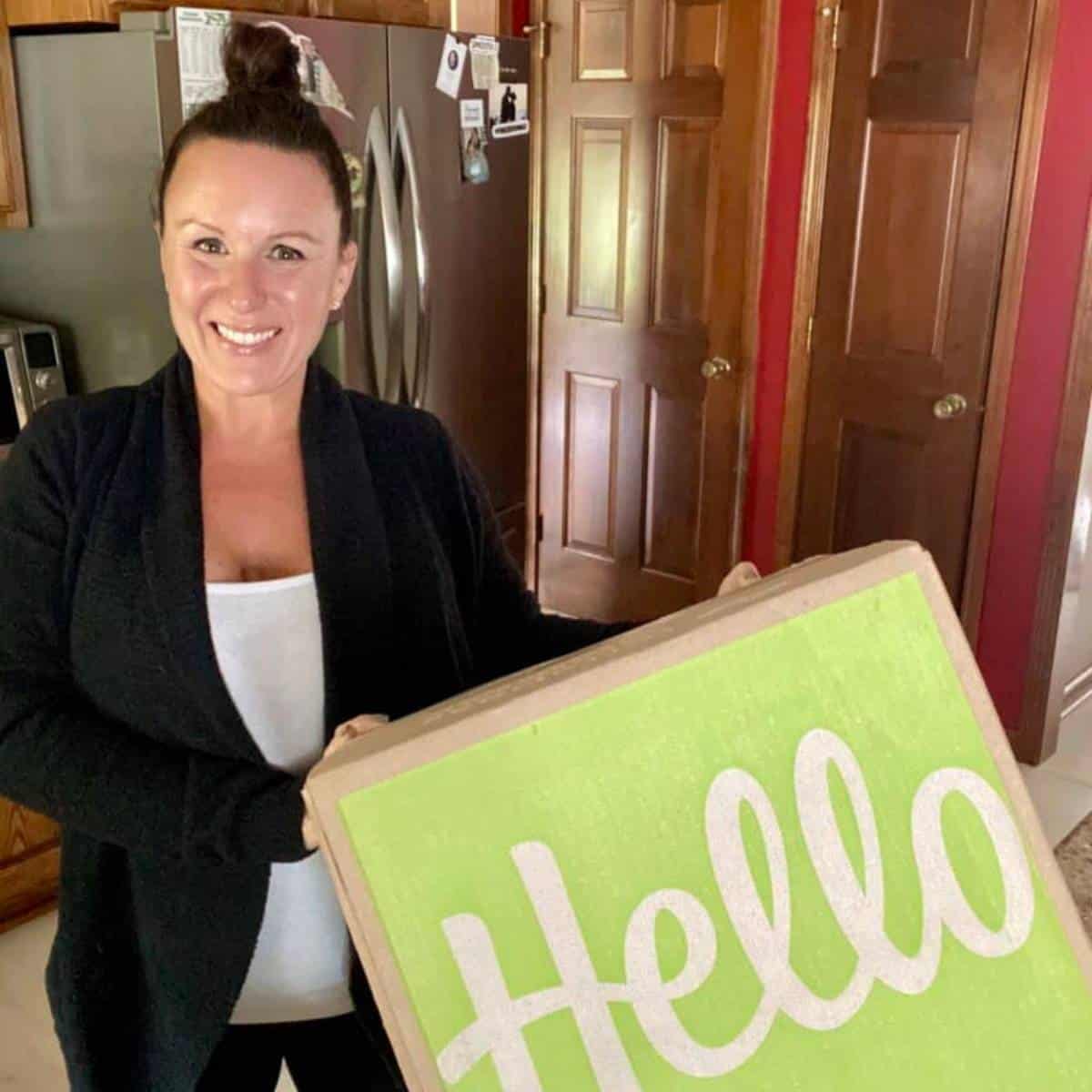 Let's start with the packaging.
Let me start by telling you about the packaging. When you receive your Hello Fresh box, you'll notice that everything is well-packaged in a sturdy and insulated box, and meats are placed under the iced packs to stay fresh. Plus, all the packaging materials are either recyclable or reusable, so you can feel good about reducing waste.
As for the recipes, they are organized into individual paper bags and clearly labeled. The fresh ingredients you'll need for each recipe are in their respective paper bags, and the meats are kept separate. This makes it easy to keep everything organized and ensures you have everything you need to start cooking.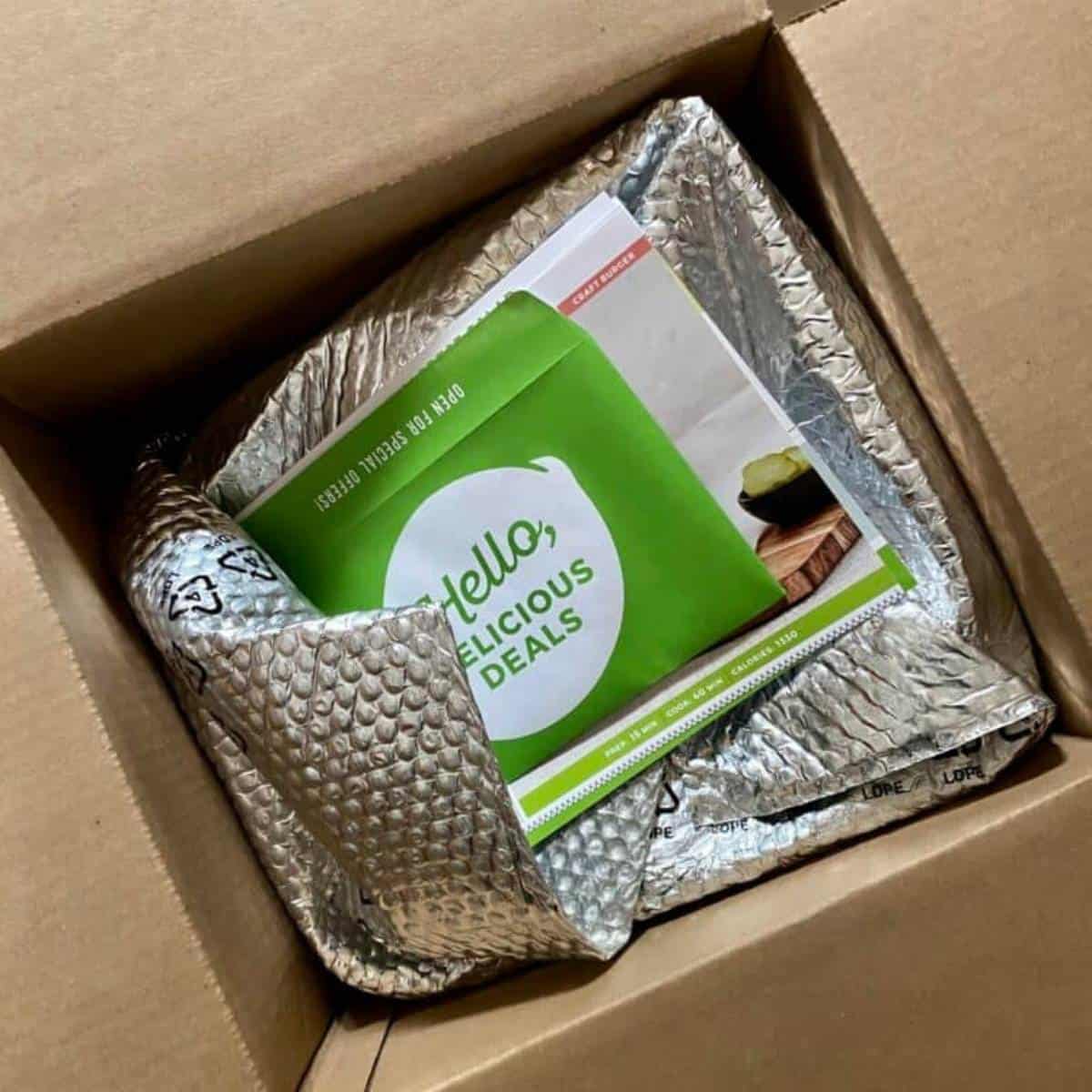 Hello Fresh includes color-coded recipe cards with every meal, making it easy to follow the instructions. Even if you accidentally lose the recipe card, don't worry – you can always find the recipes on their website or app.
Here are the items I received in my latest Hello Fresh box:
Chicken with Arugula Caprese Salad
Bacon Buckaroo Burger (Craft Burger)
Shrimp Spaghetti with a Kick
Pesto Caprese Sandwiches with Almond Studded Green Salad (extra)
Garlic Bread and Crunchy Sesame Salad Combo (extra)
Chocolate Lava Cake (extra)
I bought a mix of different recipes and extras to try out so I could give an honest and accurate review of the different options that Hello Fresh offers.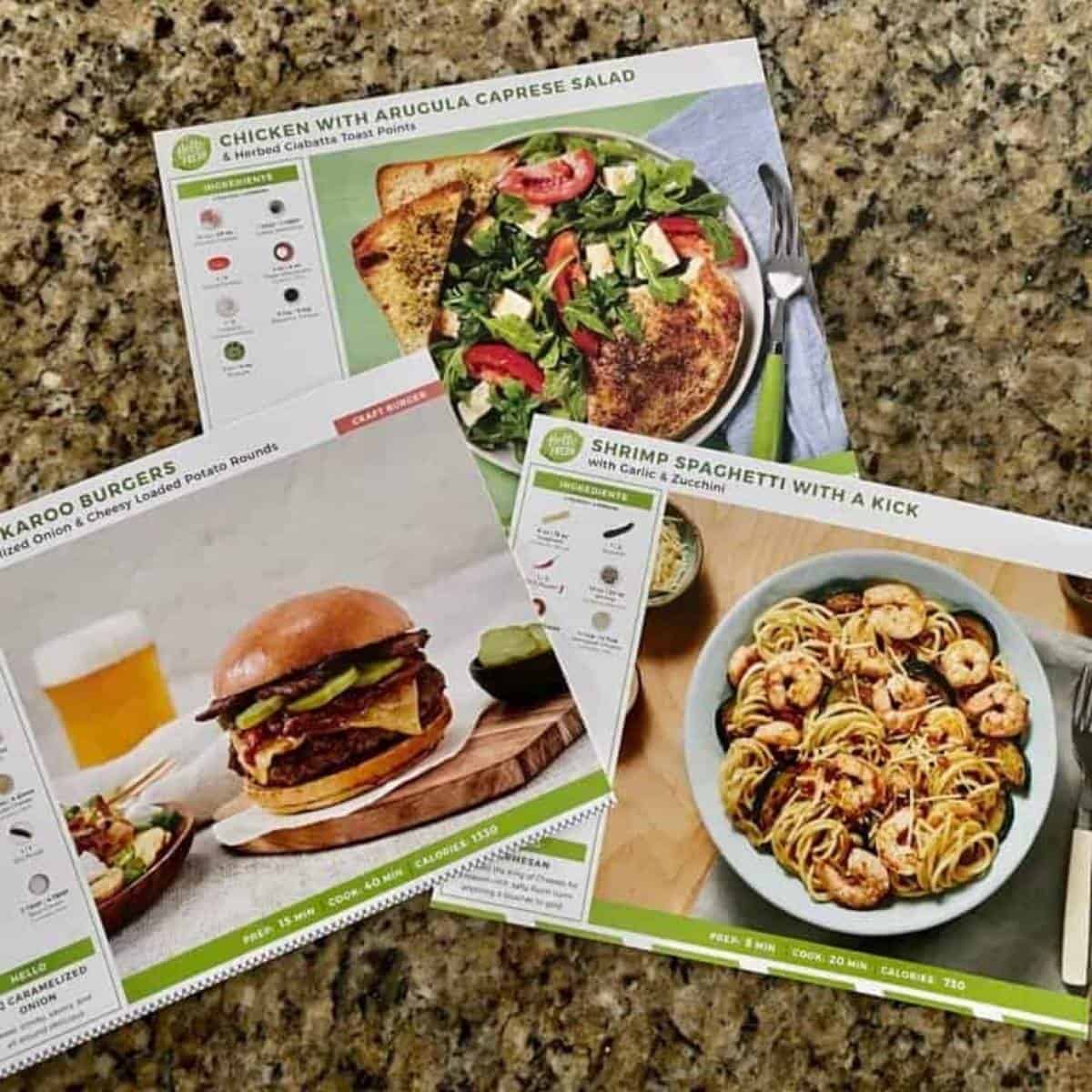 Let's talk about the Chicken with Arugula Caprese Salad from Hello Fresh. This recipe is perfect for me as it's low-calorie, carb smart, and quick to make.
When it comes to meal kits, I'm constantly worried about the quality of the chicken. But with Hello Fresh, I've never had a problem with their meats; this chicken was no exception. It was juicy and had a great texture.
The rest of the salad was also delicious. The arugula was fresh, the mozzarella was tasty, and I especially enjoyed the side of ciabatta toast that came with it.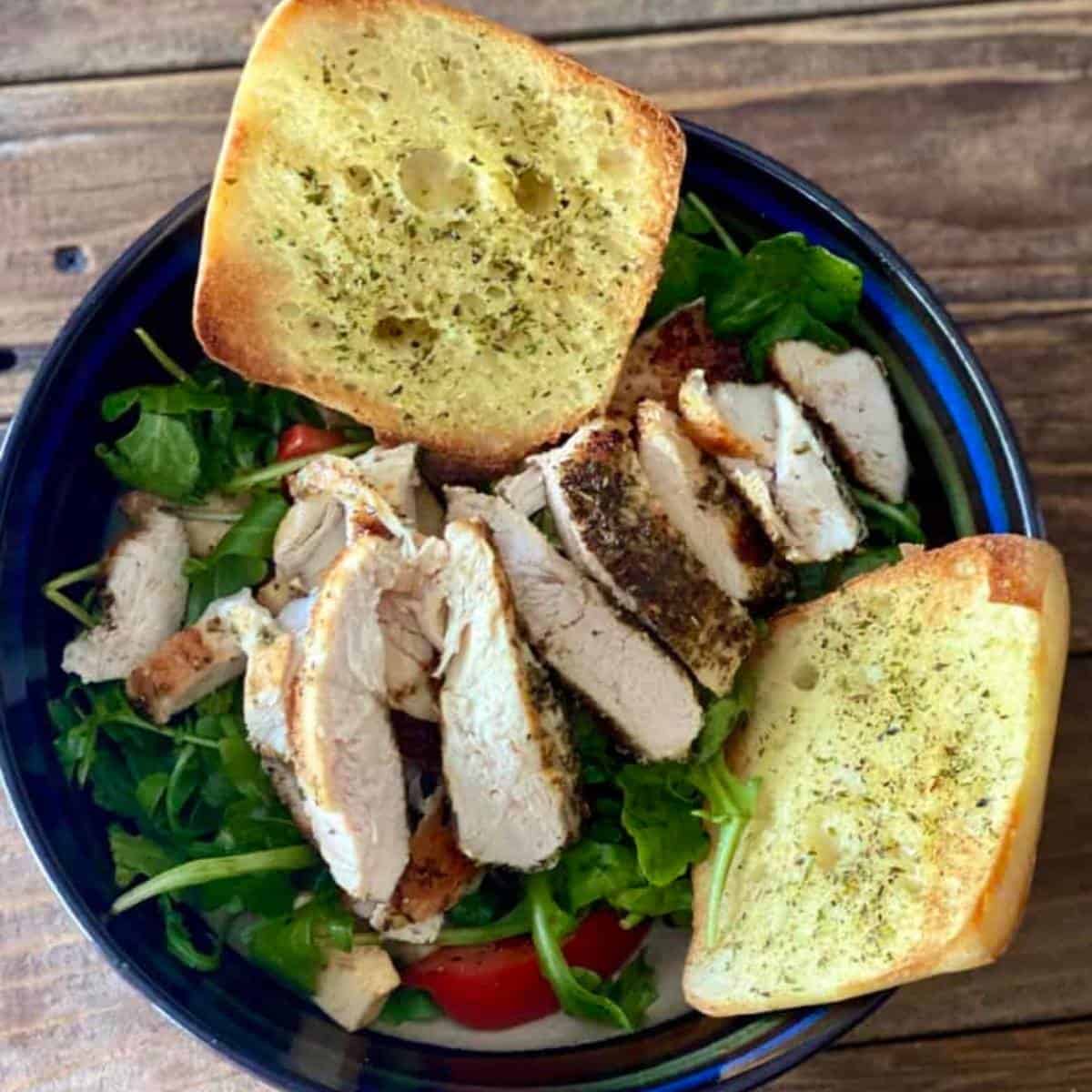 For my second recipe, I picked the Shrimp Spaghetti with a Kick, which is not exactly a low-carb meal but is one of my favorites. I made it for a cozy Friday night dinner with my husband.
Before anything else, I always check the shrimp – it has to be fresh and not have that "fishy" smell. Thankfully, the shrimp in the box was in great condition.
The recipe was easy to follow and came together quickly. But just because it was simple, it didn't mean it lacked flavor, and we both enjoyed it very much.
To complete the dinner, I also prepared the Garlic Bread and Crunchy Sesame Salad combo and the Chocolate Lava Cake. The bread was a perfect match for the Italian-style pasta, and the cake was rich and chocolatey and just the right size for two.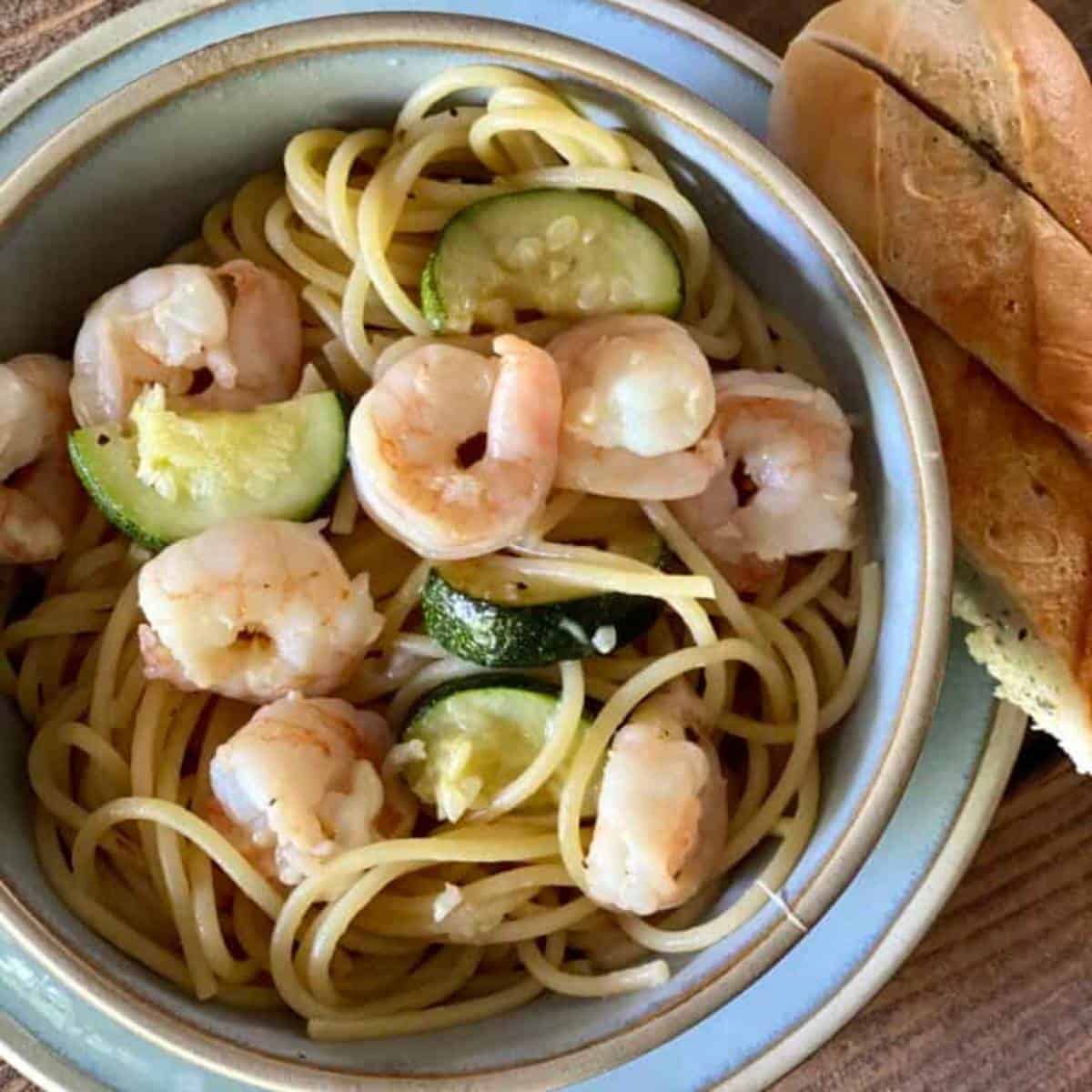 For my third recipe, I opted for the Craft Bacon Buckaroo Burger, which was an additional cost, but I added it to my order since my daughter is a fan of burgers.
The recipe was straightforward to make, even on a weeknight. However, I could have pre-cooked the bacon to save even more time. However, this recipe is not for someone looking for a light meal. I had to modify it to enjoy it – I skipped the bun and had only half of the potato portion. But my husband and kids loved it and enjoyed it as it was. This burger is a great option for a delicious and family-friendly meal.
To serve alongside the burgers, I added the Asian salad, which brought a fresh and crunchy component to the meal.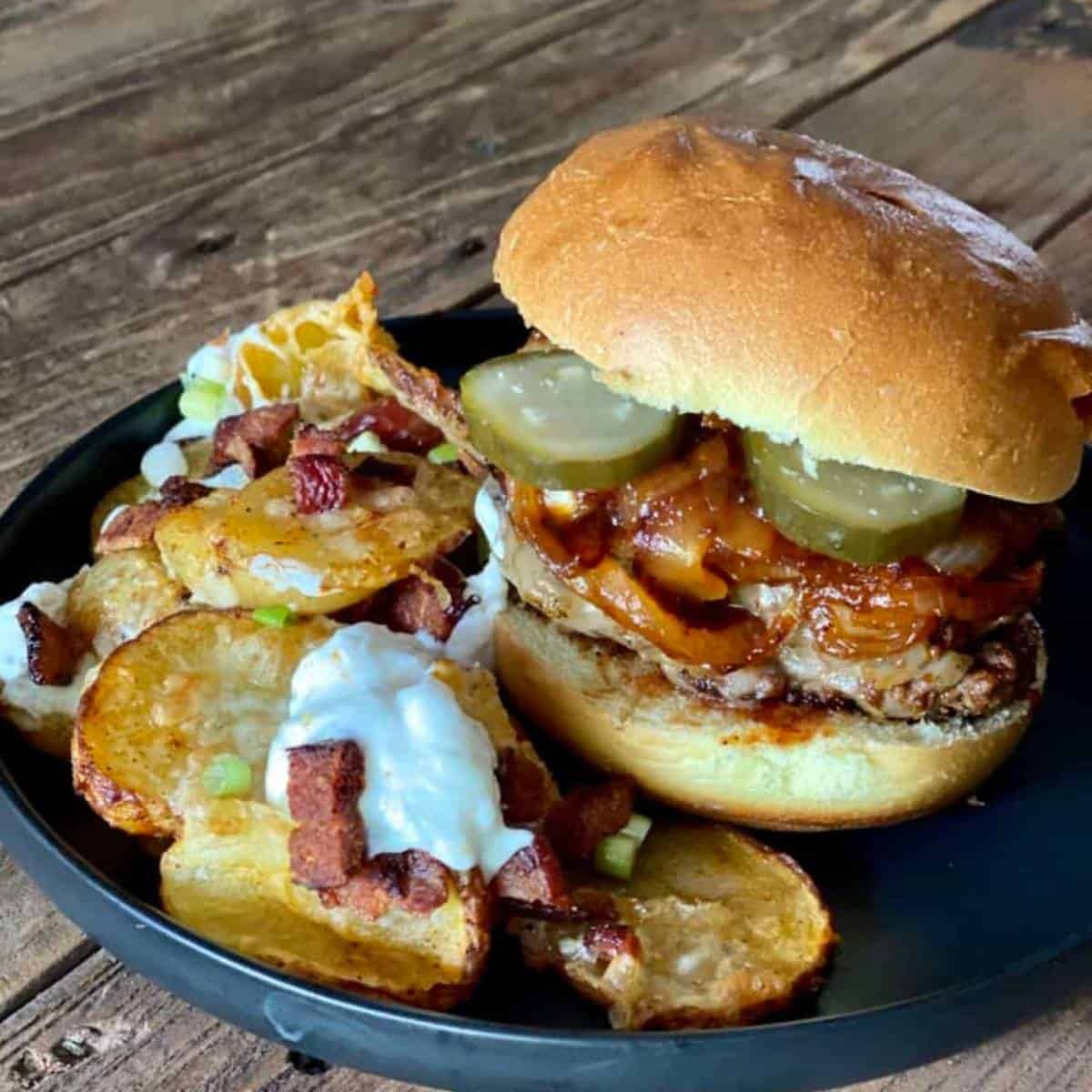 Who will benefit?
You're trying to change your eating habits to healthier ones and have no clue where to start and become overwhelmed when you try to search for new recipes. Hello Fresh creates the recipes, compiles all the ingredients, and delivers them to your door. All you have to do is cook. Every recipe has nutritional information and is made with fresh ingredients.
You love to cook but hate to plan meals and grocery shop. Taking the time to meal plan and spend hours grocery shopping after a long week is exhausting. Hello Fresh curates the recipes and then sends all the ingredients to your door.
It's just the two of you. Hello Fresh solves that problem by offering three different meal plans for only two people.
Your time is minimal. This meal kit company might be unable to clean your house, but they can plan and shop for dinner.
You have a busy week coming up. I don't get Hello Fresh every week. But I plan for a box to get delivered when I know my week will be busy.
You're not afraid to try new recipes. Hello Fresh doesn't have what I would consider exotic recipes, but it's different from frozen pizzas and tacos. But if you like trying new recipes and want to start cooking with fresh ingredients, then Hello Fresh can help.
You're ready to eat more at home. Eating at restaurants 2-3 times a week can make living a healthier lifestyle difficult. It also becomes expensive.
Who won't benefit?
Those who prioritize getting the best prices of food as they can likely get a better price on ingredients shopping themselves.
Picky eaters who have issues with new recipes and cuisines, as all recipes are still in the hands of Hello Fresh.
People with strict dietary restrictions or needing to eliminate certain food groups, such as Hello Fresh, might not work for them.
Frequent travelers, as they must make the foods ahead of time and store them in a cooler, which could be a nuisance.
Those who have no desire to cook, as the recipes require more effort than using the microwave.
FAQs
Is Hellofresh worth is for single people?
Definitely! If you're single, Hello Fresh can still be an excellent option for you. Even though the smallest box is for two servings, you can still have plenty of leftovers that are just as delicious the next day. You can take them to work for lunch or reheat them for a quick and easy dinner. So, in my opinion, it's definitely worth considering Hello Fresh as an option.
Are 2 servings from HelloFresh enough for 2 people?
When you order from Hello Fresh, you have a few options for the size of your box and the number of meals you receive. You can choose between recipes that serve 2 or 4 adults and decide whether you want 2, 3, or 4 meals in your box. Generally, two servings from Hello Fresh is enough for two people, but it depends on how hungry you are. The portion sizes are pretty generous, so you may even have some leftovers for the next day.
Is it worth it to use HelloFresh?
HelloFresh is an excellent option for anyone who wants to save time on meal planning and grocery shopping while still enjoying delicious and healthy meals. The variety of recipes available each week makes it easy to find something you'll enjoy, and the step-by-step instructions ensure that even novice cooks can prepare a tasty meal. Plus, the convenience of having everything delivered to your doorstep is hard to beat. While it may not be the best fit for those with strict dietary needs or preferences, HelloFresh is worth considering if you want to simplify your meal routine.
I hope my review of Hello Fresh was helpful to you. If you have any questions, please drop them in the comments section, and I'll get back to you as soon as possible.
Read my other helpful reviews
See all of my reviews.