Hello Fresh is one of the most popular meal kit delivery services. They pride themselves on sending delicious recipes and fresh ingredients making it very easy for families to cook a restaurant-quality meal in their own kitchen. I've cooked through well over 50 Hello Fresh recipes and this is my honest Hello Fresh review.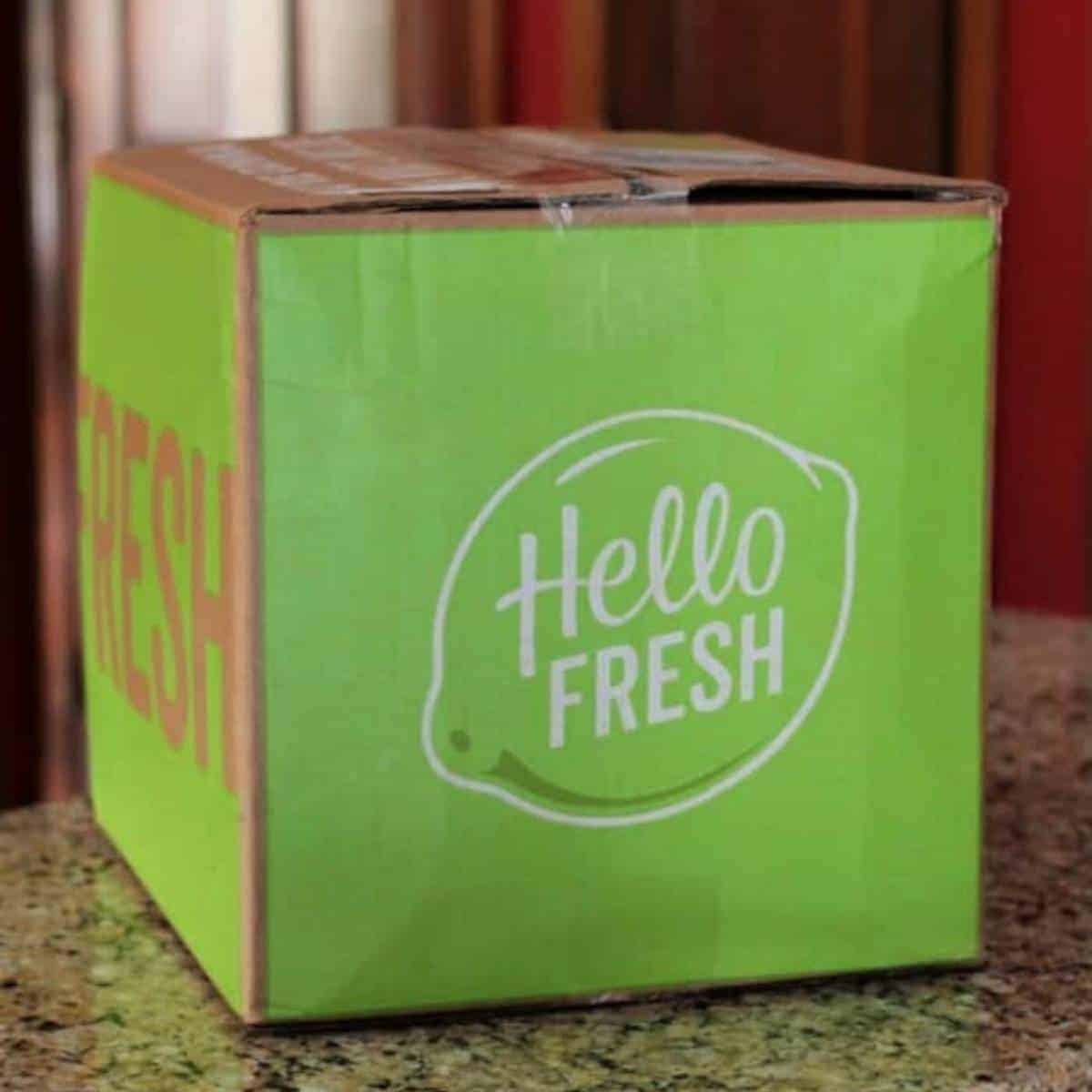 **This post contains affiliate links. I will receive a small commission if you decide to subscribe to Hello Fresh. However, this is my completely honest Hello Fresh review and you're by no means obligated to use my links. If you do, thanks so much for supporting my site.
This review was updated on 9/9/21
Hello Fresh Review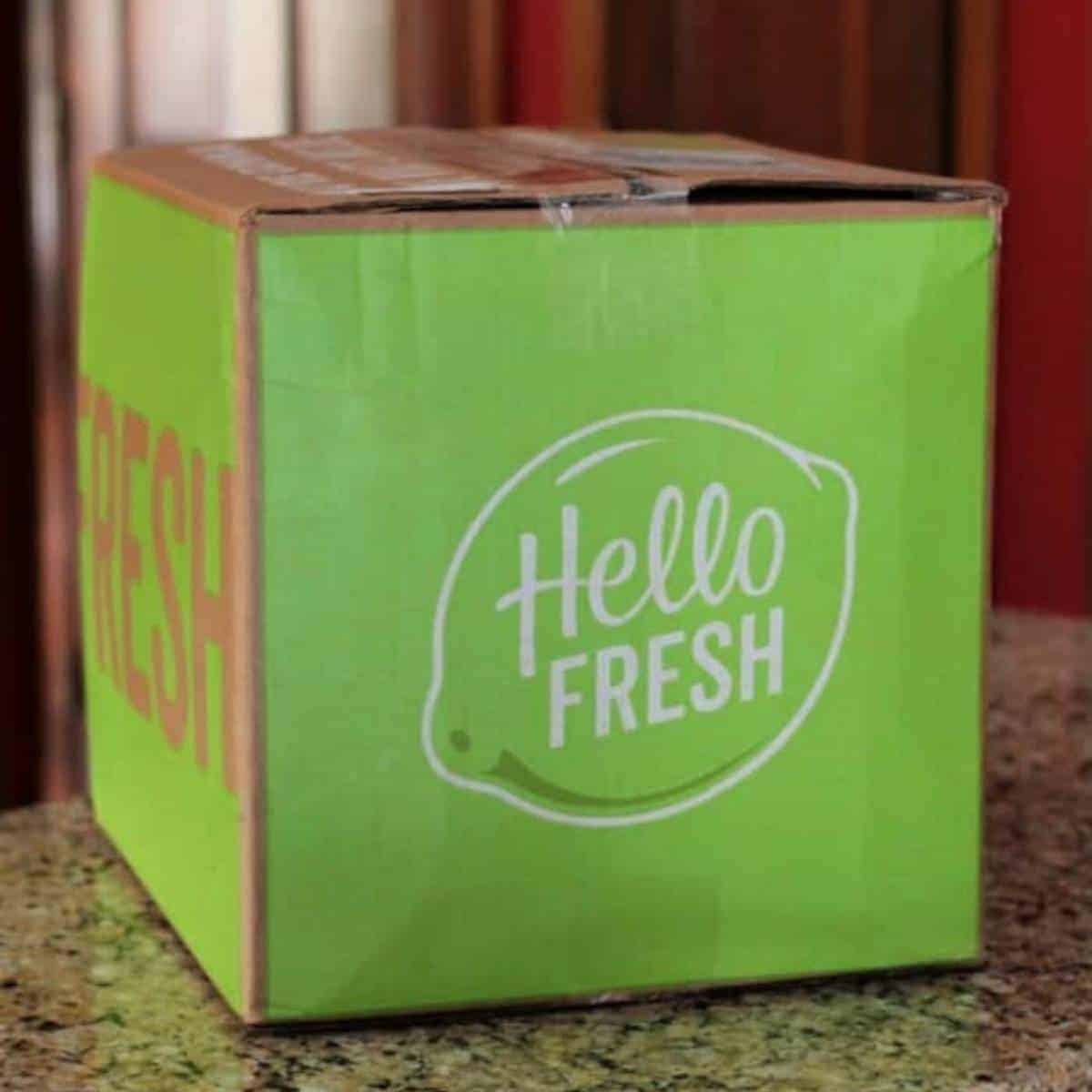 Summary
Hello Fresh offers a large variety of family-friendly recipes that are easy to make and tasty. Portions are big and it's a good value for the cost. Ingredients are high-quality but not organic. This meal kit company is a good option for individuals or families who want to reduce takeout and save money by cooking delicious healthier recipes at home. 

Hello Fresh is a meal kit delivery company. Recipes are curated every single week for you to choose from. Then based on your selections, Hello Fresh will ship fresh ingredients to your doorstep so you can create homemade healthy meals in your kitchen. 
Hello Fresh takes care of the meal planning and limits your time spent in the grocery stores. If you struggle with either of those things, then you'll love that they remove the hassle of planning and shopping for dinnertime!
Recipes are classic and family-friendly. You'll find things like burgers, pasta dishes, one-pot rice dishes, stir-fries, and Mexican-inspired meals like enchiladas. The recipes are easy to put together, and portions are plentiful.
Many people turn to this meal kit company to save money and eat healthier. So, instead of stocking their kitchen with processed foods, ordering take-out, or eating dinner at restaurants, they are learning to cook and get creative with Hello Fresh recipes.
How Does Hello Fresh Works?
Sign up for a meal plan
When you're ready to get started, the first thing you'll do is pick one of the Hello Fresh meal plans. Currently, there are four meal plans.
Meat and Veggies
Veggies
Family-friendly
Calorie Smart
Quick and Easy
Pescatarian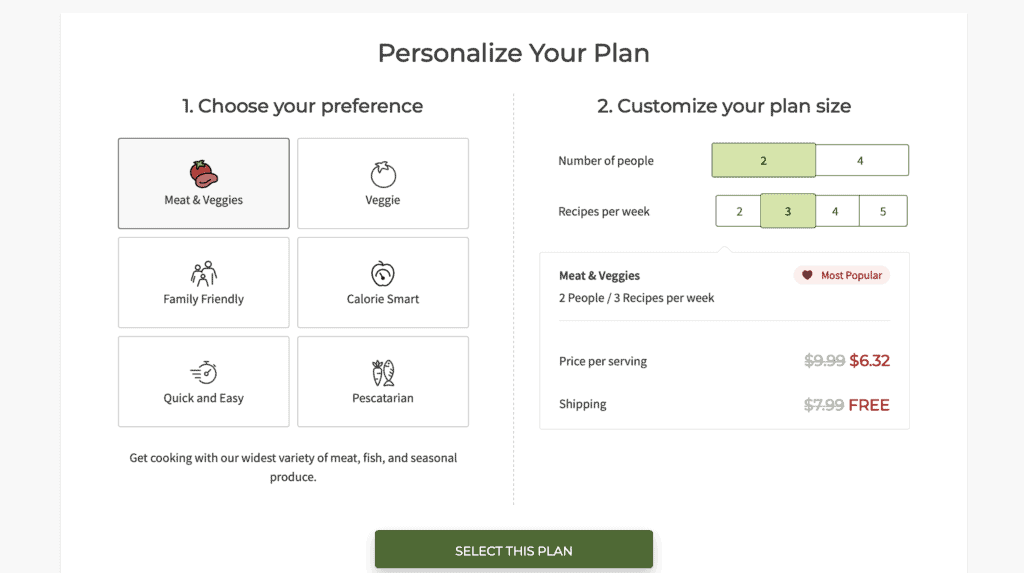 Next, choose the meal plan size.
If you're single, or it's just you and one other, you can choose a meal plan for two people. You can choose between 2-5 recipes a week.
If you're feeding a family of 4, then select a larger plan for four people. Again, you can choose between 2-5 recipes a week.
Set up your details
After you pick a meal plan, you'll input your payment information and set a delivery day. You can change this information at any time in the account section.
Pick your meals
Now you're ready to pick your meals. This is the fun part – next to cooking everything, of course!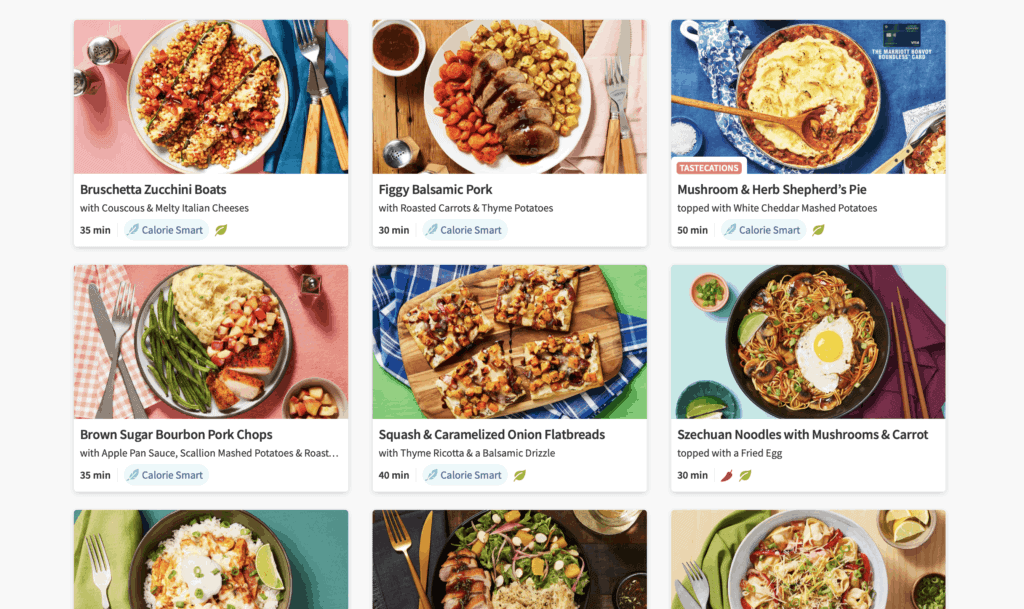 Tips for choosing meals.
Each week there are 18 meals available. Within those 18 meals, include recipes specific to the menu you chose. Those meals will be automatically curated for you. Of course, you can select others but, if not, recipes based on the meal plan you picked will go into your box.
Calorie-smart, carb-smart, and veggie recipes are labeled. This is helpful if you want to pick recipes within those meal plans quickly. You'll also find quick recipes and spicy recipes marked to make it easier to select meals.
You can choose from all of the available recipes for the week, regardless of the meal plan. So, if you sign up for the veggie meal plan but see a juicy burger on the menu, you can pick that instead.
Gourmet meals or craft meals cost extra. Within the menu, specific recipes are considered craft or gourmet. These meals cost extra per meal because they have specialty ingredients.
Choose your extras
Within the last year or so, Hello Fresh started to add extras to their offerings. At first, it was just garlic bread and cookie dough, but now you can get various food items to make the week easier.
You can order quick lunch items like a salad with chicken breast or avocado toast. You can even get snacks and drinks like energy shots, coffee, or individual avocados.
You can get sides to go with dinner recipes like salads and garlic bread. And you can also order extra proteins like chicken breasts, ground beef, chicken sausage, or salmon.
FAQs
How Much Does Hello Fresh Cost?
The price of each plan goes up or down depending on the number of people and servings you choose. For the most part, you can expect to pay between $8.49 – $9.99 a serving. There is also a $7.99 shipping charge.

Shipping charges are more standard now with meal kit companies so it's not unusual for Hello Fresh to charge shipping. 

Also, as I said earlier, some of the gourmet recipes have an extra charge. All those prices are listed on the recipe.

Extras, of course, all have an additional charge.
Can I skip a week?
Skipping a week is super easy to do. You can either use the website, or app, to view upcoming weeks to skip a week(s) that don't work for you.
How to cancel Hello Fresh?
If you decide that Hello Fresh isn't a good fit, you can easily cancel it in the account settings. Just go to the account section, scroll down, and click on "cancel plan." You can also contact customer service with any questions or issues you may have.
Is Healthy Fresh Healthy?
Hello Fresh is certainly healthier than ordering take-out, fast food, or dining regularly in a restaurant. All the ingredients are high quality and fresh.
They do offer some low calorie and low carb recipes options to choose from. However, some of their recipe selections are high in calories and do include a lot of carbs.
On one hand, many customers like this because it offers more variety, especially when you're choosing meals to feed your family. On the other hand, it'd be nice to have a larger selection of low-calorie and low-carb menu options for those that want it.
So, my advice is to review the nutritional information prior to making your selections. If you want recipes lower in calories then make sure to choose those.
Also, while they do offer fresh ingredients, the ingredients are not organic. So, if that's important to you, that'll be an issue. If you're looking for organic ingredients along with meal plans that offer keto-friendly, low-carb, and plant-based, then I recommend checking out Sunbasket, Green Chef or Purple Carrot.
Overall, I think Hello Fresh is a healthier option for people looking to cook more homemade meals at home than eating processed take-out.
Who will benefit?
You're trying to change your eating habits to healthier ones and have no clue where to start and become overwhelmed when you try to search for new recipes. Hello Fresh creates the recipes, compiles all the ingredients, and delivers them to your door. All you have to do is cook. Every recipe has nutritional information and is made with fresh real ingredients.
You love to cook but hate to plan meals and grocery shop. Taking the time to meal plan and then spend hours grocery shopping after a long week is exhausting. Hello Fresh curates the recipes and then sends all the ingredients to your door.
It's just the two of you. Hello Fresh solves that problem by offering 3 different meal plans for only 2 people.
Your time is extremely limited. This meal kit company might not be able to clean your house, but they can plan and shop for dinner.
You have a busy week coming up. I don't get Hello Fresh every week. But I plan for a box to get delivered when I know my week will be busy.
You're not afraid to try new recipes. Hello Fresh doesn't have what I would consider exotic recipes, but it's different from frozen pizzas and tacos. But if you like trying new recipes and want to start cooking with fresh ingredients, then Hello Fresh can help.
You're ready to eat more at home. Eating at restaurants 2-3 times a week can make a living a healthier lifestyle very difficult. It also becomes expensive.
Eating at home is essential to a healthy lifestyle. Hello Fresh provides well-balanced, healthy, delicious dinners for you to cook and eat at home. Their meals are restaurant quality, and if you dine out a lot, I bet you will find yourself saving money over time.
Who won't benefit
You prioritize getting the best prices of food. Hello Fresh offers reasonable prices, but you can likely get a better price on ingredients shopping yourself.
You're a picky eater. You get to choose some meals, but all recipes are still in the hands of Hello Fresh. But if you tend to have issues with new recipes and cuisines, you might not have a good experience with Hello Fresh.
You have dietary restrictions. I think Hello Fresh does a great job of working with your preferences. However, if you have strict dietary restrictions or need to eliminate certain food groups, then Hello Fresh might not work for you.
You travel a lot. Hello Fresh could work for someone who travels, but you must make the foods ahead of time and store them in a cooler. This could be more of a nuisance, but it could work.
You have no desire to cook. You need to cook the recipes. While the recipes are simple, they still require more effort than using the microwave.
My Honest Hello Fresh Review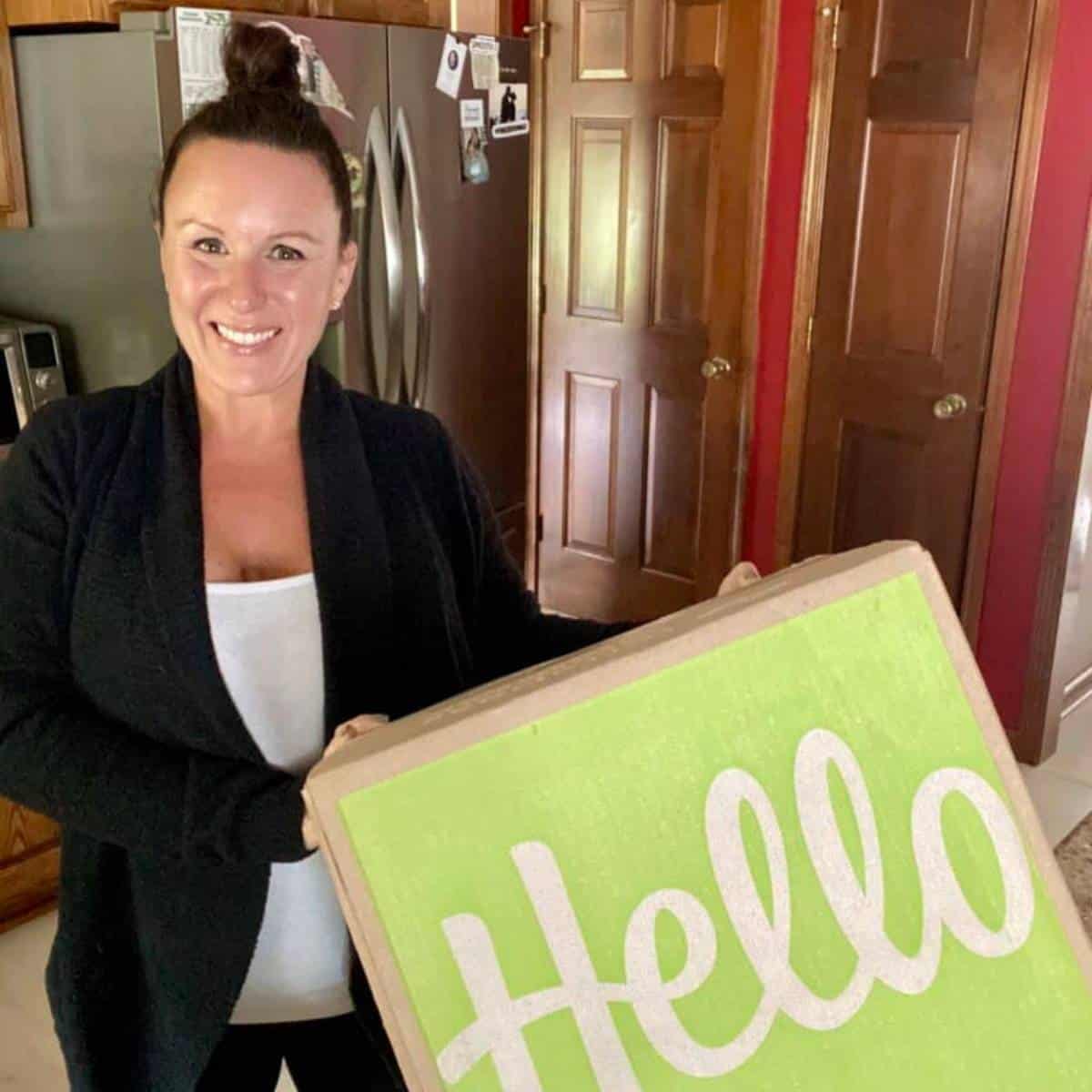 Now let's go over my experience. As I said, I've been a long-time Hello Fresh subscriber. I've received many boxes and tried many of their recipes. And, it's always like Christmas morning whenever a box arrives.
Let's start with the packaging.
All the recipes and extras come in a sturdy isolated box. There is a large ice pack or a couple of ice packs on the bottom of the box. To make sure the meats stay cold, they are underneath the ice packs.
All of the packaging materials are recyclable or reusable.
Recipes are organized into individual paper bags and labeled. All the fresh ingredients are in each paper bag, and the meats are separate.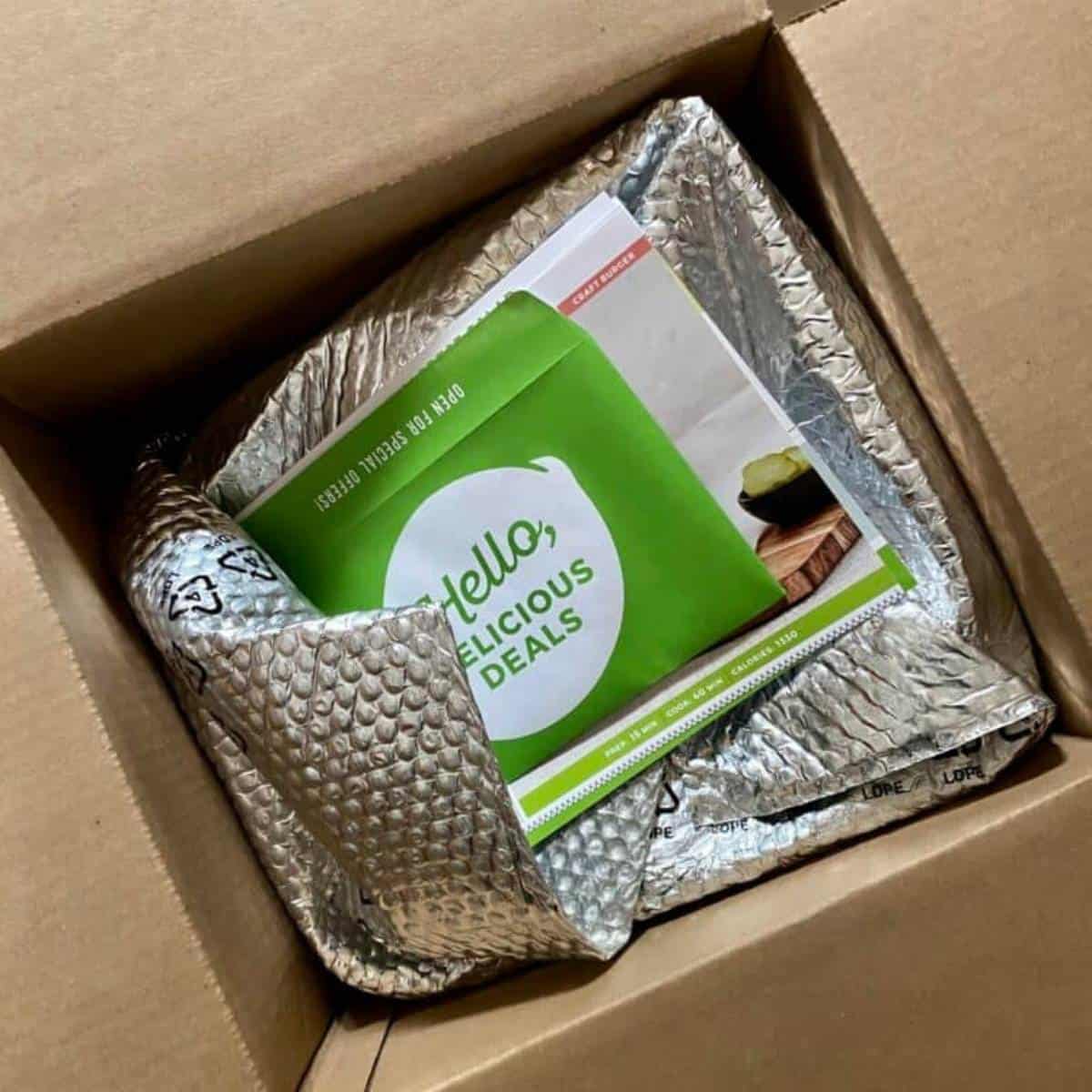 All of the recipes have beautiful color-coded recipe cards with step-by-step instructions. If you lose the recipe card by some chance, you can find the recipes on their website or app.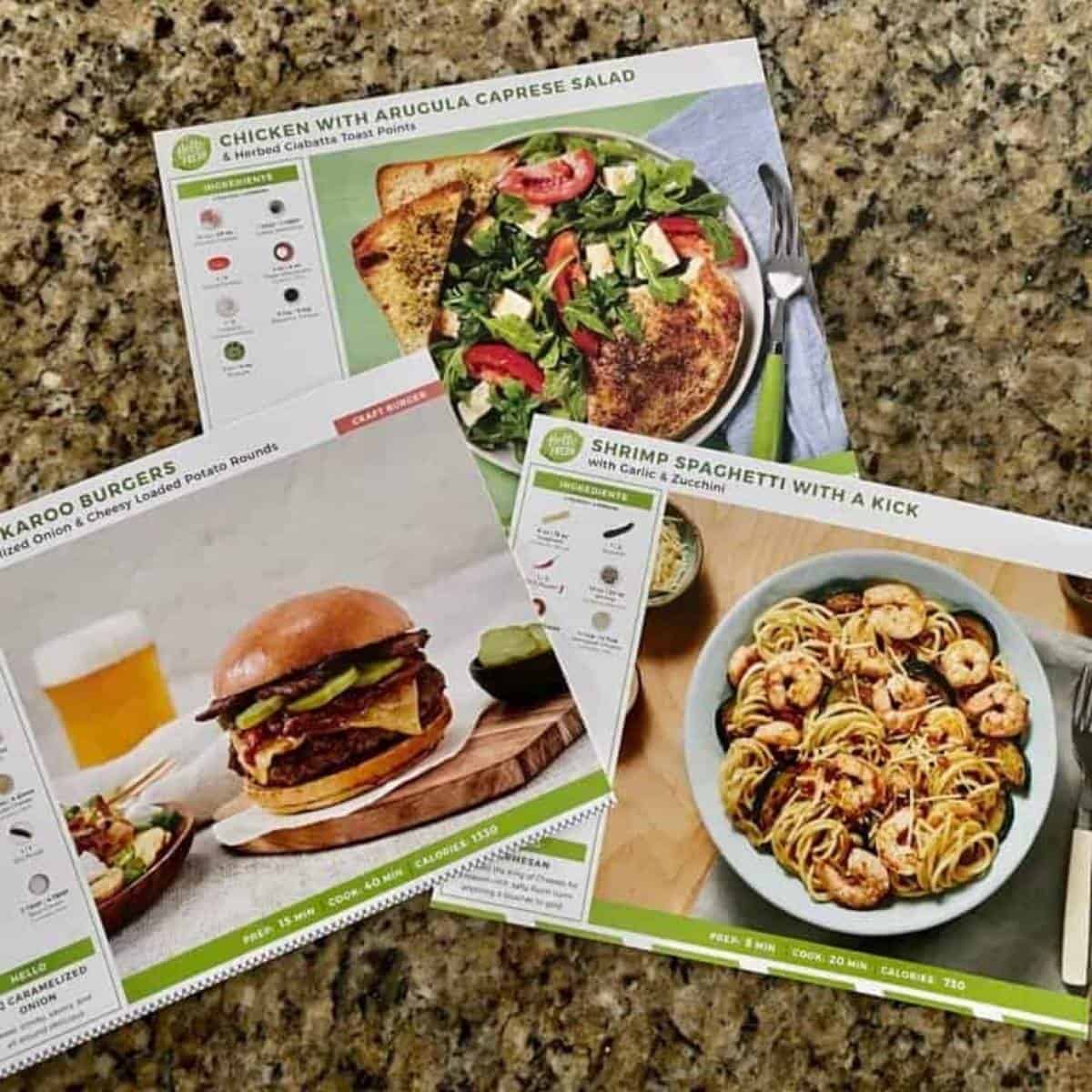 In my latest box, I received:
Chicken with Arugula Caprese Salad
Bacon Buckaroo Burger (this is a Craft Burger)
Shrimp Spaghetti with a Kick
Pesto Caprese Sandwiches with Almond Studded Green Salad (extra)
Garlic Bread and Crunchy Sesame Salad Combo (extra)
Chocolate Lava Cake (extra)
I purchased various recipes and extras for testing out to give you an honest, accurate review of the different items they offer.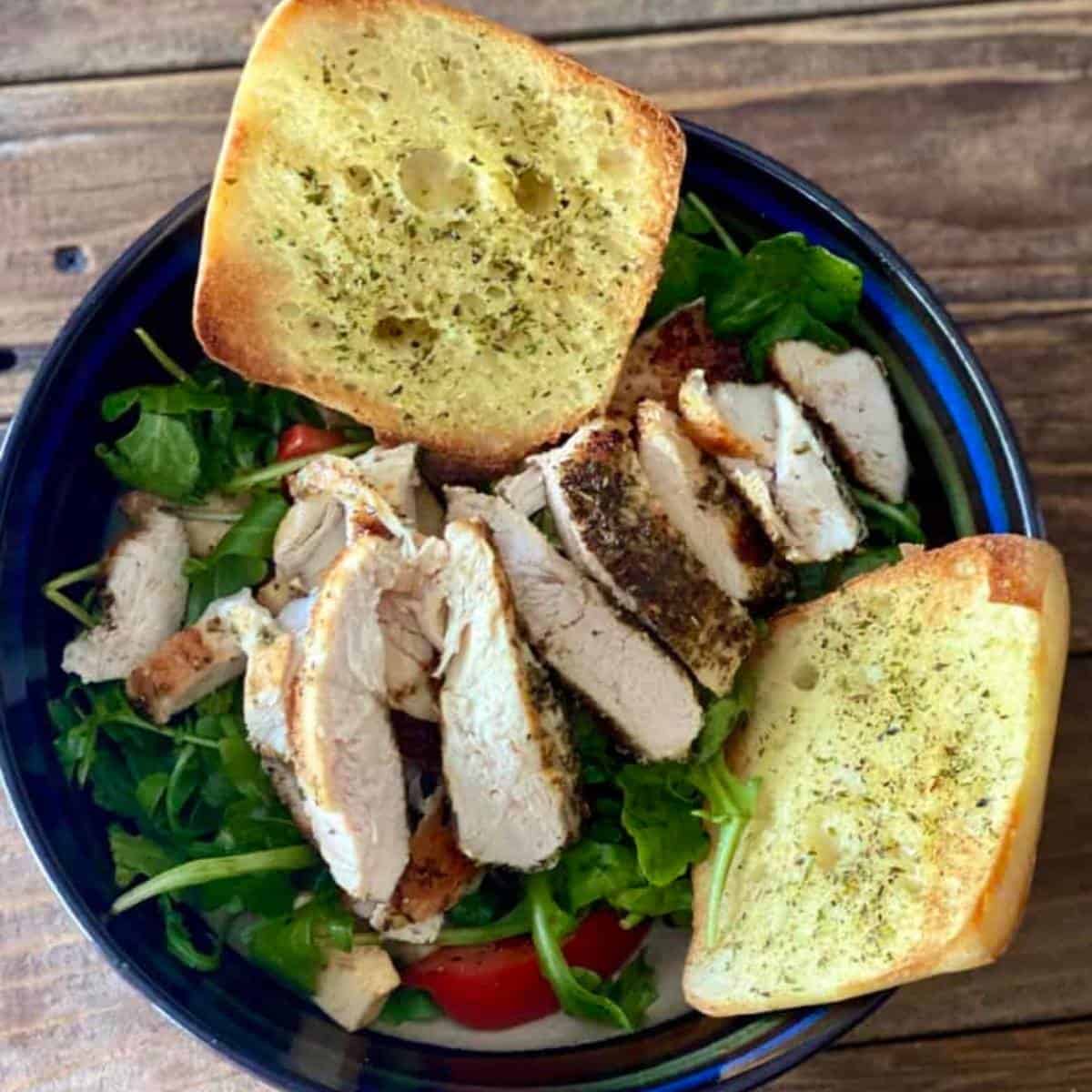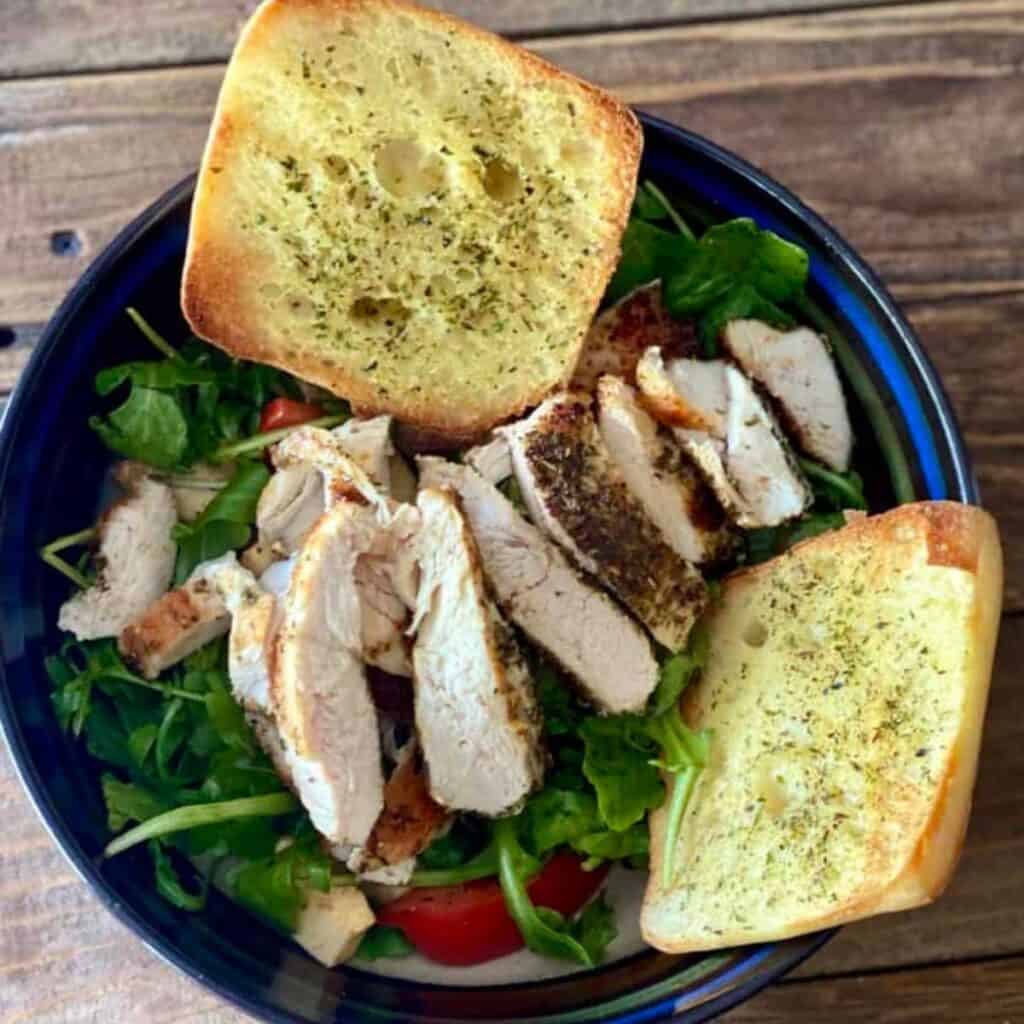 Let's start with the Chicken with Arugula Caprese Salad.
This recipe is one of their low-calorie recipes and is listed as carb smart and quick. It's my kind of meal!
My biggest concern with any meal kit is the quality of the chicken. I do not like rubbery chicken. Truthfully, I never had an issue with Hello Fresh meats.
The chicken was juicy and with great texture.
Everything else about this salad was excellent. The arugula was fresh, the mozzarella was tasty, and I loved the side of ciabatta toast.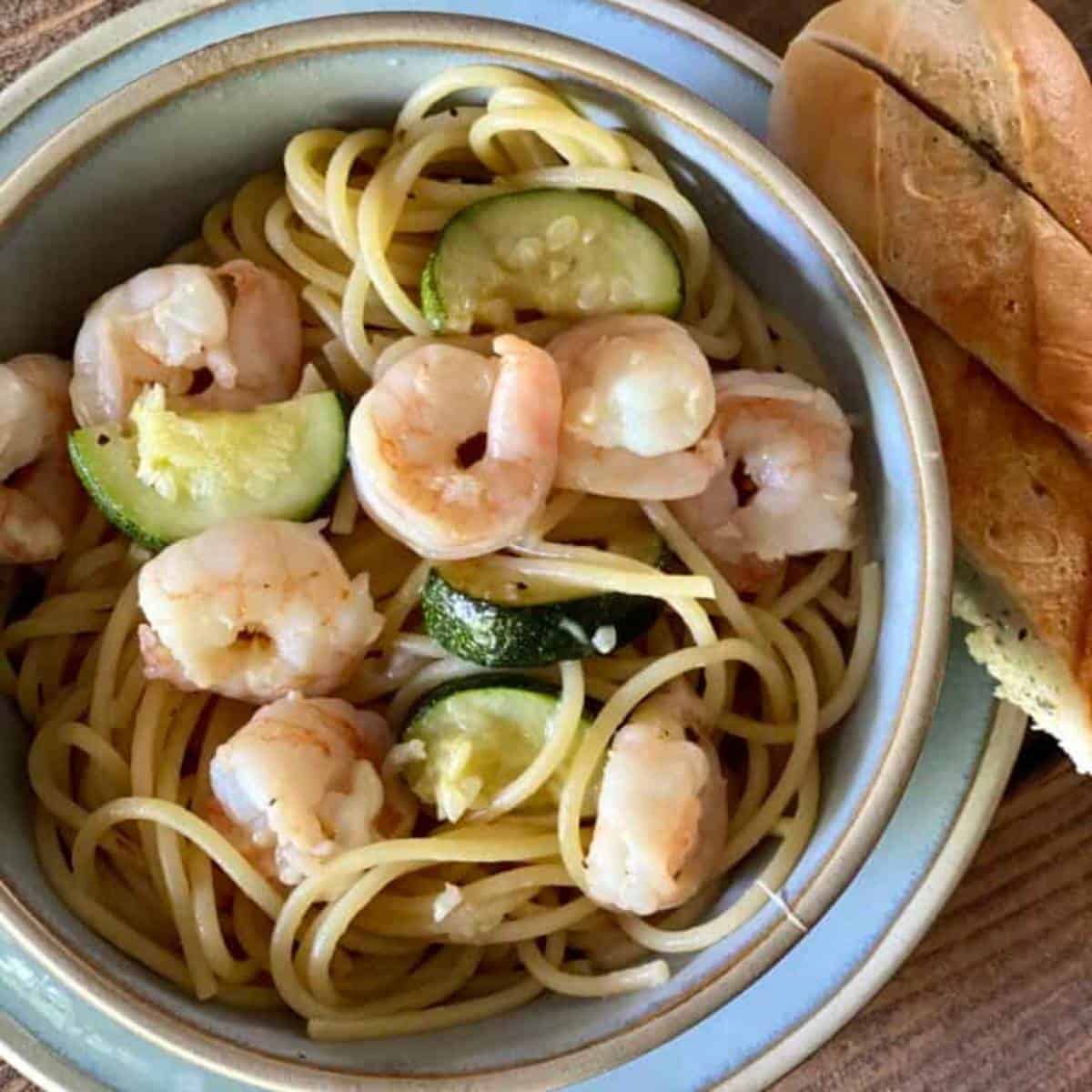 The second recipe I chose was Shrimp Spaghetti with a kick. This is like the opposite of carb smart, but it's still one of my favorite types of meals. My husband loves recipes like this, so I made this for a Friday night dinner at home.
The first thing I check out is the shrimp. Of course, it needs to be fresh and not "fishy."
This entire recipe came together lightning fast. And even though it was simple, it was delicious.
I made the garlic bread and lava cake to go with this Friday night dinner. The bread is tasty and goes nicely with this Italian-style recipe. The lava cake was chocolatey and rich and perfect for two people.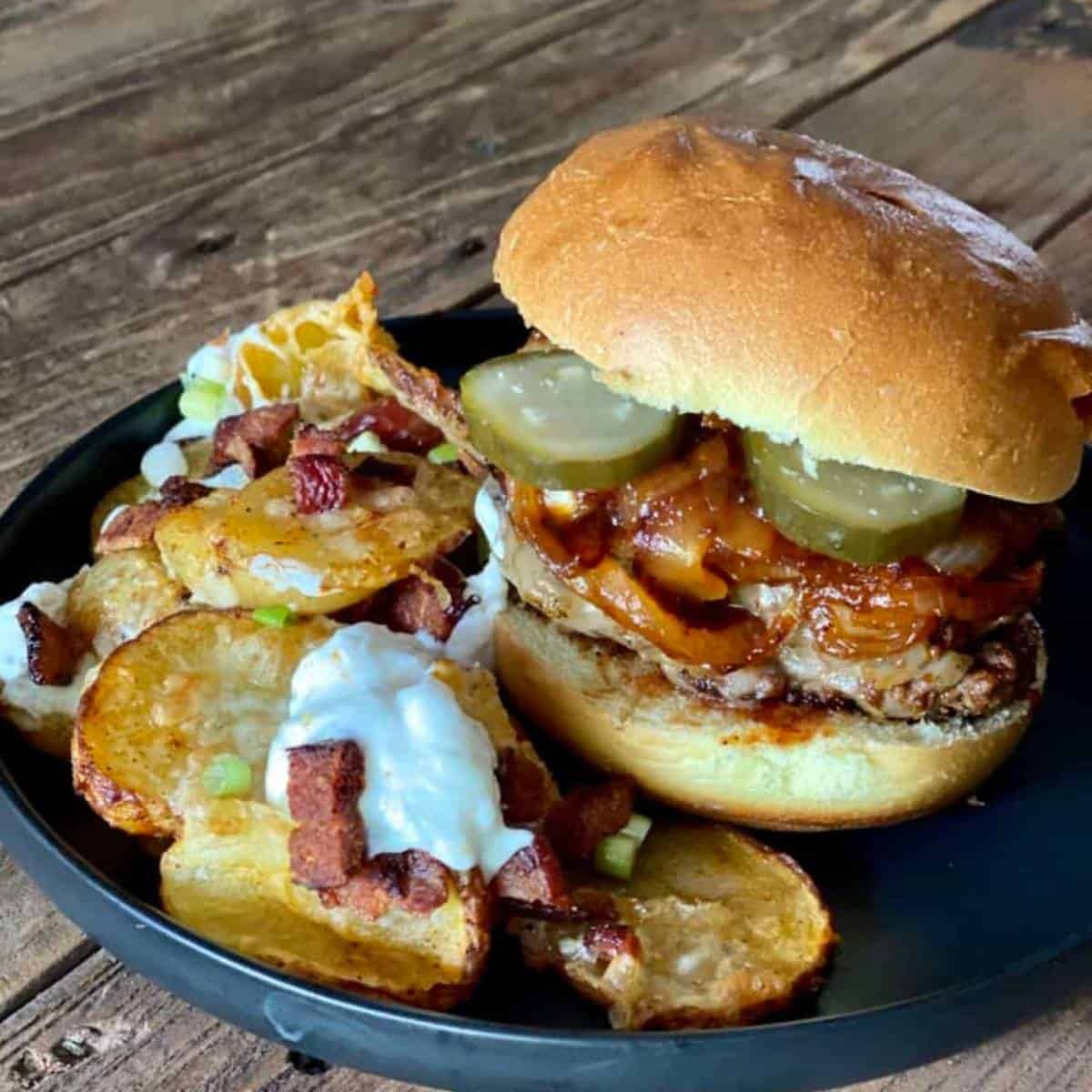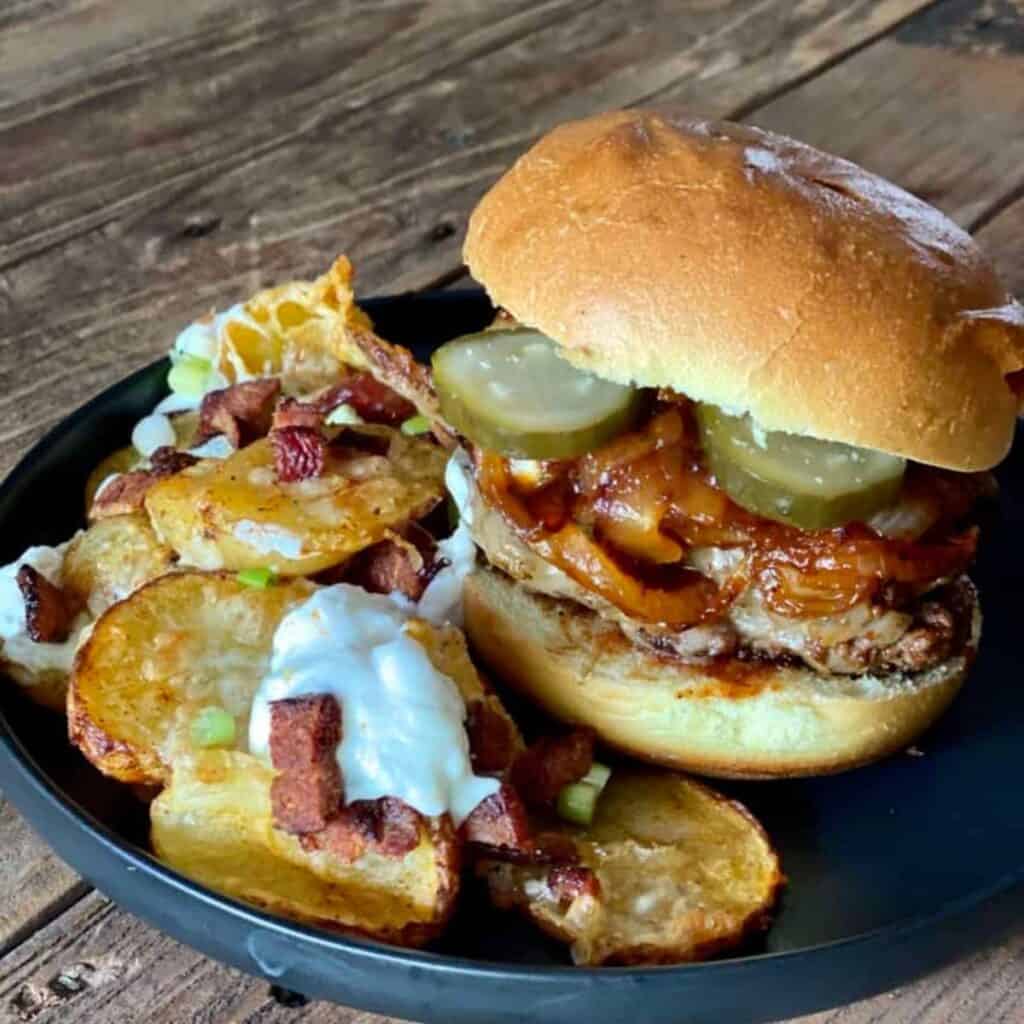 The third recipe was the Craft Bacon Buckaroo Burger. This recipe was an extra cost, but I got it anyway because my oldest daughter loves burger recipes.
This burger recipe didn't disappoint. It was super easy to make during the week. And, honestly, I could've prepared the bacon beforehand to bring this recipe together even faster.
Now, it was not on the light side, so it's a recipe that I needed to modify to enjoy. For example, I ate it without the bun and had ½ of the portion of potatoes. However, my kids and husband enjoyed this recipe in all its glory and loved it. This burger was a delicious, family-friendly recipe.
I did serve the Asian salad with the burgers. It was nice to have that on hand and brought a fresh element.
Final thoughts
I've used this meal delivery service many times over the last five years. I appreciate the convenience of having my dinners planned out for the week and all the ingredients shipped directly to my door.
Of course, most weeks, I do all the planning and shopping myself, but sometimes it's nice to open the door to a beautiful box stocked with delicious food. That, to me, is worth every penny.
I hope my Hello Fresh Review helps you make an informed decision about whether or not this meal kit company would be a good fit. 
If you love meal delivery kits then read my other reviews.
Hello Fresh Coupon
Hello Fresh is offering new subscribers $90 off plus free shipping off first box.. You can get the coupon here. This is a great way to test out Hello Fresh at a discounted price.
If you love meal delivery kits then read my other reviews.
**This post contains affiliate links. I will receive a small commission if you decide to subscribe to Hello Fresh. However, this is my completely honest review and you are by no means obligated to use my links. If you do, thanks so much for supporting my site.