Looking for a high-protein, healthy dinner that can be put together in minutes? Look no further than this recipe for skillet steak fajitas! This has quickly become one of my family's favorite dinners. This recipe is full of flavor and can easily be prepped ahead of time so dinner can come together even faster.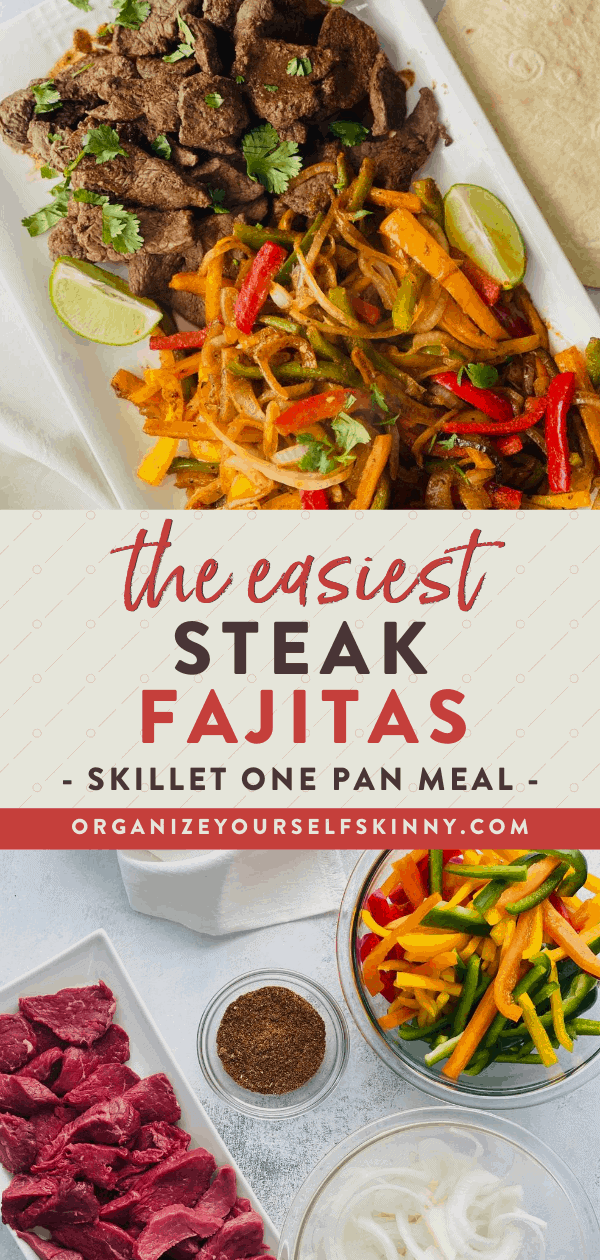 You may be surprised to hear it on a healthy living blog, but I'll say it. I love steak.
Not only is it full of protein to help keep me full, but there are plenty of nutrients like iron that my body craves too. Plus, it just tastes fantastic—particularly in this marinated steak fajitas recipe filled with tender meat and perfectly charred veggies.
Quick and Easy Steak Fajitas
This is a super easy steak fajitas recipe. It also makes for a quick clean up too, since it's made using only one pan! Now that's what I call a mom win!
To be honest, I was a little hesitant to share this skillet steak fajita recipe since I recently shared my steak fajita sheet pan dinner. However, I know all of you love super easy recipes that can be thrown together fast. So, with back to school coming up, I thought I had to share this skillet version of steak fajitas.
I'd say both of these steak fajita recipes are equally simple to make, so it really depends on which pan you want to clean afterward. Where I see the biggest difference, however, is that you're able to control the char on the steak and vegetables more when you make it on a skillet instead of the sheet pan. So if you want to cook the onions down more, you can do that or if you want to brown the steak better, it's easier to do using the skillet recipes. These are the reasons I find myself making steak fajitas in the skillet more often than not.
My family also happens to love this recipe, so this one gets added to the meal rotation at least a few times a month.
Frequently Asked Questions about Skillet Steak Fajitas
Before we get into exactly how to make this delicious steak fajitas recipe, here are some commonly asked questions about this recipe.
What's the best seasoning for steak fajitas?
You can easily use a store-bought fajita seasoning, which I do quite often. However, store-bought never tastes as good as homemade, so in this recipe, I'm going to show you how to make a homemade fajita seasoning that is amazing.
What kind of steak for fajitas?
Many steak fajita recipes call for flank steak or skirt steak. However, my favorite cuts of beef to use for steak fajitas are either sirloin or top round. Both are lean without a lot of marbling, which makes it more tender and easier to chew.
Personally, I think tougher cuts of meat are harder to eat unless they are cooked in the slow cooker. I actually make slow cooker steak fajitas with flank steak. The good news is you can use whatever cut you like, so if you prefer flank steak then use it.
My best piece of advice is to purchase high-quality beef—that's what will make the biggest difference. I prefer to purchase organic grass-fed beef. I get this from Wegmans, Whole Foods, or from Butcher Box Online Meat Delivery. You can learn more about Butcher Box in my Butcher Box Review.
Can I use chicken in this recipe?
You sure can. I'd recommend using 2-3 pounds of boneless, skinless chicken breast cut into strips. Cook the strips the same way you'd cook the steak. Just make sure it's cooked completely!
Can I use any color bell pepper?
Yes, use whatever you want. I like to use a variety because I think it looks colorful and pretty. Plus, each offers a different flavor profile.
All bell peppers start out as green. As the plant matures, the colors change from green to yellow, then orange, and lastly red. Because of this, green bell peppers have a bit more bitter taste while red bell peppers are the sweetest.
What tortillas are best for fajitas?
I prefer flour tortillas over corn. Flour tortillas are sturdier and will hold up more to the meat and veggies. Also, you can get flour tortillas in bigger sizes which make them perfect for all the fajita filling and fixins. Corn tortillas are smaller and tend to fall apart when there's a lot of a filling.
My favorite flour tortilla brand for fajitas is Mission Flour Fajita Tortillas. These are the perfect size to hold all the ingredients.
How can I keep beef fajitas low-carb?
You can use a low carb tortilla such as Misson carb balance or Tumaro's. These are the two I use the most.
You can also leave the tortilla out completely. Instead, opt to serve the steak fajitas with cauliflower rice or other low carb veggies.
Also, this is so good you can leave the tortilla out and enjoy it as is with some guacamole, sour cream, and other low carb condiments. Or make it into a fantastic fajita salad.
What else can I serve steak fajitas with?
My family loves eating this over brown rice with all of the fajita extras piled on top. So, it's kind of like a fajita rice bowl.
You can also serve steak fajitas with:
Guacamole and chips
Salsa and chips
Mexican rice
Roasted Corn salad
How to Make Fajita Seasoning
Before we get into the recipe for these steak fajitas, let's talk about how to season them perfectly. I have made my own fajita seasoning for quite some time now, and I think it makes all the difference!
What's the difference between taco seasoning and fajita seasoning? Can I use taco seasoning on fajitas?
I get asked this all the time. My short answer is yes you can use taco seasoning in your steak fajitas. So, if all you have is a packet of taco seasoning then don't worry that will work. I've used taco seasoning a few different times and it's fine.
But, to answer the question if there is a difference between the two: yes there is.
Taco seasoning has a stronger chili flavor, so when you use it you'll get more of that chili taco flavor.
Fajita seasoning includes smaller amounts of chili powder and also includes coriander. So, it's milder than taco seasonings.
Truthfully, everyone has their own seasoning blends and it can be hard to decipher between fajita and taco seasoning. You can do a Google search and you'll find many different variations of taco and fajita seasoning that include very similar seasoning blends. The main difference from what I see is the amount of chili powder and cumin used, and whether or not paprika is included. Again, you will find it in both homemade seasonings depending on where you look.
How to Make Homemade Fajita Seasoning
I'm not above purchasing store-bought, but I do prefer to make my own when I can. I prefer to eat a clean diet so making my own seasoning blends assures that I can control all the ingredients. So I can leave out the sugar, reduce the salt, and eliminate any additives or preservatives.
For my fajita seasoning blend I use:

2 tablespoons chili powder
1 teaspoon cumin powder
1 teaspoon coriander powder
1 teaspoon onion powder
1 teaspoon garlic powder
1 teaspoon dried oregano
½ teaspoon salt
½ teaspoon ground pepper
Simply combine all the seasonings together in a small bowl or mason jar. This is enough for one steak fajitas recipe. If you want to make it in bulk to have on hand (which I recommend!) then double or triple the recipe and keep it in a mason jar in a cool place.
Favorite store-bought fajita seasoning
As I said, I do purchase store-bought seasoning to have on hand. My favorite brand is Simply Organic. You can find this in the natural food section or spice section of the grocery store. You can also purchase online from Thrive Market.
How to Make Steak Fajitas
Okay, let's make some steak fajitas.
Prep Your Seasoning and Veggies
If you're making homemade fajita seasoning (see above) then put that together first. Again, the recipe above makes enough for this steak fajita recipe. If you want extra then make a double or triple batch. Then store the beef fajita seasoning in a small mason jar or another airtight container until you are ready to use it.
Then prep the steak and vegetables. You're going to cut the steak into thin strips. Sprinkle some salt and pepper on the steak for some extra flavor. Next, cut the peppers and onions into thin strips as well.
In my experience having thin strips makes it easier to fill the tortillas with and to eat. Plus, I like a good char on my fajita veggies, and it's easier to get that the thinner they are.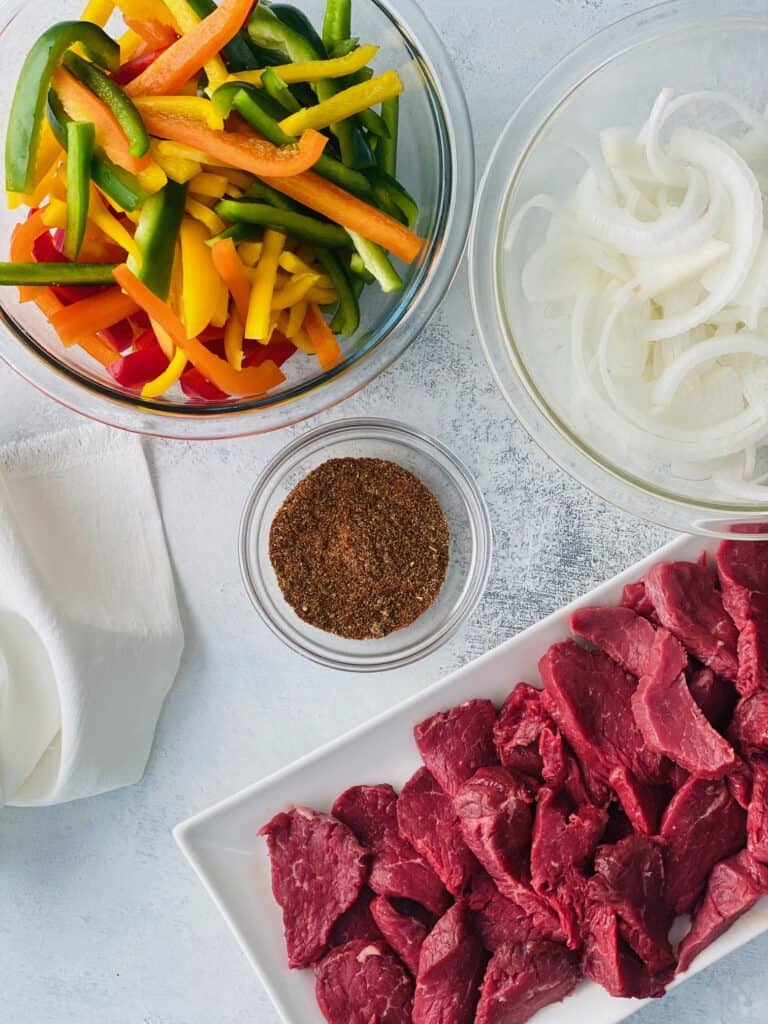 Cook the Beef
Start cooking the beef. More than likely you'll need to cook in a couple of batches so you don't crowd the pan.
Once the beef cooks for about 4-5 minutes and is medium-rare or medium, add 1 tablespoon of the seasoning (or 1/2 the store-purchased packet) to the beef along with a tablespoon of water. Let it cook for another minute and then remove and cook the rest of the meat and do the same thing.
You're going to use half the seasoning on the beef. If you're using a seasoning packet then use 1/2 the packet on the beef and half on the veggies.
After the beef is cooked remove it from the pan and put on a platter. Keep it covered with foil while you cook the veggies.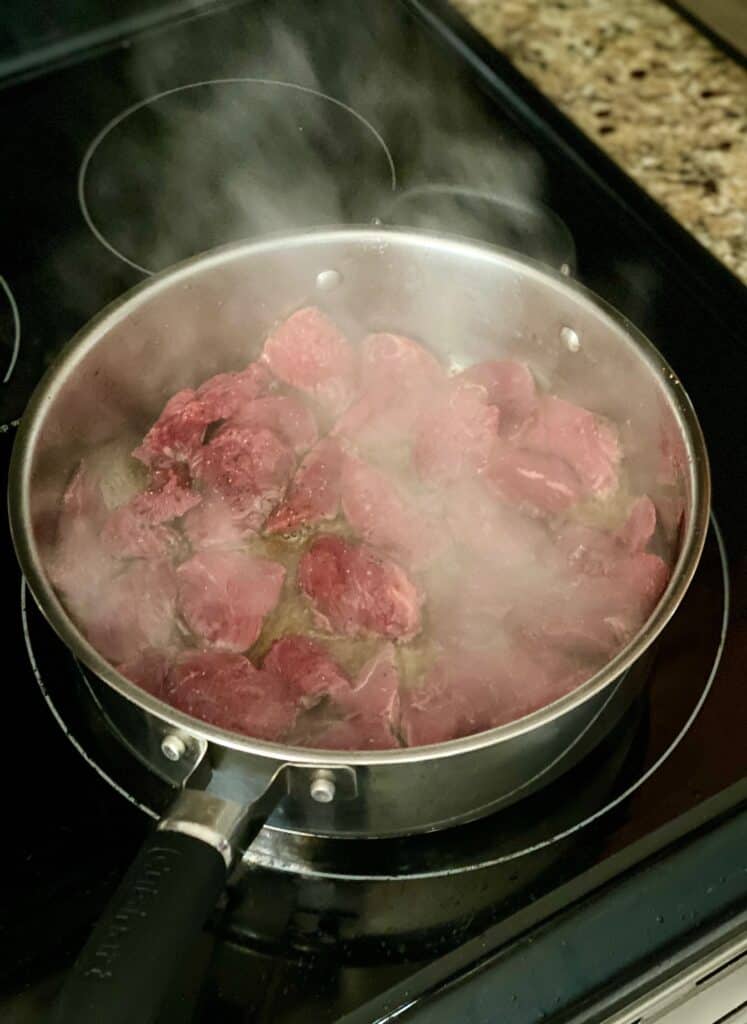 Cook the Fajita Veggies
Using the same pan, cook the peppers. Cook for about 5-6 minutes or until the peppers are slightly softened and cooked down.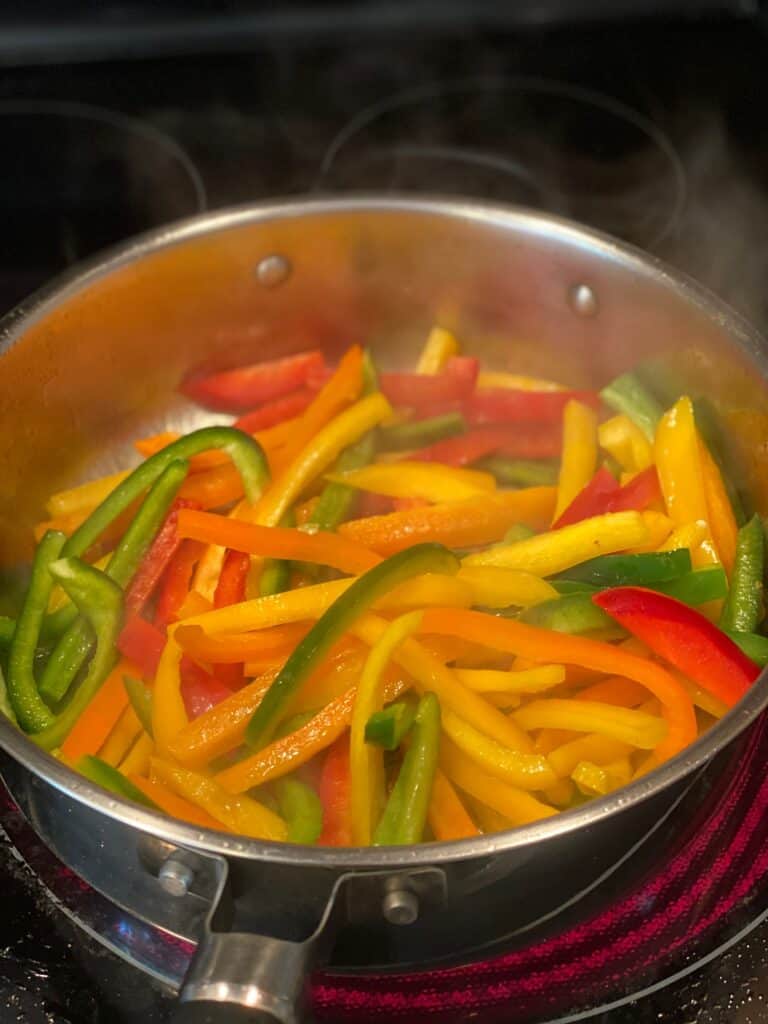 Next, add the onions to the pan and continue cooking on medium-high until the peppers and onions are completely softened and cooked. Then add the rest of the seasoning along with a tablespoon of water.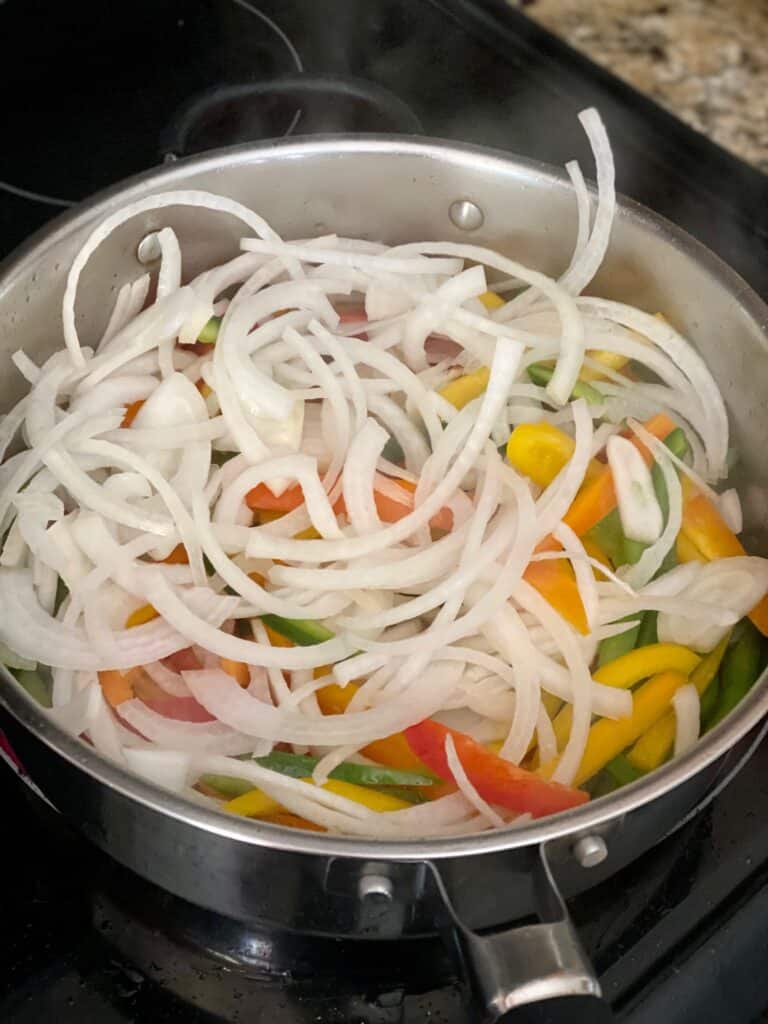 Cook for another minute and then add the cooked veggies onto the platter with the steak.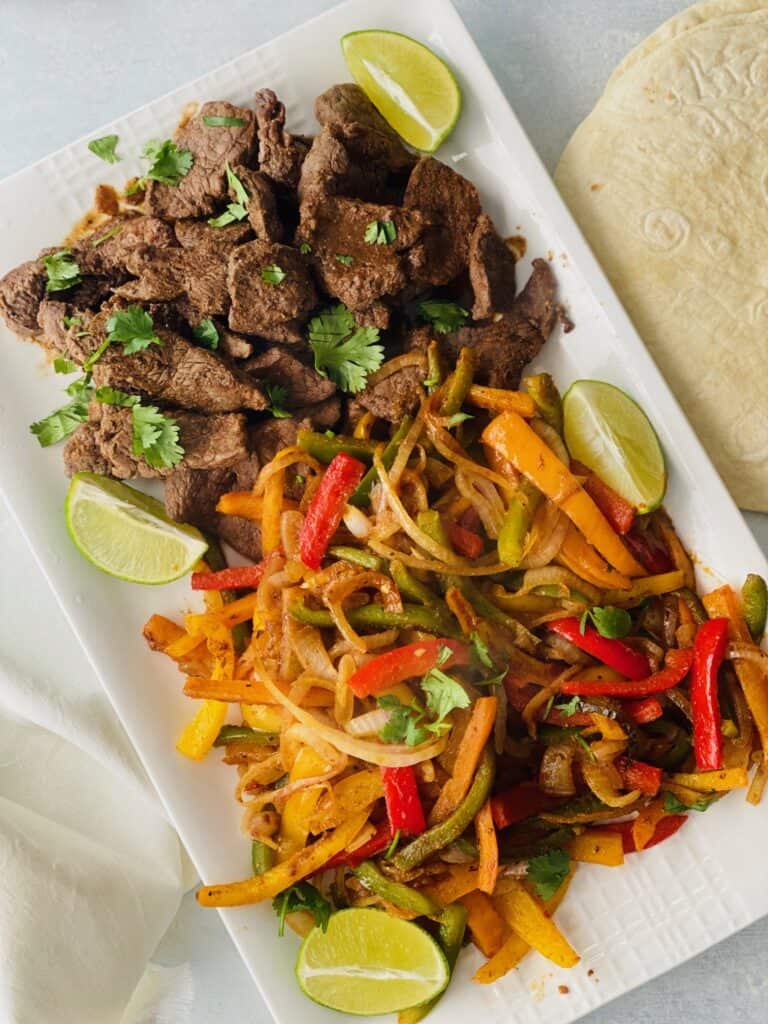 Squirt lime and sprinkle a little salt on the cooked steak, peppers, and onions. Put together the steak fajitas. Take a tortilla and add beef, peppers and onions, and your favorite fajita condiments. Yum!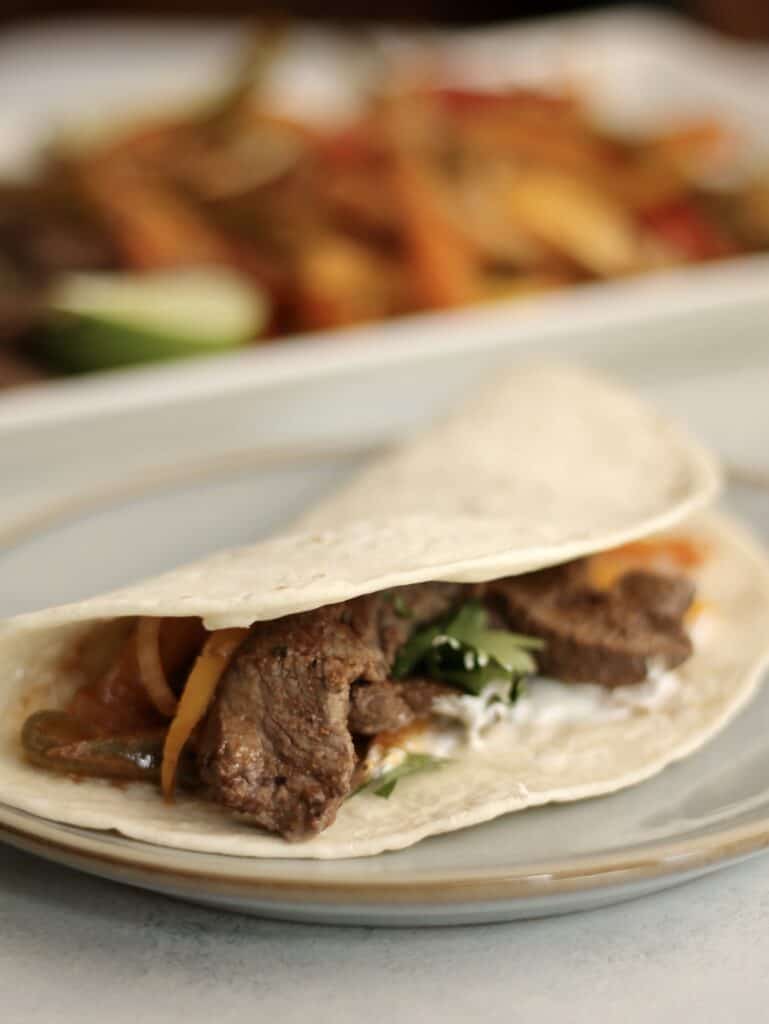 How to Meal Prep this Steak Fajita Recipe
If you're short on time during the week, this is a great recipe to add to the rotation. It comes together in about 20 minutes, especially if you have the steak and vegetables prepped ahead of time.
I recommend slicing the meat into strips and getting all the peppers and onions sliced on your meal prep day. Store the meat, peppers, and onions separately in containers and refrigerate. The night you want to eat, all you need to do is continue with the recipe.
You can even freeze the steak and veggies to be used later on. Again, just freeze each ingredient in separate containers or freezer bags. Take them out the night before to thaw in the refrigerator. Then continue with the recipe as outlined above.
Lastly, you can make the entire recipe ahead of time and heat and eat during the week. I do this quite often because even though this is an easy recipe to prepare during the week I like to keep it even easier by heating it up on the stovetop or microwave.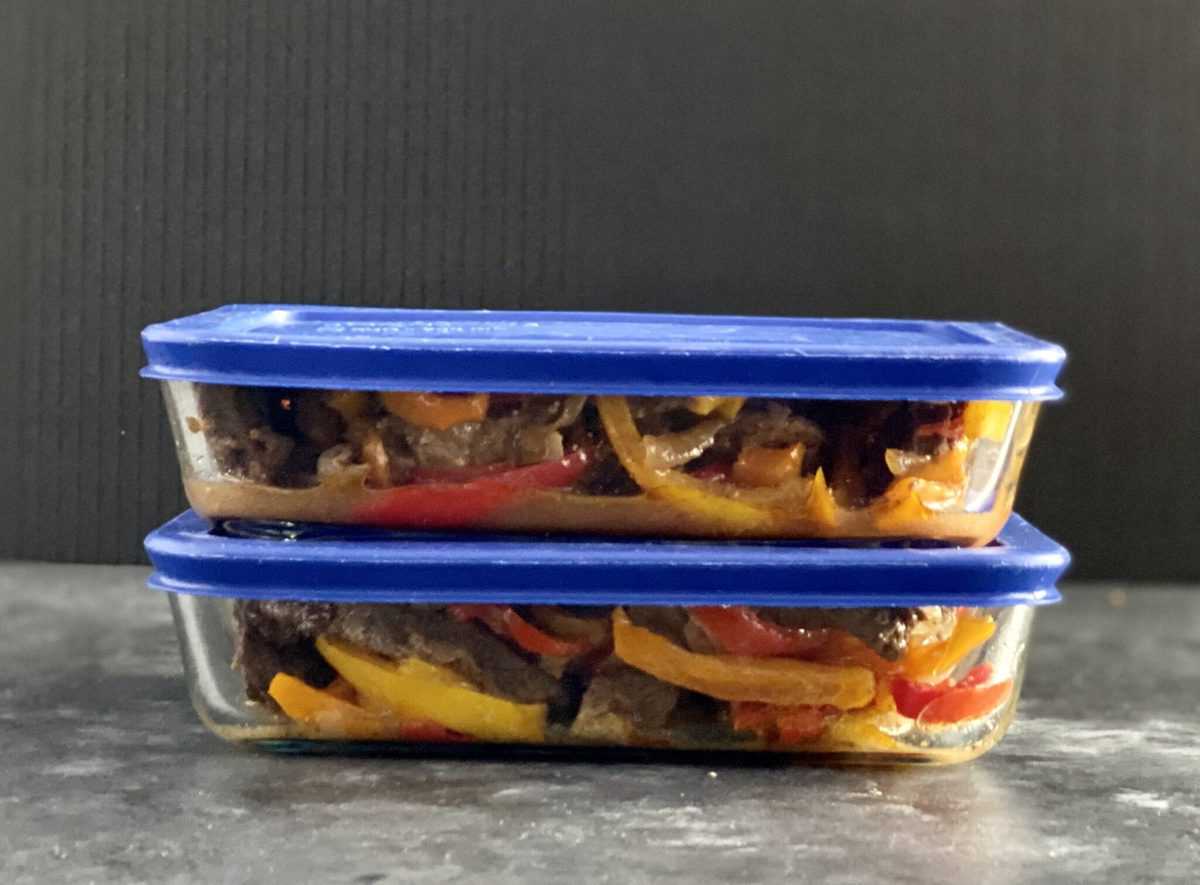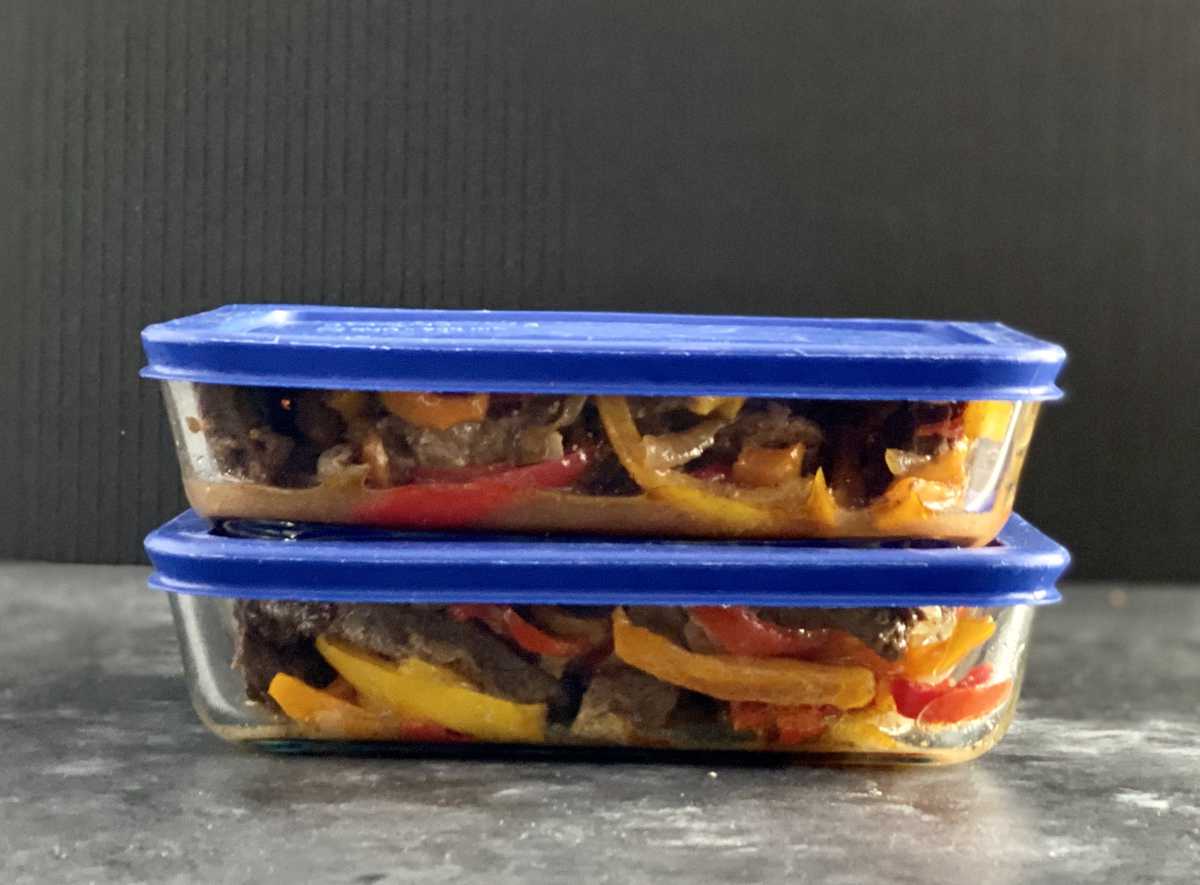 Meal Prep Supplies
Pyrex Simply Store Glass Containers – these come in a variety of sizes and work great for storing all kinds of recipes. I use the 6 cup rectangle glass containers to store the fajitas.
36-ounce lock glass containers are great if you need to transport the recipe and don't want to worry about spills.
Try These Other Quick Mexican Recipes
Want even more healthy and quick things to make for dinner? Give these tasty recipes a try:
Grilled Chicken Quesadillas
Make these steak fajitas one night this week for a quick dinner with minimal effort and cleanup. Share a picture and tag me on Instagram or Facebook if you decide to try it!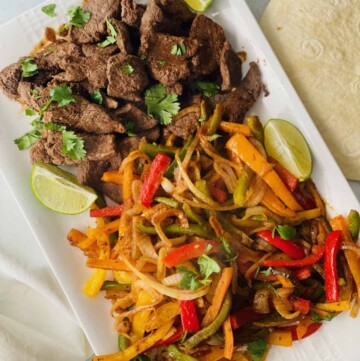 Ingredients
Fajita Seasoning

2

tablespoons

chili powder

1

teaspoon

cumin powder

1

teaspoon

coriander powder

1

teaspoon

onion powder

1

teaspoon

garlic powder

1

teaspoon

dried oregano

½

teaspoon

salt

½

teaspoon

ground pepper

2

tablespoons

olive oil

divided

2

lbs

top round steak or sirloin

sliced into thin strips

4

bell peppers

ribs removed and thinly sliced

1-2

large white onion

thinly sliced

6

Tortillas
Instructions
Make the fajita seasoning. Combine all of the spices in a small glass bowl and container. Mix together and then set aside.

Heat 1 tablespoon of olive oil in a large skillet over medium high heat. Add steak strips and cook until medium rare. You might need to cook the steak in two batches.

Sprinkle half the seasoning over the steak adding 1 tablespoon of water. Cook for another 1-2 minutes then remove from heat and set aside on a platter. Cover with foil to keep warm.

Using the same pan, heat the last tablespoon of olive oil over medium high heat. Add the peppers and cook until slightly softened. Then add the onions and cook until both are softened and slightly charred in places.

Sprinkle in the rest of the fajita seasoning with 1 tablespoon of water and cook for another 1-2 minutes.

Place the cooked peppers and onions on the platter next to the steak.

Serve with tortillas and condiments.
Nutrition
Serving:
1
g
|
Calories:
487
kcal
|
Carbohydrates:
39
g
|
Protein:
39
g
|
Fat:
20
g
|
Saturated Fat:
6
g
|
Fiber:
3
g
|
Sugar:
4
g