These Easy Beef Enchiladas can be made ahead of time for a quick dinner during the week. You're going to love this simple recipe!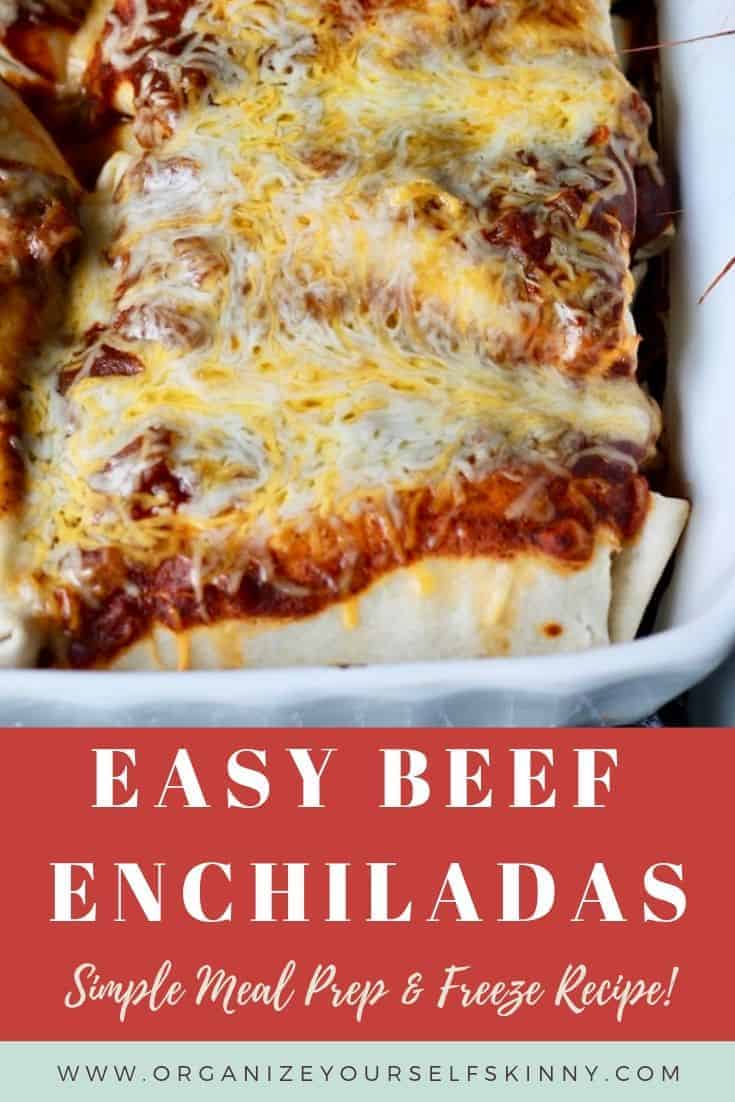 I can't believe I haven't posted this beef enchilada recipe much sooner! I've been making this for years and it's a favorite with my family. Maybe I thought I did. Anyway, I'm gonna share it today, along with some meal prep tips to make these easy beef enchiladas even easier.
Okay, where do I start? Well, I shared my easy enchilada sauce earlier in the week. I wanted to share it separately from this recipe just in case someone is simply looking for enchilada sauce. Plus, it's that good I felt it needed its own post.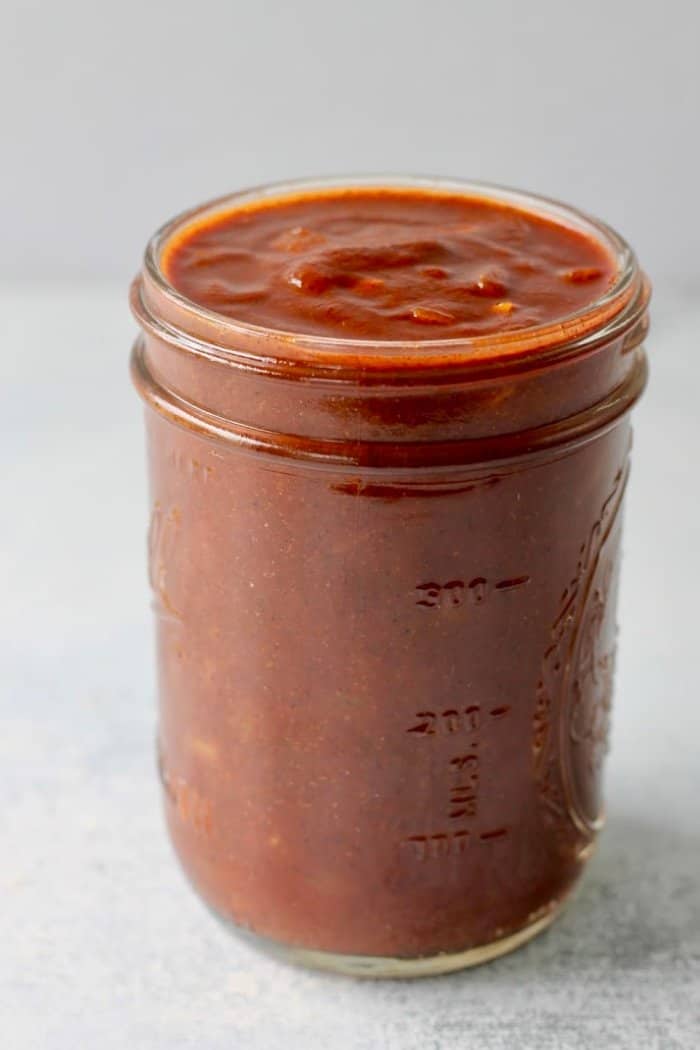 Also, there have been many times I've used salsa or canned enchilada sauce with this beef enchilada recipe. Basically, it's not only easy but versatile.
Let's jump right into the recipe and then I'll cover some make-ahead tips.
Easy Beef Enchiladas
The ingredients you're going to need for this beef enchilada recipe are:
Medium-size flour tortillas – My favorite brand is Mission flour tortillas. I've tried to use low-carb and other "healthier" brands but then I'm the only one eating it. Sometimes I'll make a few with low-carb tortillas but, for the most part, I use the flour.
Refried beans – My favorite brand is Eden Organic Spicy Refried Pinto Beans. You can get plain or even use refried black beans. Or if you make them homemade, even better!
Cooked taco meat – My favorite taco seasoning is Simply Organic Spicy Taco or Southwest Taco. Again, use your favorite. Also, I've use this Slow Cooker Mexican shredded beef in enchiladas and it's DEEEElicious! Basically, whatever taco seasoned beef you want to use will work.
Enchilada sauce – I love using my homemade easy enchilada sauce. However, if you don't have time to make it then a jar of salsa, or canned enchilada sauce, will work just fine. But, seriously, the homemade enchilada sauce makes this recipe, soooo I recommend whipping up a batch at least one time.
Shredded Cheese – Most of the time I use Mexican shredded cheese but I've also used pepper jack and/or cheddar. Believe it or not the cheddar is scrumptious on these easy beef enchiladas.
Supplies you'll need:
A large skillet – this is to cook up the taco meat and enchilada sauce (if you're making it homemade). I have this one by Cuisinart.
9 x 13 pan – to bake the enchiladas in. This is a nice one by Lodge for under $30. I got mine from Home Goods.
Glass meal prep containers – if you're planning on making these ahead of time and storing in the refrigerator for a quick dinner all week. I use these by Prep Naturals.
Once you have the taco meat cooked these enchiladas are ready to be assembled.
You spread about 2 tablespoons of refried beans in the middle of the tortilla. Then layer the taco meat, 1-2 teaspoons of enchilada sauce (or you can use hot sauce or salsa), and then sprinkle on about 2 tablespoons of cheese. You could also add some pickled jalapeños, diced chilis, onions, or tomatoes to the enchiladas.
I get about 8 enchiladas with 1lb of cooked beef. Typically, I have some refried beans left over that I'll put in the refrigerator, or freezer, to use later on.
Roll up the enchilada and place it into a 9 x 13 baking pan. Oh, I should mention you want to put about 1/2 cup of enchilada sauce on the bottom of the pan before putting the enchiladas in.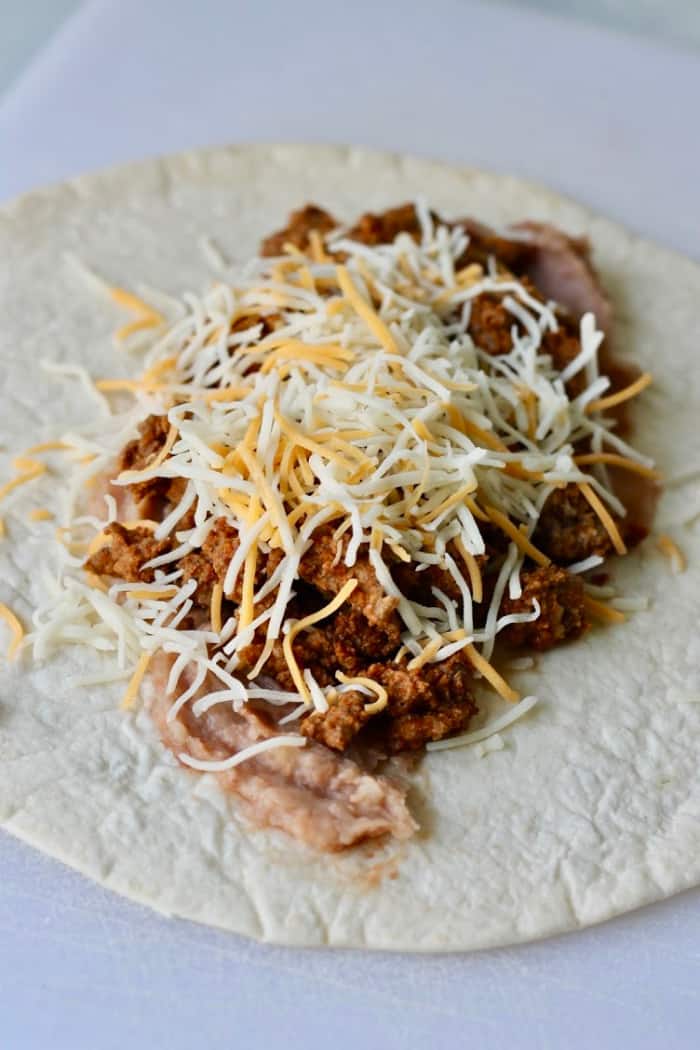 Then you're going to pour enchilada sauce over the top of the enchiladas. A little tip I've learned from making these 500 times – don't drown the enchiladas in sauce. You want just enough on the bottom to keep them from sticking and just enough on top to give it flavor. Too much sauce will create a soggy enchilada. I use about 2 cups of sauce total.
Then sprinkle the rest of the cheese over the top of the enchiladas.
Cover with foil and bake in a 350 degree oven for 45 minutes. Remove the foil and bake for another 5.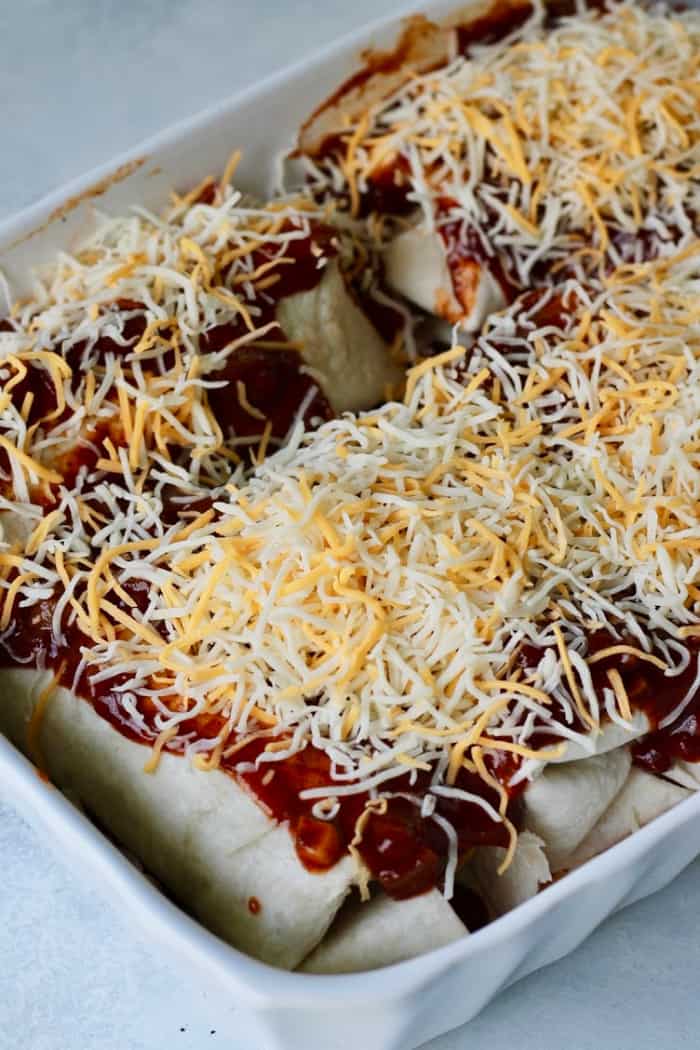 They will be all bubbly and smell beyond delicious!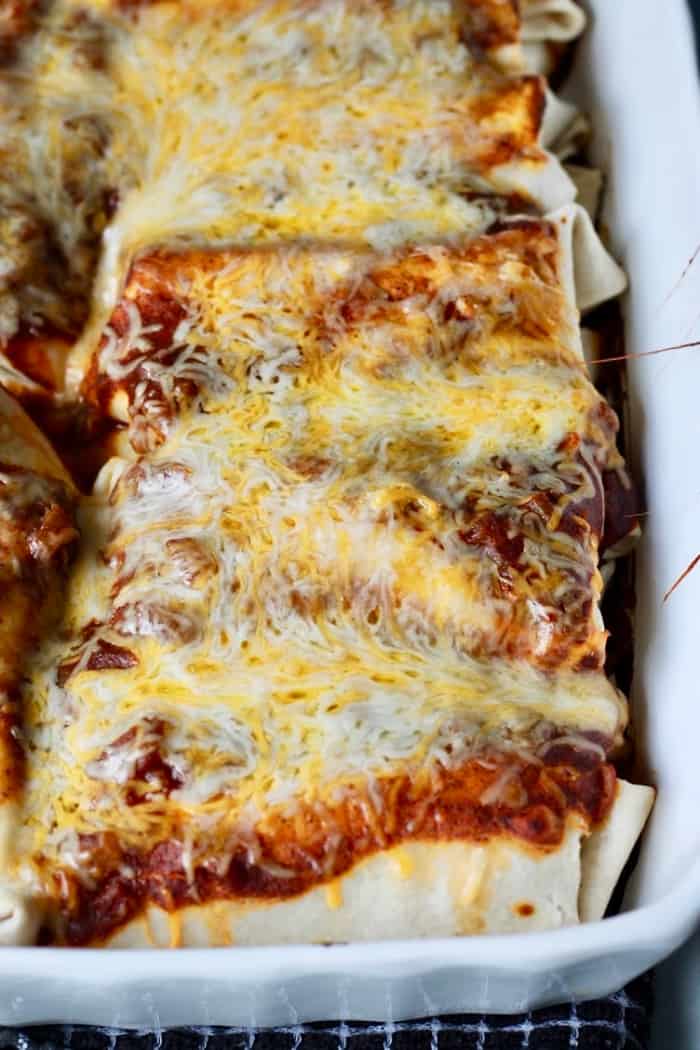 Serve with some sour cream and you're ready to eat. You can also sprinkle some fresh cilantro and squeeze a little lime juice on top.
These are so ooey gooey good! Each enchilada is 383 calories. Prepare a nice salad and you'll have a delicious well-rounded meal.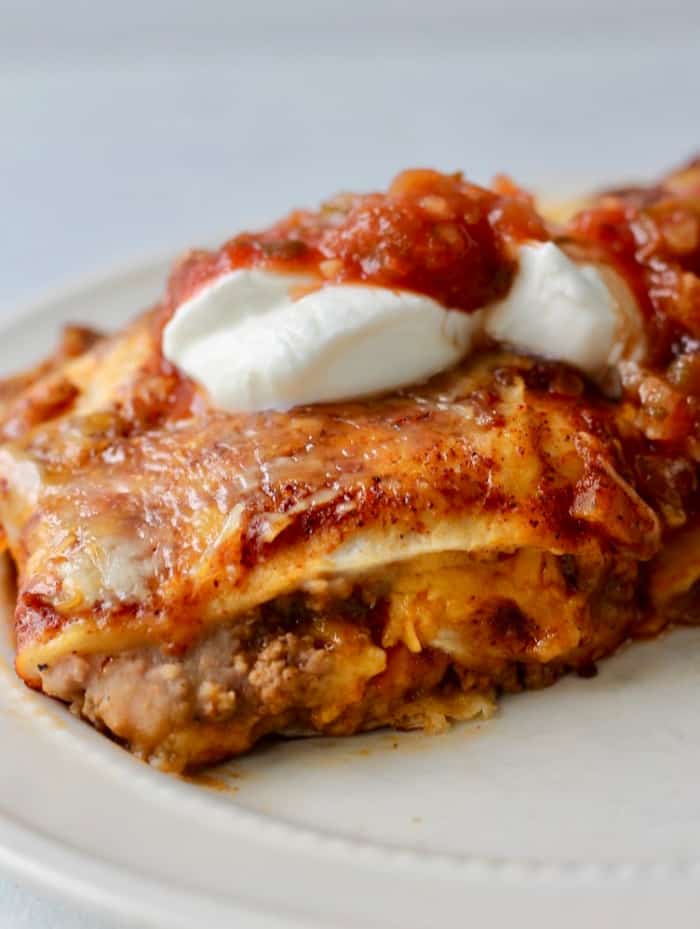 Now, you might be thinking "how the heck do I prepare this ahead of time".
There are a few ways to turn this into a meal prep recipe:
Cook the taco meat and easy enchilada sauce ahead of time. Then you'll just need to assemble and cook everything the night you're planning to eat.
You can also assemble the entire meal and put it into the refrigerator for 1-3 days. When you're ready to cook you'll need to add about 15 -20 minutes to the cooking time because it'll be cold from the refrigerator.
You can cook the beef enchiladas completely and then store each one in a glass meal prep container to warm up and eat during the week.
If you'd like to create this easy beef enchiladas recipe into a make-ahead freezer meal, here are my tips:
You can freeze the enchiladas individually. Just put all the ingredients into the tortilla, roll up, and then wrap in plastic wrap. Place the enchiladas into a gallon size freezer bag and freeze. When you're ready to make the enchiladas, take out of the freezer a day before and let it thaw in the refrigerator.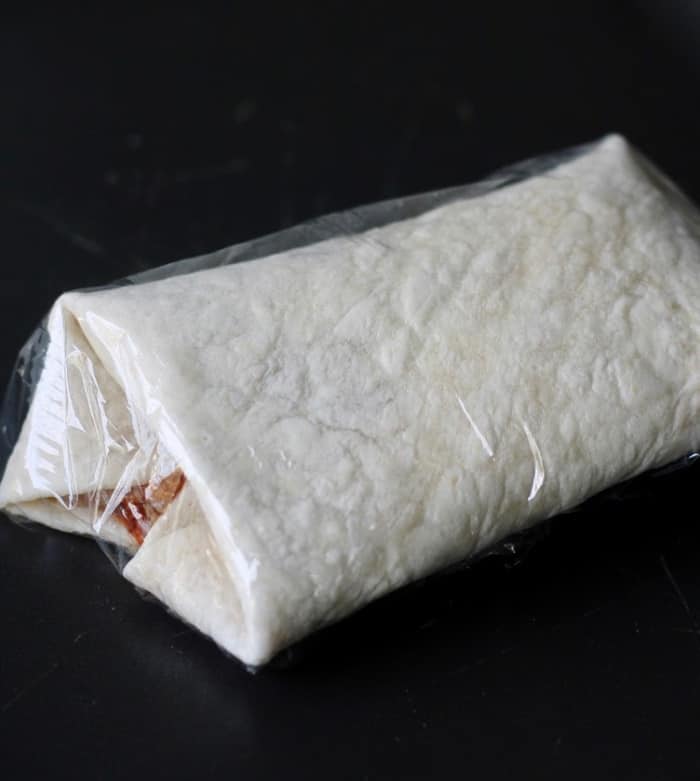 You can also create this into a freezer dinner kit. Just take the cooked meat, enchilada sauce, cheese, and wrap everything individually. Then store it in a gallon freezer bag along side the tortillas. This assures you have all the ingredients when you're ready to make this easy beef enchiladas recipe. It should look similar to this taco kit.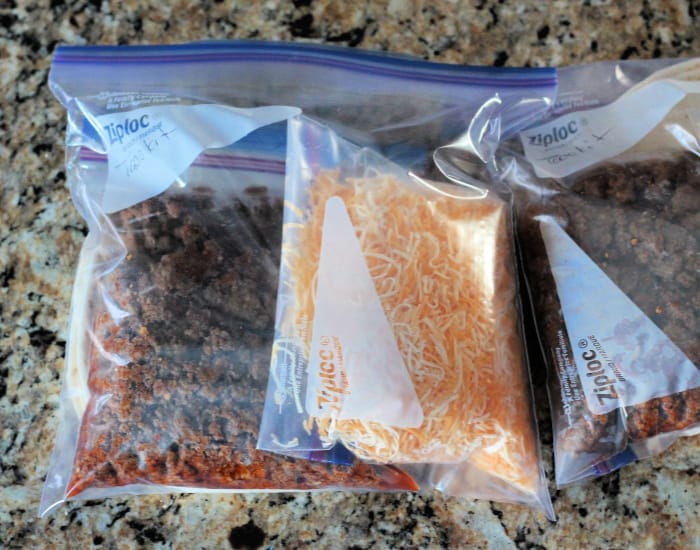 You might be wondering if I recommend assembling the entire recipe and freezing ahead of time. I haven't had much luck with that. First, it takes too long to cook if you're cooking straight from the freezer. The whole point is easy and if I have to wait over an hour it ain't easy. Second, I've found the enchiladas to get mushy or soggy when cooked straight from the freezer.
My favorite way to meal prep this recipe is to assemble and keep in the refrigerator for later in the week or to freeze it in a dinner freezer kit.
Please let me know if you decide to make this recipe. I'd love to learn some more tips and tricks.
Also, check out my ground turkey enchiladas.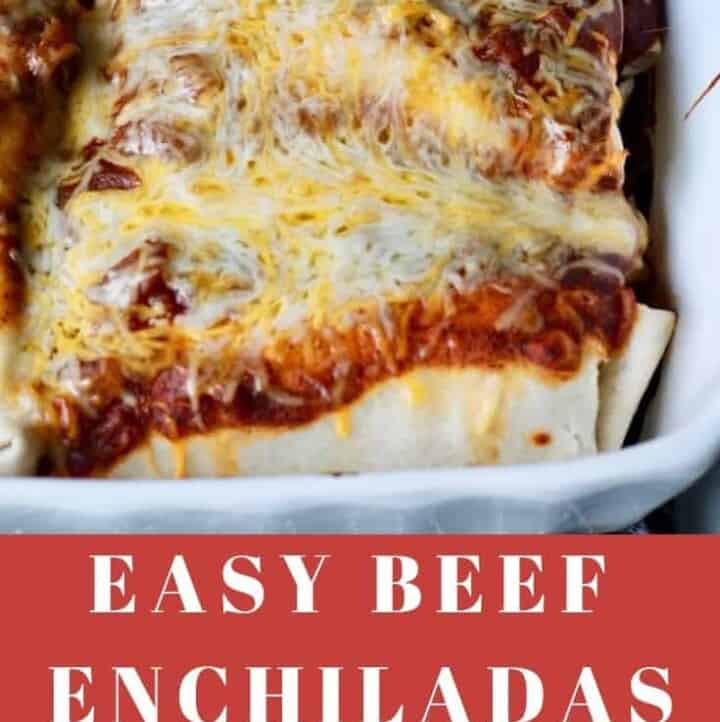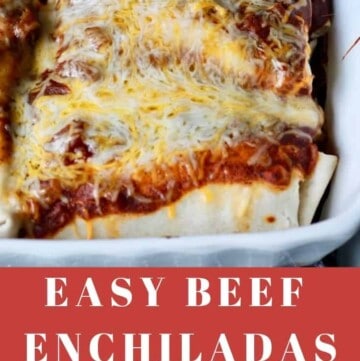 Easy Beef Enchiladas: Simple Meal Prep Recipe
Easy beef enchiladas that are so incredibly delicious. These can be made ahead of time for a simple meal prep or freezer meal recipe.
Print
Pin
Rate
Ingredients
2

cups

homemade enchilada sauce

or use your favorite

1

lb

ground beef

1

1.13 ounce packet of Southwest Taco Seasoning

1

15-ounce refried beans

8

white flour tortillas

1 1/2

cups

shredded Mexican cheese

divided
Instructions
Preheat oven to 350 degrees.

In a large skillet, cook the ground beef and Southwest Taco Seasoning according to the packet instructions. Set aside.

Spoon about 1/2 cup of enchilada sauce on the bottom of a 9 x 13 pan.

To assemble the enchiladas place a tortilla flat on a surface. Spread 2 tablespoons of refried beans in the center of the tortilla.

Add about a 1/4 cup of ground beef.

Drizzle about 1-2 teaspoons of enchilada sauce over the beef. You can also use hot sauce or salsa.

Sprinkle 1 – 2 tablespoons of mexican cheese over the beef.

Roll up the enchilada and place into the pan. Repeat with the remaining tortilla shells.

Pour the rest of the enchilada sauce over the top of the assembled beef enchiladas and then sprinkle on the rest of the cheese.

Cover with foil and bake for 45 minutes. Remove foil and cook for another 5 minutes.
Notes
Meal Prep tips:
This recipe can be prepared ahead of time a couple different ways.
First, you can make the enchiladas completely ahead of time and then just heat in the microwave throughout the week.
You can put the recipe together and refrigerator for 1-3 days before cooking it. Also, you can prepare the ingredients on Sunday and then assemble the enchiladas the night you'll cook them.
You can create dinner freezer kits with the cooked beef, enchilada sauce, cheese, and tortillas store separately in one freezer bag. Then just thaw a day before you cook the enchiladas. All you need to do is assemble the enchiladas and cook.
Nutrition
Serving:
1
g
|
Calories:
383
kcal
|
Carbohydrates:
36
g
|
Protein:
23
g
|
Fat:
16
g
|
Fiber:
5
g
|
Sugar:
1
g