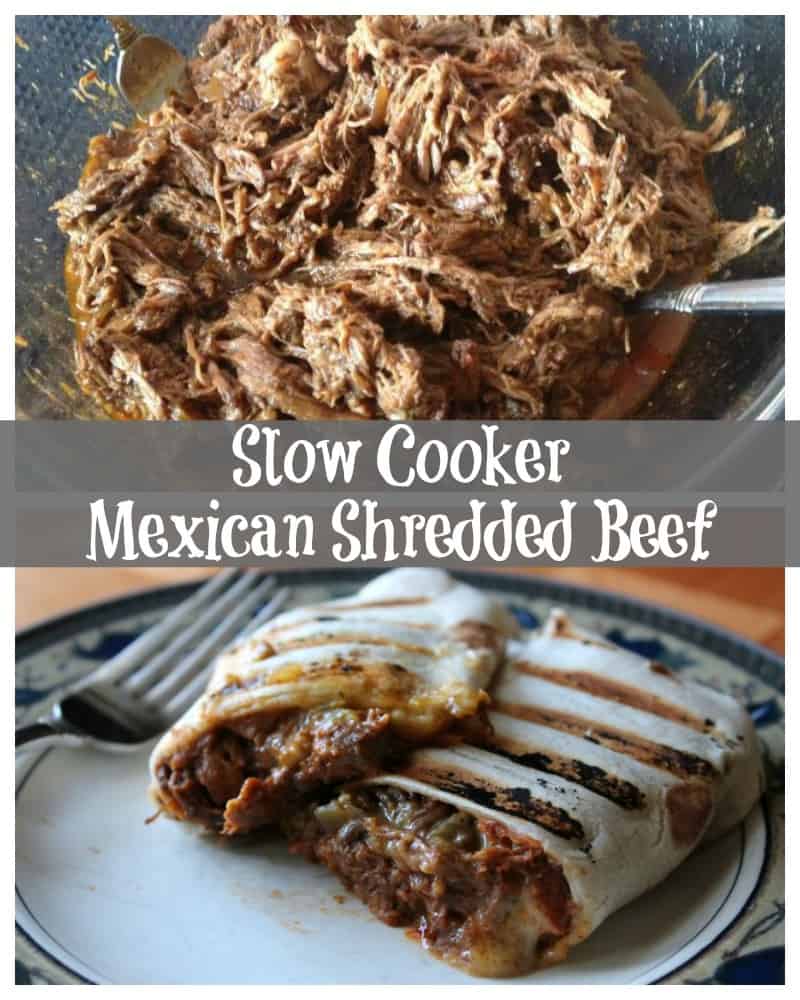 Shredded beef is something I never really thought to put on my menu plan. Mostly because all shredded beef recipes almost always call for a 2-3lb hunk of beef and I was not sure what the heck I would do with that much meat. I mean we are meat eaters but seriously that is even more than my hubs can handle. Also, awhile ago, I did try preparing shredded beef in the slow cooker a couple times and failed miserably. After that I could not bring myself to spend that much money on food no one would eat and ultimately I would have to throw out. You know how I feel about wasted food.
Anyway, I had a light bulb moment and realized I was going about it all wrong. First of all, the best cut of meat to use is chuck roast – at least from my experience. I tried using leaner cuts of meat but ended up with tough rubbery non shreddable pieces of beef. Everybody hated it. Except my dog of course. She loves my failed attempts in the kitchen. Chuck roast works best because it has a bunch of connective tissue in it that melts away as it cooks and makes the beef super tender. Sounds gross I know but this is what makes the beef pull apart and shred easily when done cooking.
Second, making a large amount of shredded beef should not be a problem because…hello… it can be frozen. Duh. Why is this just occurring to me? So it is not like we need to eat 3lbs of shredded beef at one dinner. Nope it can easily be portioned out to be used in a variety of different recipes. With this batch of shredded beef I made and froze about 15 beef burritos. I filled a tortilla with 1/3 cup beef, tablespoon refried beans, a little cheese, and salsa. I took one out in the morning and it was somewhat thawed by lunch. Then I either warmed it up in the microwave or on my indoor grill. They were delicious.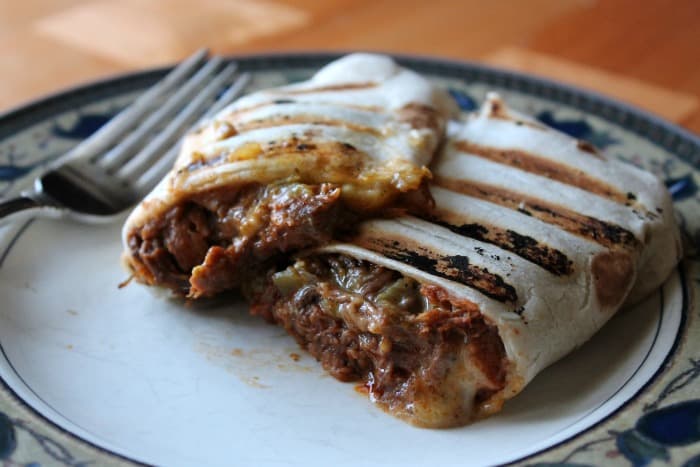 I did not have any other recipes in mind for the rest so I just portioned it out into 1 cup servings and froze. I figured I can use it in tacos, enchiladas, sandwiches, pizza, or whatever tickles my fancy.
The recipe I have below is more of Mexican style shredded beef as it uses chili powder and cumin. I adapted it from the cookbook Slow Cooker Revolution. Shredded beef is the perfect recipe for the slow cooker because it does best cooked slow and low. Now that I know how to successfully make shredded beef and freeze it I will experiment in the future with different shredded beef recipes.
If you like recipes that call for shredded beef but don't always have it on hand and don't like purchasing the premade stuff from the store then I highly recommend making a batch of this once in a while to keep in the freezer. Like I said, it makes a lot so depending on the size of your family it can last you a few months easily.
Do you make shredded beef? What are your favorite ways to use it?

Slow Cooker Mexican Shredded Beef Freezer Meal Starter
Author:
Organize Yourself Skinny
Ingredients
2 onions, chopped
⅓ cup chili powder
6 garlic cloves, minced
1 tablespoon ground coriander
1 tablespoon ground cumin
½ teaspoon cayenne pepper
3 tablespoons extra virgin olive oil
1 (15 ounce) can tomato sauce
2 teaspoons sugar
1 (3 pound) boneless beef chuck roast, fat trimmed off and cut in half
Juice of 1 lime
Instructions
Stir together in a microwave safe bowl onions, garlic, chili powder, coriander, cumin, cayenne pepper, and olive oil. Microwave on high for 5 minutes then pour into the slow cooker. Stir in tomato sauce and sugar.
Season beef with salt and pepper then add to the slow cooker. Coat roast evenly with the sauce.
Place slow cooker lid on and cook for 9-11 hours on low. Mine cooked perfectly at 10 hours using a 6 quart slow cooker.
Transfer beef to large bowl and let cool for 5 minutes then shred. Discard any pieces of fat.
Toss with 1 cup or more of the braising liquid left over in the slow cooker. This will add lots of flavor in addition to keeping the meat moist. Stir in lime juice. Add salt and pepper to taste.
Notes
Make Ahead Instructions
Cook shredded beef completely and shredded, portion out, and freeze. Thaw completely before using in recipes. You can also prepare in recipes (such as burritos) before freezing. Thaw in refrigerator then reheat in microwave, on stove, in oven, or according to recipe instructions.
Nutrition Information
Serving size:
⅓ cup
Calories:
204
Fat:
9
Carbohydrates:
5
Fiber:
2
Protein:
25