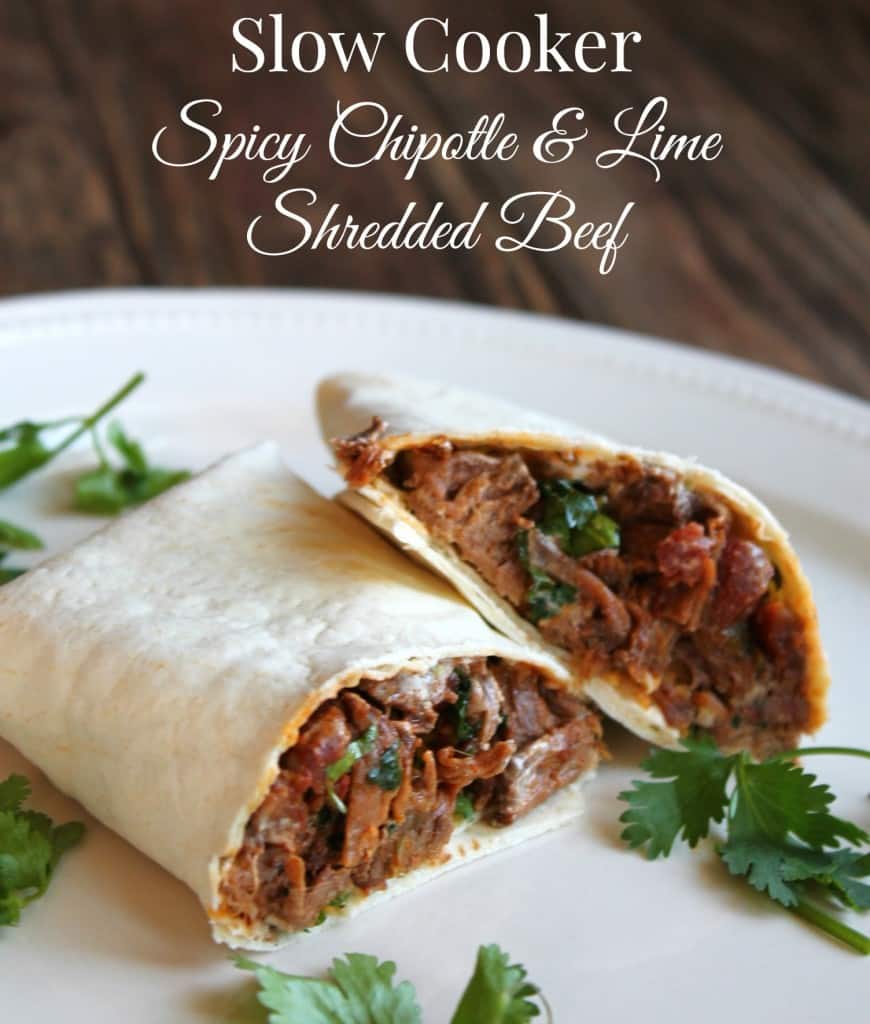 Shredded beef recipes made in the slow cooker can be a busy parents' best friend. First of all they are delicious! You just can't beat the flavor of juicy fall a part tender beef. YUM! Second, a beef roast can cook ALL DAY LONG in the slow cooker and still turn out delicious. Third, the leftovers freeze perfectly. So let's see… Taste good? Check! Don't have to worry about dinner all day and still have a homemade dinner at 5:00pm? Check! And we can eat some for dinner that night and freeze the leftovers for dinner later? Check! Perfect.
So far my two favorite slow cooker shredded beef recipes are Italian beef (this is amazing served on a hoagie roll with melted provolone) and balsamic beef (this is scrumptious no matter how you eat it). Both check all the boxes and are great "go to" when I need a slow cooker recipe that can cook all day without any problems.
This spicy chipotle and lime shredded beef recipe is the newest recipe to be added onto my favorites list. It is so good and the perfect way to spice up any Mexican inspired recipe. We enjoyed it in burritos but you can throw it in taco shells or enchiladas. It would also taste amazing on a Mexican pizza. Ooh I think I will make that soon!
Let's walk through the recipe.
Here are the ingredients. Also, I use the Hamilton Beach 6-quart programmable slow cooker for this recipe.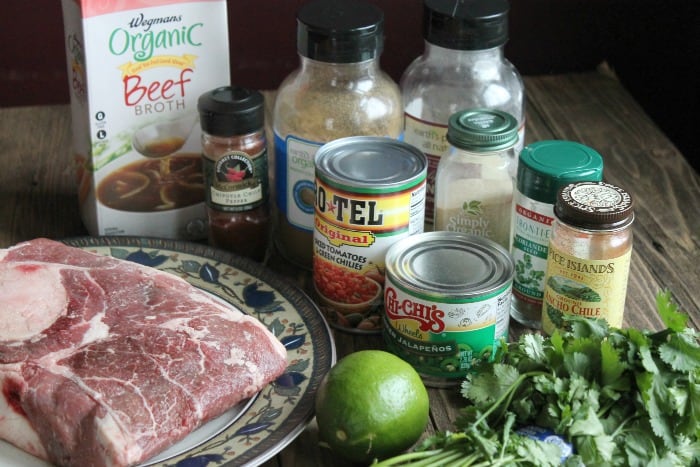 For the beef I used a bone in shoulder roast. That is what I had on hand from a ½ cow I bought late last year. You can also use a chuck roast and don't need bone in. In my experience these two roasts work best in a slow cooker. They turn out tender, moist, juicy, flavorful, and shred perfectly. I have tried leaner cuts of meats for shredded beef recipes and have never been satisfied with the result so I stick with roasts.
The spices are what make this recipe. I combined chipotle chili powder, ancho chili powder, onion powder, coriander, and cumin in a small bowl then I sprinkled it over the beef. I added salt after the beef was cooked and shredded. That is a little slow cooker trick I learned and it really makes a difference.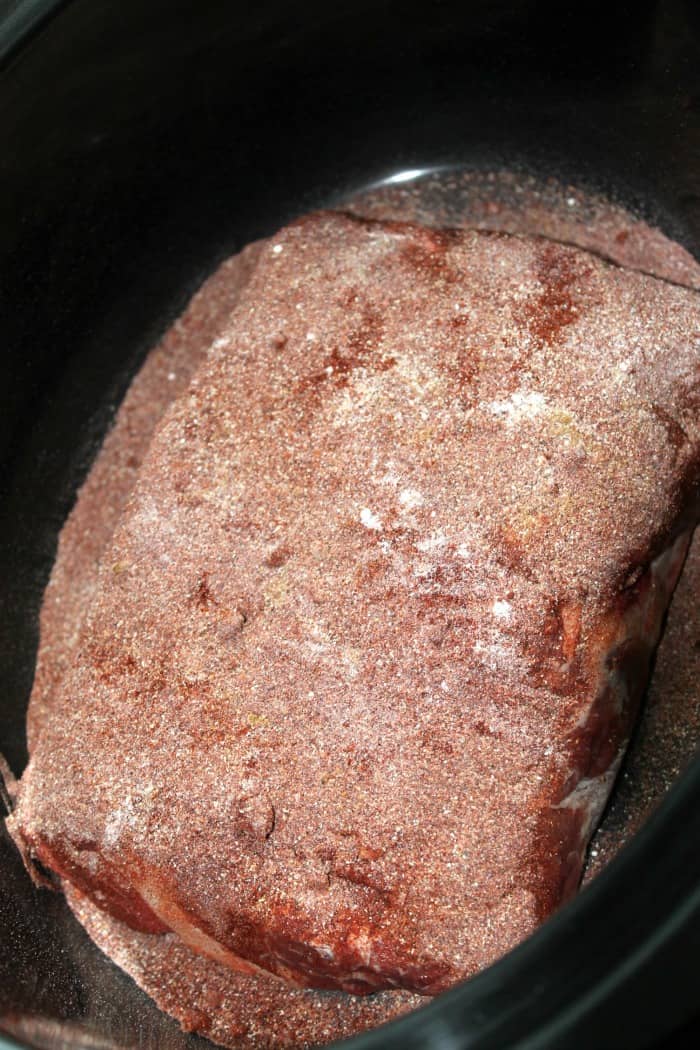 Then I poured in a can of Rotel tomatoes, a can of jalapeño wheels (drained), and 1/2 cup of beef broth.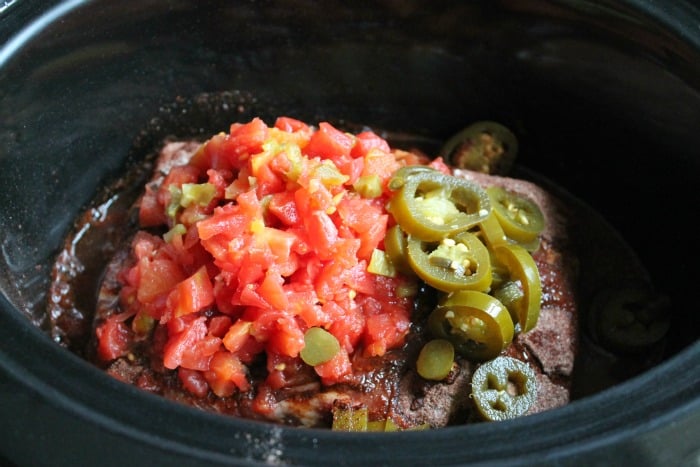 I turned the roast a couple times just to mix up the ingredients. If you want you probably can combine all the spices, tomatoes, jalapeños, and broth in a bowl and then just pour over the beef. It really doesn't matter. This would definitely be considered a dump, set, and go slow cooker recipe.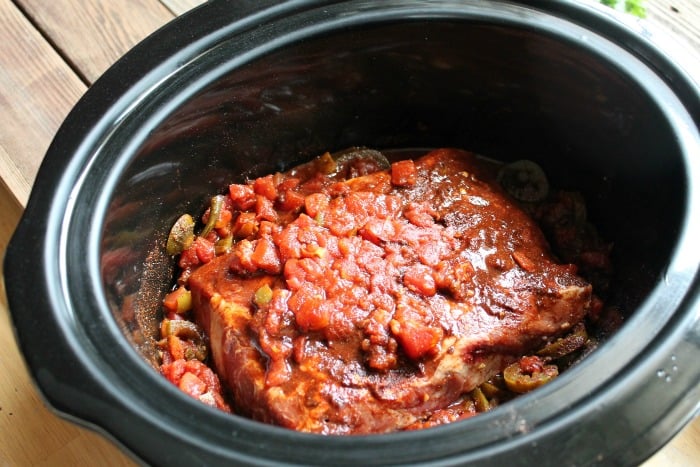 Then I set the slow cooker to high and cooked for 5 hours. This recipe can be cooked for 8-10 hours on low without a problem. I chose the shorter cook time because I got started later in the day.
After it is cooked I removed the beef and shredded it in a bowl. I took some of the juice from the slow cooker and added it to the beef. This helps keep it moist and adds flavor. Next I stirred in the salt, lime juice, and cilantro. This little step just brings the flavor over the top. Delish!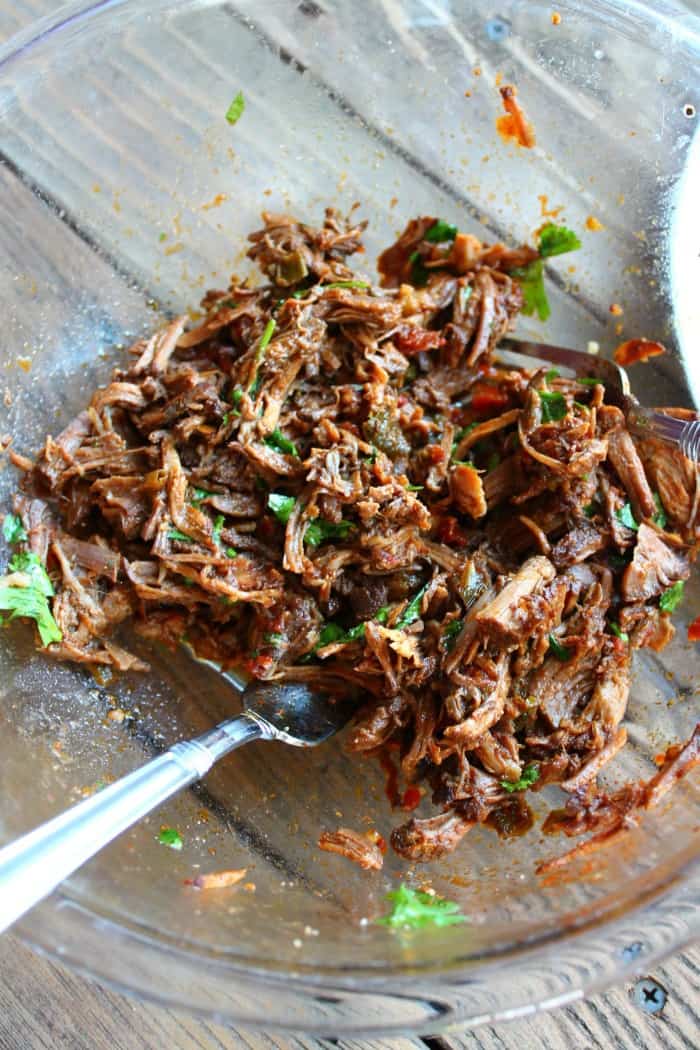 This recipe is for people that like spicy! It has a nice kick from the chili powders and jalepenos. We loved it! I served it in burritos with some avocado, plain yogurt, and some extra cilantro. The flavors were great! I also ate it with nachos the next day for lunch (switched up the meal plan a bit). This recipe is definitely going to be a regular on my meal plan.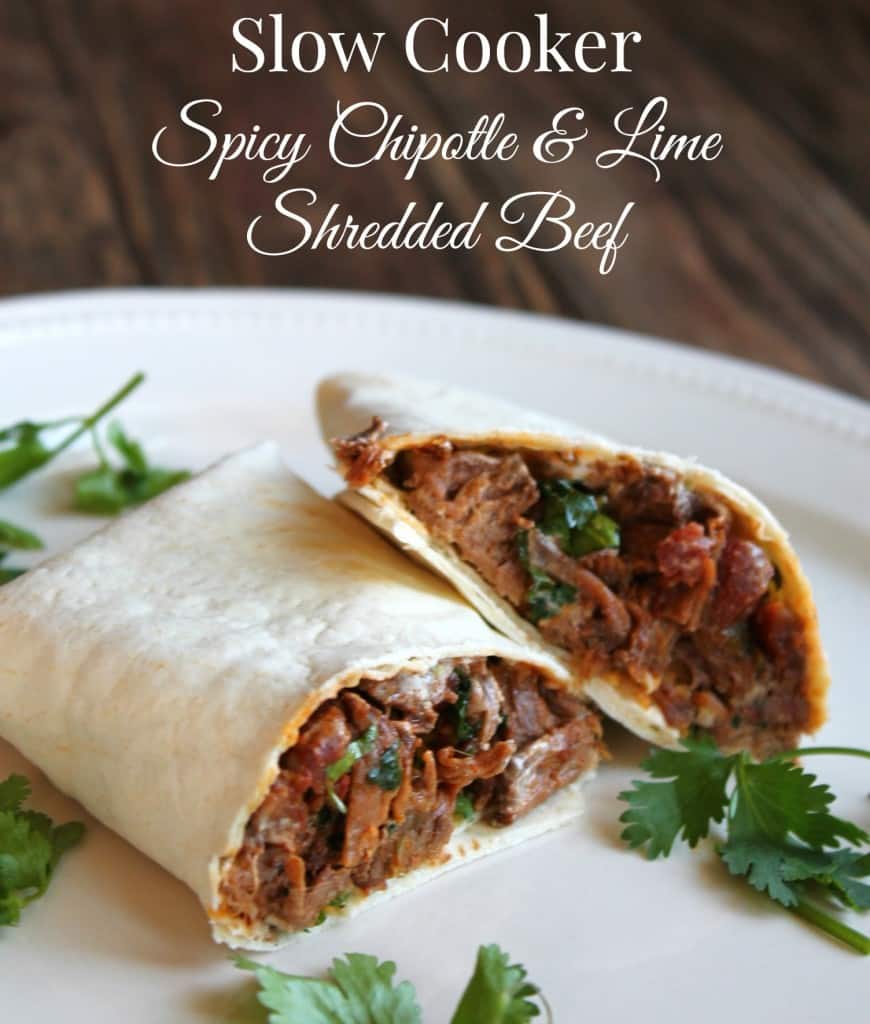 Like most shredded beef recipes this makes a lot. Using 1/4 cup servings this feeds about 10 people. I figured out the nutritional information for just the beef. Depending how you eat it the calories, fats, points, etc will change.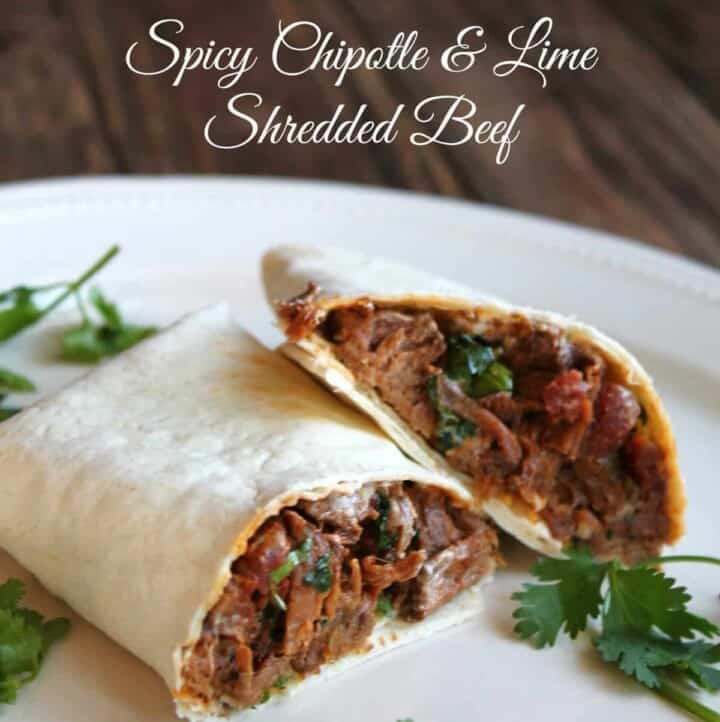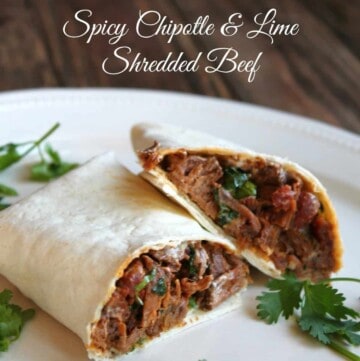 Ingredients
2.5

– 3 pound shoulder roast or chuck roast

1

tablespoon

chipotle chili powder

3

tablespoons

ancho chili powder

2

teaspoons

onion powder

1

teaspoon

granulated garlic

1

teaspoon

cumin

1

teaspoon

coriander

1

10-ounce can Rotel diced tomatoes with chilis

1

7.75 ounce can green jalapeno wheels, drained

½

cup

beef stock

½

teaspoon

of salt

juice of 1 lime

¼

cup

chopped cilantro
Instructions
Place beef roast into the slow cooker.

In a small bowl mix together chipotle chili powder, ancho chili powder, onion powder, granulated garlic, cumin, and coriander. Sprinkle the spice mixture over the beef.

Pour the diced tomatoes, jalapeno wheels, and beef stock over the beef. Turn the roast a couple times to mix up the ingredients.

Cook for 5 hours on high or 8-10 hours on low.

Remove beef from slow cooker, place into a large bowl, and shred. After the beef is shredded take some of the juice from the slow cooker and stir it into the beef. Stir in ½ teaspoon of salt, lime juice, and cilantro. Serve in tacos, burritos, or any other Mexican inspired recipe.
Notes
Make ahead instructions

This recipe can be made completely ahead of time and frozen into portions. You can freeze using freezer bags or containers. To reheat removed from bag or containers and reheat on the stove or in the microwave.
Nutrition
Serving:
1
g
|
Calories:
300
kcal
|
Carbohydrates:
2
g
|
Protein:
36
g
|
Fat:
18
g
|
Sugar:
8
g