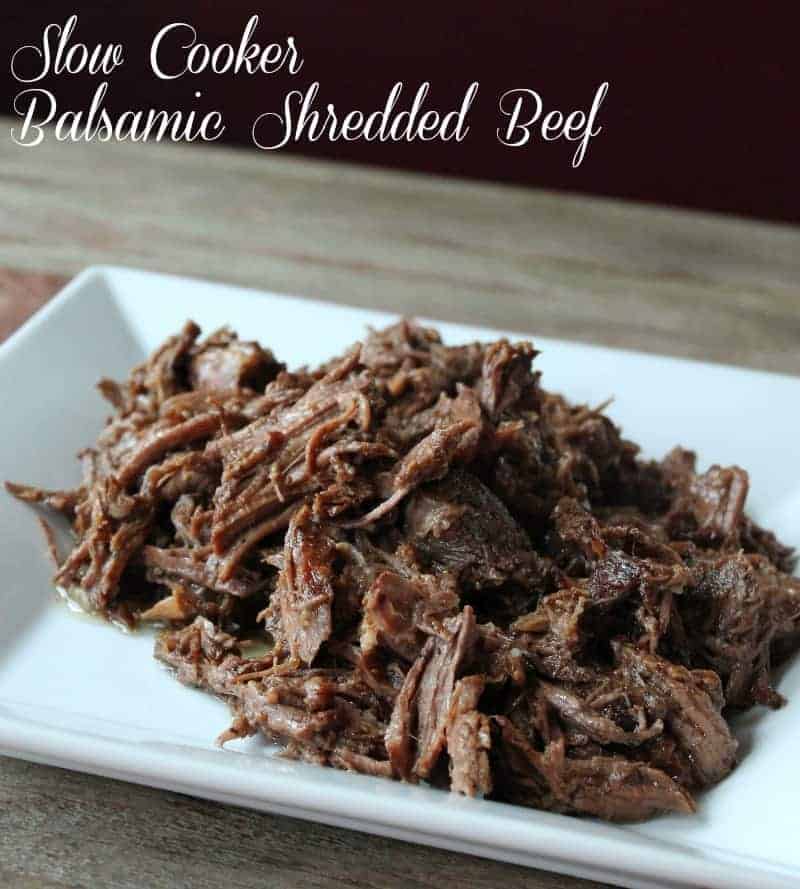 Shredded meat recipes made in the slow cooker are some of my favorite recipes. Once the meat is prepare it can be used in a variety of ways. You can eat it alone, in a wrap, in a sandwich, on a salad, with rice or pasta, or any other way you can think of. And most shredded meat recipes freeze perfectly. So don't be afraid to make a huge batch of shredded beef when feeding only a few people. Freeze the leftovers in portions and use it for a future lunch or dinner.
This slow cooker balsamic shredded beef recipe is scrumptious – easily one of my new favorites! The balsamic vinegar, worcestershire sauce, garlic, onions, and brown sugar produce flavors that are tangy, sweet, and rich. I brought it to New Years Eve dinner and it was a huge hit. My sister called it "restaurant quality". I served it with with mesclun greens and crumbled blue cheese. My husband ate it in a roll and the rest ate it as is. It was delicious.
As with many of my slow cooker recipes I like to do a little prep before I throw ingredients in. I found this to be the best way to get maximum flavor using my slow cooker. Therefore, I started by browning the roast on both sides before I threw it into the slow cooker. Using the same pan, I sautéed the garlic and shallots till they were fragrant. Before I transferred those to the slow cooker I used a little beef broth to deglaze the pan and scrape up any brown bits. Those brown bits are little flavor nuggets so don't leave them behind. Last, I whisked together the balsamic vinegar, worcestershire sauce, and brown sugar. Pour that over top of the roast and cooked for 5 hours on high. You can easily cook this for 8-10 hours on low but I didn't have that kind of time.
After it is cooked I removed the roast from the slow cooker, transferred to a bowl, and shredded the meat. I added in a ladle or two of the juice from the slow cooker and tossed in ¼ teaspoon of salt. When making slow cooker meals, especially beef recipes, I found it is always better to add a little salt after the recipe is done. This helps to bring all the flavors together. I think I originally learned that little tip from watching Chopped on the Food Network. Anyway, it works.
This recipe makes about 5 cups of shredded beef. I figured out the nutritional information using 1/2 cup servings. If you are going to eat this in a wrap, sandwich, or salad you will probably use less meat.
Some of my other favorite shredded meat recipes to prepare are buffalo shredded chicken, Mexican shredded chicken, shredded sweet and spicy pork, and Mexican shredded beef.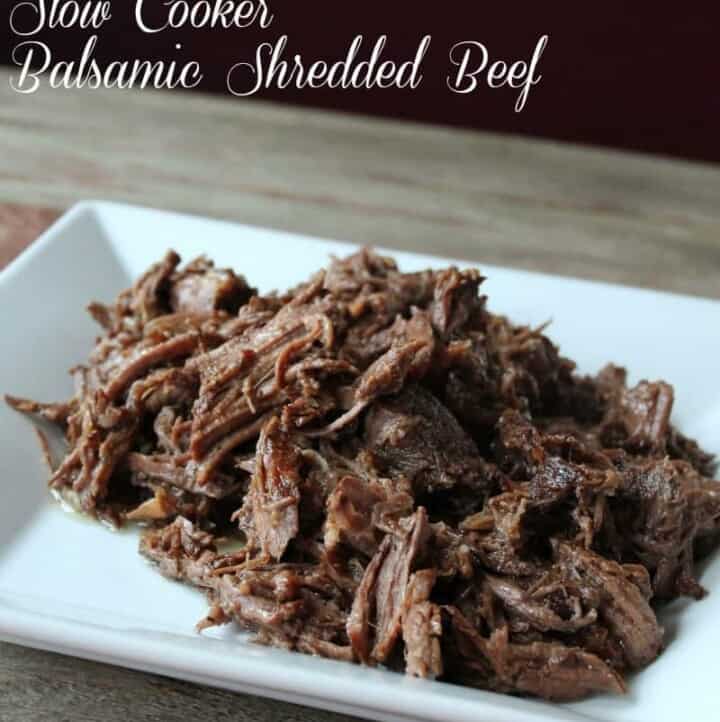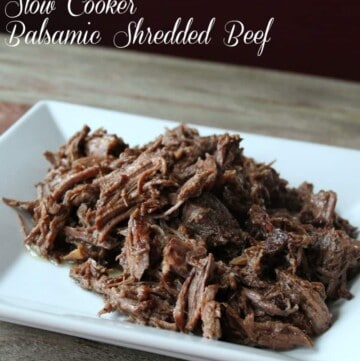 Ingredients
3

lb

chuck roast

2

tablespoons

flour

½

teaspoon

salt

½

teaspoon

black pepper

1

tablespoon

olive oil

5

garlic cloves

finely chopped

¼

cup

finely chopped shallots

¼

cup

beef broth

½

cup

balsamic vinegar

2

tablespoons

worcestershire sauce

2

tablespoons

brown sugar

¼

teaspoon

salt
Instructions
On a large plate mix together flour, salt, and pepper. Dredge the chuck roast on both sides.

Heat olive oil, on medium high, in a large pan. Place chuck roast in the pan and brown on both sides. This takes about 3-4 minutes on each side. Transfer beef to slow cooker.

In the same pan sauté garlic and shallots until fragrant and shallots are translucent, about 3-4 minutes. Stir in beef broth and scrap up any brown bits left from the roast. Transfer to the slow cooker with the beef.

In a bowl, whisk together balsamic vinegar, Worcestershire sauce, and brown sugar. Pour over the roast. Flip the roast a couple times to make sure the beef, balsamic mixture, shallots, and garlic are all combined. Cook on high for 5 hours or low for 8-10. Mine cooked perfectly on high for 5 hours.

Removed roast from slow cooker and place in bowl or on a plate. Shred the meat. It should fall apart. Pour some of the leftover sauce onto the shredded beef. Add ¼ teaspoon of salt. Mix well and serve.
Notes
Make ahead tips
This recipe can be cooked completely ahead of time and frozen into portions for future lunches or dinners. Heat up on the stove or in the microwave when ready to eat.
Nutrition
Serving:
1
g
|
Calories:
328
kcal
|
Protein:
35
g
|
Fat:
19
g
|
Fiber:
7
g
|
Sugar:
8
g