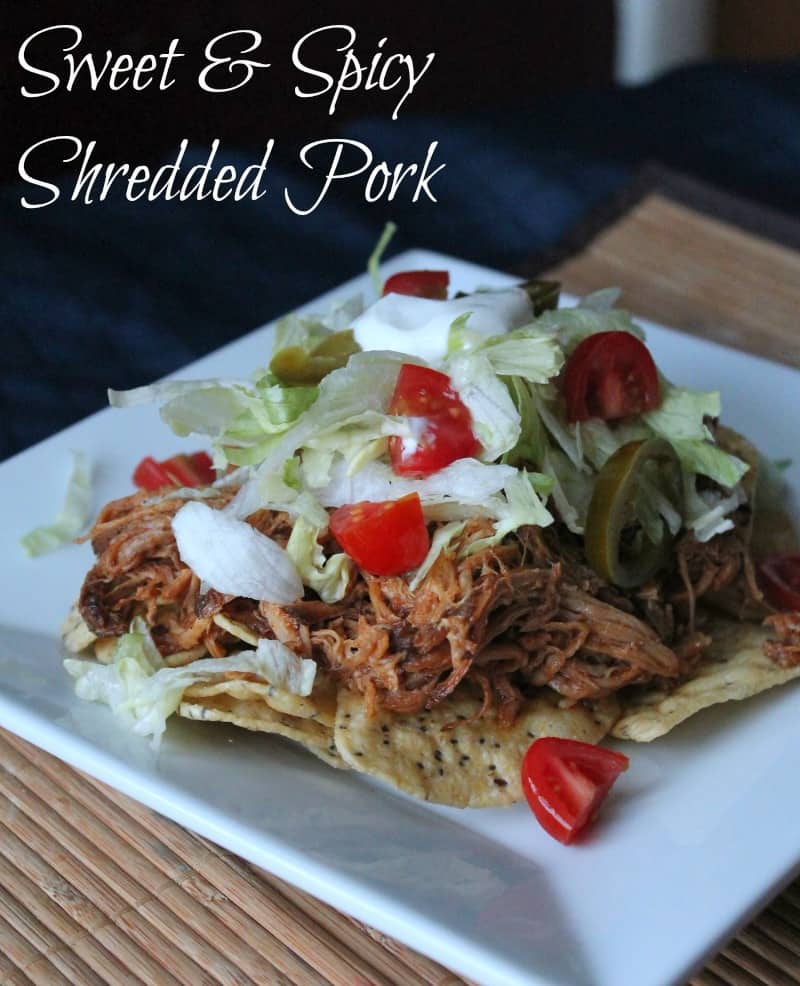 If you follow my blog then you know three things about me. 1. I love slow cooker recipes; 2. I love freezer cooking recipes and;  3. I love slow cooker recipes that turn into freezer cooking recipes. Those three things make my life easier in ways I could have never imagined before kids, work, and a house entered my life. Seriously, when I think back to my own mother raising 4 obnoxious kids while working, keeping a clean home, and doing everything else she did the only word that comes to mind is…AMAZING. Truly amazing! She did it all with a smile and always looking beautiful. Here is a quick pic of my mommy and me 🙂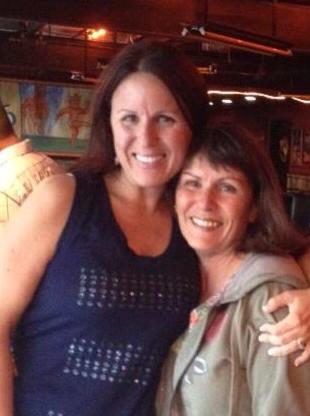 Okay, as usual, I digress.
My favorite type of freezer cooking recipes are freezer meal starters. Basically, freezer meal starters are components of a meal that are cooked ahead of time and can be used in a variety of ways. For example, taco meat can be used in many other recipes besides tacos. It can be used on salads, in burritos, or on pizza. Having meal starters ready makes it easier to prepare a quick healthy dinner. I put together a whole post on freezer starters with links to my favorite recipes.
I would like to add this sweet and spicy shredded pork to my favorite freezer meal starter list. This recipe is delicious, cooks all day long in the slow cooker, can be prepped ahead of time, and freezes perfectly for future meals. It is the perfect slow cooker meal.
As with many of my slow cooker recipes I found the original recipe in my America's Test Kitchen Slow Cooker Cookbook. If you have not bought this cookbook yet I highly recommend you do so. Just the slow cooker tips alone in this book are worth the money.
I used a pork roast for this shredded pork recipe. Some of you might wonder why I don't use tenderloin because it is leaner. I like roasts much better. They are more flavorful and hold up better to the long cooking times. Whenever I have used tenderloin in the past it did not shred and came out very dry. However, you may have better luck with tenderloin so if you would rather use it then go ahead.
I decided to use ancho chili powder and chipotle chili powder in place of the dried chilis it called for. I wanted to use the chilis but could not find them anywhere in my grocery store so opted for the spice substitutes the cookbook recommended.
These are expensive spices – each bottle was around $8. However, they give a ton of flavor and will last awhile. I recommend giving them a try if you are looking for new ways to spice up your food. I really enjoyed them.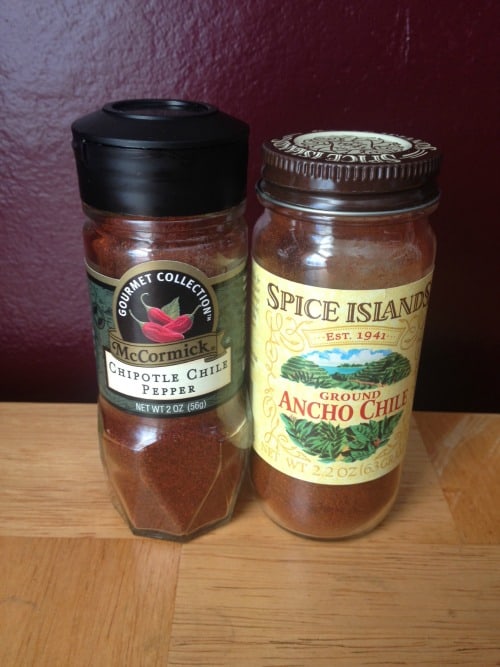 This recipe was so easy to prep ahead of time. I poured the pineapple juice into the bottom. Mixed together the spices and sugar. Then I rubbed half on the pork roast and whisked the other half into the pineapple juice. Next, I placed the pork roast into the juice, put the top on, and stored in the refrigerator overnight. The first time I made this recipe I did not prep the ingredients ahead of time. I think giving it time to marinate overnight in the juice and spices gave the pork more flavor.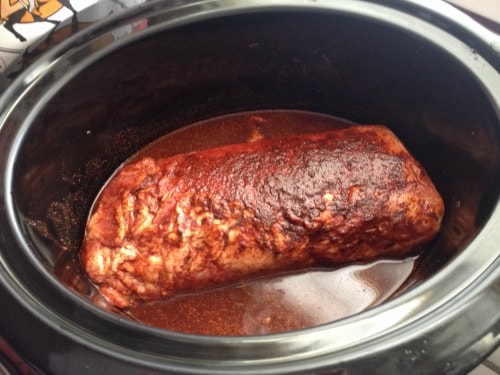 In the morning I started the recipe and let it cook all day long – 10 hours! When it was done it shredded perfectly and was so juicy and good! I took the pork out of the slow cooker and shredded it in a separate bowl. Then I added liquid from the slow cooker as needed for flavor and to keep it moist. I finished it off with juice from one lime. Yum!
We made tacos with this sweet and spicy shredded pork. Of course, you can use it any way you would use shredded pork.
I froze the leftover into two separate bags for future meals. This recipe makes 5 cups of shredded pork, so unless you are feeding an army, you will have leftovers.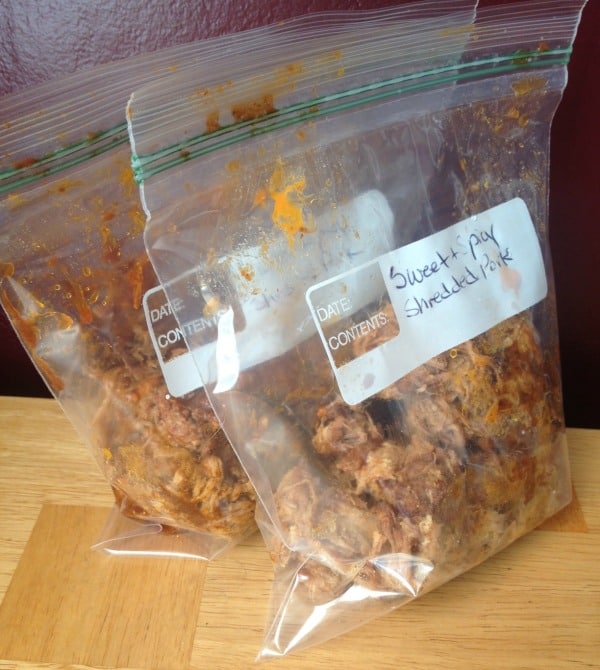 Slow Cooker Sweet and Spicy Shredded Pork
Author:
Organize Yourself Skinny
Ingredients
2.5 – 3lb pork roast
¾ cup pineapple juice
3 tablespoons ancho chili powder
1 tablespoon chipotle chili powder
1 teaspoon granulated garlic
1 tablespoon brown sugar
¼ teaspoon ground cumin
¼ teaspoon salt
¼ teaspoon ground pepper
⅛ teaspoon ground cloves
lime
Instructions
Pour pineapple juice into the slow cooker.
In a small bowl mix together the ancho chili powder, chipotle chili powder, granulated garlic, brown sugar, salt, pepper, cumin, and cloves.
Rub half of the spice mixture on the pork and whisk the other half into the pineapple juice.
Place roast into the slow cooker, put top on, and cook 9-11 hours on low. Mine cooked perfectly at 10 hours.
Remove roast from slow cooker and shred in a seperate bowl. Add juice from the the slow cooker to meat for flavor and to keep it moist. Squirt lime juice over top and mix together. Add more salt and pepper if desired. Serve warm.
Notes
Make ahead tips
This recipe can be prepped ahead of time into a slow cooker freezer kit. Combine all ingredients into a large freezer bag and freeze. Thaw 24 hours ahead of time in the refrigerator and continue with cooking instructions. You can also cook this completely, portion out, and freeze.
Nutrition Information
Serving size:
¼ cup
Calories:
145
Fat:
10
Carbohydrates:
2
WW Points +:
4
Fiber:
0
Protein:
12
Get Instant Access to My Best Weight Loss Tips & Strategies!
Sign up now for a free step-by-step 7-day email course that I created exclusively for my email subscribers! That's you. I will teach the best habits, strategies, and insider tips so you can enjoy a lifestyle that encourages and supports weight loss! Stop relying on willpower and take control back over your life! You can do this. Let me help!