This healthy Slow Cooker Chicken Teriyaki recipe is perfect for an easy weekday meal or make it ahead of time, on the weekend, to enjoy all week for lunch or dinner.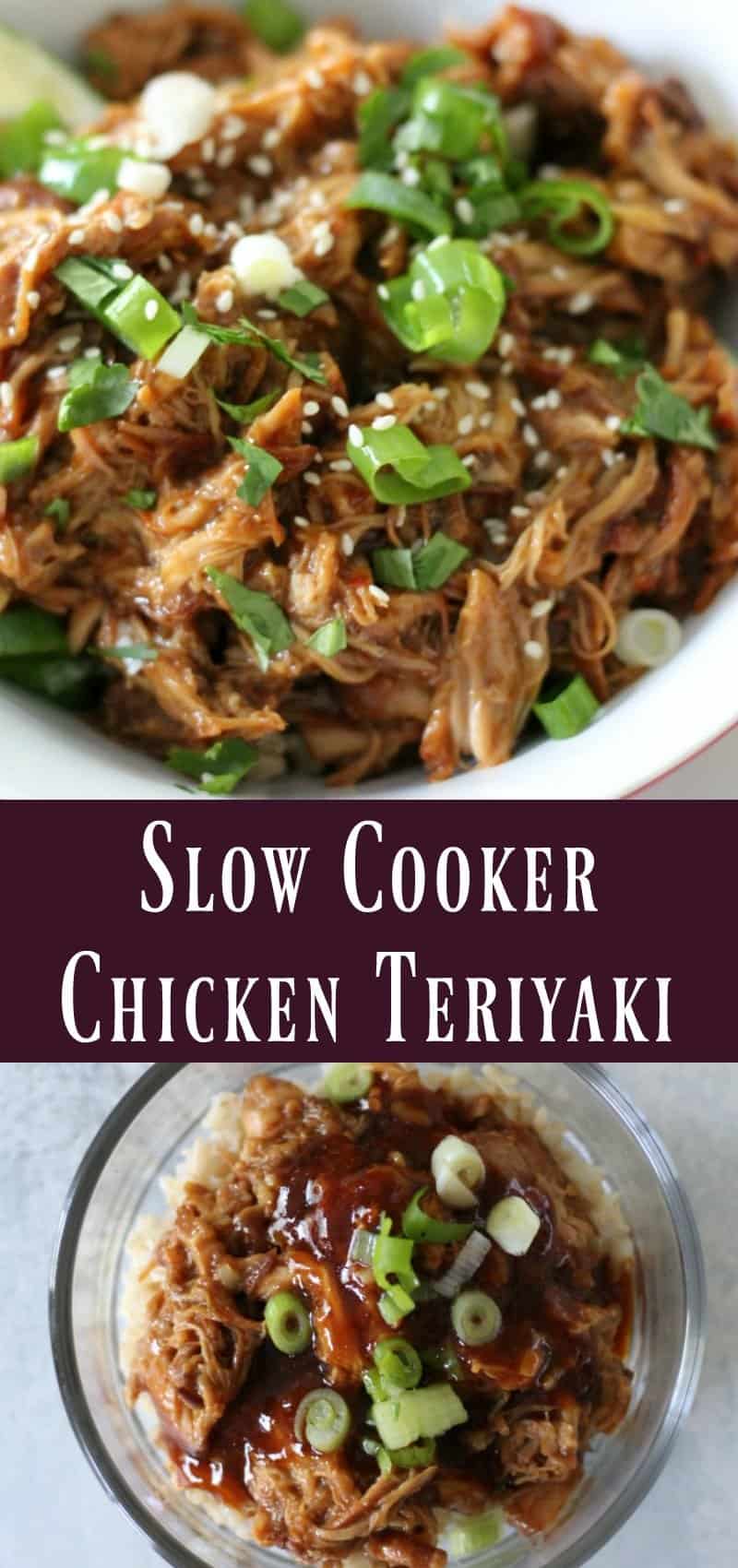 If it's been awhile since you broke out your slow cooker then you're going to want to reunite with it for this chicken teriyaki recipe – IT'S DELICIOUS! Everything about it is so tasty. The sauce is thick, sweet, and a little spicy. The tender juicy chicken shreds perfectly and will melt in your mouth! Honestly, if you like asian-inspired recipes, plus the ease of using your slow cooker, then this will be a new favorite.
Have I convinced you to try this slow cooker chicken teriyaki recipe? Great! Keep reading…
Let's start with the sauce. I prepared it using soy sauce, honey, rice vinegar, sesame oil, grated garlic, grated ginger, onion powder, and red pepper flakes. Easy peasy. You can increase the heat by adding extra red pepper flakes, Sriracha, or chili oil at the end.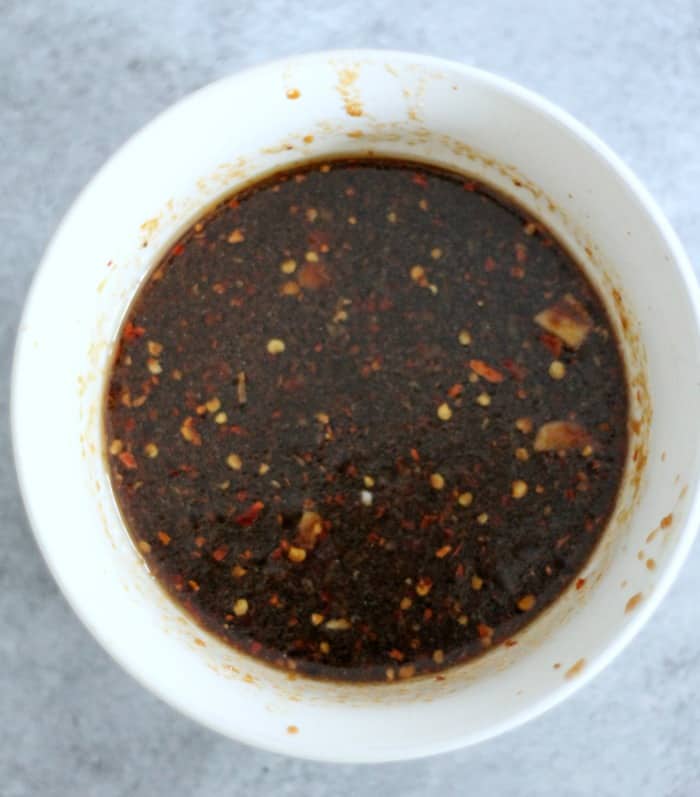 For the chicken I decided to use skinless boneless chicken thighs. I'm sure you could use chicken breasts but I actually prefer to use chicken thighs in slow cooker recipes because they are more flavorful and hold up nicely being cooked in the slow cooker. But if you want to use chicken breasts that would be fine. Or do half and half. I had chicken thighs so that's what I used.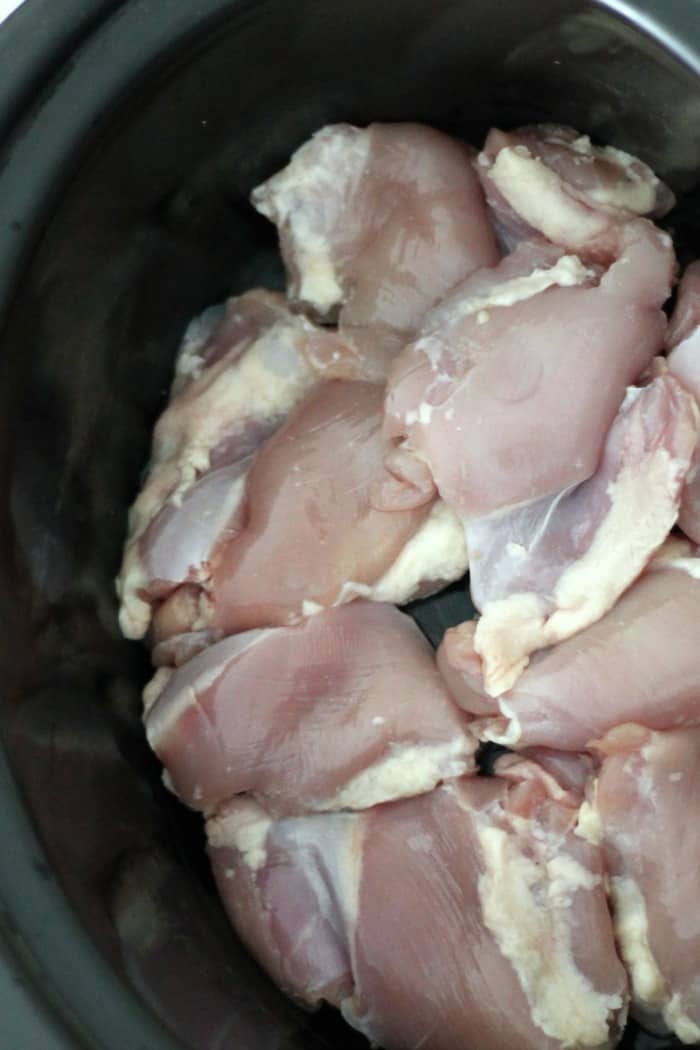 I poured the sauce over the chicken, placed the lid on, and set it to cook for 3 hours on high. Originally I was going to cook it for 5-6 hours on low but I started it too late and was running short on time. But I will say it cooked beautifully at 3 hours on high.
The sauce or marinade could easily be made ahead of time. This would turn this recipe into a quick "dump and go" slow cooker recipe. However, as you probably notice this is not a recipe you could set before work and let it cook all day. Chicken doesn't do well being cooked 8-10 hours in a slow cooker…not at all. Most likely you'll end up with dried up leather chicken. My solution is to cook this on a day where you can set it for 5-6 hours before dinner or make it on the weekend to eat during the week. Either way it will work great.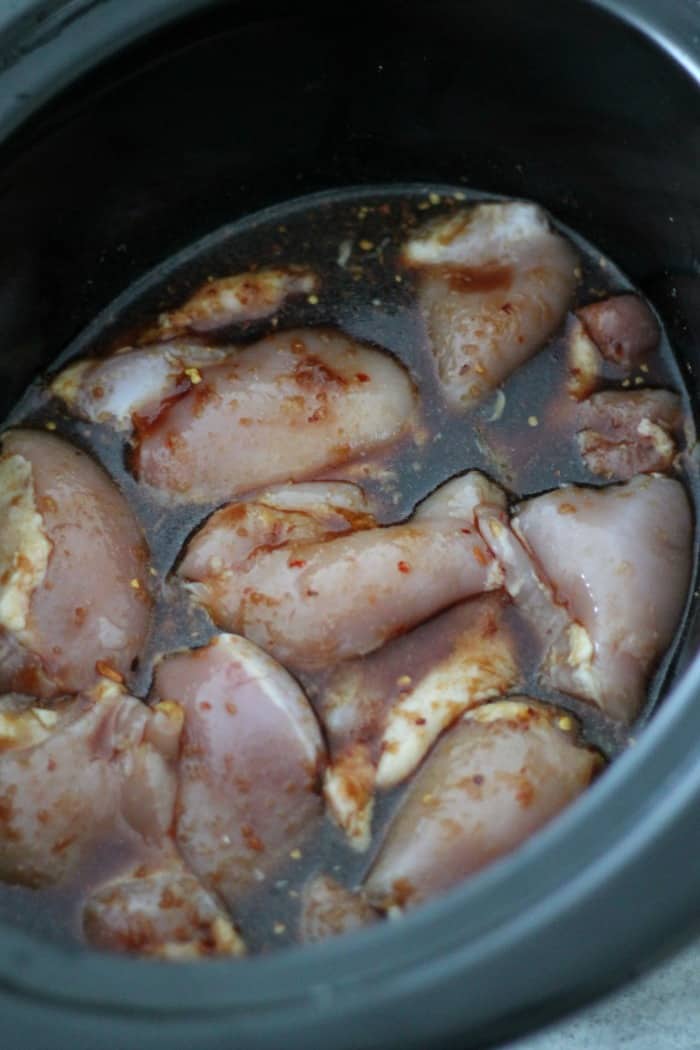 After the chicken is done it will shred perfectly!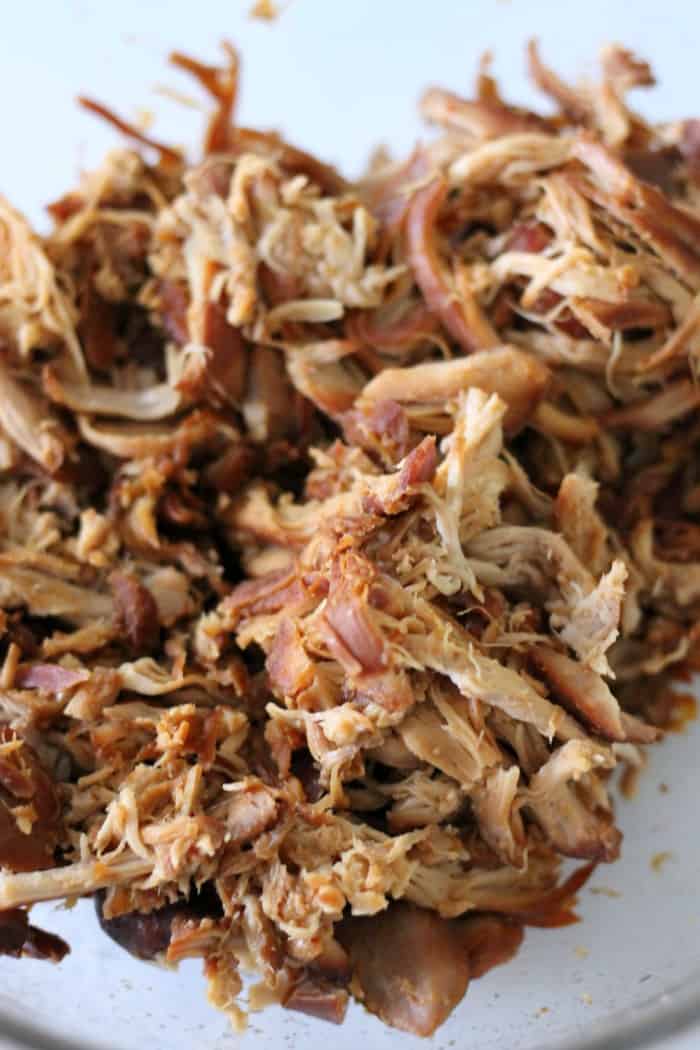 Now let's talk about the sauce. Now I know we all like easy. Believe me, I get it. I like easy too and I wish I could just say the sauce will thicken on it's own but you do need to put in a little extra effort. I've seen a couple recipes saying you could put a cornstarch slurry in with sauce at the end but I've never had luck with that. My recommendation is to pour the sauce into a sauce pan and whisk in a cornstarch slurry. This only takes about 5 minutes and creates a rich, thick, and delicious teriyaki sauce that I'm confident you wouldn't get from the slow cooker.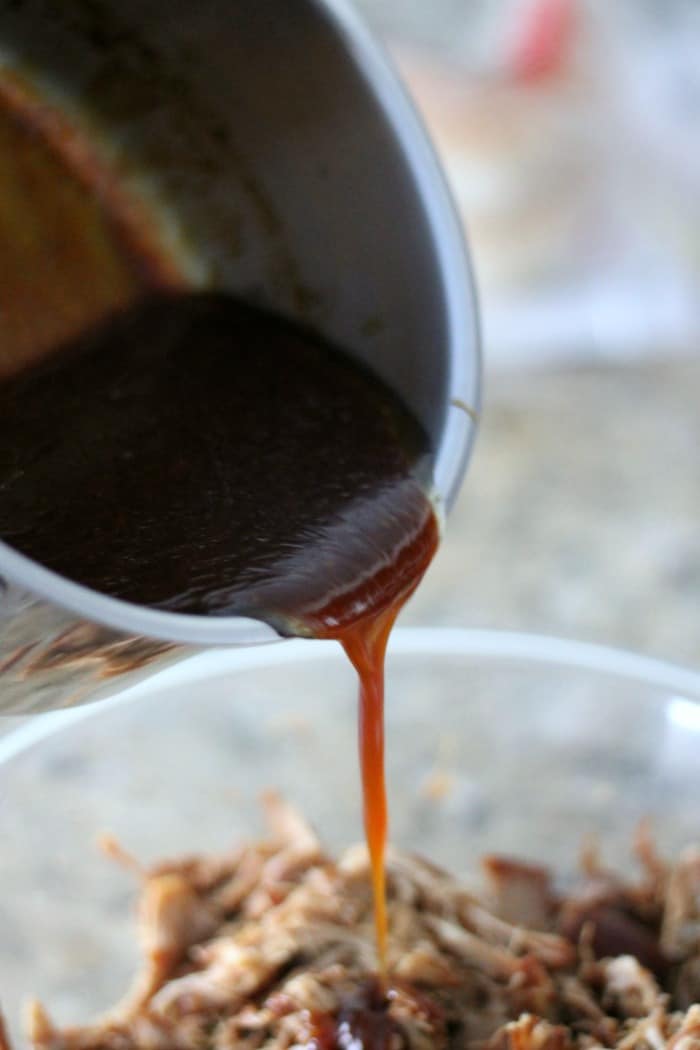 I poured about half of it in with the shredded chicken and then put the rest on the side to drizzle over the top if needed.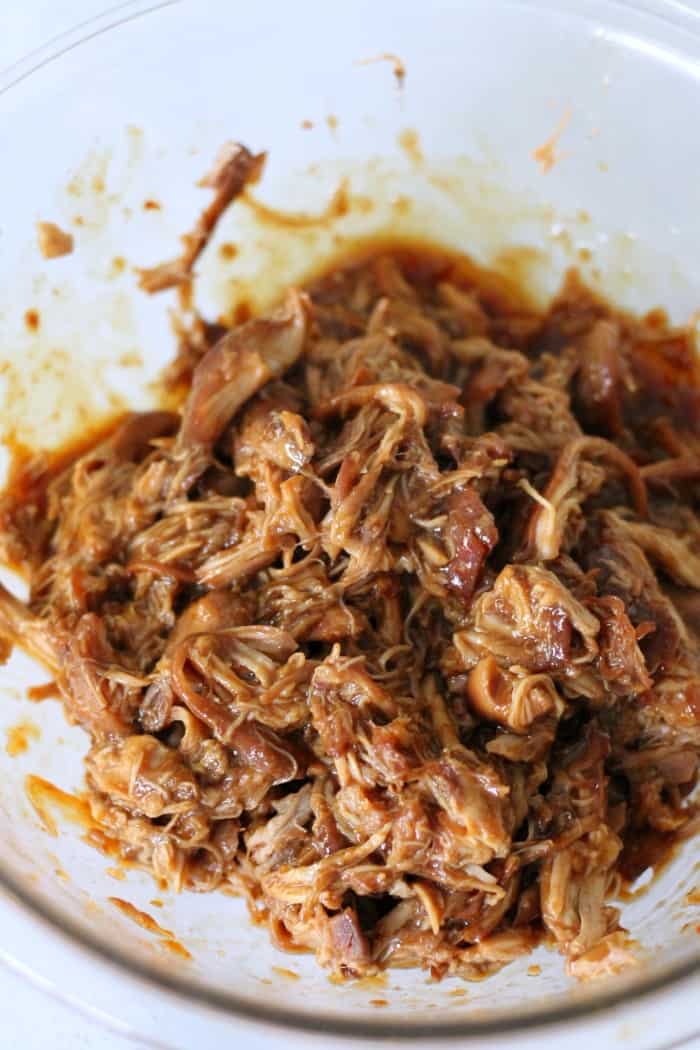 Let's chat about what to serve with this scrumptious teriyaki chicken. First, I highly recommend stirring in some fresh lime juice and cilantro. I love the fresh pop of flavor both give.
As for sides, if you're trying to stay low-carb then this chicken would pair perfect with steamed broccoli or green beans. Or serve with quinoa or brown rice. This would even taste wonderful in a wrap with some Asian slaw. Yum yum yum!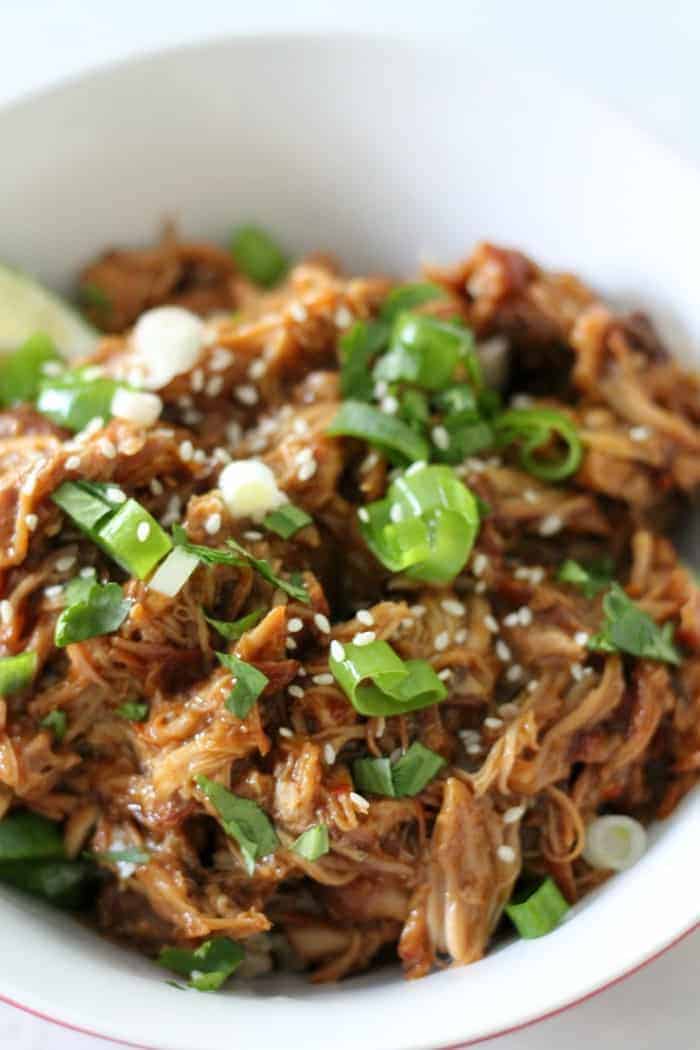 I garnished with green onion, sesame seeds, and a wedge of lime. This Slow Cooker Teriyaki Chicken taste just as good, or even better, than any take-out. What's even better is I control the ingredients so I don't need to worry about MSG or added salt or fats.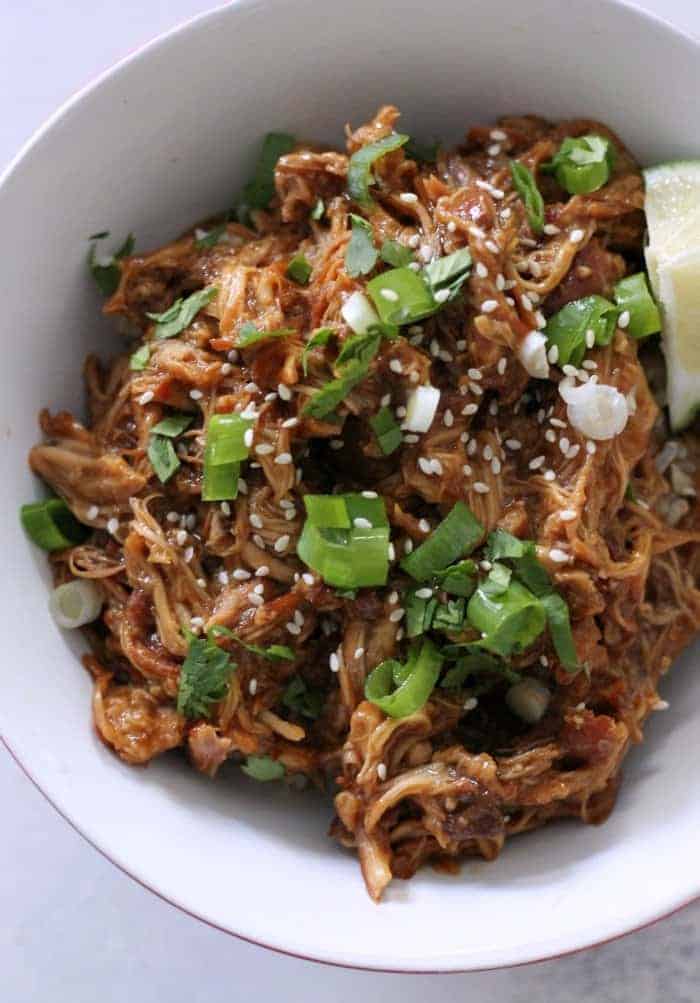 Another great thing about this chicken teriyaki recipe is it keeps great in the refrigerator AND freezer. So make a batch on the weekend and prepare into meal prep bowls to have a healthy lunch or dinner or week. You can even stick a couple portions in the freezer to have ready for dinners later in the month.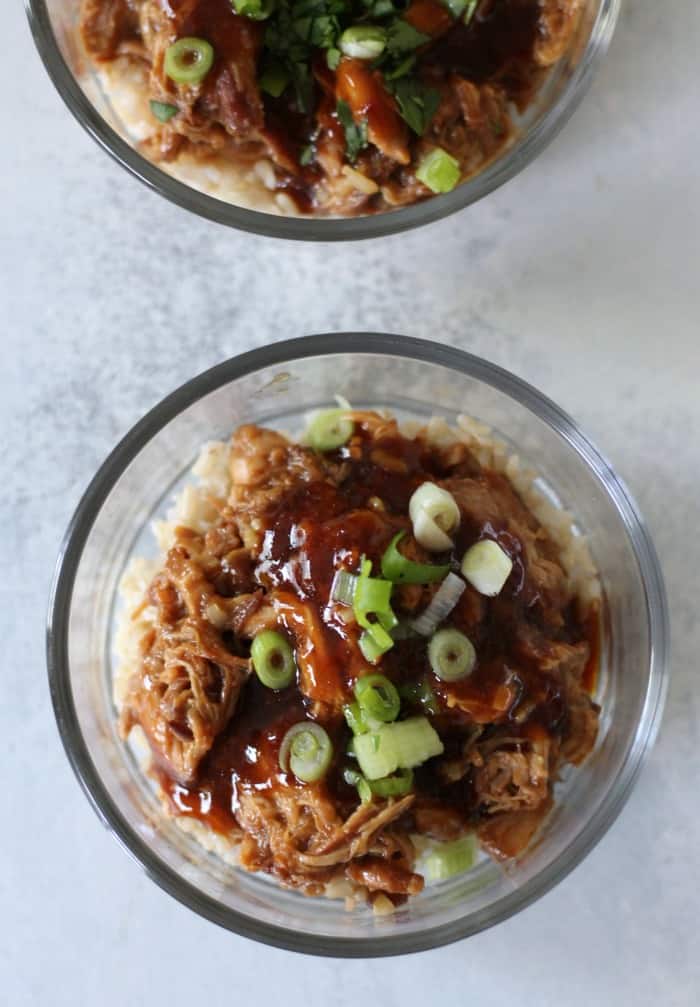 If you're looking for a new healthy slow cooker recipe then you must give this chicken teriyaki a try.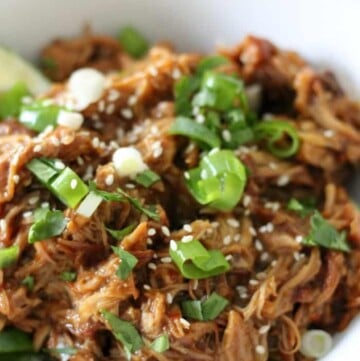 Ingredients
2

lbs

boneless skinless chicken thighs

1/2

cup

soy sauce

1/3

cup

honey

3

tablespoons

rice vinegar

1

tablespoon

sesame oil

3

cloves

garlic

grated

1

tablespoon

peeled and grated ginger root

1

teaspoon

onion powder

1/2

teaspoon

red pepper flakes

1 1/2

tablespoons

cornstarch

1/4

cup

water
Instructions
Place the chicken thighs in the bottom of the slow cooker insert.

Mix together the soy sauce, honey, rice vinegar, sesame oil, garlic, ginger root, onion powder, and red pepper flakes.

Pour over the chicken.

Cover and then set the slow cooker to cook on high 2-3 hours or low 4-6 hours.

Remove chicken from the slow cooker, place into a bowl, and shred.

In a small bowl mix together the cornstarch and water to create a slurry.

Pour the sauce into a sauce pan and whisk in the slurry. Cook over medium heat for about 3 -5 minutes or until the sauce thickens up. Please note the sauce will thicken as it sits.

Mix half the sauce into the chicken and put the rest on the side for extra sauce if needed.
Notes
sugars: 19
This slow cooker recipe can be prepped the night before or created into a slow cooker kit for the freezer. Keep the marinade and chicken seperate then dump all the ingredients into the slow cooker when you're ready to cook.
Also the recipe can be cooked completely ahead of time and store in the refrigerator up to 5 days or frozen up to 3 months.
Nutrition
Serving:
1
g
|
Calories:
339
kcal
|
Carbohydrates:
22
g
|
Protein:
34
g
|
Fat:
13
g