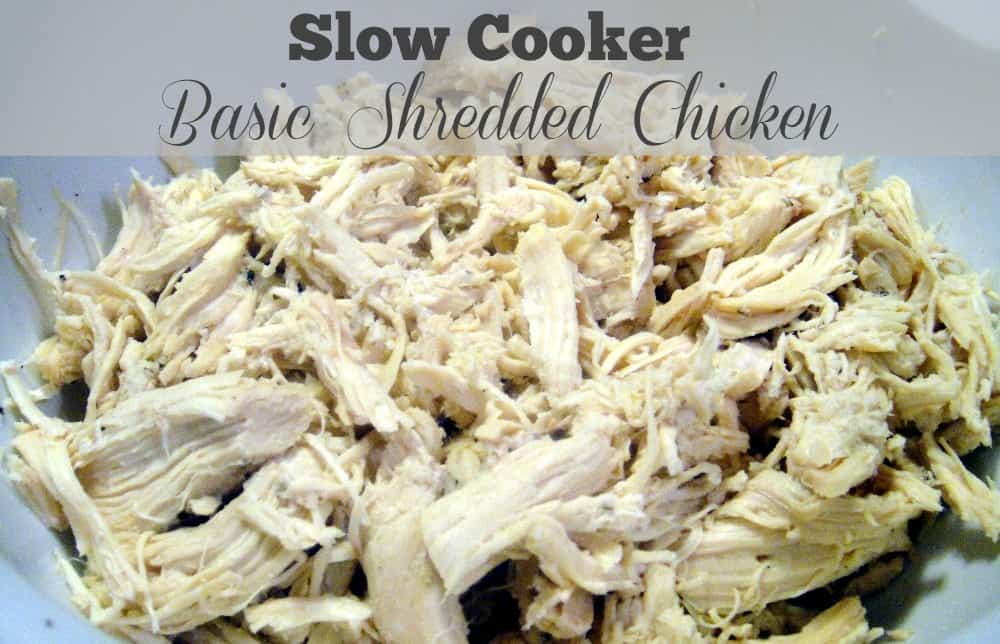 Having meat, beans, and/or vegetables already prepared ahead of time is more than half the battle when trying to get dinner on the table quick. Therefore, when it comes to freezer cooking recipes some of my favorites are the incredibly simple meal starters.
A couple months ago I posted the Shredded Mexican Chicken Freezer Meal Starter. This has become a personal favorite which I use in tacos, enchiladas, burritos, quesadillas, and other Mexican dishes. However, as versatile as it is, I could not use it in other recipes because of the spices.
To solve this problem I decided to create a very basic shredded chicken recipe that I could add to my collection.
I love this recipe! It is super easy to make and very adaptable. So far I have prepared my Buffalo Chicken Wraps, salads, and lunch wraps with it.
Nothing beats having chicken that is recipe ready!
There are many different uses for this basic shredded chicken. Here are just a few.
Variety of wraps and sandwiches.
Chicken soup or other soup recipes.
Pizza topping.
Pasta recipes.
Pretty much any recipe you want to add chicken too!
I know this is basic. But trust me, having this chicken ready will make it so much easier for you to eat healthier during the week. Plus, who says being healthy needs to be complicated 😉 Not me!
Oh and did I mention that it will also save you tons of time and your weeknight sanity?

Freezer Meal Starter: Slow Cooker Basic Shredded Chicken Filling
Author:
Organize Yourself Skinny
Recipe type:
chicken recipe
Ingredients
4 medium chicken breasts (about 2-3 lbs)
½ teaspoon salt
¼ teaspoon pepper
½ teaspoon dried garlic flakes
1 tablespoon dried onion flakes
4 cups water or chicken broth
Instructions
Put chicken in slow cooker and season with salt, pepper, dried garlic flakes, and dried onion flakes.
Pour water or broth over chicken. Make sure that there is at least 1 inch of water over the chicken.
Cook on low for 6 hours.
Take chicken out of the slow cooker, transfer to a bowl, and shred. Use in your favorite recipe that calls for shredded or chopped chicken.
Nutrition Information
Serving size:
⅓ cup
Calories:
64
Fat:
1
WW Points +:
2
Fiber:
0
Protein:
15
Freezer Cooking Instructions
Allow the chicken to cool slightly. Portion out into freezer bags.
Reheating Instructions
Let thaw overnight in refrigerator, or in microwave (put in microwave safe bowl) then use in your favorite recipes that call for shredded or chopped chicken.
The slow cooker that I used for this recipe is the Hamilton Beach Set 'n Forget 6-Quart Programmable Slow Cooker. I love this slow cooker! It is the perfect size for making medium to large batches of freezer meal starters.