This healthy Greek Yogurt Chicken Salad with Avocado is one of my favorite quick lunches to make throughout the week. It's so rich and creamy that you won't believe you're eating a chicken salad without mayo! Watch the video and see how to make this one – it's fantastic!
Chicken salad is always a favorite of mine. I particularly enjoy making this in the summer when it's so hot out that I don't want to be near a stove or oven!
This recipe is simple to make and everyone who tries it loves it. When I tell them it's a light version with no mayo, people are often shocked. It's always fun to see their expressions!
Greek Yogurt Chicken Salad
The problem with a traditional chicken salad recipe is it's loaded with mayonnaise. 1 tablespoon of mayonnaise is 100 calories and countless grams of fat. Some chicken salad recipes call for at least ½ cup or more—yikes! As you can imagine this can be an issue for those of us trying to eat healthy.
Thankfully, I found a solution. A delicious solution. One that will never have you missing mayonnaise ever!
I am not kidding. Seriously, this one is so good. So what's the magic combo?
Plain Greek yogurt and a ripe avocado mashed together and mixed with chopped or shredded chicken breast. Who knew?! I make this with some spices and chopped red onion for crunch. OH MY GOD.
Soooo good.
Not only is it tasty, but Greek yogurt adds something that mayo definitely doesn't have: protein. A half-cup serving gives you 12-15 grams of protein depending on the brand!
How to Serve Chicken Salad
Once you have your Greek yogurt chicken salad made, you may be wondering what to eat it with. Of course, you can eat it in the traditional way as a sandwich between two slices of bread, but here are a few other options:
In a low-carb wrap
On a bed of lettuce
In a pita pocket
Stuffed into a tomato
As a dip for raw veggies
With some veggie chips
Frankly, you can just sit and eat this Greek yogurt chicken salad with a spoon too – it's that good!
How to Make Greek Yogurt Chicken Salad
Making this healthy chicken salad couldn't be easier. Here's how to nail this recipe every time.
Start With a Ripe Avocado
The hardest part of this entire recipe might be finding a perfectly ripe avocado!
I'm half kidding, but you really do want to make sure you get a ripe one when making this recipe. If you're like me and sometimes struggle with choosing the best one, check out this clever way to tell if an avocado is ripe or not.
Add Greek Yogurt
Grab your skinned avocado, and mash it up with a half cup of Greek yogurt. Any brand is fine. Personally, I think higher quality ingredients always taste better, but that's up to you.
Stir in Spices and Onion
Typically for this Greek yogurt chicken salad, I'll add garlic, onion powder, salt, and pepper. However, every once in a while I change it up with some flavor variations, as you'll see below!
I also like to add diced red onion to my chicken salad recipe. This adds both crunch and extra flavor, which is a win-win in my book.
Finish it Up
Lastly, add your shredded or diced chicken. I often keep shredded chicken in my freezer, so I'll pull it out for this recipe. However, you can grill up some chicken breasts and cube them, or even chop up leftovers from the night before. You could even use leftover shredded Rotisserie chicken.
Slice a lime in half, and add the juice from one of the halves into your healthy chicken salad. Taste and adjust as needed.
Video: How to Make Chicken Salad with Avocado
More of a visual person? No worries! Check out this video I made showing you exactly how to make this incredible healthy chicken salad recipe.

What else can you add to a chicken salad recipe?
This recipe is very versatile, which allows you to play around with different flavors.
Give it a Greek flair by adding in some feta cheese and oregano.
If you like spice, add in some chipotle seasoning and cilantro.
Want a good crunch? Add even more red onion, or try a favorite crunchy veggie like carrots, celery or jicama.
As you can see, the sky is the limit with this basic recipe.
If you were trying to figure out a way to fit chicken salad into your summer menu then give this recipe a try. You will love it!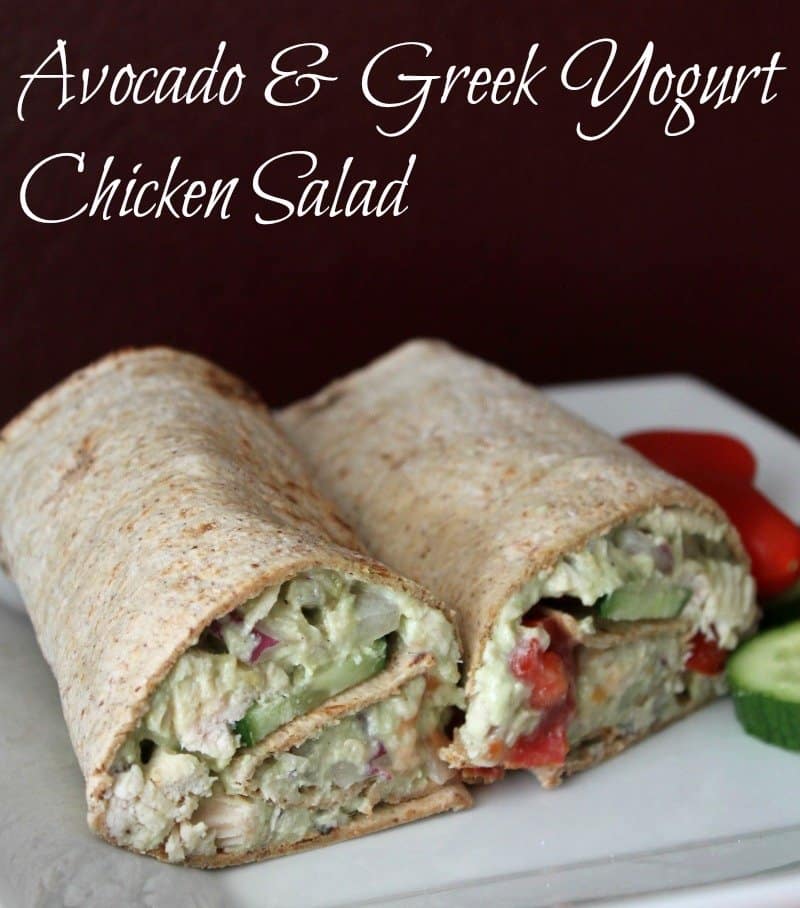 More Easy Lunch Recipes
Want to try some of my other favorite simple and healthy lunch recipes? You'll love these tasty ideas: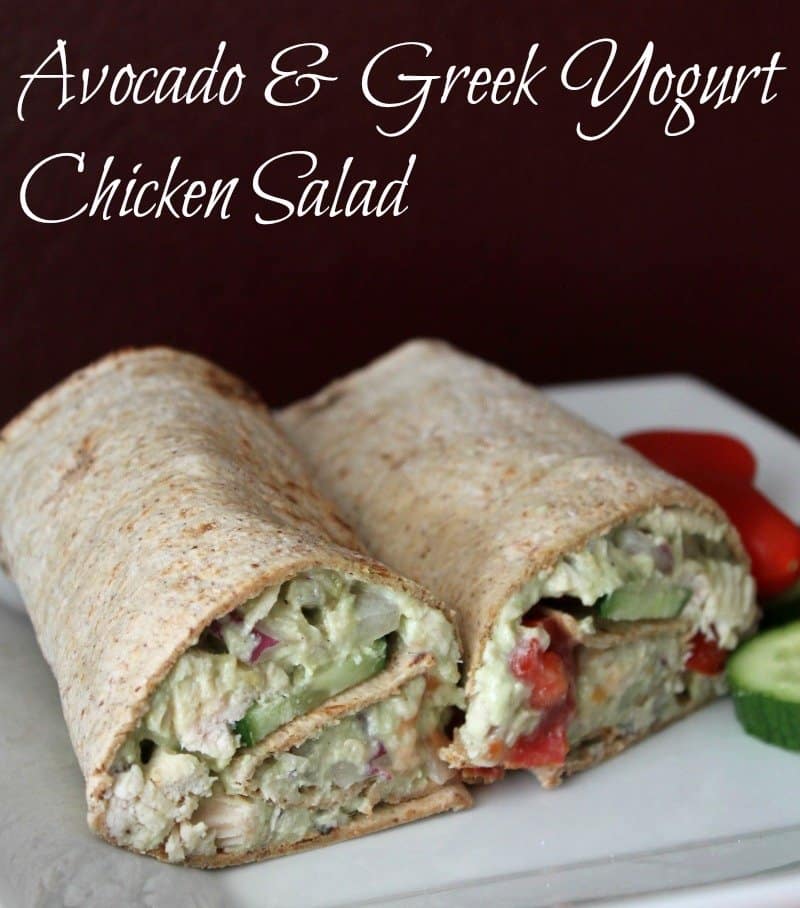 Ingredients
1

ripe avocado

removed from skin

½

cup

plain Greek yogurt

½

teaspoon

garlic granulated garlic

½

teaspoon

onion powder

¼

teaspoon

salt

¼

ground pepper

2

cups

finely chopped or shredded cooked chicken

½

red onion

chopped

1

small lime
Instructions
In a medium bowl mash together avocado and greek yogurt until smooth.

Stir in garlic, onion powder, salt, and pepper.

Add chicken and red onion to avocado mixture and stir until all ingredients are combined.

Squeeze in half the juice from the lime. Give it a taste, squeeze in the rest of the lime if needed. I used all of the lime juice.

Serve in a wrap, in a pita, or anyway you typically enjoy chicken salad.
Notes
Make ahead instructions
This recipe can be made up to 3 days ahead of time and stored in the refrigerator.
Nutrition
Serving:
3
g
|
Calories:
140
kcal
|
Protein:
17
g
|
Fat:
6
g
|
Fiber:
3
g
|
Sugar:
4
g