You can quickly prepare an easy weeknight dinner using these shredded chicken recipes from healthy casseroles, soups, wraps, and salads. You'll also learn the best ways to shred chicken and how to freeze it to have it ready for your favorite chicken recipes.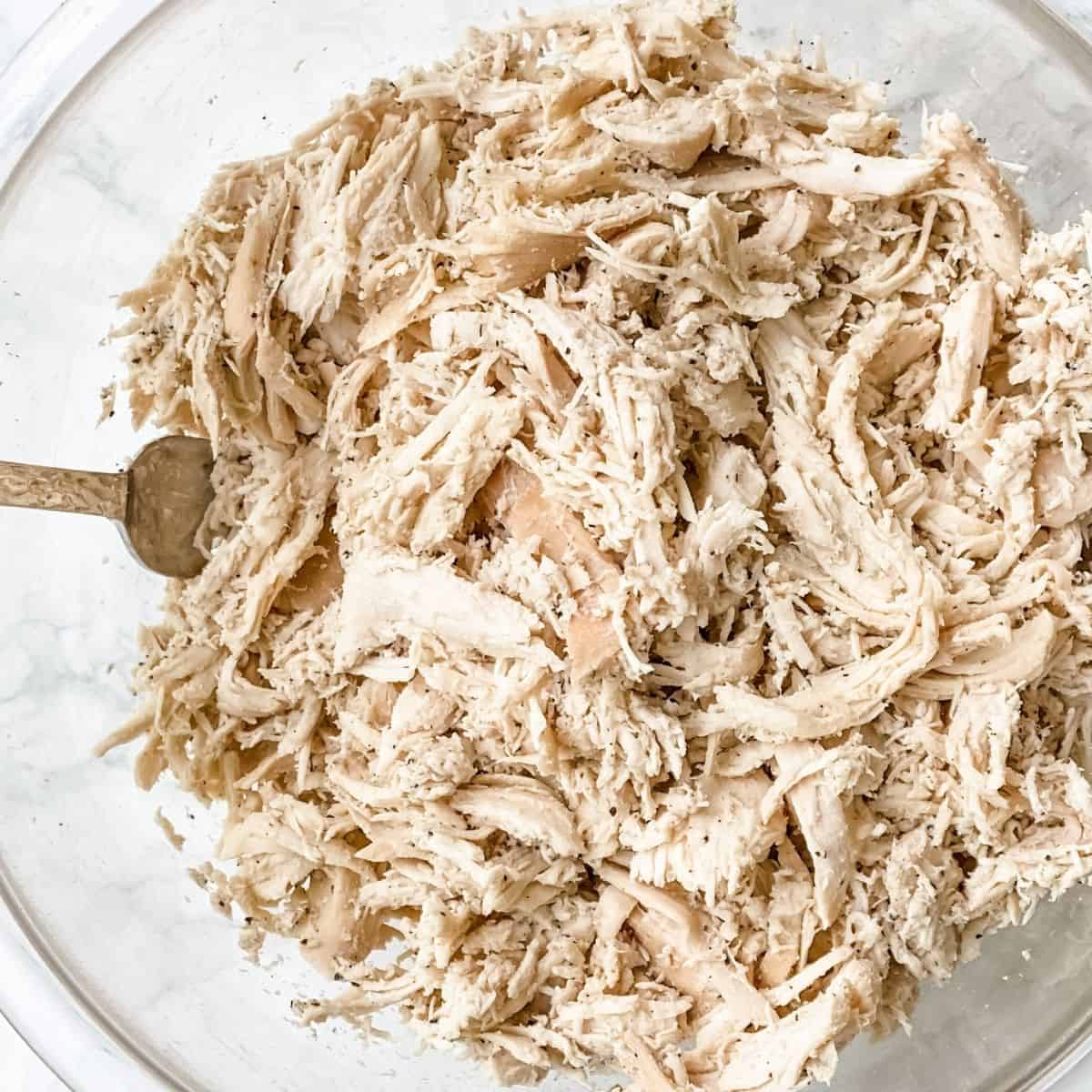 This post contains affiliate links. I am an affiliate for Amazon Associates and other brands and earn a small commission on qualifying purchases. You're by no means obligated to use my links but, if you do, thank you for supporting Organize Yourself Skinny.
One of my "go-to" easy meal prep recipes is shredded chicken. Having cooked shredded chicken on hand in the fridge or freezer makes it a cinch, so you quickly throw together a healthy recipe during the week.
This One-pot Chicken and Rice, Broccoli Chicken Bake, Buffalo Chicken Soup, or Buffalo Chicken Wraps come together in less than 30 minutes when chicken is recipe-ready.
Shredded Chicken Recipes
Before I get to all the delicious recipes, let me first share my favorite shredded chicken recipes.
Each one is made in the slow cooker and incredibly simple to prepare. Just set it and forget it!
When I have chicken breasts to use up, these are the five recipes I use. They are so versatile, and you can use them in any recipe that calls for shredded chicken.
Crockpot Shredded Chicken
If you are looking for the most straightforward, most basic slow cooker shredded chicken recipe, this is the one for you! The only ingredients you need are boneless skinless chicken breasts, chicken broth, spices and seasonings you like.
When I want to make a big batch of shredded chicken to freeze, this is the recipe I most often make.
This recipe is perfect when you want chicken cooked and ready, but you're unsure what recipe will be on the meal plan this week. For example, you use this to make bbq chicken by adding barbecue sauce or seasoning to switch up the flavors.
Crock Pot Shredded Chicken
Crockpot Shredded Chicken is a versatile and easy-to-make recipe that should be a staple in everyone's meal prep toolkit. In this post, I will explain everything you need to know about making mouth-watering pulled chicken in your crock pot. From the best cooking times and seasonings to how to shred and store your chicken, I've got you covered. I'll even share some of my all-time favorite recipes that use this tasty slow cooker shredded chicken. 
Check out this recipe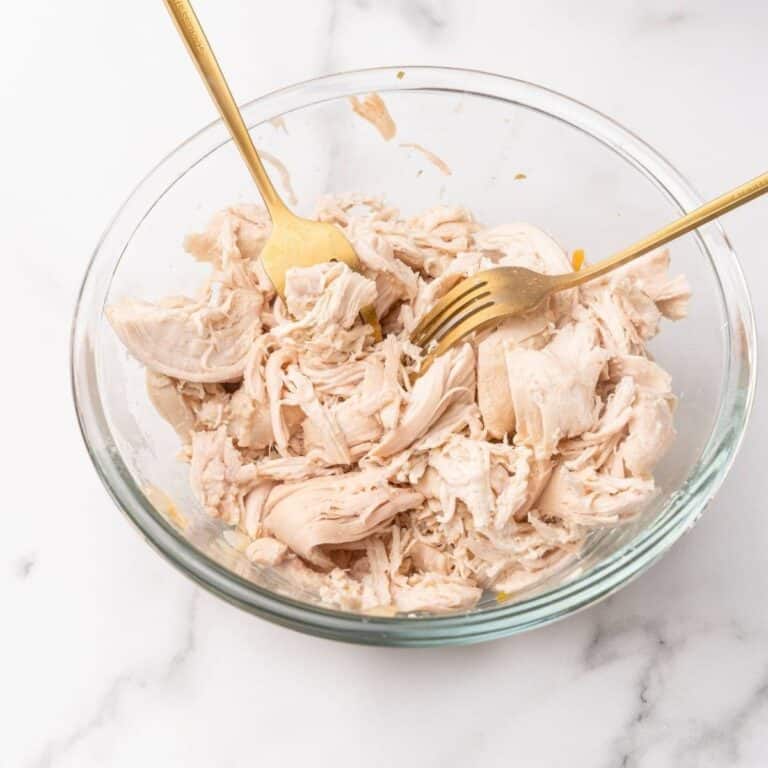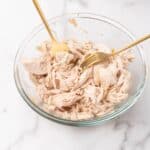 Mexican Shredded Chicken
This Mexican chicken is packed full of flavor with some of our favorite seasonings.
I love making this to use in all of my favorite Mexican-inspired recipes like quesadillas, chicken enchiladas, burritos, chicken nachos, or Mexican pizza.
Slow Cooker Mexican Shredded Chicken
This Slow Cooker Mexican Shredded Chicken is a delicious and juicy chicken recipe that you can use in your favorite tacos, burritos, or enchiladas. It is easy to throw together on the weekend and keep in the refrigerator for a quick weeknight meal.
Check out this recipe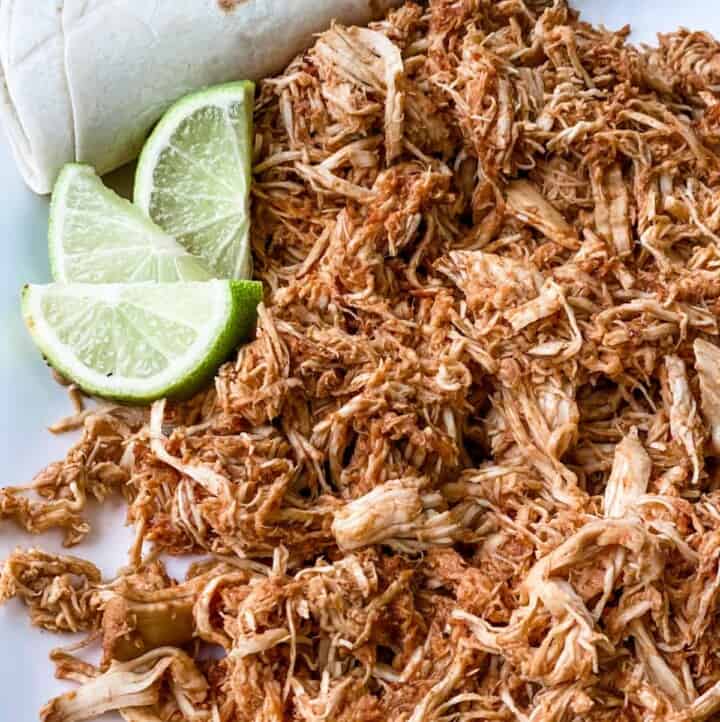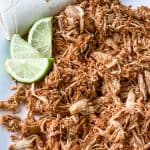 Slow Cooker Salsa
This is one of the easiest crockpot recipes! Place in the slow cooker with some fresh salsa and boneless chicken breasts, and you'll have salsa chicken for tacos, burrito bowls, and quesadillas.
Slow Cooker Salsa Chicken
Slow Cooker Salsa Chicken is one of the easiest recipes that every busy parent should have in their weekly meal planning rotation. All it takes is 4 ingredients, a crockpot, and you'll have limitless dinner ideas all week!
Check out this recipe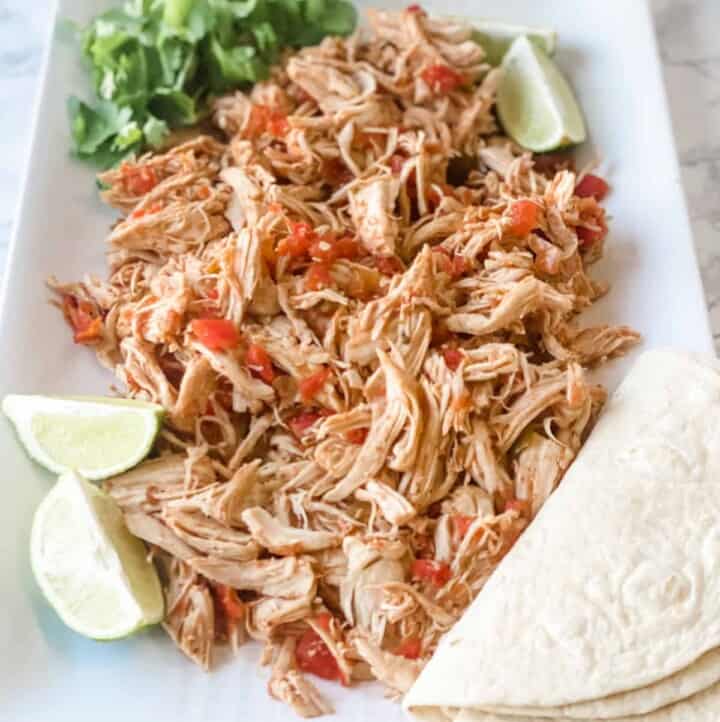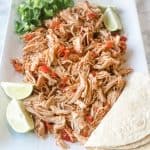 Crockpot Buffalo chicken
We love shredded Buffalo chicken! You can use this in wraps, salads, pizzas, baked pasta dishes, or even use it in this healthy Buffalo chicken dip.
The following two recipes use chicken thighs, but you can easily swap in chicken breasts to lower the calories and fat.
Crockpot Buffalo Shredded Chicken
This delicious crockpot buffalo chicken recipe uses five simple ingredients and is easy to put together. Make it over the weekend and have buffalo chicken ready for salads, subs, and wraps all week! If you love buffalo chicken wings then you'll love this healthier version!
Check out this recipe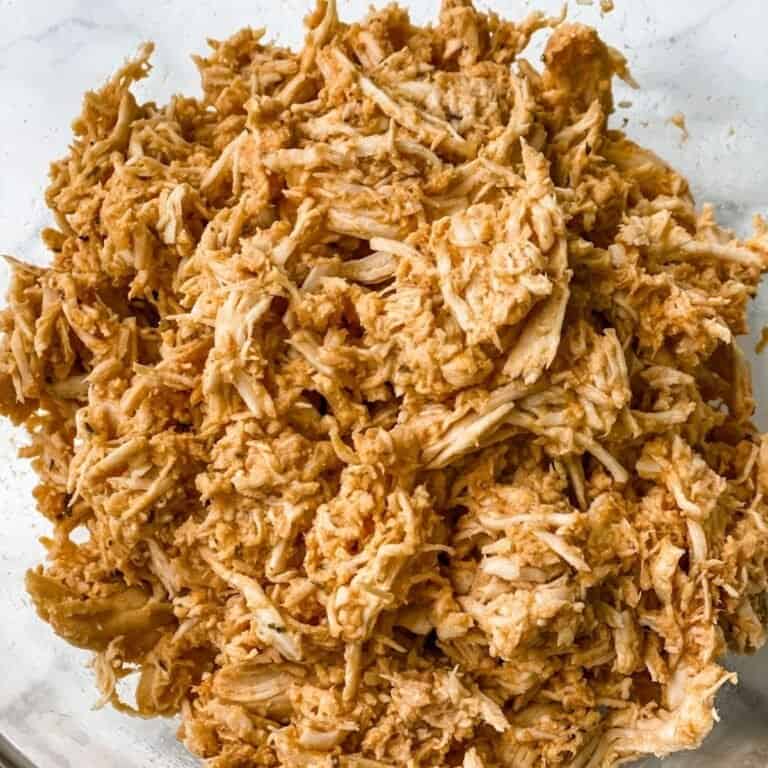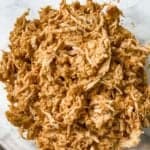 Slow Cooker Balsamic Chicken
This recipe simmers in a tangy balsamic vinegar sauce. It's delicious with some brown rice and vegetables or added to a leafy salad.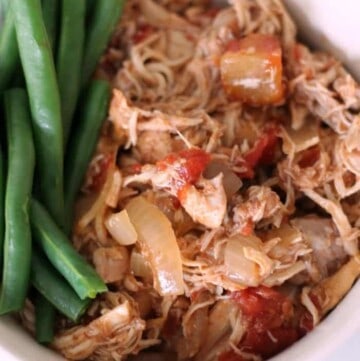 Slow Cooker Teriyaki Chicken
This delicious sweet and tangy teriyaki chicken goes perfectly with all of your Asian-inspired recipes. You'll love it in lettuce wraps or on top of rice and vegetables.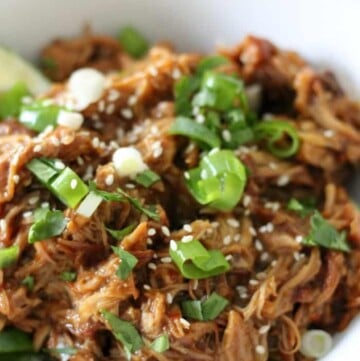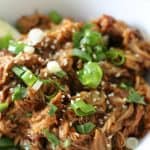 How to Make Shredded Chicken on the Stove top
If you don't have time for a crockpot recipe, then you can use your stovetop to make a batch of shredded chicken.
Place two chicken breasts on the bottom of a large pot. You can make more than this; make sure the pot isn't too crowded, and there's enough room in for water.
Fill the pot up until the chicken is covered with 1-inch of water.
Bring to a boil and then simmer for 10 – 20 minutes, depending on the size of the chicken breasts.
Check for doneness. The chicken will no longer be pink on the inside, and the internal temperature will reach 165 degrees.
Carefully remove the chicken from the water and place it into a bowl. Shred using forks, hand mixer, or stand mixer.
I don't season the chicken while it's in the water; I do this after cooking. However, you can add onions, garlic, cumin, salt, and pepper to the water as the chicken cooks.
How to shred chicken
There are two different ways to shred chicken breasts.
Use two forks to shred the chicken. This method results in chunkier pieces of chicken. It also requires the least amount of clean-up.
Use a hand or stand mixer to shred chicken. This method is faster than using forks, and you'll get smaller pieces of chicken. However, this is the messier of the two, so if you don't want to clean up your hand or stand the mixer, then using two forks will work fine.
Storage tips
To make shredded chicken "recipe ready," portion it out into 1 ½ – 2-cup portions.
In my experience, that is the amount most recipes use.
That equals about 1 pound or a little more of chicken breast. However, don't worry about exact measurements because most recipes will do just fine with about 2 cups of shredded chicken breasts.
To prepare meals for the week, store the shredded chicken in glass containers for up to 4 days until you're ready to use in the recipe.
Or use the chicken right away in whatever recipe you're making for the week and then continue with the storage tips for that recipe.
How to freeze leftover shredded chicken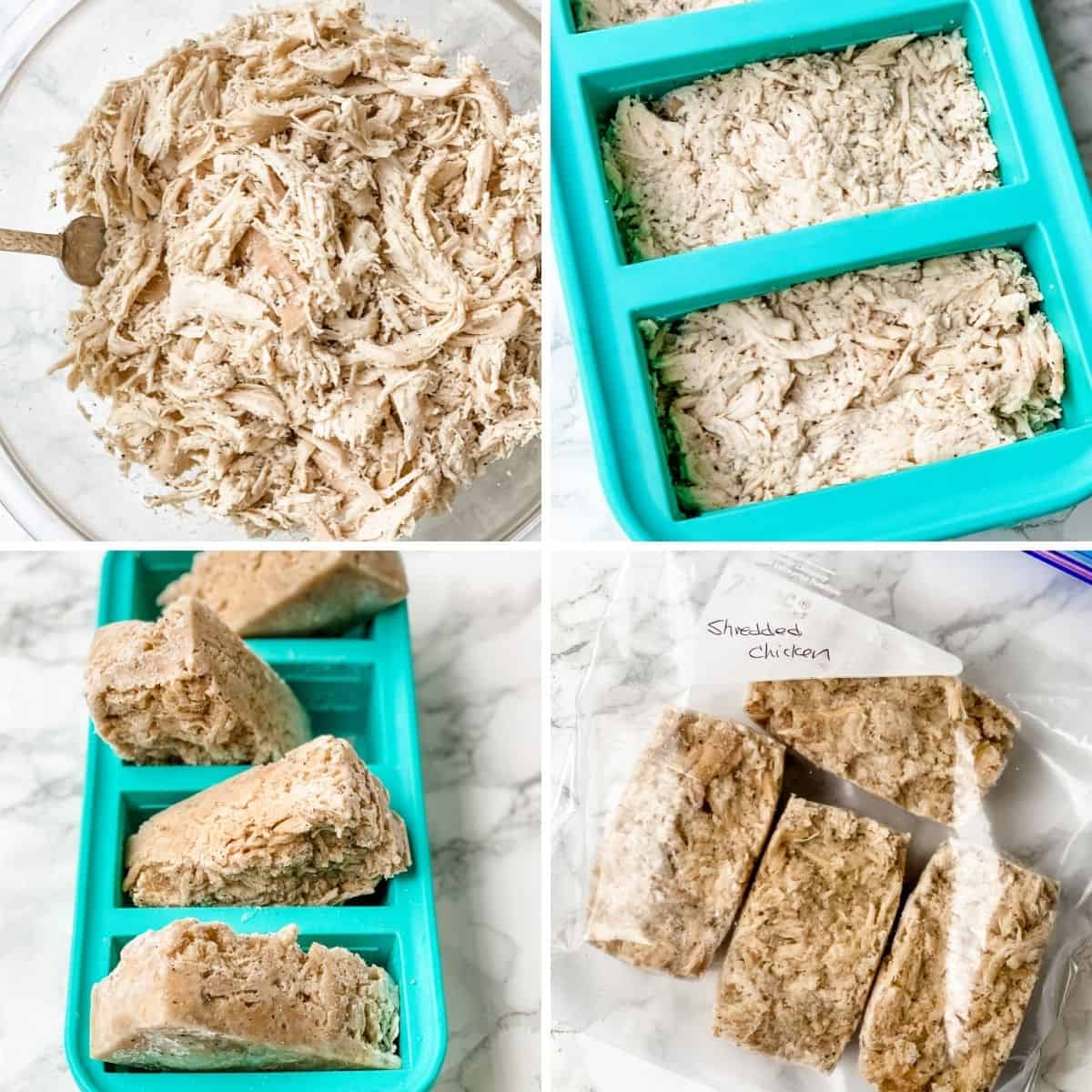 To freeze shredded chicken, place the portions into a labeled airtight containers or freezer bags and freeze for up to 3 months.
You can also freeze into portions using Super Cubes 2-cup silicone trays. Place the chicken into the trays and add a little broth. Freeze and then remove the cubes from the trays, store them in a labeled freezer bag, and freeze them for up to 3 months.
To thaw, place the frozen chicken in the refrigerator overnight. If it's still frozen, then follow the microwave instructions.
Remove the chicken from the freezer bag, place it into a microwave-safe bowl, and microwave on high for 1-2 minutes or until heated. Continue with the recipe.
Supplies
Recipes to Make With Shredded Chicken
Here are some of our favorite recipes where you can use make-ahead cooked shredded chicken.
Shredded chicken can also work great in recipes that call for chopped or cubed chicken.
You can use shredded chicken in any recipe that calls for it.
Casseroles & Comfort Food
Chicken soup recipes
Wraps and Sandwiches
Of course, you can also use shredded chicken for any quick salad, wrap, sandwich or try on these pita pizzas.
What are your favorite shredded chicken recipes? I would love to add more to this list! Having chicken cooked, shredded, and portioned out ahead of time helps the recipe come together in a much shorter time.