All the delicious Mexican-inspired flavors found in a classic chicken enchilada created into a comforting lightened-up healthy soup recipe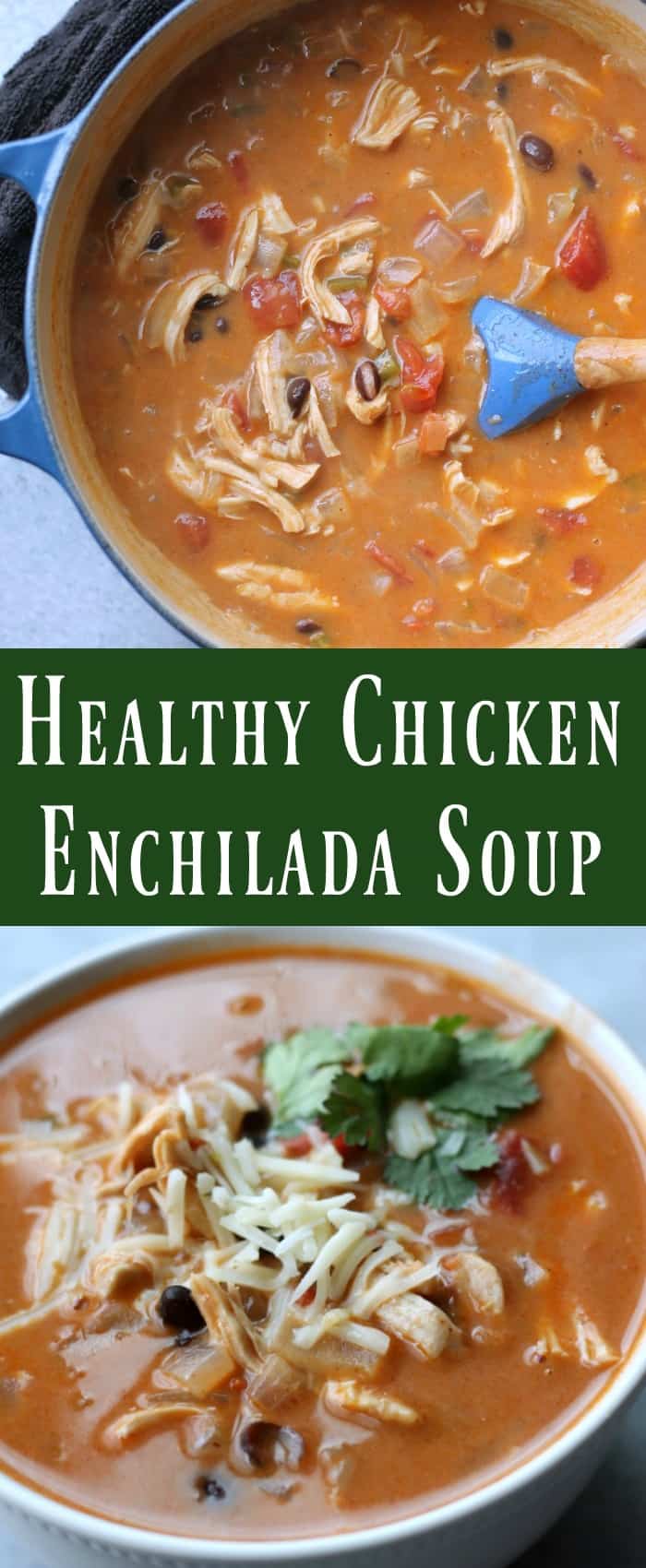 Now that the holidays are over us Buffalonians are just trying to survive the cold dreary days until we see sun again. Part of that survival strategy includes soup – and lots of it.
This chicken enchilada soup hits the spot. Honestly, it's one of the most flavorful chicken soups I've ever made. Also, it soooo easy to prepare, versatile, a one-pot meal, good for you, and can be made ahead of time and frozen. Seriously, this chicken enchilada soup checks all the boxes.
Let's get right to the recipe because I think you'll want to make this as soon as possible.
I started with sautéing a medium onion, 4 medium garlic cloves, and jalapeno pepper (seeds removed). Sorry my pictures are not the best but I had to use my phone to take them.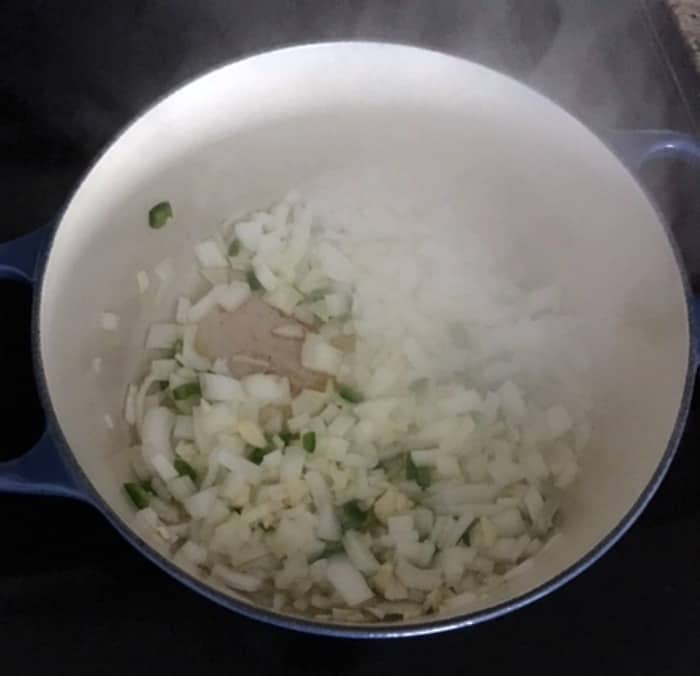 Then I added 3 cups of chicken stock. Once it started to boil I place the chicken breasts into the pot and let them cook in the stock. This is kinda of a lazy chicken hack because I didn't want to be bothered with baking it or cooking the chicken separately. However, you can baked the chicken, use shredded chicken prepared ahead of time (see this basic recipe), or even a shredded rotisserie chicken. I would say 3 cups shredded chicken would do. Like I said this recipe is versatile. If you do have chicken prepared just add it at the end. Easy. But let's keep going as if this is the way you're going to cook the chicken.
This takes about 10 minutes to cook and you need to flip it once.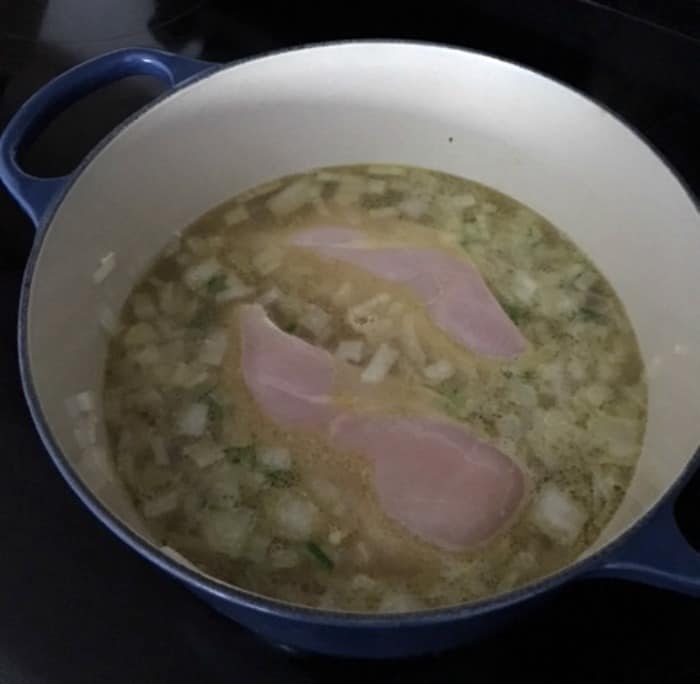 After it cooks remove the chicken from the pot and let it cool.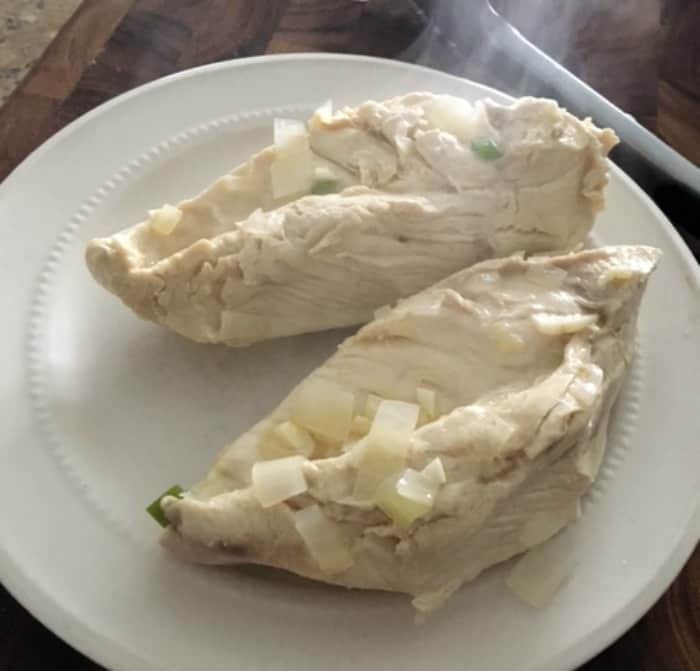 While the chicken cools move onto the other ingredients. Pour the diced tomatoes and enchilada sauce into the pot. Continue to simmer for about 20 minutes.
I used chili-style diced tomatoes and canned enchilada sauce. Of course you can use homemade sauce. I used a 10-ounce can so that would be a little over 1 cup. I love using chili-style diced tomatoes in Mexican-inspired recipes, they add great flavor.
Between the peppers, onions, diced tomatoes, and enchilada sauce I didn't even need to add any spices. You can also add a small can of diced chilis or other peppers to spice it up. This recipe is a nice base to start with.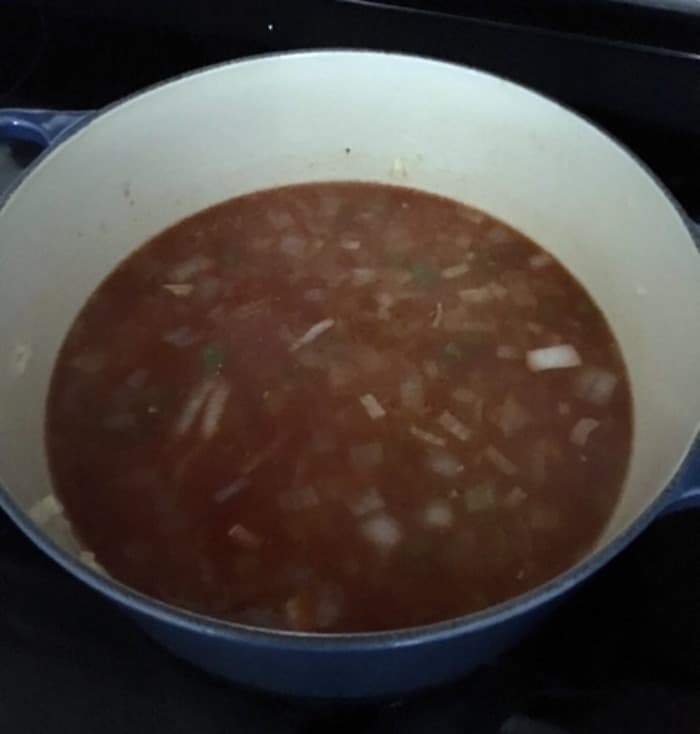 Shred the chicken.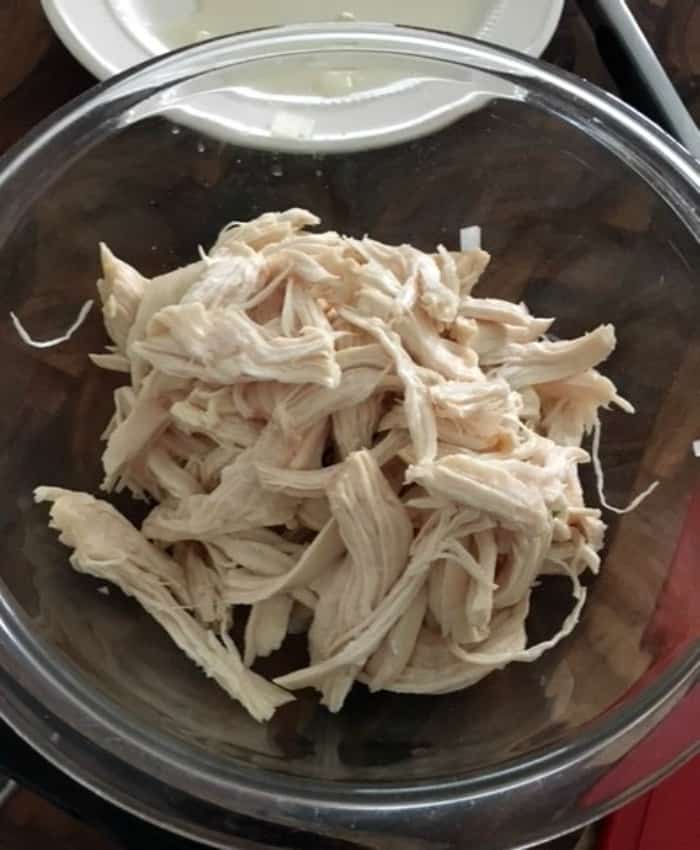 Stir in the chicken, black beans, and half and half. Simmer for about 10 minutes or until completely heated through. You can use milk or unsweetened coconut milk for the half and half. This recipe is on the lower calorie side so I thought the half and half provided a nice creaminess.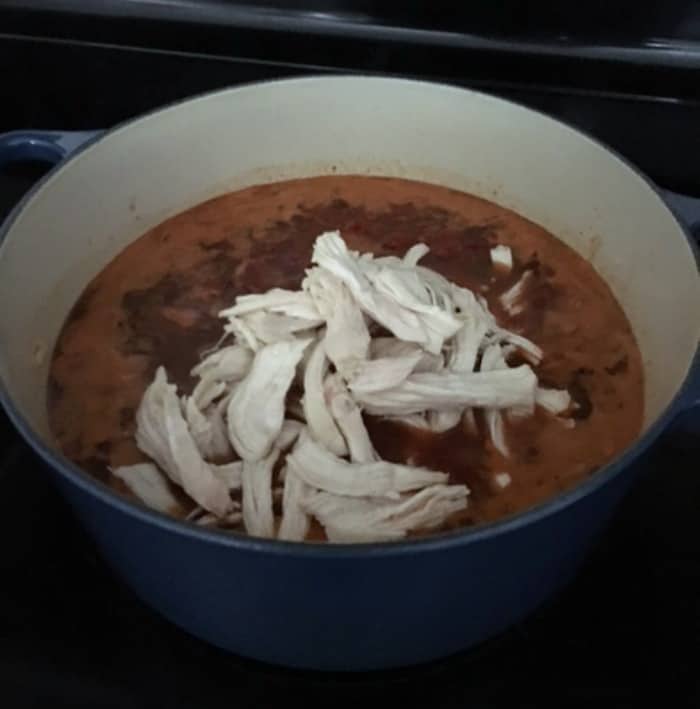 Squeeze in some lime juice and add a little cilantro if you wish. Mmmmm.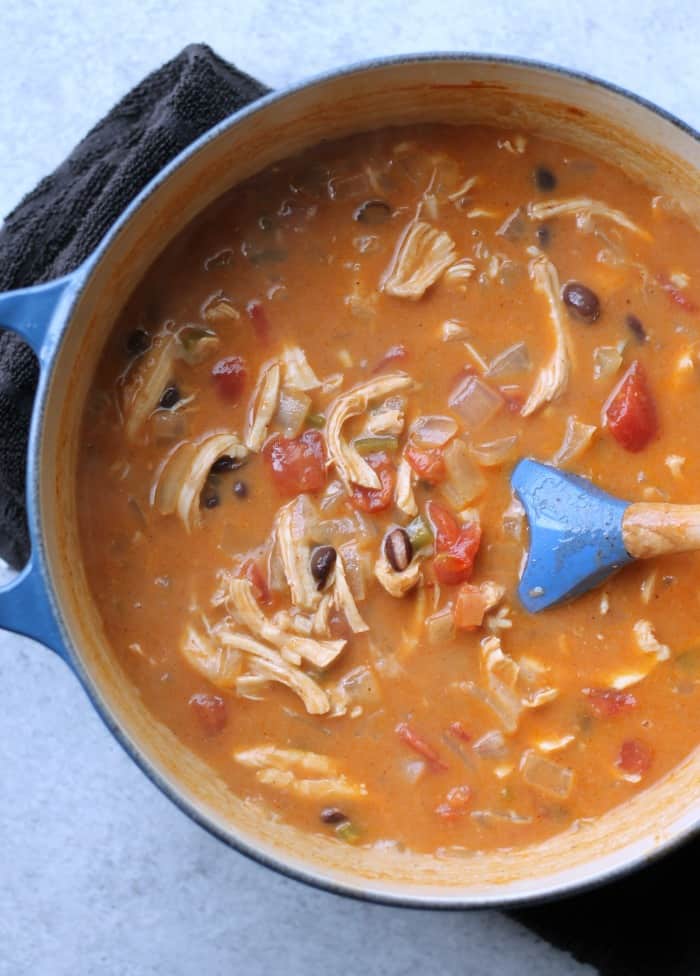 Give it a taste for salt and pepper and then serve with a couple tablespoons of shredded pepper jack cheese and some more cilantro. If the recipe allows I always salt at the end. ALWAYS. Salt brings flavors together and you never know how salty a canned product is going to make a recipe.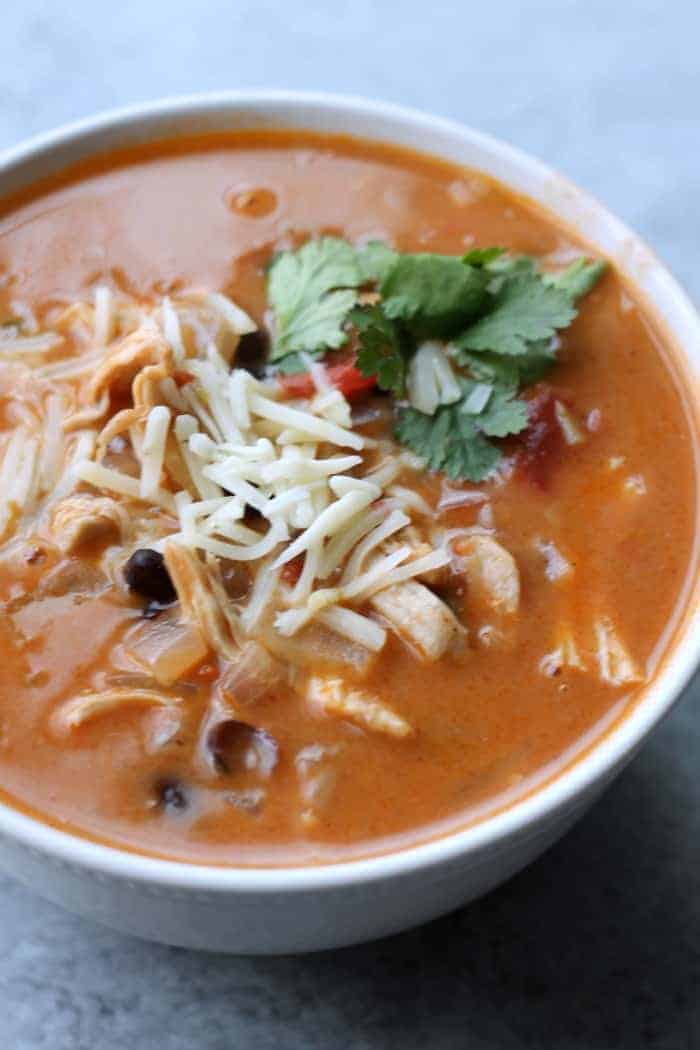 Chicken enchilada soup is one of my favorite soups to date. I absolutely love the flavors. Rich, creamy, and with a little spicy kick. You can serve this with rice or quinoa but I think it's delicious (and super filling) on it's own.
If you make this soup please share it on Instagram using hashtag #organizeyourselfskinny.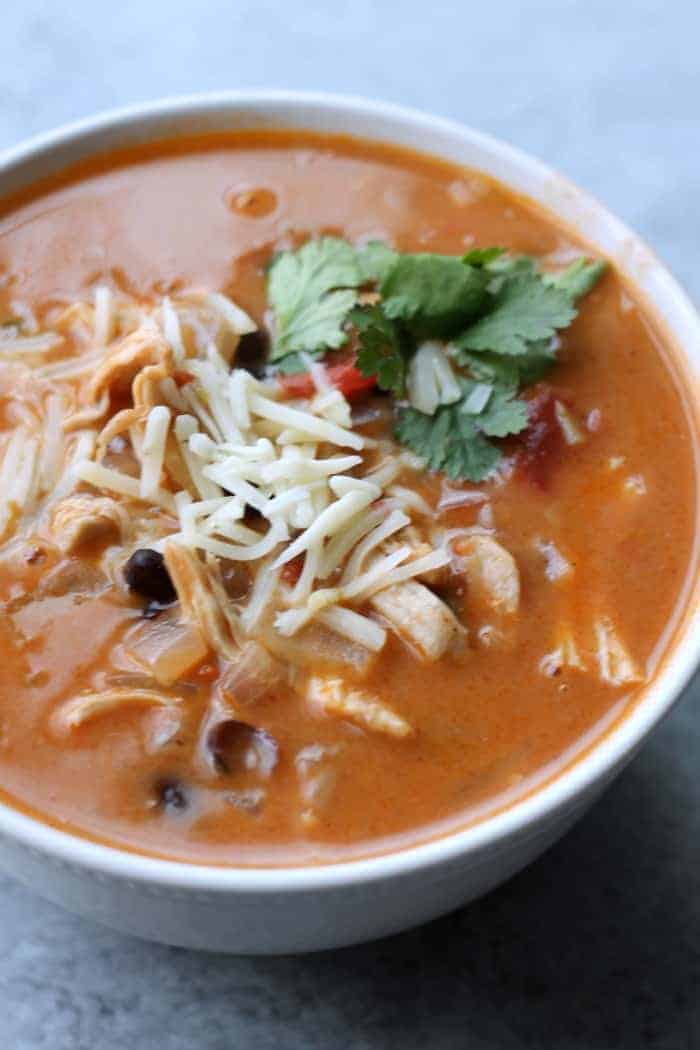 Ingredients
1

tablespoon

olive oil

1

medium onion

chopped

4

garlic cloves

peeled and finely chopped

1

jalapeno pepper

seeded and chopped

3

cups

chicken stock

2

4-ounce boneless skinless chicken breasts

1

14.5 ounce can chili-style diced tomatoes

1

10-ounce can red enchilada sauce

1

15-ounce can black beans, rinsed and drained

1

cup

half and half

salt and pepper to taste

lime *optional

cilantro *optional

shredded pepper jack cheese *optional
Instructions
In a 5-qt pot heat the olive oil over medium high heat. Sauté the onion, garlic, and jalapeno pepper until the onion is fragrant and translucent.

Pour in the chicken stock and bring to a boil.

Reduce to a simmer and add in the chicken breast. Cook the chicken breasts for about 10 minutes (or until no longer pink in the middle) flipping 1 time. Set the chicken aside to cool.

Add to the soup the diced tomatoes and enchilada sauce. Continue to simmer for about 20 minutes.

Shred the chicken and add it to the soup along with the half and half and black beans. Cook for another 10 minutes or until completely heated through. If you want, squeeze in the juice from 1/2 a lime and add in a little chopped cilantro. Taste for salt and pepper.

Serve hot with a couple tablespoons of shredded pepper jack cheese and some extra cilantro.
Notes
Sugar: 6 grams
Make-ahead instructions
This recipe can be made completely ahead of time and stored in the refrigerator up to 5 days and frozen up to 3 months.
Nutrition
Serving:
1
g
|
Calories:
287
kcal
|
Carbohydrates:
27
g
|
Protein:
24
g
|
Fat:
9
g
|
Saturated Fat:
4
g
|
Fiber:
6
g