This easy enchilada sauce is a great homemade staple to have on hand for all your favorite enchilada or Mexican-inspired recipes. It's easy enough to make the night you plan to use or freeze a couple batches to have ready when an enchilada craving occurs!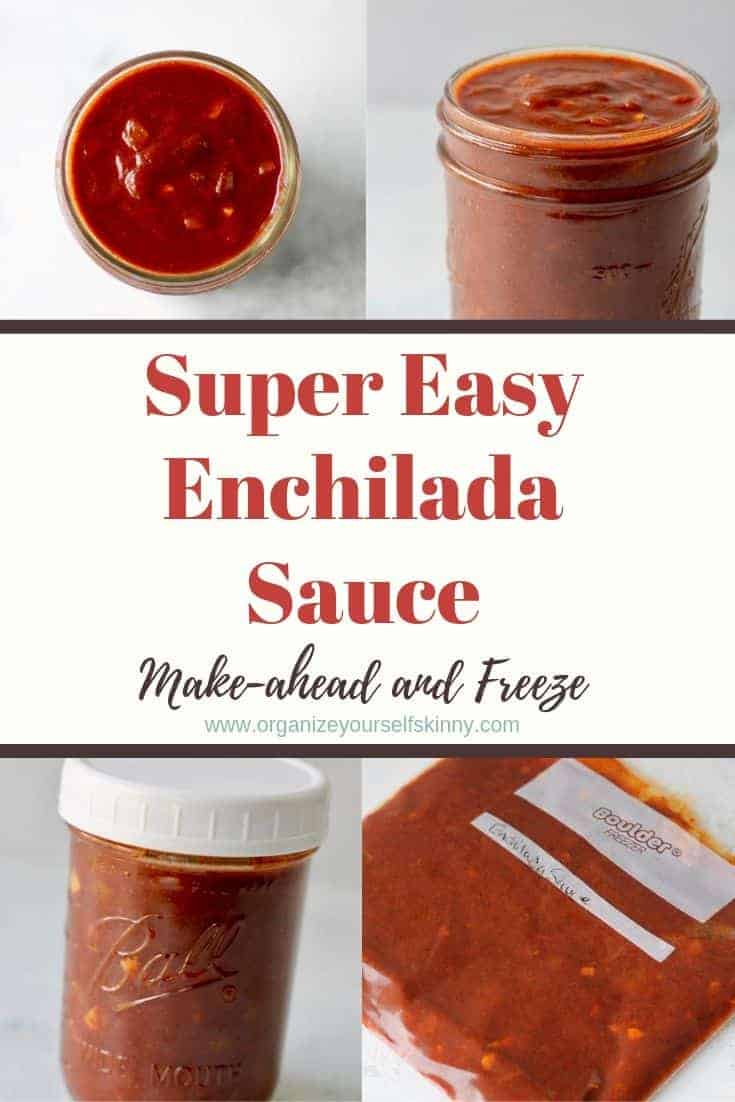 Today I want to share this super easy enchilada sauce that I've been making FOREVER! I discovered it years ago in my America's Test Kitchen Slow Cooker cookbook I own. Over the years, I've tweaked it here and there, but for the most part I've stuck to this basic recipe.
In the past, I'd grab a couple cans of enchilada sauce when chicken or beef enchiladas were on the meal plan. However, one day, I turned the can around and read the label. Yikes! I was shocked to see high fructose corn syrup and a bunch of other ingredients I can't pronounce in the ingredient list.
Honestly, I don't know why I was shocked because the more you try to eat clean the more you realize most canned and processed foods have junk in them. Anyway, I think the only brand I could find at my grocery store that wasn't filled with junk was Hatch enchilada sauce.
So, that led me to homemade enchilada sauce. Of course, like most things I finally get around to making, I was surprise that homemade enchilada sauce was super easy to make and actually tasted better than any canned sauce I could buy – even the "good" stuff. I think I was surprise because the ingredients are so simple – tomato sauce, onion, garlic, chili powder, cumin, and a couple other things. Actually, I bet you have everything in your kitchen right now.
Of course, I don't have the time to whip out the pan every time I want to make a pan of enchiladas. So, I've learned to make a couple batches of this easy enchilada sauce and freeze into recipe ready portions. This way, when I want enchilada sauce all I need to do is thaw and warm it up. It's basically the same concept as spaghetti sauce.
Before I get to the recipe I want to go over some supplies you'll need if you want to make-ahead and freeze this easy enchilada sauce recipe
Supplies Needed
Large deep skillet – this is to prepare the sauce in. This is Cuisinart skillet I have.
Dutch oven – this comes in handy if you want to make more than 1 batch of easy enchilada sauce. I love my Le Creuset 5 1/2 quart dutch oven – I use it for everything.
16 ounce mason jars – 1 batch of sauce makes about 2 1/2 cups of sauce. You can use these jars to store the sauce in the fridge or freezer. If you're going to use mason jars then make sure to pick up a pack of the plastic mason jar lids. These are washable and reusable. Plus they don't rust like the lids that come with mason jars. You can see all the glass meal prep containers I use in this post.
Freezer bags – These are great to store sauce flat when you don't have a lot room in your freezer. Make sure to grab freezer bags, and not regular bags, so the sauce doesn't get freezer burn.
Okay, let's get to the recipe.
Easy Enchilada Sauce Recipe
Now don't blink, because this is a quick easy recipe.
Start by sautéing chopped onion and garlic in some olive oil.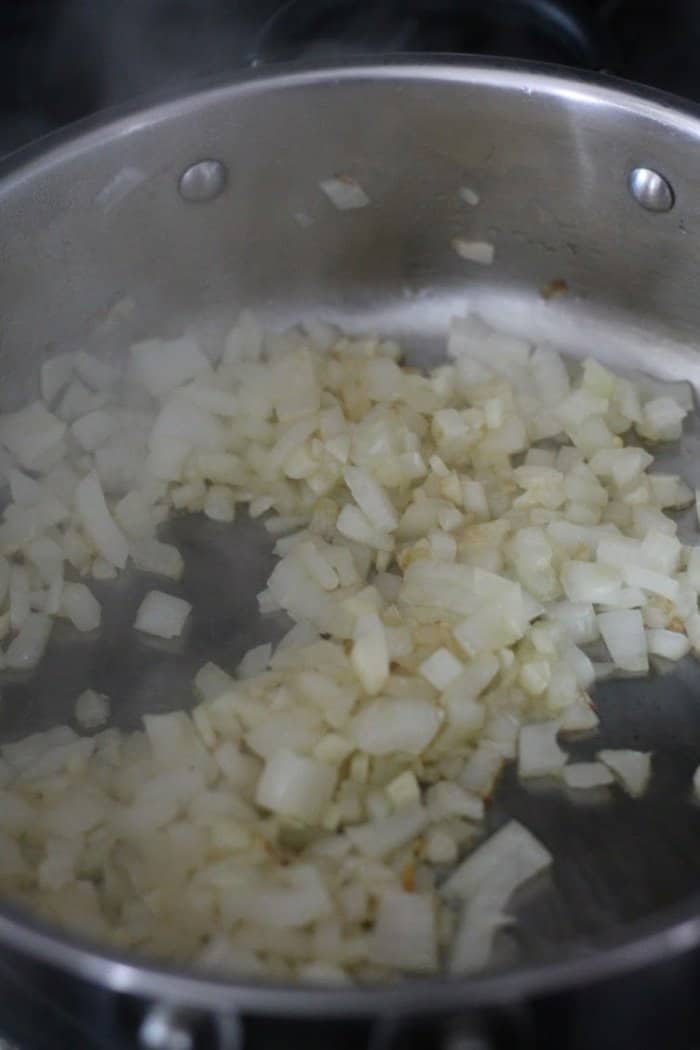 Then, once the onions and garlic are fragrant and translucent, you're going to add in all the spices. Let this cook for about 2 minutes or until you can really smell the spices. This is a little trick I've learned to help the spices bloom. Hey, whatever works!
You might notice that this sauce includes 2 teaspoons of sugar. This is to balance all the flavors. You can keep it out if you don't want any added sugar to the sauce.
After you bloom the spices stir in the tomato sauce and chicken stock. At this point, there are some serious good smells going on in your kitchen. A quick note about the tomato sauce. Make sure to read the label because some tomato sauces sneak in corn syrup and other sugars. Try sticking with an organic tomato sauce.
Now, just let the sauce cook for about 15-20 minutes or until it a rich dark red color. Last, give it a squirt of lime. Yum yum yum! This little bit of citrus brightens the entire recipe up. You could also add in some cilantro to give it another fresh layer.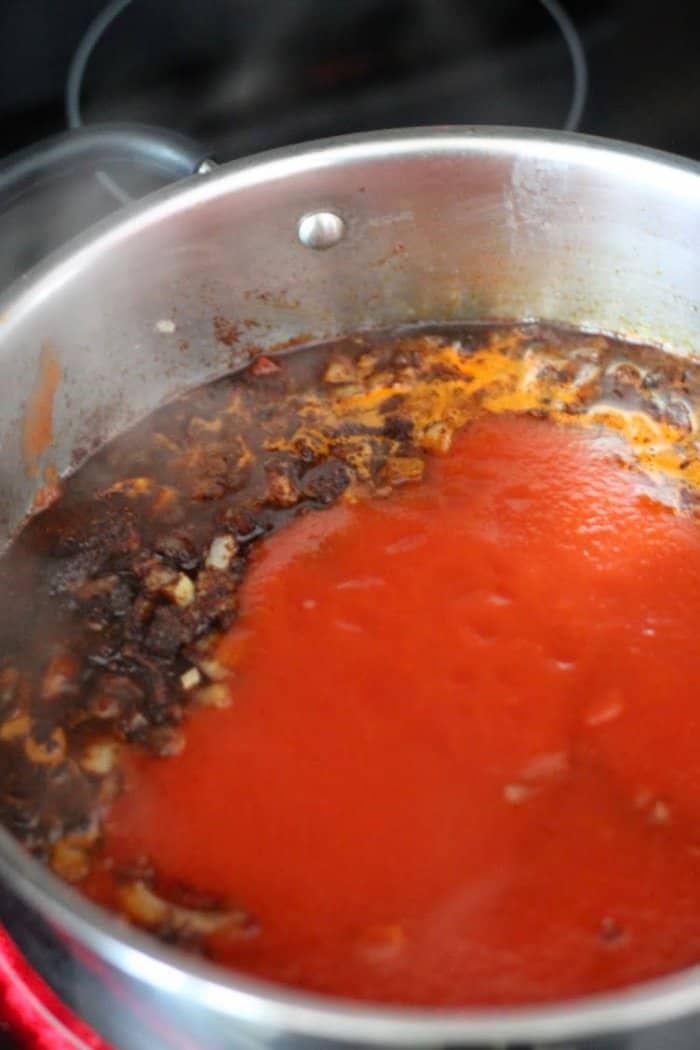 This is what the color should look like.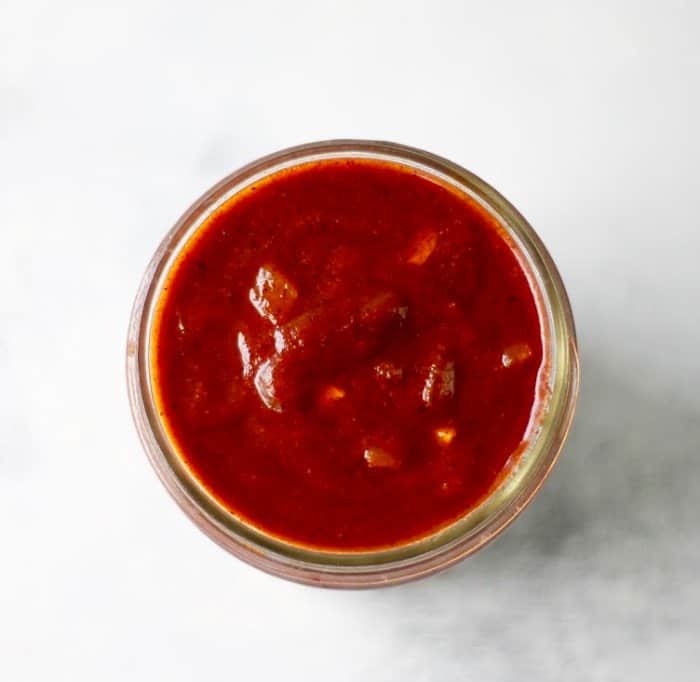 Thick and delicious! Now this is a basic recipe. You can switch things up by using a little bit of chipotle chili powder or a couple chipotles. Or maybe sauté up some poblanos or jalapeños in with the onion and garlic. I've done it all and it works out great.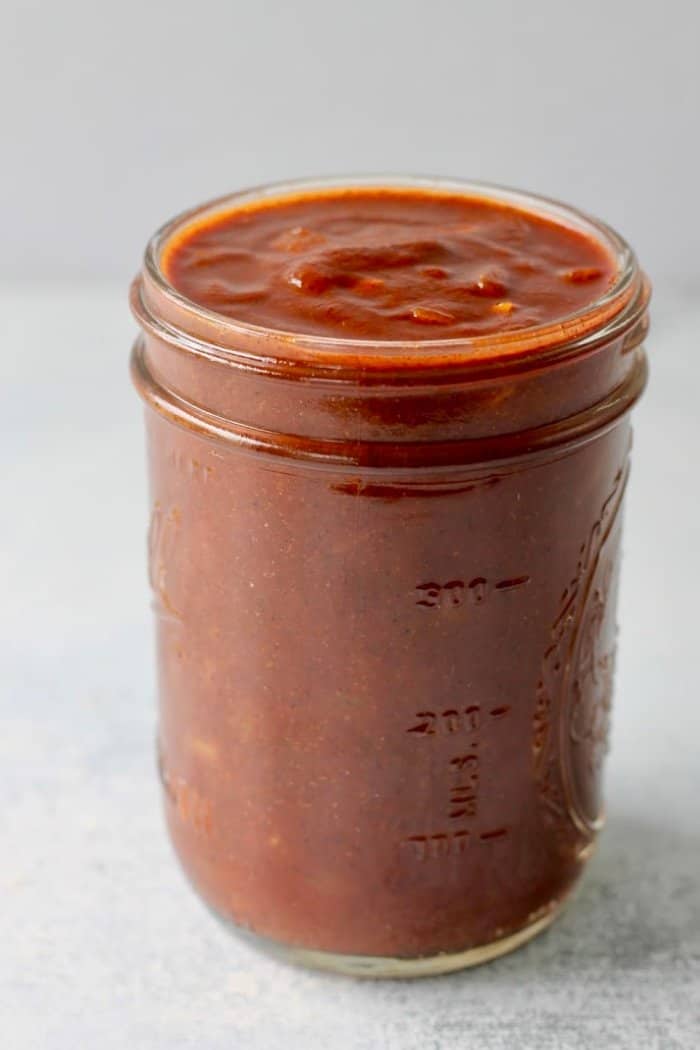 Once the enchilada sauce is done you can use it in your favorite enchilada recipe or store it. You can store the easy enchilada sauce using 16 ounce mason jars. These mason jars can go in the refrigerator or freezer. If you put them in the freezer make sure to leave about 1 inch from the top to prevent the glass from expanding and breaking.
Or you can freeze using freezer bags (quart or gallon).
After you put the cooled sauce into a bag lay it flat in the freezer. After it's frozen you can place wherever you need to in the freezer. This is a great way to save space if you don't have a lot of freezer space.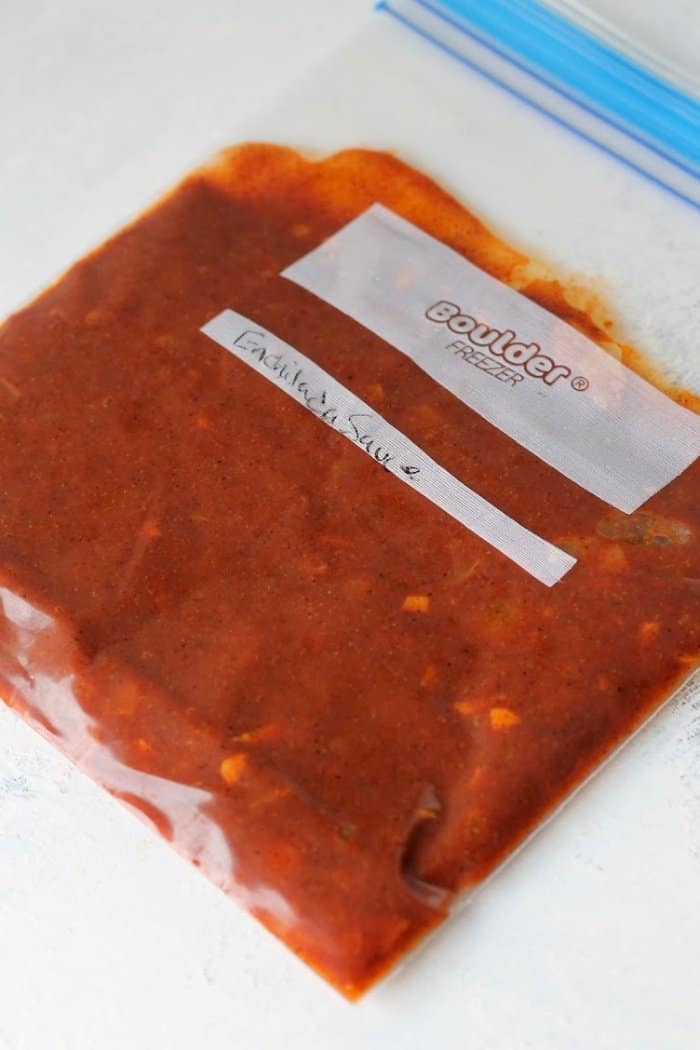 You can use this easy enchilada sauce recipe in any enchilada recipe or your favorite Mexican-inspired recipe.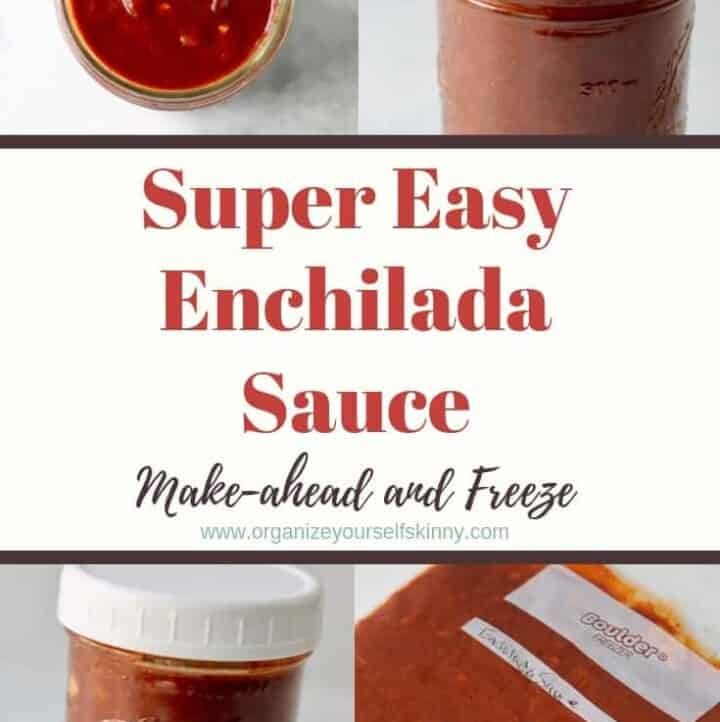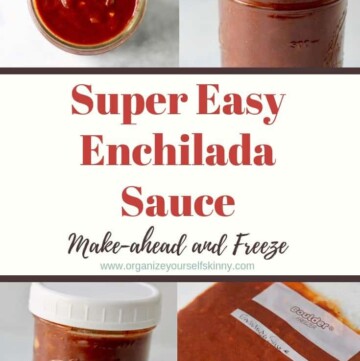 Easy Enchilada Sauce
Easy enchilada sauce to make ahead of time to use with your favorite beef, chicken, or vegetable enchiladas.
Print
Pin
Rate
Ingredients
1

tablespoon

olive oil

1

onion

chopped

2

garlic cloves

minced

3

tablespoons

chili powder

2

teaspoons

cumin powder

2

teaspoons

sugar

1

15 ounce can of tomato sauce

1/2

cup

chicken stock

1/2

lime
Instructions
In a large frying pan or skillet, heat the olive oil over medium heat and cook the onions until they are just about translucent, about 3 minutes.

Add the garlic and cook until fragrant, about 2 minutes.

Stir in the chili powder, cumin powder, and sugar. Cook until fragrant, about 2 minutes.

Stir in the tomato sauce and chicken stock. Bring to a boil and then reduce to a simmer. Simmer for about 15 – 20 minutes or until the sauce is a rich dark red.

Squeeze in the juice of half a lime.

Use in your favorite enchilada recipe.
Notes
Meal Prep Tips
This enchilada sauce can be made ahead of time and stored in the refrigerator for up to 5 days or frozen up to 3 months. This recipe makes about 2 1/2 cups so freeze it in portions that'd make it recipe friendly.
Nutrition
Serving:
1
g
|
Calories:
492
kcal
|
Carbohydrates:
76
g
|
Protein:
16
g
|
Fat:
18
g
|
Saturated Fat:
2
g
|
Fiber:
19
g
|
Sugar:
25
g