Glass meal prep containers are my go-to container for weekly meal prep. Here is a list of my favorites.
My meal prep journey started way back in 2010. Honestly, back then, I didn't even know "meal prep" was an actual thing. All I knew was that if I wanted to eat healthy then I needed food prepared ahead of time, so that's what I did.
And it worked, meal prep was a huge game-changer for me.
Not only did I lose over 30lbs preparing foods ahead of time but I significantly reduced my stress too. Oh, meal prep saves me money too.
Anyway, I could go on and on about all the ways I love meal prep but, in this post, I want to talk specifically about meal prep containers. I actually wrote a post a few years ago listing out some of my favorite meal prep containers, you can read that here. However, a lot has changed since I first shared that post, so today I want to share an updated post focusing on glass meal prep containers.
You might be wondering, why glass? Can't I just use plastic containers? Do I have to go out and purchase special containers just to meal prep?
My short answer is…
You can use any container you wish to meal prep. When I first started to weekly meal prep I used whatever I had in the kitchen. Or should I say whatever container I could find the matching lid for – hey, just keeping it real.
At that time, there weren't all the glass meal prep container options you see sprinkled all over Instagram and Pinterest today. Nope, back then we OG meal preppers used basic plastic containers and bags – and we survived.
However, I did evolve to glass later on when I discovered mason jar salads. Right away, I noticed ingredients stayed fresh longer and tasted better stored in a glass mason jar container. From there, I started to purchase other glass containers to use for meal prep and over the years turned to glass over plastic for storing most of my recipes.
So, while I think plastic containers will still get the job done, I do think glass meal prep containers are the better option.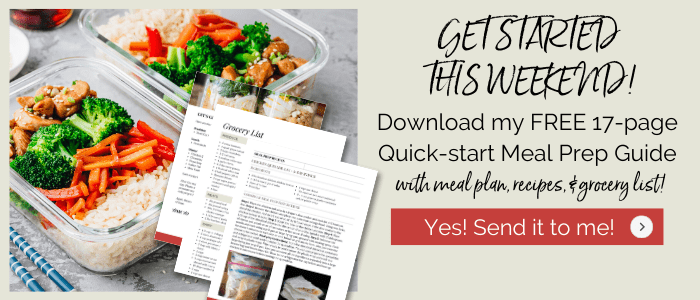 Reasons I Prefer Glass Meal Prep Containers
Food stays fresh. Like I said, this is what originally turned me on to glass containers. And it's not just mason jar salads. Everything I store in glass containers stays fresh longer. A perfect example is strawberries. Whenever I'd clean strawberries and store them in a plastic container they'd are shriveled in a couple days. I've had strawberries stay fresh for over a week in a glass container. Or even bagged lettuce. I've saved many bags of lettuce by shoving the leftovers into a mason jar. But it's not just fruits and vegetables, every recipe or ingredient I've stored in a glass meal prep container has stayed fresh for at least a week or more.
No chemicals. One of the things I hate about plastic containers is having to worry about chemicals seeping into my food. Glass takes that worry away.
Food can be microwaved in glass. Even if I use a plastic container I NEVER microwave food using a plastic container. Who knows what's happening to my food when it's microwaved in plastic. I don't get really crazy about many things but, for some reason, microwaving in plastic freaks me out. Food can be microwaved in glass containers without any worries of chemicals leaking into the food. Also, I've noticed that glass heats food evenly and in less time. Bonus!
Better for the environment. I think we can all agree that plastic anything is not doing our environment good. Glass meal prep containers, unless they break, are reusable forever. I've had some of my glass containers for 6+ years. 
Easy to clean. This might not be a deal-breaker, but I think it's a huge bonus when I can easily clean containers. Plastic containers always turn color, soak in smells, or have a residue leftover. Glass meal prep containers come out squeaky clean.
Those are the reasons I prefer glass containers over plastic.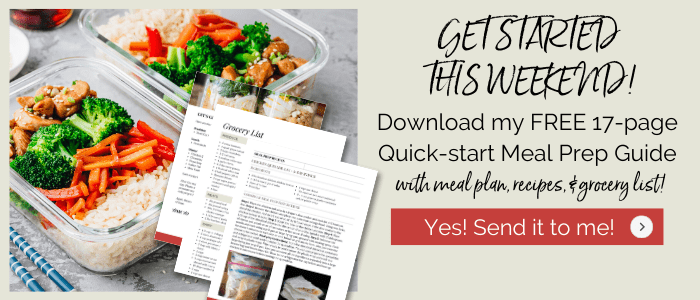 Alright, let's talk about some of my favorite glass meal prep containers. Meal prep has become super trendy over the last few years so, of course, this means many companies have sprouted up to offer us all kinds of glass container options. One quick search for "glass meal prep containers" on Amazon and you'll see what I mean.
Good thing, I've tried many glass meal prep containers so I'm here to break it down for you.
My Favorite Glass Meal Prep Containers
I talked about mason jars in my original meal prep containers post but I had to give it another mention because these are the glass containers I use the most.
The mason jar sizes I use the most are 32 and 16 ounces (wide and regular mouth). I prefer the wide mouth but have (and use) both.
I love mason jars because they are cheap, easy to transport, and don't take up a lot of space in the refrigerator.
Some of the meal prep recipes I use 32-ounce mason jars for:
Cut up fruits and vegetables
Leftover bagged lettuce or any leftover lettuce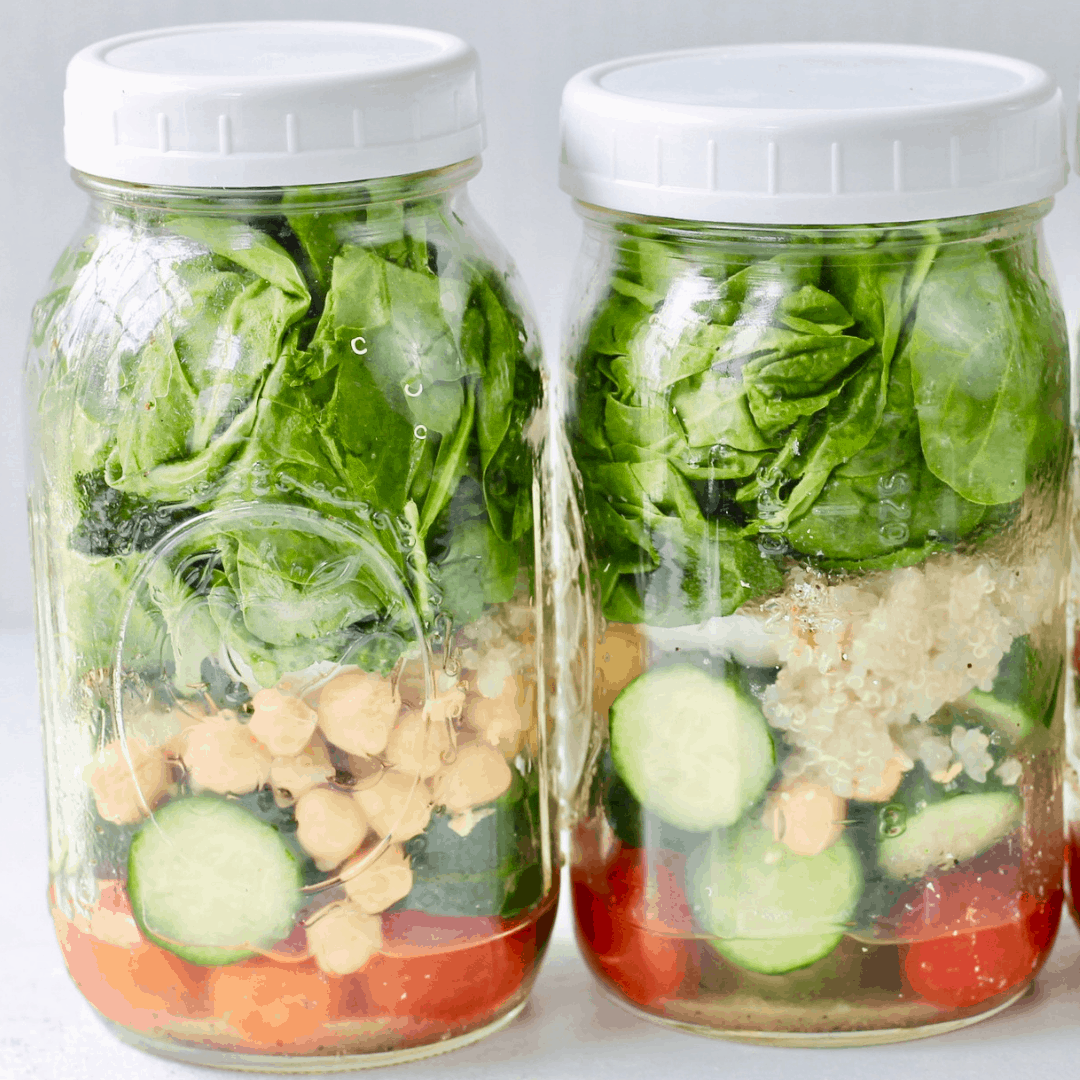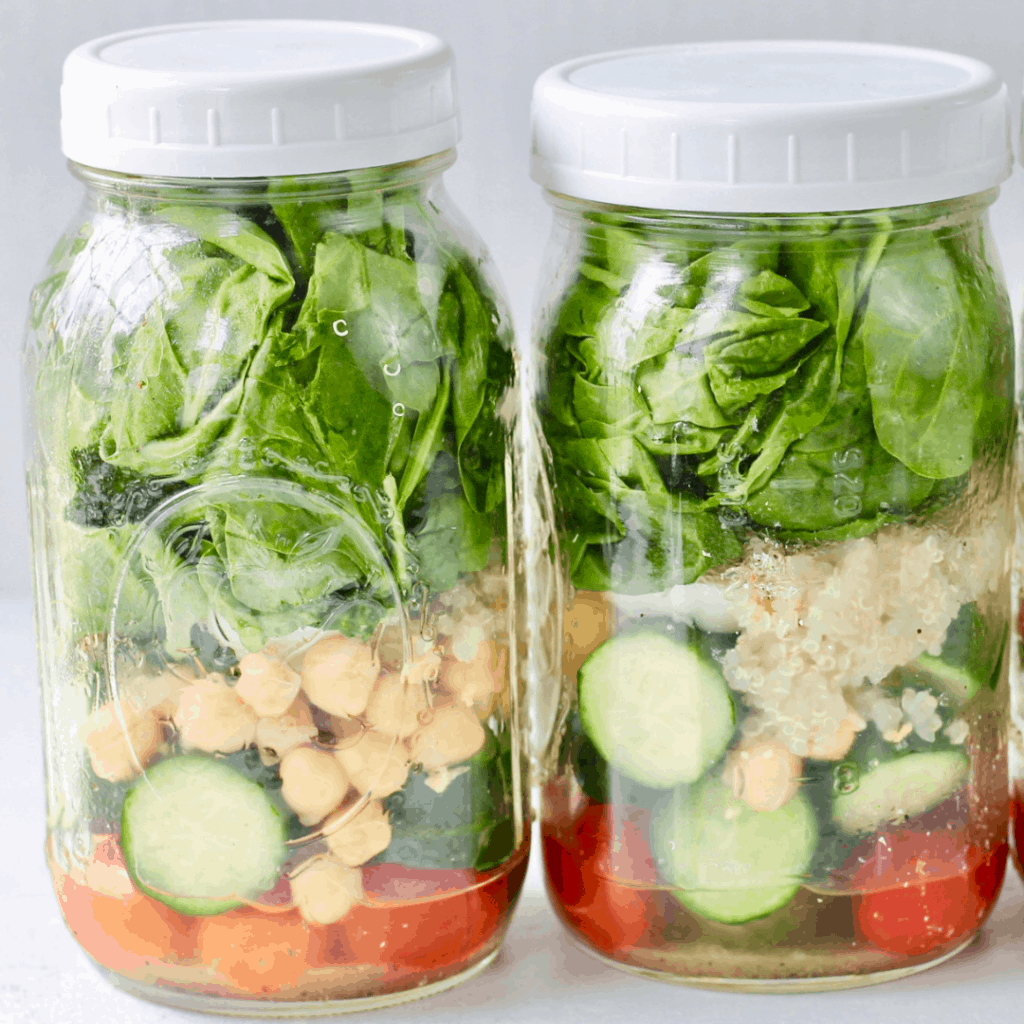 Recipes I use 16-ounce mason jars for
Soups
Parfaits
Make-ahead Omelette jars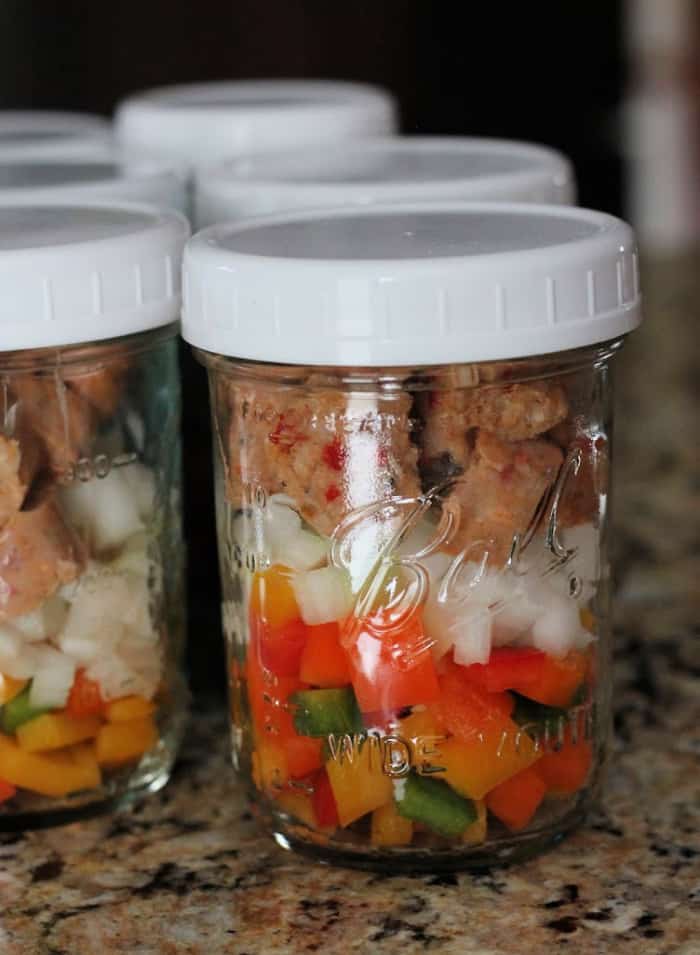 Those are just some of the different ways I use mason jars for meal prep.
A couple recommendations, if you choose to use mason jar containers:
Get plastic lids. The metal lids that come with the jars will eventually rust. The plastic lids last forever, plus they are super easy to clean.
Get a bottle brush to wash the jars. This is especially helpful if you store smoothies in 32 ounce mason jars.
Purchase mason jars and accessories on Amazon
Pyrex Simply Store
Pyrex Simply Store containers are my second favorite kind of glass meal prep containers. A few years ago, I came across a "starter box" of these containers at Target. You can get the same box on Amazon. I thought "hmmm these look good" and I grabbed a box. Who would've thought that meal prep containers that I didn't even plan to buy would become some of my most used.
The Pyrex Simply Store starter pack is a 10-piece set that comes with these containers:
1 6-cup rectangle container
1 3-cup rectangle container
1 4-cup round container
2 2-cup round containers.
All the containers have a tight-fitting lid. The plastic lid is BPA free and can go in the top rack of the dishwasher. Keep in mind, these lids don't lock so if they get bounced around they will leak. If you want a locking lid then see my recommendation below.
I use these containers for EVERYTHING.
I prepare these greek shrimp meal prep bowls using Pyrex Simply Store containers.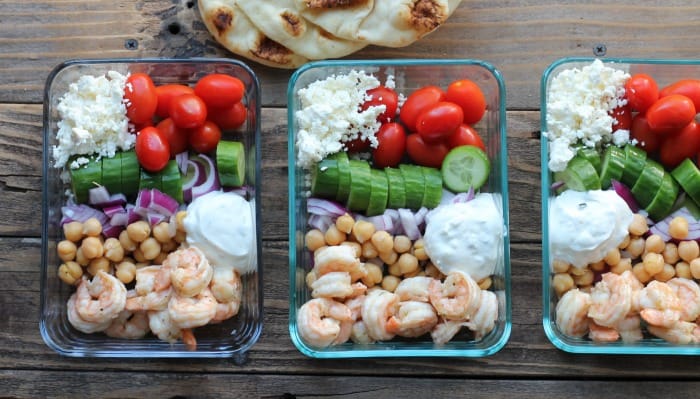 These chicken burrito bowls.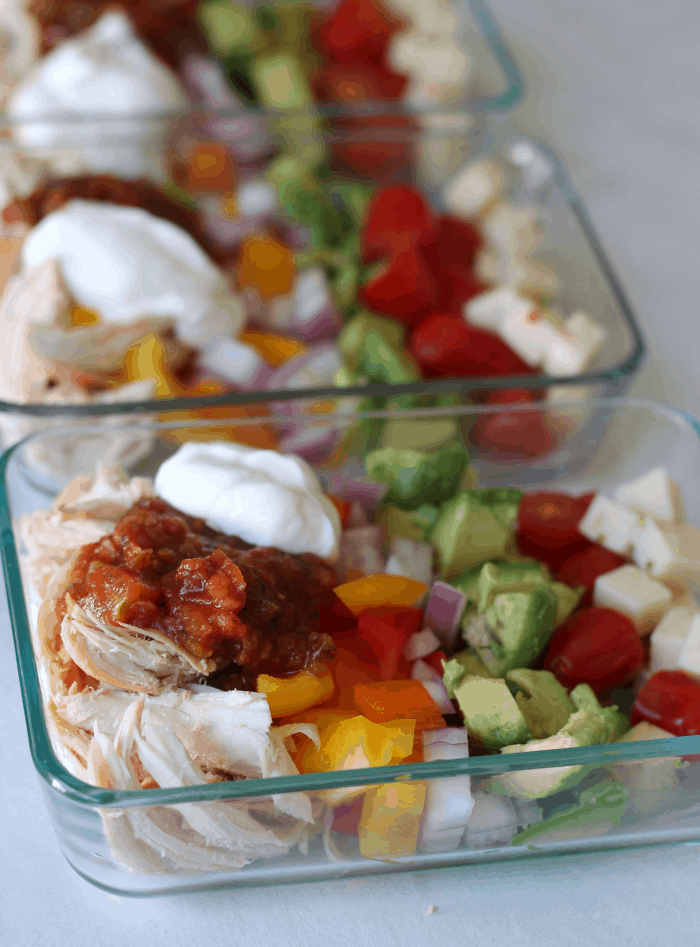 I also use Pyrex Simply Store containers for salad ingredients including meats like grilled chicken and bacon.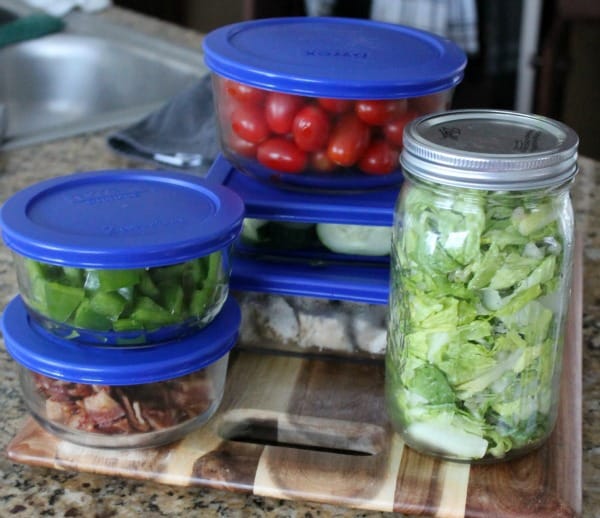 I've stored taco meat, and every other cooked meat, using these containers.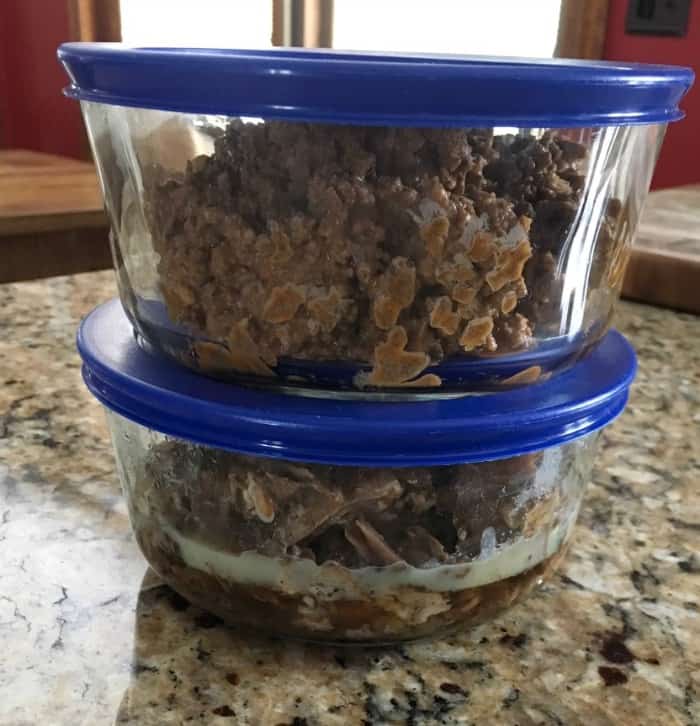 Like I said, I've used these containers for just about everything.
Also, if you decide you want more of a specific size you can purchase all of these Pyrex Simply Store containers individually on Amazon or a retail store like Target.
Here are links to purchase the "starter kit" and individual sizes on Amazon:
Pyrex Simply Store Starter Kit
Also, if you need an extra lid those can also be purchased from Amazon.
1-compartment Snap-lid Glass Containers
A couple years ago I purchased 1-compartment snap-lid glass containers to prepare Mike's salads in. Because of the nature of his job he needs a container he can eat from and one that won't leak.
I started with these 30-ounce containers. These containers fit perfectly into Mike's Stanley lunch box. They keep his salads super fresh all week and clean up great. Both lid and container can go in the dishwasher. We used these containers for about 2 years.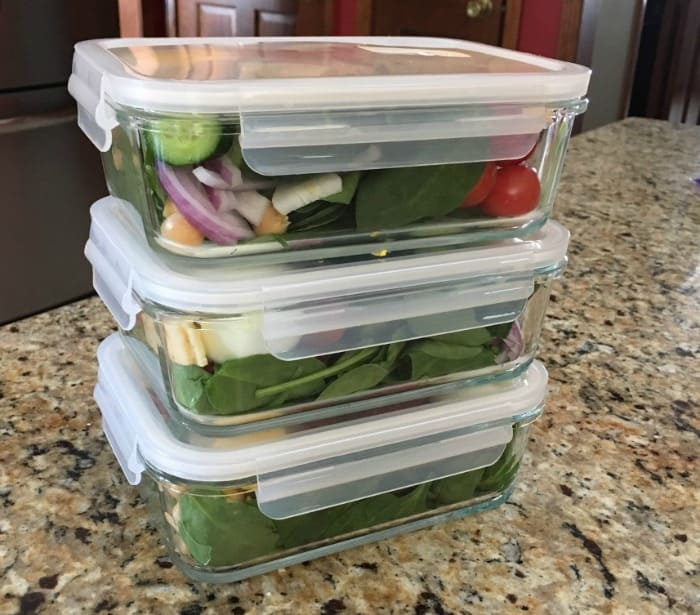 Then I bought these larger 36-ounce containers – I felt he need a little more room to mix everything up. This larger container still fit in his lunch box but on little slant.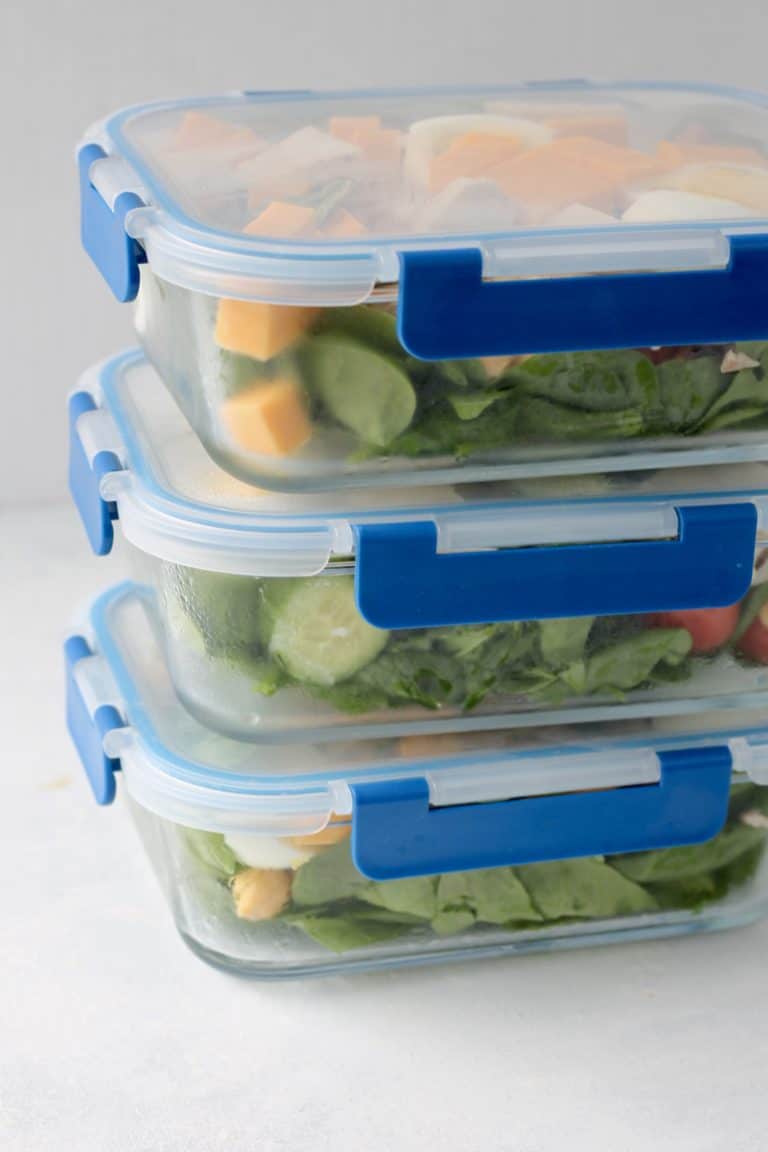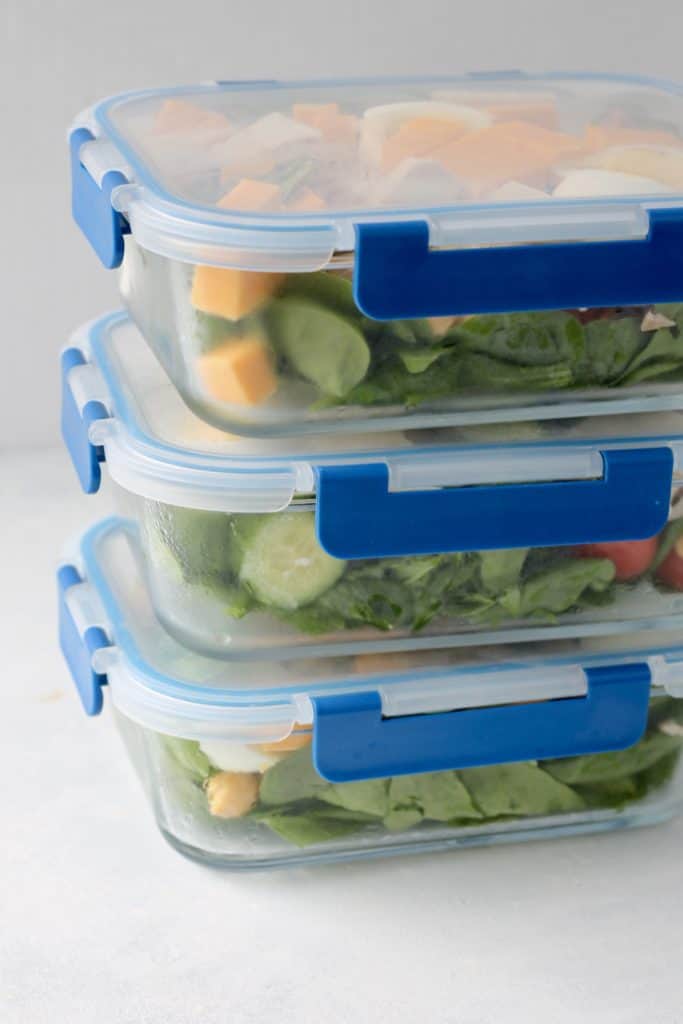 I thought these larger containers were the perfect size for his salads.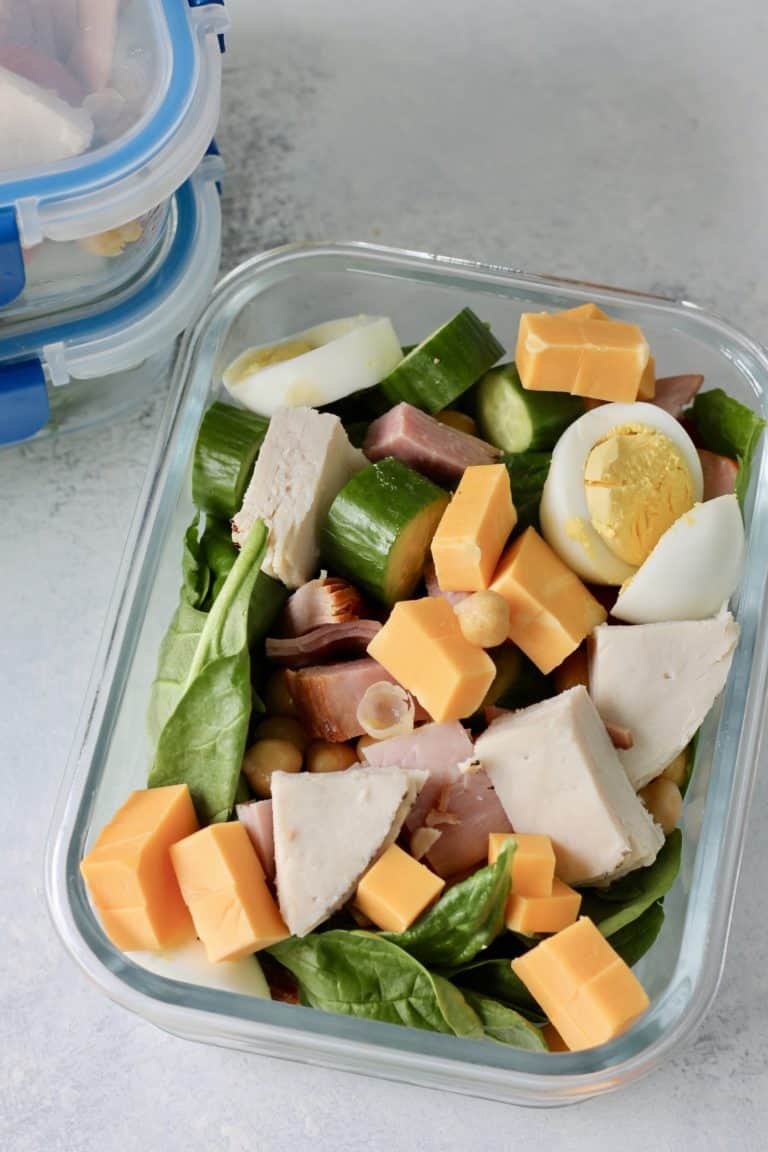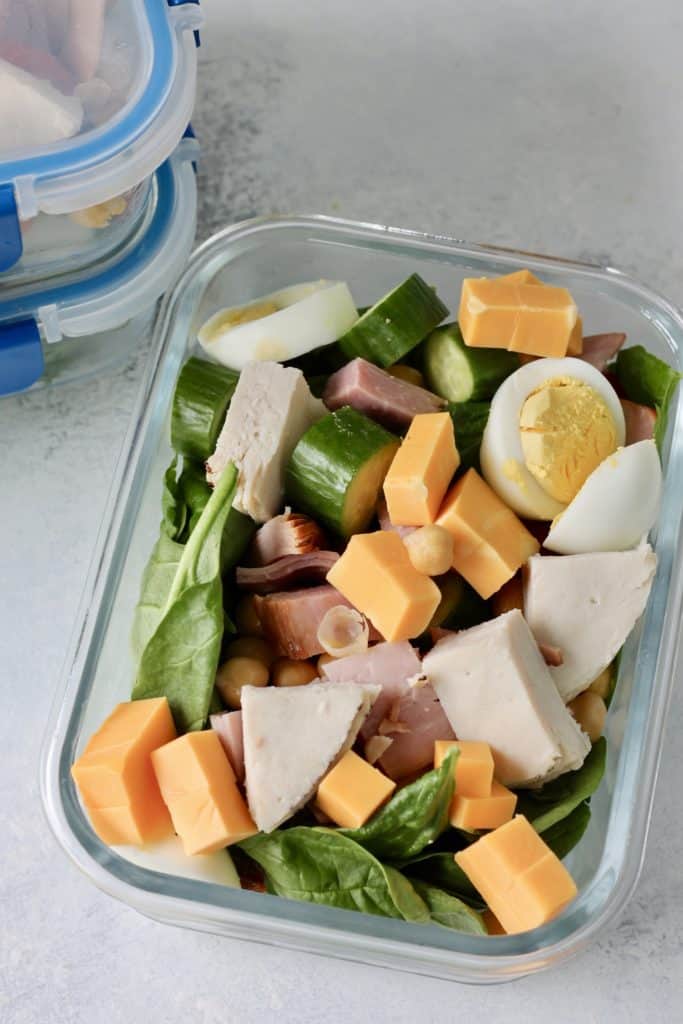 Again, just like with the other snap-lid glass containers everything can go in the dishwasher.
Mostly, I use these containers for Mikes lunches but I've also used them to store leftovers and other meals.
These containers also work great for bringing food on the go – you don't need to worry about anything spilling because of the lock lids. For example, long trips in the car or when you're at the beach or using a cooler. I've brought these containers many places and never had an issue with leakage.
If you want glass containers with an added layer of "no spill" security then I recommend grabbing some 1-compartment snap-lid containers.
You can purchase these on Amazon:
30-ounce snap-lid glass meal prep containers
36-ounce snap-lid glass meal prep containers
2 and 3 compartment snap-lid glass containers
If you like bento-style meals, or simply want to keep food seperate (yet together), then these 2 and/or 3 compartment snap-lid containers by Prep Naturals will work.
When I first started using meal prep containers I thought I'd love the divided ones the best. Well, I do like them, but out of all the ones I've mentioned these are the ones I use the least.
However, they do work great for things like:
portion-controlled meals
parfaits
snack boxes
anything where you want to keep ingredients seperate.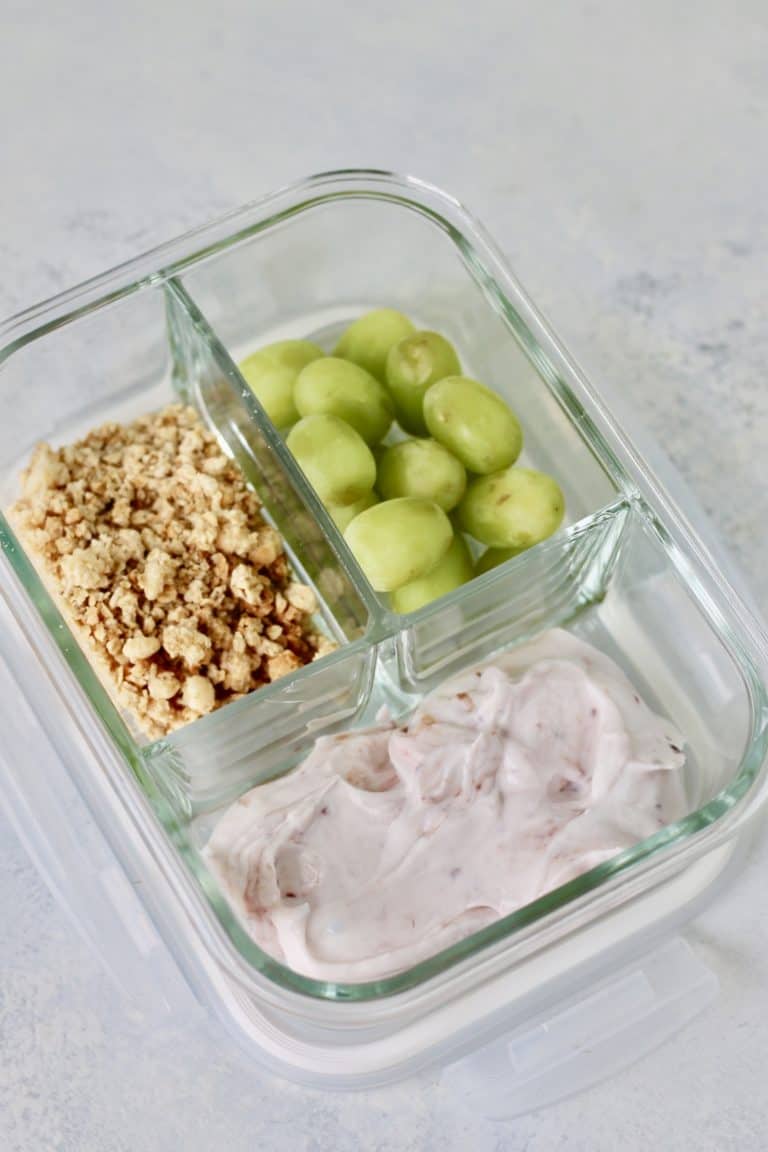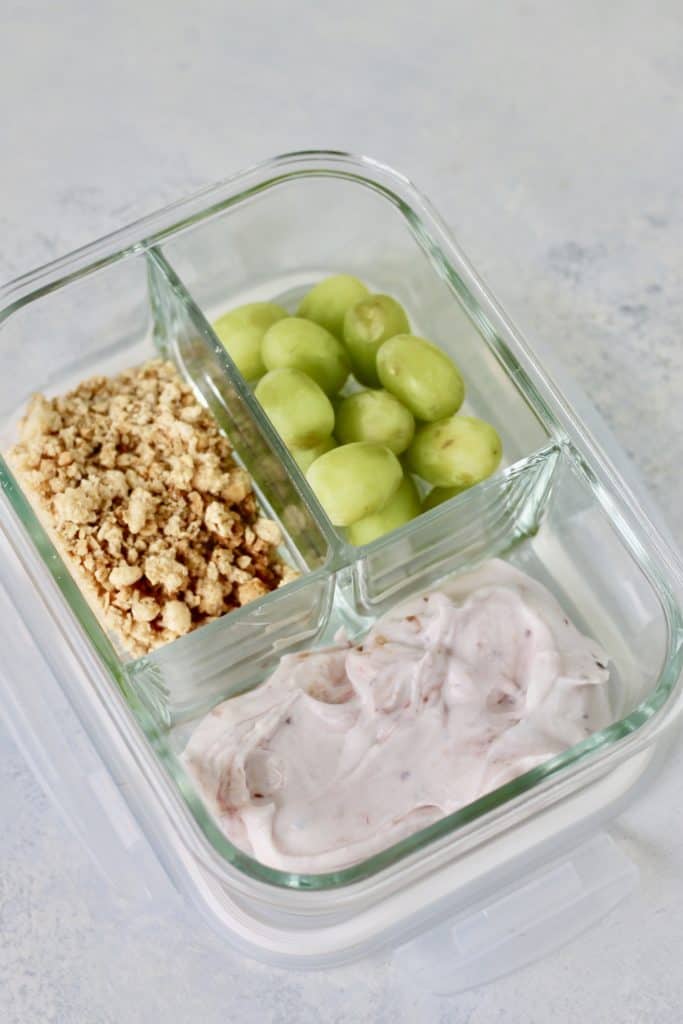 One of the things I really like about these glass meal prep containers is the dividers are part of the container. This way, you don't need to worry about losing it. Of course, this might not be a problem for you but for me I need things attached 🙂
You can purchase these glass meal prep containers on Amazon:
2 compartment glass meal prep container
3 compartment glass meal prep container
Those are the 4 glass meal prep containers that I use and recommend. I think it helpful to have a variety of glass containers this way as you prepare meals you can decide which container you prefer to use depending on the recipe.
Other meal prep posts you might like:
Beginner Meal Prep: The Best Getting Started Guide
Meal Prep Hacks to Remember as You Start a Weight Loss Journey