Weekly meal prep is a great way to reduce stress, save money, and eat healthier foods during the week. But, if your goal is to drop a few pounds, then using meal prep for weight loss can make it easier to stay on track with nutrition and reach your health goals.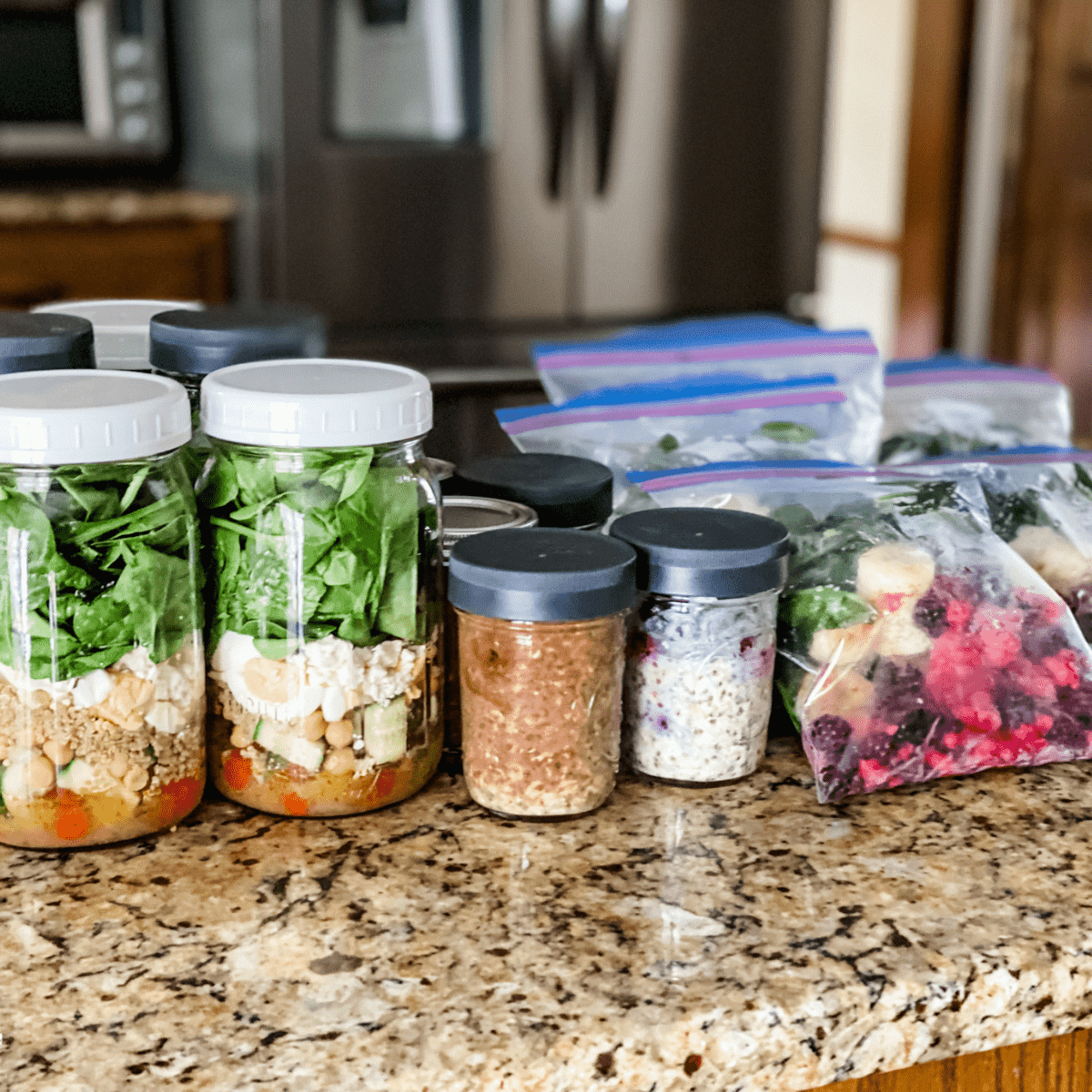 This post contains affiliate links. I am an affiliate for Amazon Associates and other brands and earn a small commission on qualifying purchases. You're by no means obligated to use my links but, if you do, thank you for supporting Organize Yourself Skinny.
"I don't have time or energy to cook healthy meals" is something I hear pretty often from family, friends, and readers. So, it's safe to say that one of the biggest challenges people face when trying to lose weight is sticking to a healthy diet or meal plan. I get it. When I finally decided it was time to change my eating habits, I had those same feelings; I couldn't even imagine preparing meals after a busy workday while taking care of my family – it was overwhelming.
But weekly meal prep changed the game for me! It was the only way to stick with healthy eating habits during the busy week. I started this habit over ten years ago and still depend on it every week to keep healthy eating habits a priority.
So, the #1 piece of advice I give when asked for tips on eating healthier and losing weight is meal prep. In fact, I strongly feel it's the most important habit you can start when trying to eat healthier and lose weight. In my experience, it's the only way to ensure healthy food is available all week.
Here's a tutorial I put together on how to meal prep for the week if you need more general information. In this post, I will specifically talk about using meal prep to lose weight.
Jump to:
Can You Use Meal Prep to Lose Weight?
Absolutely, meal prep can be a very effective way to lose weight, especially for busy parents. Meal prep allows you to plan and cook ahead (when you have time) to have healthy, nutritious meals available when you need them (when time is limited).
As you work to change your eating, meal prep will become an essential habit to help you eat healthier. You'll have more control over the portion sizes and ingredients in your meals, which can help you stay within your daily calorie goals and make healthier choices. Meal prep will also help you stay mindful of creating a calorie deficit which ultimately will support weight loss.
Of course, focusing on nutrient-dense, clean foods, and portion control is essential. You'll not likely lose weight by preparing a few boxes of macaroni and cheese for the week.
To support a healthy diet and reinforce weight loss, you want to be mindful of creating a calorie deficit. So, it's essential to include a variety of lean proteins, whole grains, fruits, vegetables, and healthy fats. You want to limit or stay away from processed foods and sugar.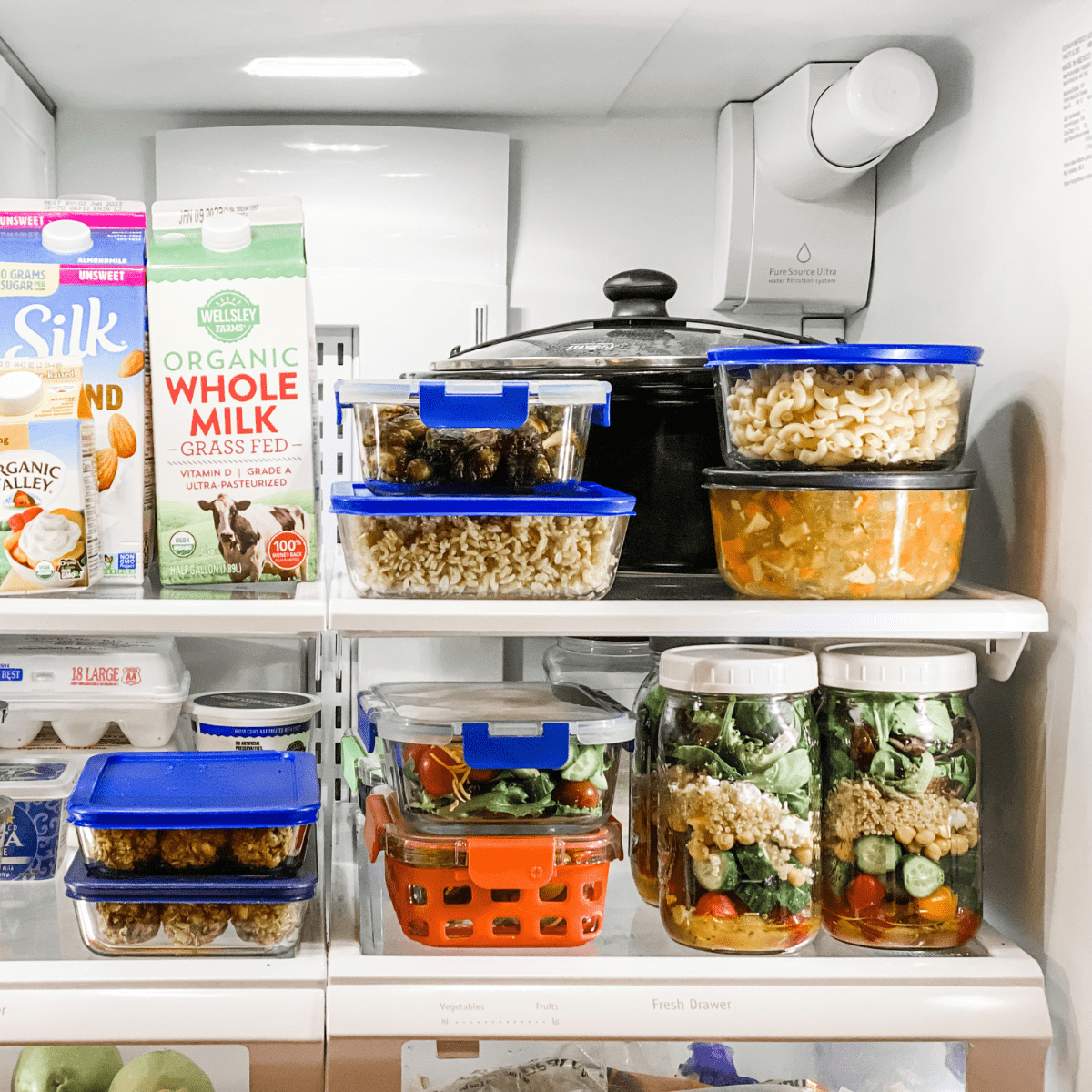 Reasons You Should Use Meal Prep for Weight Loss
Meal prepping can be a very effective tool for weight loss for many reasons:
Portion control: In my experience and talking with others, this is the top benefit of preparing meals ahead of time. When you meal prep, you can control the portion sizes and ensure you are eating the right food for your weight loss goals.
Stick to dietary goals: Whether you're low carb, keto, Whole30, or trying to eat vegan, meal prep can help you stick to those goals.
Focus on food struggles: Prepping your meals ahead of time allows you to become intentional with food, and this alone can help change eating habits. However, you can take it a step further by focusing on the eating habits you struggle with the most. For example, if you struggle with breakfast, focus on preparing a healthy breakfast for the week.
Create the amount of structure you need: Meal prep creates structure in your weight loss journey. The amount depends on you. Do you need all your food prepped ahead of time and organized by day in your refrigerator? Hey, you can do that if you want! Or maybe you need a little structure for your morning? You can have every meal portioned with the calories labeled or have fresh, healthy foods recipe ready in your refrigerator. It's up to you to create the structure needed to help organize a healthier lifestyle.
Reduced temptation: When you have healthy meals ready, you are less likely to be tempted by unhealthy options like fast food or vending machine snacks. By prepping healthy meals in advance, you can avoid the temptation to reach for unhealthy choices when you're short on time or feeling hungry.
Time-saving: Meal prepping can save you time in the long run because you only need to cook once or twice a week rather than every day.
Staying consistent: Meal prepping helps you stick to your weight loss plan and avoid impulsive decisions that could sabotage your progress.
Changing your eating habits and losing weight is not easy. However, preparing your meals and food will help. Eating healthy, nutritious food and staying within calories is more manageable when meals and snacks are ready to cook or eat.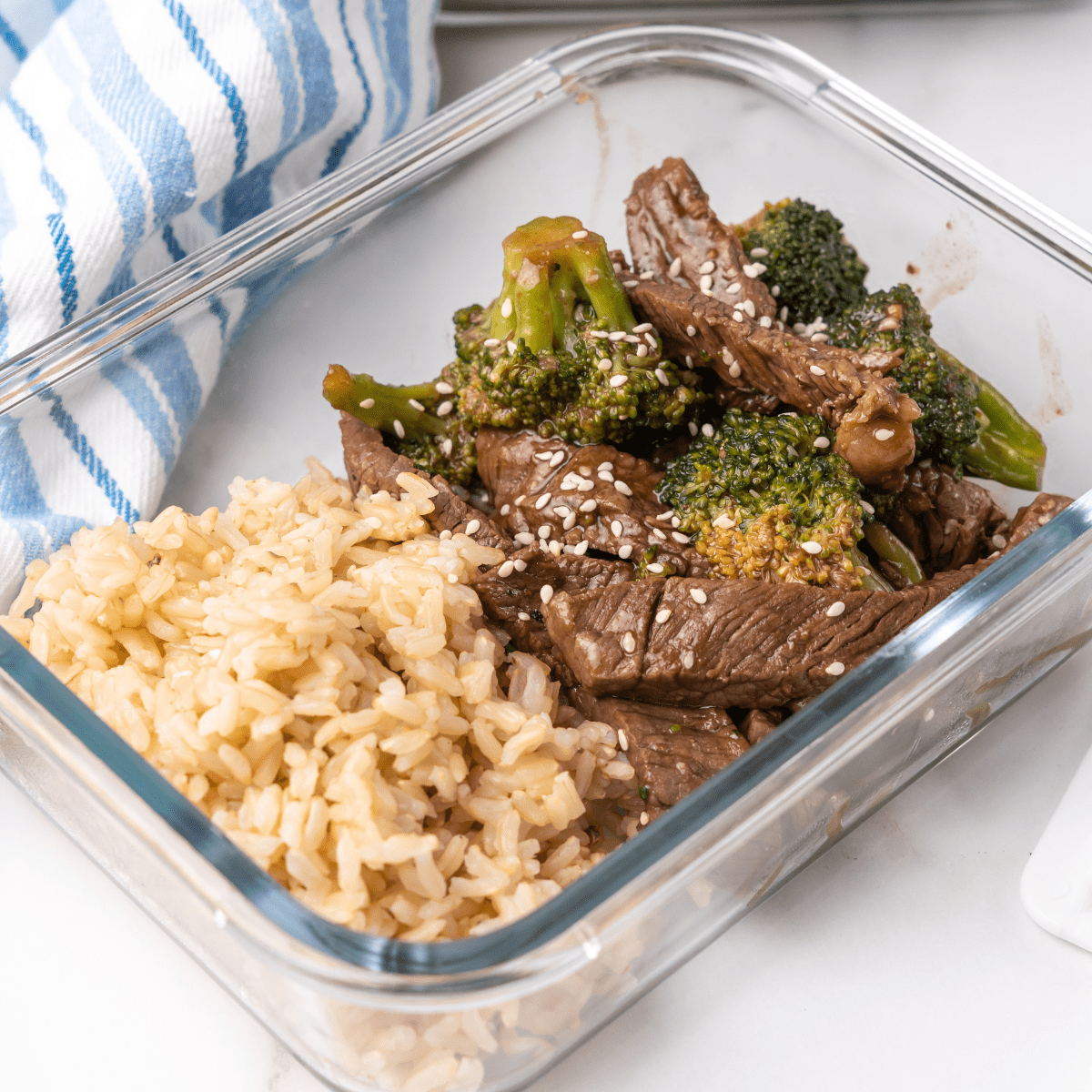 How to make a healthy meal plan
Here are some steps to make a healthy meal plan:
Determine your caloric needs: Using meal prep to achieve your weight loss goals will only work if you stay within your daily calorie limits. So, you first need to figure out your daily calorie needs based on your age, gender, height, weight, and activity level. Using My Fitness Pal or other online tools can help you to do that easily. If you're new to counting calories, check out these quick tutorials on counting calories and tips to control calories.
Set your weight loss goals: It's essential to set realistic and healthy expectations when you set weight loss goals. In general, a healthy rate of weight loss is about 1-2 pounds per week. You can also set this in My Fitness Pal or whatever online tool you use to track your progress.
Put together a list of healthy recipes: Create a list of meals for each day of the week, including breakfast, lunch, dinner, and snacks. I suggest keeping it simple, and I don't recommend filling your meal plan with 15 brand-new recipes every week. Instead, make healthy changes to family favorites—for example, swap ground turkey for beef in tacos.
Go grocery shopping: Make a grocery list based on your meal plan and shop 1-2 days before meal prep day. It's overwhelming and exhausting to grocery and prep on the same day, which could deter you from sticking with it. Also, if you can, purchase healthy, nutrient-dense foods, including organic fruits, vegetables, and meats.
Save meal plans and shopping lists: Having meal plans and shopping lists ready makes it easier and more likely you'll stick with the meal planning and prep habit. Save them on your computer or use a website like Plan to Eat.
Track your progress: It's helpful to use a tool like My Fitness Pal to track nutrition, exercise, and caloric intake. If you do not see results, then adjust your meal plan accordingly. You might need to reduce your overall calories, switch foods to include less sugar and carbs, or increase protein.
Remember, the best meal plan is the one you can stick with. So make sure that it's realistic and fits into your lifestyle while also including foods you and your family enjoy eating.
7-Day Sample Healthy Eating Meal Plan
Here's an example of a 1500-calorie-a-day meal plan that includes three meals and two snacks.
It provides a balanced mix of protein, carbohydrates, healthy fats, and plenty of fruits and vegetables. Adjust the portion sizes based on your personal calorie needs and weight loss goals.
To keep things simple, this meal plan includes one recipe for each breakfast, lunch, and snacks and four dinner recipes.
Breakfast – Blueberry Smoothie, 342 calories
Morning snack – 1 hard-boiled egg, 70 calories or raw almonds, 180 calories
Lunch – California Salad in a Jar, 454 calories
Afternoon snack – 2 tablespoons hummus with one serving of baby carrots, 100 calories
Dinner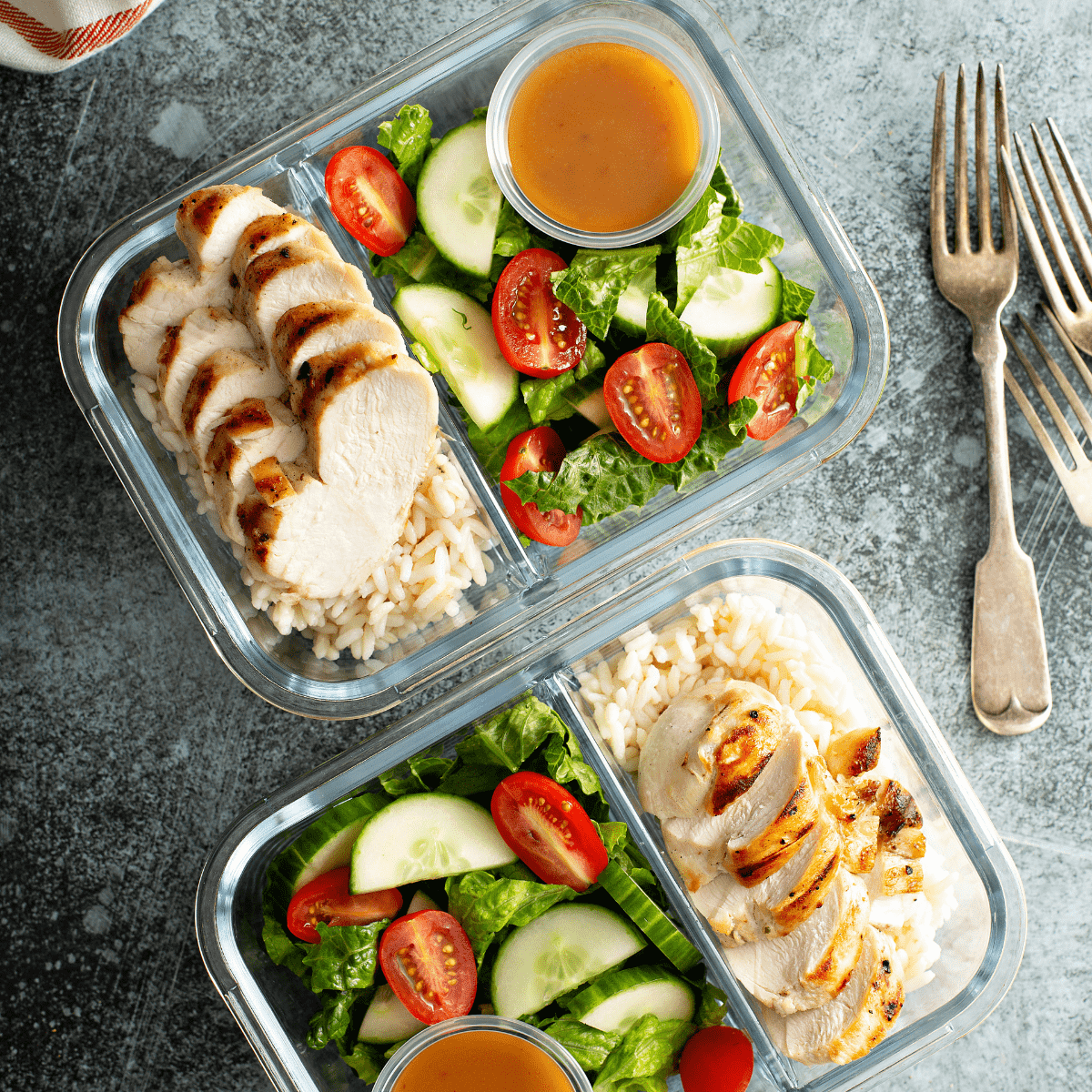 Example meal prep day
Create frozen smoothie packs to ensure you have the ingredients to quickly make the smoothie in the morning.
Cook the hard-boiled eggs ahead of time and store them in the fridge.
Prepare mason jar salads on Sunday for the week. You can see my mason jar tutorial here.
If you want, place the hummus and carrots into a 16-ounce mason jar.
Assemble the ingredients for the slow cooker ground turkey chili and store in the fridge. Plan to make the chili within a couple of days.
Start the pizza soup. While the pizza soup is cooking, prepare and cook the chicken sausage and veggies.
While both are cooking, prep the steak fajita ingredients, and slice the steak and veggies. Place into separate containers and refrigerate for up to four days. You can also cook this recipe entirely ahead of time and then heat and eat during the week.
After the soup and chili cook, let both recipes cool, and then store them in the refrigerator for the week. Freeze any leftovers for dinners later on.
Of course, you don't need to do all that prep, but doing some will ensure that the food you plan to eat will be available.
Tools & Supplies
Having the right cooking tools is also essential. Of course, you don't need to purchase everything immediately, but here's a list of the basics that help make food prep super easy.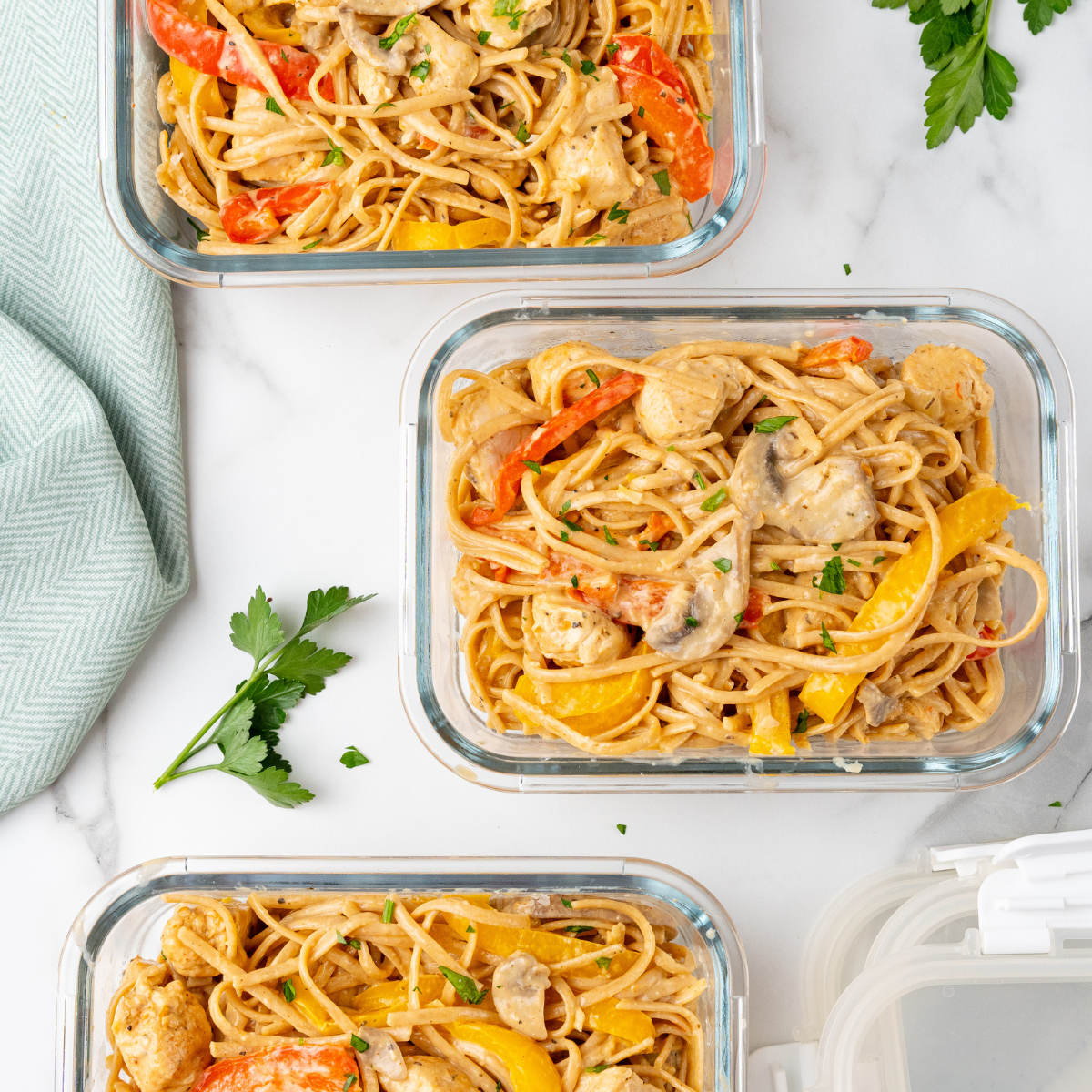 Easy Healthy Meal Prep Ideas
Here are some other healthy meal prep ideas to manage your eating habits and keep within your daily calories.
Portion out "hand grab" foods. Portioning snacks ahead of time (using baggies or small plastic/glass containers) allows you to enjoy your favorite snacks while still keeping calories under control. It's harder to grab a second bag of snacks when you know the calories. I like to store the pre-portioned packages in a bin, either in the refrigerator or pantry, for easy access.
Freezer prep. Meal prep is super helpful, but freezer prep is the real hero in a busy person's life. Freezer prep is also known as freezer meal prep, freezer cooking, or batch cooking. The main idea behind freezer prep is to save time and reduce the need to cook every day or meal prep meals every week. There are various ways to freezer prep recipes; you can check the how to freezer cook category for more information.
Stock your refrigerator with healthy basics. If you don't want to be tied to a meal plan but still want to experience the benefits of having nutritious food available, then preparing the basics ahead of time is a great option. You can create various recipes with other simple condiments and healthy pantry staples. For example, using the ingredients below, you can quickly put together a salad, stir fry, casserole, wrap, quinoa bowl, parfait, or anything healthy dish you want.
A few ideas include:
Grilled or baked chicken breasts
Quinoa or brown rice
Roasted vegetables (asparagus, green beans, Brussels sprouts, sweet potatoes, butter potatoes)
Cauliflower rice
Zucchini noodles
oatmeal
Fruit (strawberries, blueberries, etc)
Salad ingredients (lettuce, broccoli, bell peppers, etc)
Beans (black beans, garbanzo beans, white beans)
Peanut butter or nut butter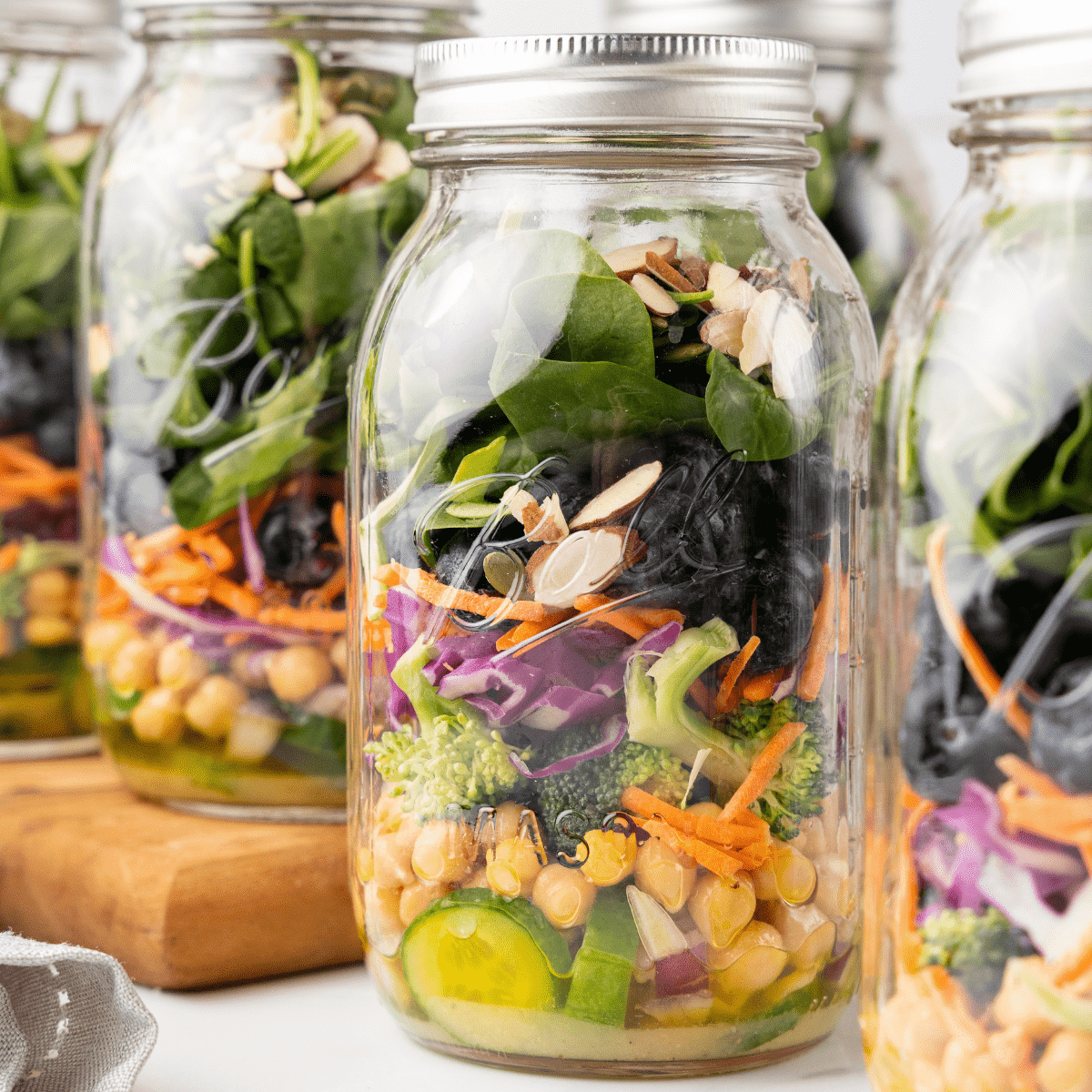 Healthy Recipes for Weight Loss
When it comes to food, I have a few meal prep recipes I'd recommend when starting a weight loss journey. Of course, you can eat just about any food if it fits your daily calorie range.
But, if you're looking for clean and healthy recipe recommendations that will make the most significant impact when trying to lose weight, then these are the meal prep weight loss recipes I typically turn to!
Healthy Smoothies
Without sounding overly dramatic, smoothies have entirely changed my life.
I will admit I didn't start drinking smoothies until about two years into my weight loss journey, so I lost weight without them. But, before discovering smoothies, I was tired, unfocused, and bloated. I also struggled with getting fruits and vegetables into my daily meal plan.
As much as I would like to think I'm the type of person who can munch on raw veggies all day, I'm not.
Once I started drinking a daily smoothie, I noticed a massive difference in how I felt – I became focused, had more energy, and my belly bloat went away.
I advise anyone starting a weight loss journey to add smoothies immediately, especially if you struggle with any of the symptoms I mentioned earlier.
Check out all of my healthy smoothie recipes. Below are a few of my favorites.
Mason Jar Salads
Mason jar salads have been a part of my weight loss journey since the beginning. They come in as my second favorite meal prep weight loss recipe – although a very close second.
There's so much about these I love.
First, mason jar salads are filled with tons of vegetables and lean proteins, so I'm satisfied and full without the bloat. When I enjoy a smoothie for breakfast and a mason jar salad for lunch, I feel like I can take over the world. I get more energy in a day than I used to get in an entire month.
Second, mason jar salads are portion-controlled and portable. Each salad is measured to keep calories and fat under control. Also, you can quickly grab a salad and stick it in your bag as you're running out the door.
Third, you can make five mason jar salads on Sunday to enjoy lunches all week. I feel like mason jars salads are the ultimate meal prep recipe!
Here's my step-by-step tutorial on how to layer a mason jar salad. You can also check out all of my mason jar salad recipes.
Here are my favorites:
Meal prep bowls
Meal prep bowls are so easy to prepare ahead of time and last all week. I make a recipe, portion it out, and store it in the refrigerator – you can also freeze it. You can take any lean protein, sauce, and grain and create a meal prep bowl. These portion-controlled meals make it easy to stay within your daily calories and stick with your health goals.
Here are some of my favorite recipes I love turning into meal prep bowls:
Other healthy meal prep recipes ideas
With breakfast being the most hectic part of my morning, I heavily rely on healthy recipes like the ones below to get me through.
Here are some go-to lunch recipes to make at home to avoid going to your local fast-food joint for a quick lunch break:
I don't know how I survived before without meal-prepping these easy dinner recipes!
These are lean and healthy foods to add to your meal plan. The key is simplicity and variety, so it fits easily into your lifestyle and you enjoy the foods. Also, if the goal is to lose weight, you'll want to track calories and nutrition to ensure you're making progress with your healthy lifestyle.
Other weight loss meal prep posts