Meal prep can look many different ways and take on multiple forms. It can help you reduce stress, save money, and eat healthier foods during the week. But if you want to drop a few pounds, then using meal prep for weight loss can make it easier to stay on track with nutrition and reach your health goals.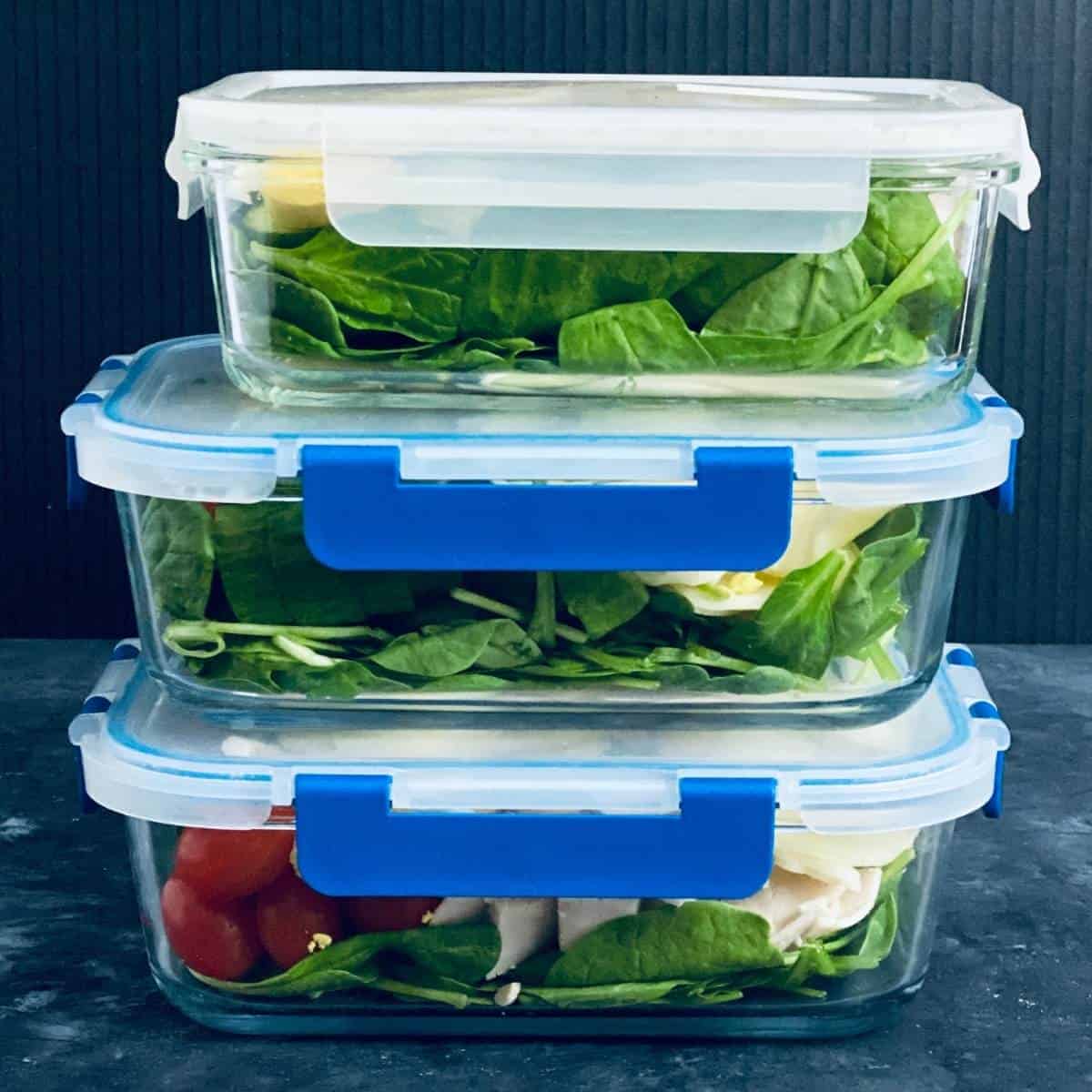 Meal prep is my #1 weight loss strategy. Yes, I know that's quite a statement, and you might disagree. However, I believe it to be true. It's been over ten years since starting my weight loss journey, and I can tell you planning and preparing my meals ahead of time has been key.
Here's a tutorial I put together on how to meal prep for the week if you need more information. If you're following a specific diet then you might find these posts helpful:
Jump to:
Reasons You Should Meal Prep for Weight Loss
All of the calories and other nutritional information are figured out in advance.
All of your meals and snacks are ready to eat
You don't have to cook and clean every day.
It makes starting and sticking to a healthy lifestyle easier.
Meal Prep Ideas For Weight Loss
Know Your Daily Calories When Putting Together a Meal Plan
I know some of you want to throw quinoa and kale at me when I talk about tracking food. But….here's the thing: too much healthy food can still make you unhealthy and fat.
Sure, I love healthy smoothies, but if I drink an 800 calorie green smoothie every morning and then eat an 800 calorie salad for lunch, I'll go over my daily calories with just two meals. So while those meals might nourish my body better than a Big Mac, I'll still struggle with losing weight by not tracking portions and calories.
Weight loss happens when you burn more calories than you take in. Period. Sorry, it's just the way it is.
Therefore, when weight loss is the goal, you need to know your daily caloric intake before preparing your meals for the week. To figure out your daily caloric intake for weight loss, try using My Fitness Pal. 
Understanding the amount of food you need to eat to lose weight will help you plan and prep food for the week.
If you're new to counting calories, check out these quick tutorials on how to count calories and tips to control calories.
For example, if your daily caloric intake is 1500 calories, and you want to eat five times a day, you can plan your meals accordingly. Here's a glimpse into what that can look like:
Clean Eating Meal Plan
Breakfast – 300-calorie green smoothie.
Morning snack – 180-calorie portion of almonds
Lunch – 350-calorie mason jar salad
Afternoon snack – 90-calorie cheese stick and 80-calorie apple (170 calories total)
Dinner – 500-calorie pasta recipe
Now you need to take that goal and use it to meal prep for weight loss. Here's what to do:
Of course, you don't need to do all of that prep, but doing some will ensure that the food you plan to eat will be available.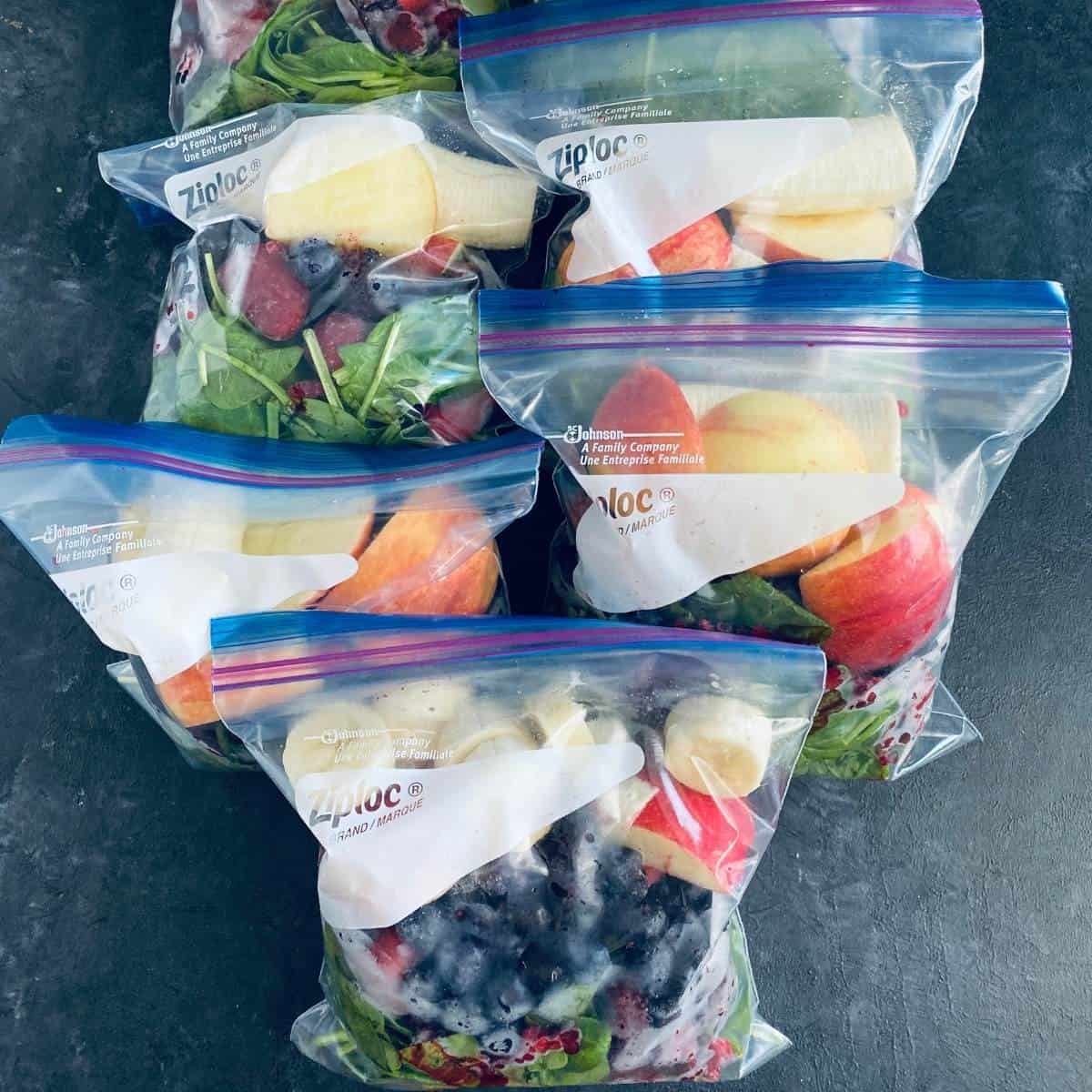 Healthy Meal Prep Recipes
Using meal prep as a strategy to achieve your weight loss goals will only work if you stay within your daily calorie limits.
I don't recommend filling your meal plan with 15 brand-new recipes every week. That probably wouldn't end well. Instead, make small changes. Maybe take your favorite ground beef recipes and substitute ground turkey instead. Here are some other clean eating swaps when cooking recipes.
As someone who has been meal planning for YEARS, I suggest keeping it simple. Also, as you put together meal plans and shopping lists, save those to use for future weeks.
Plan to eat the same things for breakfast and lunch every day. If you need to switch it up, then do so for a couple of meals. Plan 1-2 new recipes a week and then fill the rest of the week with lightened-up family favorites.
Having the right cooking tools is also important. Of course, you don't need to purchase everything right away but here's a list of the basics that help to make food prep super easy.
Sheet Pan
Pots and pan
Slow Cooker
Food processor
Knives
Cooking utensils
Focus on food struggles
Prepping your meals ahead of time allows you to become intentional with food. This step alone can help change eating habits. However, you can take it a step further by focusing on the eating habits you struggle with the most.
For example, if you struggle with eating a healthy breakfast, take time to prepare a healthy breakfast on Sunday. For instance, make breakfast burritos, frozen breakfast sandwiches, steel-cut oatmeal, or breakfast smoothies for the week.
Now instead of rushing out the door with no food in your belly and heading to the drive-thru for a processed high-fat breakfast sandwich, you can grab a wholesome, nutritious meal right out of your refrigerator.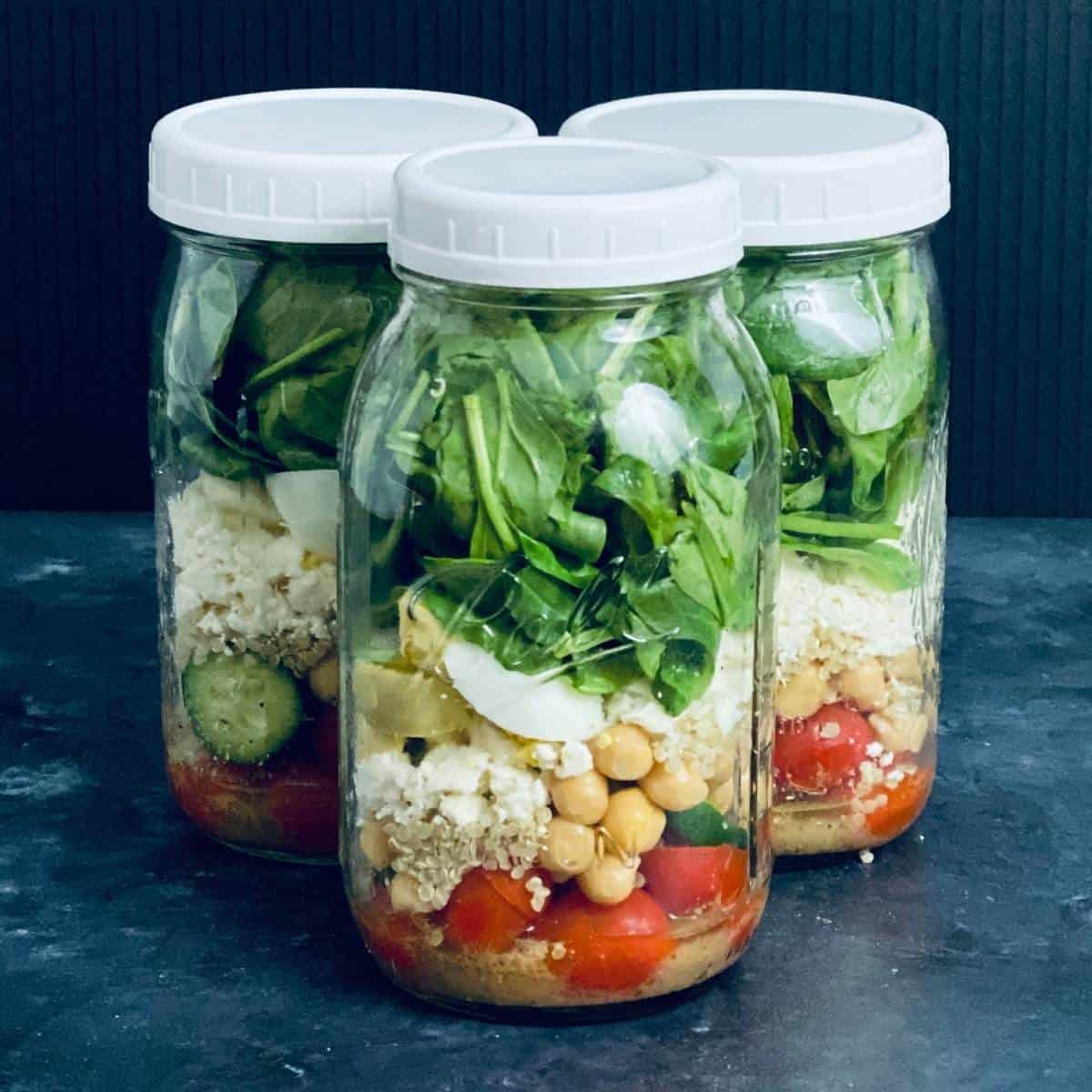 For 14 years, I worked full-time out of the house, and lunchtime, along with 3:00 pm, was always a massive struggle for me. Often, if I didn't have food with me, I would grab something from the vending machine or just starve until I got home. At that point, I would ravage my kitchen for anything. It wasn't pretty.
Enter mason jar salads. A few years ago, I started making mason jar salads and snacks on Sunday for the week.
Making lunches ahead of time was a game-changer. I ate healthier, felt less stressed, and lost weight because I had nutritious food prepared ahead of time; I could quickly grab it on my way to work. I knew if I didn't plan anything else for the week, I needed to at least take time to make my mason jar salads.
If you're not a salad person, then check out these other healthy lunch ideas for work.
Today, with working from home, my food struggle is a little bit different. Instead of lunches, I focus on quick, easy dinners. We don't get home till late some days and I want healthy foods to be quickly available for dinner.
Of course, I try to do more than just dinners but if I do nothing else I at least need to have dinner ready to go on days we don't get home till late. Here are our favorite healthy dinner ideas.
If meal prep has you overwhelmed then just start with a food struggle. I guarantee after you experience the relief and benefits from resolving it you will become a food prep believer.
Portion out "hand grab" foods.
One of my biggest calorie busters is reaching into a cracker box or nut bag and grabbing WAY MORE than one portion. I can't even tell you the number of calories I would eat by doing this. And why's that? Because I had no clue.
Trust me, ignorance is not bliss in the weight loss journey, and the denial will keep you exactly where you're at.
The best (and only) way to enjoy things like crackers, nuts, chips, and anything that comes in a bag or box is to portion it out ahead of time.
Portioning out snacks ahead of time (using baggies or small plastic/glass containers), you can enjoy your favorite snacks while still keeping calories under control. It's harder to grab a second bag of snacks when you know the calories.
I like to store the pre-portioned packages in a bin, either in the refrigerator or pantry, for easy access.
Stock Your Refrigerator or Freezer with Healthy Basics
Let's say you don't want to be tied to a meal plan. That's fine, but you do need to have structure.
If you want to lose weight, you need to change how you've been structuring your eating habits. Did you ever hear the saying, "If you do what you always do, then you'll get what you always get"? You're not going to get new results doing the same things. This goes with everything in life.
If you want to eat healthily but don't want to confine yourself to recipes, I recommend filling your refrigerator with food staples. A few ideas include:
With other simple condiments and healthy pantry staples, you can create a variety of recipes. For example, you can easily put together a salad, stir fry, casserole, wrap, quinoa bowl, parfait, or anything you want using the ingredients above.
Personally, I enjoy having basics in my refrigerator. It helps with a busy schedule and also on nights everyone wants something different.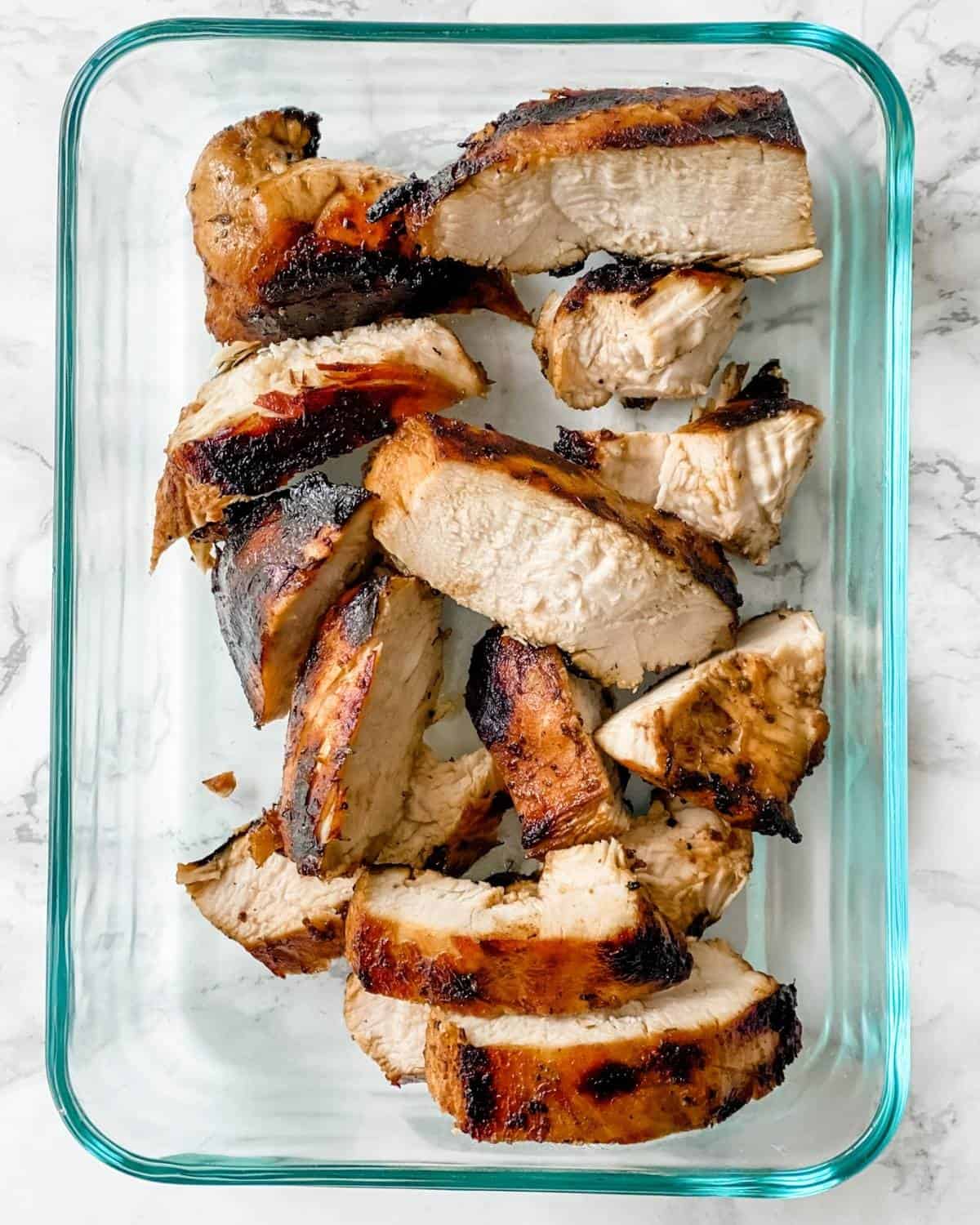 The only issue I found with preparing foods without a specific recipe in mind is possibly having food waste. For example, if you don't have a particular recipe for quinoa but make 3 cups, you might end up throwing some out. I hate food waste, so I try to use foods in a recipe or freeze ingredients before they spoil. This is just something to keep in mind.
Something else to keep in mind is portion control. If you make a batch of healthy foods, make sure to measure out portions correctly as you put together meals. This means you need to get your measuring cups and spoons out.
Create the Amount of Structure you Need
Meal prep creates structure in your weight loss journey. The amount of structure depends on you. Do you need all your food prepped ahead of time and organized by day in your refrigerator? Hey, you can do that if you want!
Or maybe you just need a little structure for your morning? You can have every meal portioned out with the calories labeled, or you can just have fresh, healthy foods recipe ready in your refrigerator. It's up to you to create the structure needed to help organize a healthier lifestyle.
The amount of time you spend on meal prep for weight loss will depend on the amount of structure you need. However, don't be discouraged by time. If you only have an hour, then do what you can in that hour. If you have more time on another day, then plan to use that time to stock your freezer with foods.
Where there is a will, there is a way. It's about creating routines and habits. At first, it feels tricky because it's new. However, after you keep at it and experience the benefits of meal prep, you won't mind preparing food for the week.
If you are new to meal prep then check out these beginner meal prep tips.
The amount of structure you need will change throughout your weight loss journey. You might need more structure in the beginning, and after a few months, not as much. In the end, you'll find the meal prep routine that works your lifestyle.
Changing your eating habits and losing weight is not easy. However, easy meal prep for weight loss helps. It's easier to eat healthy, nutritious food and stay within calories when meals and snacks are ready to cook or eat.
Start making meal prep for weight loss a part of your routine today, and I know you will see fundamental, sustainable healthy changes to your lifestyle.