Southwest Chicken Mason Jar Salad. Baked chicken breast with spicy southwest seasoning, black beans, avocado, and other vegetables mixed together with a light southwest ranch yogurt dressing and topped with crunchy blue tortillas. Scrumptious make-ahead lunch recipe!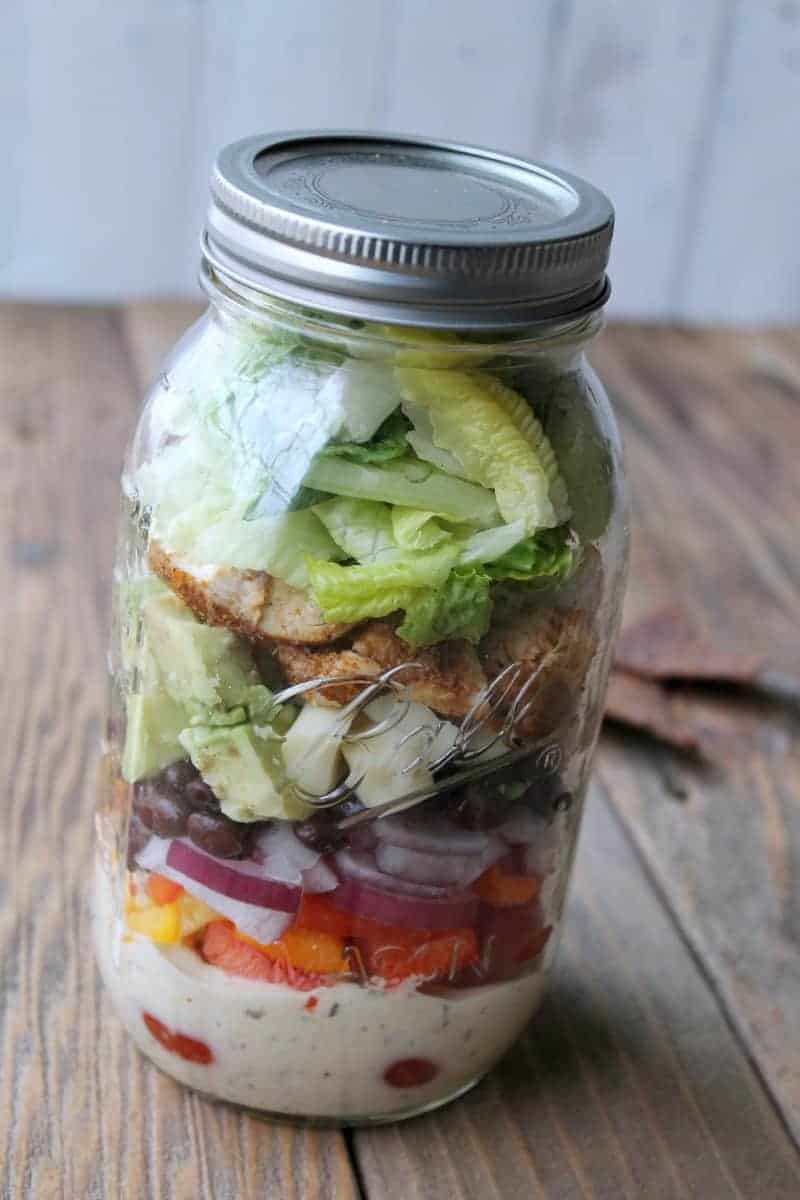 Get instant access to my mason jar salad recipe e-cookbook here! I share 19 of my best mason jar salads along with tips, tricks, and tutorial.
A couple weeks ago I decided to make a salad bar ahead of time to keep in the refrigerator for lunches all week. Well….you know when I like something I need to make like 500 versions of that! I loved having salad ingredients ready in the refrigerator. It made lunchtime so easy. But a lot of you asked me about mason jar salads. Soooo I decided to show you 2 ways to prepare salad ahead of time using my new Southwest Ranch Chicken Salad recipe.
You can store the ingredients in seperate containers (I love Pyrex containers) or you can make mason jar salads (get mason jars on Amazon). It depends on what will work best for you.
This is a super easy "throw together" salad. All I did was sprinkle 1/2 package of Simply Organic Southwest Taco Seasoning mix on 1 lb of chicken breast and bake for about 45 minutes or until cook through. After it was cooled I chopped it up and stored it in one of my glass containers.
Then I prepped the rest of the ingredients and put those in glass containers too. To keep the avocado from turning brown I squeeze some lime juice over top. The avocado kept for 3 days. The rest of the ingredients stayed fresh all week. I recommend only cutting up 3 days worth of avocado at a time. However, avocado will stay green in a mason jar salad all week with lime squeezed on. That has been my experience anyway.
This is what the ingredients looked like when stored separately. I crushed tortillas on top when I made my salad. Be careful of portions. It's easy to grab more than you need when it's not portioned out ahead of time.
The Southwest Ranch Yogurt dressing I found in the produce section at Wegmans. There are many yogurt dressing brands so use your favorite.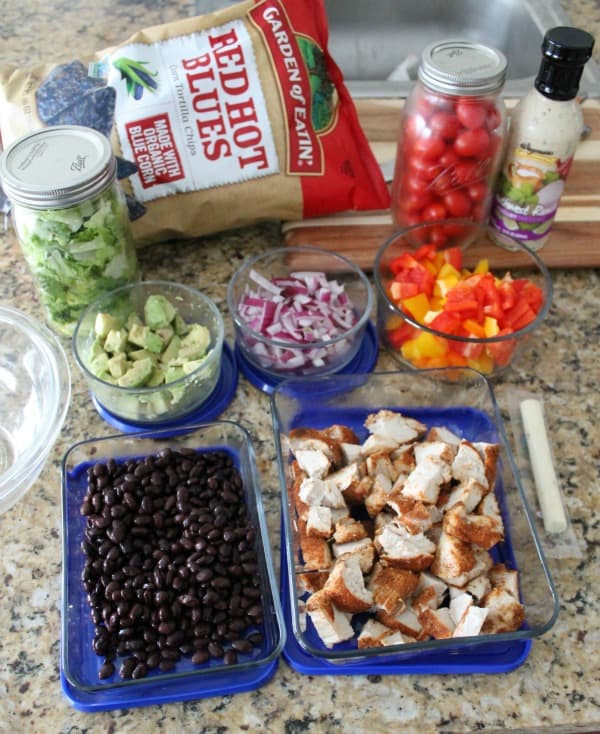 If you choose to make a mason jar salad then follow the layering technique I talk about in my tutorial. Start with the dressing and then layer the tomatoes, peppers, onion, beans, avocado, cheese, chicken, and end with the romaine. Put the desired amount of tortilla chips in a snack bad to bring along side the salad.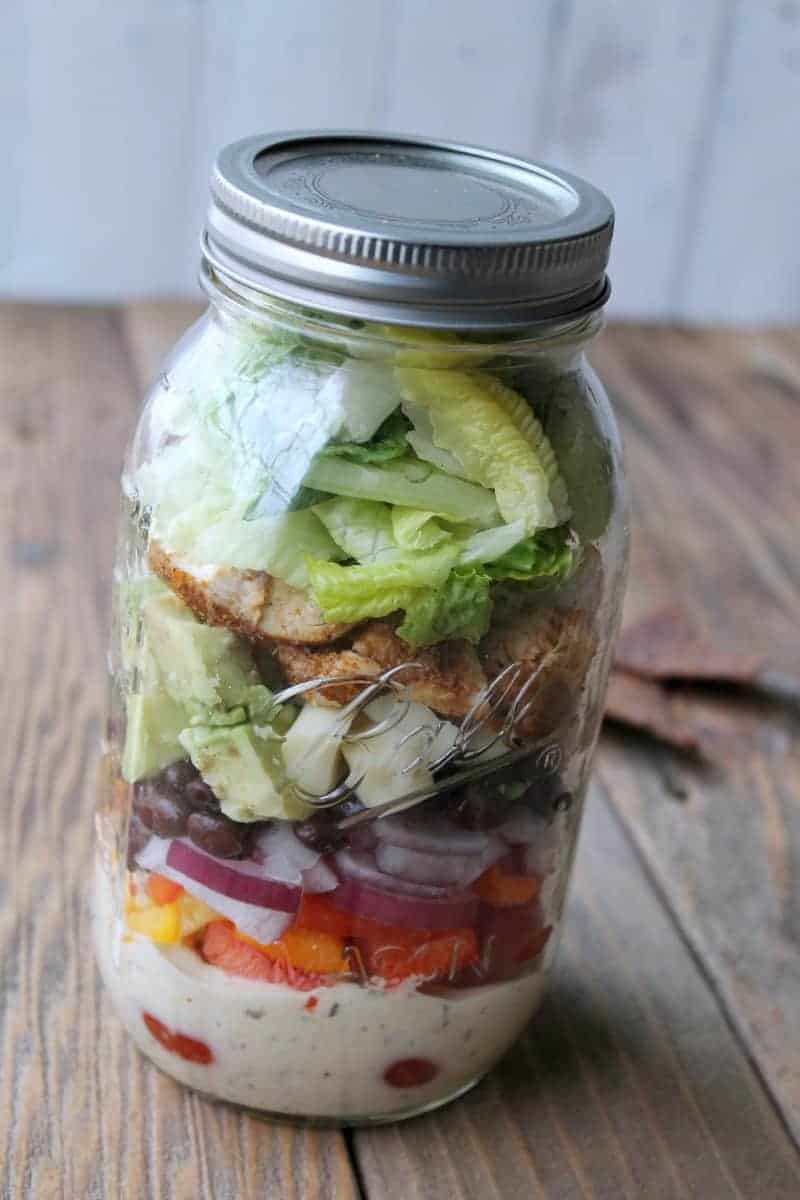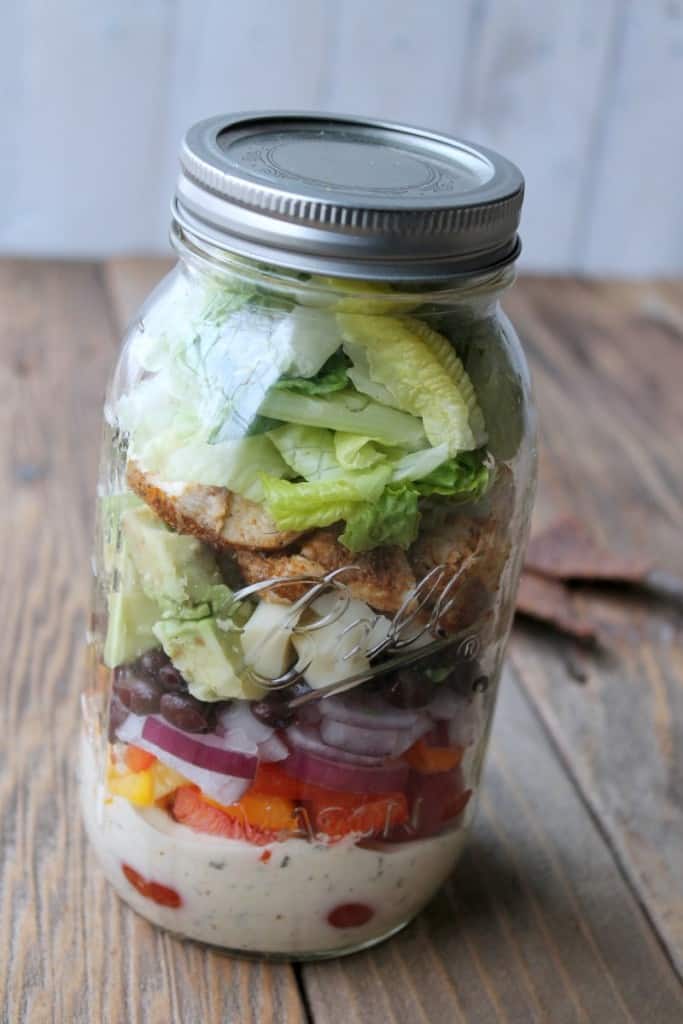 Oh I should mention I used jalapeño string cheese. This is the first time I came across this cheese by Kraft. It was tasty and worked great with portion control. Me and cheese has a love hate relationship. I tend to go overboard if I'm not intentional so using cheese sticks helps keep me honest with cheese. All I did was cut them up and stick it in the salad. I used a total of 3 cheese stick for 5 mason jar salads.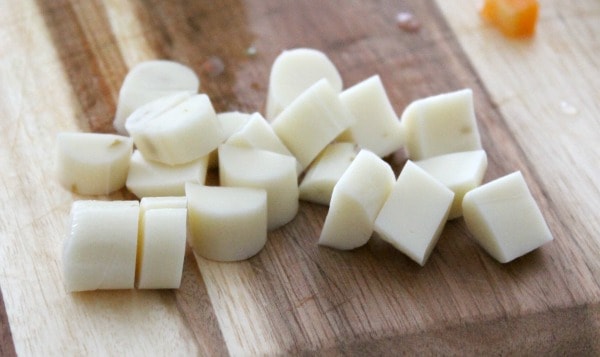 Be careful with the black beans. They are filling and nutritious but they can pack on the carbs and calories in a recipe. I used 2 tablespoons of black beans per serving. You can freeze any leftovers for a later recipe.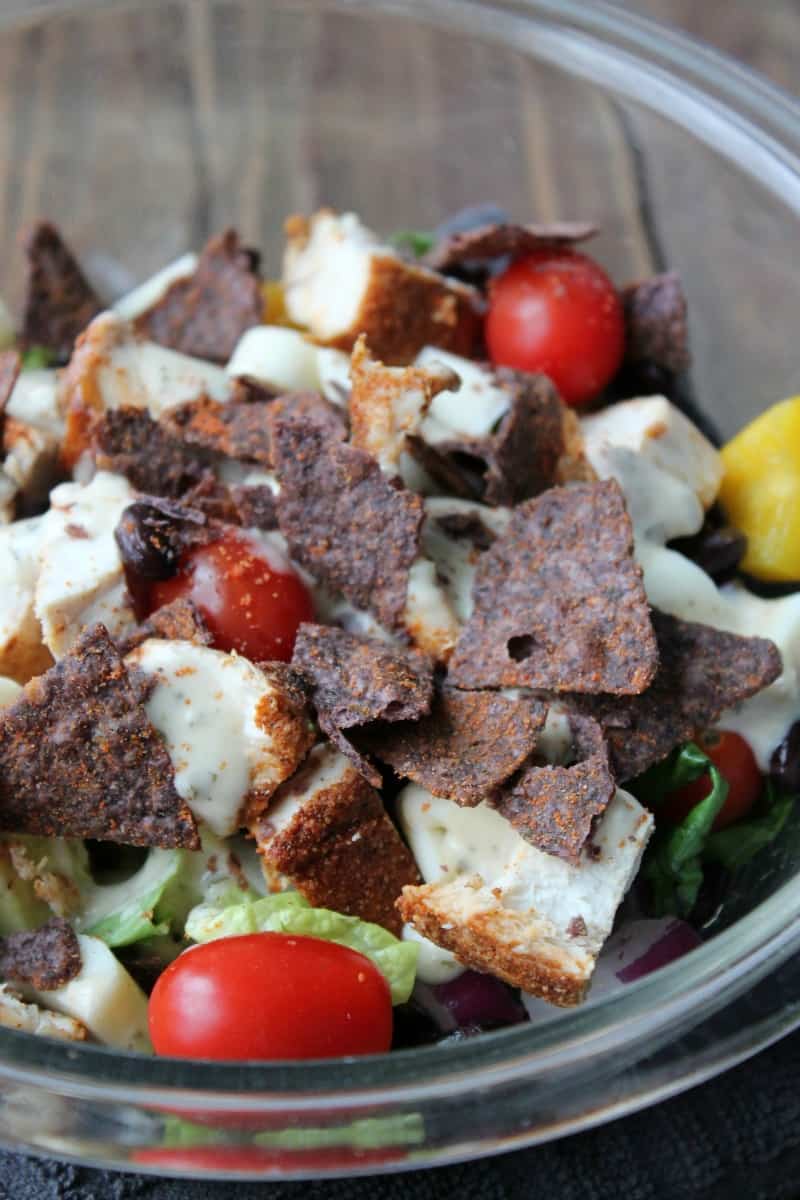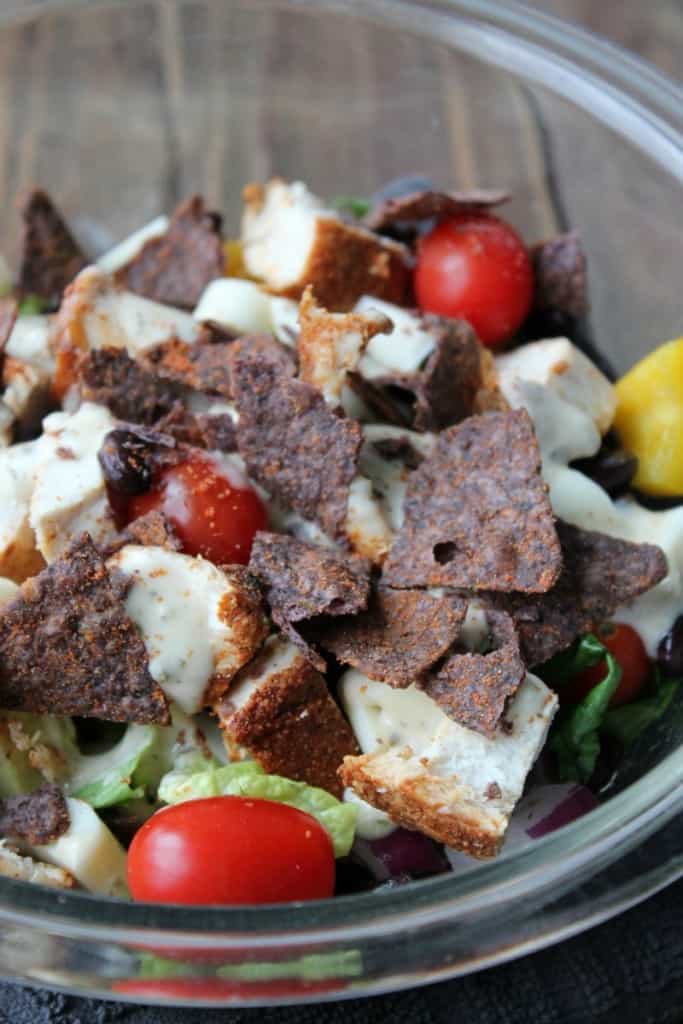 Last, I crushed some Garden of Eaten Red Hot Blues over top. This makes the salad. It gives a great crunch and flavor. Again, be careful with portions. Use your favorite tortilla chip.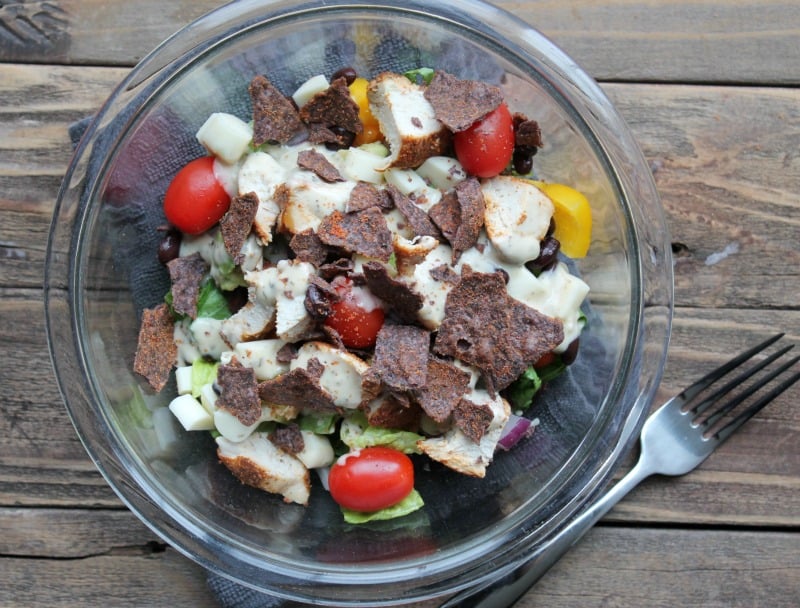 I loved this salad. It has great Southwest flavor and filled me up with lots of veggies and delicious spicy chicken. Try this Southwest Ranch Chicken Salad next time you are looking for a tasty make-ahead salad recipe.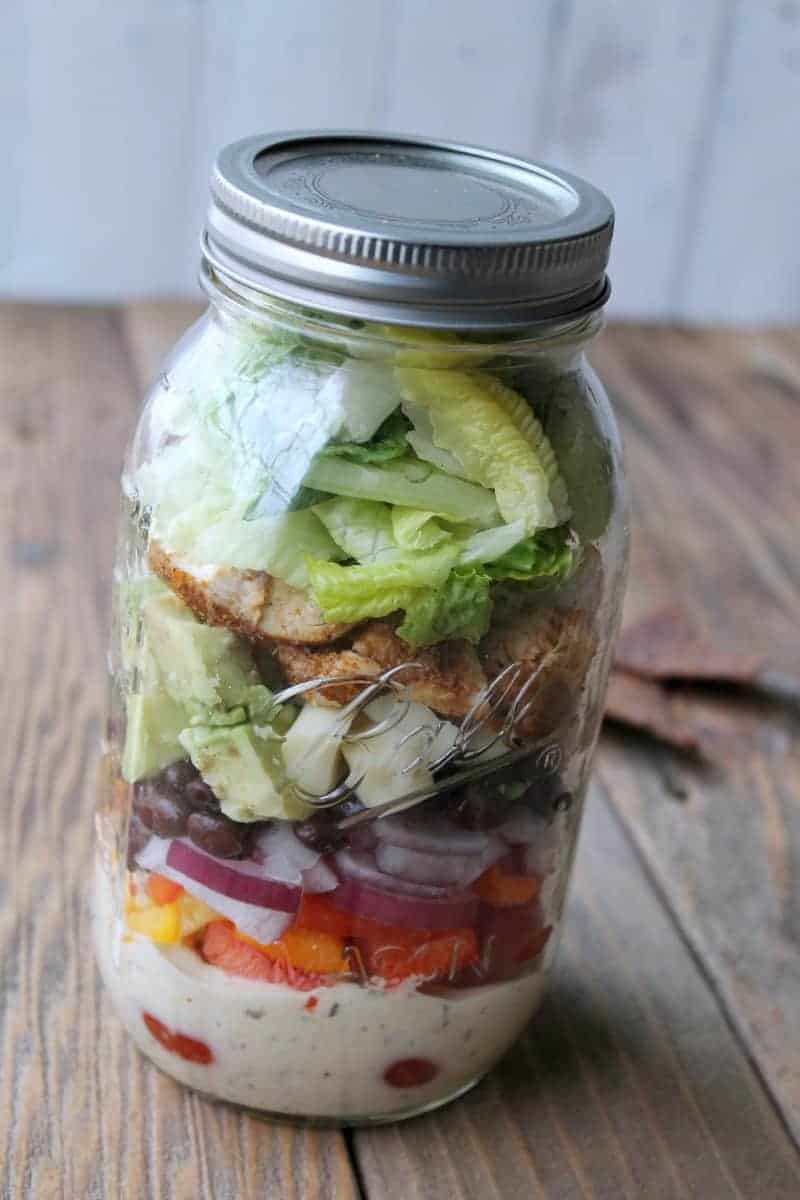 Ingredients
5

wide mouth mason jars

1

lb

skinless boneless chicken breast

1/2

1.3 ounce packet Simply Organic Southwest Taco Seasoning Mix

10

tablespoons

Southwest Ranch Yogurt Dressing

1

quart

grape tomatoes

3

bell peppers

any color

1/2

red onion

chopped

1/2

cup

canned black beans

drained

1

avocado

skinned and chopped

fresh lime juice

3

jalapeño cheese sticked

chopped

5

ounces

chopped romaine

tortilla chips
Instructions
Preheat oven to 350 degrees

Sprinkle taco seasoning over the chicken breasts. Bake for 40 -45 minutes or until the chicken is cook throughly and juices run clear. Set aside to cool. Once the chicken is cooled chop it into chunks.

Divide ingredients evenly among the mason jars. Start with the dressing and then add the tomatoes, bell peppers, onions, avocado (squirt with lime juice first), black beans, chicken, cheese, and end with the romaine. Put the lid on and store in the refrigerator for up to 5 days.

Serve with crushed tortillas.
Notes
Make-ahead tips
These salads can be stored ahead of time in individual containers or as mason jars salads for 5 days.
Nutrition
Serving:
1
g
|
Calories:
395
kcal
|
Carbohydrates:
27
g
|
Protein:
34
g
|
Fat:
17
g
|
Saturated Fat:
4
g
|
Fiber:
9
g
|
Sugar:
10
g