This southwest chicken salad uses spicy chicken breast, black beans, avocado, red onion, pepper jack cheese, and a southwest ranch dressing. You can enjoy this healthy salad for a quick dinner or layer it into a mason jar salad to enjoy all week.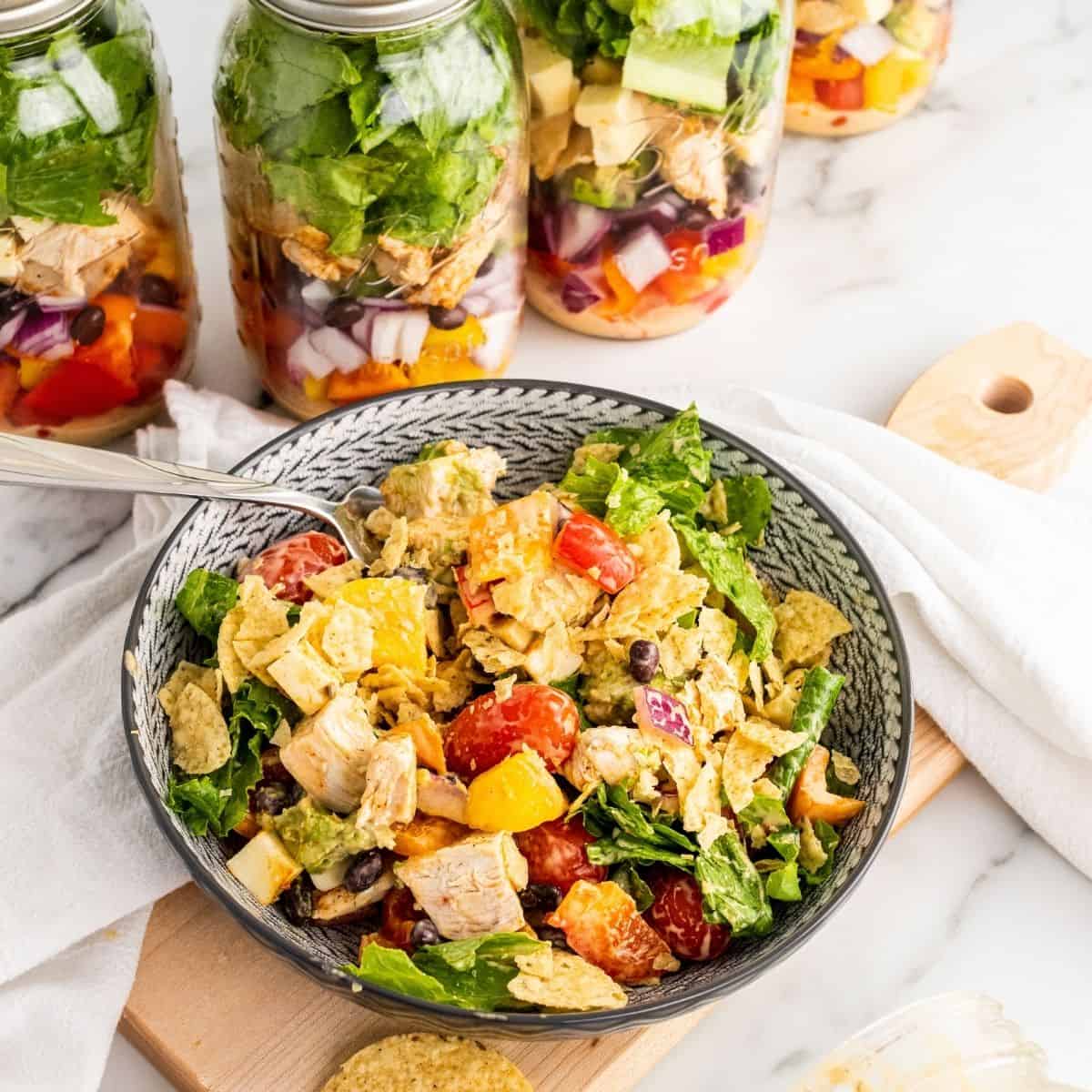 This post contains affiliate links. I am an affiliate for Amazon Associates and other brands and earn a small commission on qualifying purchases. You're by no means obligated to use my links but, if you do, thank you for supporting Organize Yourself Skinny.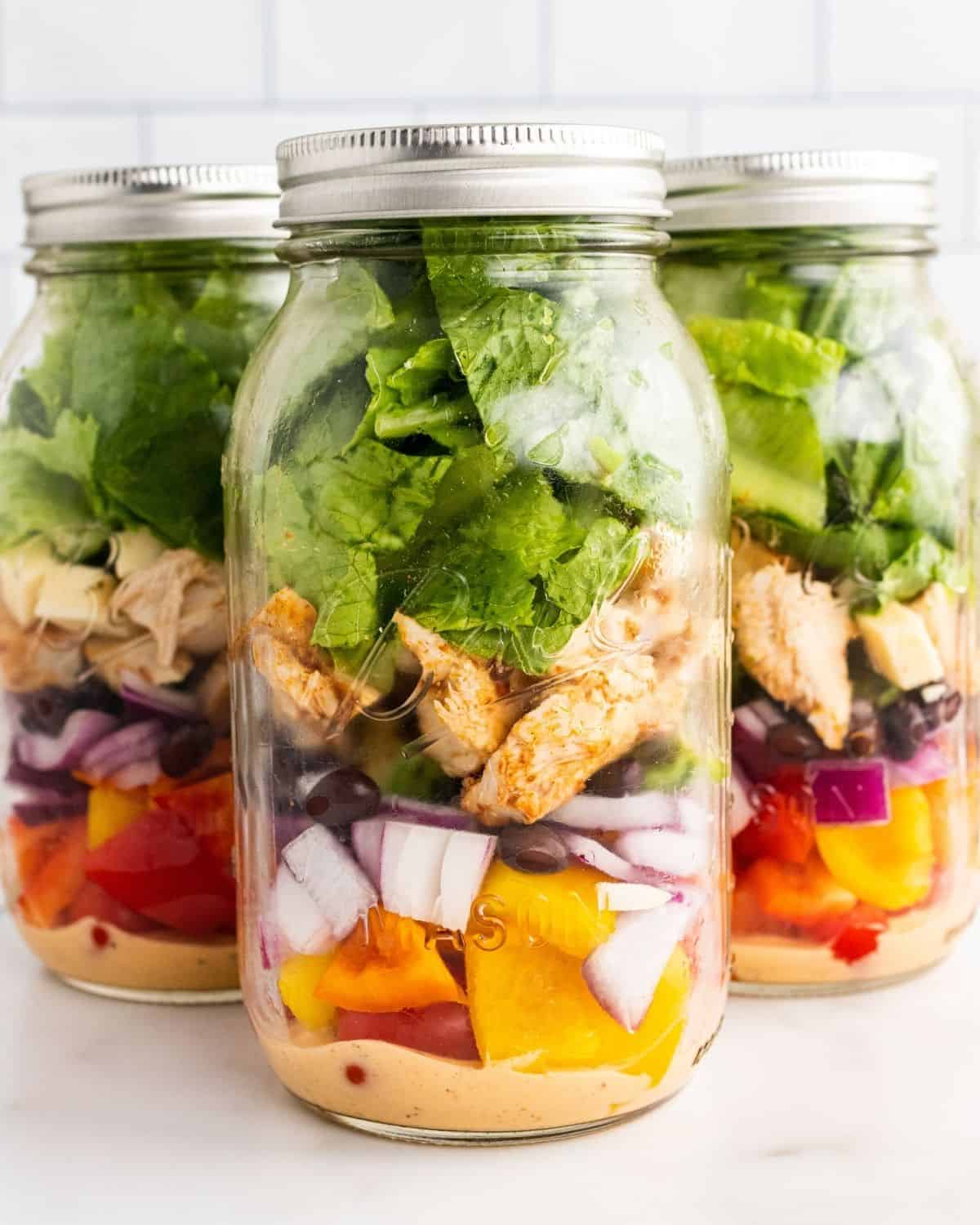 How to Make Southwest Chicken Salad in a jar
In these instructions, I will show you how to make these salads in mason jars for the week. However, you can enjoy these salads for dinner to.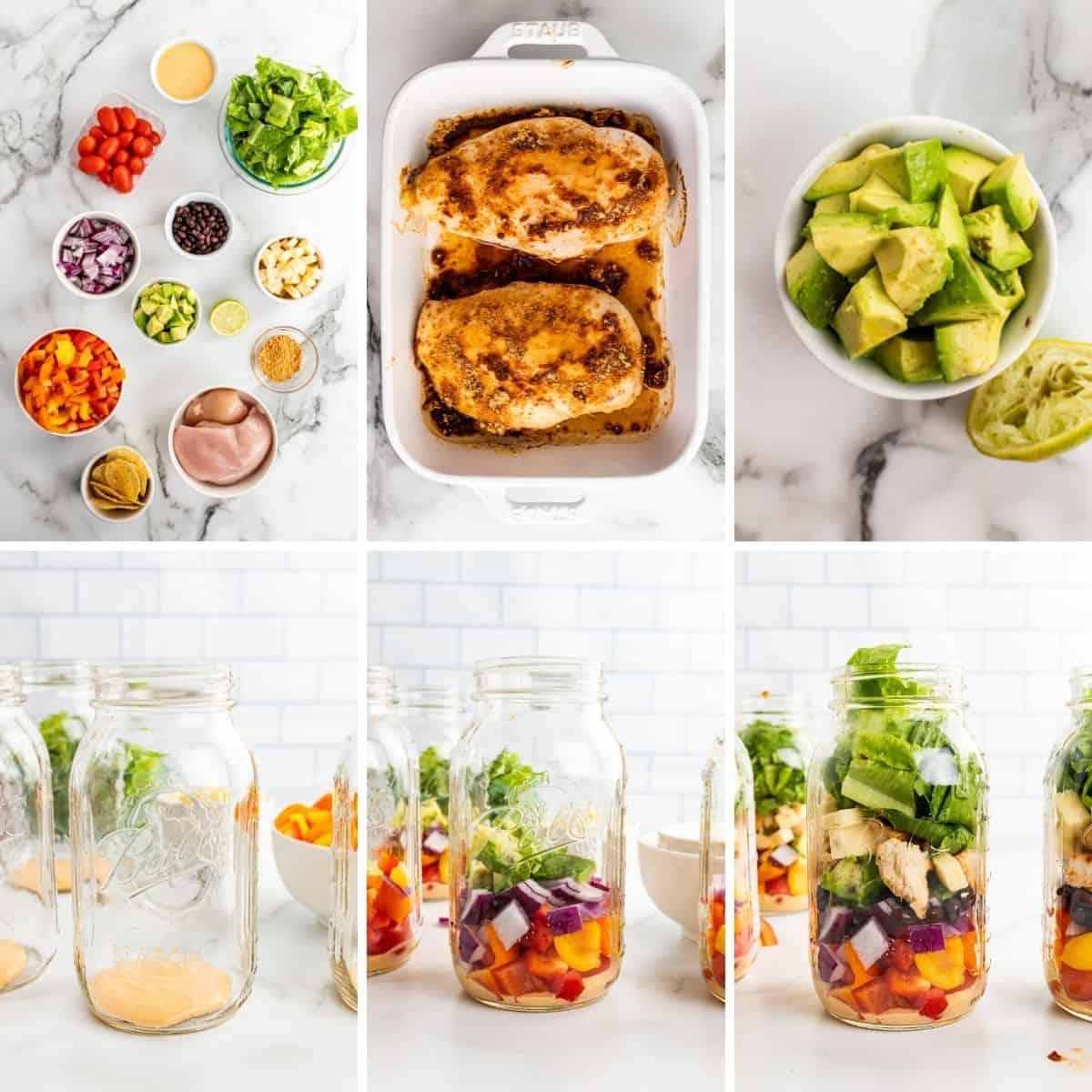 Start by cooking the chicken breasts—preheat the oven to 375 degrees.
Pound the chicken breasts out to about ½ inch thick. You want to make sure the chicken breasts are all about the same size, so they cook evenly.
Sprinkle taco seasoning over the chicken breasts and place onto a rimmed baking sheet coated with cooking spray or olive oil.
Bake for 25 – 30 minutes or until the chicken cooks thoroughly and juices run clear – the internal temperature should read 165 degrees.
Set the chicken aside to cool, and then chop it into chunks or strips.
At the same time, the chicken is cooling, prep the avocado for the salad. Remove the pit and cut it into pieces. Place the avocado in a bowl and generously squirt lime juice over the top.
Put the mason jar salads together. Divide ingredients evenly among the mason jars. Start with the dressing and then add the tomatoes, bell peppers, onions, avocado, black beans, chicken, cheese, and end with the romaine.
Tightly place the lid on and store it in the refrigerator for up to 5 days.
When you're ready to eat, give the jar a few good shakes and pour the salad into a large bowl. Because the ranch dressing is thicker than a vinaigrette, you might need to help it along with a spoon. Toss the salad together and crush some tortilla chips or tortilla strips on top. Enjoy!
If you want to learn more about mason jar salads, check out my tutorial on making mason jar salads.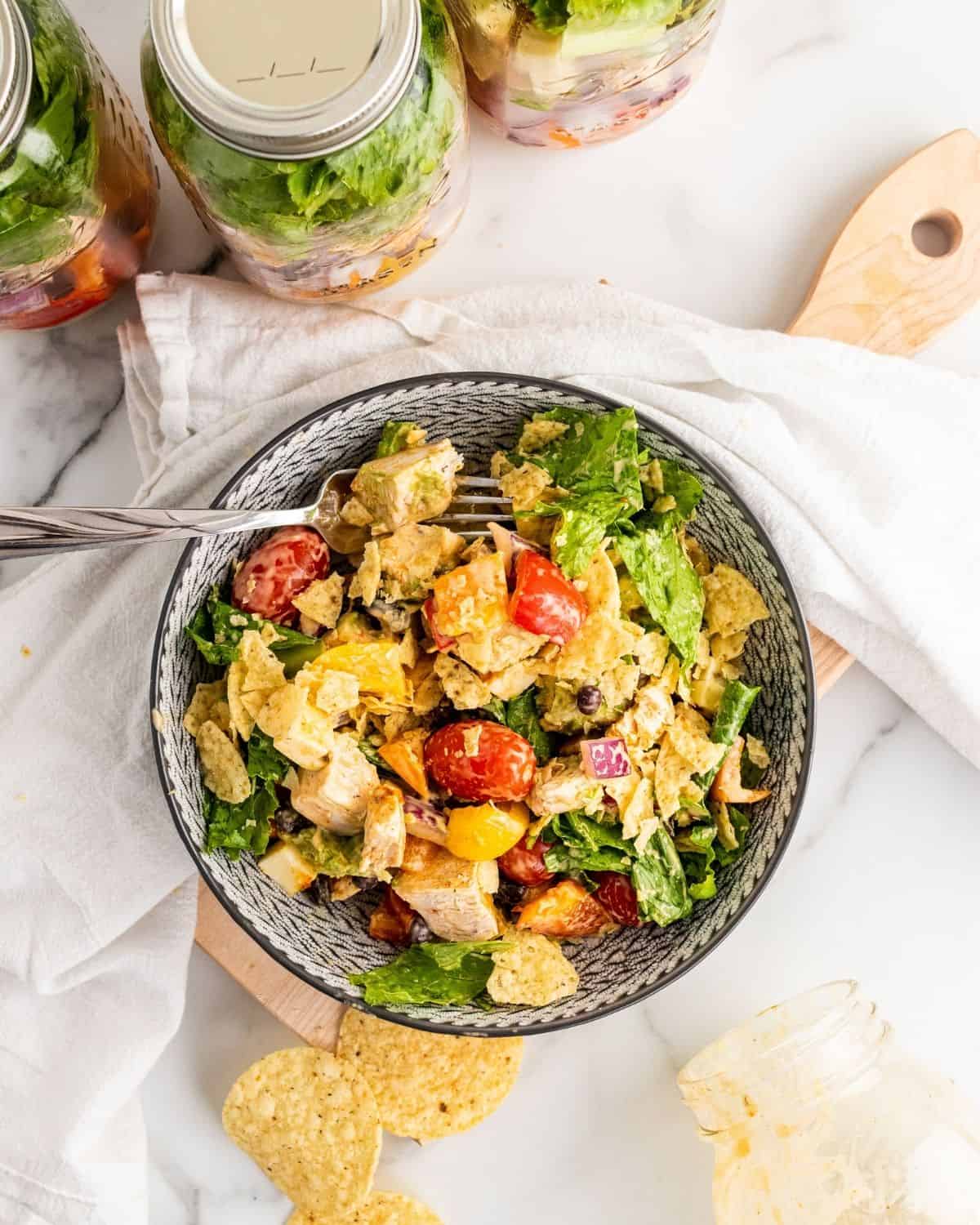 Storage tips
You can make these southwest chicken mason jar salads up to 5 days ahead of time.
If you want to enjoy this salad for an easy weeknight dinner, you can make the chicken ahead of time and store it in an airtight container in the refrigerator for up to 4-5 days. Assemble the rest of the ingredients the night you plan to eat it. Then, either warm the chicken in the microwave and serve on top or enjoy the chicken cold with the salad.
You can also freeze the cooked chicken breasts. After the chicken cooks and cools, cut into strips or chunks, place it into a freezer bag and container and freeze for up to 3 months. To reheat, place the frozen chicken on a plate and microwave for 1-2 minutes or until hot.
Other Healthy Salads
Did you make this recipe?
Have you tried this Southwest Chicken Salad recipe? If so, I'd love for you to rate this recipe and leave a comment below. We all learn from each other's experiences. Also, it would be awesome if you could share a picture on Instagram and tag it #organizeyourselfskinny. I can't wait to see it.