If you're feeling sluggish and are in need of a serious veggie boost, then this Detox Salad In A Jar is a must! Packed full of hearty veggies and drizzled with homemade salad dressing, this salad in a jar is a fantastic and delicious way to get nutrients in quick—plus, it's vegan-friendly!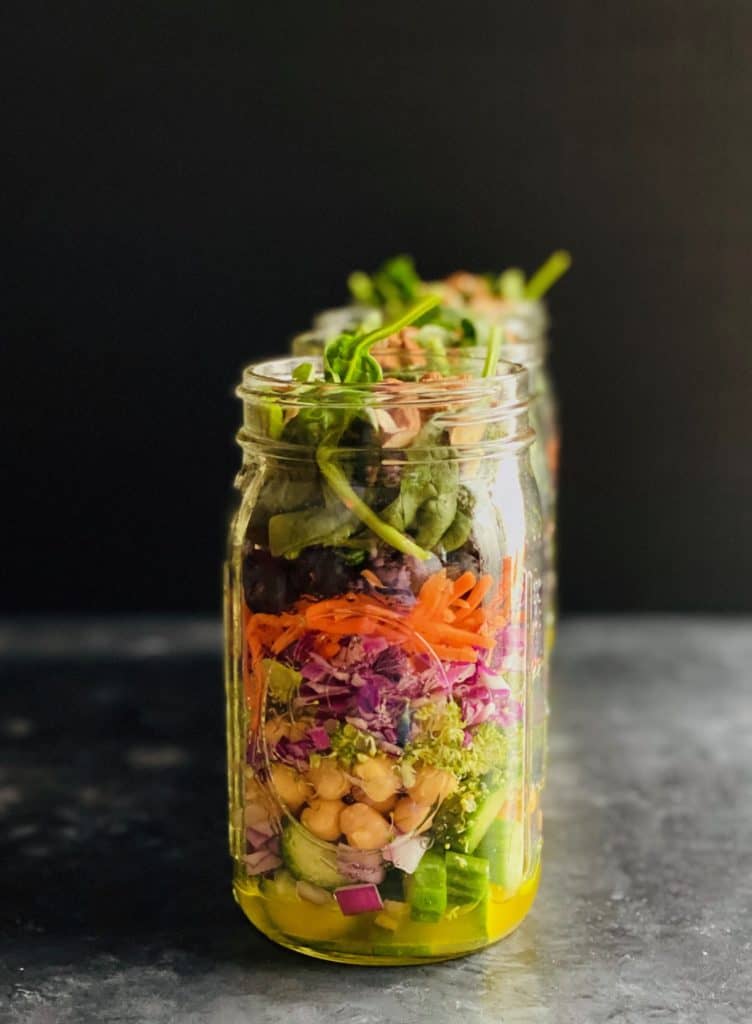 Many people tend to think that a salad in itself is healthy. Most of us know that loading up a salad with fried chicken and croutons counteract the benefits we might get from lettuce, but making a truly healthy detox salad goes further than that.
When you feel sluggish, bloated, or tired and want to detox, you need to focus on what you are actually putting in your salad. Every ingredient should be selected for it's nutrient-denseness.
If I feel the need to detox, I always reach for this salad in a jar. I love meal prep salads because you can make choosing a healthy option much easier on yourself. For example, if I open my fridge and see five salads pre-made and ready to go, I'm much more likely to reach for those instead of going through a drive-through.
However, anytime I mention mason jar salad recipes, I always get a ton of questions about them. Here's some of the most common FAQ about these yummy meal prep salads!
How long does a salad in a jar last?
When properly prepared, mason jar salads should be good for 5 days.
Yes, everything will stay crisp and fresh…as long as all the ingredients are layered correctly.
Start with the dressing, add hearty vegetables, and finish it off with spinach and nuts. Sometimes I'll keep the nuts and seeds on the side because they can lose their crunch staying in a mason jar salad all week, but if I want it all measure out and prepared ahead of time, I'll add them.
Do you eat mason jar salads from the jar?
You can! It's up to you. I will say the one thing I noticed from eating the salad straight from the jar is that the dressing didn't always reach the top part and it sometimes stayed dry while the bottom was overdressed a bit. It depends on the consistency of the dressing.
By dumping the salad into a bowl to eat, you will be able to get that incredible salad dressing in every bite. This is my preferred method.
Can I add some protein to this salad?
This salad is already loaded with 15 grams of healthy protein thanks to chickpeas, almonds and pumpkin seeds. If you are wanting to add some meat as your protein, I would add in some diced chicken or some fish, like salmon (which is full of omega-3 fats- the good kind of fats).
I also have a couple of other mason jar salad recipes that you should check out if you are looking for other salad options.
How to Make a Detox Salad In A Jar
When it comes to making a salad, there are so many ingredients you can choose. Remember, the main goal is to pack your salad with as many healthy, nutrient-dense ingredients as possible.
Every ingredient in this salad was chosen for its health benefits:
Cucumber – low in calories but high in vitamins and nutrients
Onion – helps fight inflammation and reduce cholesterol
Chickpeas – high in protein and full of fiber
Broccoli – full of potassium, vitamin K and C
Shredded cabbage – helps keep your heart healthy and lower blood pressure
Shredded carrots – packed with fiber, vitamin K1, and antioxidants
Blueberries – high in vitamin B6 and C and can help support heart health.
Spinach – full of iron and calcium to help strengthen and support bones
Sliced almonds – contains a lot of healthy fats and is rich in protein
Raw pumpkin seeds – very high in magnesium and promotes low blood sugar levels
To make this salad extra convenient, I purchased the cabbage and carrots that were already shredded. I'm not above buying prepared bags of vegetables if it will save me time. There are so many healthy convenience options and I have no problem using them.
How to Make Homemade Salad Dressing:
The base of this salad starts with a clean dressing made with simple pantry ingredients.
All you need to do is mix together:
Olive oil
Lemon
Garlic
Dijon mustard
Raw honey
Onion powder
Salt and pepper
To make sure you are getting the most out of your detox, I recommend using this homemade dressing with this salad so you don't need to worry about additives or preservatives. Of course, if you want to use a bottled dressing, then I suggest going for an organic variety such as Annie's.
Use Raw Honey for Maximum Benefits
For this dressing, I used raw honey instead of regular because it has not been filtered to remove all of its nutrients and antioxidants. Before you add it to the rest of the salad ingredients, warm it up in the microwave for 15 seconds or so to make it easier to blend.
If you don't have any honey in your pantry, you can substitute it for pure maple syrup. Also, if honey is not your thing, you can omit that ingredient from the dressing altogether. Personally, I think this salad dressing tastes so much better with a sweet balance.
How to Store Leftover Homemade Dressing
If you prefer a light amount of dressing on your salad, you may have some of this dressing leftover. To store it, I recommend using a 16-ounce mason jar container with a lid. Whenever you are ready to use your dressing, give it a shake and enjoy!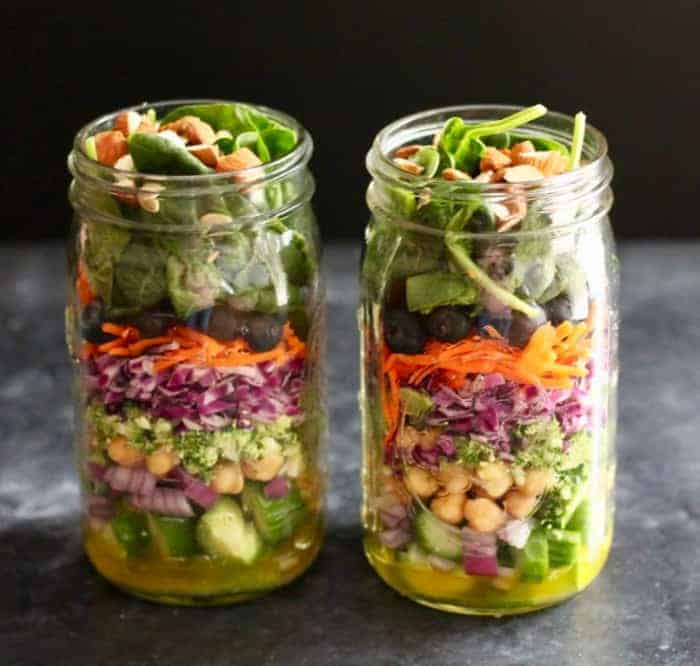 How to Layer Your Mason Jar Salad Ingredients Properly
When it comes to layering this salad in a jar, it's all about strategy. You want to make sure the way you layer your veggies doesn't leave them soggy or wilted.
Start with your dressing at the bottom of the jar.
Put the harder veggies such as cucumbers and onion on the bottom because they can withstand sitting in the dressing for days, unlike your leafy greens.
Next, layer the chickpeas, broccoli, cabbage, carrots, and blueberries (in this order).
Top it off with baby spinach – pack it down as tightly as you can.
Last, add your sliced almonds and raw pumpkin seeds.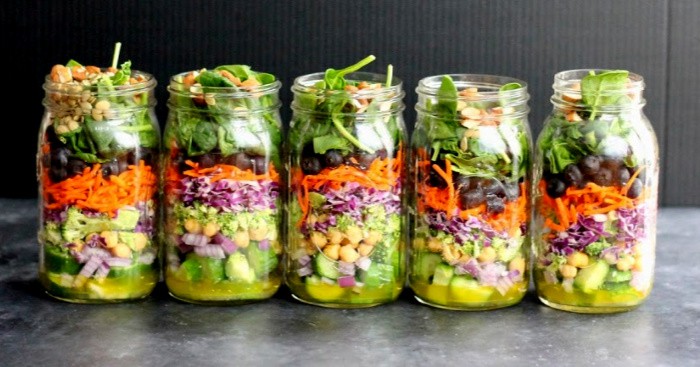 Again, if you want to make sure your almonds and pumpkin seeds retain their crunch, you can store them in a small baggy and add it to your salad when you are ready to eat.
Once you have added all of your ingredients, put the lid on to store your salad jar in the refrigerator for up to 5 days. That's about the maximum time the salad can stay fresh.
When you are finally ready to eat give your salad in a jar, give it a real good shake and then dump it into a bowl or you can eat it straight from the jar!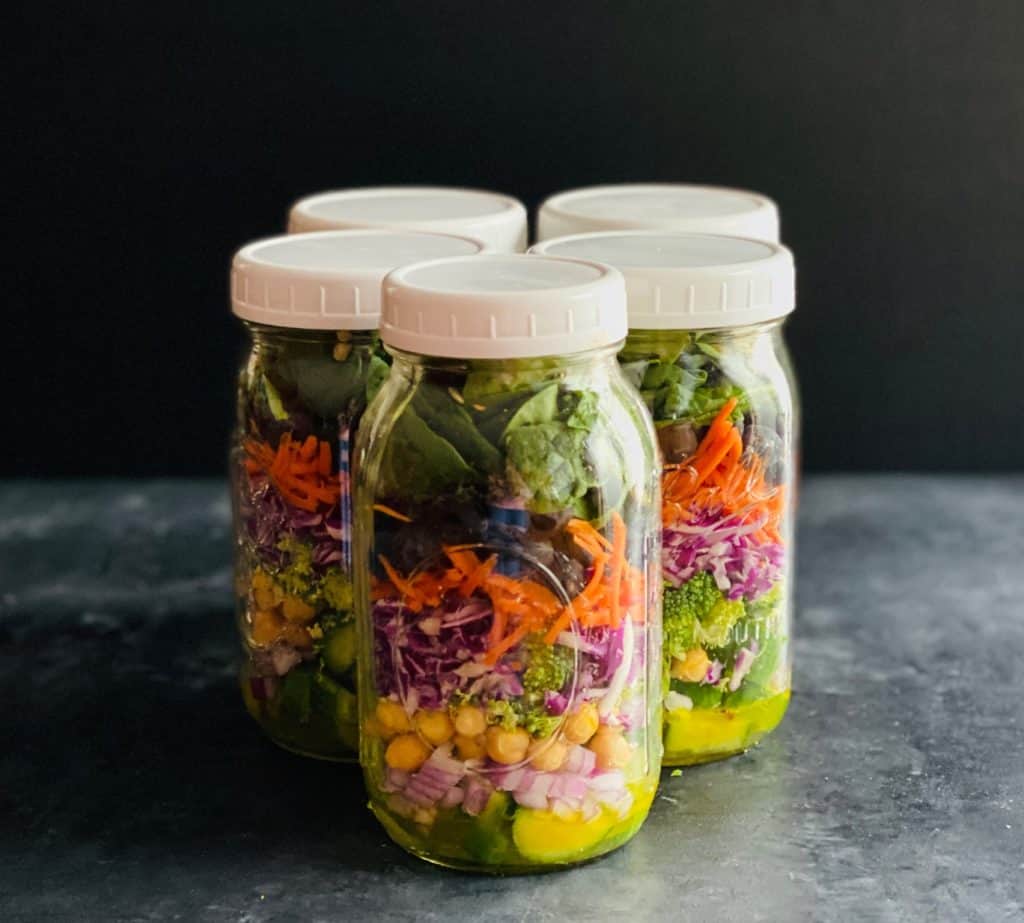 A Perfect Vegan Meal Prep Idea
My only issue with this detox mason jar salad is there's no cheese. Boo! However, when you want to detox, it's suggested that you stay away from dairy because it slows down the detoxification process.
Consequently, I opted for nuts, blueberries, crunch from the veggies, and big flavor from the dressing instead of dairy. Thankfully, I didn't really miss it. This is a perfect hearty high-fiber/high protein salad for vegans!
Other Salads to Try:
Whether you're loading up on a bunch of veggies or looking for a way to incorporate some more greens into your diet, there are so many different salad combos to you can try and see what fits best in your diet. Here are some of my go-to's:
If you're looking for some recipes to eat while you are on your next detox, this Salad in a Jar is definitely the way to go. Share a picture and tag me on Instagram or Facebook if you decide to try it!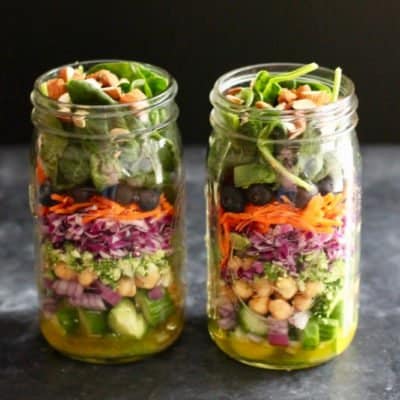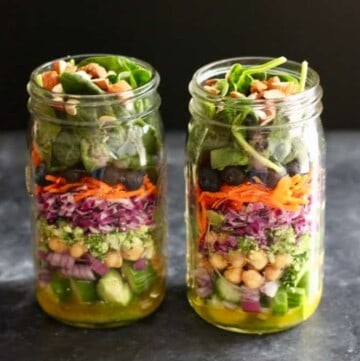 Detox Mason Jar Salad
This delicious detox salad is packed with protein, flavor, and good-for-you nutrients. Every ingredient in this vegan chickpea salad is meant to infuse your body with nutrient-dense ingredients — make this one the next time you're feeling sluggish or bloated and see the difference!
Print
Pin
Rate
Ingredients
Salad Dressing Ingredients
1/2

cup

extra virgin olive oil

1/4

cup

fresh lemon juice

about 2 lemons

1/2

teaspoon

garlic powder

1/2

teaspoon

onion powder

2-3

teaspoons

melted honey

1

teaspoon

dijon mustard

pinch

of salt and pepper
Salad Ingredients
6

mini cucumber

sliced

1 1/4

cup

shredded cabbage

1/2

of a red onion

chopped

1

15 ounce canned chickpeas, drained

1 1/4

cup

chopped broccoli

1

pint

fresh blueberries

1 1/4

cup

shredded carrots

5

cups

baby spinach

5

tablespoons

chopped raw almonds

5

tablespoons

raw pumpkin seeds
Instructions
Make the salad dressing: Put all of the salad dressing ingredients into a 16-ounce mason jar container, or other glass jar, and mix.

Pour equal amounts of the dressing into the bottom of 5 mason jars.

Divide all of the remaining ingredients into 5 equal sections, then add to each jar. Make sure to follow this exact order to keep your ingredients fresh.

Layer cucumbers, onion, chickpeas, broccoli, cabbage, carrots, blueberries, and top with baby spinach.

Add the chopped raw almonds and raw pumpkin seeds.

Put the lid on and store in the refrigerator for up to 5 days.

When you're ready to eat, give the salad a good shake and then dump into a bowl.
Nutrition
Serving:
1
g
|
Calories:
430
kcal
|
Carbohydrates:
44
g
|
Protein:
14
g
|
Fat:
25
g
|
Fiber:
12
g
|
Sugar:
15
g