Mexican Quinoa Salad is tossed with black beans, red onion, jalapeño, and other vegetables, hearty quinoa, and a super flavorful homemade chili lime dressing.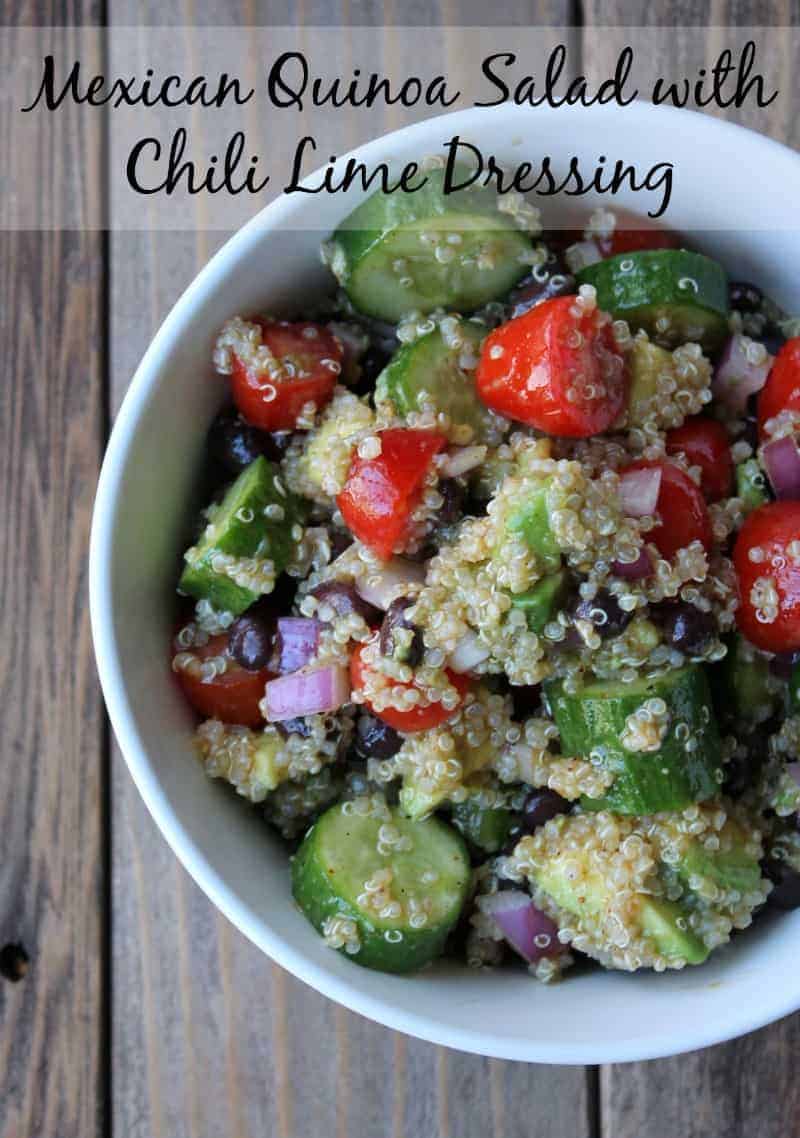 It shouldn't be a secret anymore that quinoa is one of my favorite ingredients. I make a big batch every week and toss it into just about everything I eat. My 2 favorite ways to enjoy quinoa are in breakfast bowls and salads. It's a great way to add a huge nutritional boost to both.
Like most of my recipes this Mexican-inspired salad has been floating around in my head waiting to be born. Honestly, I bought the ingredients for this salad 3-4 times before I FINALLY got around to make it this weekend.
I brought this salad with me to a get together at a friends house. Typically, I don't bring brand new recipes to a party but this salad made quite a bit and is delicious, so I decided to bring it. Of course, I was a little nervous because not everyone has tried quinoa and I didn't want to see a look of disgust after their first bite. I do feel confident in my cooking but ya never know.
Anyway, one of my friends described it as "phenomenal" and the "perfect summer salad". He had 3 helpings. Everyone else loved it too. Yay!
This Mexican Quinoa Salad is light and flavorful. I started with black beans, jalapeño, crisp vegetables, avocado, and cooked quinoa. If you're not sure how to cook quinoa then check out this post I did.
A quick note about the avocado. Before I put the avocado in the salad I tossed it with lemon juice to keep it from turning brown. I wasn't sure if the avocado would hold up to siting in a salad all day but it seemed to do fine. I ate leftovers a few days later and it was still good. However, if you worry about the avocado you can chopped some up right before you are going to serve the salad.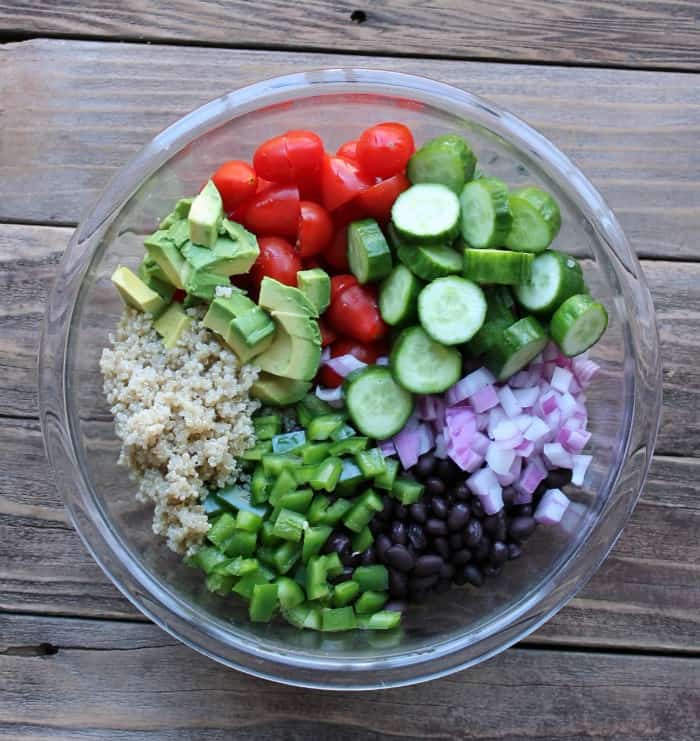 Then I made the dressing. I'll admit I don't often make my own dressing. However, after making a batch of this chili lime dressing, and experience how easy it is, I will make homemade dressing more often.
I poured 1/4 cup olive oil into a small mason jar and then squeezed in the juice of 2 limes. I highly recommend getting this citrus squeezer by OXO. I use a lot of fresh lemon and lime juice in my cooking and this squeezer works great. Next I added grated garlic, chili powder, cumin, salt, and pepper. The next dressing ingredient to go in was honey. Honey creates a great balance with this dressing. Without it the lime juice would take over and would be very tart.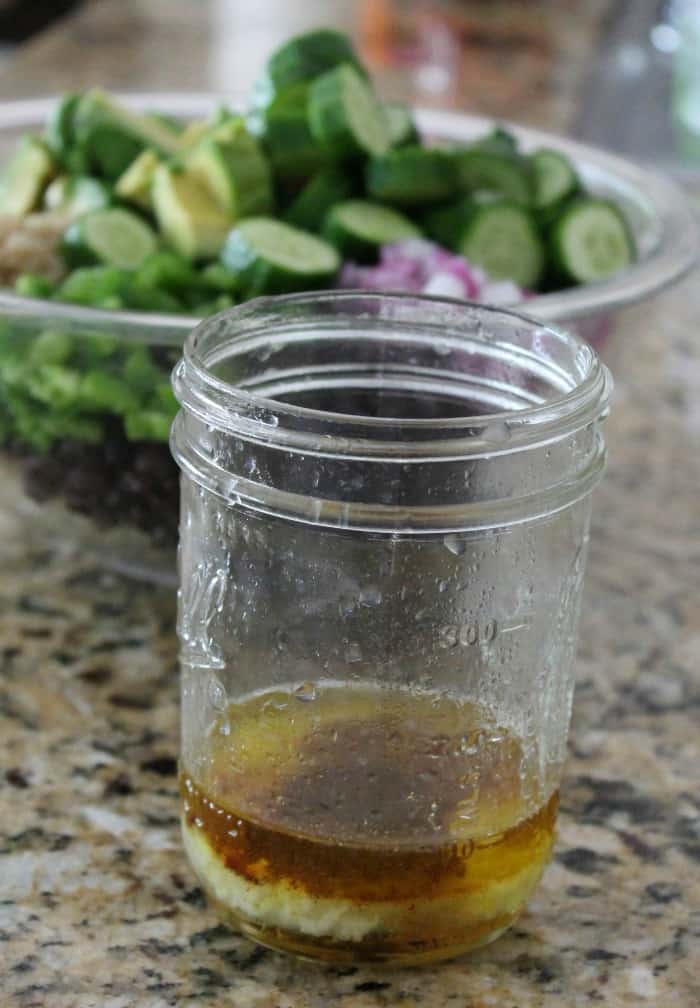 Then I place the lid on and gave the mason jar a couple good shakes. Mason jars are the ideal vessel for salad dresses. I use the 16 ounce jar size and it was perfect.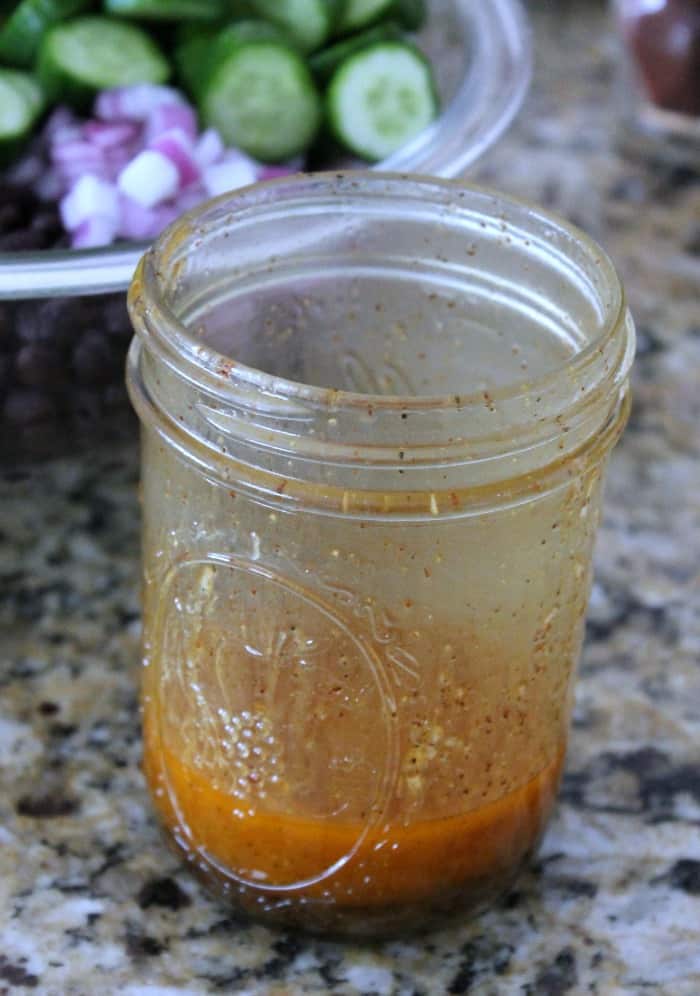 Then I poured all of the dressing over the salad. At first, I wasn't sure if this was going to be enough, or possibly to much, but it ended up being just right. Use as much dressing as you like.
I mixed it all together. It helps to have a large bowl when mixing this salad.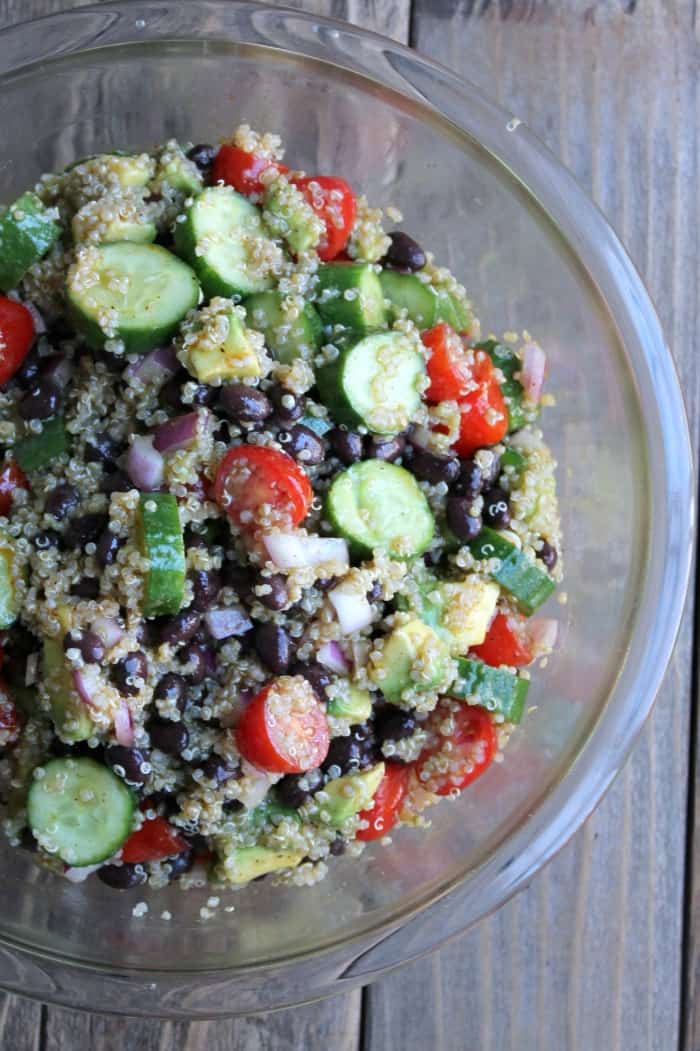 I recommend letting this salad sit for a couple hours so the flavors blend. Before serving squirt with some more lime juice (1/2 a lime) and add 1/4 – 1/2 teaspoon of salt. Mix together again and serve. I learned about "finishing off" a recipe with salt by watching a show on the Food Network. It is one of my favorite cooking tips or "secrets". Adding salt at the end really helps the flavors to pop.
This Mexican Quinoa Salad is refreshing and as my friend said "phenomenal". You enjoy eating it and can feel good about it too because it only includes clean wholesome ingredients.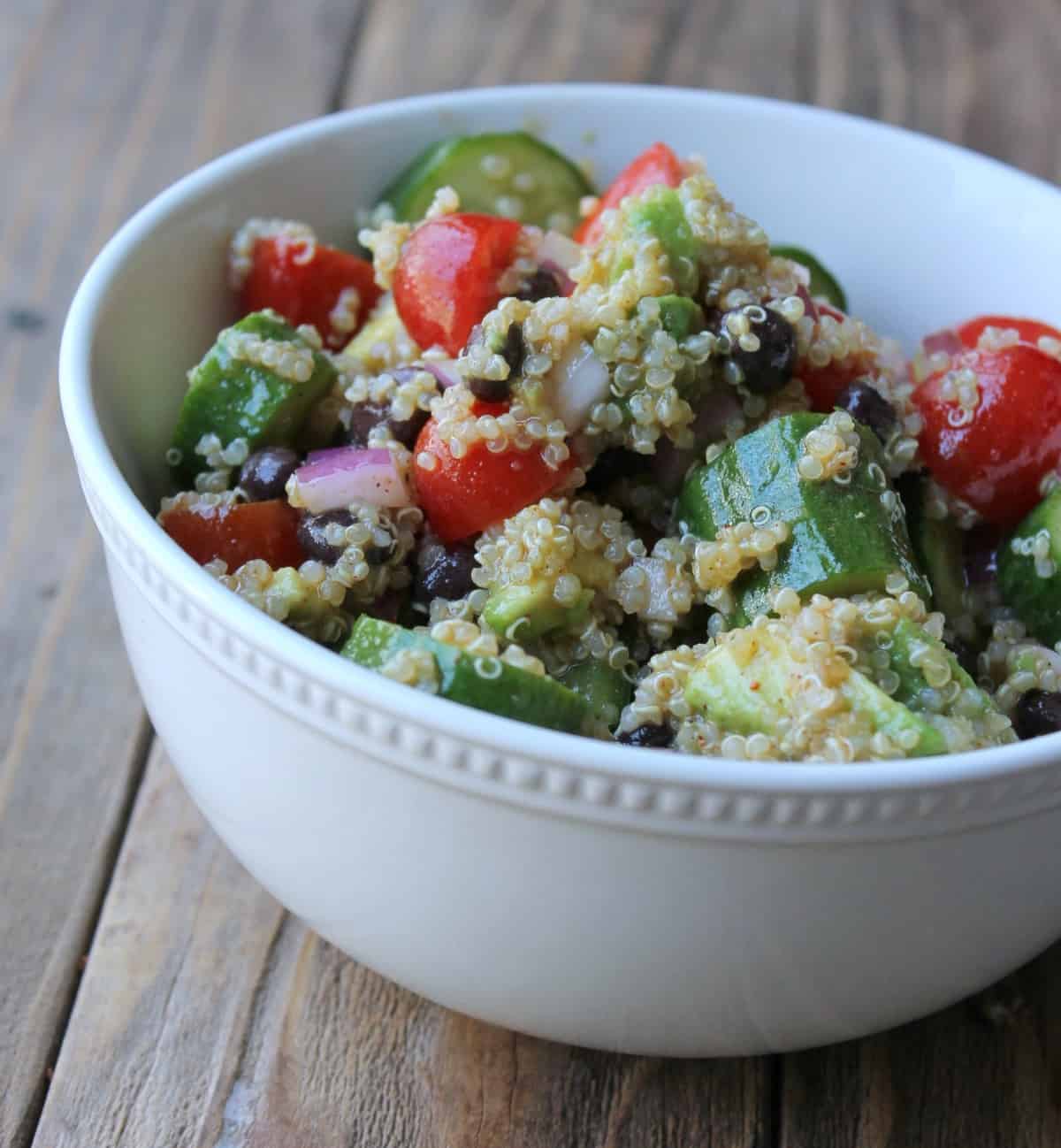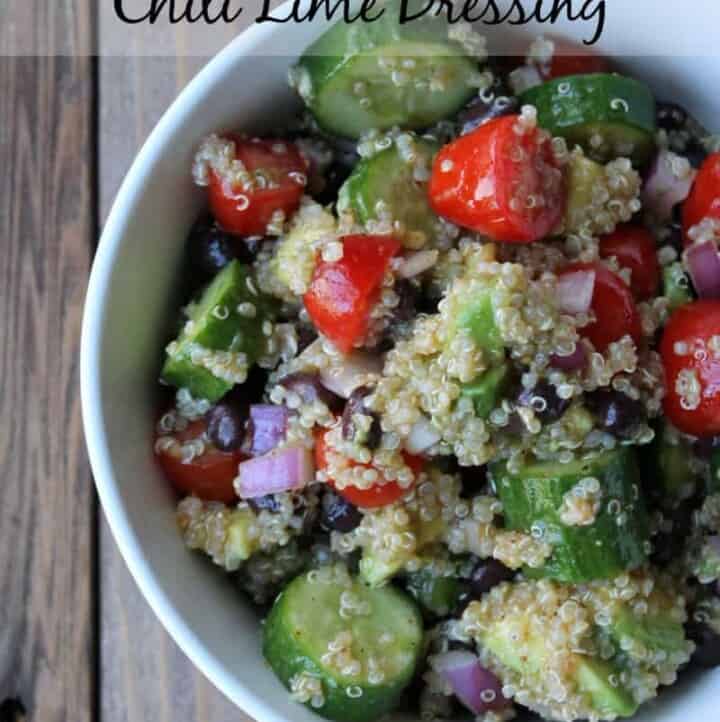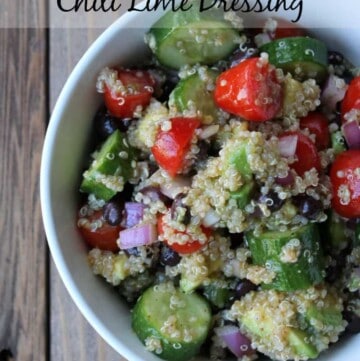 Mexican Quinoa Salad with Chili Lime Dressing
Mexican Quinoa Salad is made tossed with black beans, red onion, jalapeño, and other vegetables, hearty quinoa, and a super flavorful homemade chili lime dressing.
Print
Pin
Rate
Equipment
Mixing bowl

Medium sauce pot
Ingredients
Chili Lime Dressing
1/2

cup

extra virgin olive oil

1/3

cup

fresh squeeze lime juice

2 -3 limes

1/2

teaspoon

lime zest

1/2

teaspoon

garlic powder

1/2

teaspoon

chili powder

1/4

teaspoon

cumin powder

1/8

teaspoon

salt

2-3

teaspoons

honey

more or less depending on taste.
Mexican Quinoa Salad
2/3

cup

dry white quinoa

1 1/3

cup

vegetable broth

you can also use chicken broth or water.

1

15-ounce

canned black beans

drained and rinsed

1

jalapeno pepper

seeded and chopped

1/2

red onion

peeled and chopped into small pieces

1

pint

cherry tomatoes

halved

4-5

baby cucumbers

sliced and cut into quarters

1/4

cup

chopped fresh cilantro

1

avocado
Instructions
Prepare the dressing
In a small jar combine the olive oil, lime juice, zest, garlic powder, chili powder, cumin, salt, and honey. Put lid on the jar and shake. Set aside.
Cook the Quinoa
Place the quinoa into a bowl and cover it with water. Give it a couple of stirs until the water gets slightly cloudy. Pour the quinoa into a mesh strainer and run water over it.

Then place the quinoa in a small sauce pot with the vegetable broth and cover it with a lid.

Bring the broth and quinoa to a boil and then reduce to a low simmer and cook for about 20 minutes or until the liquid is absorbed.

Remove the pot from the heat and let it sit for another 5 minutes.

Fluff the quinoa with a fork and, let it cool for a few minutes, and then continue with the recipe.
Prepare the salad
Place the quinoa, chopped jalapeno peppers, chopped red onion, sliced tomatoes, cut-up cucumber, and cilantro into a large salad bowl.

Pour half of the dressing into the bowl with the other ingredients and toss. Then pour in the rest of the dressing and toss until everything is coated. Give it a taste and add more salt if necessary.

If you're going to eat immediately then remove the skin and pit of the avocado, chop it up and mix in with the salad. or serve slices on top. If you're making for a party then cut up the avocado when you serve the salad.

Serve with extra lime wedges.
Notes
Make-ahead tips
If you are bringing this to a party I would make this the day off. The quinoa can be made up to 5 days ahead of time. Otherwise, you can make this 2-3 days ahead of time. Give it a couple stirs before eating to distribute the liquids.
Nutrition
Serving:
1
g
|
Calories:
314
kcal
|
Carbohydrates:
43
g
|
Protein:
10
g
|
Fat:
14
g
|
Saturated Fat:
2
g
|
Fiber:
9
g
|
Sugar:
10
g