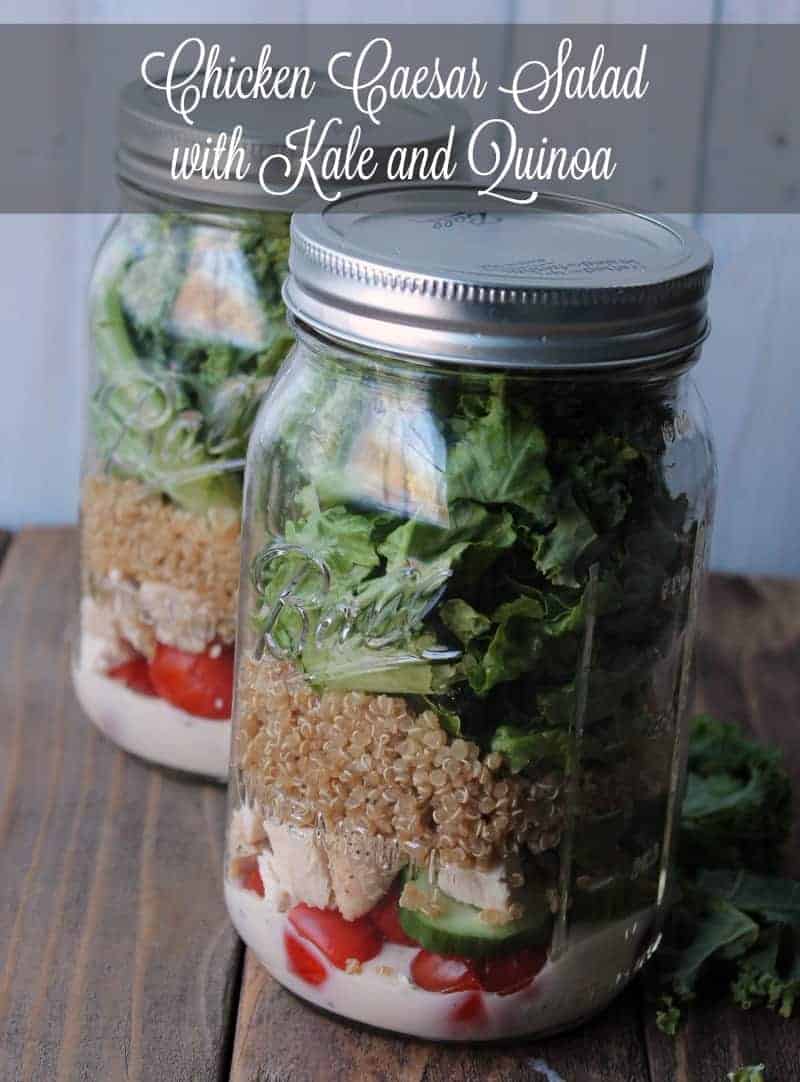 I love Panera Bread and go there often. I don't know what it is but when I try to write at home I struggle with staying focused. However, when I'm at Panera Bread I can write my little heart out. It can be totally packed with people but as long as I have my ear buds I can stay completely focused. I know strange.
My favorite salad at Panera Bread is their chicken caesar salad with quinoa and kale. I think they call it a power salad. Isn't it funny that everything with quinoa automatically becomes power. I do it too. See my 7-minute Quinoa Power Salad. Quinoa is definetly a super food and fits nicely into any meal. I love it in the Panera Caesar Salad so I decided to recreate a mason jar salad version at home.
If you like videos, instead of pictures, then here's my quick step by step video tutorial.

I wanted to keep this salad simple so I used
Newman's Own Caesar Dressing
. I've used Newman's Own for decades so it's my absolute favorite. Use your favorite or make homemade if you wish. Obviously, the calories might look a little different so keep that in mind.
Panera's salad doesn't include tomatoes or cucumbers but I wanted to add them because I like a lot of veggies in my salads and I was making a mason jar salad. Mason jar salads need hearty veggies on top of the salad dressing. See my tutorial here.
I put about ¼ cup of diced chicken into the salads. Panera Bread thinly cuts the chicken breast in their salad – I love that! After I baked the chicken I diced it up small. I wanted to make sure the chicken distributed throughout the whole salad after I shook it up.
Every week I bake chicken to use for the week. All I do is season it with salt, pepper, granulated garlic, and onion powder. Then I bake it at 350 degrees for 45 – 50 minutes or until done. That's it. I used some of it for these salads then I used the rest in other recipes.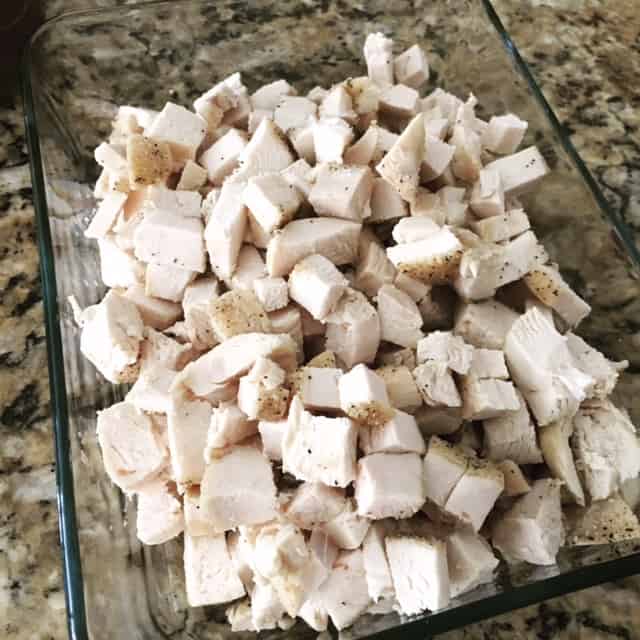 After I filled the jars with the chicken I sprinkled a teaspoon of parmesan cheese into each of the jars. The last ingredients to go into the mason jars were kale and romaine. Kale is another super food that adds a ton of nutrients and fiber to a meal. I find it to be really earthy and hearty raw so pairing it with romaine works well
Panera Bread's Caesar Salad includes thin garlic toasts or croutons. I decided to leave those out. With the quinoa I really didn't feel the need to add anything carby to the salad.
My version of the Panera Power Kale and Qunioa Caesar salad was not exactly like the original but it certainly held its own as a mason jar salad recipe. It's delicious, filling, and super easy to make. These healthy salads can be prepare ahead of time for a quick nutritious lunch during the week.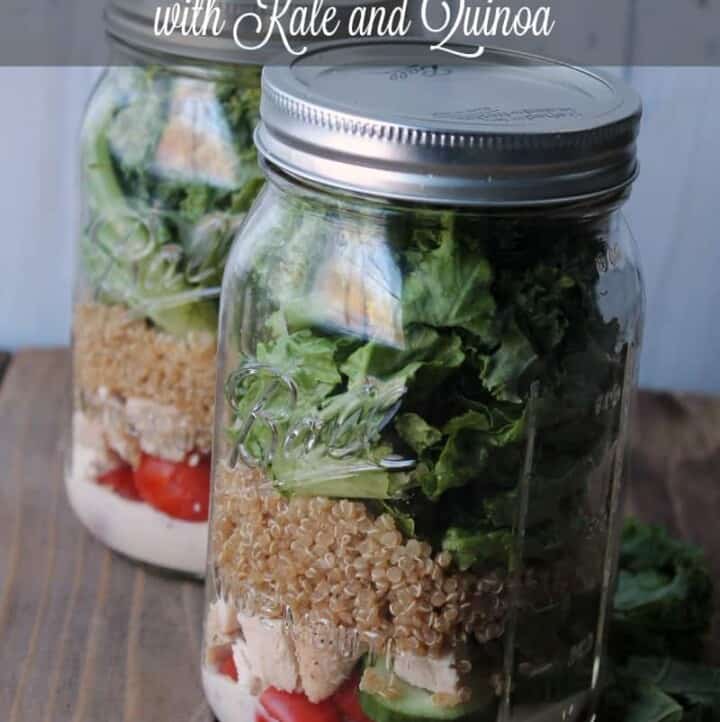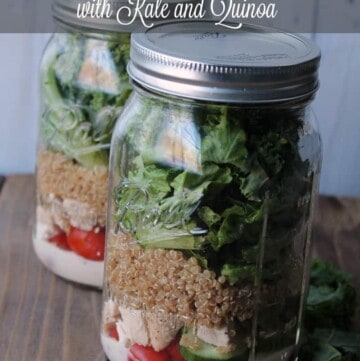 Ingredients
5

wide mouth mason jar containers

10

tablespoons

Newman's Own Caesar Dressing

I use creamy

1-

quart

cherry tomatoes

sliced or kept whole

5

baby cucumbers

sliced

1 ¼

cup

diced baked chicken breast

5

teaspoon

parmesan cheese

1 1/4

cup

quinoa

5

cups

chopped kale

5

cups

chopped romaine
Instructions
Divide all the ingredients among the 5 mason jar containers. Start with the dressing then layer the tomatoes, cucumbers, chicken, parmesan cheese, quinoa, and finish with the kale and romaine lettuce. Store in the refrigerator for up to 5 days.

When you are ready to eat shake the mason jar and dump into a bowl or on a plate.
Notes
sugars: 5
Make-ahead instructions
Salads can be made up to 5 days ahead of time stored in the refrigerator.
Nutrition
Serving:
1
g
|
Calories:
323
kcal
|
Carbohydrates:
16
g
|
Protein:
18
g
|
Fat:
21
g
|
Saturated Fat:
3
g
|
Fiber:
3
g