This delicious quinoa power salad is packed with wholesome and nutritious ingredients that will keep you satisfied all day long! It comes together in 7 minutes or less when all the ingredients are prepped ahead of time.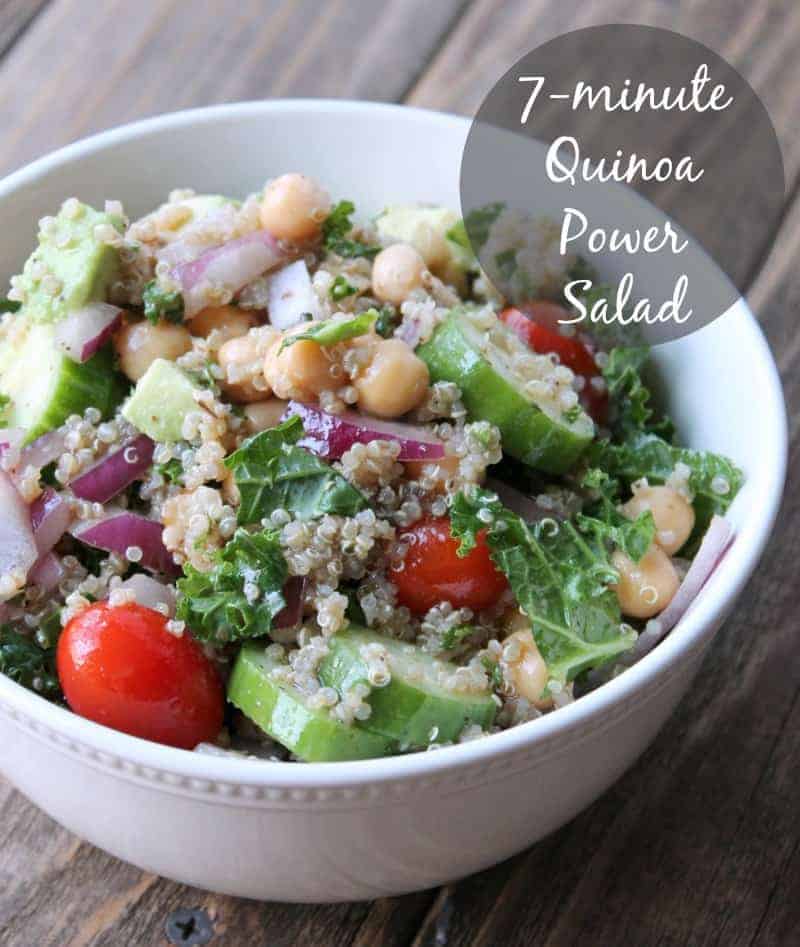 I'm a quinoa-obsessed girl. Love it! It's filled with protein and fiber, easy to make, delicious, and beyond versatile. It taste great in casseroles, soups, chills, and I LOVE QUINOA IN SALADS. Seriously, if you want to add bulk to your salad without the empty calories of croutons or other carbs then try quinoa. Do it!
I made a few different versions of this salad over the summer and this last week had a craving for it. Probably because I'm still feeling sluggish after the holidays and it's the first week of the New Year. Basically, it's about that time of year for a power salad to come back into my life. Agree?
I'm calling this salad a power salad because it's filled with powerful nutrition packed ingredients. There's quinoa which is a powerhouse in itself. But I also included kale, avocado, walnuts, garbanzo beans, and other veggies. Yep! I told ya. Power salad baby! I felt amazing eating this for lunch. I was full but not bloated. I had energy and felt satisfied all afternoon.
Something to keep in mind with this salad is the fat content. It's higher in fat because it includes avocado and walnuts. Don't let this scare you though because it's a good fat. Just something to be aware of.
Now let me explain the 7-minute part. Obviously, quinoa takes time to cook (longer than 7 minutes) and all the other ingredients take time too. Sooo, how did I make this in 7-minutes? Well, I took about 15 minutes on Sunday to prepare all of these ingredients ahead of time. During the week, when I was ready for lunch, this Quinoa Power Salad came together in 7 minutes or less! The key is preparation. I talk about that all the time. If this is your first time hearing me say this then check out my beginner meal prep post. There's tons of info there.
If you want to eat healthy during the week then you must prepare ingredients ahead of time.
For this power salad I cooked the quinoa ahead of time, rinsed the beans, chopped the kale, sliced and chopped the other vegetables. I stored everything in Pyrex glass containers or mason jars.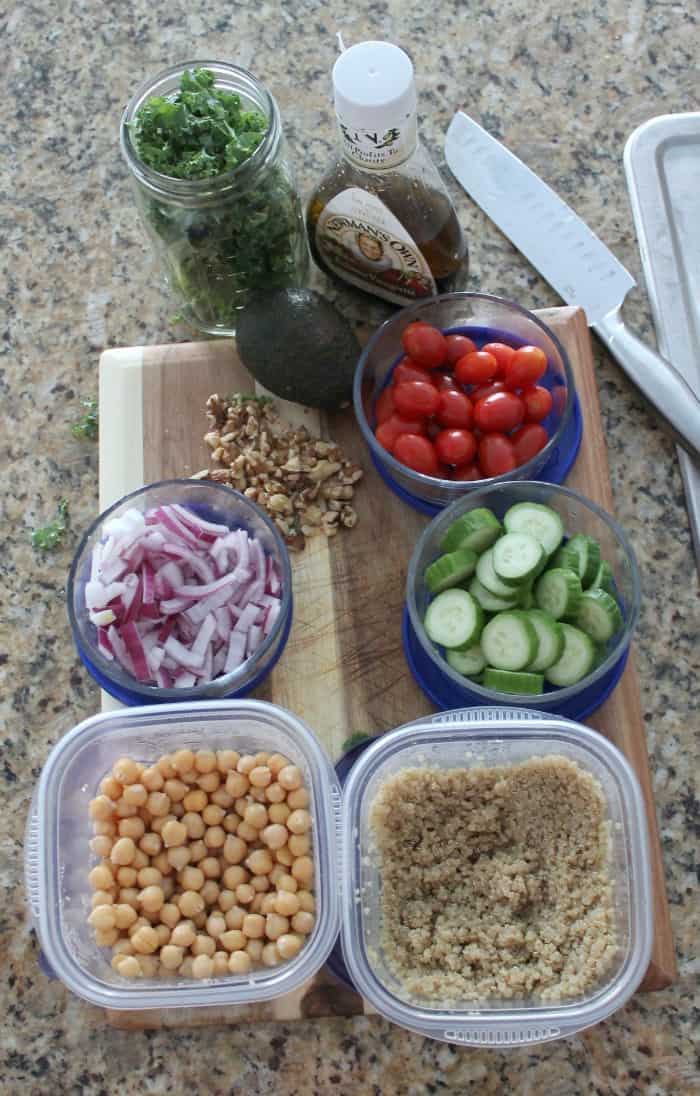 When I was ready to eat I took the amount I needed from the containers and made my salad.
I used Newmans Own Balsamic Vinegar Dressing. You can use any dressing you like. You could easily use a little olive oil and lemon on this salad and it would be delicious. Whatever works for you.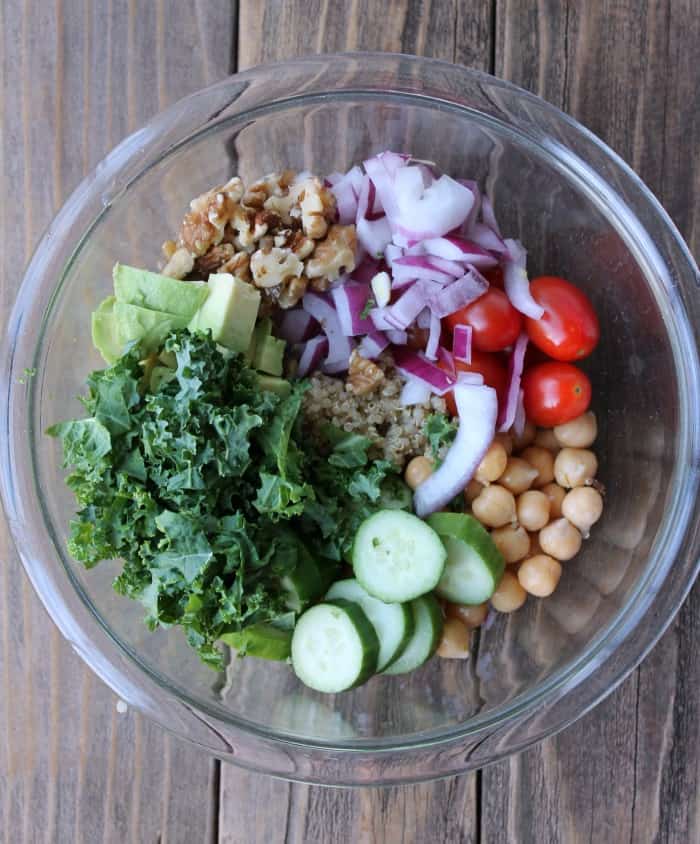 The amount of ingredients and nutritional information listed below is for 2 servings. If you are only making one salad then adjust the amounts accordingly.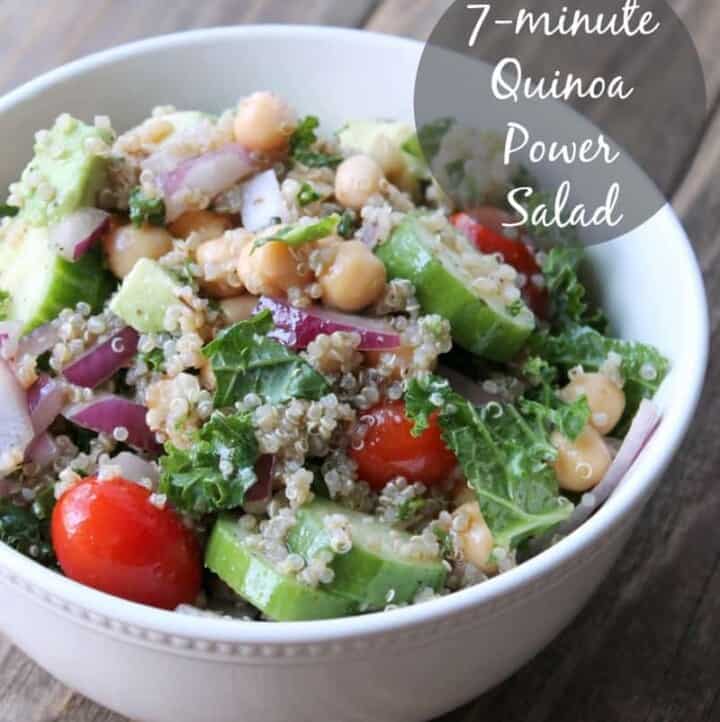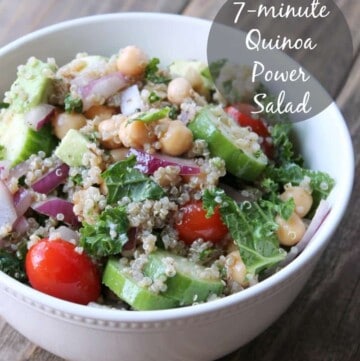 Ingredients
½

cup

cooked quinoa

1

cup

chopped kale

¼

cup

canned garbanzo beans

10

cherry tomatoes

¼

cup

sliced cucumbers

¼

cup

chopped red onion

1

avocado

chopped

2

tablespoons

cup chopped walnuts

2

tablespoons

Newmans Own Balsamic Vinegar Dressing
Instructions
Mix all of the ingredients into a bowl and serve.
Notes
3 sugars.
Make ahead instructions
This salad can be made completely 2-3 days ahead of time. Additionally, all the ingredients can be prepped ahead of time and stored separately. Prepare the salad when you are ready to eat.
Nutrition
Serving:
1
g
|
Calories:
355
kcal
|
Carbohydrates:
32
g
|
Protein:
9
g
|
Fat:
23
g
|
Saturated Fat:
4
g
|
Fiber:
12
g