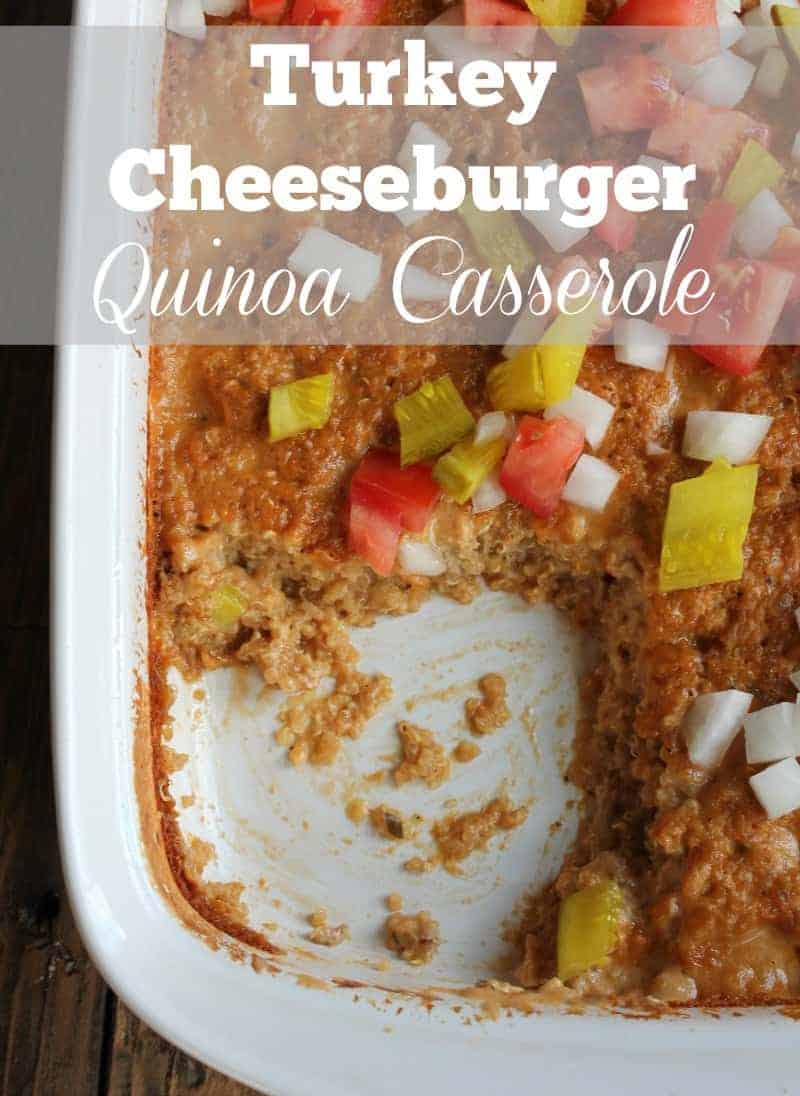 Cheeseburger! Cheeseburger! I don't think one can have too many juicy delicious cheeseburger recipes. I know you all love them because the cheeseburger recipes I have shared are the most popular recipes on my blog. No joke. My cheeseburger wrap, even after 3 years, still continues to be one of the most searched for and visited recipes – and I have LOTS of recipes! Same with my cheeseburger stuffed peppers and cheeseburger macaroni bake. Everyone loves the taste of cheeseburgers. But more than that we want to be able to enjoy a tasty burger and still fit into our skinny jeans. Right? Trust me, I am with you. I am all about creating lightened up versions of our favorite comfort foods. That's my job 🙂
Well I have a new cheeseburger recipe for you today that is out of this world! It takes all of the flavors of a cheeseburger and wraps it up into a delicious nutritious quinoa casserole. Quinoa?
Yes, I have been a little obsessed with quinoa lately but I can't help it. Quinoa is da bomb! It is high in fiber and protein, gluten free, and lower in carbs. This basically means you will stay full and satisfied without being bloated. Yay!
Quinoa is a great ingredient to use in a variety of comfort foods recipes and this cheeseburger casserole is no exception. The quinoa creates the perfect base for all of the wonderful tasty cheeseburger flavors.
Let me share with you what I did…
First I cooked the quinoa in beef broth. Typically, I use chicken broth but for this recipe I wanted that beefy flavor. After it was done I put it in a 9 x 13 casserole dish I sprayed with cooking spray.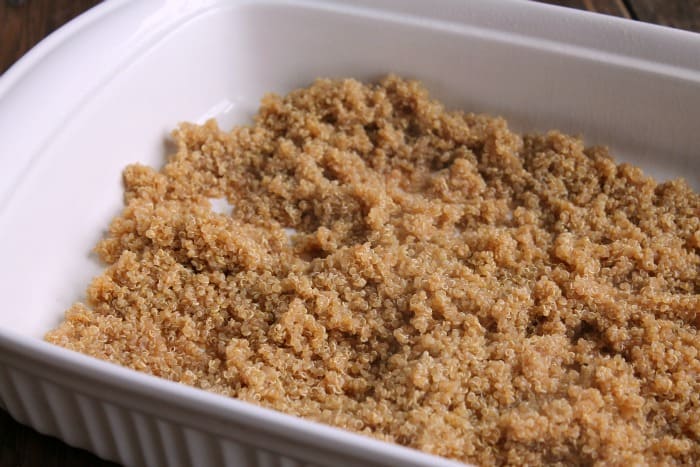 Then I cooked the ground turkey. I used steak seasoning along with Worcestershire sauce to rev up the hamburger flavor. Then I stirred in some ketchup, mustard, and little dill relish. As it cooks all you can smell is hamburgers. Delish.
After the turkey is done I place it on top of the quinoa and got to work on the cheese sauce. Oh the cheese sauce…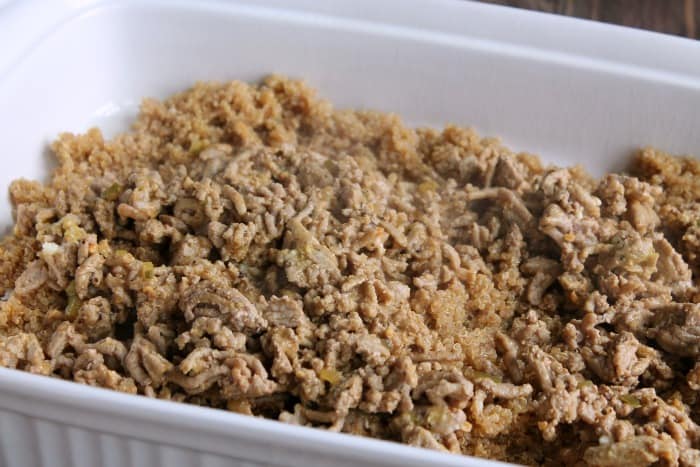 I followed my basic cheese sauce recipe that I use in many of my cheesy casserole dishes but just changed up the cheese and used beef broth instead of chicken. I used an extra sharp shredded cheese. My personal favorite is Sargento extra sharp shredded cheese. The taste is awesome and it melts great. However, use whatever brand you like. I also used 4 ounces of cream cheese in the sauce. This gives it a delicious creaminess that, in my opinion, makes this sauce.
After the sauce was done I poured it over top the quinoa and ground turkey.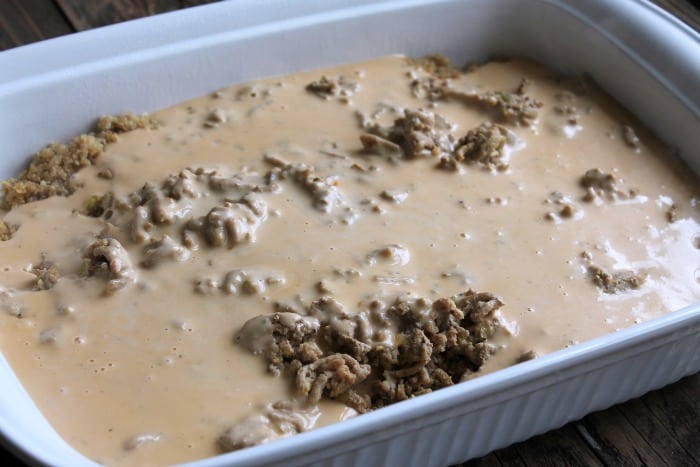 I gave the ingredients a few stirs until it was all evenly distributed. I know it looks like a lot of sauce but done worry it thicken right up as it cooks.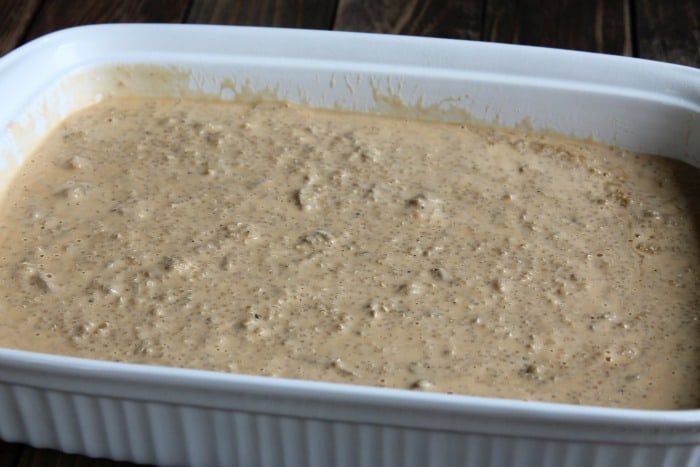 Then I put the casserole in the over for 50 minutes at 350 degrees. The smells coming from my oven were marvelous. I could not wait to dig in!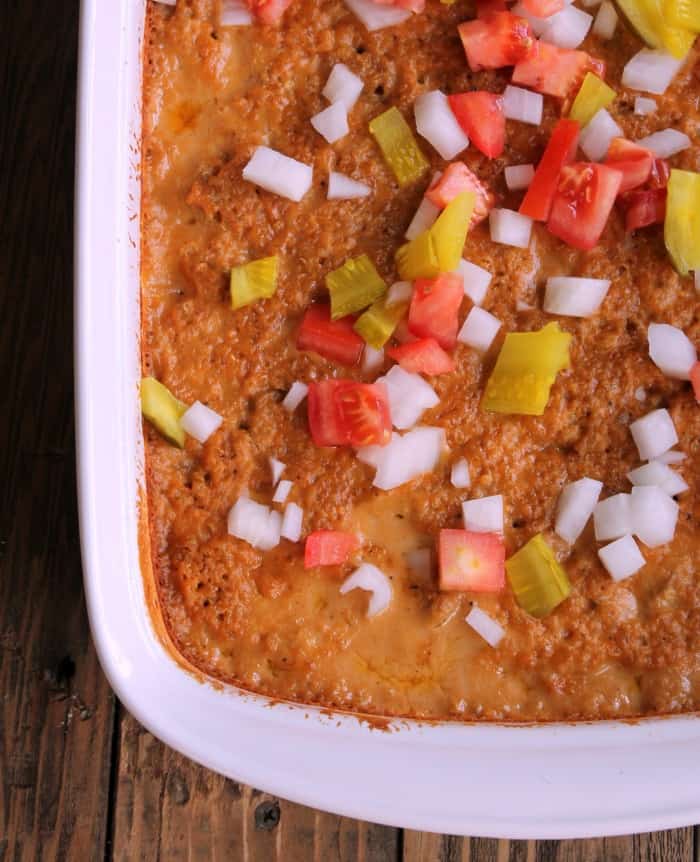 This turkey cheeseburger casserole is awesome! My entire family loved it and that incudes my oldest daughter Emma. She can be quite a picky eater but gave this recipe 2 thumbs up. I highly recommend garnishing the casserole with chopped tomato, onion, and pickles. This give it even more of a genuine cheeseburger taste.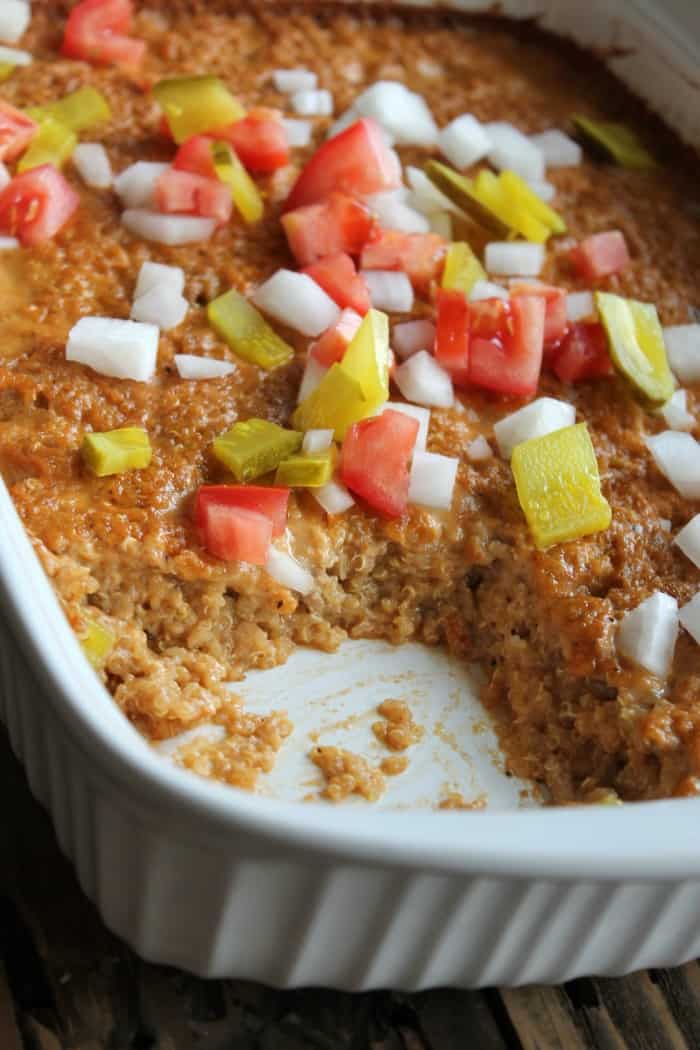 There are about 8 servings in this casserole. Each serving is about 1 ½ cups, only 348 calories, and 9 weight watchers points plus. Enjoy it with a small salad or side of vegetables and you will be satisfied all night.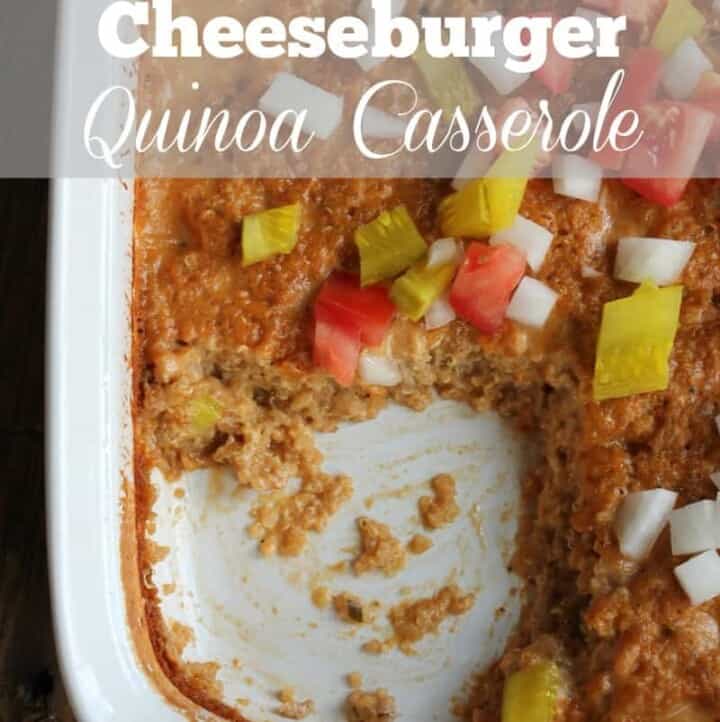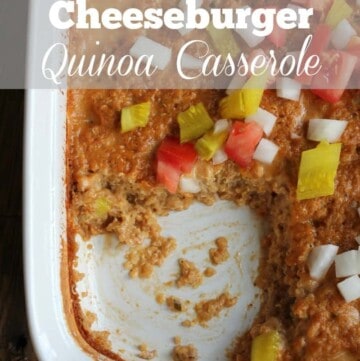 Ingredients
1

cup

quinoa

3

cups

beef broth

divided

1

lb

ground turkey

2

teaspoons

steak seasoning

1

tablespoon

worcestershire

1

tablespoon

ketchup

½

tablespoon

mustard

2

teaspoons

dill relish

1

tablespoon

grated romano cheese

½

cup

milk

2

tablespoons

all purpose flour

4

ounces

regular block cream cheese

1

teaspoon

onion powder

1

teaspoon

granulated garlic

¼

teaspoon

salt

¼

teaspoon

pepper

7

ounce

package Sargento extra sharp cheddar cheese

about 1 3/4 – 2 cups

¼

cup

grated romano cheese

serve with chopped onion

tomato, and pickles
Instructions
Preheat oven to 350 degrees.

Place 1 1/2 cups of the beef broth and quinoa into a medium sauce pan, cover, and bring to a boil. Reduce heat to low and simmer for 10 – 12 minutes or until almost all of the liquid is absorb. Remove from heat and let it stand for about 3-5 minutes. Place quinoa into a 9 x13 ceramic baking dish sprayed with cooking spray.

Spray a medium saute pan with cooking spray and cook the ground turkey over medium heat until it is browned and no longer pink. Break the meat apart with a spatula as it cooks.

Stir the steak seasoning, worcestershire sauce, ketchup, mustard, relish, and grated romano cheese into the cooked ground turkey. Cook for another 1-2 minutes then place turkey over the quinoa in the casserole dish.

In a medium sauce pan (I used the same one I cooked the quinoa in) pour in the rest of the beef broth (1 1/2 cups) and milk. Whisk in the 2 tablespoons of flour and cook over low heat until steamy and starting to bubble. This can take around 5 – 7 minutes. Continuously whisk broth mixture so the flour does not stick or burn to the bottom.

Stir in the cream cheese, onion powder, granulated garlic, salt, and pepper. Continue to cook until the cream cheese is melted. This will take about 3-4 minutes.

Slowly stir in the shredded cheddar and grated romano cheese. Cook and stir until it is melted, about 1 -2 minutes.

Pour the cheese sauce over the ground turkey and quinoa. Stir the ingredients together until everything is coated and evenly distributed.

Place the casserole dish into the oven for 50 minutes or until browned and bubbly.

Let rest for 5 minutes. Sprinkle chopped onion, tomato, and pickles over top and enjoy.
Notes
Make-ahead Instructions
This recipe can be made fully ahead of time and stored in the refrigerator or portioned out and frozen for quick easy lunches and dinners. Warm up in the microwave for 1-3 minutes or until heated through.
Nutrition
Calories:
348
kcal
|
Carbohydrates:
19
g
|
Protein:
24
g
|
Fat:
19
g
|
Fiber:
2
g
|
Sugar:
9
g