This healthy cheeseburger wrap is filled with lean ground beef, melted cheese, and all your favorite hamburger toppings. Adding it to the grill for a few minutes will add this unbelievable smokey flavor- just like a real burger! Once you serve this grilled wrap to your family, they will be asking for it every night!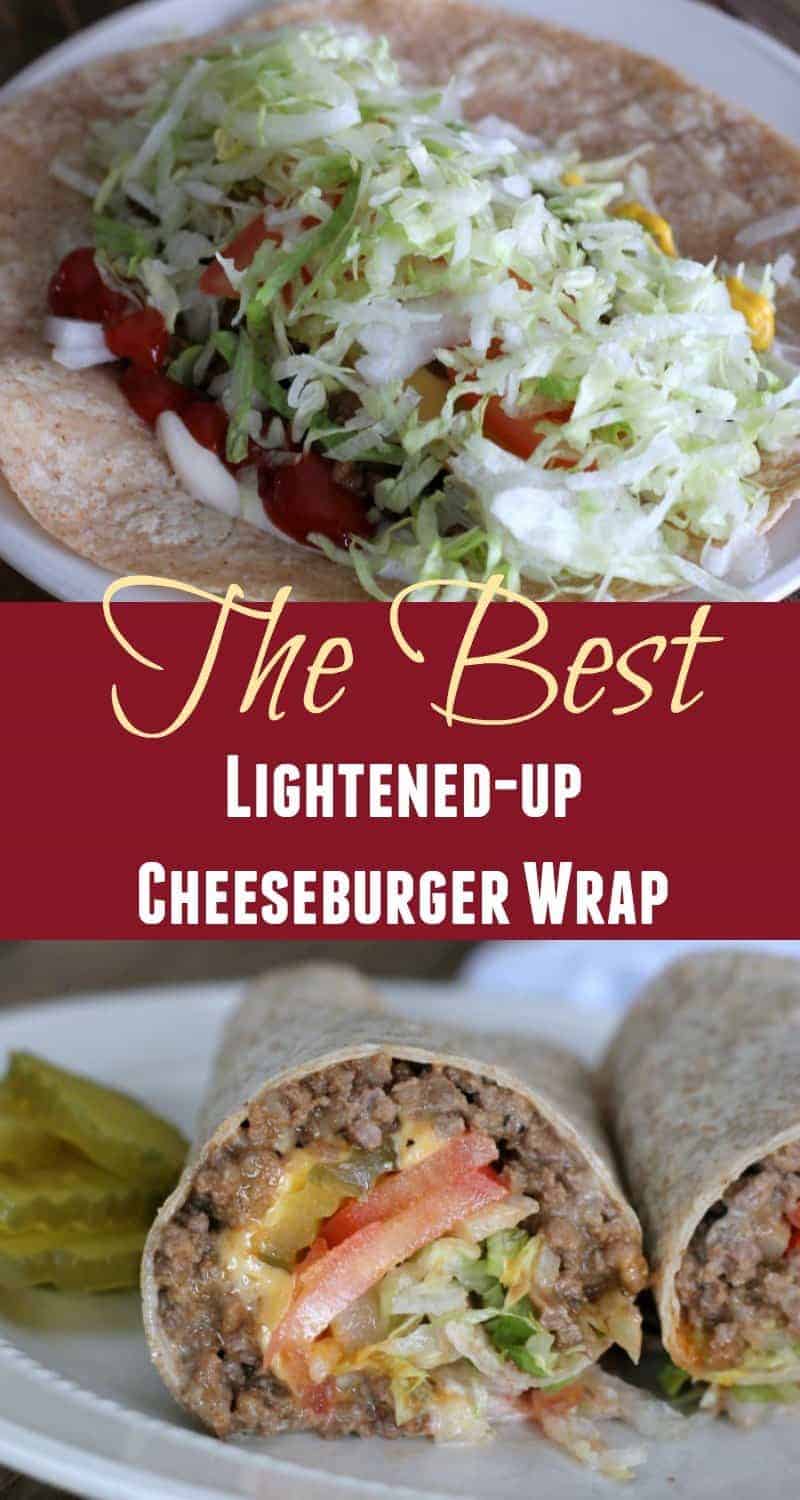 Tonight, I was in the mood for a burger. Not a turkey burger but a real juicy beef burger.
Plain and simple.
The only problem was I did not want to eat it on a bun nor did I want to go over the top with a whole bunch of calories.
Thankfully, I was inspired to make this absolutely scrumptious "You think this was takeout" cheeseburger wrap! At only 329 calories, I'm happy to say I can still eat the foods I want without sacrificing taste for calories.
I can't tell you how juicy and delicious it was. You'll just need to make it yourself!
Frequently Asked Questions About This Cheeseburger Wrap Recipe
Before I jump into this recipe, I wanted to answer a few questions I received from some of my readers about this healthy cheeseburger wrap.
What Kind Of Wraps Do I Need?
To make these cheeseburger wraps, I love to buy Flatout Wraps from Wegman's when they are available. They hold together really nicely and don't fall apart when we go to take a bite from our wraps.
You can also buy wraps that are flavored such as:
If you are looking for a low carb option, you can also serve your grilled cheeseburger filling in a lettuce wrap or these low-carb wraps by Father Sam's!
Can I Use Ground Turkey Instead Of Ground Beef?
Yes! Sometimes, I'll swap out the ground beef for turkey if I don't have any meat on hand. You can also replace the meat entirely and swap it out for a plant-based "ground beef" if you want to make the wrap vegan or vegetarian.
What Kind Of Burger Toppings Can I Add To This Grilled Wrap?
For this recipe, I used shredded lettuce and sliced tomatoes but you can truly add anything you like.
Some of the other burger toppings I use:
Sliced onions
Pickles
Avocados
Bacon
Jalapenos
BBQ sauce
Ranch dressing
For my other cheeseburger lettuce wrap recipe, I used sauteed mushrooms and swiss cheese!
Can I Use A Different Kind Of Cheese?
My favorite kind of cheese to add to this grilled cheeseburger wrap is American! It just melts really well and makes the burger taste so gooooooood!
Here are some other cheeses you can use:
Cheddar cheese
Swiss cheese
Pepper jack cheese
Gouda cheese
Provolone cheese
Blue cheese
Vegan cheese
Do I Have To Grill It?
No. When I first shared this recipe, I made it on an indoor grill. However, I've made it many times since then without using a grill and it was still yummy!
So, if you don't have a grill, no worries. You can simply roll it up and enjoy!
Healthy Grilled Cheeseburger Wrap
Time to get grilling!
Here are the ingredients you need to make this wrap:
Ground beef (I used 93/7 organic grass-fed beef)
Worcestershire sauce
Ketchup
Grated parmesan
Onion powder
Garlic powder
Pepper
Salt
Wraps (I use Flatout Wraps)
American cheese (I use Wegman's organic)
Roma tomatoes (sliced)
Diced onions
Romaine lettuce
Additional ketchup, mustard, mayo (optional)
How To Make A Cheeseburger Wrap
In a medium to large skillet coated with cooking spray, cook the ground beef on medium heat until it's almost cooked through but still a little pink (about 7-10 minutes).
Make sure to break up the beef as it cooks.
Add the Worcestershire, ketchup, grated parmesan, onion powder, garlic powder, salt, and pepper to the beef. Mix it all together until it's all thoroughly combined.
Continue cooking everything until the ground beef is cooked all the way through and it is no longer pink.
In the center of the wrap, place a slice of cheese and 1/2 cup of the beef mixture. Add the lettuce, tomato and all of the other toppings/condiments you want.
Roll it up and enjoy!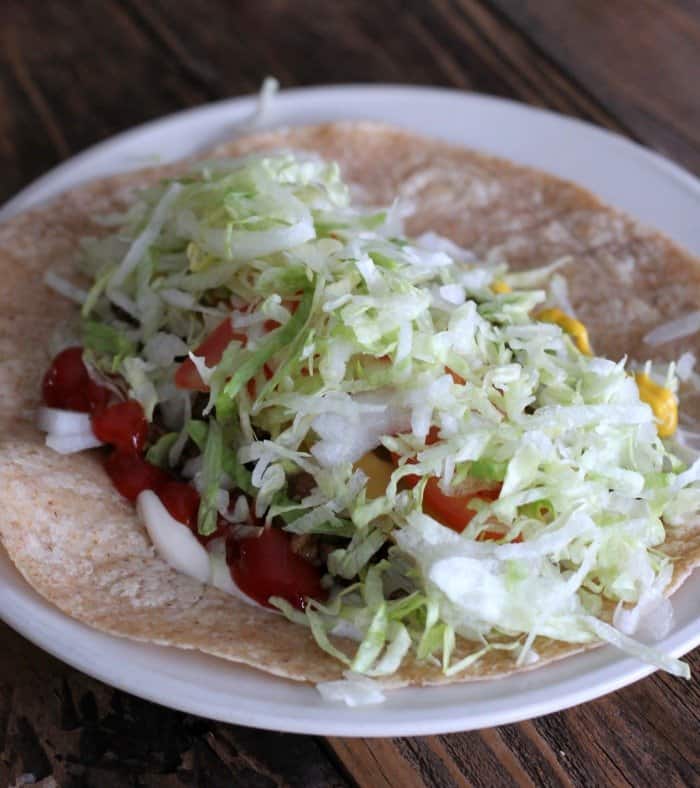 How To Grill A Cheeseburger Wrap
If you're using a grill, let it heat up until it hits 350 degrees. If you don't have a grill, you can also use a grill pan. My favorite grill pan is this Lodge Grill Pan. It's under $20 and one of the best kitchen items I've purchased!
Roll the wrap and place it seam side down onto the grill. Once there are grill marks on one side, turn it over. Grill for another 2-3 minutes and then remove from the grill.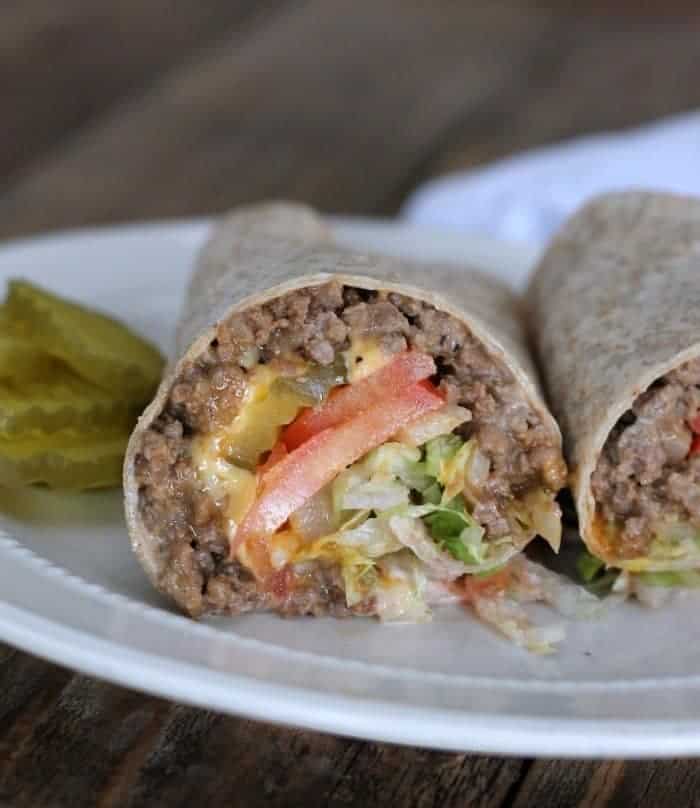 How To Meal Prep This Grilled Wrap
To meal prep this cheeseburger recipe ahead of time, I like to turn it into a freezer kit!
Cook up the beef mixture as you normally would and freeze it in a freezer-friendly bag.
Follow the rest of the steps above and let it cool slightly.
Then, put the rest of the ingredients into separate freezer bags or containers and add it to your freezer.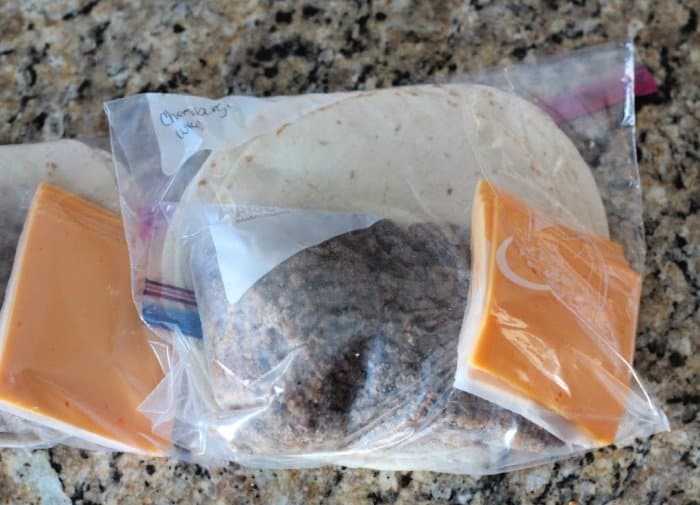 To reheat the whole meal, take out the freezer kit the night before or day of and thaw it out in the refrigerator. Warm everything up in the microwave and assemble your wrap to eat!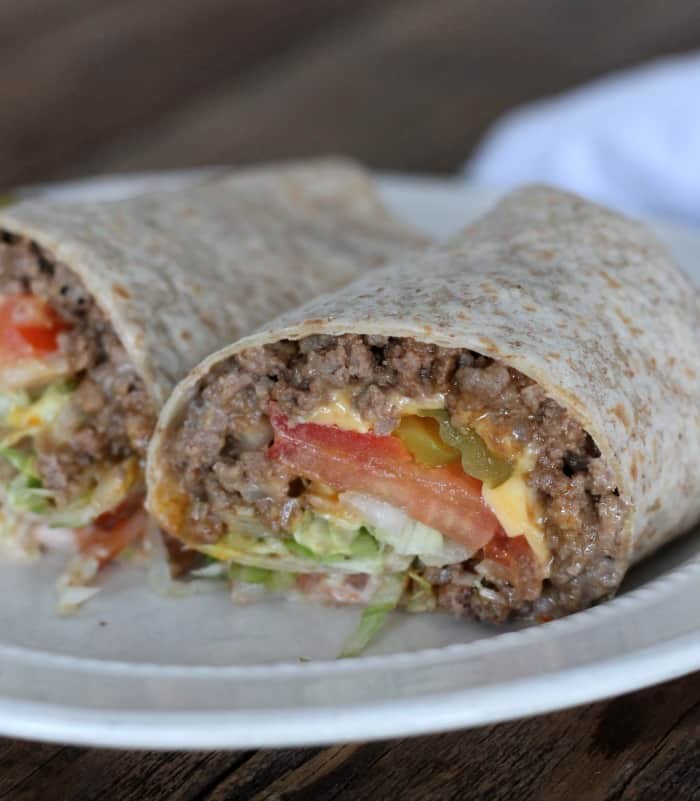 How to Make a Cheeseburger Wrap Video
More Cheeseburger Style Recipes
If you enjoyed this grilled cheeseburger wrap, check out some more of these cheeseburger-like recipes!
Share a picture and tag me on Instagram or Facebook if you decide to make this!

Grilled Cheeseburger Wrap
Author:
Organize Yourself Skinny
Ingredients
1 pound ground beef
1 tablespoon Worcestershire sauce
1 tablespoon ketchup
1 tablespoon grated parmesan
1 teaspoon onion powder
1 teaspoon garlic powder
⅛ teaspoon salt
⅛ teaspoon pepper
5 medium wraps
5 slices american cheese
2 roma tomatoes, sliced
Diced onions
1 cup of romaine lettuce
Additional ketchup (optional)
Mustard (optional)
Mayo (optional)
Instructions
In a medium to large skillet coated with cooking spray cook the beef on medium till almost cooked through but still a little pink (about 7-10 minutes). Break beef up as it cooks.
Add Worcestershire, ketchup, grated parmesan, onion powder, garlic powder, salt, and pepper to the beef. Mix together until thoroughly combined.
Continue cooking until beef is cooked all the way through and is no longer pink.
In the center of the wrap place a slice of cheese and ½ cup of the beef mixture. Add tomato and lettuce. Then if you are using, and I highly recommend you do, add some ketchup, mustard, and a little mayo. Roll up and enjoy.
If you're using a grill pan then heat it on medium high. Once it is hot, roll the wrap and place the seam side down on grill. Once there are grill marks turn over. Grill for another 2-3 minutes then remove.
Repeat steps 4 and 5 for the rest of the wraps.
Notes
Freezer instructions: The beef mixture can easily be made ahead of time and frozen. Follow steps 1-3, cool slightly, then put into freezer bag or container for the freezer.
Reheating instructions: Take out night before or day off and thaw in the refrigerator. Warm up in microwave then follow steps 4 and 5.
Nutrition Information
Serving size:
1 wrap
Calories:
329
Fat:
15
Carbohydrates:
21
WW Points +:
8
Fiber:
9
Protein:
32
Get Instant Access to the 7-Day Getting Started With Meal Prep Email Series
Are you ready to learn how to meal prep? Awesome! Sign up now for a free 7-day Getting Started Meal Prep email series that I created exclusively for email subscribers! That's you. I will teach you my favorite meal prep methods and provide lots of delicious easy recipes to get you started with weekly meal prep. You got this, I can help!