Let's talk broccoli. Better yet let's talk vegetable side dishes. Many of you ask me for vegetable side ideas for dinner. I have to be honest I am not really a side person which is probably why you won't find a lot of side recipes on my site. I much prefer to eat my vegetables as part of the meals. For example, peppers in my beef fajitas, stuffed peppers, or all the veggies that fill my chicken cacciatore or the many slow cooker meals I make. Also, I prefer to eat 5 smaller meals a day and typically don't have time to prepare a dinner that includes a vegetable side – I feel quite accomplished just getting dinner on the table.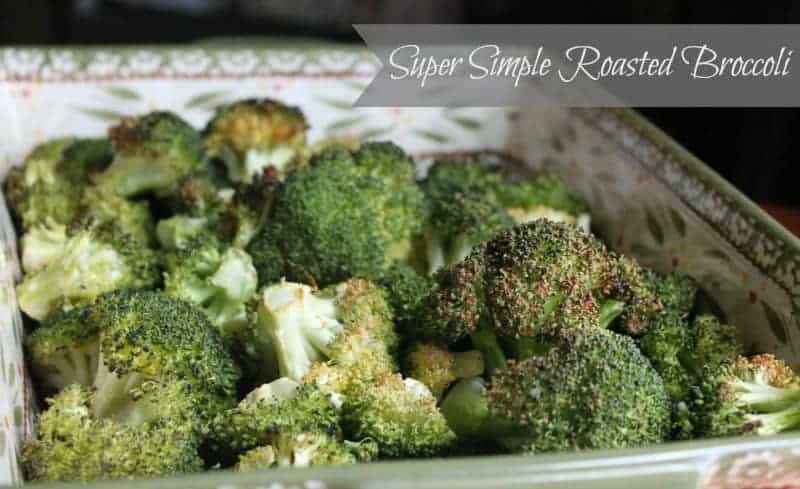 That is until I discovered roasting vegetables. Oh mama! Roasting vegetables bring the concept of "vegetable side dish" to a whole new level. My go to roasted vegetable recipe is onions, asparagus, and mushrooms roasted in balsamic dressing. I can eat this as a side dish, throw in a pasta salad, or even put on a pizza- balsamic roasted vegetables are so good. But then I heard or read somewhere that broccoli could be roasted too. So I gave it a try.
Well if you are not a raw broccoli fan or never cared for it steamed or boiled then I highly recommend giving roasted broccoli a try. It is absolutely delicious. It is so good that not only will BOTH of my kids eat it they actually ask me to make it. The first time they did this I thought they were kidding and playing some kind of joke on me. But nope my kids love roasted broccoli.
Roasted broccoli is incredibly simple to make. All you need is some olive oil, salt, and garlic. I have seen recipes that add lemon and some grated parmesan cheese too. However for this recipe, I kept it simple.
I had a 3lb bag of broccoli florets in the refrigerator so that is the amount I used for this recipe. If you have less no problem use what you have and just scale down the ingredients.
Roasted broccoli can be eaten as a side dish but it is also delicious on pizza, in a wrap, or even in a quesadilla.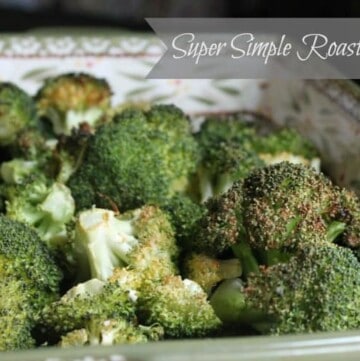 Ingredients
¼

cup

olive oil

4

cloves

garlic

minced

¼

teaspoon

salt

3

lbs

broccoli florets
Instructions
Preheat oven to 375 degrees.

In a small cup or bowl mix together olive oil, garlic, and salt.

Place the broccoli in a large baking, casserole, or roasting dish. Pour oil over the broccoli and toss until coated. Roast for 35 – 40 minutes or until broccoli is tender and has developed a nice brown color. Serve hot.
Nutrition
Serving:
1
g
|
Calories:
145
kcal
|
Carbohydrates:
11
g
|
Protein:
8
g
|
Fat:
9
g
|
Fiber:
5
g