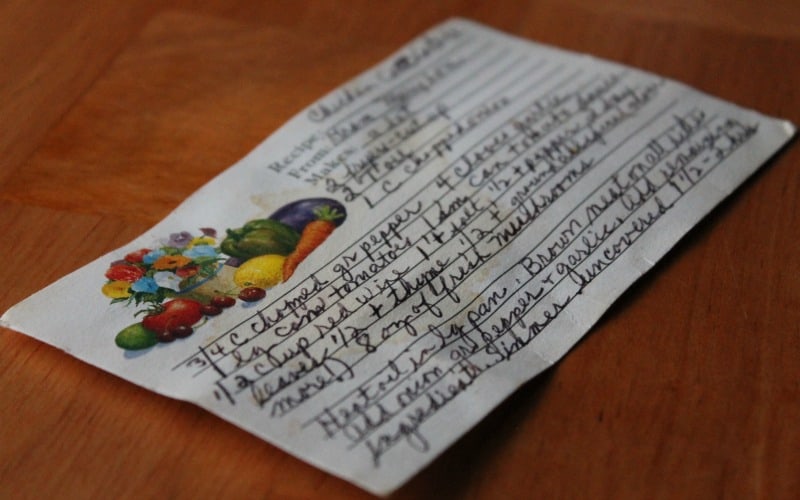 My absolute favorite recipes to make are ones handed down through the generations. There is nothing like pulling out a recipe card handwritten by your grandma. Don't get me wrong I love testing and trying new recipes but when I put together a recipe I know one of our grandparents made it gives me a special feeling that only a family recipe can give.
This chicken cacciatore recipe was handed down by my husband's grandmother. I think I remember her saying she got it out of a magazine or newspaper back in the day. Remember those things ya know before Pinterest? However, I am sure over the years she put her own twist on it. A sprinkle of love here a dash of love there. You know what I mean. Anyway, it is his absolute favorite and always requests it for his birthday dinner and other special occasions.
The cacciatore is stew like and filled with chunks of chicken, peppers, onions, and mushrooms. The original recipe calls for a whole fryer chicken but I opt to make it with boneless chicken thighs. Personally, I do not like using chicken with bones. It grosses me out and I once had a bad experience with chicken bones. Don't ask. I have also made this dish with chicken breasts but I find chicken thighs to work best.
The secret ingredient in this recipe is definitely allspice. I don't think that is a common ingredient used in chicken cacciatore but if it is I have never seen it. Every single time I make this recipe Matt ALWAYS asks "did you use allspice" and I ALWAYS say "yes honey". One day I may leave it out to see if he notices. No that's just mean. Anyway, it does lend a nice flavor that I think makes this recipe unique.
Another plus to this chicken cacciatore recipe is it can be easily doubled or triple and freezes great. It is always a nice treat to have a portion or two in the freezer for when hubs is craving his grandma's cooking.
Here is my version of the family chicken cacciatore recipe.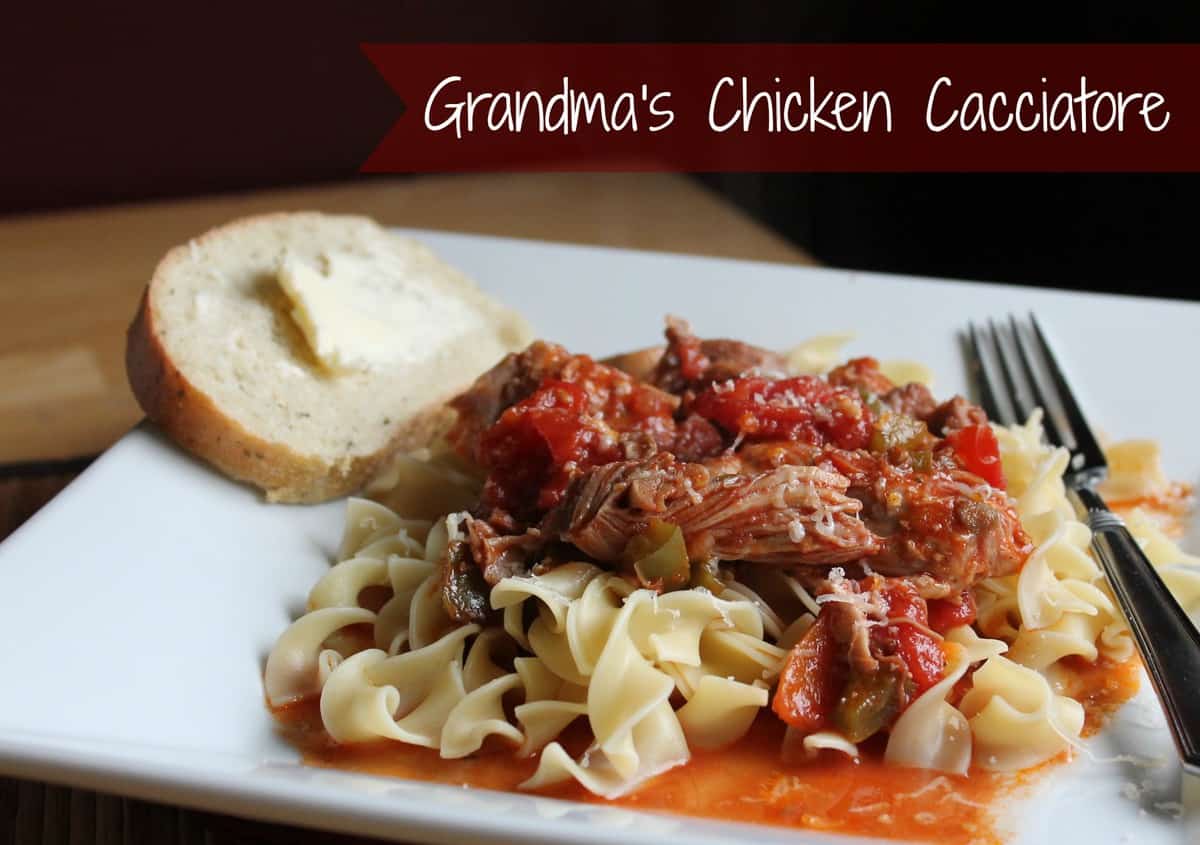 Grandma's Chicken Cacciatore
Author:
Organize Yourself Skinny
Ingredients
2-3 pounds boneless chicken thighs
1 tablespoon olive oil
1 medium yellow onion, chopped
1 large green pepper, chopped
4 garlic cloves, minced
1 28 ounce can whole tomatoes
1 8 ounce can tomato sauce
½ cup red wine
1 teaspoon salt
½ teaspoon pepper
2 bay leaves
½ teaspoon dried thyme
½ teaspoon ground allspice (grandma writes never more)
8 ounces fresh sliced white mushrooms
cooked egg noodles
shredded parmesan
Instructions
Heat olive oil in a large sauce pan.
Add chicken thighs and brown on both sides. About 4-5 minutes on each side.
Add in onion, peppers, and garlic. Cook until onions and peppers are softened.
Add in remaining ingredients. Stir until all combined.
Bring to a boil then reduce to simmer.
Simmer uncovered for 1 - 1½ hours. Remove and discard bay leaves. Using two forks break chicken up into chunks.
Serve over egg noodles with shredded parmesan cheese
Notes
Make Ahead Instructions


The chicken cacciatore can be made fully ahead of time and frozen. Reheat on stove or in microwave. Noodles should be cooked the night you eat.
Nutrition Information
Serving size:
⅙ of recipe over ½ cup egg noodles
Calories:
402
Fat:
12
Carbohydrates:
32
WW Points +:
10
Fiber:
5
Protein:
39
Get Instant Access to My Best Weight Loss Tips & Strategies!
Sign up now for a free step-by-step 7-day email course that I created exclusively for my email subscribers! That's you. I will teach the best habits, strategies, and insider tips so you can enjoy a lifestyle that encourages and supports weight loss! Stop relying on willpower and take control back over your life! You can do this. Let me help!