Delicious eggplant baked instead of fried and then smothered in sauce and cheese to create the most delicious healthy eggplant parmesan recipe ever! You will make this again and again!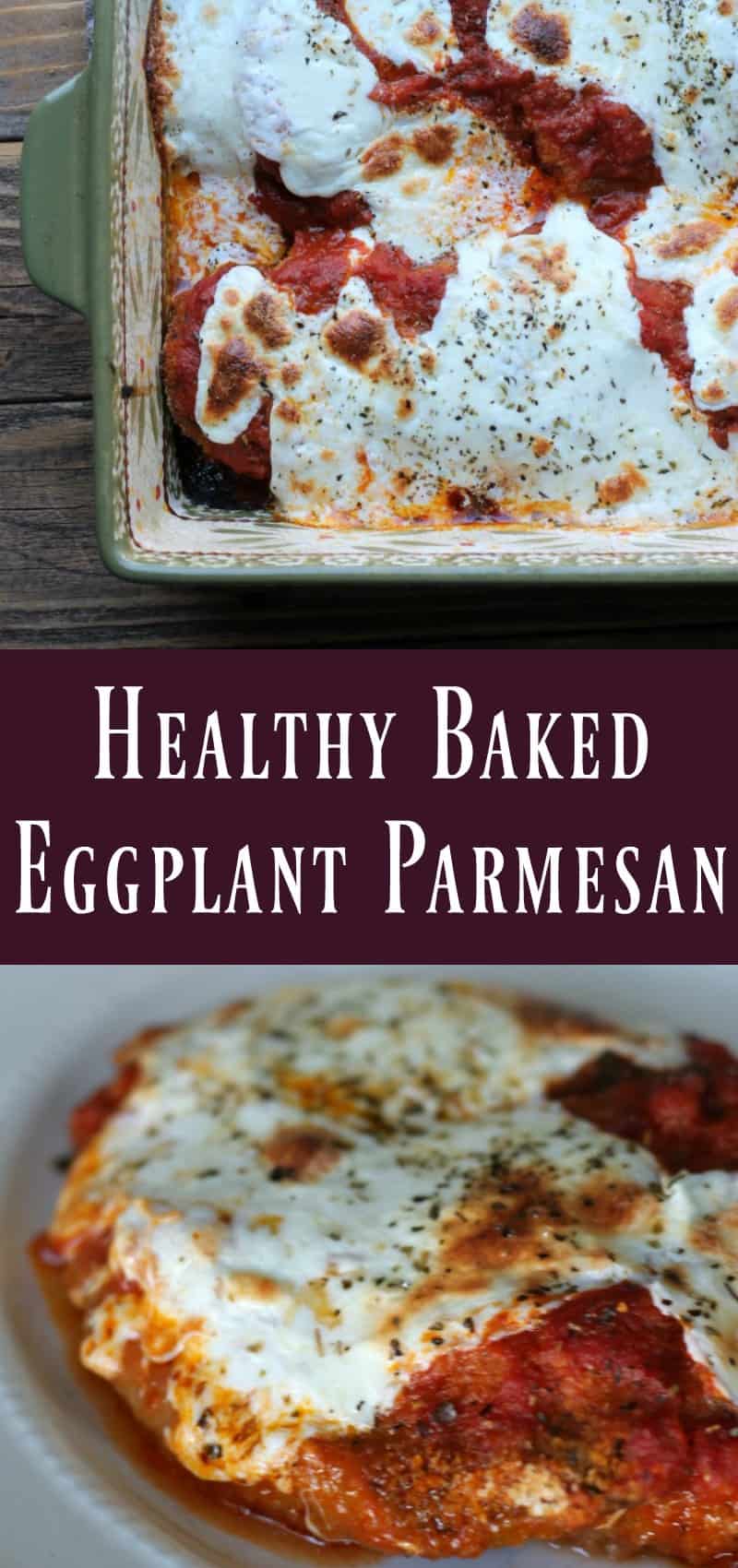 Eggplant parmesan is one of my favorite Italian recipes. LOVE IT! The problem is eggplant parmesan is typically fried and that's how all restaurants serve it. This the reason I don't often order eggplant parmesan when I go out to eat. Now that I think about it I don't think I've enjoyed a good eggplant parmesan in YEARS. Wow!
It's been on my recipe "to-do" list to make a healthier baked version of eggplant parmesan ever since I made the baked chicken parmesan earlier last year. Since it's eggplant season I decided to give baked eggplant parmesan a shot.
Prior to losing weight I made eggplant parmesan the traditional way – by frying it. While this is good it's extremely high maintenance and beyond fattening. Eggplant is like a sponge and soaks up oil like nobody's business. As I fried the eggplant I had to add more and more oil to the pan. It also took forever to pan fry all the pieces and made a huge mess. Basically, fried eggplant is high calorie, fattening, and a huge pain to make which is why I never made it. This is why I was looking forward to giving baked eggplant parmesan a try.
Let me just say right now, before I even start talking about the recipe, that if you're looking for a healthy baked eggplant parmesan recipe this is it! It's delicious and you'll never it miss it being fried.
Okay, let's start with the eggplant. I peel my eggplant. You can keep the skin on, and many people do, but I prefer to remove the eggplant skin. This is easier to do with a sharp knife rather than a peeler.
Next, I sliced the eggplant into 1/2 inch or so slices and laid them on a few sheets of paper towels. I sprinkled both sides with salt (about 1/4 teaspoon on each side) and then place more paper towels on top.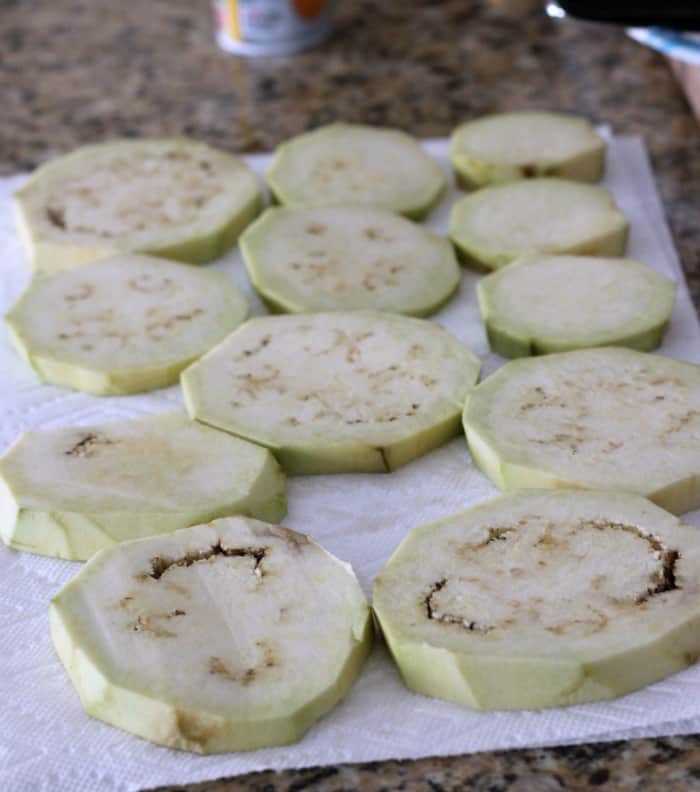 Next I put cookbooks on top of the eggplant and left them there for 45 minutes. You can use bowls, dishes, or any heavy item. This is to squeeze out the bitter juices from the eggplant and tenderize. I know this is high maintenance but I don't recommend skipping this step because in my experience it does make a big difference. Some people place the eggplant in a colander with paper towels – I prefer my paper towel cookbook method.
After 45 minutes I rinsed the eggplant under water to remove the access salt. Then I mixed together 1 egg and 1 egg white in a bowl and then put together a breadcrumb mixture in another bowl. Let's talk a little about the breadcrumbs. Many bake eggplant recipes call for panko breadcrumbs. Personally, I don't like using panko with baked recipes because the breadcrumbs don't stick. I much prefer to use plain regular breadcrumbs. For this recipe I mixed 1 cup plain regular breadcrumbs with 1/4 cup grated parmesan cheese and 1 teaspoon Italian seasoning.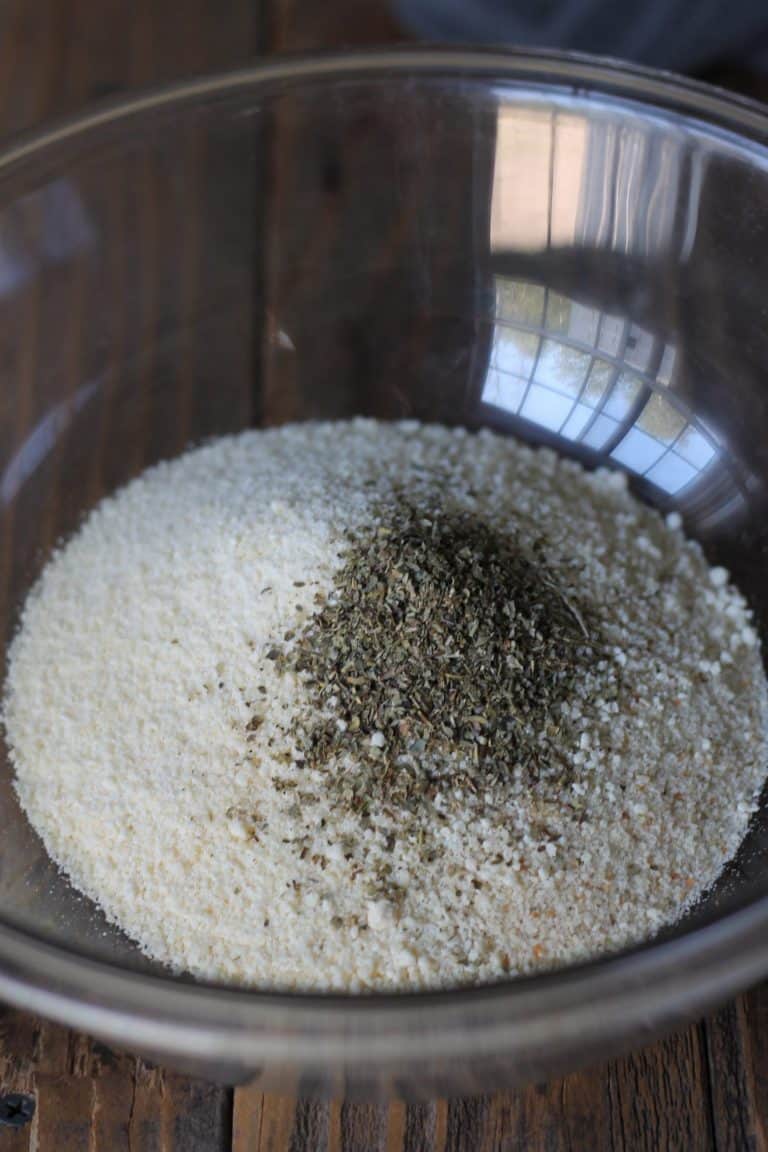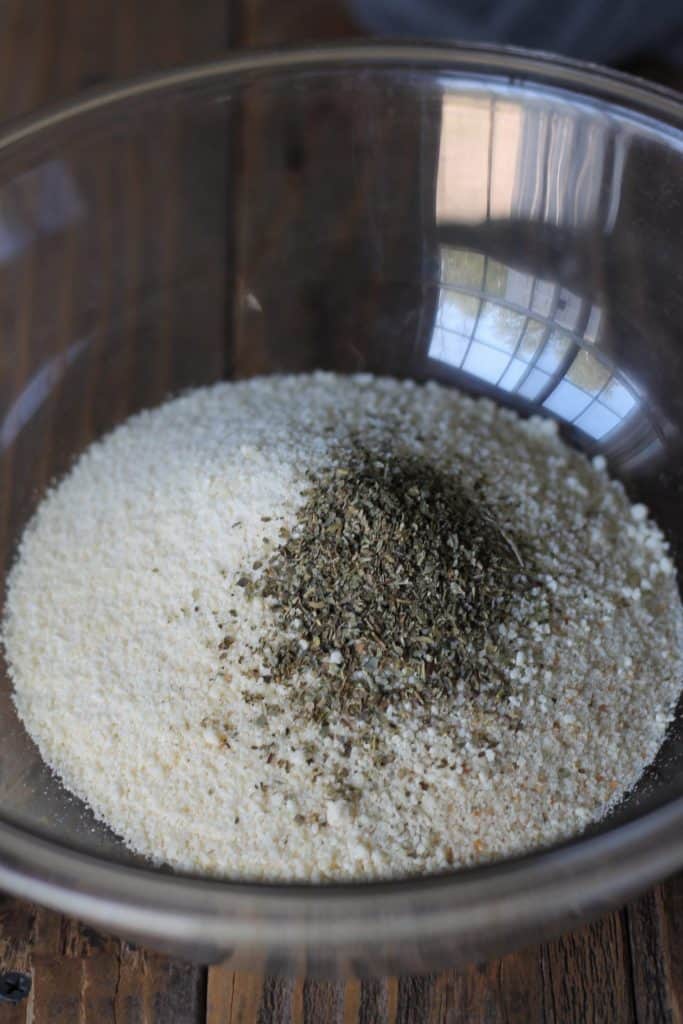 I dipped each slice first into the egg then the breadcrumbs. I should note for this recipe I used 1 medium eggplant. If you use a monster eggplant, or more than one, then just use more egg and breadcrumb mixture if needed.
Here's my little secret to getting perfect baked eggplant slices. I brushed the sheet pan with 2 tablespoons of olive oil. This gives the eggplant a nice brown "almost fried" look and taste with drowning in oil.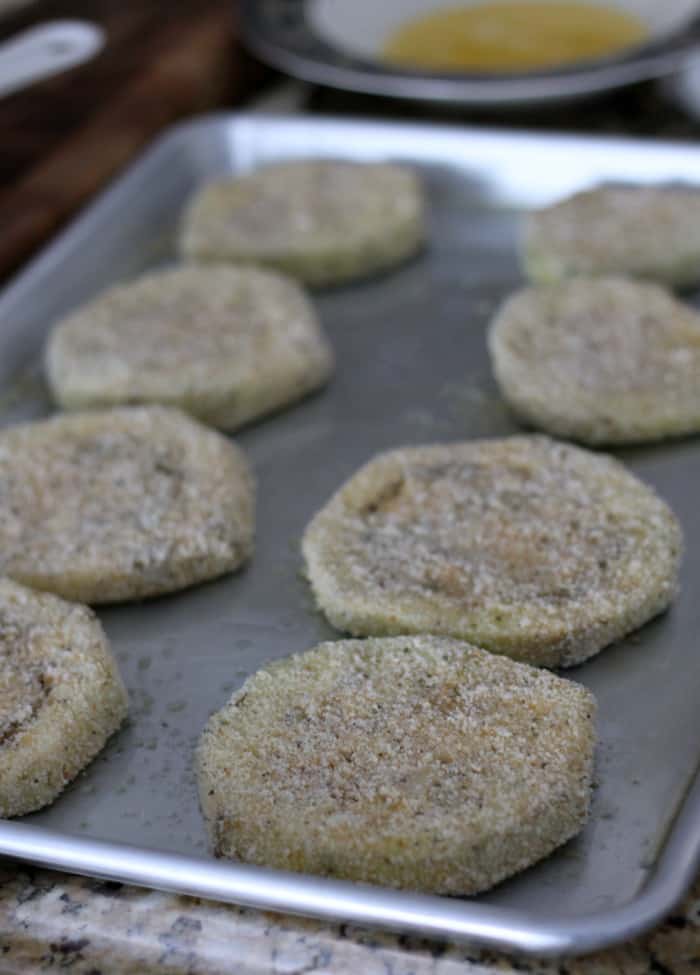 I baked the eggplant in a 425 oven for 25 minutes. I flipped the eggplant after 10 minutes.
At this point you can put the rest of the recipe together or freeze the eggplant to use at a later date. So yes this eggplant is on the high maintenance side, but it can be prepared ahead of time. If you have a bunch of eggplant in the garden this is a great way to preserve it for the winter months.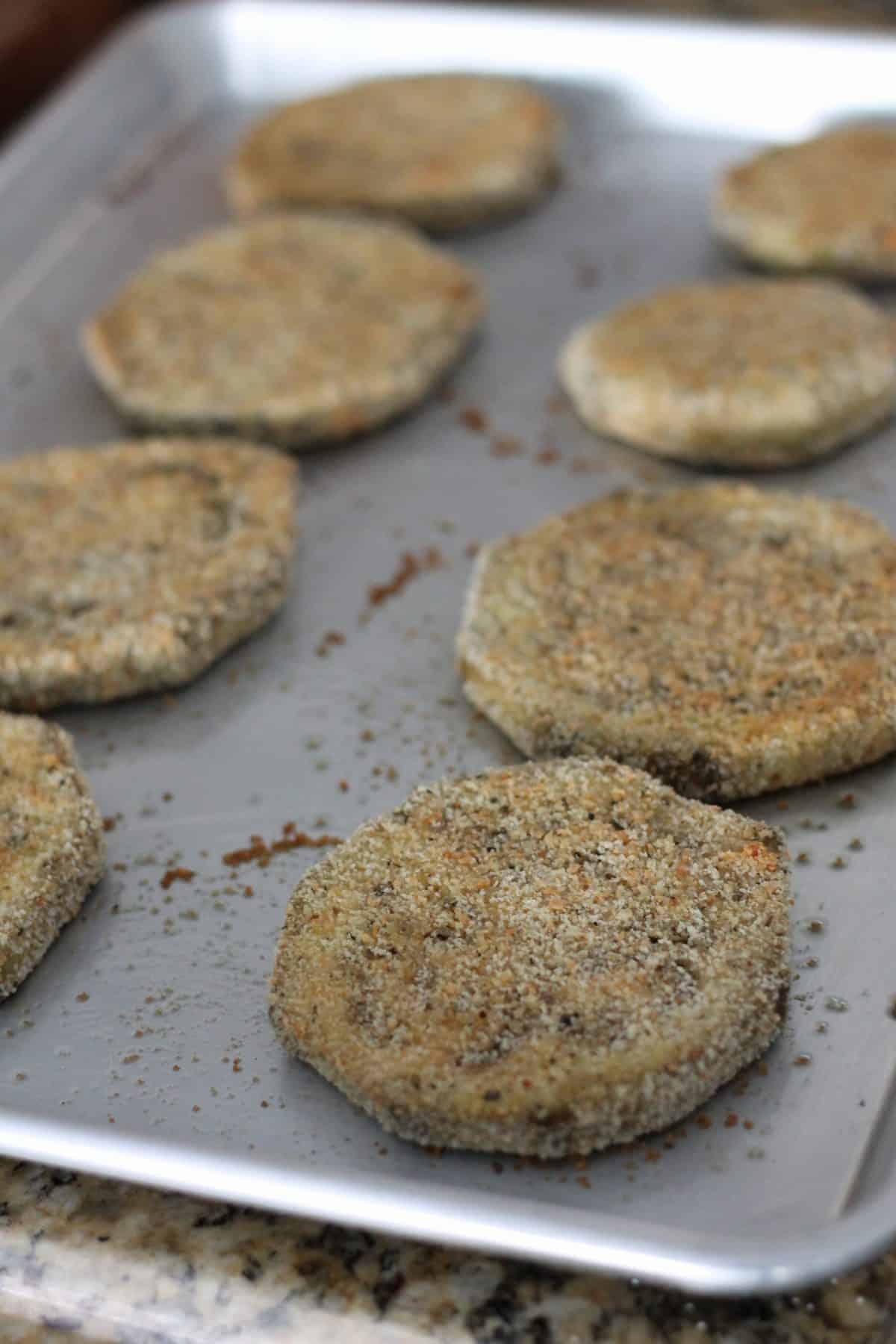 Alright, let's continue with the recipe.
I covered the bottom of a 9 x 13 casserole pan with 1/2 cup of sauce.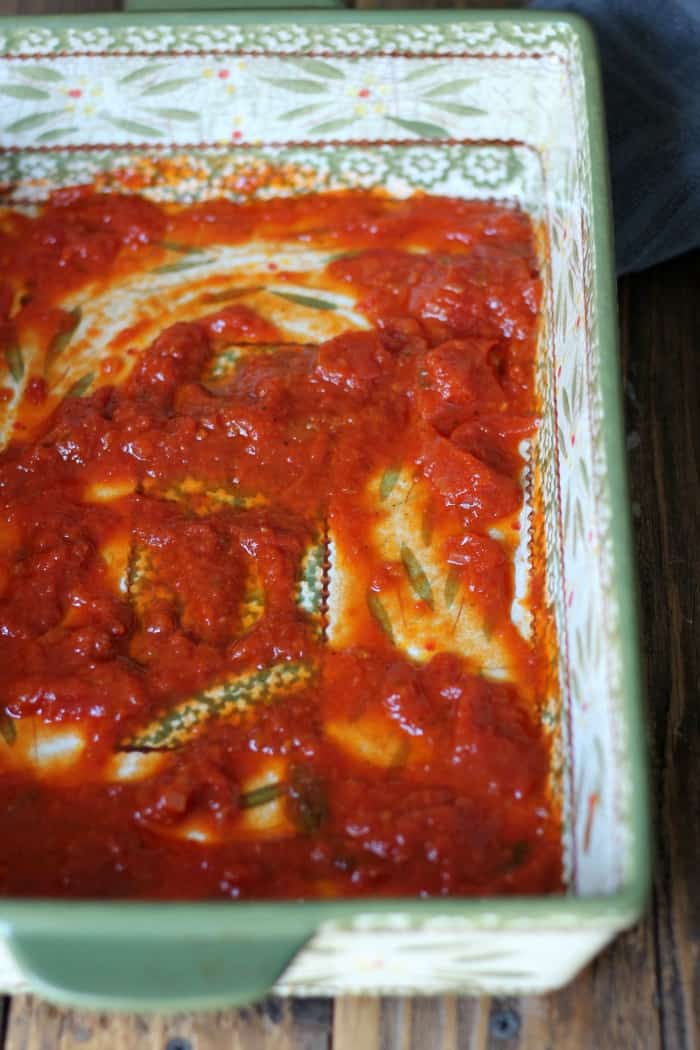 Of course, you can use homemade sauce but I kept this recipe simple with jarred sauce. My absolute favorite jarred spaghetti sauce is Rao's Homemade Marinara Sauce. It's on the pricier side but I can get a great price ($8.49 for a 32-ounce jar) online at Thrive Market. That's the best price I've found on this sauce. In my experience, spending a little extra on jarred sauce is totally worth it and can make or break a recipe. What I'm trying to say is…don't use the cheap stuff!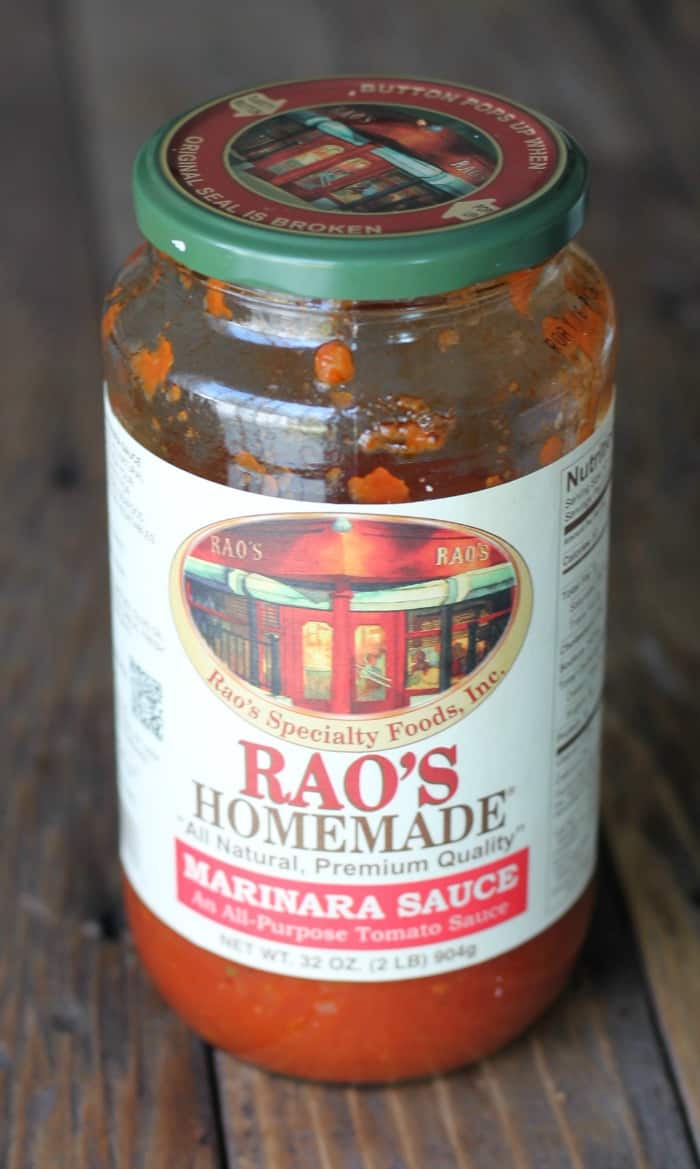 Next I placed the eggplant slices in the sauce and covered with another 1 1/2 cups of sauce. Of course you can use more or less sauce. Now it's time for the cheese. I used fresh mozzarella in this recipe but you can certainly use regular shredded mozzarella too. Fresh melts nicely, but it really doesn't matter. I used about 2 ounces of cheese per 2 slices of eggplant.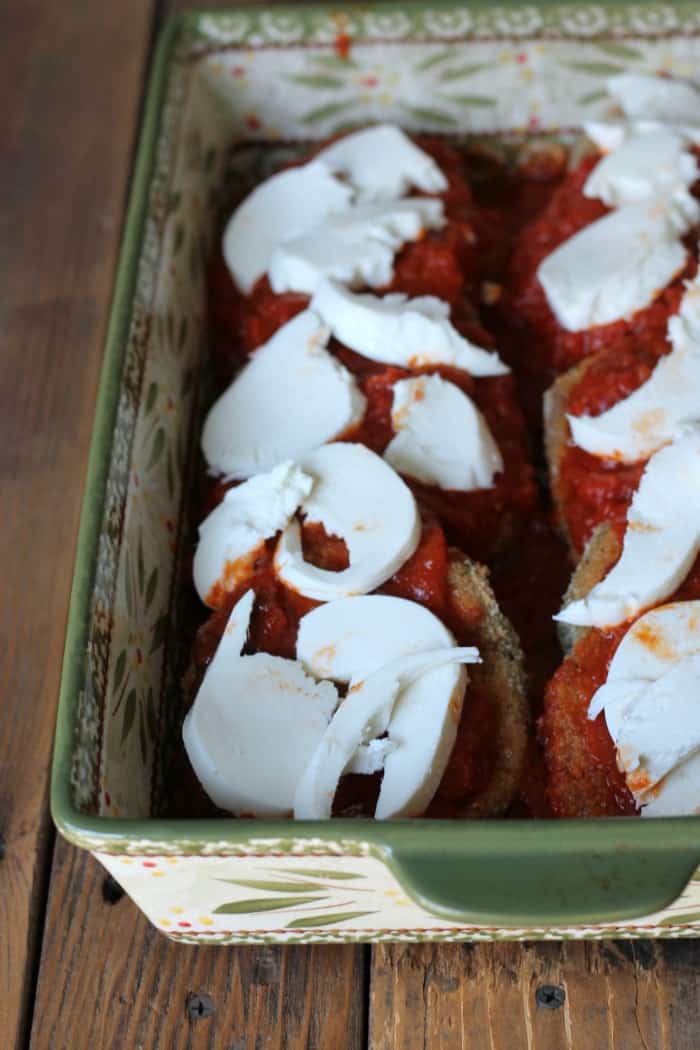 Then I placed the eggplant parmesan into a 425 degree oven and baked it for 25 minutes. You want to bake it until the sauce is bubbly and the cheese is melted. The last thing I did was broil the eggplant parmesan for 2-3 minutes so the cheese would get golden and a little crispy.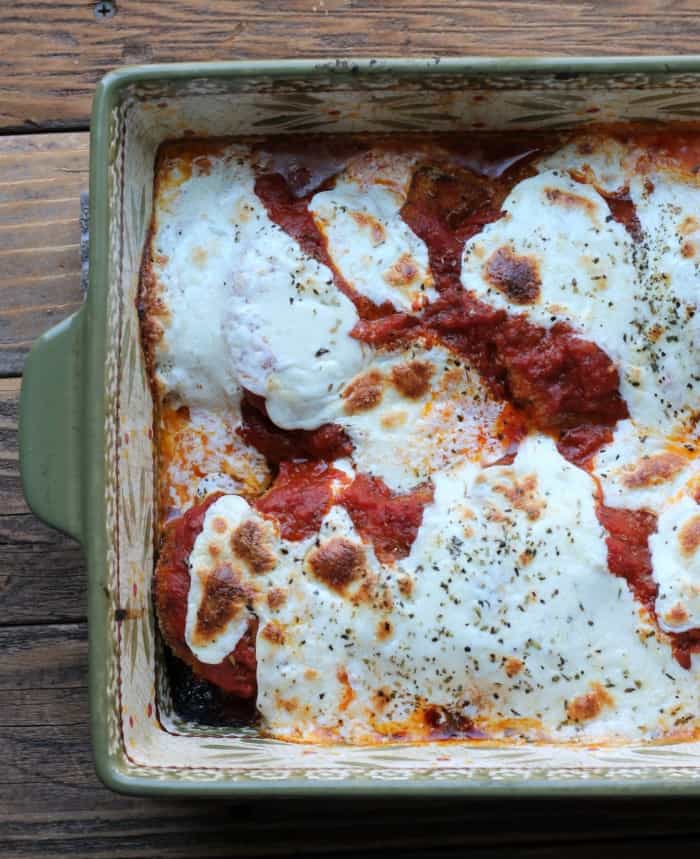 This baked eggplant parmesan is beyond delicious and much healthier than if it were fried. Trust me, you wouldn't even know it's baked.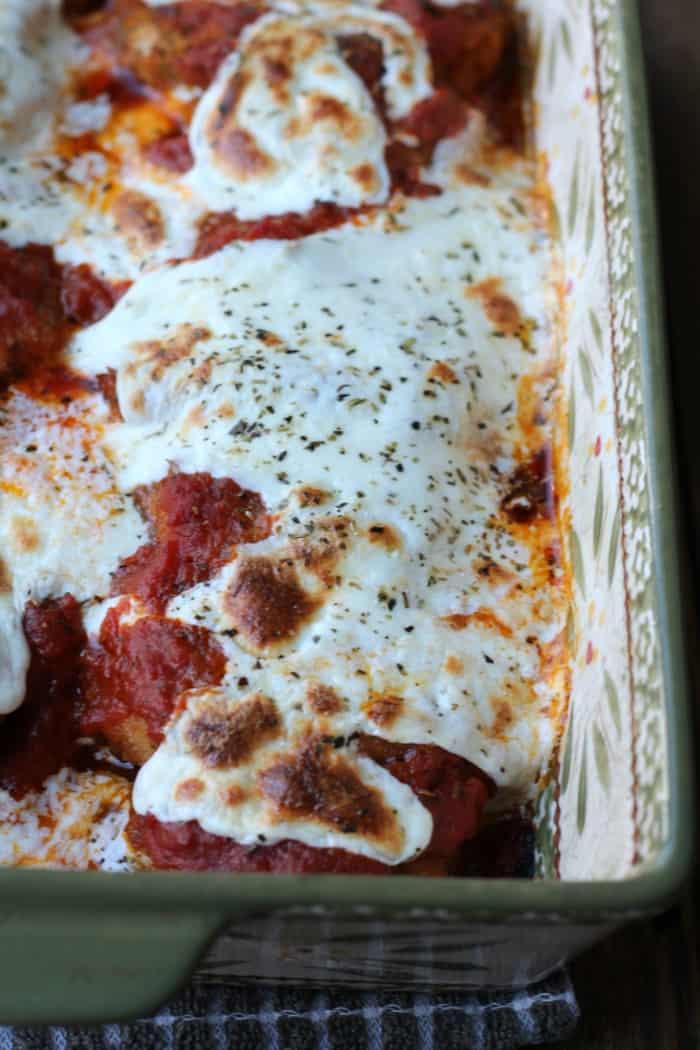 I took one bite and immediately thought it could rival any Italian restaurant fried recipe. I mean it, this eggplant parmesan was that good. I enjoyed it all week for dinner and looked forward to it every night. If you're not going to eat it right away then this recipe can easily be portioned out and frozen for future dinners.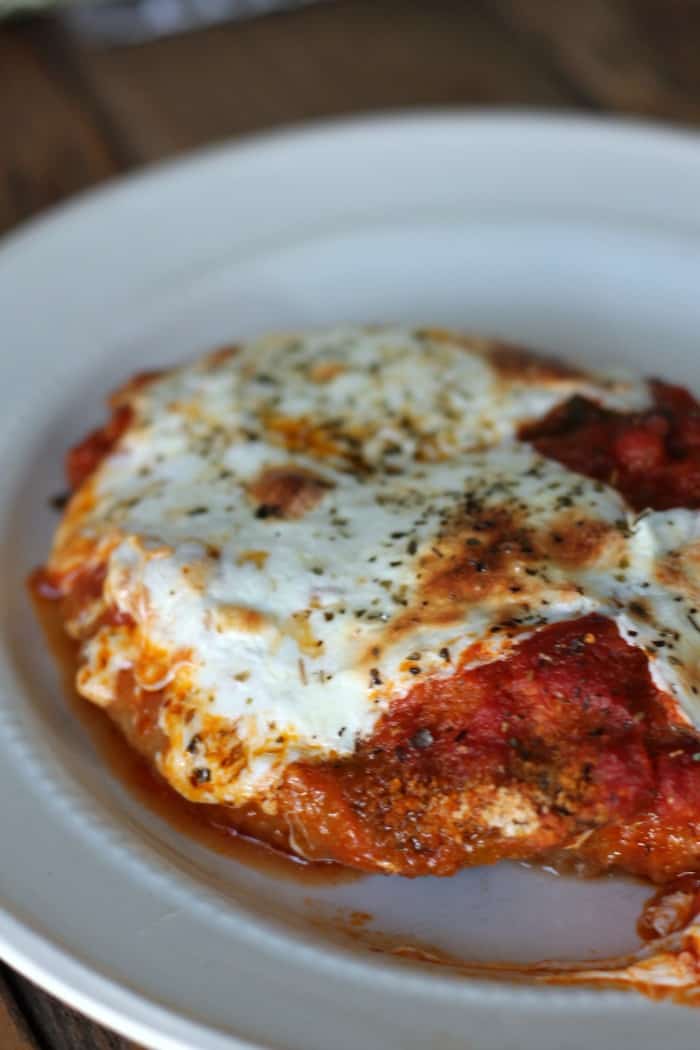 If you're an eggplant parmesan fan I highly encourage you give this healthier version a try. It's super easy and I know you, and everyone that tries it, will love it!

Healthy Baked Eggplant Parmesan
Author:
Organize Yourself Skinny
Ingredients
1 large eggplant
1 cup plain breadcrumbs
¼ cup grated parmesan
1 teaspoon Italian seasoning
1 egg
1 egg white
2 tablespoons olive oil
16 ounces fresh mozzarella
3 cups Rao's Marinara Sauce
Instructions
Peel eggplant and then slice into ½ inch pieces. Sprinkle salt on both sides of the eggplant and place on paper towels. Put additional paper towels over the eggplant and place books or a heavy pan on top. Let the eggplant sit for 45 minutes to drain out the bitter juices.
Preheat oven to 425 degrees.
In a medium bowl beat the egg and egg white together. In another medium bowl mix the breadcrumbs, grated parmesan, and Italian seasoning.
Brush olive oil onto a baking sheet.
Dip eggplant slices into the egg and then into the breadcrumbs. Then arrange eggplant slices onto the baking sheet.
Bake eggplant slices for 25 minutes, flip over after 10 minutes.
Keep oven set to 425 degrees.
Cover the bottom of a 9 x 13 casserole dish with marinara sauce. Arrange baked eggplant slices in the sauce. Pour the rest of the sauce over the eggplant.
Place 2 ounces of cheese over every 2 slices of eggplant.
Baked for 25 minutes or until sauce is hot and bubbly.
Set the oven to broil and broil for 2-3 minutes or until the cheese is slightly golden.
Serve hot.
Notes
Sugar: 6
Make-ahead instructions


This eggplant parmesan can be made completely ahead of time and frozen into portion. It will keep in the refrigerator for up to 5 days and in the freezer up to 3 months. You can also make the baked eggplant slices ahead of time and freeze that to use in a later recipe.
Nutrition Information
Serving size:
2 pieces of eggplant, 2 ounces of cheese, and sauce
Calories:
374
Fat:
24
Saturated fat:
8
Carbohydrates:
21
Fiber:
3
Protein:
17
Get Instant Access to My Best Meal Prep Tips & 20 Delicious Make-ahead Recipes!
Sign up now to receive your FREE ecookbook that I created exclusively for my email subscribers! That's you!