This healthy red clam sauce recipe is bursting with flavor, lightened-up using wholesome quality ingredients, and can be prepared in under 30-minutes. Add this Italian-American classic to your weeknight menu.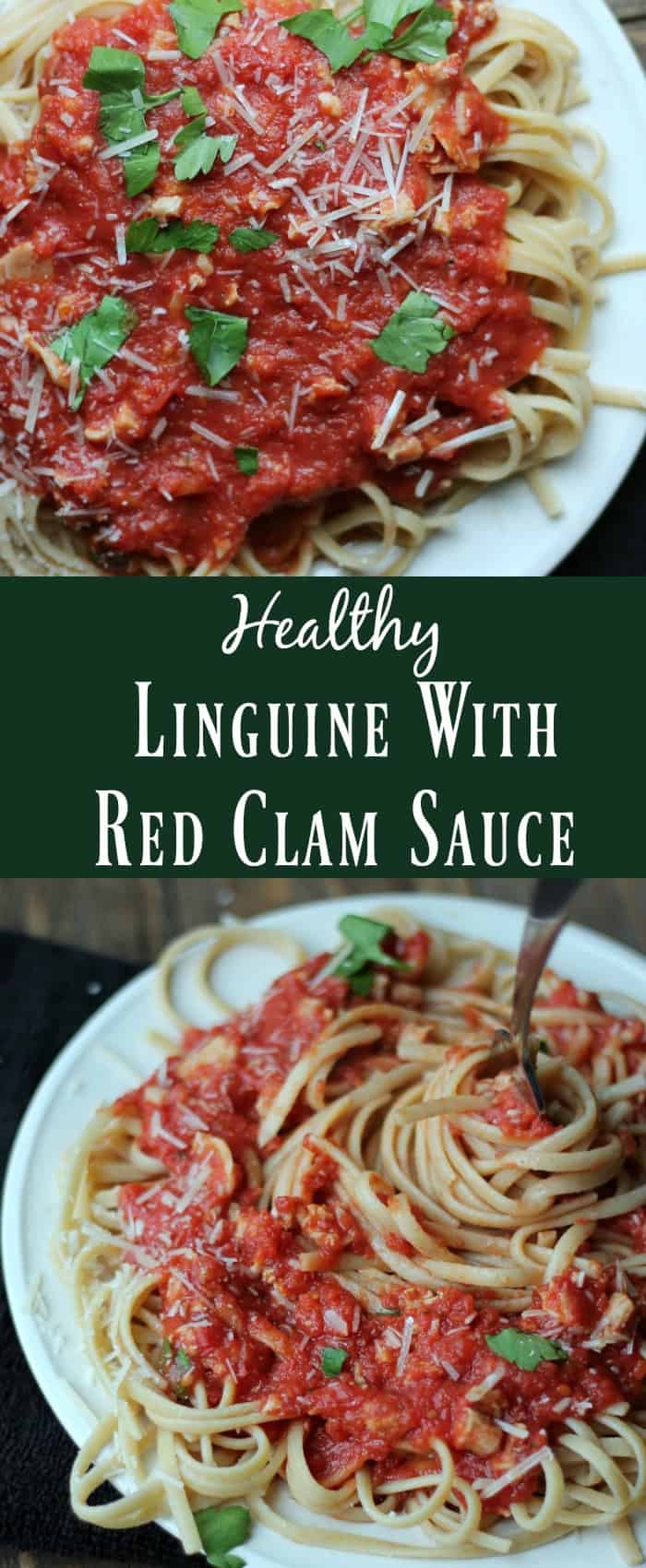 Thank you Mutti for sponsoring this delicious Linguine with Red Clam Sauce recipe. The Mutti quality brought this classic recipe to a new level of deliciousness. You can learn more about Mutti tomato products on their Facebook Page, Instagram, Twitter, and Youtube.
---
Linguine with red clam sauce is one of the first recipes I made, 5+ years ago, when starting on my weight loss journey. Back then I was working full-time outside the home so I needed recipes that I could either freeze and/or cook up quickly. This recipe fits into both of those categories. However, this recipe is more than easy and freezable, it's delicious! Seriously, when you prepare this clam sauce you'll feel like you just walked into an old school Italian restaurant! Make sure to have Frank and Dean playing in the background. Volare ooooh ooooh oooh. 
Over the years I've tweaked this recipe a little. Not too much though because truthfully it doesn't need it. It's simple and delicious with just the basic ingredients it calls for. Sometimes I'll switch up the seasoning or add a little extra garlic or crushed red pepper but that's it.
Since this recipe calls for so few ingredients, and is tomato based, it's important to use quality tomato products. Trust me, I've made it a million times and the tomato product you use matters.
A month or so ago, I was sent Passata (tomato puree in glass jars), double concentrate tomato paste in a tube, and Polpa (Finely Chopped Tomatoes) from Mutti. Are you familiar with Mutti tomato products?
Here are some quick facts.
Mutti is Italy's #1 canned tomato and all Mutti tomatoes are grown in Italy from the best producers/farmers.
Tomatoes are canned fresh to capture the most authentic color, flavor and aroma.
They are "richer, redder, better!"
The cans are lined to retain freshness, and some products are packed in glass jars or squeeze tubes.
I was super excited to get these products in the mail. They even sent me a cooking apron and shopping bag.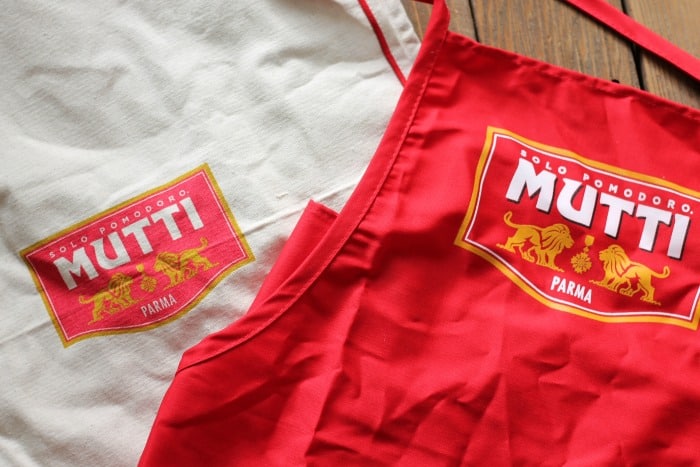 I live in Buffalo, NY so I'm not a stranger to jarred or tomato products. We get to enjoy the summer bounty for a short time but then the snow hits and its bye bye gardens. But we love our pasta, pizza, chilis, and every other food that requires a can of tomatoes so I tend to grab a can or jar every time I'm at the grocery store. I was excited to get these tomato products and start cooking my linguine with red clam sauce.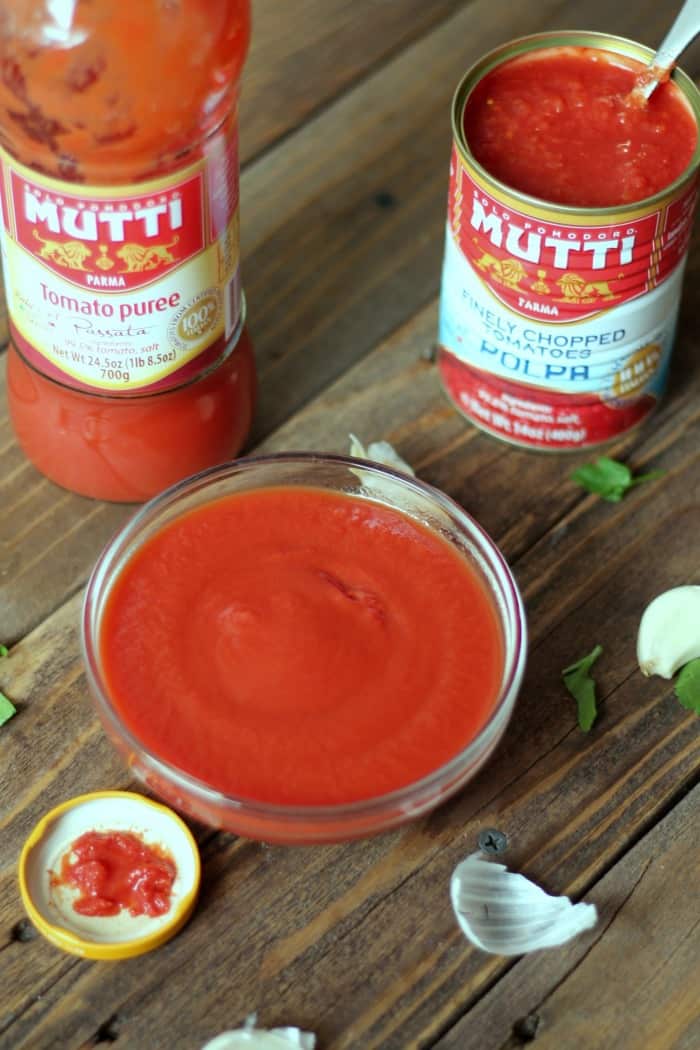 Can I say one word about tomato paste in a tube…GENIUS! I love love love that Mutti tomato paste comes in a tube because then I can just use what I need, put the cap on, and stick it in the refrigerator for next time. I can't tell you the number of small freezer bags I have filled with leftover tomato paste. It's embarrassing.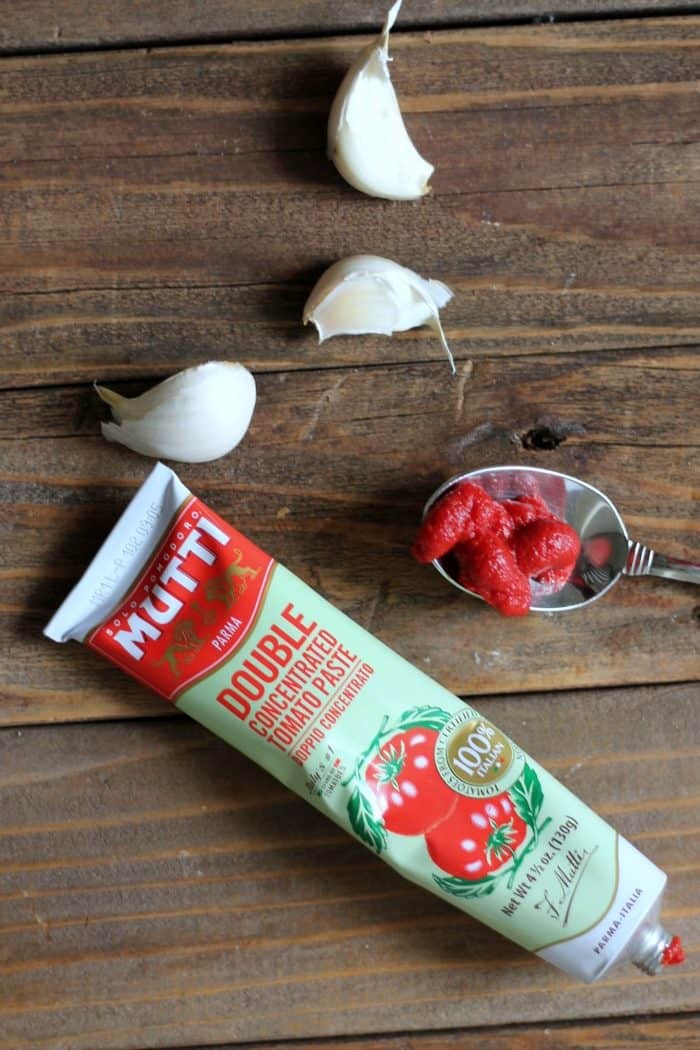 Okay let's get to the recipe. I was excited to make it and now more excited to share it with you.
I started with chopped garlic and olive oil. Now this recipe requires you to move fast so make sure every thing is opened and ready to go into the pan. Heat up the oil until the garlic starts to sizzle and become fragrant. You know the smell. Nothing beats the smell of garlic cooking in olive oil. I wish I could bottle it up and sell it as a perfume. Just kidding, although I've been told I smell like garlic which I take as a compliment. Thank you very much. Ha!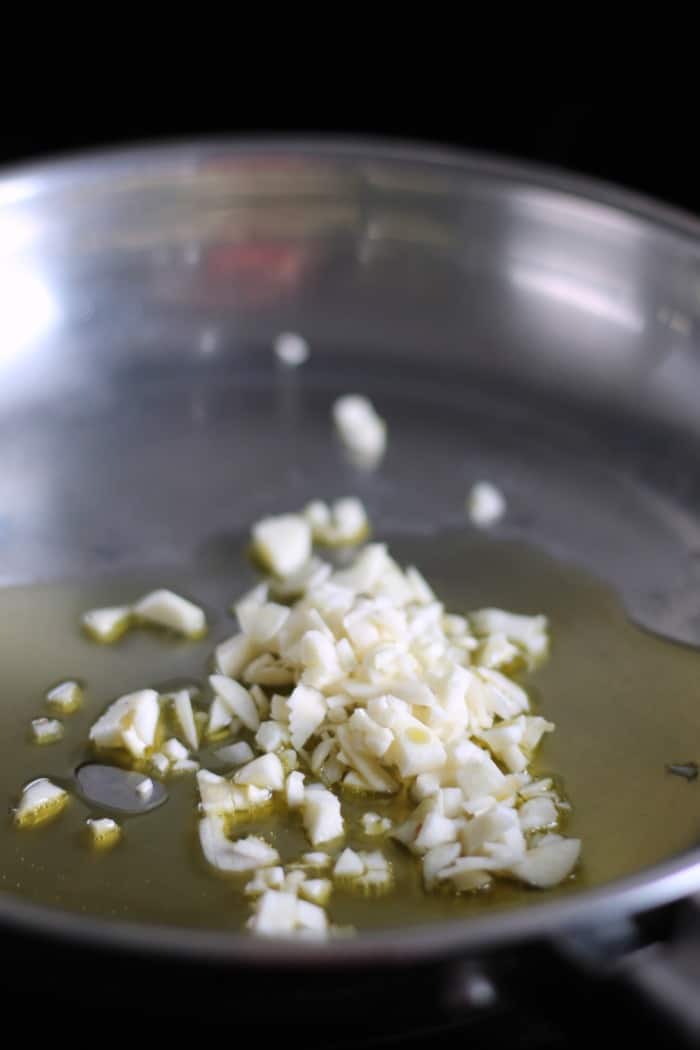 After the garlic becomes fragrant add the juice from 2 (10-ounce) cans of clams and 2 (14-ounce) cans of finely chopped Mutti Tomatoes . Set the clams aside for the end. Now don't judge the canned clams. If you want to by fresh clams and shuck them then you certainly can. But this recipe was created by a busy working parent for a busy working parent so canned clams it is. Plus, they're delicious so get a couple cans and enjoy. You can thank me later.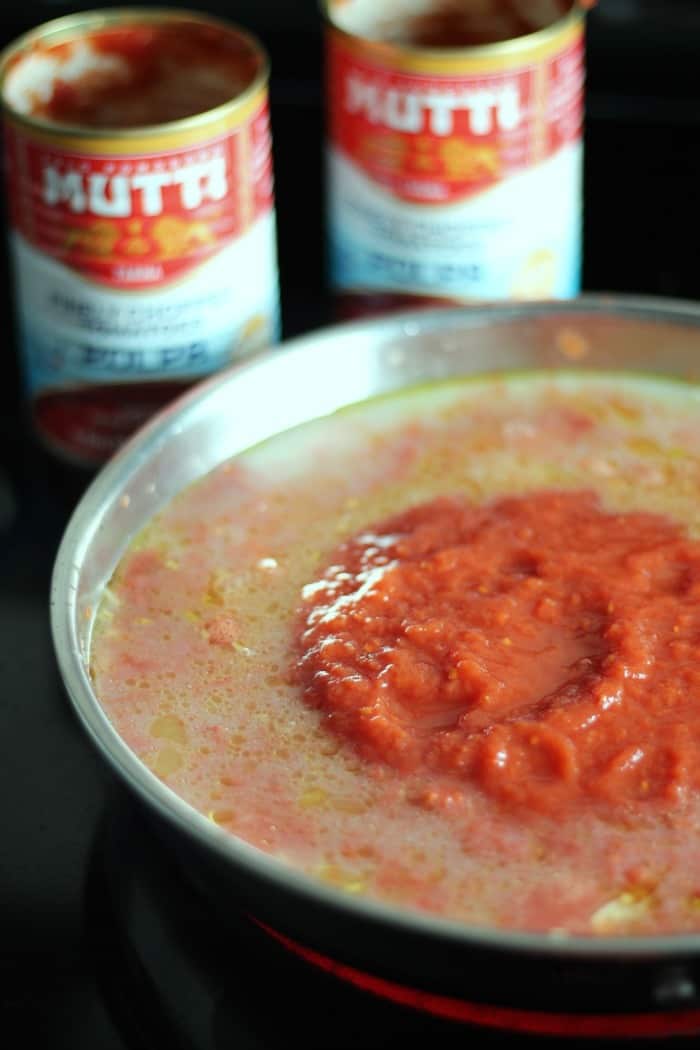 Stir in 1 cup of Mutti tomato puree and 2 tablespoons of Mutti tomato paste.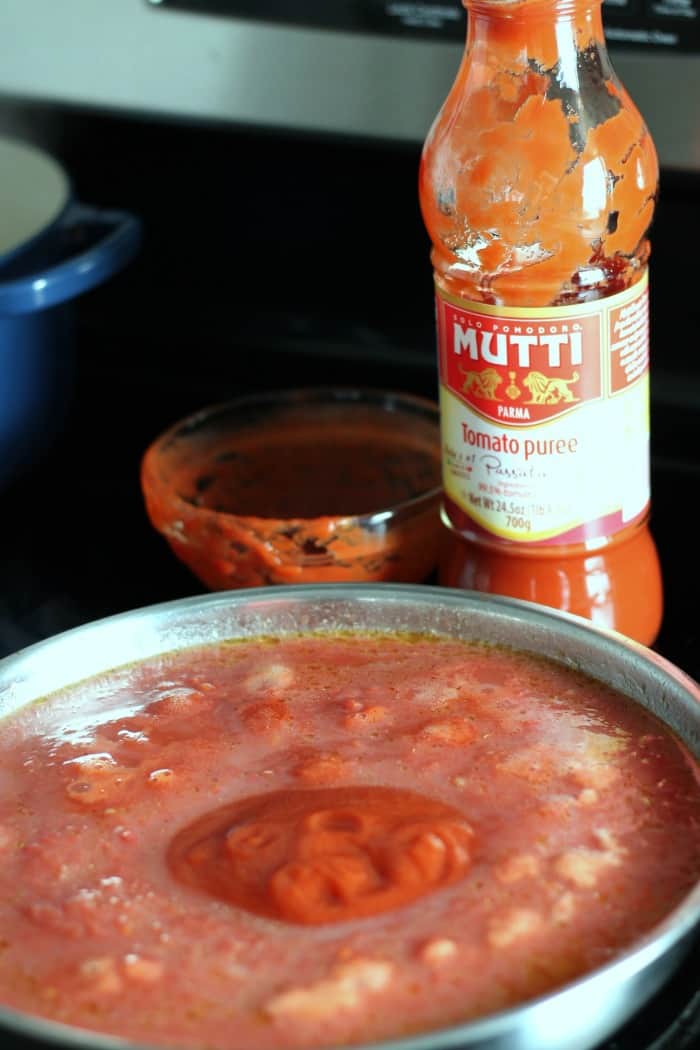 Stir in the Italian seasoning and crushed red pepper. This is where you can switch things up. I have used oregano and basil, just oregano, just basil, and for this recipe I used Italian seasoning. Personally, I love Italian seasoning because it has a little of everything.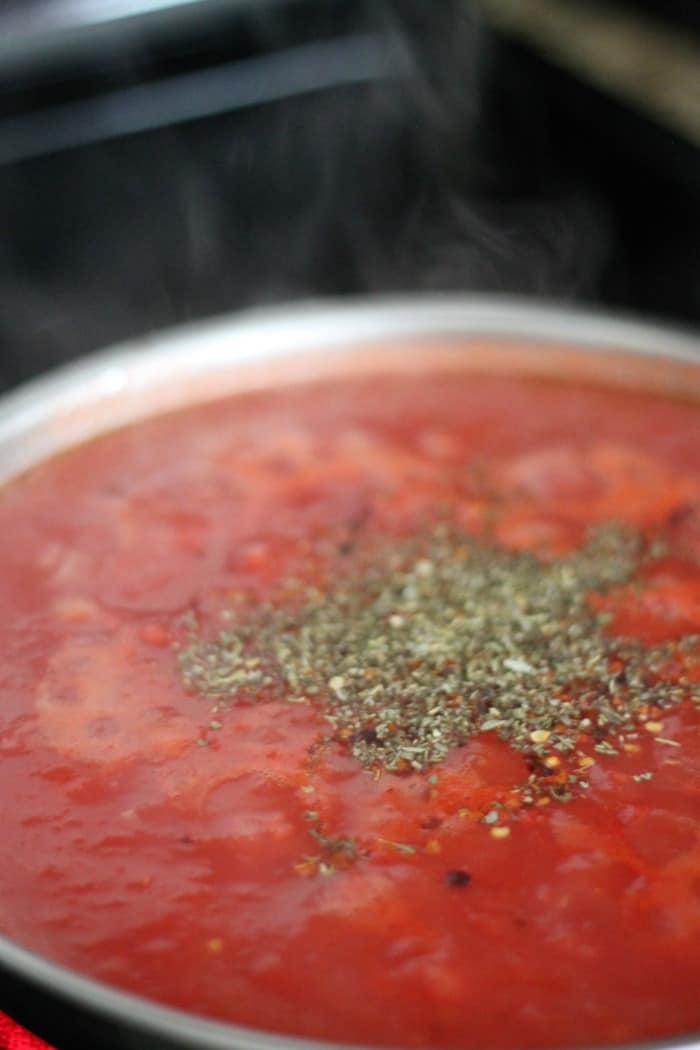 Once all the ingredients are stirred together bring the sauce to a boil and then turn to low and let it simmer for 20 minutes. FYI, during this time you can make the pasta. Multi-tasking is our friend.
Last, stir in the chopped clams and let the sauce cook for about 5-7 more minutes. Look at how thick, red, and scrumptious the sauce is. Yum!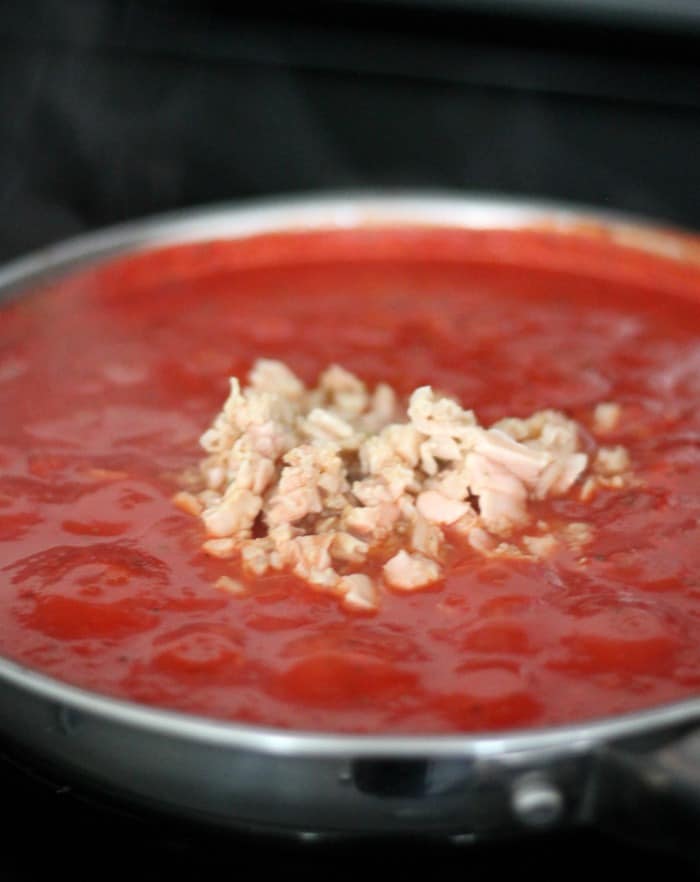 The clam sauce is now ready to serve over hot linguine. You can also freeze the sauce for a later date. If you do this just let the sauce cool first before sticking it in the freezer.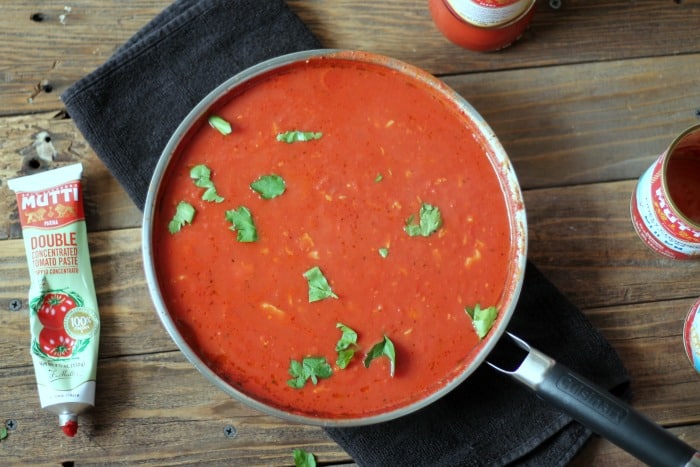 About the pasta. I know it's hard to keep pasta a part of a healthy lifestyle. Trust me, I get it. My mother is Italian and I spent my whole life eating pasta, lots of pasta. Now as a 41 year woman I can't enjoy it like I used to. Meaning I can't sit down and eat a 5 serving bowl of white pasta smothered in sauce, cheese, with a side of garlic bread. OMG now I want that! Ahhhh!
Anyway, today I eat whole wheat instead of white pasta and keep my portions under control. Well, I try to. Combine that with using quality ingredients like Mutti tomatoes and I can still enjoy my Italian-American favorites.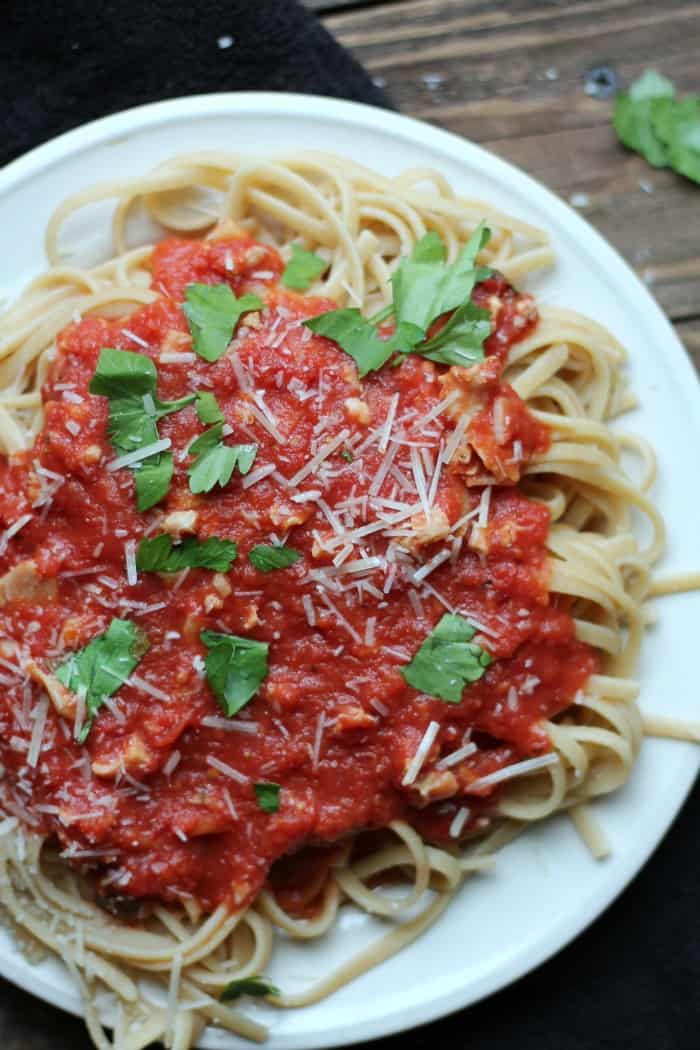 The Mutti tomatoes are delicious! They are bright red and have such a deep rich tomato flavor. The quality and taste of the Mutti tomatoes made this recipe taste like it was ordered at a fancy Italian restaurant. Doesn't this look tasty? I truly hope you make it.
Thanks again to Mutti tomatoes for sponsoring one of my favorite recipes of all time. Your tomatoes are delicious!
Ingredients
2

tablespoons

extra virgin olive oil

4

cloves

garlic

finely chopped

2

6.5 ounce can chopped clams

2

14-ounce cans Mutti finely chopped tomatoes

1-

cup

Mutti tomato puree

2

tablespoons

Mutti tomato paste

1/2

teaspoon

Italian seasoning

1/4 -1/2

teaspoon

crushed red pepper

5

cups

cooked whole grain linguini
Instructions
In a large skillet heat 2 tablespoons of olive oil over medium hit until it starts to sizzle. Add the garlic and let it cook until it becomes fragrant, about 2 minutes. It doesn't take long for the garlic to cook so keep an eye on it to prevent it from burning.

Stir in the juice from the canned clams (reserve chopped clams for the end), chopped tomatoes, tomato puree, tomato paste, Italian seasoning, and crushed red pepper. Bring to a boil and then let simmer for 20 minutes stirring occasionally.

Stir in the clams and cook for about 5 minutes.

Serve over hot whole grain linguine with grated cheese if desired.
Notes
Make-ahead Instructions
The sauce can be made completely ahead of time and frozen.
Nutrition
Serving:
1
g
|
Calories:
379
kcal
|
Carbohydrates:
64
g
|
Protein:
13
g
|
Fat:
7
g
|
Saturated Fat:
1
g
|
Fiber:
6
g
This is a sponsored conversation written by me on behalf of Mutti. The opinions and text are all mine.