I could never give up pasta. Kind of like coffee or the occasional reese peanut butter cup. If someone told me that my favorite foods would be banished from my life for all eternity I would curl up in a ball and cry for my mom. Just sayin. However, I am fully aware that I can't eat whatever whenever I want and expect to keep the weight off – doesn't work that way. What does work is finding healthy alternatives so I can enjoy the foods I love.
One way I enjoy pasta is by creating recipes that include vegetables and a protein instead of just the pasta. This Cajun Chicken recipe is a perfect example of that. It includes chicken, peppers, mushrooms, onions, and small amount of whole grain pasta. It is cooked with Cajun spices, a little olive oil, and chicken broth. The focus of this recipe is not on the pasta. You get the comfort of having pasta in the recipe but the stars of this dish are definitely the other ingredients. The pasta is just there to give it a little more bulk. If you wanted you could leave the pasta out all together and it would still be delicious. But I love pasta so I keep it in.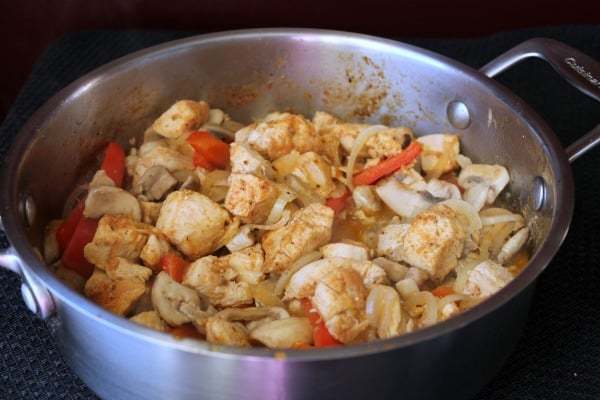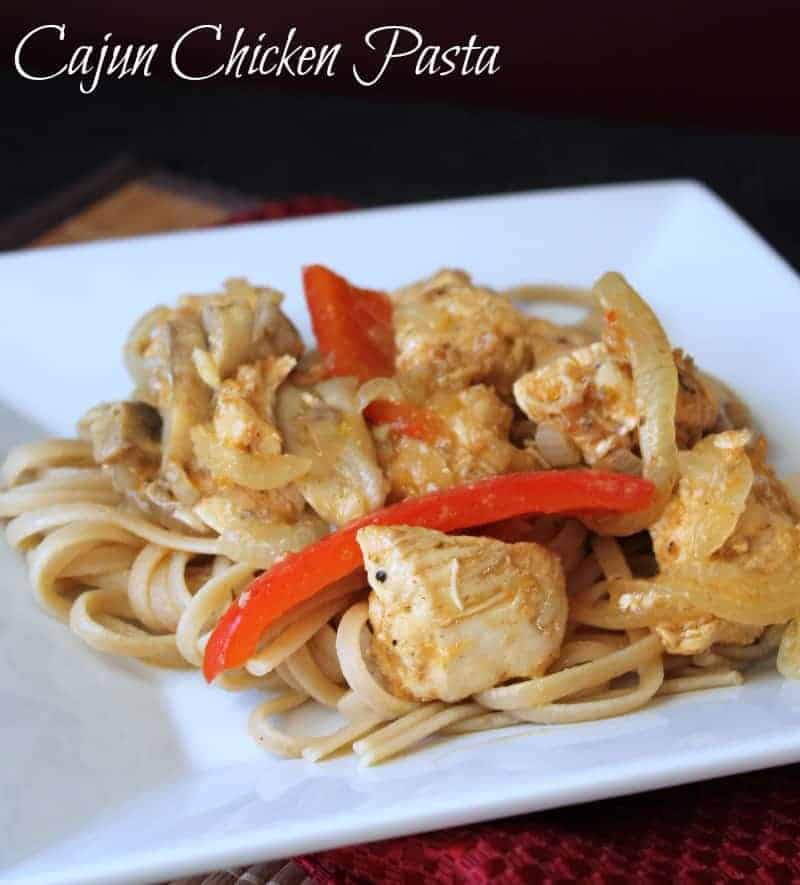 Another way I enjoy pasta is by practicing good old fashion portion control. It is very easy for me to fill a bowl up with pasta and not even think twice about it. Well 2 ounces of pasta has 200 calories. And 2 ounces of cooked linguini is about 1 cup of cook pasta. That might seem like a lot but if that is all you are eating then it really isn't.
Creating individual freezer meals is one of the best ways I know to keep my portions under control. These are like homemade lean cuisines. They work because you portion the recipe out ahead of time so there is zero guesswork when you are ready to eat. You figure out the portions and nutritional information ahead of time. All you need to do is enjoy!
Each container is 336 calories and 7 weight watchers points plus.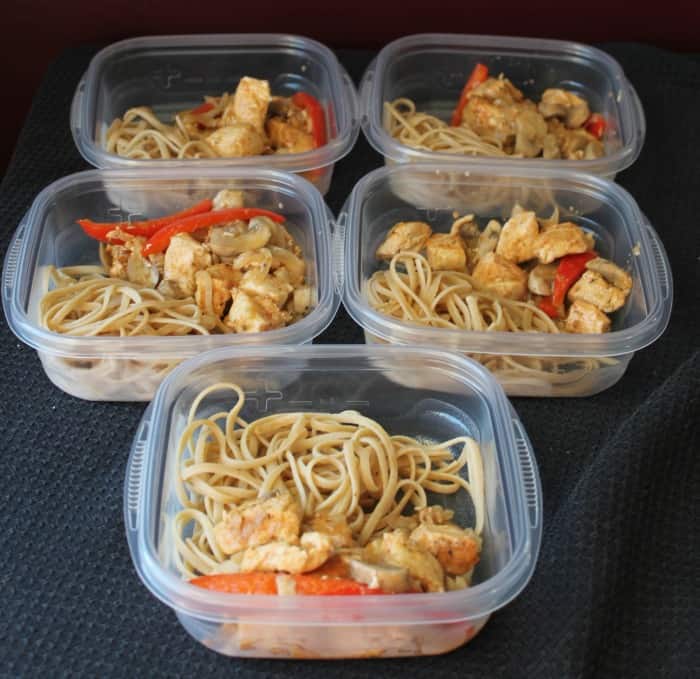 I ate one serving then package up the rest into freezer meals. I froze the pasta and Cajun chicken in the same container but kept them separated. I hate mushy pasta so this freezer cooking technique keeps the pasta al dente.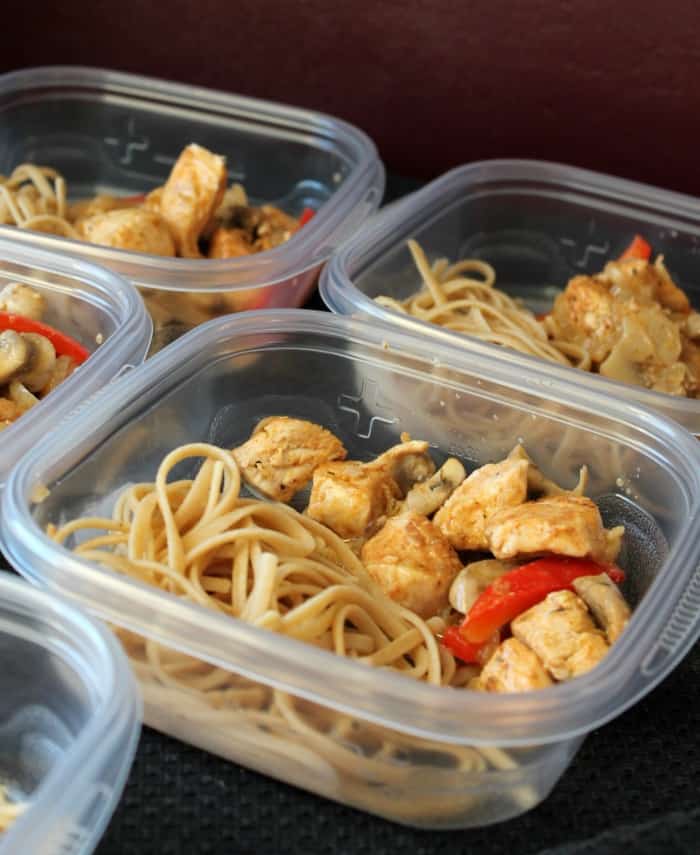 I got about 6 servings from this Cajun Chicken recipe. I used about 1 cup of the chicken mixture and 3/4 cup (maybe a little less) of pasta for each serving. I only made 1/2 pound of pasta and that seemed to be the perfect amount for 6 servings.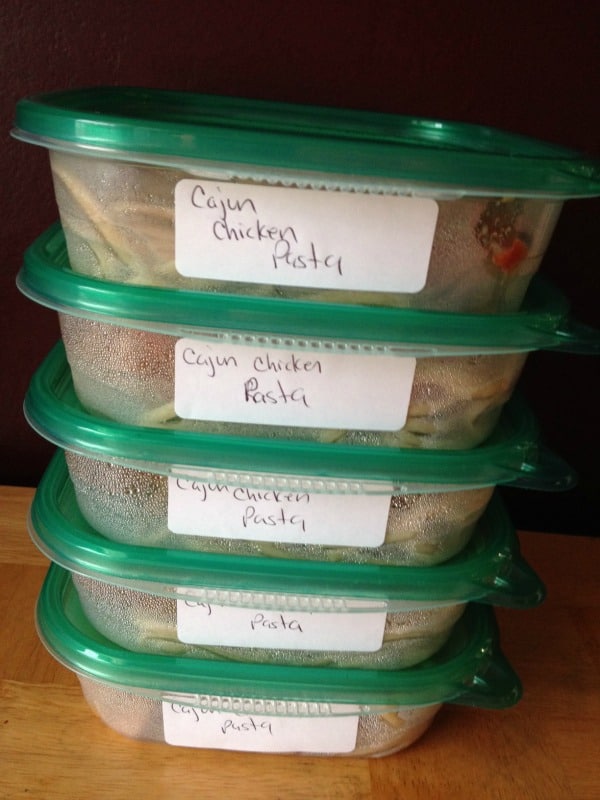 When you are ready to eat take the container out of the freezer, remove top, and microwave for 2 minutes. Stir ingredients together then microwave for another minute. You will end up with a delicious portion controlled Cajun pasta chicken.
If you don't want to microwave in plastic then run the container under warm water. This should allow for the food to pop right out. Place into a microwave safe bowl or container and heat up. You can heat up on the stove too using a saucepan.
Another make ahead tip if you don't want to make individual freezer meals out of this is to prep the chicken and vegetables ahead of time. Just having the chicken cut and trimmed will make this recipe a cinch to pull together when you want to make it.
You will love having these in your freezer.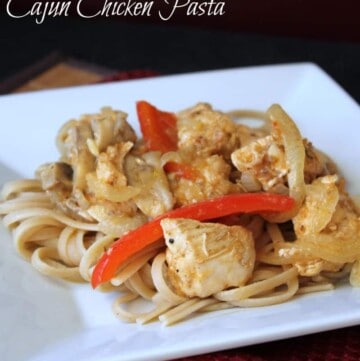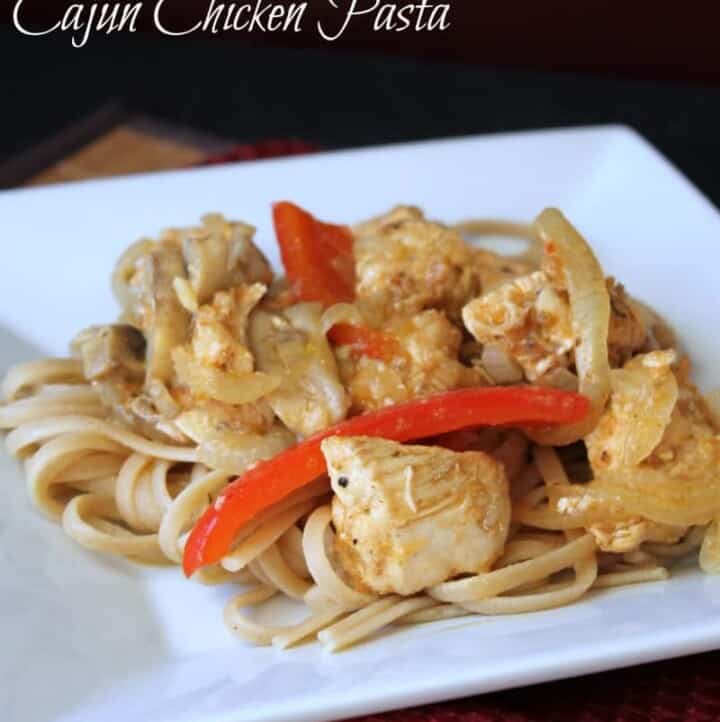 Cajun Chicken Pasta: Homemade Lean Cuisine Instructions
Print
Pin
Rate
Ingredients
2

lbs

of boneless skinless chicken breast

cut into smaller chunks

1

tablespoon

white whole wheat flour or whatever flour you have available

1

tablespoon

cajun seasoning

I used McCormick

1

tablespoon

olive oil

1

red pepper

seeded and sliced

1

medium white onion

sliced

4

garlic cloves

minced

1

10 ounce package sliced while mushrooms

pinch

of salt

1/2

cup

chicken broth plus a little extra to deglaze pan

1/4

cup

grated romano cheese

1/2

package dry linguini

cooked
Instructions
In a medium bowl mix together the chicken, flour, and cajun seasoning. Make sure the chicken is fully coated with flour and seasoning.

In a large saute pan, heat the olive oil on medium high, then add the chicken to the pan. Cook on both sides until no longer pink in the middle, about 5-7 minutes. Remove from pan and set aside.

Pour just a little chicken broth into the pan to deglaze it. This will loosen up the brown bits from the pan.

Add peppers, onion, mushrooms, and garlic. Cook until onions are translucent. Sprinkle with just a pinch of salt.

Add chicken broth, romano cheese, and chicken into the pan with vegetables. Cook for about 5 minutes are until the sauce is slightly thickened.

Serve over pasta.
Notes
Make ahead instructions
This recipe can be made ahead of time and prepared into individual freezer meals. You can also freeze the sauce separately in containers for a later dinner. For easy preparation the day you eat you can prep the chicken and vegetables ahead of time.
Nutrition
Serving:
1
g
|
Calories:
338
kcal
|
Carbohydrates:
31
g
|
Protein:
37
g
|
Fat:
4
g
|
Fiber:
5
g
|
Sugar:
7
g