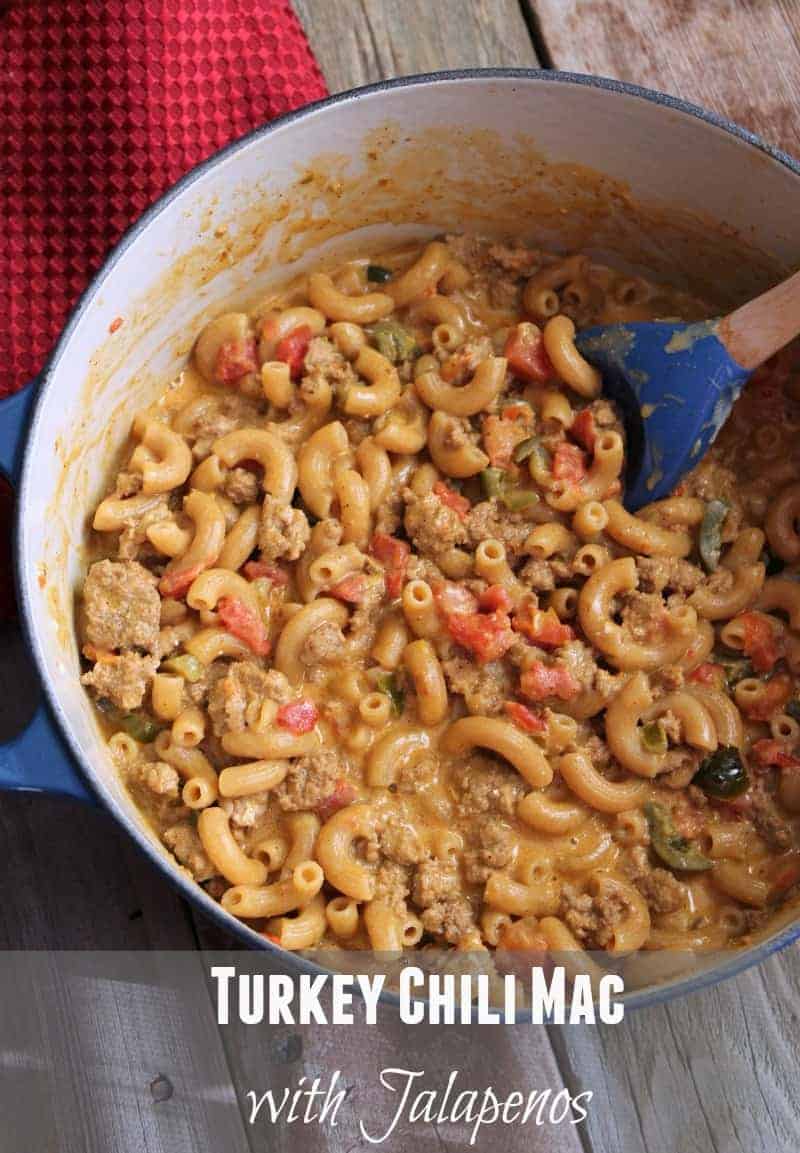 Comfort food will always have a place in my world. Always. There is absolutely no reason to eliminate foods that give you that warm cozy feeling. The only thing needed is a little tweak or two to keep comfort food classics a part of your healthy lifestyle.
On days when the only thing that will work is an ooey gooey bowl of cheesy macaroni and cheese then give this Chili Turkey Mac with Jalapenos a try. I found this recipe from Cooking Light and have been dying to try it for weeks now.
It is everything you would expect out of macaroni and cheese recipe. It is cheesy, creamy, and beyond comforting. The flavor is spicy and delicious. I threw in some pickled jalapeños but you can reduce the amount or leave them out all together if you want. We love spicy in my house so it was perfect for us.
The original recipe called for ground beef but I decided to use ground turkey instead. This reduced the fat quite a bit without losing any flavor. I also used full fat cream cheese instead of the reduced fat version. It only called for 4 ounces so I felt full fat would be fine.
I also use whole grain elbow macaroni. This adds fiber and extra nutrition. If you want, throw in some black beans for even more fiber and protein. However, between the turkey and whole grain pasta I think this recipe has a nice amount of protein.
This Turkey Chili Mac is very easy to make and only took about 30 minutes from start to finish. It also reheats really nice. I made a batch on the weekend, stored in the refrigerator, warmed it up a couple days later and it was still delicious. It also freezes great too so you can feel comfortable adding it to your freezer cooking rotation. This recipe is definitely going to be a new family favorite.
Here are other of my favorite macaroni and cheese recipes
Buffalo Chicken Macaroni and Cheese
Skinny Macaroni and Cheese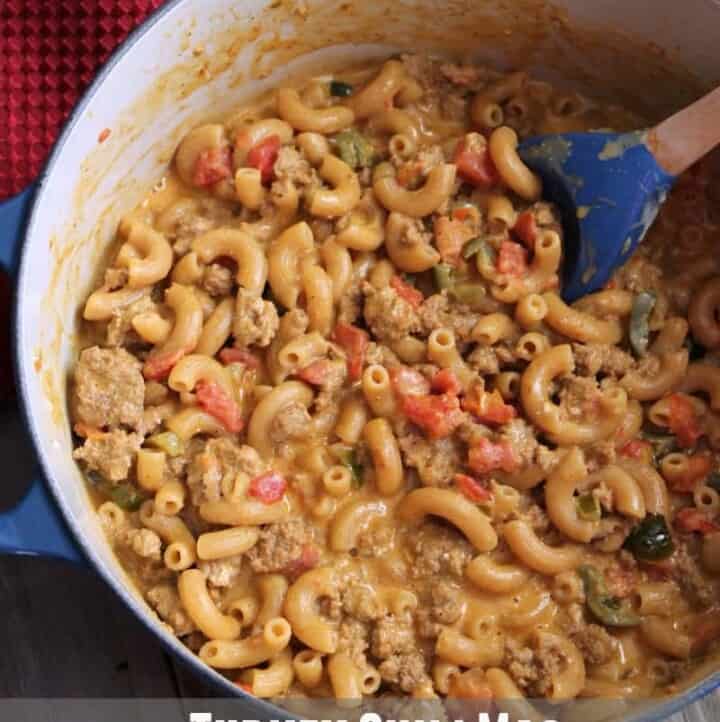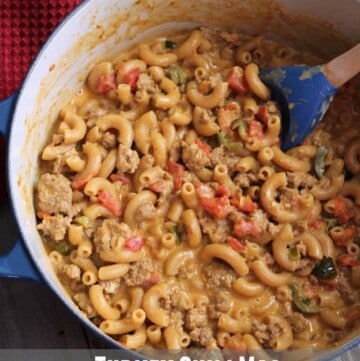 Ingredients
1

teaspoon

granulated garlic

1

teaspoon

onion powder

1

teaspoon

ground coriander

1

teaspoon

cumin

2

teaspoons

chili power

¼

salt

plus more to taste if needed

1

tablespoon

olive oil

1

lb

ground turkey

3

cups

beef broth

1

10-ounce can diced tomatoes with green chilis

2

cups

dry whole wheat elbow pasta

½

cup

pickled jalapenos

chopped

½

cup

1% milk

4

ounces

cream cheese

1

cup

shredded sharp cheddar cheese
Instructions
In a small bowl mix together granulated garlic, onion powder, ground coriander, cumin, chili powder and salt.

In a large pot or Dutch oven heat olive oil on medium high. Add ground turkey and cook until no longer pink. Stir in the spices and cook for another 1-2 minutes.

Stir in beef broth, diced tomatoes, and dry pasta. Cook for about 8-10 minutes or until the pasta is cooked.

While the pasta is cooking pour milk into a small pot and heat up slowly over low heat. After the milk is warm and steaming add the cream cheese and stir until it is melted.

Add the shredded cheese to the milk and cream cheese. Stir until it is melted.

Pour the cheese sauce into the pasta mixture and stir until the pasta is evenly coated.

Stir in the pickled jalapenos. Give it a taste and add a little more salt if needed. Serve hot.
Notes
Make ahead instructions
This recipe can be made completely ahead of time and stored in the refrigerator for up to 3 days or frozen in a freezer friendly container. You can freeze into individual portions for easy lunches and dinners.
Nutrition
Serving:
1
g
|
Calories:
322
kcal
|
Carbohydrates:
35
g
|
Protein:
20
g
|
Fat:
15
g
|
Fiber:
4
g
|
Sugar:
9
g