Cheeseburger macaroni baked into a wholesome comforting casserole. This is the perfect lightened-up comfort food recipe!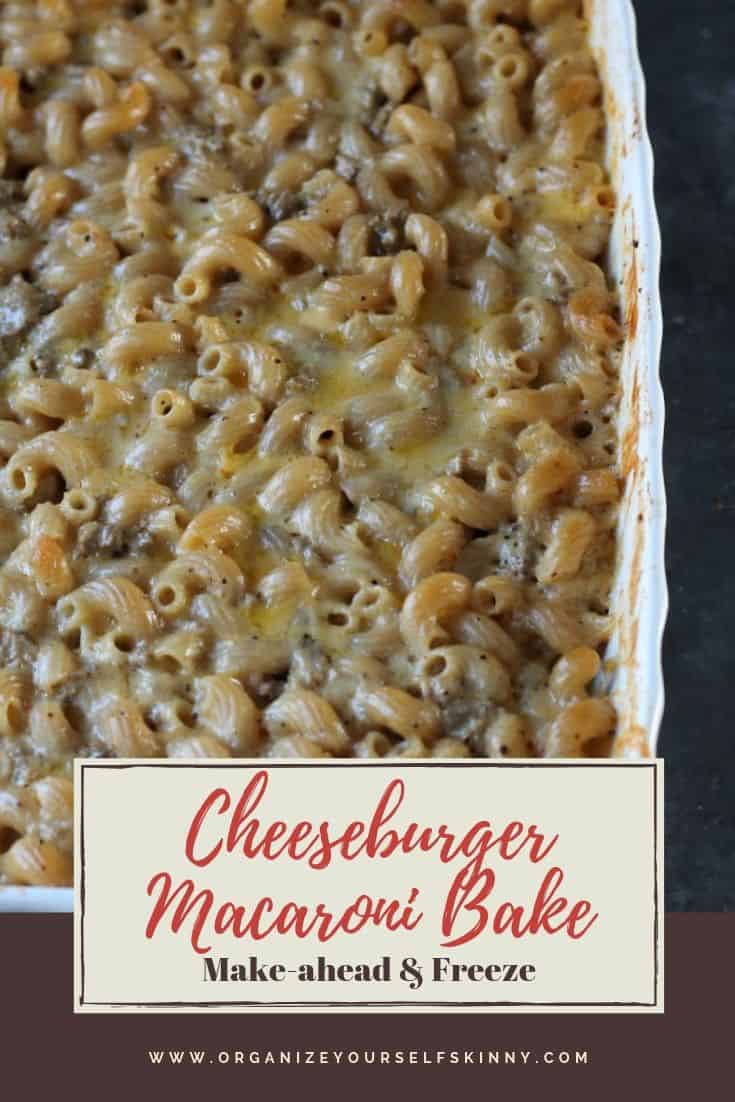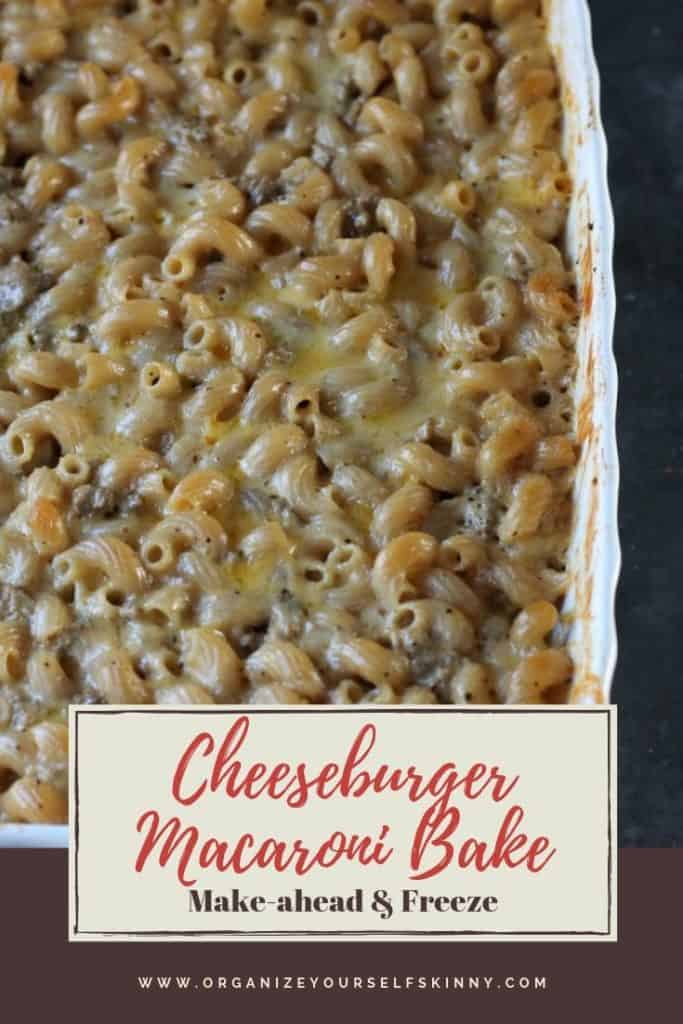 When it comes to comfort food there's nothing better than a good ole fashioned macaroni and cheese! Am I right? Now add some juicy hamburger to it and OMG we got cheeseburger macaroni! YUM!
Of course, macaroni and cheese isn't the first on the list of recipes to add to our meal plan when trying to eat healthier. However, you don't need to completely right it off either.
The key to fitting comfort food, like cheeseburger macaroni, into your healthy lifestyle is portion-control and preparing it with healthier ingredients.
Let's first chat about portion-control. The beautiful thing about portion-control is you can eat whatever you want as long as it's in moderation. Of course, some foods are better for you that others but if you really want that ooey gooey brownie then as long is it's portioned out and within your calories then go for it.
This cheeseburger macaroni bake recipe makes about 8 (1 1/4 cup) servings. I know that might not seem like a lot per serving, especially when you want to eat the whole plan but, trust me, it's plenty. If you need to bulk up your plate then add some vegetables or a big salad.
Second, one of the lessons I learned very early on in my weight loss journey is that I can keep most (if not all) of my favorite comfort food recipes in my diet by substituting healthier ingredients.
I always thought healthy eating consisted mostly of kale and water but that's not the case at all. Nutritious clean food actually taste good. Plus, when you use healthier ingredients you get more bang for your buck. Meaning, you can eat more and you'll be satisfied longer.
Tips for a healthier cheeseburger macaroni
For the meat I used 90% lean organic ground beef. In my experience, the higher quality the meat the better your recipe will be. I've also made this with ground turkey – this brings the fat content way down. However, my family prefers beef in this recipe so I use lean and organic grass-fed.
Instead of white pasta I use whole grain macaroni. My favorites are Delallo wholegrain medium shells and Bionature wholegrain gobbetti or elbows.
I only use 1 tablespoon of butter and 1/4 cup flour to make a roux. I try to use whole wheat flour when I have it but mostly I'll use white flour.
Instead of using all milk or cream I use 3 cups 1% milk and 2 cups chicken stock. This keeps the fat and calories under control.
Typically, I use whole fat shredded cheese because it melts better and is actually healthier because low-fat cheese is filled with fillers and junk. However, if you want to cut calories and fat you can use a light cheese.
Other cooking tips
Only cook the pasta for 5 minutes. The pasta will still have a strong bite to it but, don't worry, it will cook perfectly as it bakes in the sauce.
Any short pasta will work fine. I've used everything from shells, corkscrew, elbows, gobbetti, and bow ties. Use whatever you want.
Hamburger spice really gives the meat a "hamburger" flavor. It can be found in the spice aisle.
You can make this gluten-free by using gluten free pasta, tapioca flour, and gluten-free spices. I've made this with gluten-free pasta before and it turned out great.
If you don't want to use dairy milk then unsweetened coconut milk works great. I haven't made this with vegan cheese but if you try it let me know.
Sharp cheddar works perfect in this recipe but feel free to experiment with all of your favorite cheeses.
Speaking of cheese, if you have time, shred your own cheese. I know it's easier to purchase bags of shredded cheddar, and I do more often than not, but shredding sharp cheddar fresh brings this dish over the top.
What to serve with cheeseburger macaroni?
This recipe is super hearty so it really doesn't need much. I like to serve cheeseburger macaroni with roasted broccoli, steamed green beans, or roasted carrots. Basically, any roasted or steamed veggie will go great with this recipe.
Can this cheeseburger macaroni be made ahead of time?
Of course!
First, you can bake it completely ahead of time and then store it in the refrigerator to enjoy all week. All you need to do is heat and eat. I prefer using glass meal prep containers because it helps keep this recipe fresh longer. You can also portion-out and freeze for dinners later on.
Second, you can prepare the recipe ahead of time (without baking), cover, and store in the refrigerator until you want to bake it during the week. I recommend baking within a couple days of preparing the ingredients. Keep in mind, you might need to add on a little more cooking time because the recipe will be cold.
Third, you can prepare components of the recipe ahead of time. For example, you can cook the beef and pasta in advance. Then on the day you're going to eat all you need to do is cook the sauce, put it together, and bake. Or cook all the components and store separately in the refrigerator. Then mix together and bake the night you want to eat it. You can can also freeze all these components separately too.
Lots of meal prep options to have this cheeseburger macaroni bake ready during the week!
Okay, let's get to the recipe.
Cheeseburger Macaroni Bake
Step 1: Cook the pasta first. Like I said, you only need to cook the pasta for 5 minutes. It'll finish cooking in the bake. Place the cooked pasta into a 9 x 13 baking dish.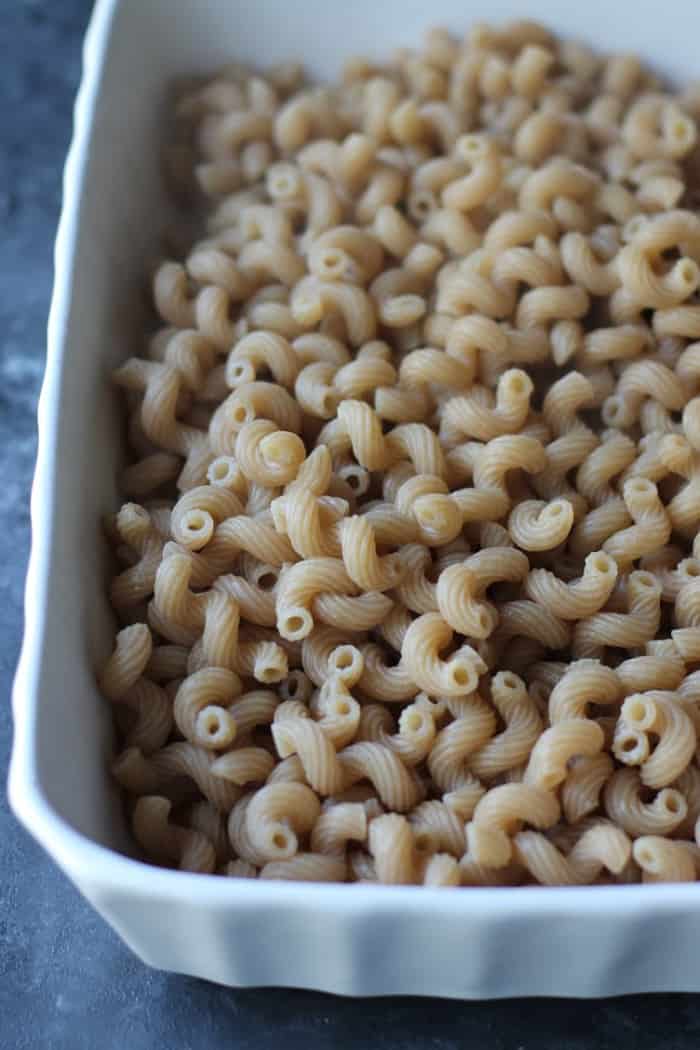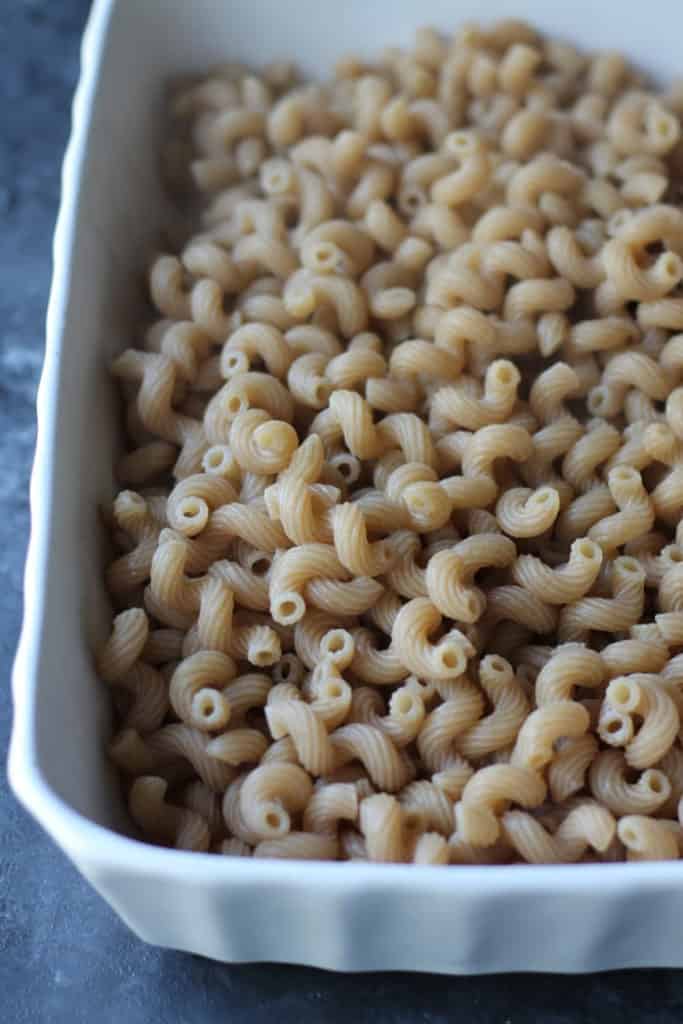 Step 2: Cook the beef. After it's cooked place it into the 9 x 13 pan with the pasta. Set aside and start working on the cheese sauce.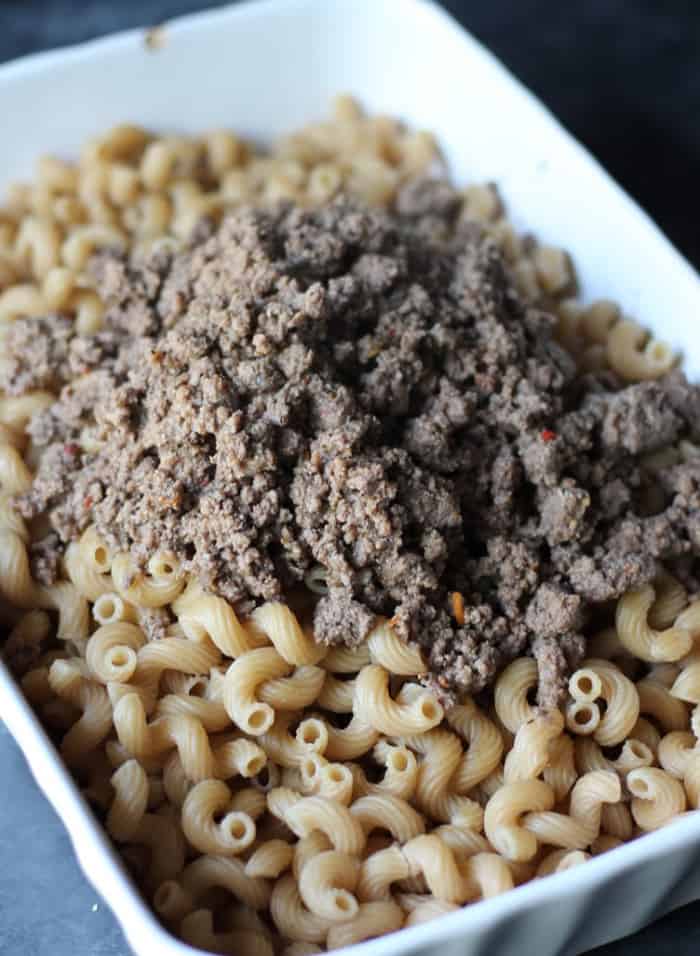 Step 3: Put the sauce together and then mix it in with the pasta and beef. You want to make sure everything is mix together really well. Push down on the pasta so it's soaked in the sauce. Cover with foil and bake for 60 minutes in a 350 degree oven. At 50 minutes take the foil off and continue cooking.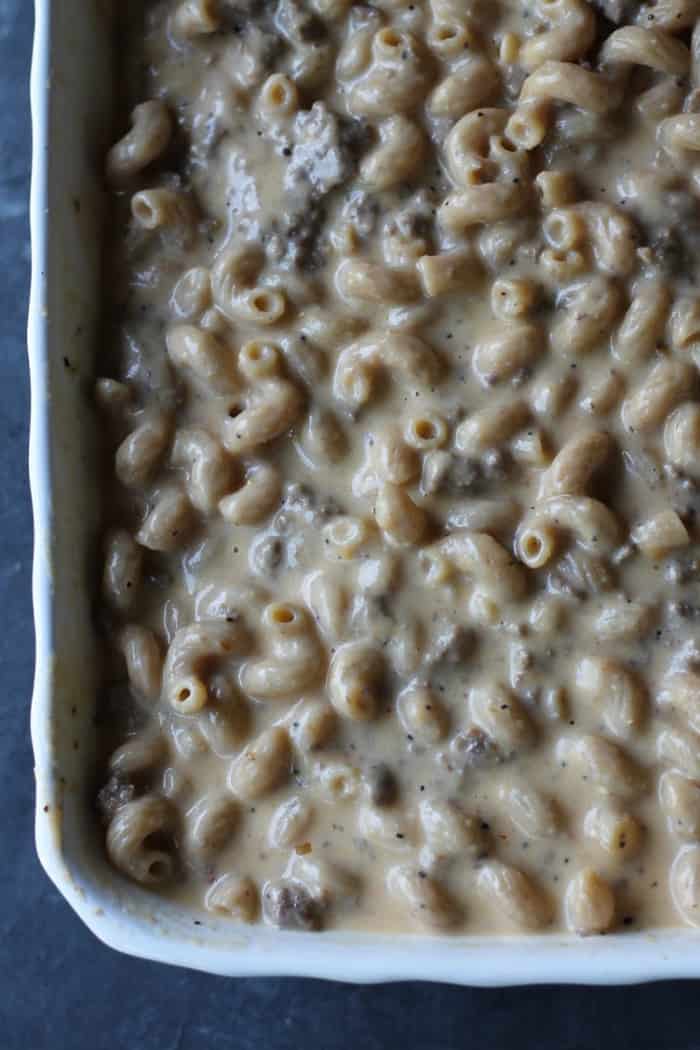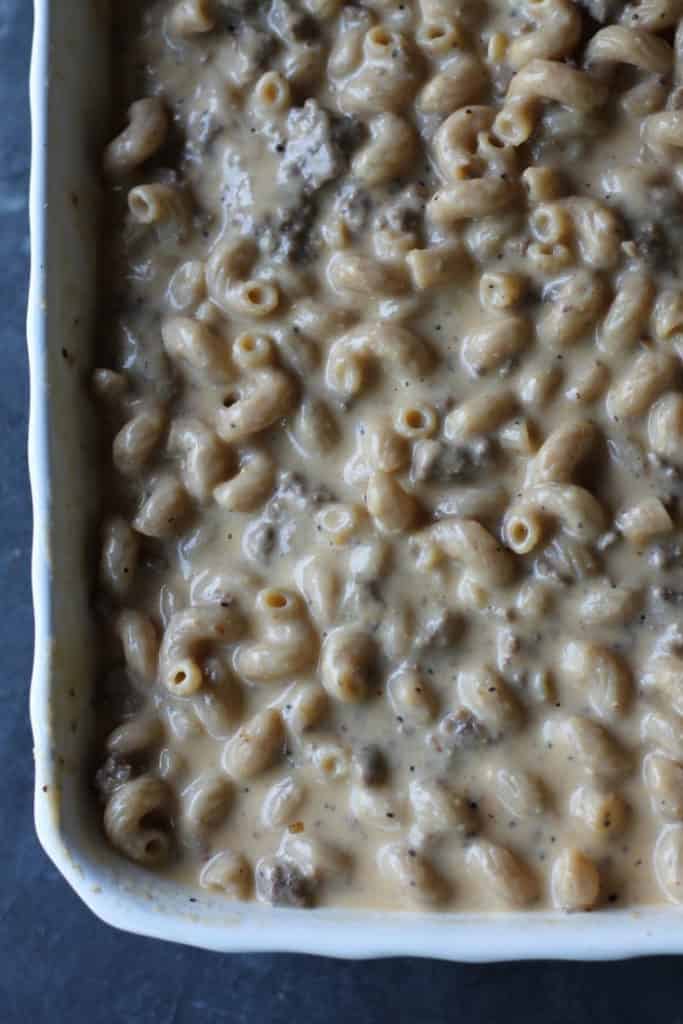 Step 4: Let it sit for about 5 minutes and then serve.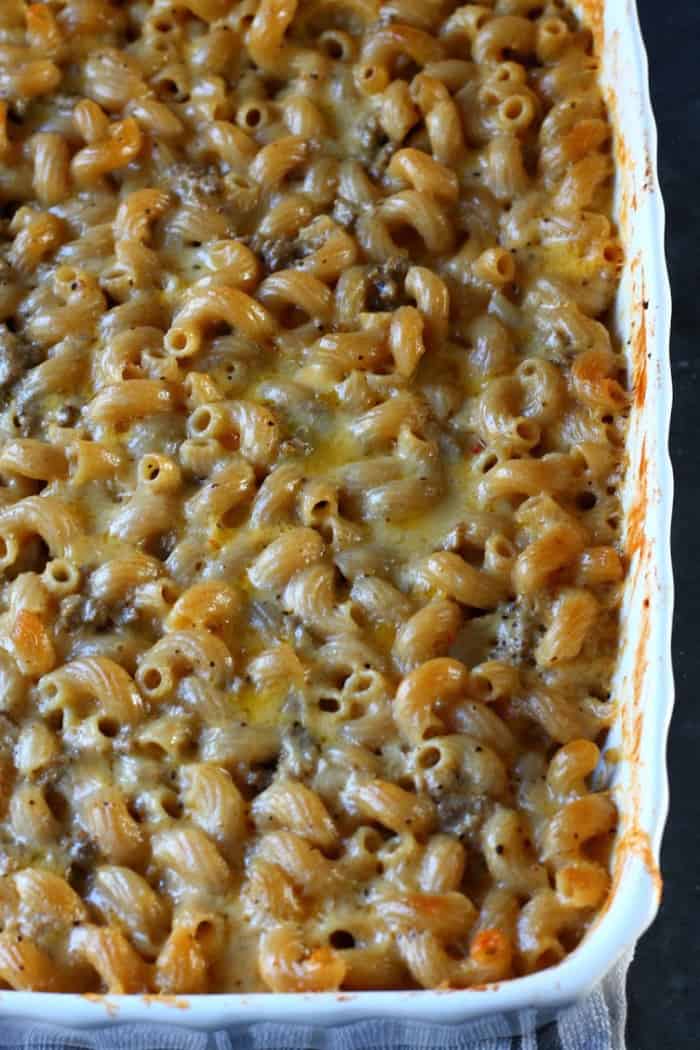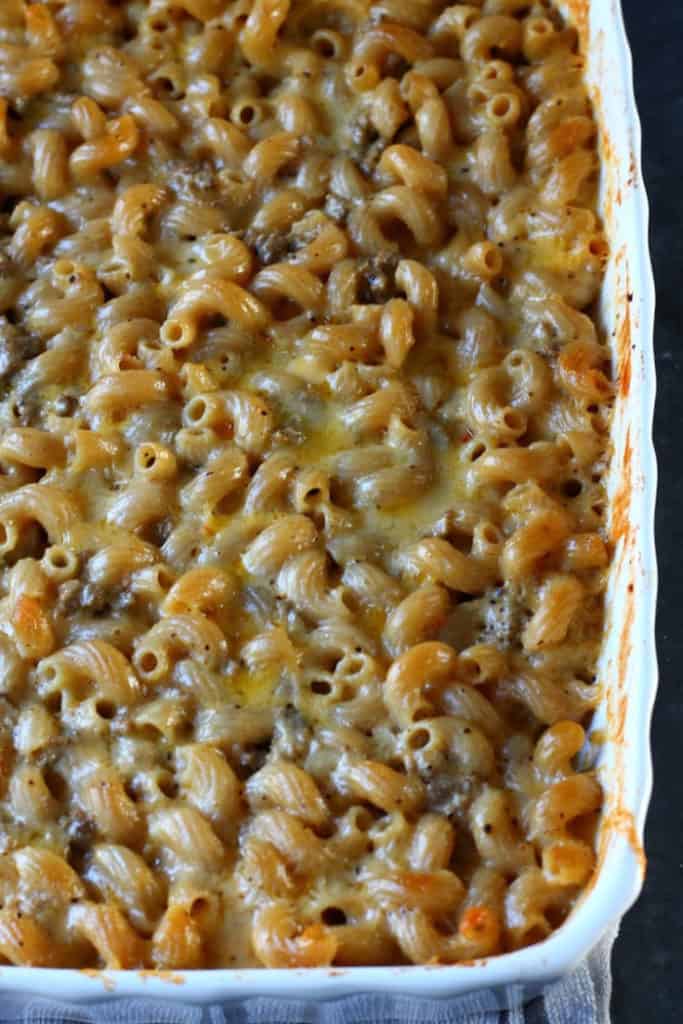 This cheeseburger macaroni bake is absolutely delicious. Honestly, you'd never guess it was filled with whole grain pasta and other good ingredients. All you'll think is "where has this been my whole life?"
If you decide to make this recipe tag me on Instagram or in the Facebook Group.
Supplies to make this cheeseburger macaroni bake:
Le Creuset 5 1/2 quart Dutch Oven – this is the one I have and absolutely love it. I use this more than any other pan or pot.
36 ounce rectangle meal prep containers – to store leftovers for the week.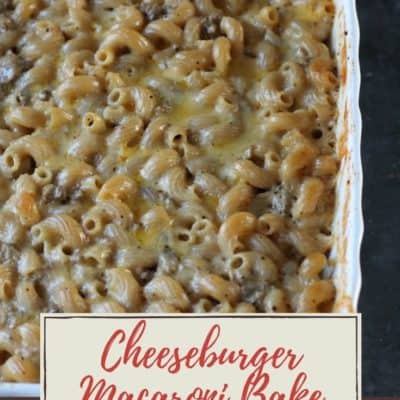 Ingredients
For the ground beef:

1

lb

90% lean ground beef

1

tsp

hamburger seasoning

1

tsp

granulated garlic

1

tsp

onion powder

1

tbsp

worcestershire sauce

1

tsp

salt

1

tsp

black pepper

1

lb

whole grain elbow macaroni or shells

For the sauce:

1

tablespoon

butter

salted or unsalted

1/4

cup

flour

3

cups

1% milk

2

cups

chicken stock

1

teaspoon

granulated garlic

1

teaspoon

black pepper

4

cups

shredded cheddar

1/2

cup

grated romano cheese

salt as needed
Instructions
Preheat oven to 350 degrees.

Bring a large pot of salted water to a boil. Add the macaroni and cook for 5 minutes. The macaroni will still have a bite to it. Drain and place into a 9 x 13 baking dish. Set aside.

In a large skillet cook the ground beef over medium heat. When there's only a little pink left add in the hamburger seasoning, granulated garlic, onion powder. worcestershire sauce, salt, and pepper. Stir until it evenly distributed among the beef. Place in the 9 x13 dish with the macaroni.

In the same pot you made the macaroni in melt the tablespoon of butter over low heat.

Quickly whisk in the flour until it forms a paste of sorts then pour and whisk in the chicken stock and milk.

Stir in the granulated garlic, onion, and black pepper.

Cook sauce over medium to high heat until it becomes bubbly and starts to thicken. This can take up to 10 minutes or so, Whisk every couple minutes so the flour or milk doesn't stick and burn at the bottom.

Once the sauce begins to bubble (not boil) remove from heat and slowly stir in cheddar and romano cheese.

Taste for salt. Add 1/2 teaspoon at a time until you get the desired flavor.

Cover with foil and bak for 60 minutes. In the last 10 minutes remove the foil.

Let sit for about 5 minutes and then serve.
Notes
Meal prep tips
This recipe can be prepped a few different wants. First, you can prep the 1 or more of the components of the recipe ahead of time. For example, you can have the ground beef and pasta ready then just make the sauce the night you'll eat. Or you can prep all the components and put together and bake the night you eat. Second, you can prepare the entire recipe up until baking and then cover and refrigerator. The night you bake you'll probably need to add on a few more minutes to cooking time because it'll be cold. You can also freeze this recipe but my advice is to thaw completely before baking or it will take 2 hours or more to cook.
Last, you can prepare and bake the recipe completely. Then store in the refrigerator to enjoy during the week. You can also freeze into portions and then warm up using the microwave.
Nutrition
Serving:
1
g
|
Calories:
585
kcal
|
Carbohydrates:
48
g
|
Protein:
38
g
|
Fat:
27
g
|
Saturated Fat:
14
g
|
Fiber:
6
g
|
Sugar:
6
g