This Roasted Asparagus Recipe is so easy to make. It's the perfect side to any dinner whether it's for an easy weeknight meal or a fancy date night. With the addition of a few simple ingredients, I'll show you how to bring this springtime vegetable to life in 4 different ways!
Asparagus was the first vegetable I ever roasted! Yep, 10 years ago I grab a bunch of asparagus and had no clue what to do with it.
So I scoured a few cookbooks – hey, this was 10 years ago so not sure I even used Pinterest then.
Anyway, I came across a simple roasted asparagus recipe so I made it. I was blown away!
Roasted asparagus became one of my favorite vegetables for many years. Actually, it still is but now, I roast all kinds of vegetables so I can't say I really have a favorite.
I guess you can say roasting is my preferred method of cooking all of my vegetables. It creates a deep delicious flavor and texture that's unmatched to other cooking methods.
Things To Know About Asparagus
Before I jump into my favorite roasted asparagus recipes or variations of it, I just want to go over some basics with you!
How To Choose Asparagus
If you don't eat asparagus often, then you might wonder how to choose the best asparagus in the display in front of you at your local grocery store. There are a few things I tend to look for.
When choosing a bunch of asparagus spears, you want them to be bright green. It's okay for it to have purple on the sides and tips. This actually is a sign that means it's healthy.
Stalks should be firm, not squishy. If you can bend the stalks easily or they're flimsy, then I wouldn't purchase them.
The tops shouldn't be soggy or slimy. This is usually the first thing I notice when asparagus isn't of quality or starting to go bad.
There shouldn't be an odor. Asparagus shouldn't really smell of anything. If you give it a sniff and there's a strong odor, then I wouldn't buy it.
When I purchase asparagus, specifically for roasting, I like to purchase bigger stalks. Some people say the smaller ones are more tender but I find the smaller ones get too mushy after they're roasted. The bigger stalks hold up to the high heat of roasting!
How To Store Uncooked Asparagus
As long as you're going to use the asparagus within 3 days of purchasing, then I think it's fine just to keep it in the refrigerator.
However, if you're worried about it spoiling, then you can keep the asparagus in a jar (try a 16-ounce wide mouth mason jar) filled with a couple of inches of water. Then, put it in the refrigerator like that.
But again, I always roast my asparagus so I don't get that complicated. I just buy it, throw it in the crisper, and then roast within a few days.
How To Prep Asparagus
There's only a couple of things you need to do prior to roasting asparagus or using it in any recipe.
First, you want to wash it and then pat it dry.
Then, you want to cut off the rough ends. The bottom couple inches of asparagus is rough, very fibrous and almost "woodsy" tasting. Basically, it's not very palatable. If you bend the asparagus, then it should break off right where the rough part ends. Or you can just use a sharp knife and cut off the rough ends.
What To Serve With Roasted Asparagus
Roasted asparagus goes with just about anything! You can serve it alongside some Stuffed Cream Cheese Chicken or even as a side to some Buffalo Macaroni and Cheese.
Honestly, we eat it with everything.
It's also delicious with hummus in a pita or wrap.
This is how I started eating roasted asparagus 10 years ago. I'd make a bunch and then keep it in the refrigerator. Then I put some garlic hummus in a pita and then shove roasted asparagus into it.
YUM! I haven't had that in a long time- now, I want to make that!
Roasted Asparagus Recipe: 4 Different Ways
Now that I've raved all about asparagus, let me tell you how to make it! Making roasted asparagus is so easy. Honestly, you only need a few ingredients.
Here's a list of the ingredients I use in my basic recipe:
1 Bunch of Asparagus
2 tbsp Extra virgin olive oil
Salt
That's it! See, I told you it was easy.
How To Make This Roasted Asparagus Recipe
Preheat the oven to 425 degrees and follow my tips on how to prep the asparagus. Place the asparagus on a sheet pan lined with foil.
Drizzle the asparagus with a little bit of olive oil. Then, use your hands to mix the asparagus and olive oil together until it's coated.
Sprinkle with salt to taste!
Roast the asparagus for 15 to 20 minutes.
This can easily cook while you're getting other dinner items ready.
If you make this roasted asparagus but want to change it up every once in a while, try adding in some of these delicious ingredients!
Here are my 4 favorite ways to spice up this roasted asparagus recipe.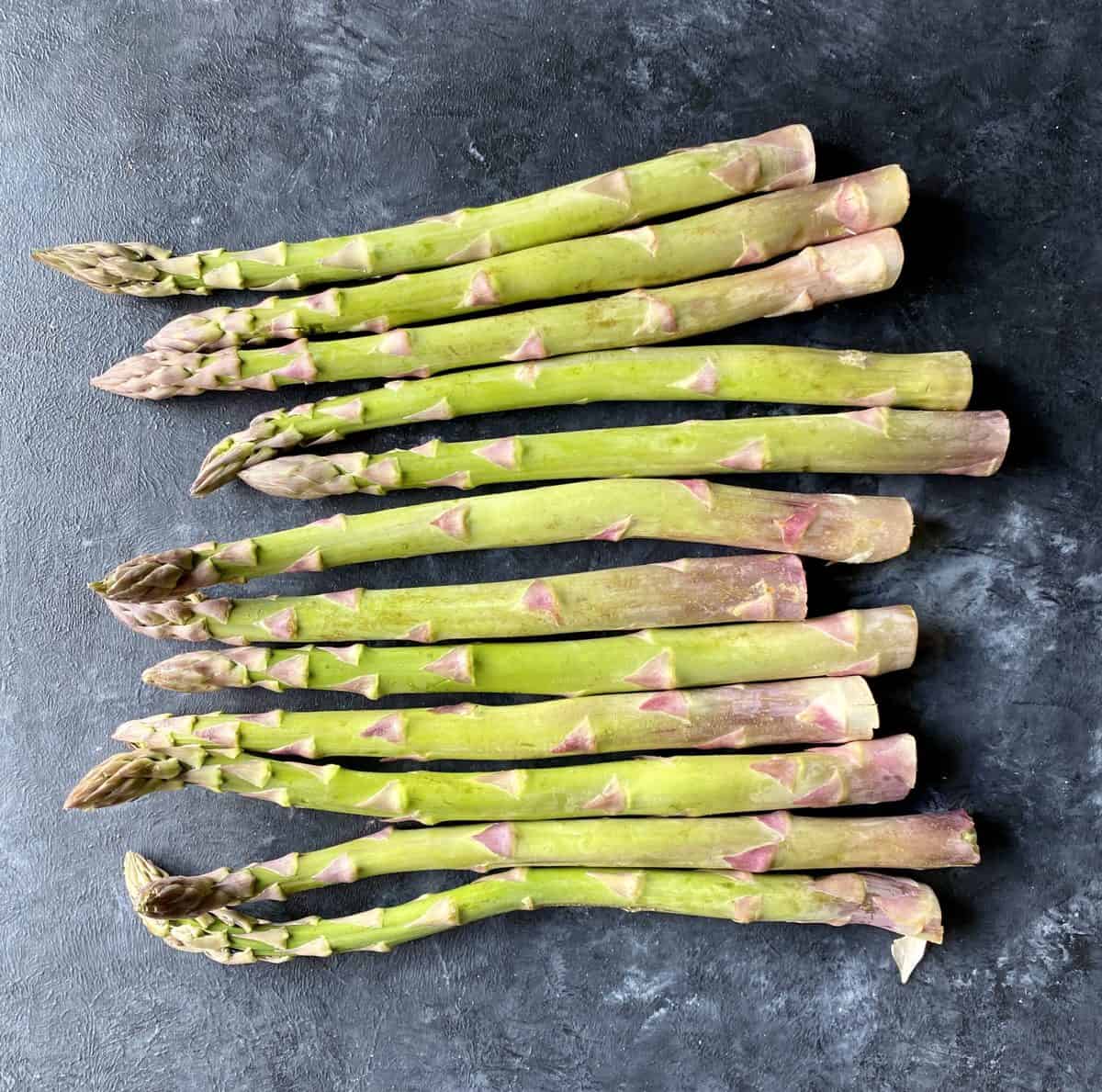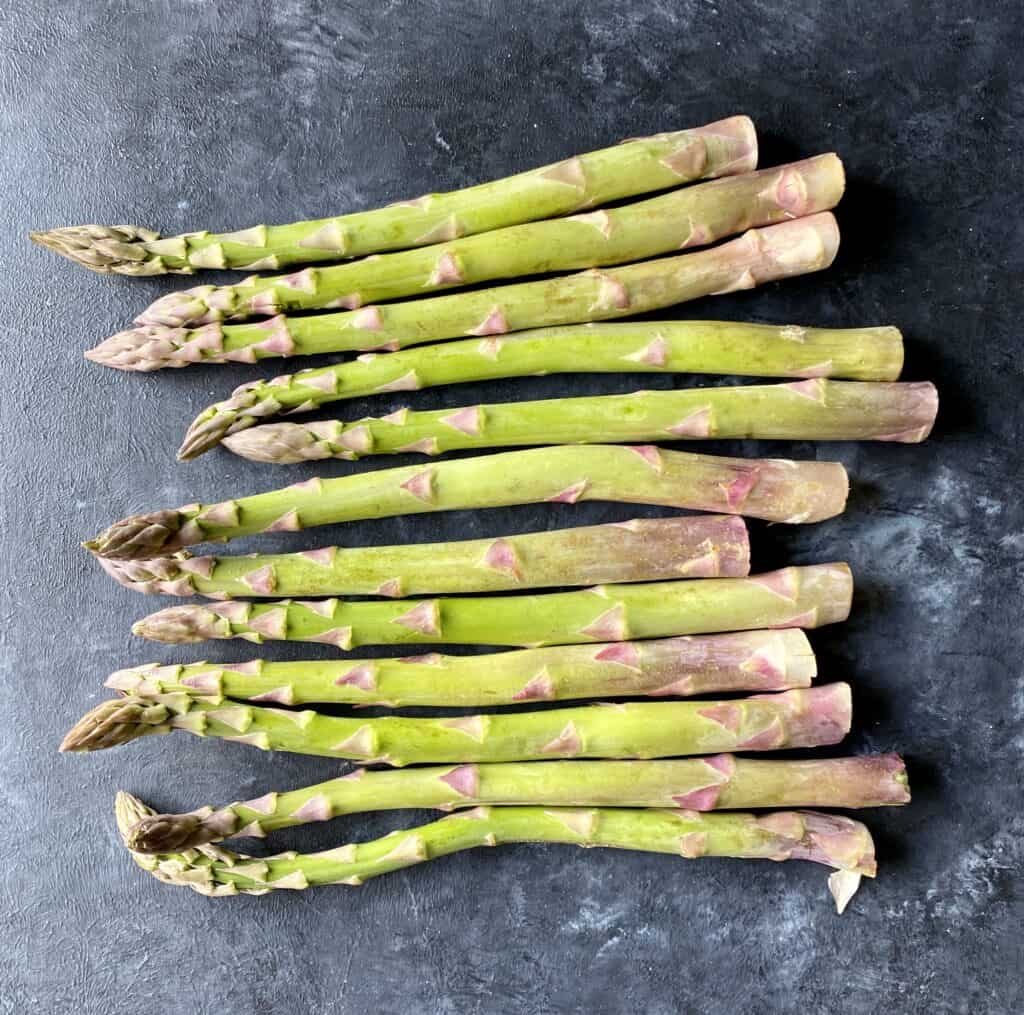 Roasted Asparagus With Garlic
Let's start with the one I make the most often, next to the basic recipe. This is a Garlic Roasted Asparagus.
For this one, I use the basic roasted asparagus recipe and then add grate 1 garlic clove in with the olive oil.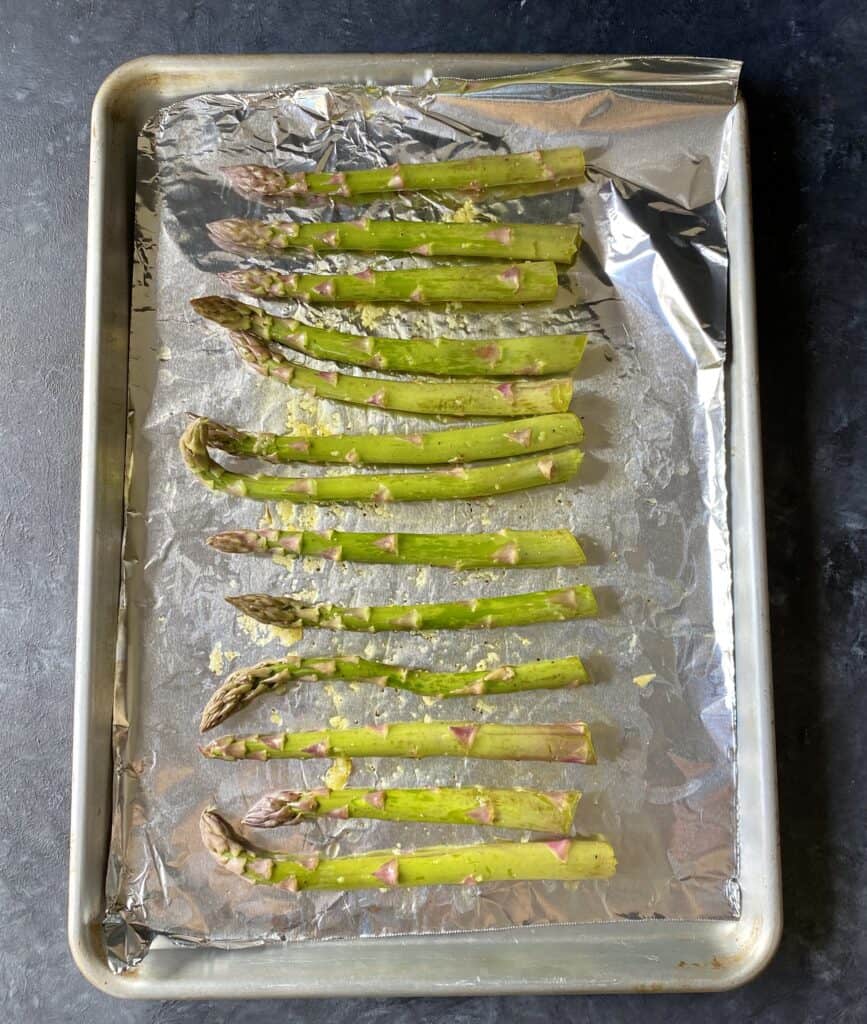 The garlic gets crispy and it's just scrumptious! You can even sprinkle some parmesan cheese over the top and your family will think you're a chef!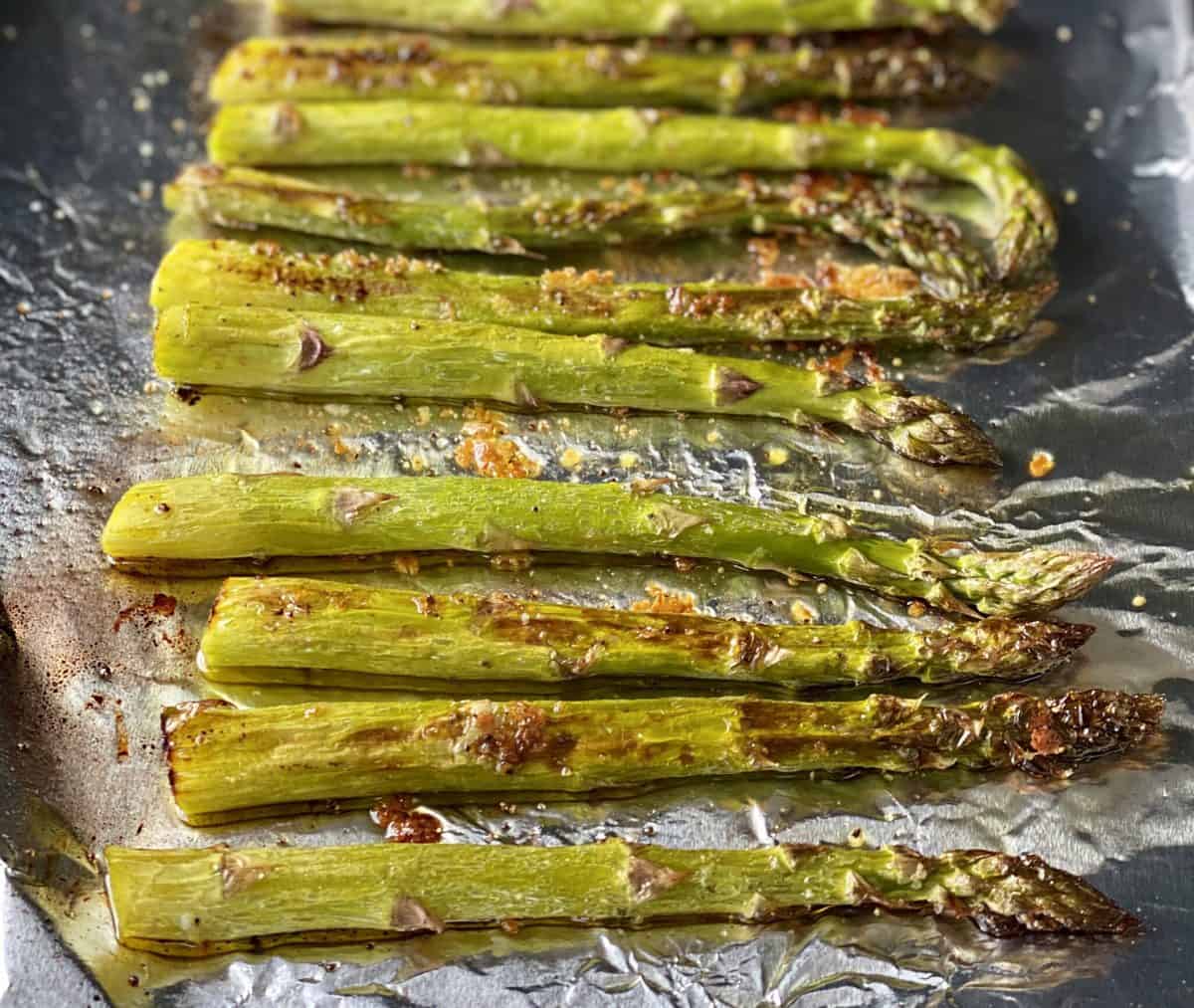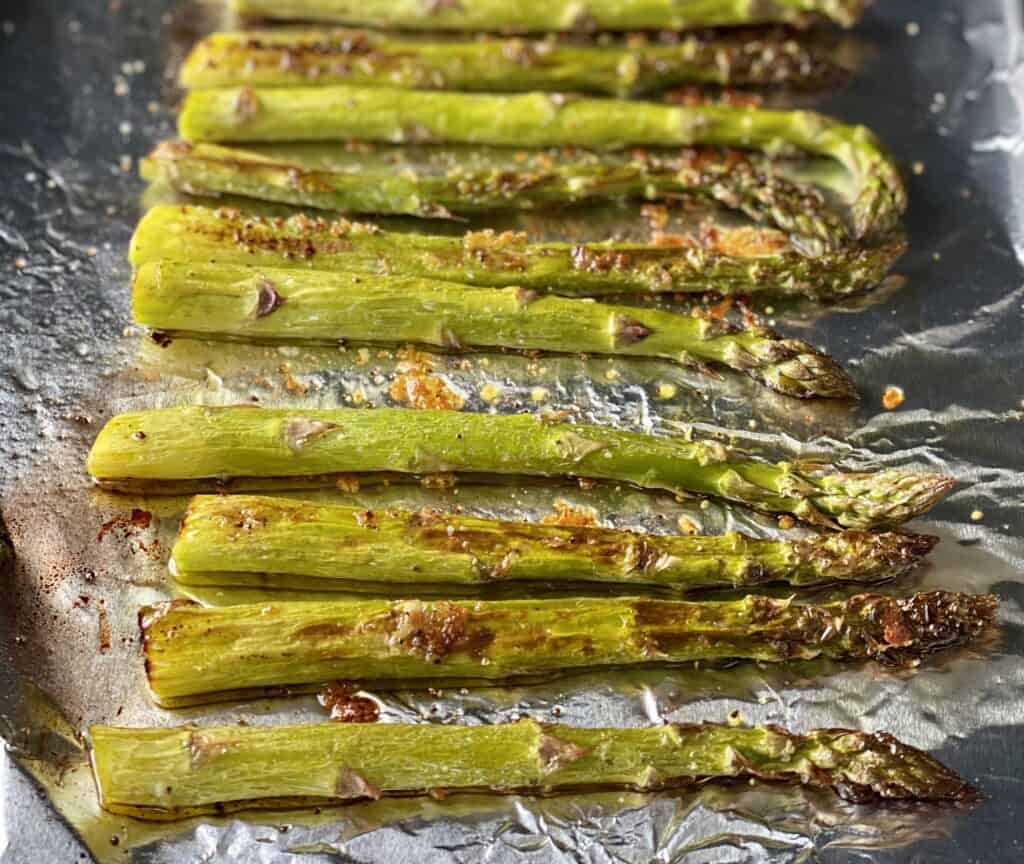 Lemon Garlic Roasted Asparagus
The next roasted asparagus recipe I make is a lemon garlic variation.
For this one, I mix the olive oil with the juice of half of a lemon, grated garlic, and salt.
I pour this mixture over the asparagus and slice up the other half of the lemon. Place the thin slices of lemon over the asparagus and then roast it.
My youngest daughter is a huge lemon fan so she loves this one!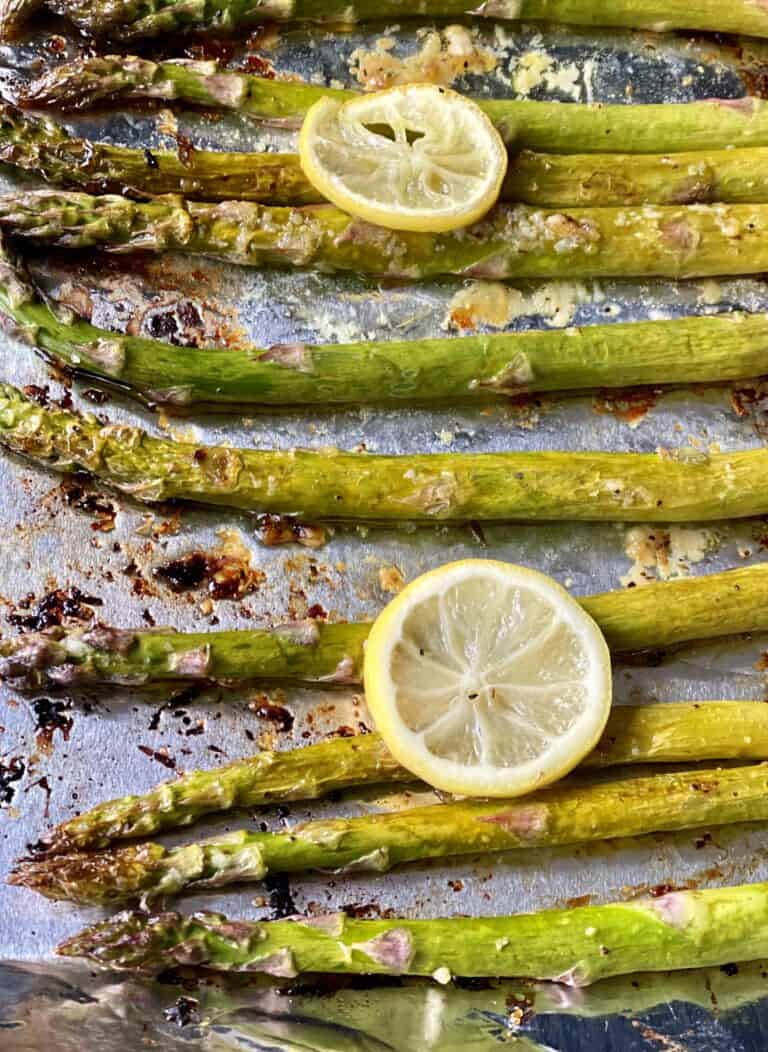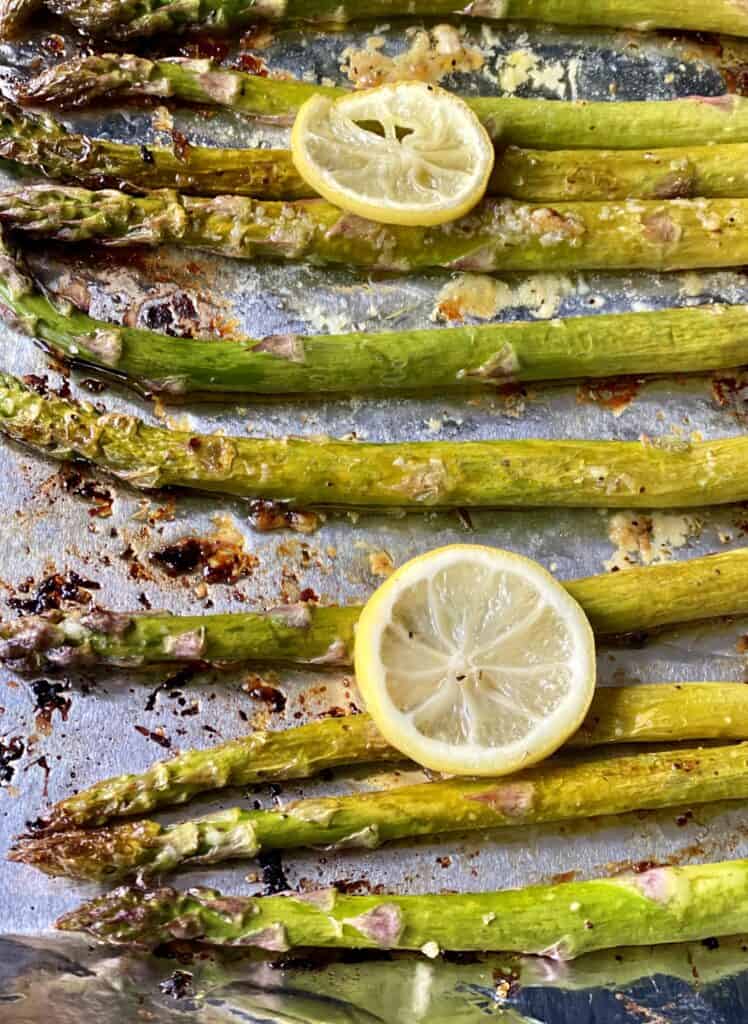 Balsamic Roasted Asparagus Recipe
The third one I'm sharing with you today includes 1 tablespoon balsamic vinegar, 2 tablespoons olive oil, 1 grated garlic clove, and salt. I mix everything together and then pour over the top and mix in with asparagus.
This is my oldest daughter's favorite! She loves anything with balsamic vinegar.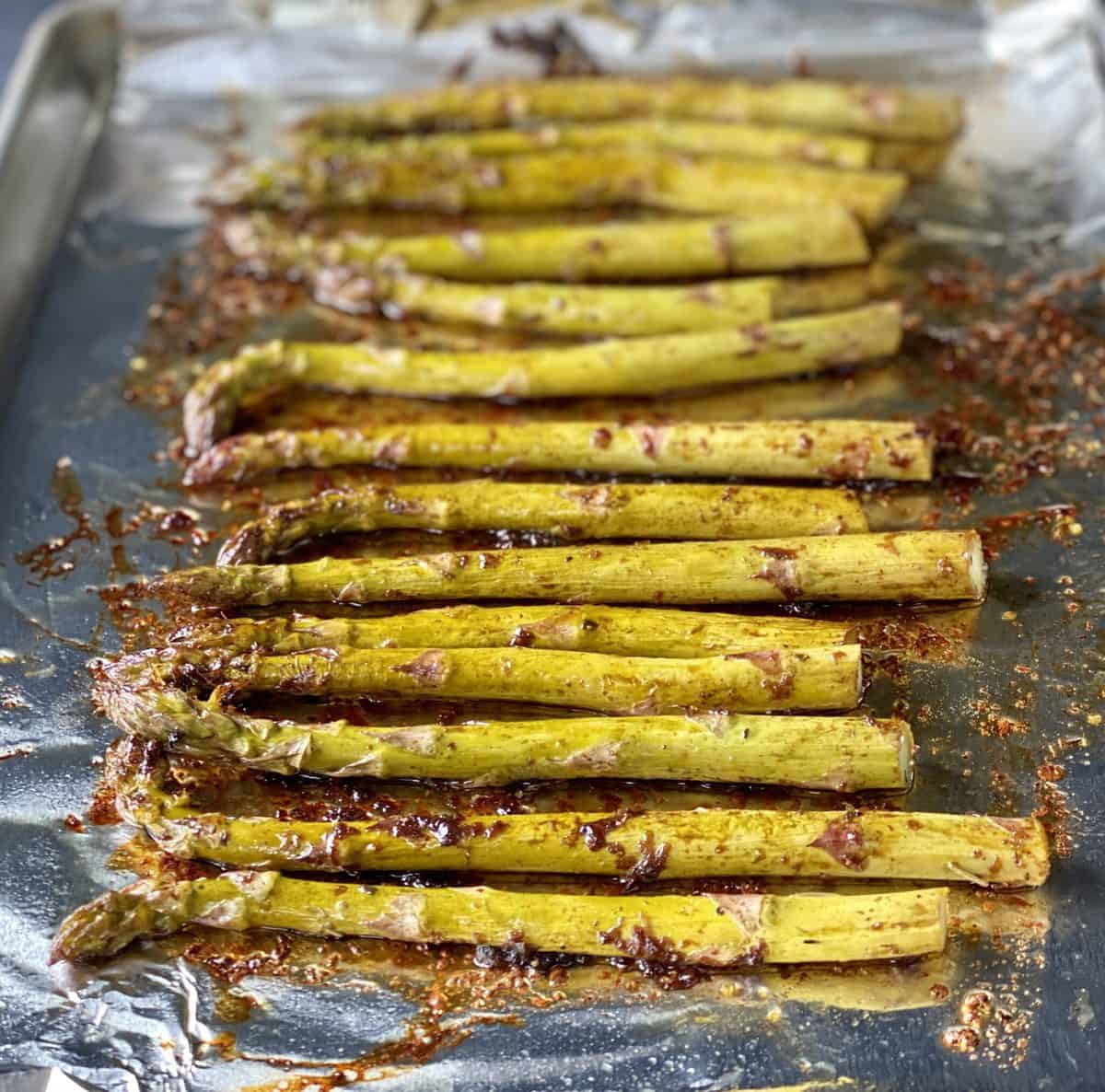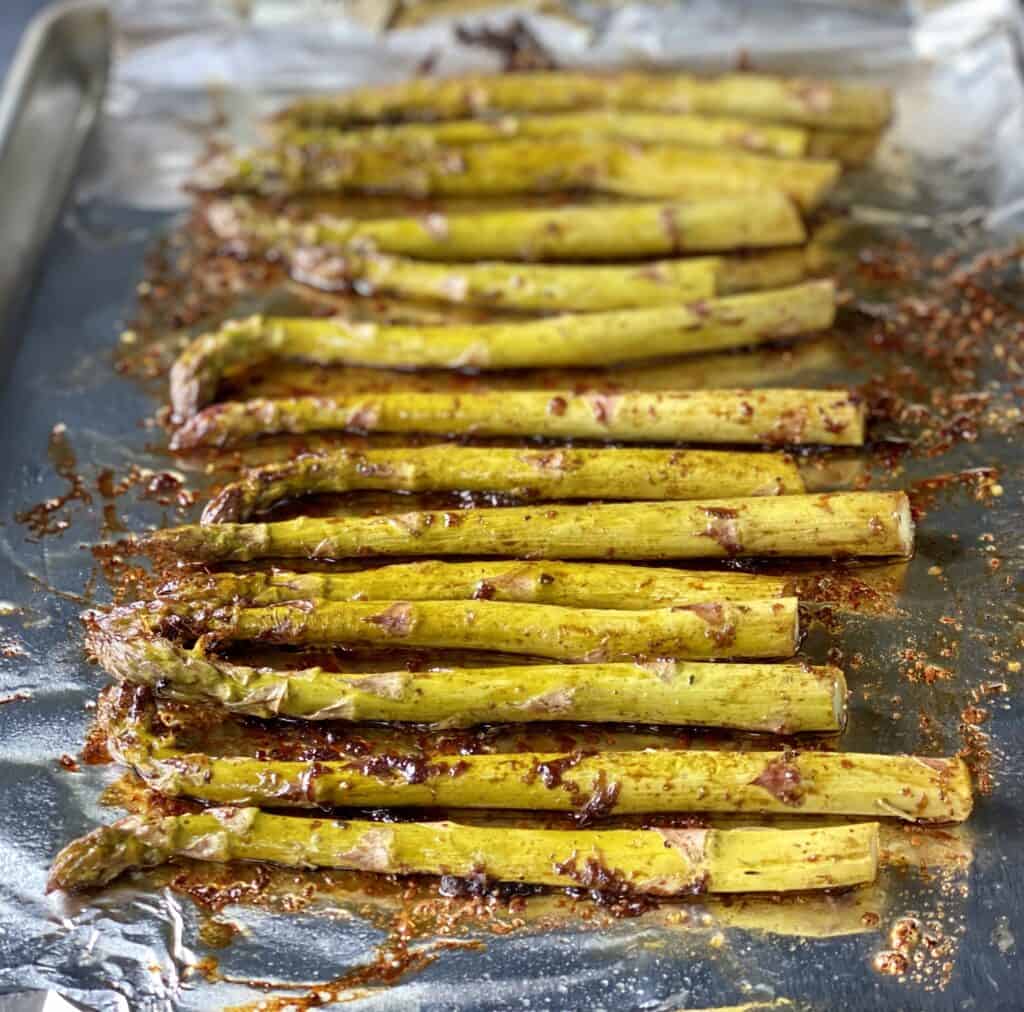 Bacon-Wrapped Asparagus
I saved the best for last… Bacon. Wrapped. Asparagus.
This is about as fancy as I get when making asparagus! And trust me- it looks harder than it actually is.
All I do is massage some olive oil onto the asparagus and sprinkle with a little salt. Then I wrap 1 slice of bacon around 2 asparagus stalks. You want the bacon to go up the asparagus so it's in a single layer.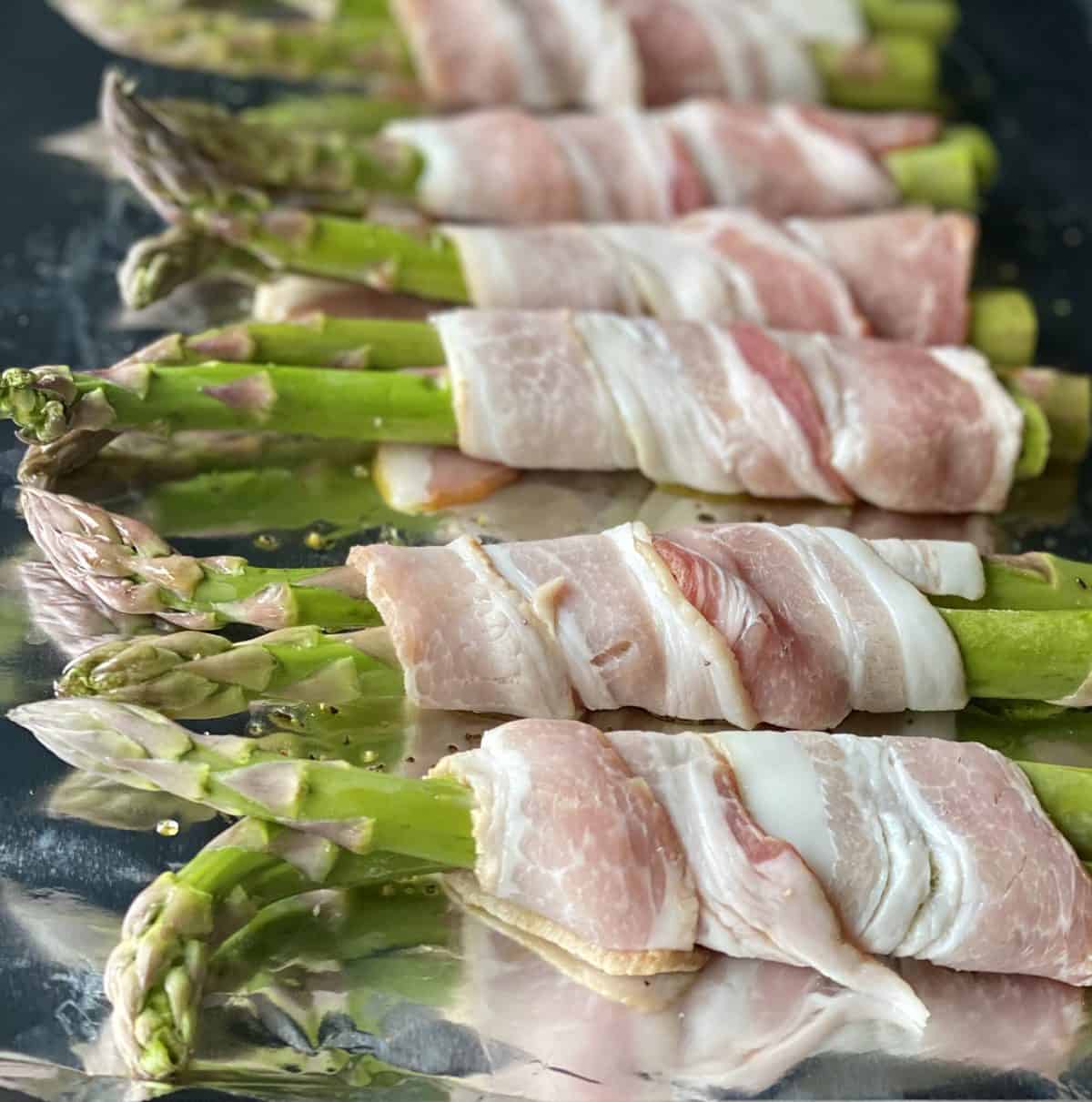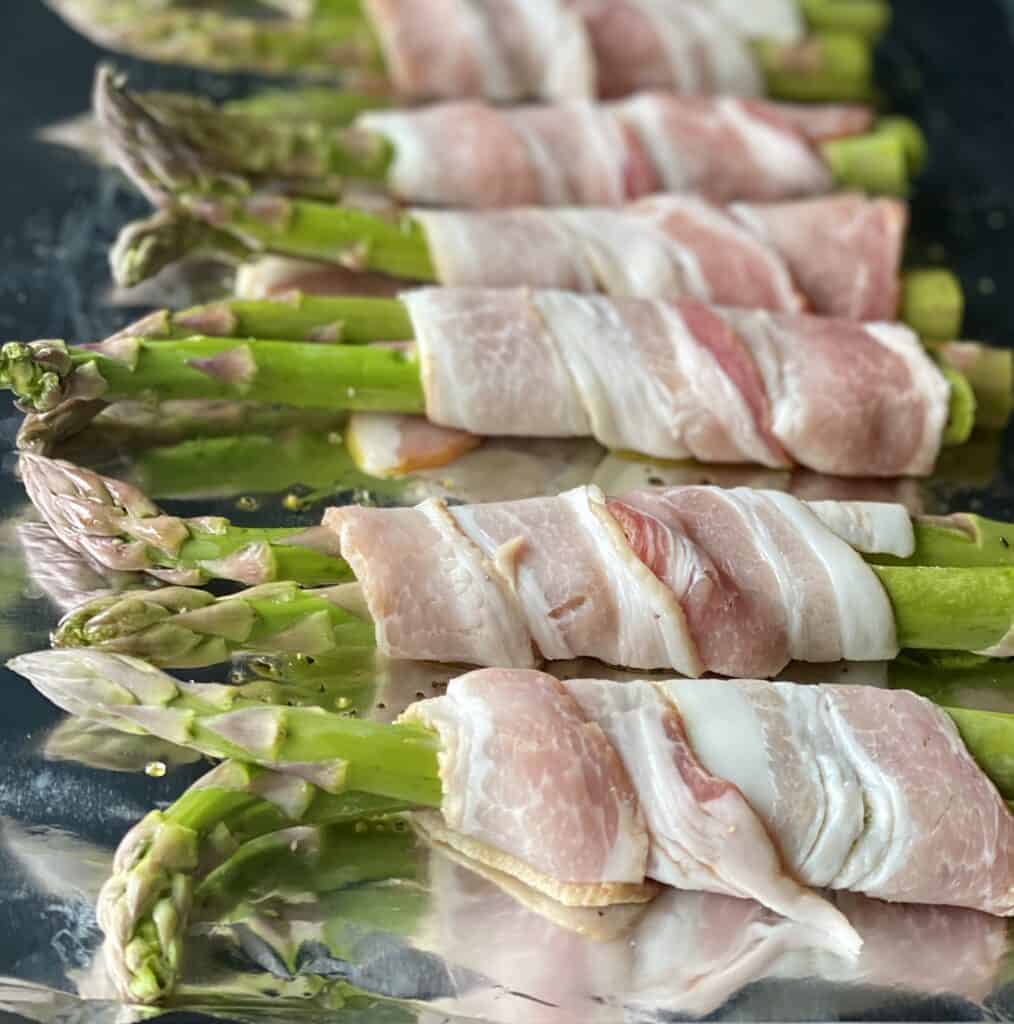 I cook this in a 425-degree oven for about 20 minutes and then I broil it for 2-3 minutes or until the bacon gets nice and crispy.
You don't want to use thick-cut bacon for this because it'll take too long to cook.
Whichever method you decide to cook asparagus- you won't regret it. They're all delicious!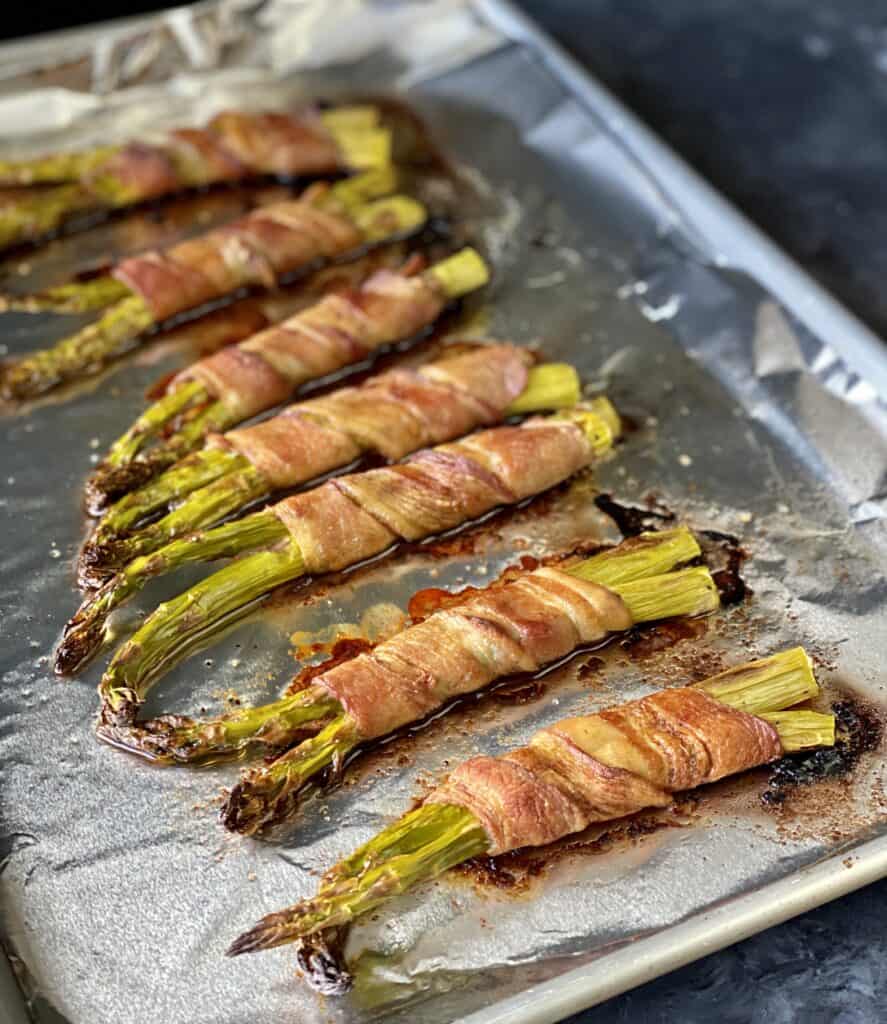 How To Meal Prep Roasted Asparagus
I love to meal prep asparagus for a quick lunch or dinner side dish.
After I roast asparagus, I'll store it in glass meal prep containers. When I'm ready to eat it, then I'll either warm it up in the microwave or put it into a 350-degree toaster oven for 5-10 minutes.
I also eat roasted asparagus cold in wraps and sandwiches or stir it into pasta dishes.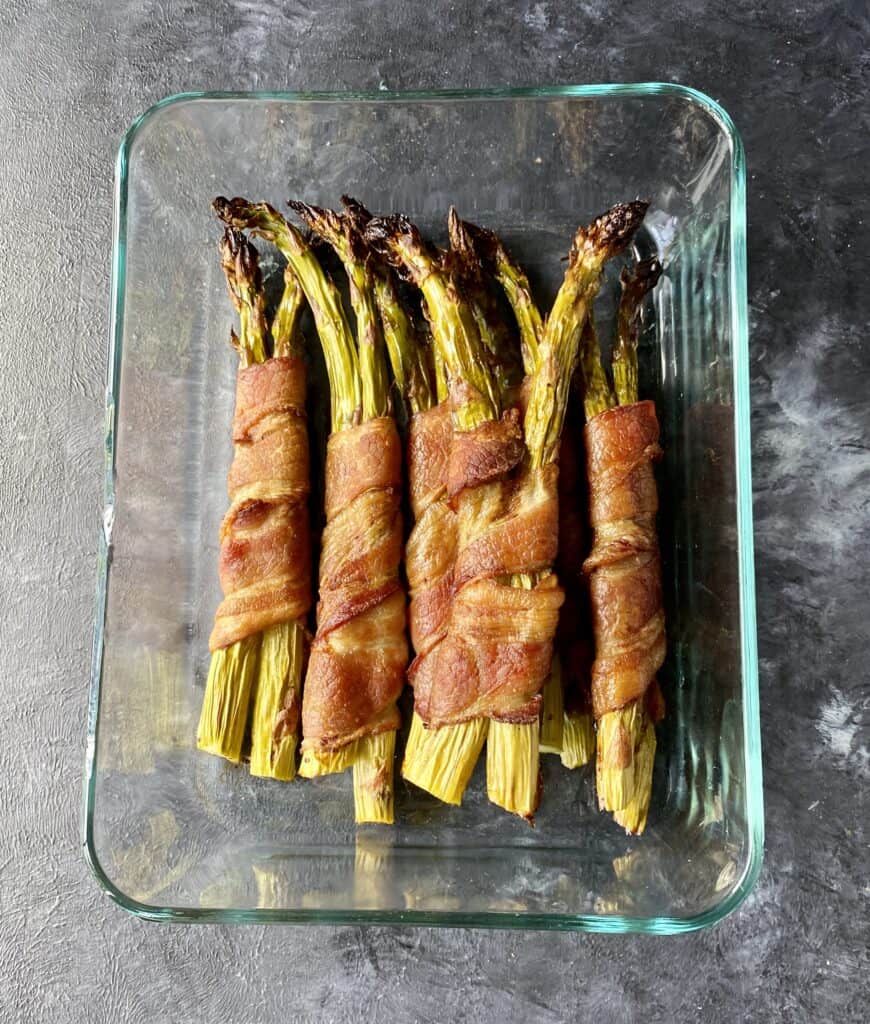 More Vegetable Side Dishes Recipes
After trying out all these different ways to make this roasted asparagus recipe, you should try some of these other yummy veggie side dishes!
Make this Roasted Asparagus Recipe- 4 different ways! Share a picture and tag me on Instagram or Facebook if you decide to make this!