Oven Roasted Carrots is one of the easiest ways to cook carrots and create a deliciously simple side dish that everyone will love. Roasting carrots creates a deep flavor and a crisp caramelized exterior that's unmatched! It's a great side to have at Easter brunch but there's no need to save this yummy veggie for the holidays because this can be enjoyed year-round.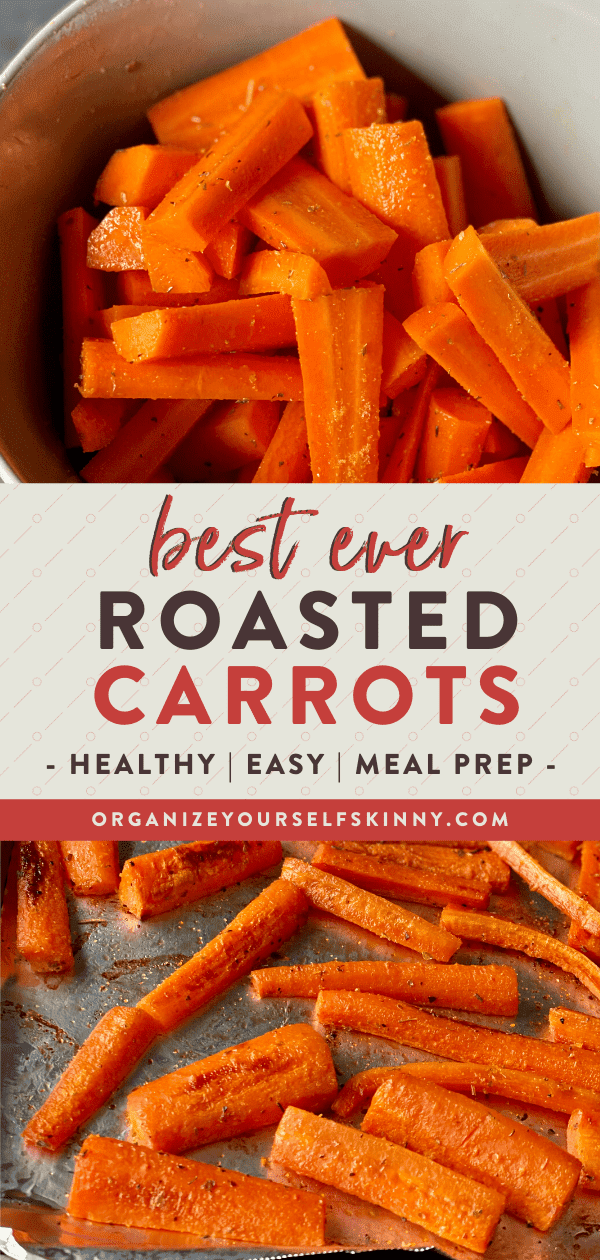 Truth be told, I discovered roasted carrots on accident. Well, maybe not on accident. I had a bunch of leftover carrots from when I recently made my healthy carrot cake and instead of just watching them wilt away in the refrigerator, I decided to roast them up to go alongside some baked chicken I made for dinner.
Roasting is hands down my favorite way to cook vegetables! I love the flavors and textures that develop when they are cooked in the oven. Also, my kids and husband love roasted vegetables too, so it's an easy way to get everyone to eat their veggies without having to bribe or threaten them 😉
Anyway, the roasted carrots were a HUGE hit. Honestly, I think of all the roasted vegetables I make, the carrots were definitely up there as a family favorite.
Frequently Asked Questions About Roasting Carrots
Before I jump into this recipe, I wanted to answer a few questions I received from some of my readers about roasting carrots in the oven.
What Kind Of Carrots Should I Use?
Honestly, you can use whatever you have in your refrigerator. That's assuming you have leftover carrots that need to be used up.
But, if you're going to the grocery store to pick up carrots to specifically make oven-roasted carrots, then I recommend just getting some basic full-size carrots.
If you can find packages with thicker carrots, those would work better than thin carrots because you'll want to cut these into thicker chunks.
Also, try to grab organic carrots if you can!
Since carrots are grown in the ground and have thinner skin, they can absorb a lot more chemicals. So, carrots are one of the vegetables I try always to purchase organic. Of course, if you want to get fancy, you can certainly purchase different colored carrots.
They are just as good!
Can I Roast Baby Carrots?
Yup. Baby carrots can be left whole and roasted the same way as chopped regular carrots.
Should I Peel The Carrots Before Roasting?
I actually prefer to peel carrots before roasting. In fact, I always peel carrots before using them in any of my recipes. As I said, they are grown in the ground; so often, even after a good scrubbing, there are bits of dirt in the crevices.
I also make sure to pat them dry to remove any access water.
Should I Leave The Tops On?
You can if you like but I usually just cut them off. You know me- I like easy peasy!
Simple Oven Roasted Carrots
Now that you know everything there is to know about carrots, here is a list of ingredients you will need to make this roasted carrots recipe!
Carrots
Extra virgin olive oil
Salt
Pepper
Garlic powder
Onion powder
Italian seasoning
How To Make These Roasted Carrots
One of the great things about this recipe is you can cut the carrots any which way you want and it doesn't need to be perfect. My only suggestion is to have the pieces somewhat the same size so they can cook evenly. I like to cut carrots into thirds and then cut those pieces in half but you can also cut them into rounds.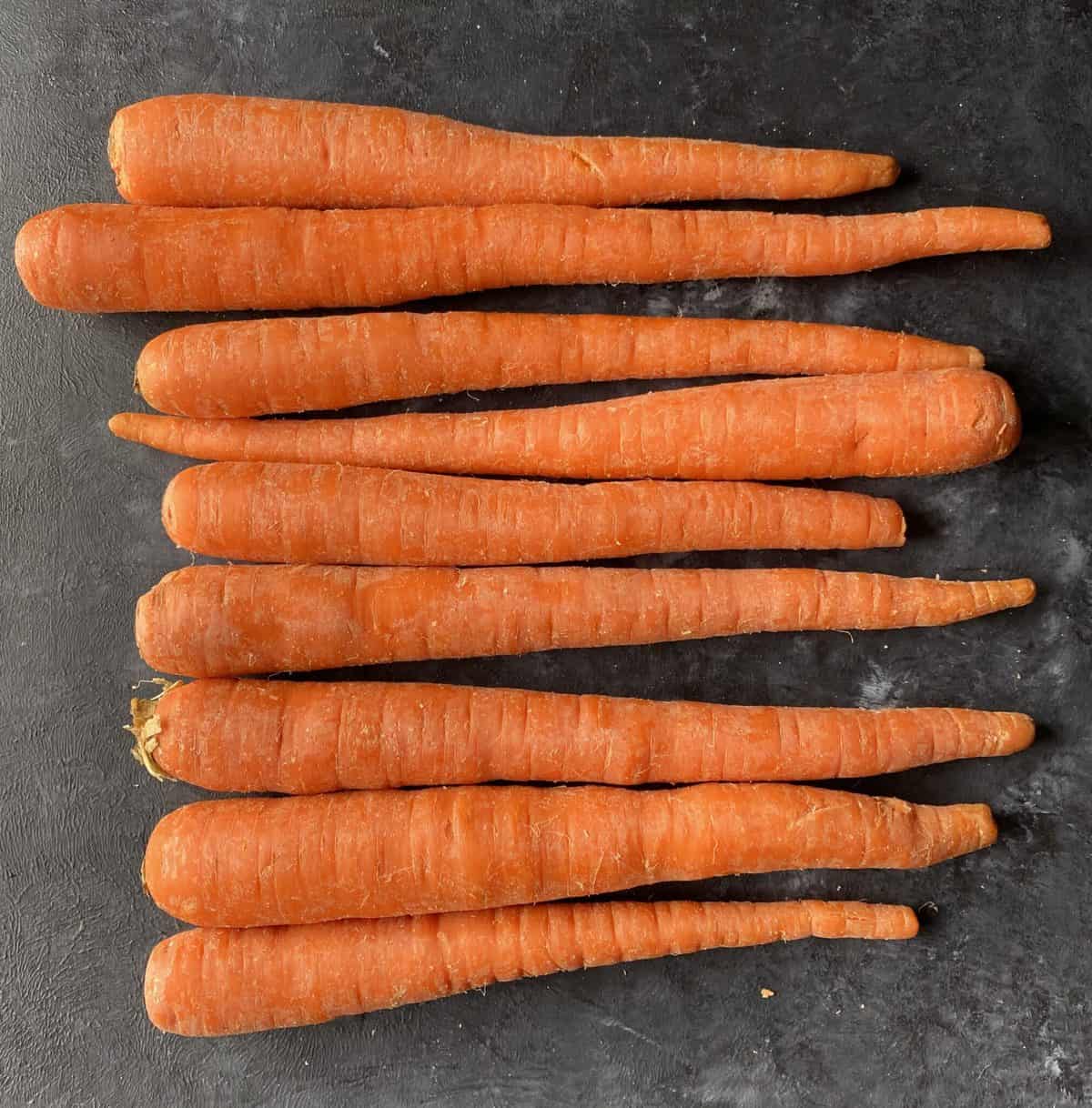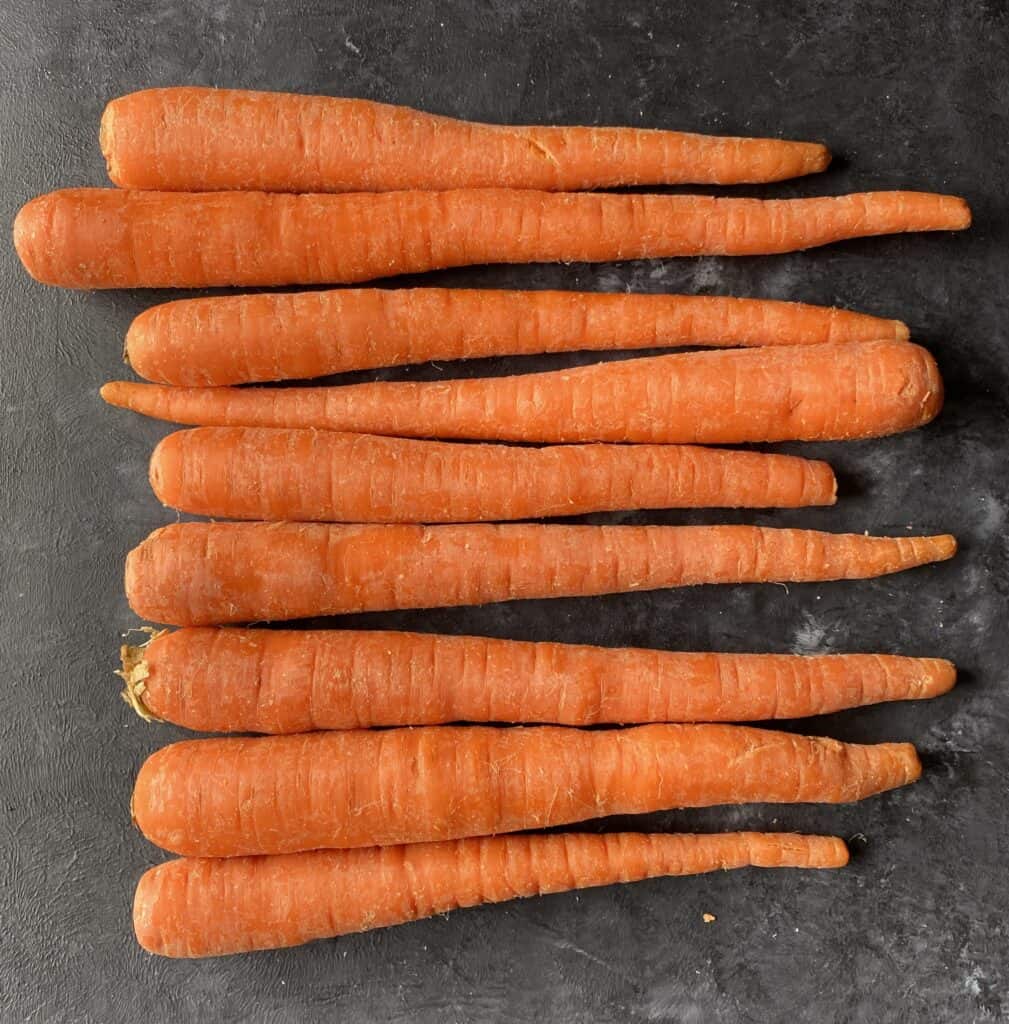 After I peel and chop the carrots, I put them into a bowl with 3 tablespoons of olive oil. I give them a good toss and then add in the seasonings.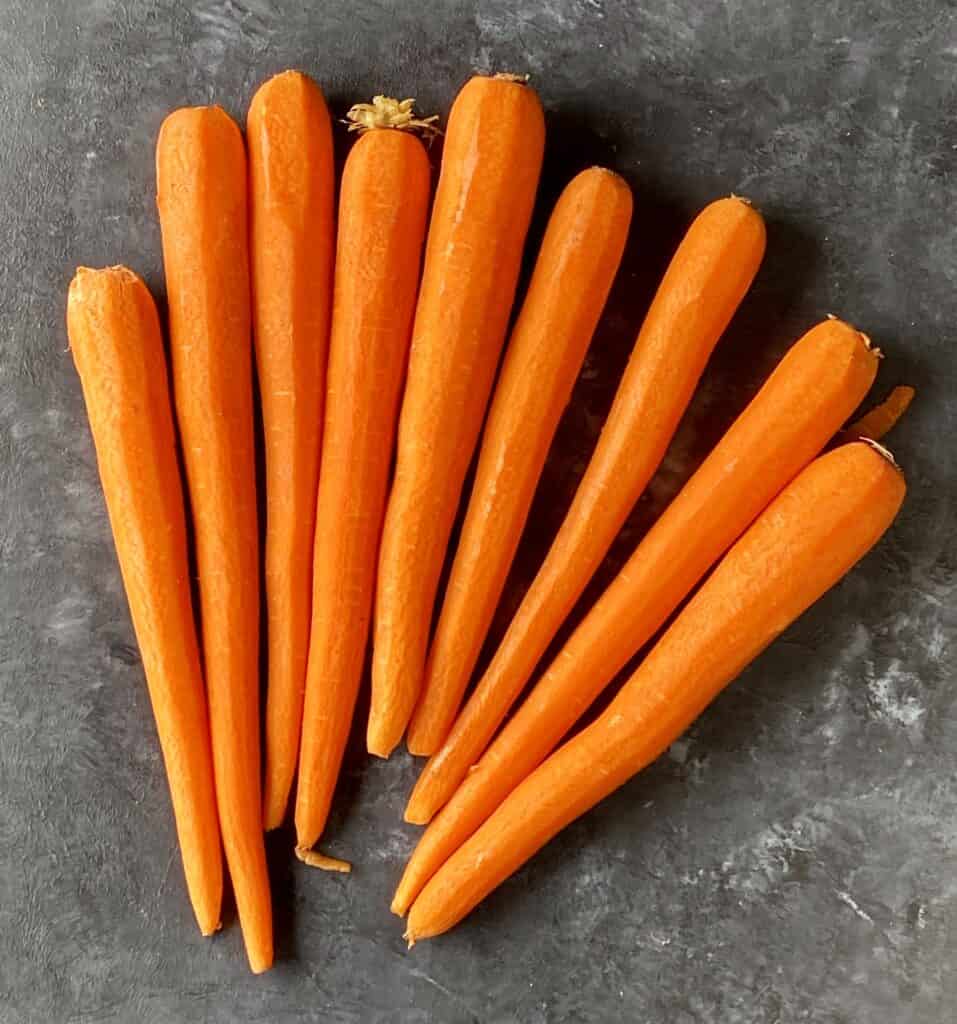 My favorites seasonings to use with carrots are salt, pepper, garlic powder, onion powder, and Italian seasoning. Many times, I've also made them with just a little pinch of salt and pepper and they were still yummy!
I prefer to toss the carrots with olive oil and seasoning in a bowl instead of on the sheet because the carrots get coated better.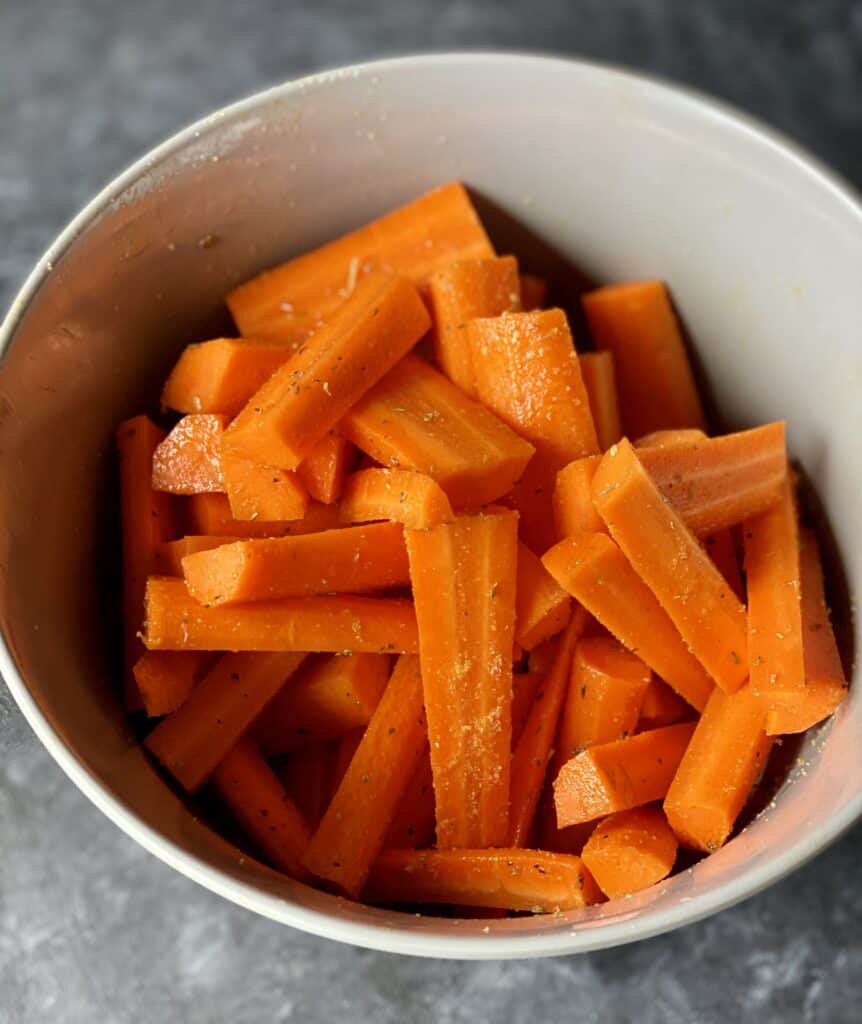 Then, I place the carrots onto a sheet pan lined with foil. I use foil for easy cleanup but it's not necessary to use it.
It's also really important not to crowd the pan because it will cause the carrots to steam and they won't get that delicious caramelization that we are trying to achieve when roasting.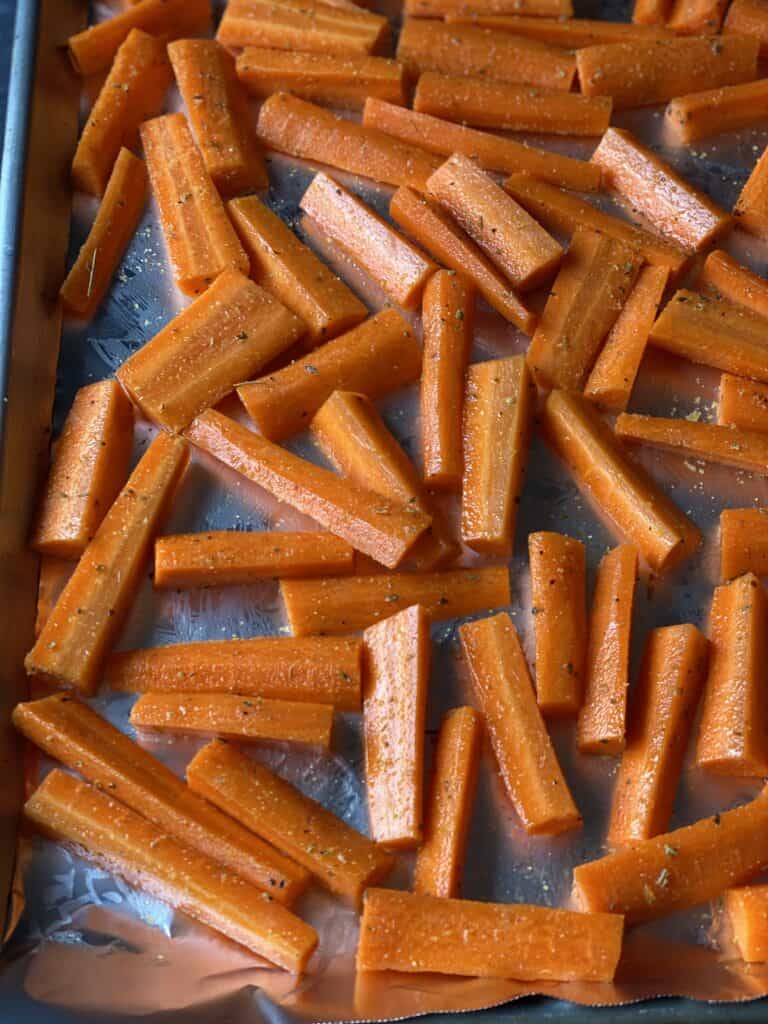 Roast in a 425 oven for 35 – 45 minutes. The time will depend on the thickness of the carrots and, of course, your oven. So, check on them around 30 – 35 minutes.
They should be tender on the inside and crispy on the outside.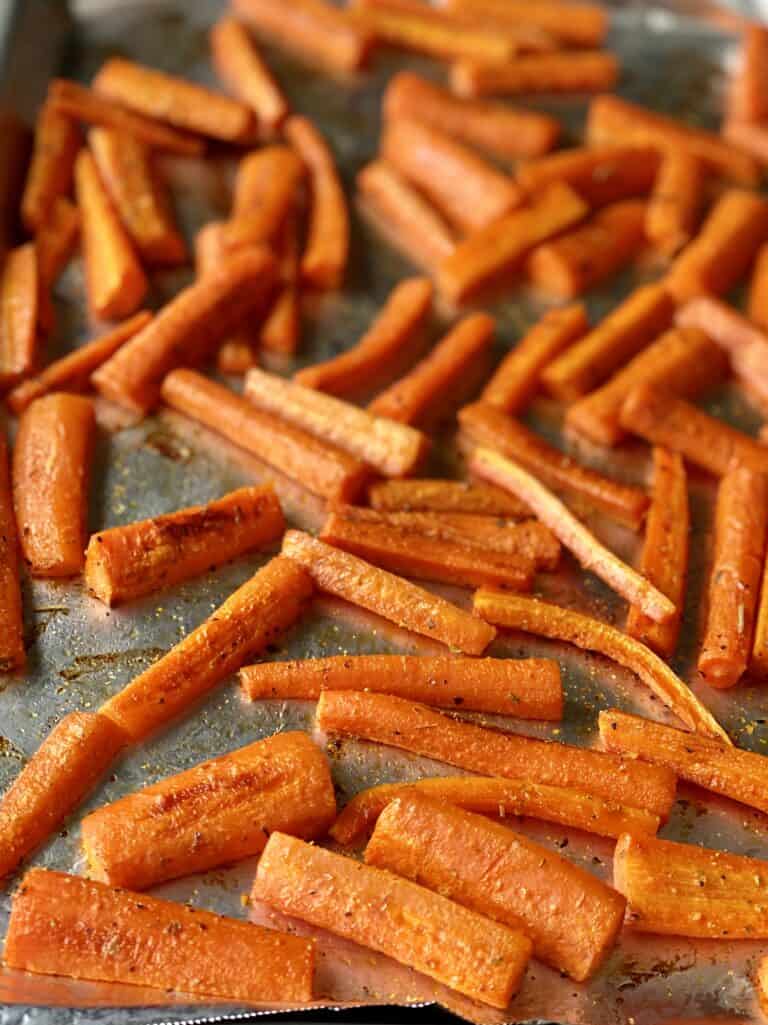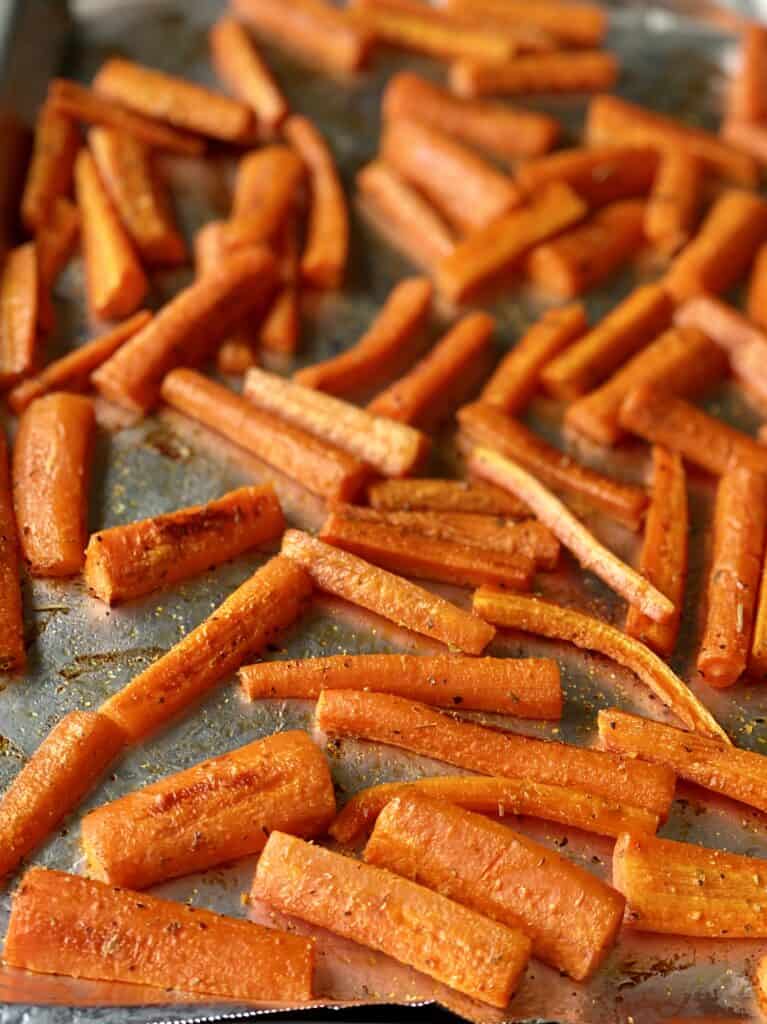 What To Serve With Cooked Carrots
Oven-roasted carrots can be served with just about everything! I plan to serve them at Easter this year alongside ham and creamy potato gratin.
During the year, they go nicely with:
Meal Prep Tips For This Roasted Carrots Recipe
I make these veggies ahead all of the time!
After I roast the carrots, I simply put into a glass meal prep container and store in the refrigerator for 3-4 days. When I'm ready to eat or serve for dinner, I either warm up in the microwave or reheat for a few minutes in the oven.
Roasted carrots that have been reheated in the microwave won't have that same crispiness but they'll still be tasty. If you want them to be on the crispy side, then put them in the oven for about 10 minutes at 375 degrees.
More Vegetable Side Dishes Recipes
Finding that perfect veggie side dish to pair with your main dish can make a huge difference! Try some of these other options next time you are in need of a delicious vegetable dish.
These Roasted Carrots will make the perfect veggie side dish for a quick and healthy weeknight dinner. Share a picture and tag me on Instagram or Facebook if you decide to make this!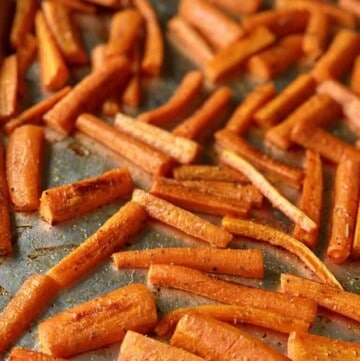 Easy Oven Roasted Carrots
These oven-roasted carrots are caramelized on the outside and creamy on the inside! Your entire family will love this delicious, healthy side dish.
Print
Pin
Rate
Ingredients
2

lb

bag of carrots

3

tablespoons

extra virgin olive oil

1/2

teaspoon

salt

1/2

teaspoon

pepper

1/2

teaspoon

garlic powder

1/2

teaspoon

onion powder

1

teaspoon

Italian seasoning
Instructions
Preheat oven to 425 degrees.

Wash, peel, and cut the carrots in thick pieces.

Pat dry to remove any extra water and then place carrots into a bowl.

Drizzle olive oil in with the carrots and give it a couple of tosses.

Add in the seasonings and toss until the carrots are evenly coated with oil and seasonings.

Lay carrots on a sheet pan. Do not crowd the pan.

Cook for 35 - 45 minutes.

Serve hot.