Carrots, cinnamon, cream cheese frosting- what more can you ask for out of a dessert? This Healthy Carrot Cake is the perfect sweet treat to enjoy this upcoming Easter (or any time honestly) and still stay on track with your health goals!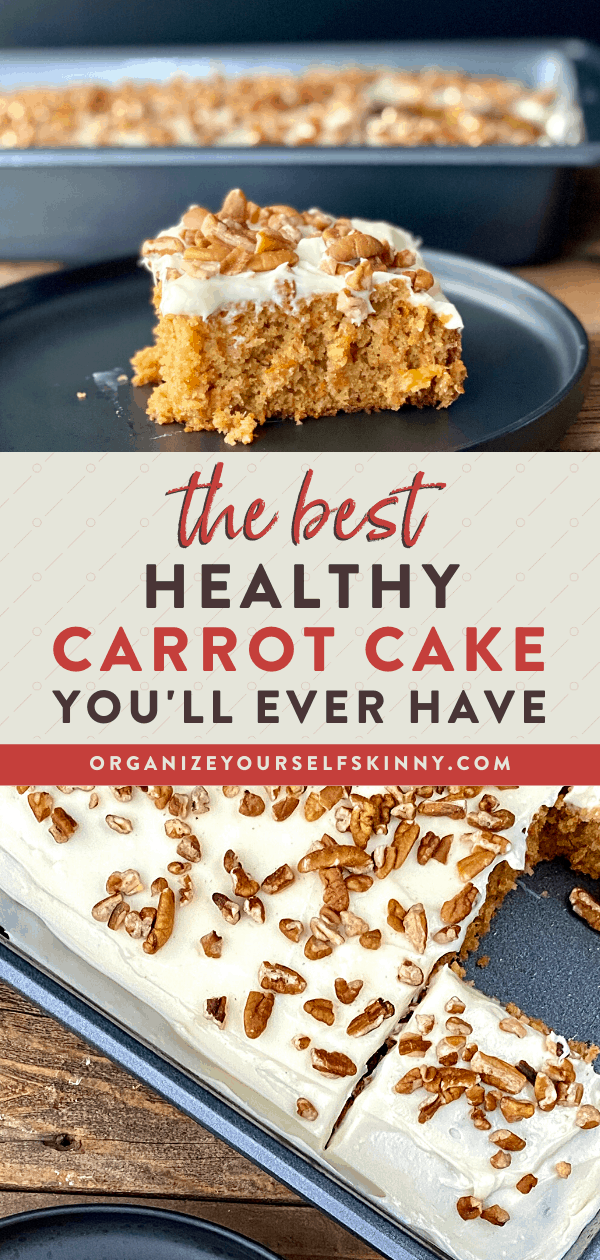 It's not often you will find me sharing just any cake recipe here on Organize Yourself Skinny. However, with Easter coming up soon (that's the current excuse I'm using 😜), I wanted to share this healthy carrot cake recipe that I'm positive will become a huge hit at your party!
When putting this carrot cake together, I wanted to lighten it up a bit without sacrificing any of the delicious flavors.
Let's be honest here. This is a dessert recipe so no matter how you dice, slice, or chop it, this is a treat and should be treated as such. Meaning keep your portions under control and you can still enjoy a tasty piece of this delicious carrot cake recipe!
Is Carrot Cake Healthy?
So while this probably isn't the healthiest carrot cake out there in the food blog universe, it is certainly a healthier version than what is typically served.
However, this is worth it! It is one of the best carrot cake recipes. Ever. Even my mom said so!
You see, carrot cake is my mother's favorite dessert. Everywhere we go, if there's a carrot cake on the menu, then she is ordering it. So, I do consider her a carrot cake expert if you will.
My mom is also a very picky eater; So, if she doesn't like the healthier version of what I'm making, then I can see it all over her face. I brought her a piece of it, and had her take a bite in front of me. Without sounding completely cheesy, her eyes lit up and she said this was one of the best carrot cakes ever. I mean she might just be saying that because I'm her firstborn, but I could tell by the look on her face that she loved it.
My father, too. And trust me, if he doesn't like something, he has no problem letting me know. He even made it a point to call me and ask "Did you make that carrot cake?" and, "Wow, that's really good!"
Healthy Carrot Cake
Now, it's time for me to show you how to make this yummy cake for yourselves. It might seem a little intimidating with the number of ingredients but it really isn't that hard. Promise!
To make this carrot cake, you will need:
White whole wheat flour
Baking soda
Salt
Cinnamon
Nutmeg
Buttermilk powder
Eggs
Brown sugar
Sugar
Vanilla extract
Crushed pineapple
Coconut oil
Water
Shredded carrot
Unsweetened coconut
For the frosting, you will need:
Low fat cream cheese
Butter
Powdered sugar
Vanilla
Pecans
So, let's go over how I created a healthier version of the classic carrot cake.
How To Make A Healthy Carrot Cake
After setting your oven to 350-degrees, you are going to want to start getting your dry ingredients together.
Dry Ingredients
First, I started with white whole wheat flour. I went back and forth with using all-purpose flour because sometimes using white whole wheat flour can result in a more dense cake. However, there's a lot of moisture in this cake from the carrots an pineapple so I felt it was okay to go with white whole wheat flour. If you prefer all-purpose flour, then go ahead and use it.
Add the flour with all of the other dry ingredients into a medium-sized mixing bowl and set it aside.
The one secret ingredient that I used in this cake recipe is buttermilk powder.
You might be scratching your head with this but buttermilk is a wonderful ingredient to use in many baked good recipes! Its acidity tenderizes the gluten which creates a very soft cake. I always have a container of buttermilk powder in my refrigerator – you can get this in the baking section of the grocery store.
You can use this as a substitute in any recipe that calls for buttermilk. It's better than buying fresh buttermilk when you only need a 1/2 cup or so, and this way you never have to waste buttermilk and you'll always have it on hand.
I also added some cinnamon and nutmeg as the spices for the carrot cake recipe. Simple, nutty, and perfect!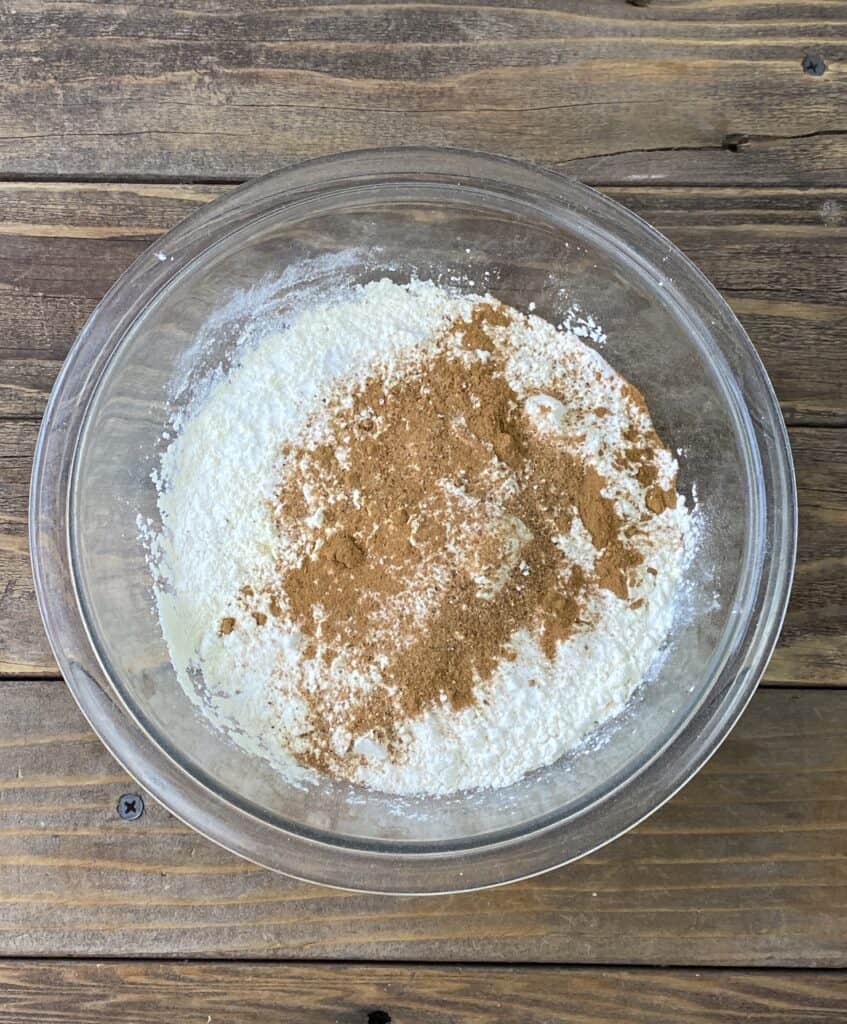 Wet Ingredients
For the wet ingredients, I started with 2 eggs and sugar. I used just enough sugar to add a light sweetness since carrots have a sweetness to them all on their own.
The sweetness in this cake is truly the perfect amount! It complements the other flavors and spices without being overpowering.
In this healthy carrot cake recipe, I decided to use canned crushed pineapple. I actually got this idea from my mom who once had it in a carrot cake recipe a friend made. She loved it so I decided to give it a try.
Cooking Tip: Drain the juice before adding the pineapple to the cake batter.
The flavor of the pineapple is subtle in the carrot cake but it definitely adds to the flavor profile. Plus, it adds a lot of moisture to the cake.
I know most traditional carrot cake recipes call for vegetable or canola oil but to make this recipe healthy, I decided to swap it out. I used coconut oil instead which is a much healthier oil and in a solid form.
Scoop some out, put it into a glass measuring cup and heat it in the microwave in 20-second increments until it's completely melted. Slowly pour the coconut oil into the mixing bowl and then add the water.
The water in this recipe is for the buttermilk powder!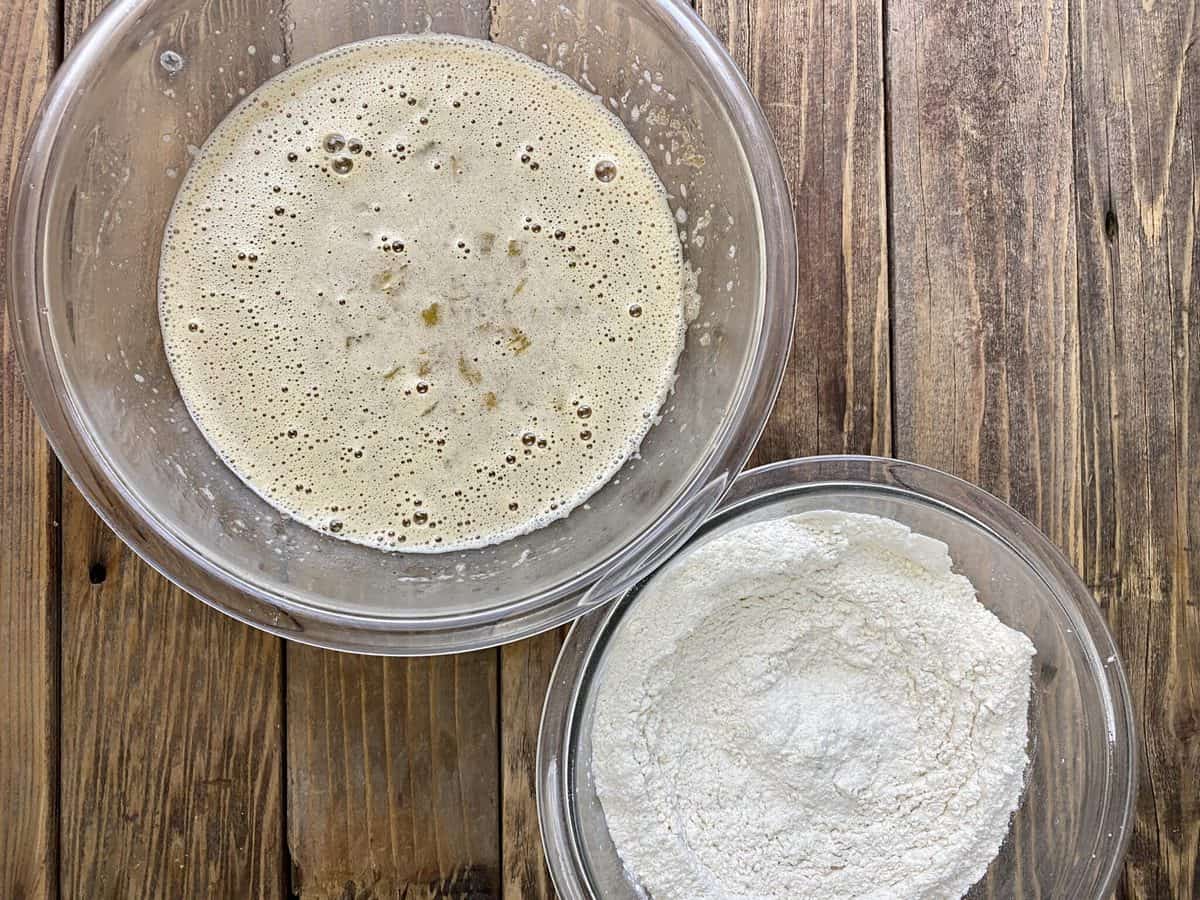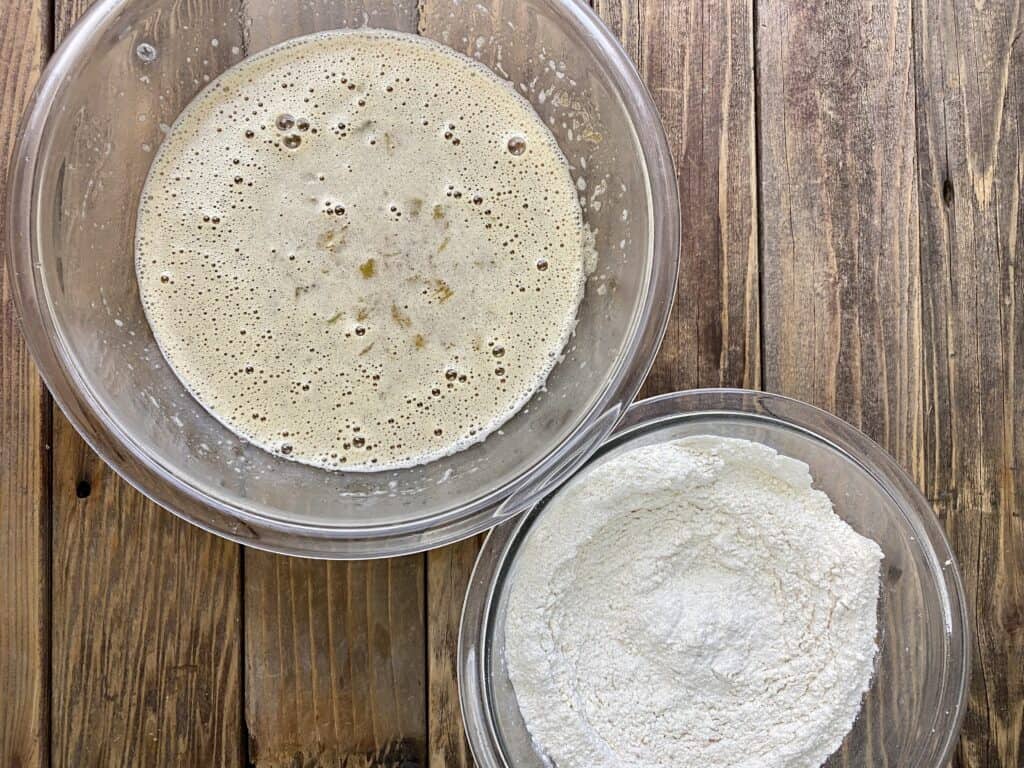 Mix All Of The Ingredients Together
This is the part where you have to be careful.
Slowly whisk the dry ingredients into the wet ingredients. For this part, I recommend adding the dry ingredients in small increments so it doesn't go everywhere but try to not overmix it as well. The batter should have a wet, loose consistency.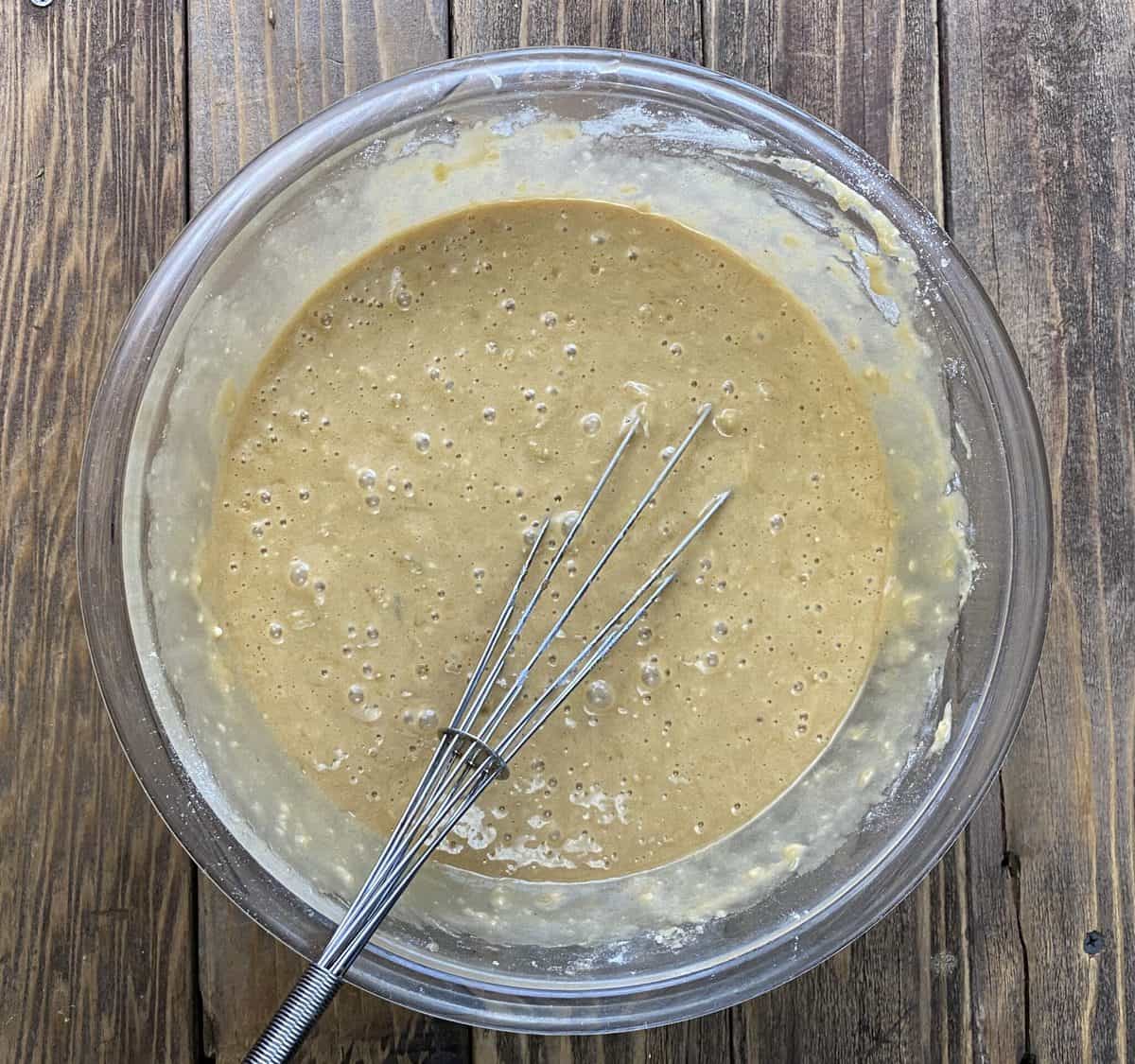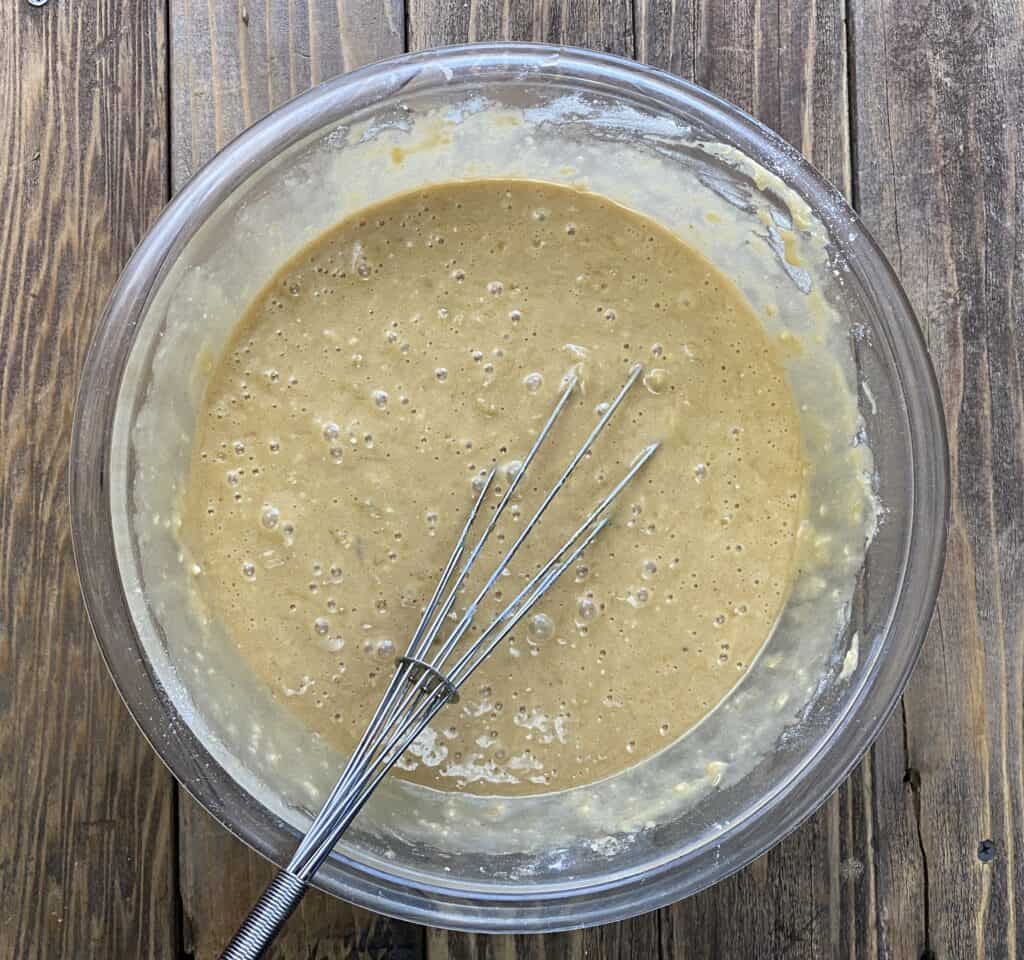 Now let's chat about the carrots.
You might want to take a short cut and purchase pre-shredded carrots for this recipe if you don't have a shredder. However, I strongly recommend shredding your own because I think it's tastier.
There are two big reasons why:
First, I like to finely shred my own carrots for carrot cake. When you purchase pre-shredded they are often on the bigger side.
Second, freshly shredded carrots have more moisture and one of the most identifying characteristics of a delicious carrot cake is whether or not it's moist. You want a moist and tender carrot cake!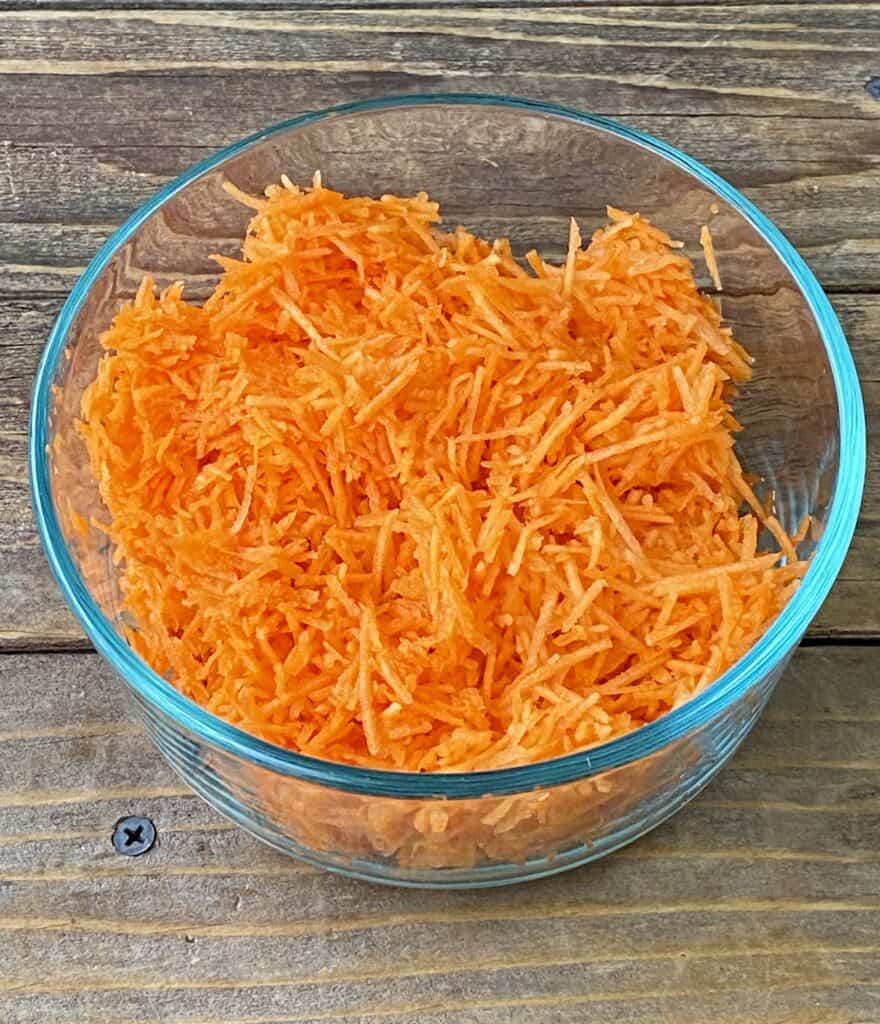 For this recipe, 2 cups of finely shredded carrots worked out perfectly – I used about 3 large fat carrots to get this amount.
After you've shredded the carrots, gently fold it into the batter.
Another ingredient you can add is raisins. Apparently people are very divided on adding raisins to carrot cake. I did a poll on Instagram and half of the people were like 'heck ya' while the other half were like 'um, gross'. My husband and all our kids were on the 'no raisins' end of things so I didn't add them.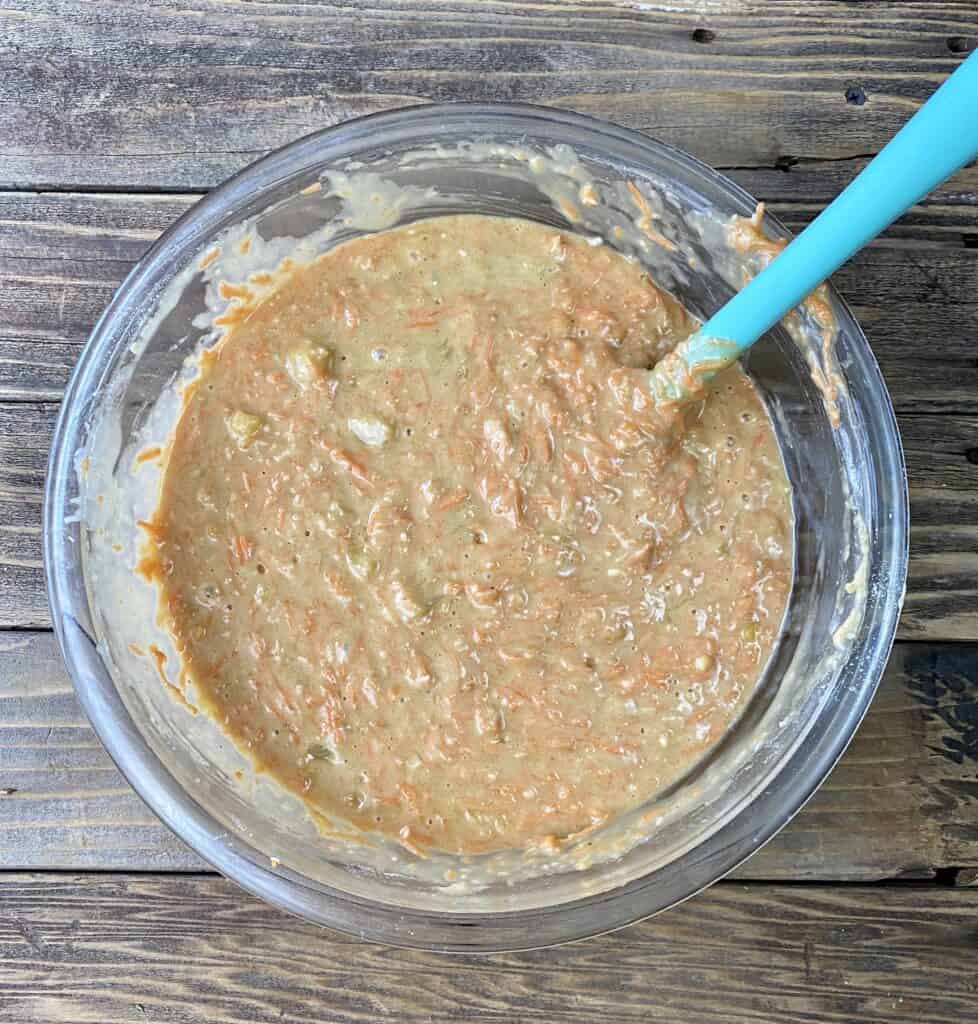 Time To Bake This Delicious Carrot Cake
Once your batter is good to go, pour it into a 9×13 baking pan coated with cooking spray.
Bake it for 30 minutes at 350 degrees. Keep an eye on it because you don't want it to overcook. When it's done, you can stick a toothpick or sharp knife into the center and it should come out clean.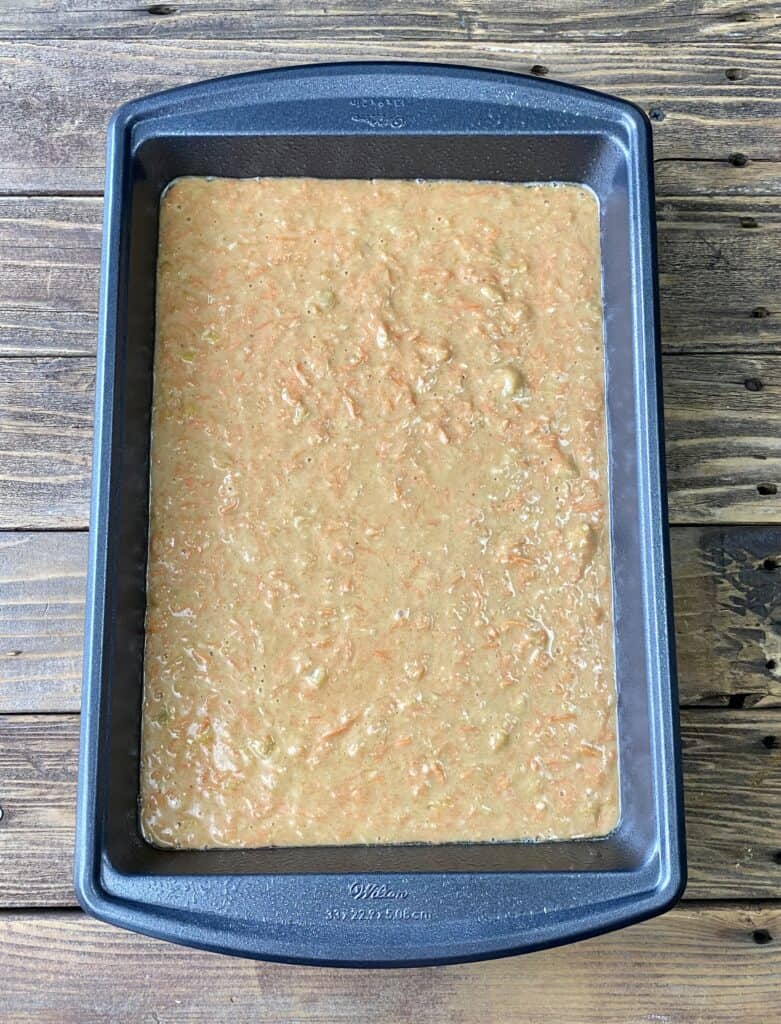 Let the cake completely cool before frosting it. This takes a couple of hours or so, but it's so important to be patient with this because frosting a warm cake never really ends well.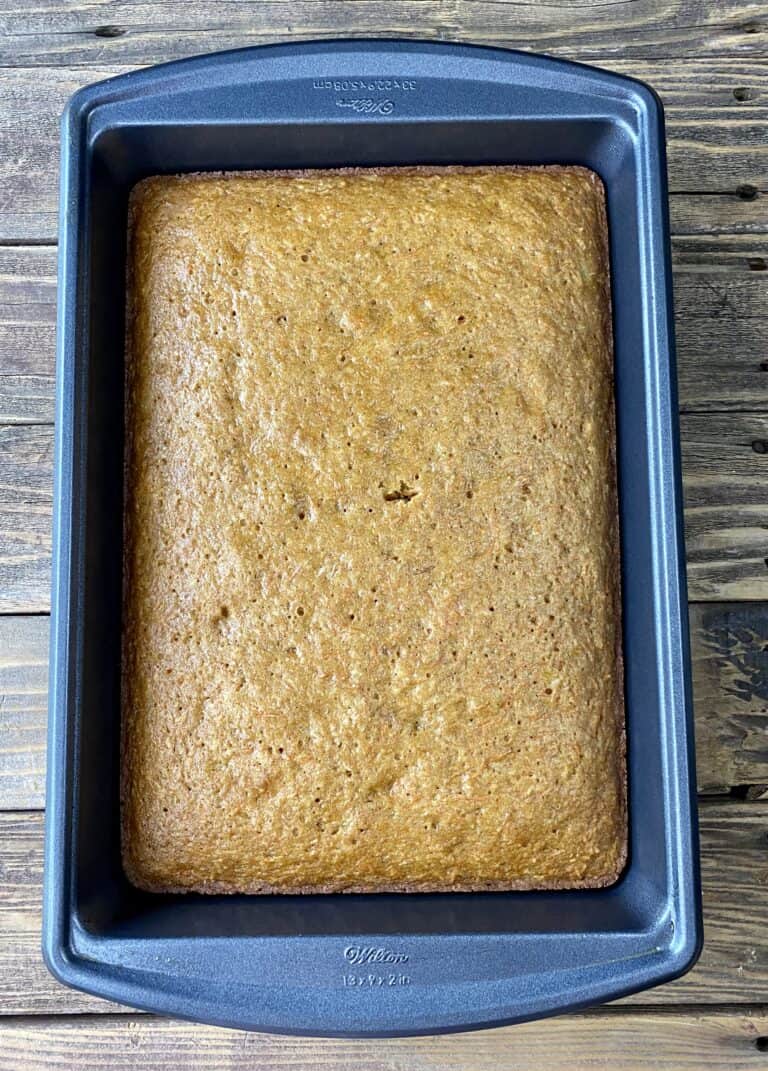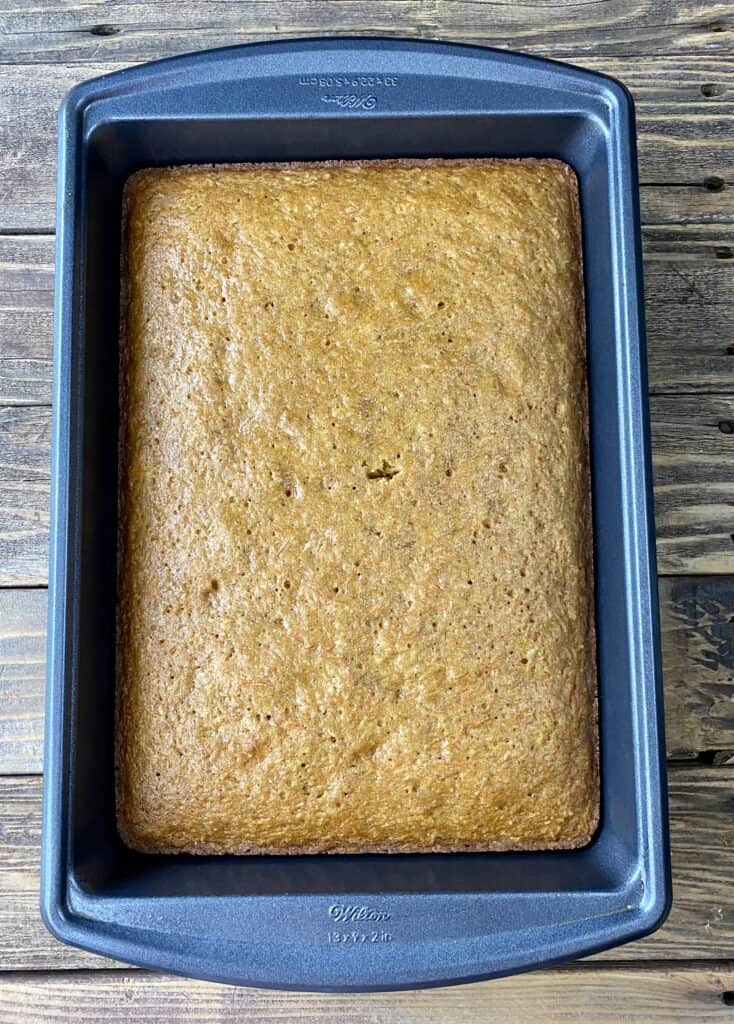 The Best Part: The Frosting!
Speaking of frosting let's talk about this scrumptious cream cheese frosting.
To keep this carrot cake healthy, I used low fat cream cheese, unsalted butter, a little bit of powdered sugar, and vanilla extract to make the frosting.
Cooking Tip: Use a hand mixer to blend all the ingredients until the frosting is nice and smooth.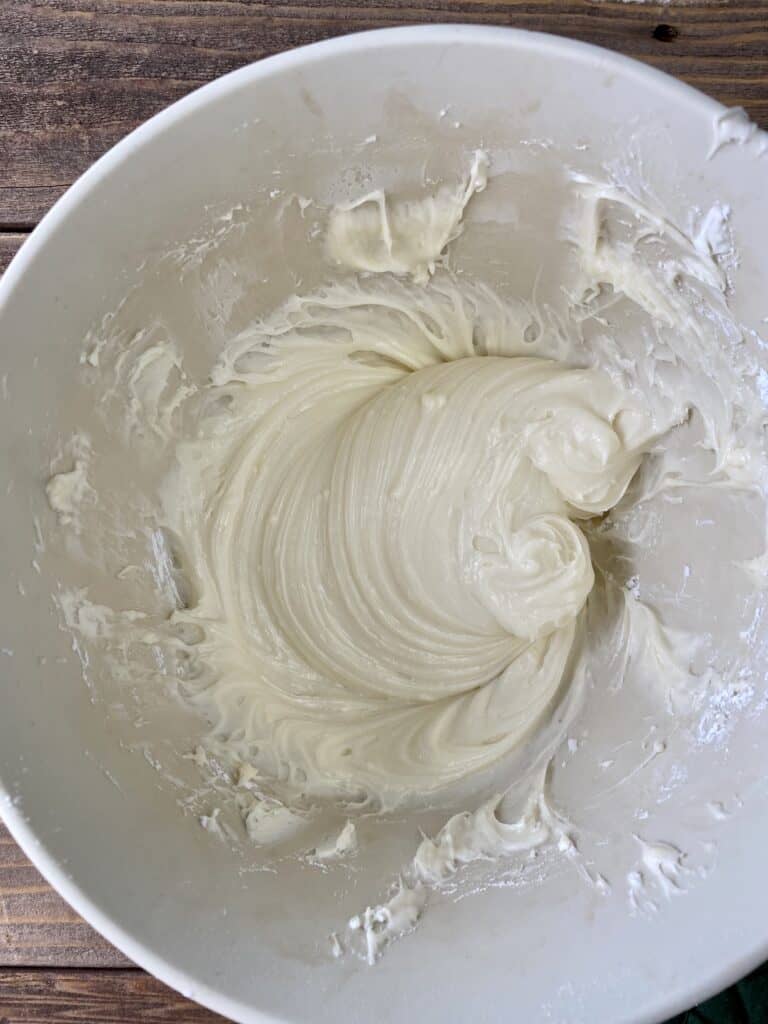 Once the cake is cooled, it's time to spread the frosting over the top.
Then, sprinkle with pecans.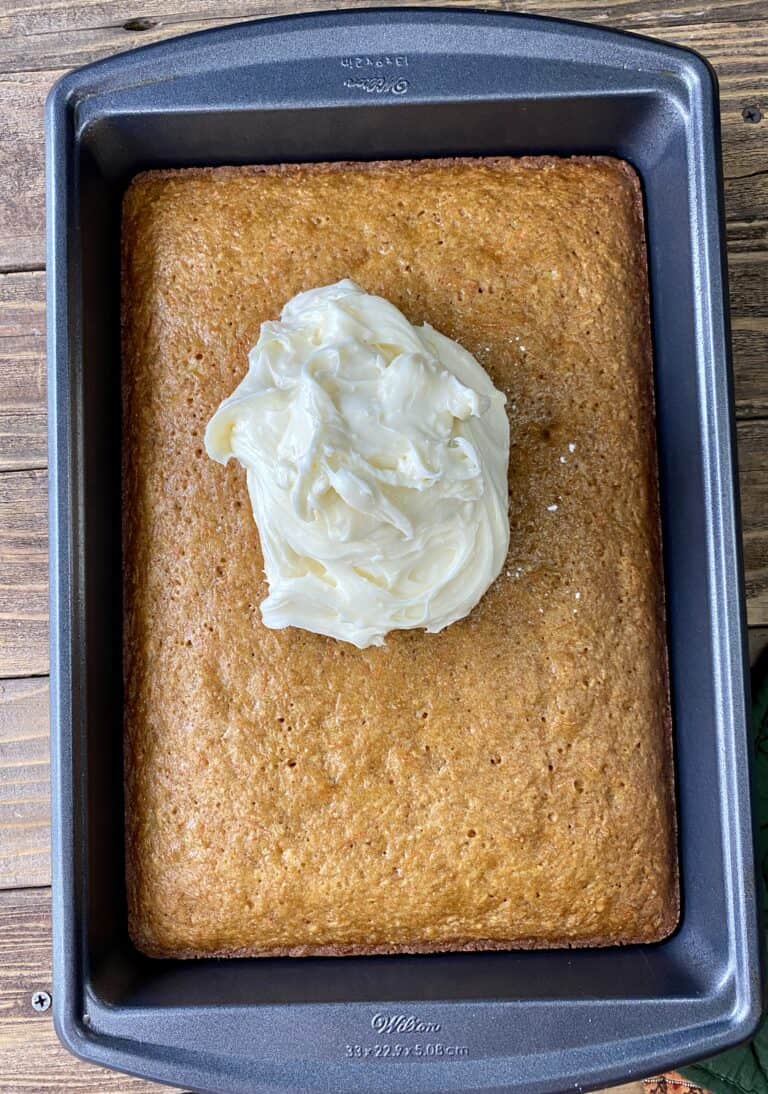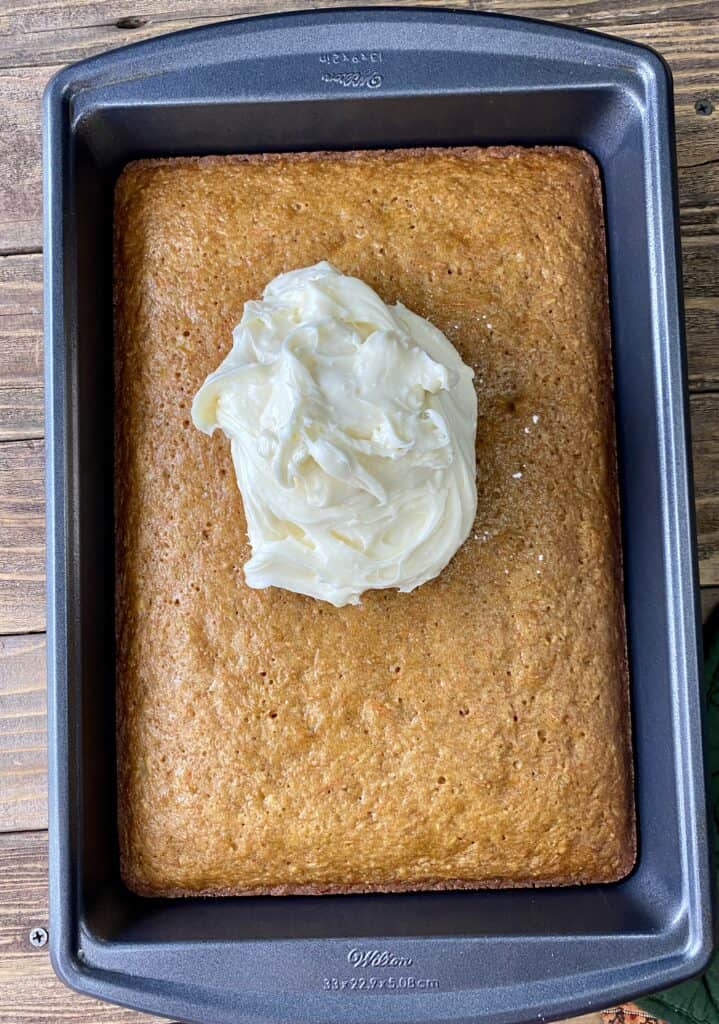 Pecans are optional. Next time, I make this I'll do half and half because we are a nut divided family. I love nuts on my cake and my husband does not. If everyone loves nuts, you can easily mix the pecans right in with the frosting.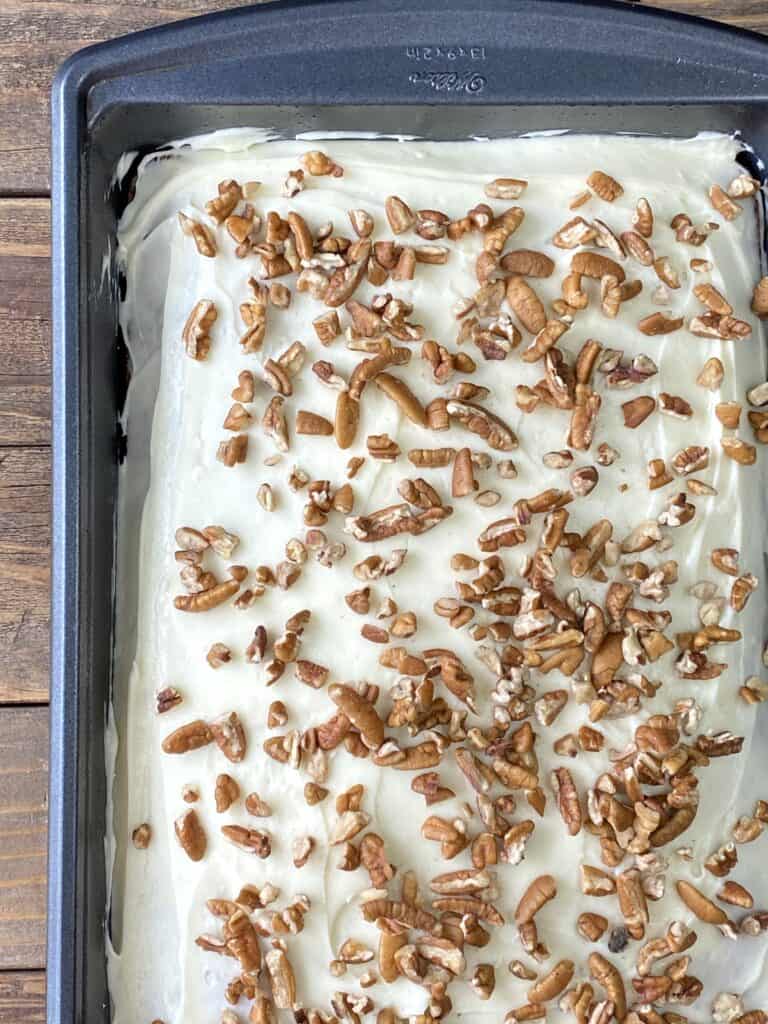 This carrot cake was so delicious I actually needed to give it away to my parents and some friends. I couldn't have it in my house because I seriously would've eaten the entire thing! I can't wait to make this again for Easter dinner.
Carrot Cake Leftovers
If by some chance you have any of this carrot cake leftover, you can freeze it.
Just wrap each individual piece of cake in plastic wrap, and then put all the pieces into a freezer bag. Make sure to mark it with the date!
When you're in the mood for a piece of healthy carrot cake, take a piece out and let it thaw on the counter for about 20 minutes or so.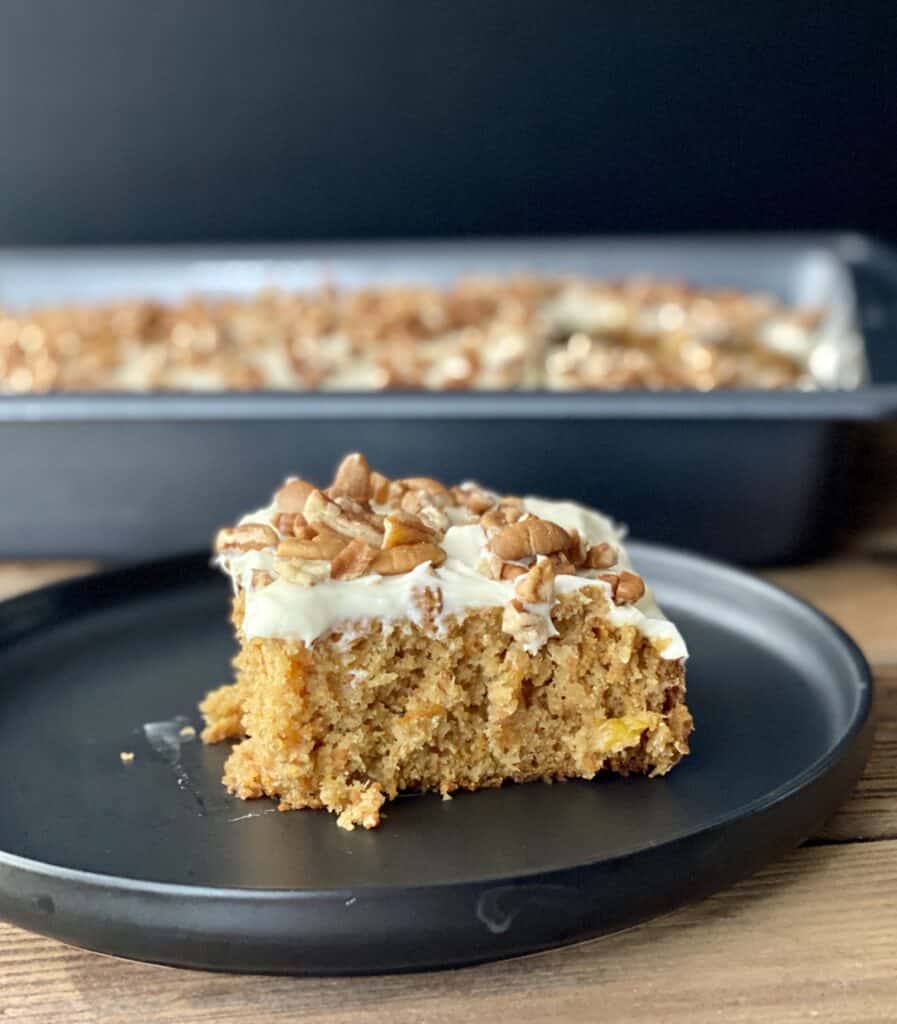 More Healthy Dessert Recipes
Here are a couple of healthy dessert recipes I recommend adding to your recipe box:
This recipe for Healthy Carrot Cake will be a must-have at your next fun get-together. Share a picture and tag me on Instagram or Facebook if you decide to make this!

Healthy Carrot Cake
Carrots, cinnamon, cream cheese frosting- what more can you ask for out of a dessert? This Healthy Carrot Cake is the perfect sweet treat to enjoy this upcoming Easter (or any time honestly) and still stay on track with your health goals!
Author:
Organize Yourself Skinny
Ingredients
For the cake:
2 cups white whole wheat flour
2 teaspoons baking soda
¼ teaspoon salt
1 teaspoon cinnamon
¼ teaspoon nutmeg
3 tablespoons buttermilk powder
2 eggs
⅔ cup brown sugar
½ cup sugar
1 teaspoon vanilla extract
1 (8 ounce) can crushed pineapple, drained
½ cup melted coconut oil
¾ cup water
2 cups finely shredded carrot
½ cup shredded unsweetened coconut
For the frosting:
8 ounces low fat cream cheese, softened
3 tablespoons butter, softened
1 ½ cups powdered sugar, sifted
1 teaspoon vanilla
¼ cup chopped pecans
Instructions
Preheat oven to 350 degrees.
In a medium mixing bowl mix together the flour, baking soda, salt, cinnamon, nutmeg, and buttermilk powder. Set aside.
In a large mixing bowl whisk together 2 eggs and sugars until smooth.
Whisk in crushed pineapple then slowly whisk in coconut oil and water.
Slowly stir in the dry ingredients into the wet ingredients until everything is combined.
Fold in the shredded carrots.
Pour batter into a 9 x 13 pan coated with cooking spray.
Bake for 30 minutes or until the center is set. You'll know it's done when you can insert a toothpick or a sharp knife into the center and it comes out clean.
Let the cake cool completely before frosting it. This can take 2-3 hours.
To make the frosting add the cream cheese, butter, powdered sugar, and vanilla into a medium mixing bowl. Using a hand mixer, blend the ingredients together until smooth.
Spread on the cake and sprinkle with pecans.
Cut into 16 slices and serve
Nutrition Information
Serving size:
1/16 of recipes
Calories:
318
Fat:
16
Saturated fat:
10
Carbohydrates:
42
WW Points +:
21
Fiber:
2
Protein:
5
Get Instant Access to My Best Weight Loss Tips & Strategies!
Sign up now for a free step-by-step 7-day email course that I created exclusively for my email subscribers! That's you. I will teach the best habits, strategies, and insider tips so you can enjoy a lifestyle that encourages and supports weight loss! Stop relying on willpower and take control back over your life! You can do this. Let me help!