Shredded carrots, raisins, and pecans baked into a wholesome breakfast cookie. Absolutely delicious and perfect for a quick on the go breakfast.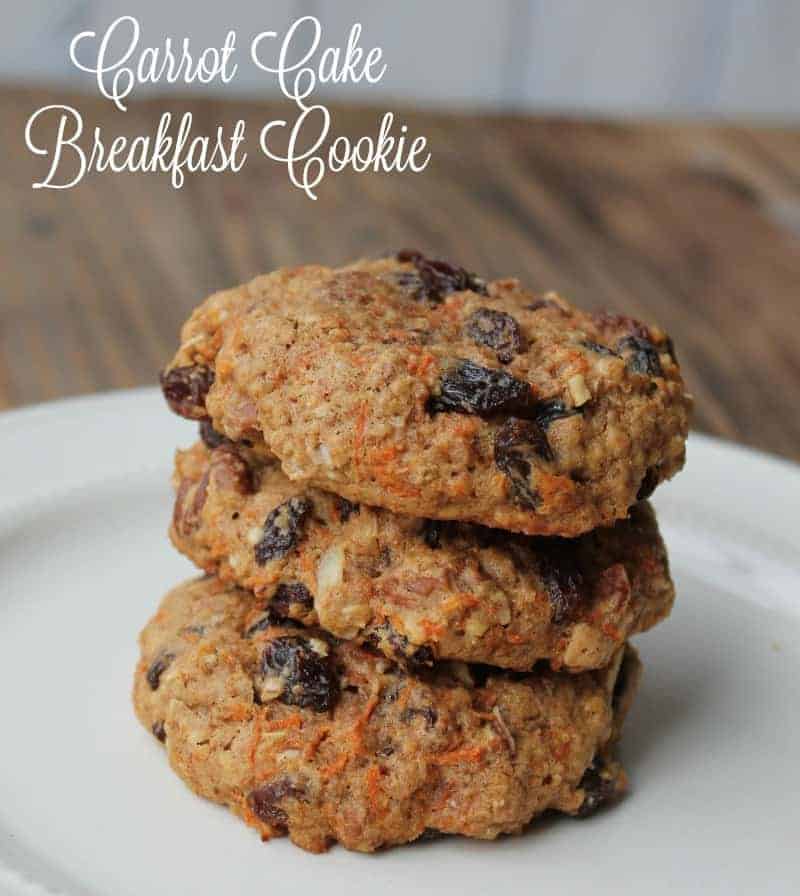 This carrot cake breakfast cookie rocks my world! It was inspired by grated carrots I had leftover from the morning glory steel cut oat recipe I post a few days ago. To think this recipe wouldn't exist without leftovers. I can't even.
Breakfast cookies are a win win in my house. My kids feel like they are getting a special treat first thing in the morning and I can get some wholesome ingredients in their bellies without too much begging. I feel like this breakfast cookie recipe is extra special. First of all, it's made with white whole-wheat flour, wheat germ, and oats. Hello hearty fiber. Then it's filled with nutrient rich carrots and pecans. Of course, I can't forget the plump nuggets of raisins which make for the perfect bite.
I used coconut oil in place of butter or other oils. However, I do use brown sugar instead of a healthier substitute like honey or maple syrup. Personally, I don't like the texture when I use either of those ingredients. Same with my kiddos. And honestly what's the point of making "healthier" foods if no one eats it. So I decided to just reduce the sugar as much as I could without compromising taste or texture. The shredded carrots and raisins add additional sweetness to this breakfast cookie anyway. 1/2 cup of brown sugar seemed to do the trick. Of course, if you want to stay away from refined sugars certainly you can substitute honey or pure maple syrup but note the texture will change. Same thing if you use applesauce or banana in place of the oil. Just sayin. That's been my experience.
This recipe is a one bowl recipe. I didn't really plan it that way it was more laziness than anything.
I started by whisking together the egg, sugar, and pure vanilla extract until combined.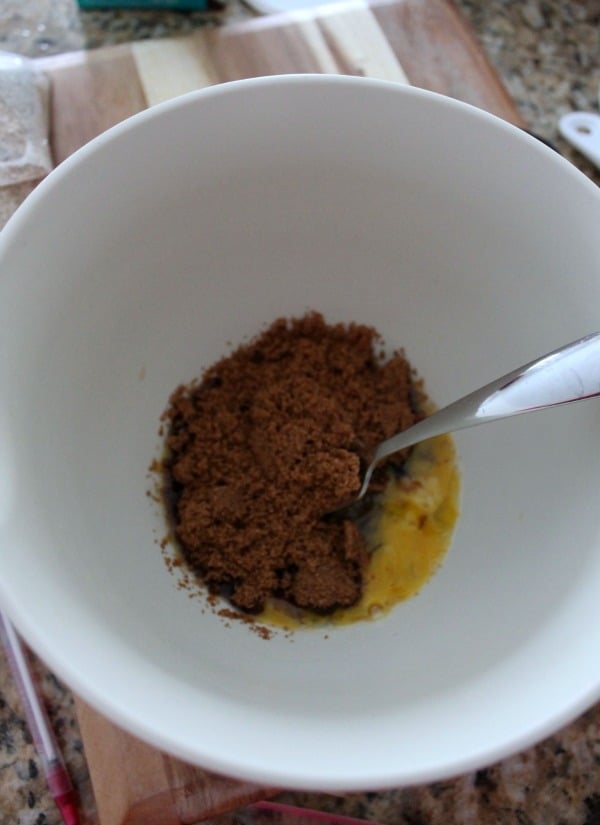 Then I stirred in the coconut oil and coconut milk.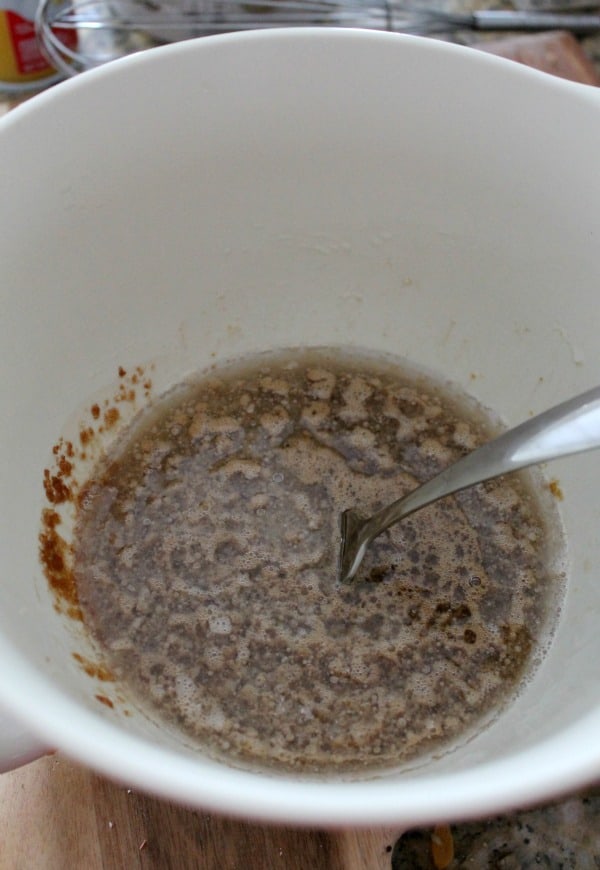 This is where it becomes one bowl. I placed the flour, wheat germ, oats, cinnamon, salt, and baking soda right on top of the wet ingredients. I've been doing this lately when making cookies, muffins, quick breads, and other baked goods. Why mess a second bowl when you don't need too? Of course, if you have a Kitchen Aid Mixer you can use that too. I probably would've used mine if I was making a few batches of these breakfast cookies.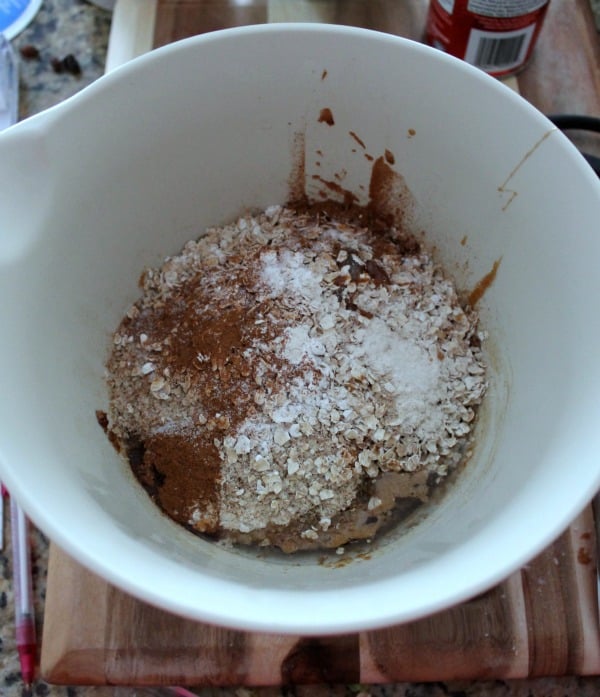 Give it a couple stirs to combine the wet and dry ingredients then stir in the carrots, raisins, and pecans until all the ingredients are combined.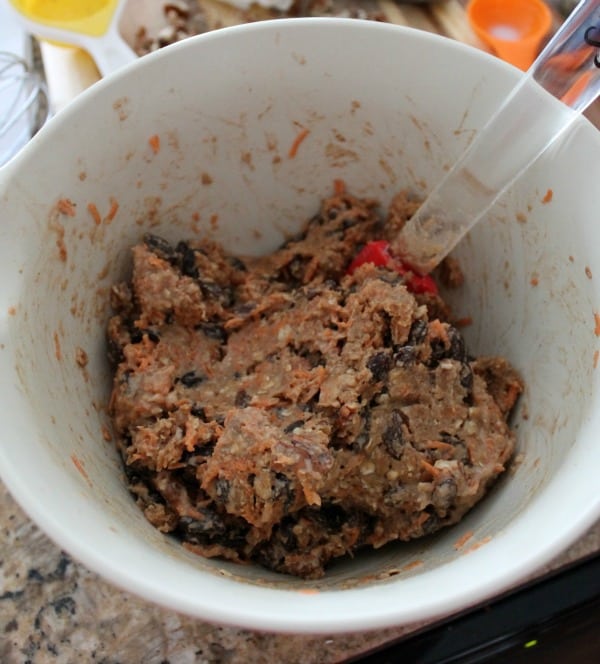 Scoop out the batter using a cookie scoop or a spoon and portion out into 16 round portions onto a cookie sheet. I love my Wilton cookie sheet. Form the dough with your hands and press down a bit. Please note these are hearty cookies. They are not going to spread like a regular cookie. Instead they will cook almost exactly as you put them on the cookie sheet. I thought I took a picture of the cookies before going into the oven but apparently not cause I can't find it. Next time I make this recipe I will take pictures of the "before" so you can get a better idea of what I'm talking about.
Anyway, this is what the breakfast cookie looks like after it bakes. Mmmmm.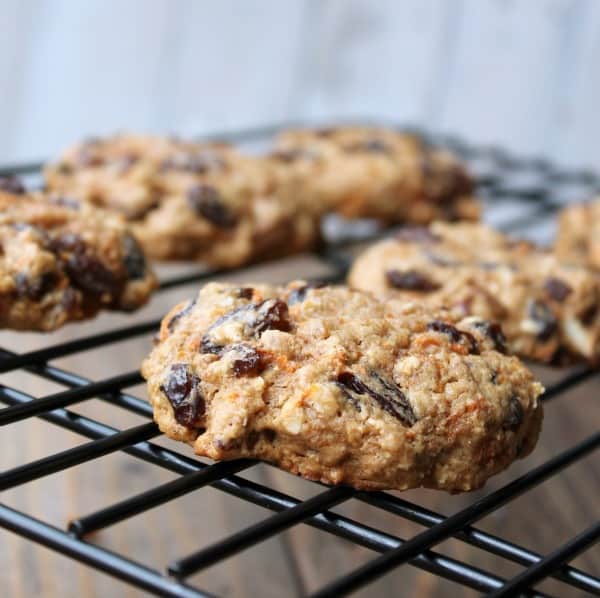 You can see all the wholesomeness in this cookie. The texture is thick and hearty. Personally, I think breakfast cookies taste better the next day. This recipe is no exception. I thought they tasted fantastic 1-2 days after I made them.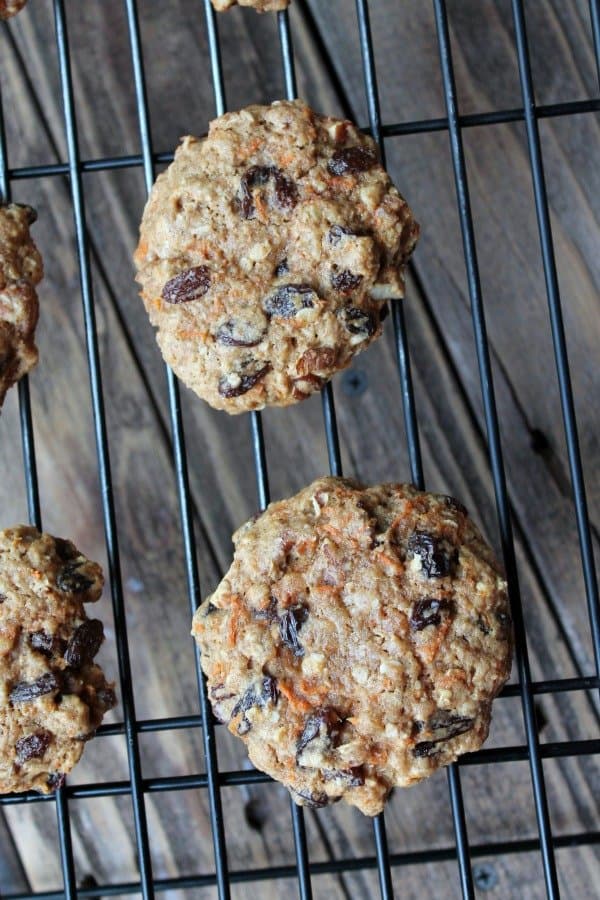 Good news is these breakfast cookies freeze perfectly. So after they're cooled place them in a freeze bag and put in the freezer. Take one out in the morning and they'll be thawed and ready to eat in 1/2 hour or so.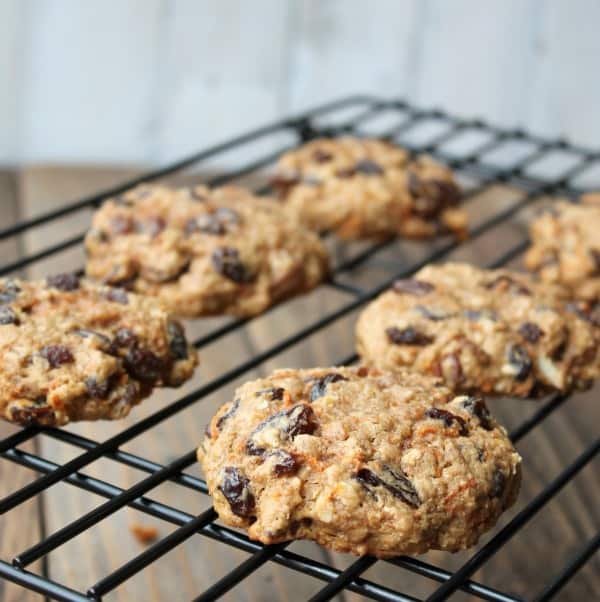 Now I know some of you might be thinking "where's the cream cheese glaze or frosting?" I mean I am calling these carrot cake breakfast cookies. Well…I didn't want to get too out of control because these are for breakfast. I guess maybe I should call these naked carrot cake breakfast cookies 😉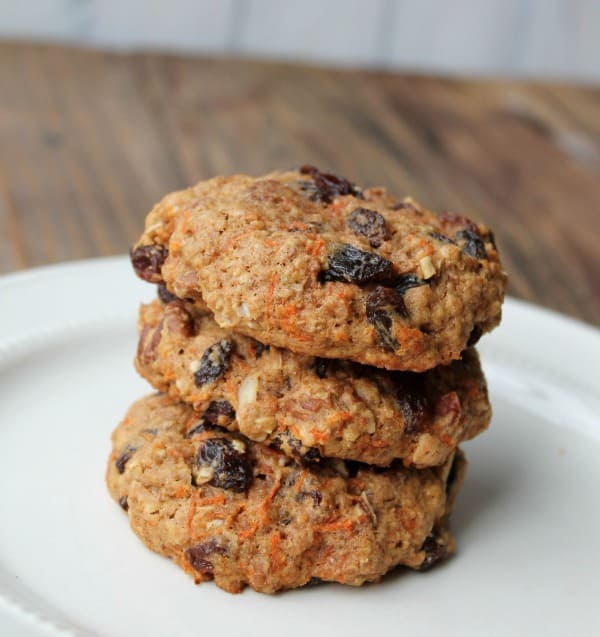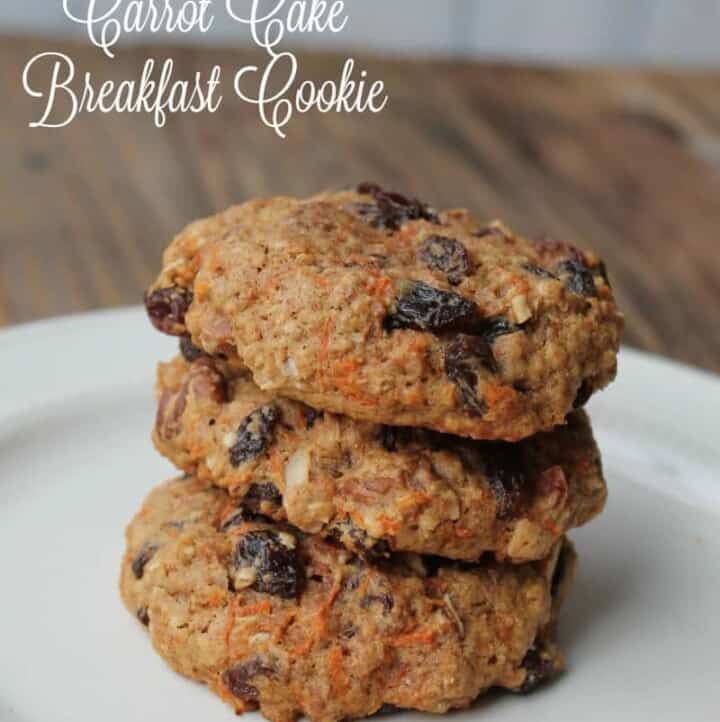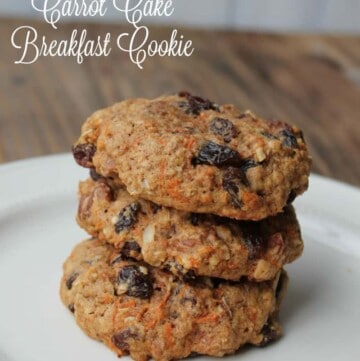 Ingredients
1

egg

½

cup

brown sugar

1

teaspoon

pure vanilla extract

1/3

cup

melted coconut oil

¼

cup

unsweetened coconut milk

you can substitute almond or dairy milk

¾

cup

white whole-wheat flour

½

cup

wheat germ

½

cup

minute oats

1

teaspoon

ground cinnamon

¼

teaspoon

salt

1

teaspoon

baking powder

1

cup

grated carrot

1

cup

raisins

½

cup

chopped pecans
Instructions
Preheat oven to 350 degrees.

In a large bowl mix together the egg, brown sugar, and pure vanilla extract until combined.

Stir in coconut oil and coconut milk.

Into the same bowl add the flour, wheat germ, oats, ground cinnamon, salt, and baking powder. Stir until just combined.

Slowly stir in the grated carrots, raisins, and pecans.

Using a cookie scoop or spoon divide the batter into 16 round portions. Shape with your hands and press down slightly.

Bake for 12- 13 minutes. You want the cookies to be a little undercooked. This will keep the texture chewy.

Let the cookies cool on the cookie sheet for about 5 minutes and then allow them to cool completely on a wire rack. Store in a plastic bag or container.
Notes
sugar: 15
Make-ahead Instructions
These breakfast cookies can be made completely ahead of time and stored in the refrigerator up to a week or so or stored in the freezer up to 6 months.
Nutrition
Serving:
1
g
|
Calories:
174
kcal
|
Protein:
3
g
|
Fat:
8
g
|
Saturated Fat:
4
g
|
Cholesterol:
23
mg
|
Fiber:
3
g