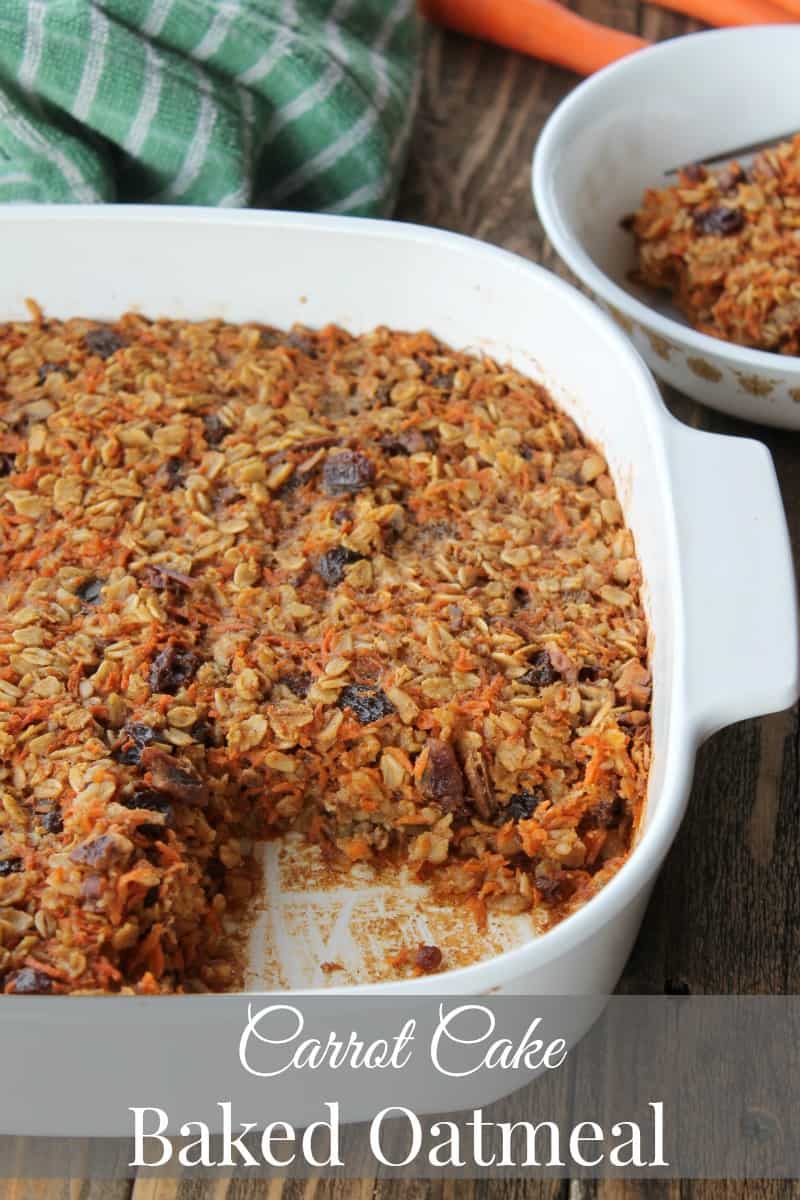 I know I just shared a cinnamon raisin baked oatmeal recipe with you last week and you probably would like to see something different. But…in my defense it is carrot cake bake oatmeal. When the vision of carrot cake and baked oatmeal entered my brain I got pretty excited. I had to make it. And now that I made it and know how absolutely scrumptious it is I must share it. It's my job to do so 🙂
Another reason you are getting 2 oatmeal recipes, in less than a week, is because I am hanging out at our country cabin and I only have so many ingredients to work with. I guess I should warn you now that tomorrow I am sharing a banana and chocolate overnight oats recipe. Haha! But I swear after that I will lay off the oats for a little. I actually have some low carb recipes floating in my brain that I am looking forward to developing.
Before we get to low carb let's talk about all the delicious amazing flavors of carrot cake baked up into a scrumptious breakfast.
There are so many different variations of carrot cake. Most recipes include cinnamon, other warm spices, raisins, and some type of nut. I also see pineapple and coconut included at times. For this recipe I wanted to keep it simple. Plus, I did not have easy access to a grocery store so I needed to use what I had available.
The spices I used were cinnamon and a little allspice. Allspice has the warm flavors of clove, nutmeg, and cinnamon. You really don't need much of it just a small amount can elevate a dish.
Like many of my other oat recipes I used unsweetened coconut milk. You can use any milk you like. I also used coconut oil but again use what you have on hand. Butter would be just fine.
Now let's talk about the carrots. I finely shredded 1½ cups of carrots for this recipe. I am not going to lie shredding carrots by hand is a pain. However, I did not have a food processor and even if I did I wouldn't use it. My food processor does not shred the carrots fine enough and I found when using carrots in a baking recipe you want them shredded fine. If not they might not cook properly. So I suggest getting a box grater to use with recipes like this. Unless you have an attachment for your food processor that can produce finely shredded carrots.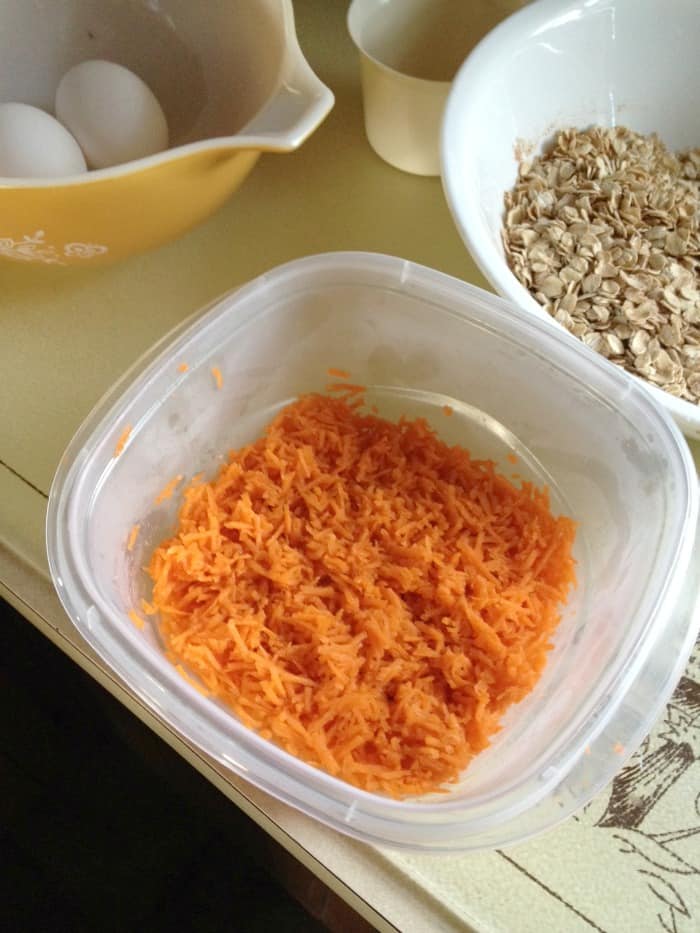 The final main ingredients I used for this recipe were raisins and pecans. Regular raisins are fine but yellow raisins would be tasty too. Pecans are my favorite nut so I am happy that is what I had available. However, this recipe would work great with walnuts too.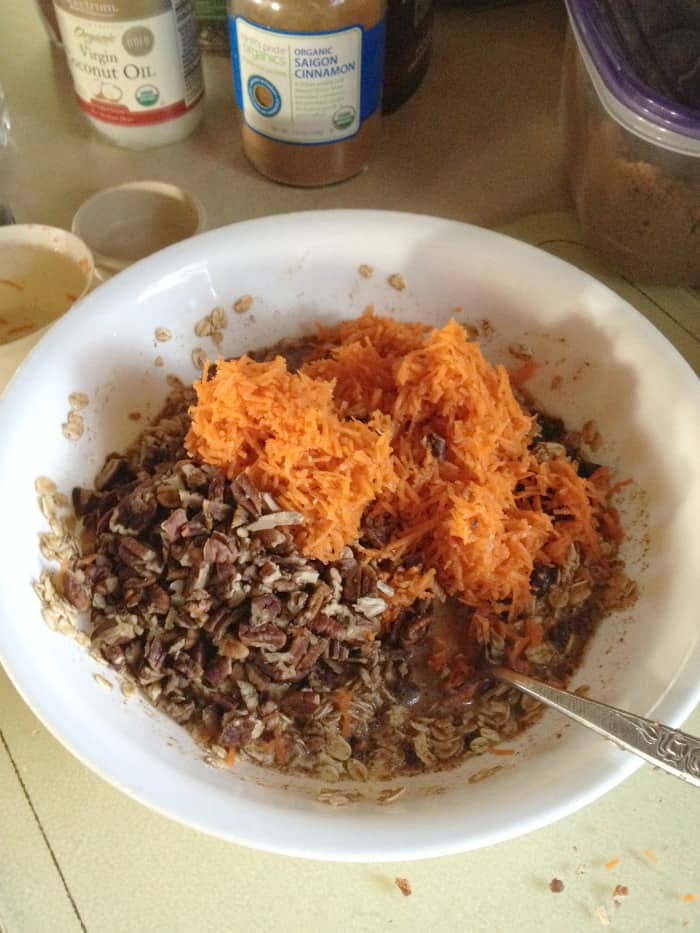 After I stirred all the ingredients together I poured the mixture into a 9-inch ceramic baking dish and baked for 30 minutes at 350 degrees.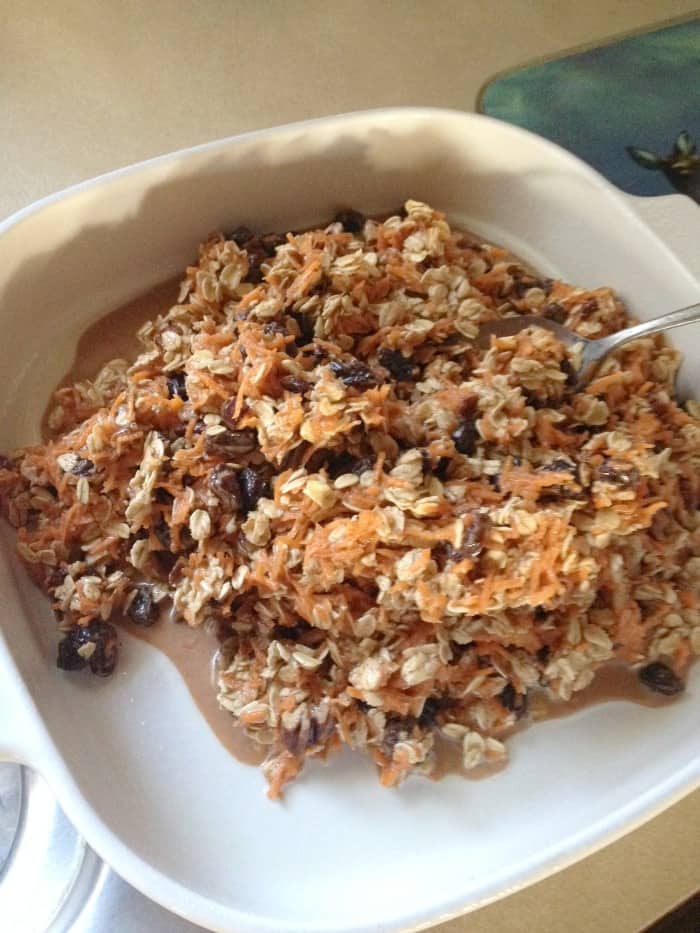 You want to push down on the oats after you spread it out. This makes sure the liquid is distributed.
This carrot cake baked oatmeal is out of this world! It is moist, delicious , and the perfect breakfast to eat outside sitting on the porch swing just listening to music and thinking about life.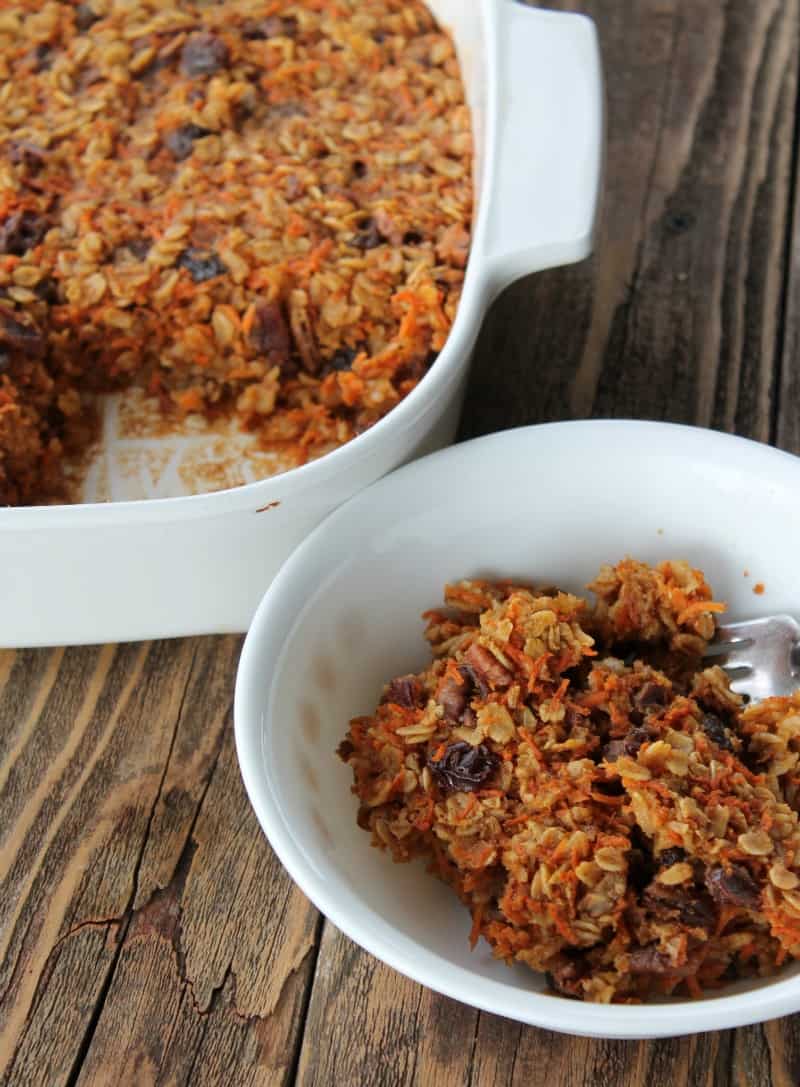 By the way this was my view as I took pictures. I loved my office this week.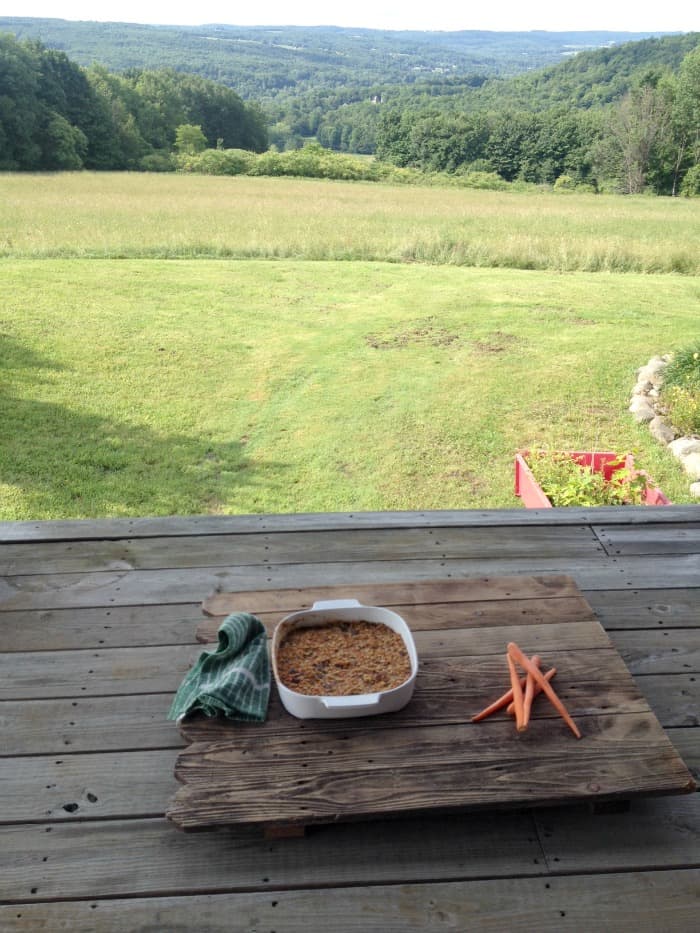 If you are a carrot cake fan then I encourage you to make this asap. You will love it!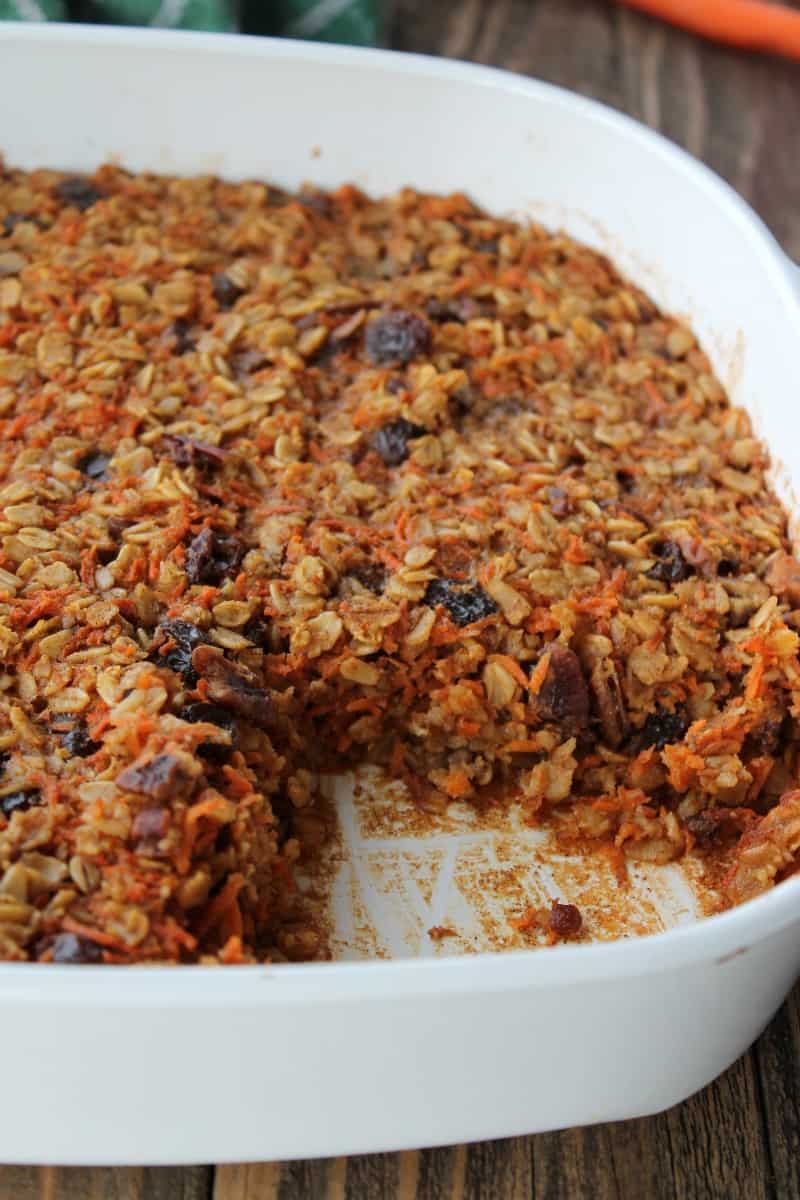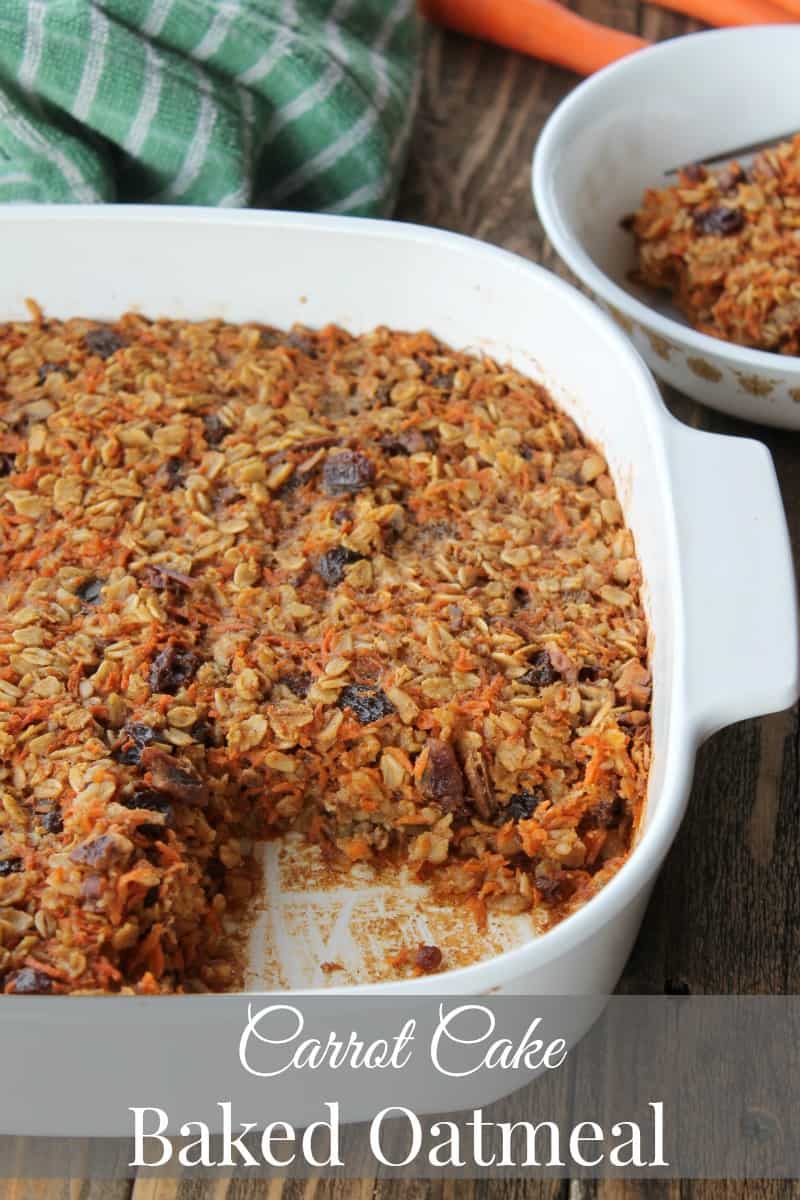 Ingredients
3

cups

rolled oats

2

teaspoons

cinnamon

¼

teaspoon

allspice

¼

teaspoon

salt

1

teaspoon

baking powder

2

eggs

beaten

¼

cup

brown sugar

1

teaspoon

pure vanilla extract

1 ½

cups

unsweetened coconut milk

1/4

cup

melted coconut oil

1 ½

cups

finely grated carrots

1

cup

raisins

½

cup

chopped pecans

pure maple syrup for serving
Instructions
Preheat oven to 350 degrees.

In a medium bowl combine rolled oats, cinnamon, allspice, salt, and baking powder. Give it a couple stirs until all the spices are evenly distributed.

In another medium bowl stir together eggs, brown sugar, and pure vanilla extract. Stir until ingredients are combined and smooth.

Pour coconut milk and oil into the egg and sugar mixture and stir until combined.

Slow add the rolled oat mixture into the wet ingredients. Stir until combined.

Add the grated carrots, raisins, and chopped pecans. Stir until all of the ingredients are combined and evenly distributed.

Pour into a 9 inch baking pan sprayed with cooking spray.

Bake for 30 minutes. Serve hot or warm with a little pure maple syrup.
Notes
Make ahead instructions
This baked oatmeal can be made completely ahead of time, portioned out, and frozen for a future breakfast. Wrap each individual portion in plastic wrap. When ready to eat the oatmeal take them out of the plastic wrap and microwave for 1-2 minutes or until hot. It helps to put a cup of water in the microwave as it cooks. This keeps the oats from drying out.
Nutrition
Serving:
1
g
|
Calories:
238
kcal
|
Carbohydrates:
31
g
|
Protein:
4
g
|
Fat:
11
g
|
Fiber:
1
g
|
Sugar:
6
g