Wholesome oats mixed with fresh blueberries, ripe bananas, and greek yogurt to create a nutritious low fat blueberry banana baked oatmeal cup recipe.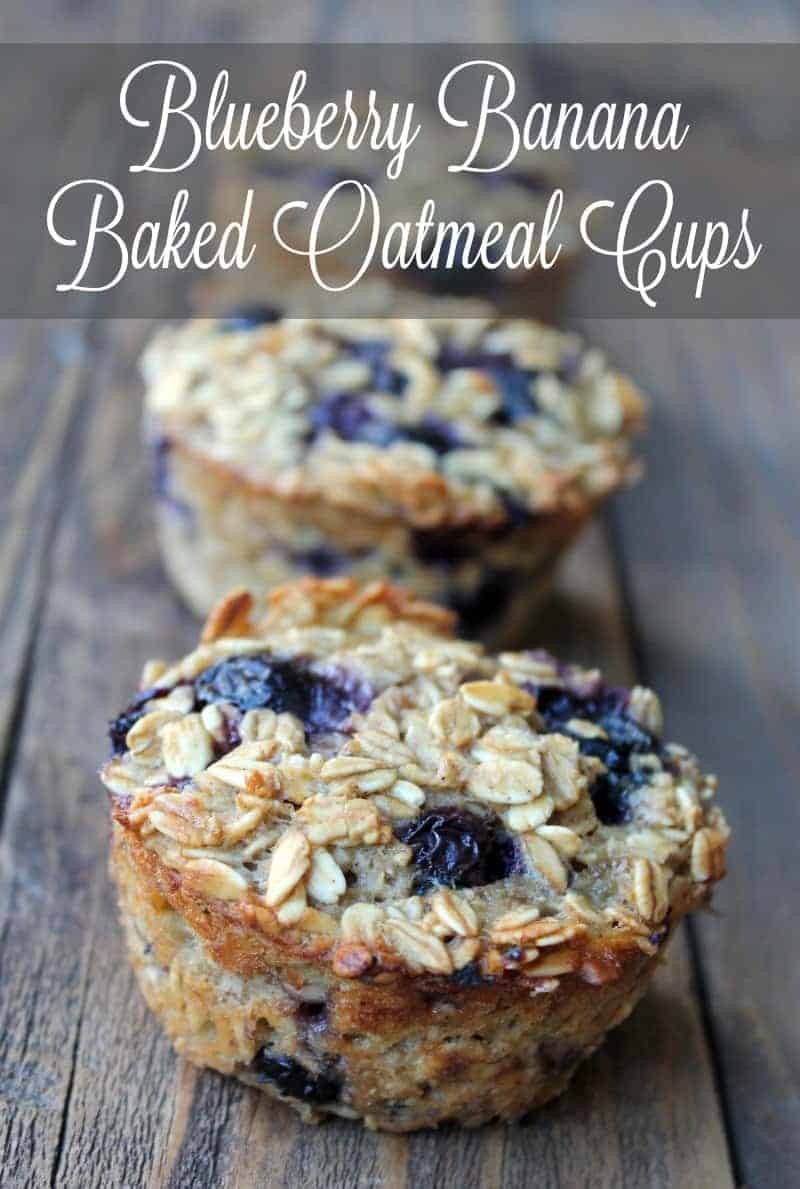 Summer time means fresh fruit and in Buffalo, NY we take the fresh fruit summer season pretty seriously because 10 months out of the year we are living in a frozen tundra. Just sayin…we don't see edible fresh blueberries (and many other fruits) from September to the end of June. So we savor all that we can when we can.
Blueberries are plentiful right in our grocery store and do not cost a small fortune. Yay! My kids love blueberries so I try to buy fresh when I can. Mostly, they just eat blueberries right out of the bowl or mix in some yogurt but I love to bake with fresh blueberries so I try to snag a cup or so to mix in recipes.
My first blueberry recipe of the season is this Blueberry Banana Baked Oatmeal Cup recipe. As you see bananas are also making an appearance in this recipe. Here's the thing, on any given day you could walk into my house and see ripe bananas on my counter. Typically, I use them for my green smoothies but I love baking with ripe bananas so I often throw them in with muffins, breads, or oatmeal…hence my new blueberry banana baked oatmeal cups. Not to mention I know a lot of you love bananas too because some of the most popular and pinned recipes from my blog are banana recipes. Like these banana and chocolate chip baked oatmeal cups. Seriously, these have been pinned over 95k times!
Let's go through the recipe. If you prefer a quick video then I made this one to quickly show you how to prepare this recipe.

I started by whisking together the eggs and brown sugar. I reduced the sugar to 1/2 cup and I've even use 1/4 cup of pure maple syrup before to sweetened my baked oatmeal cup recipes. We drizzle pure maple syrup over the top before we eat so I tend to reduce the sweetness of the actual baked oatmeal cup.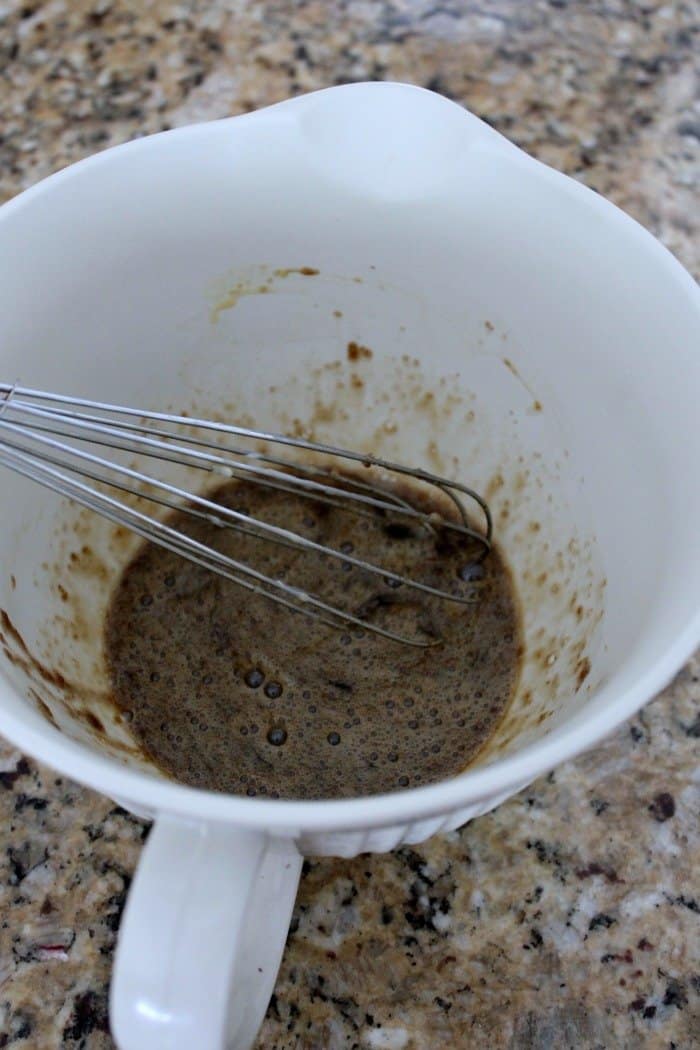 Next, I stirred in the ripe bananas. I used 2 medium bananas for this recipe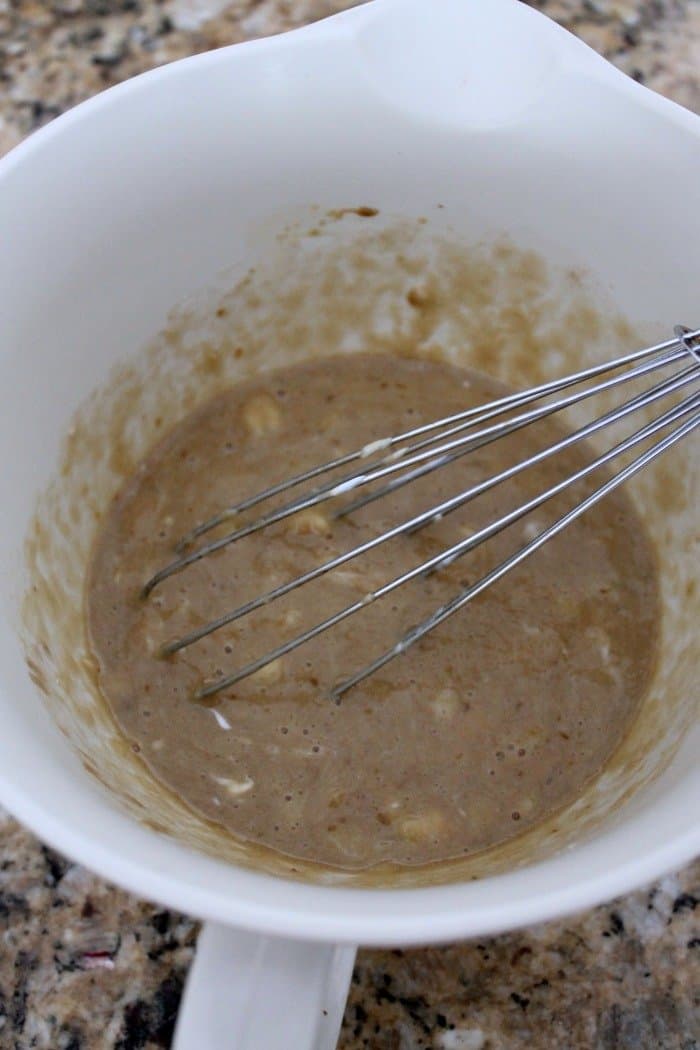 Third, I stirred in unsweetened coconut milk, pure vanilla extract, and greek yogurt. You could use any milk but I never have dairy milk on hand so I always use unsweetened coconut milk in my recipes. The recipes don't taste like coconut. Also, I left out the oil and used greek yogurt instead. Greek yogurt is a secret ingredient in baking recipes. It keeps the texture moist and tender without adding a lot of fat.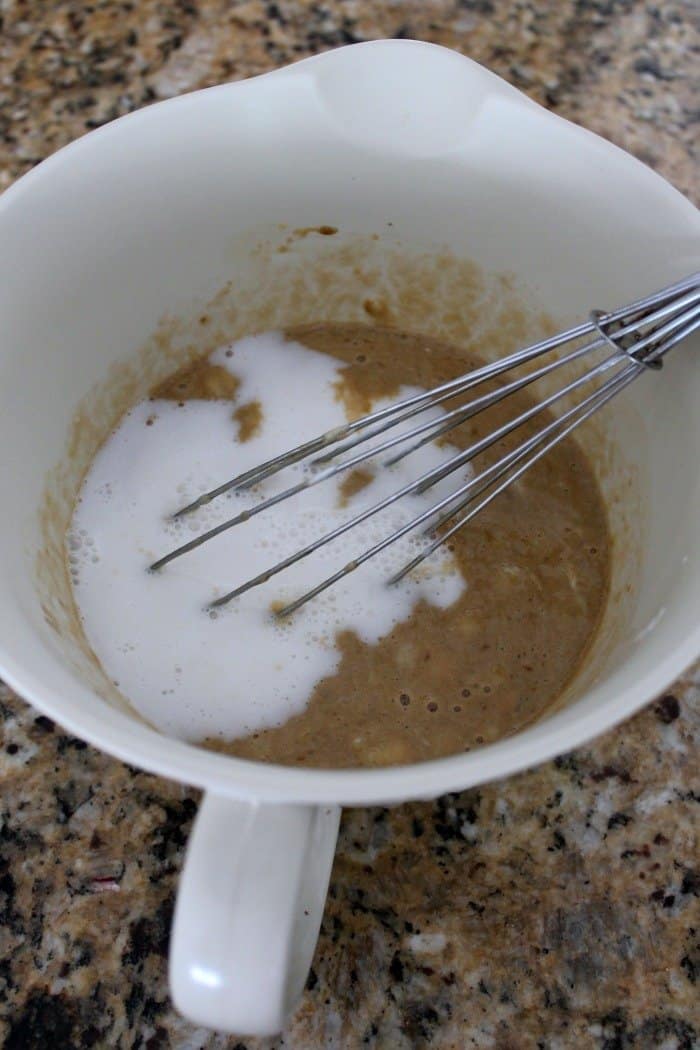 I like to keep my baking recipes "one-bowl recipes" so after I mixed all the wet ingredients together I placed the rolled oats, baking powder, and cinnamon on top.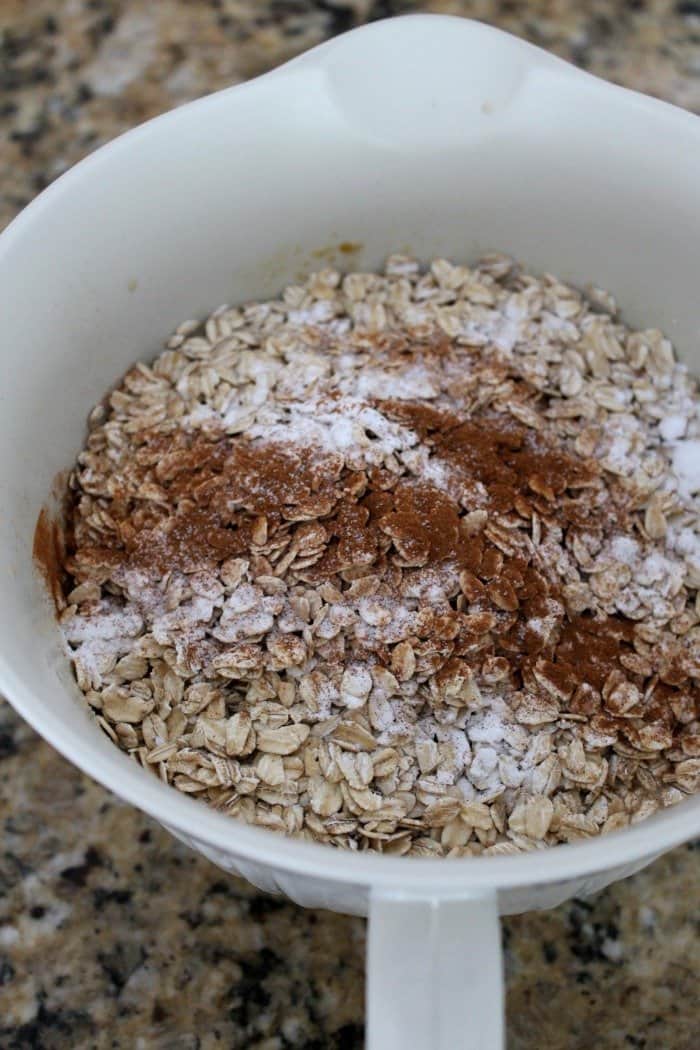 I gave the ingredients a couple stirs to combine and then I added the blueberries.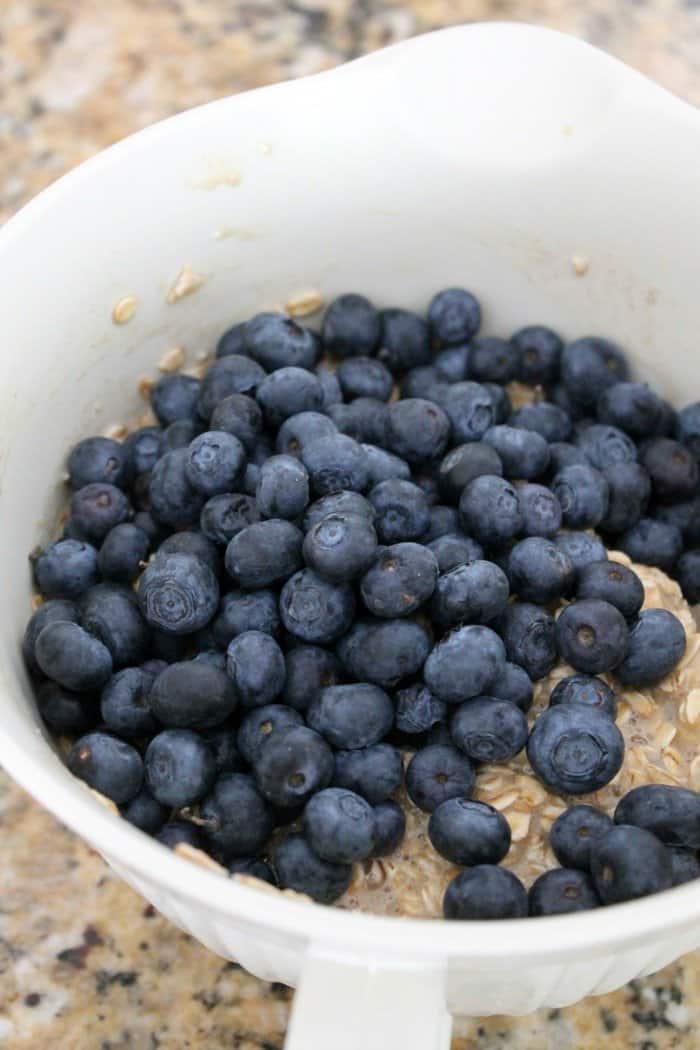 Again, I stirred the batter a couple times just until the ingredients were combined.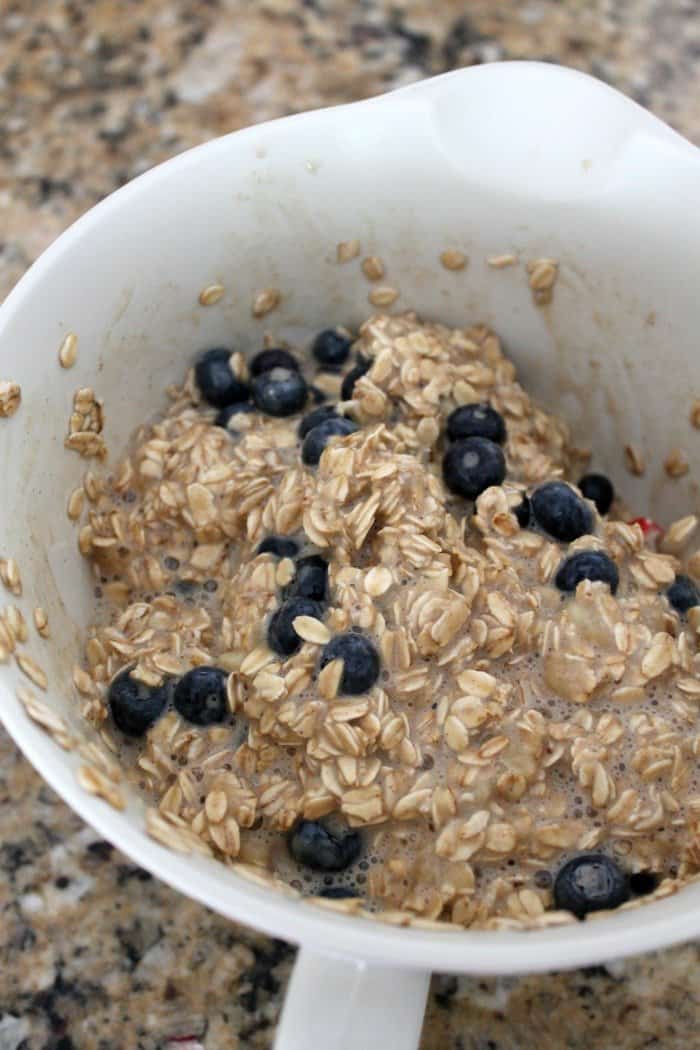 Then I divided the batter among a 12-cup muffin pan sprayed with cooking spray. I used a medium cookie scoop to do this.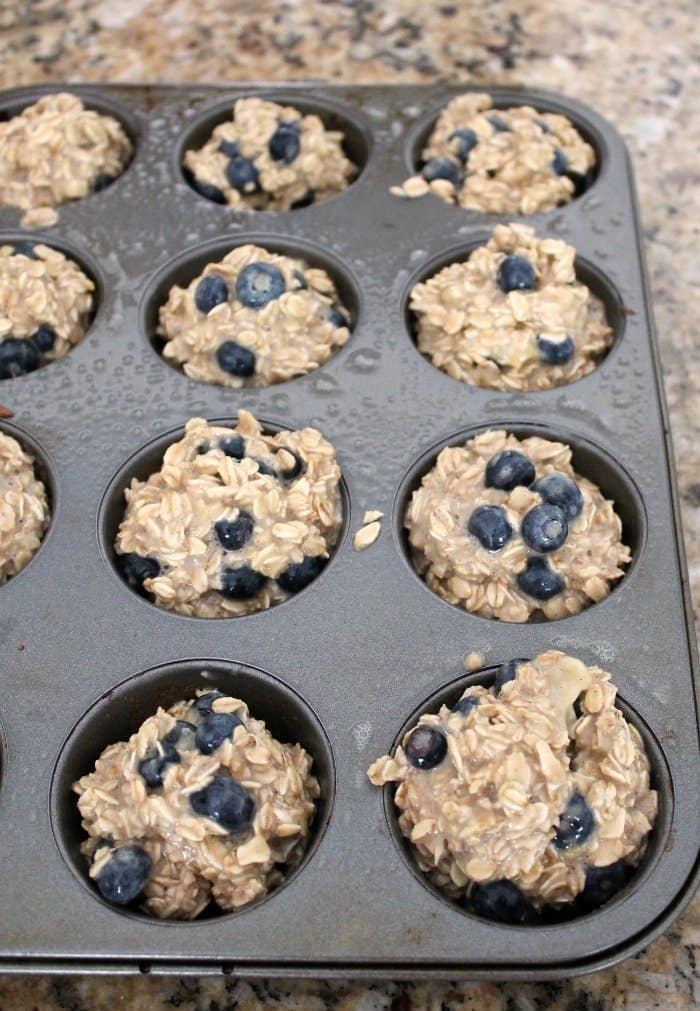 And just like with my other baked oatmeal recipe I flattened the batter down using a spoon. This makes sure all the liquid is distributed among the oats.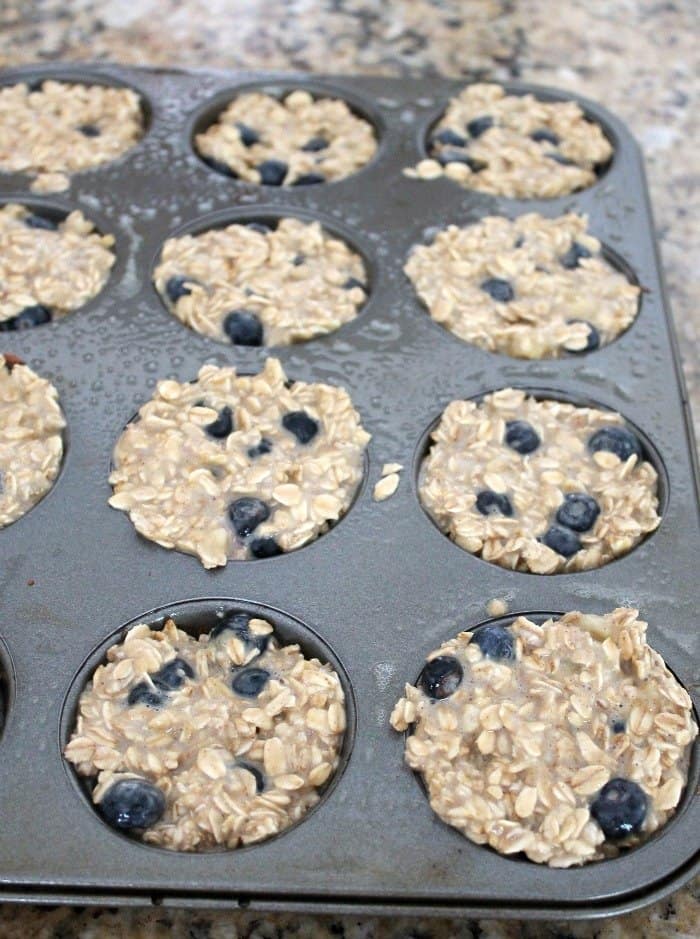 I baked the oatmeal cups in a 350 degree oven for 30 minutes or until lightly browned around the top. Then I let the oatmeal cups cool slightly for about 5 minutes in the pan. If we are eating right away I serve with a little pure maple syrup if not then I store in the refrigerator for breakfast during the week.
You can also freeze these baked oatmeal cups ahead of time. To do this I place the cooled baked oatmeal cups into a quart size plastic bag and lay flat in the freezer. After, the oatmeal cups freeze I lay the bag however I need to in the freezer. To eat I just stick the baked oatmeal cups in the microwave for 1-2 minutes or until heated through and then serve with a little maple syrup. Yum!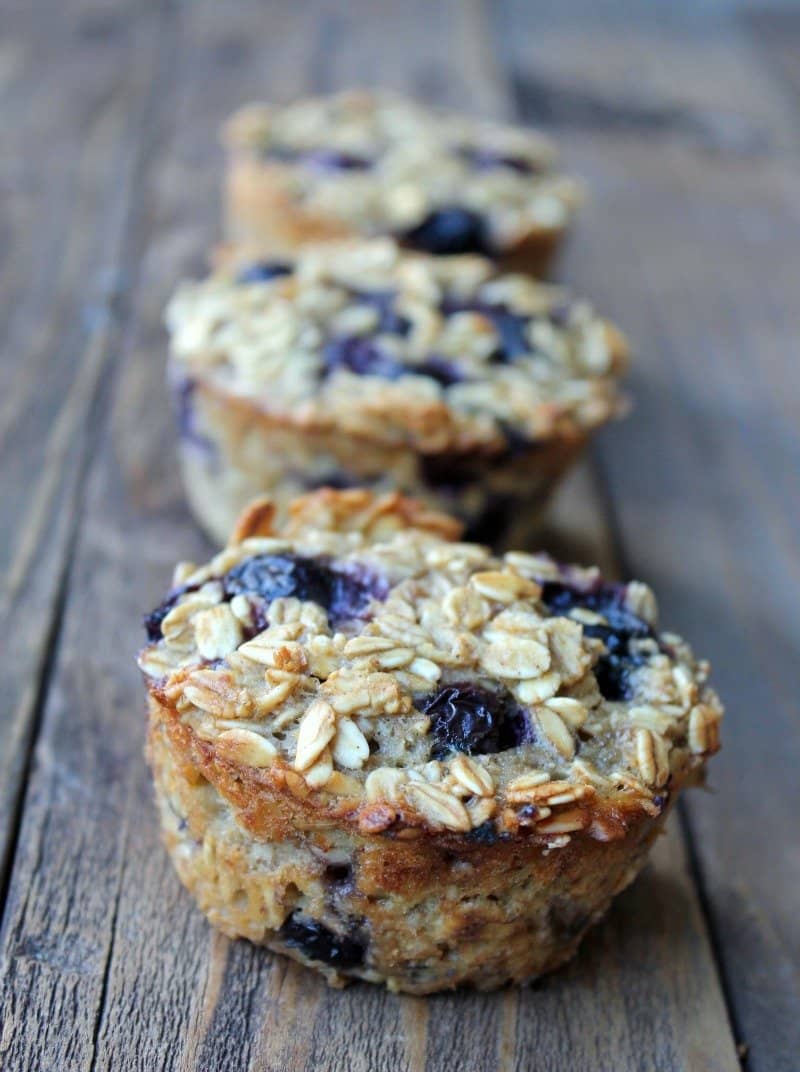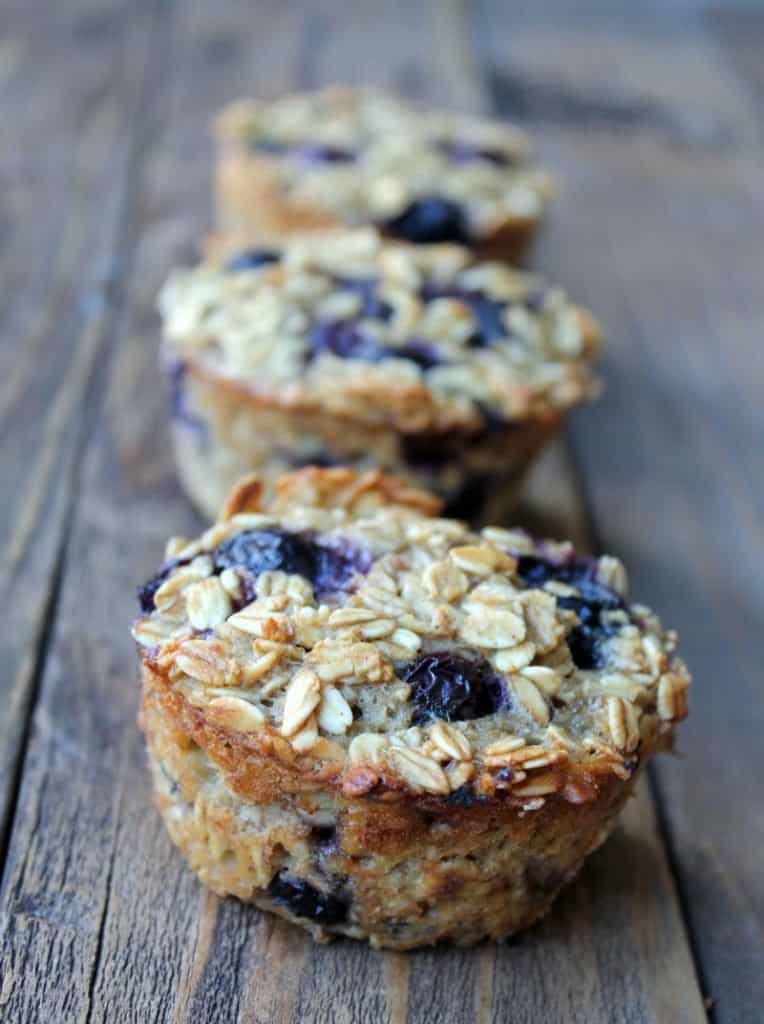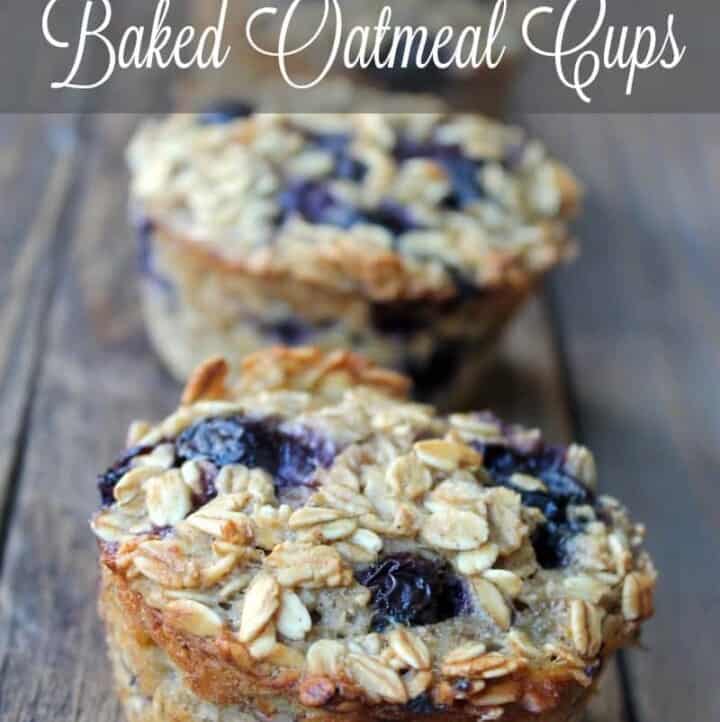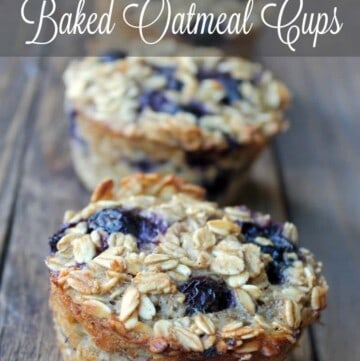 Ingredients
1/4

cup

coconut sugar

you can also use brown sugar or pure maple syrup.

2

eggs

1

cup

mashed ripe bananas

about 2 bananas

1

teaspoon

pure vanilla extract

¼

cup

vanilla greek yogurt

1

cup

unsweetened coconut milk

3

cups

rolled oats

½

teaspoon

ground cinnamon

1

teaspoon

baking powder

¼

teaspoon

salt

1

cup

fresh or frozen blueberries
Instructions
Preheat oven to 350 degrees

In a large bowl whisk together coconut sugar and eggs.

Into the sugar mixture whisk in the mashed bananas, pure vanilla extract, greek yogurt, and coconut milk.

Place on top of the wet ingredients the rolled oats, ground cinnamon, baking powder, and salt.

Slowly stir the ingredients together until combined.

Slowly stir in the blueberries.

Divide the batter among a 12-cup muffin pan. Flatten batter down with a spoon. Bake for 30 minutes.

Remove from the oven and let the oatmeal cups sit for about 5 minutes in the pan.

Remove from the pan and serve warm with a little pure maple syrup or let the oatmeal cups cool completely and then store in a container in the refrigerator or freeze in a plastic bag.
Notes
sugars: 18
Make-ahead Instructions
The oatmeal cups can be made completely ahead of time and store in the refrigerator up to 7 days or frozen up to 3 months.
Nutrition
Serving:
1
g
|
Calories:
176
kcal
|
Carbohydrates:
35
g
|
Protein:
5
g
|
Fat:
3
g
|
Saturated Fat:
1
g
|
Fiber:
3
g
Other Blueberry Banana Recipes