If you want to be successful and not fall off the bandwagon when it comes to eating healthy and changing your lifestyle, take a look at this post. Today, I will be sharing with you how I like to do all of my weekly meal prep on Sunday for the entire week!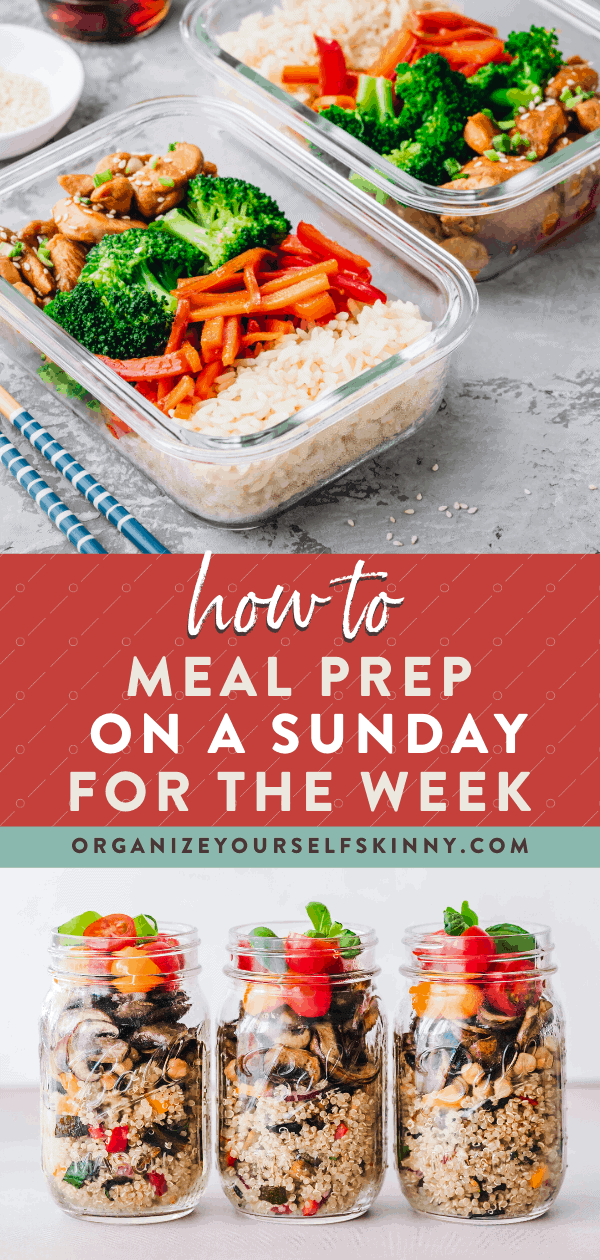 Weekly meal prep has been the #1 one strategy I use to make certain I eat healthy meals and snacks throughout the week. I have said this many times but it is much easier to eat nutritious foods and control your portions when you take the time to prepare food in advance.
Many of my blog posts are centered around meal prepping and freezer cooking. See all of my meal prep posts.
Freezer cooking is when you prepare foods ahead of time (most of the time in large quantities) to freeze for future meals. This cooking strategy is a lifesaver and a huge game-changer for busy people, including myself!
I often say that my family would never eat a healthy meal if I did not make it ahead of time and freeze.
If you are interested in freezer cooking and want to learn more about it, check out these posts:
Jump to:
How Meal Prepping One Afternoon Changes My Week
Another way to make sure my family eats healthy is to take one afternoon during my weekend (usually Sundays) and prepare our meals and snacks for the week. I like to call this my weekly meal prep day.
This is different from freezer cooking because the goal is not to stock my freezer but to make sure my meals and snacks for the week are ready to eat or be cooked.
Having a weekly meal prep day is essential to keeping healthy eating habits a priority, losing weight, and maintaining a healthy weight.
When healthy foods are ready and available we are much more likely to eat those foods instead of ordering out or stopping at the store for a "quick snack".
Meal prep also reduces the stress and anxiety of trying to figure out EVERY SINGLE DAY what to eat. Just take a moment and think about how you feel when you are hungry and you don't know what to eat. Those feelings can cause straight panic for some people.
I know it did for me. When I am hungry, I can't focus on anything else until I eat.
Having food prepped ahead of time also ensures I won't eat something I will regret 5 minutes after I inhale it.
Also, taking one day over the weekend means you don't have to think about it again all week. All you got to do is eat!
I am telling you- Having nutritious wholesome foods ready to eat in your kitchen might just be the weight loss solution you have been looking for. It worked for me.
How To Do Weekly Meal Prep On Sunday For The Entire Week
I started preparing my meals and snacks ahead of time about 10 years ago. My strategy has evolved somewhat over the years as I learned what works and what doesn't for my situation, but this is what my Sunday meal prep day looks like now. Of course, you can prep any day of the week but Sunday has always worked best for me.
Plan Out Your Meals Ahead Of Time
No matter what the project or goal is, I always start with a plan. If not, you will find me walking in circles, not having a clue where to start or what to do. Having a plan gives me a roadmap to follow and this keeps me moving forward.
The first thing I do is put together a weekly meal plan and grocery list. My meal plan includes all three meals and snacks. This way, there is no confusion about the food I should be eating throughout the day.
I eat 5 times a day, so I find planning for snacks or smaller meals much more important than just worrying about what I will eat for dinner.
Keep It Simple
Now, unless you want to spend all day on your weekly meal prep, then I recommend keeping your meal plan simple. Don't go overboard with new recipes!
I usually like to keep breakfast, snacks, and lunches the same all week. This might be boring to some but I don't mind, and it makes my prep day much easier.
If I do get bored, I switch it up with something from the freezer or fridge. Dinners are typically different each night but I do find that we usually have leftovers. If that is the case, I might move one of my prepped dinners to the next week or freeze leftovers. It just depends on the meal.
Here's a helpful post I put together, simple meal-prep ideas, and you can also find my favorite make-ahead lunches in this post!
Put Together A Grocery List With All Of The Essentials
Once my meal plan is done, then I need to put together a grocery list. It is so important to have a complete and accurate grocery list! The last thing I want to do is get home from shopping to find I am missing key ingredients.
Been there, done that.
If you can, and I highly recommend it, try to grocery shop the day before your weekly meal prep day.
Write Out Your Meal Prep Plan- Don't Guess
Next, I write out my entire weekly meal prep plan. Nothing fancy, I just scribble a quick plan on a sheet of paper. Then, I look at each meal and figure what ingredients can be prepped ahead of time. Sometimes, the whole meal can be prepped in advance (like these mason jar salads) and other times, only a part of the recipe can be prepped (like the taco meat for Taco Tuesday).
Don't Get Overwhelmed. Do What You Can.
The options are endless when it comes to prepping food ahead of time. Don't feel like you need to do it all. Do what you can and what your time allows. Even the smallest amount of meal prep will be beneficial.
If you get overwhelmed, start to think about what meal or snack is going to have the greatest impact on your week and start with that.
For example, if you are struggling to make breakfast in the morning, then you might want to make sure breakfast is the first thing you prepare for the week. You can make a big batch of baked oatmeal, breakfast burritos, or some overnight oats.
Make Sure You Have Everything You Need for the Weekly Meal Prep
When I plan out my weekly meal prep, I try to make sure I have all the containers I need and my refrigerator is organized. Weekly meal prep requires extra space in the fridge for all the containers, mason jars, and other items you might use.
My refrigerator is on the smaller size and with a little organization, I am able to fit everything in. Plus, it forces me to clean out my fridge once a week.
I use glass meal prep containers and plastic storage containers for food storage. You can read all about my favorite glass meal prep containers in this post!
How I Like To Put Together My Meal Prep Day Schedule
My meal prep day (depending on the meals,) usually takes me about 2-3 hours to complete. The key is planning your day ahead of time. This way, you can get right into it without thinking about where to start.
This is what a typical food prep day looks like for me.
Step 1: Prep The Slow Cooker
If I am making shredded chicken to include in multiple recipes that week, I will get it started right away in the slow cooker. Once the slow cooker is going, I don't need to think about it for 4-6 hours.
My favorite slow cooker shredded chicken recipes are:
Need more chicken ideas? Here's a post with a bunch of recipes ideas for shredded chicken.
Step 2: Prep The Salads
After I have the slow cooker going, I like to prepare mason jar salads. My week runs smoothly when lunches are made in advance. Therefore, my mason jar salads are one of the first recipes to get made so I can guarantee they get done.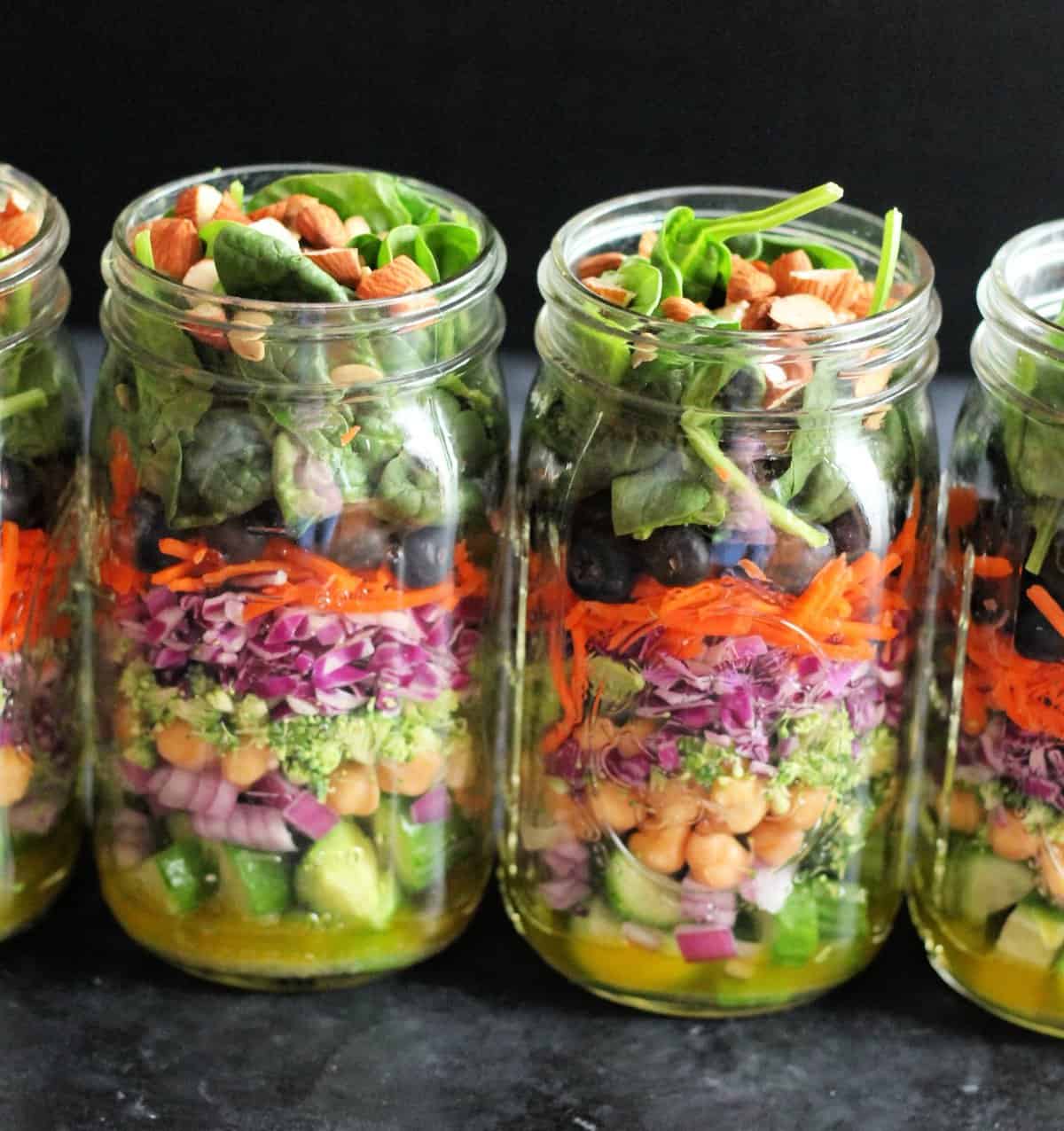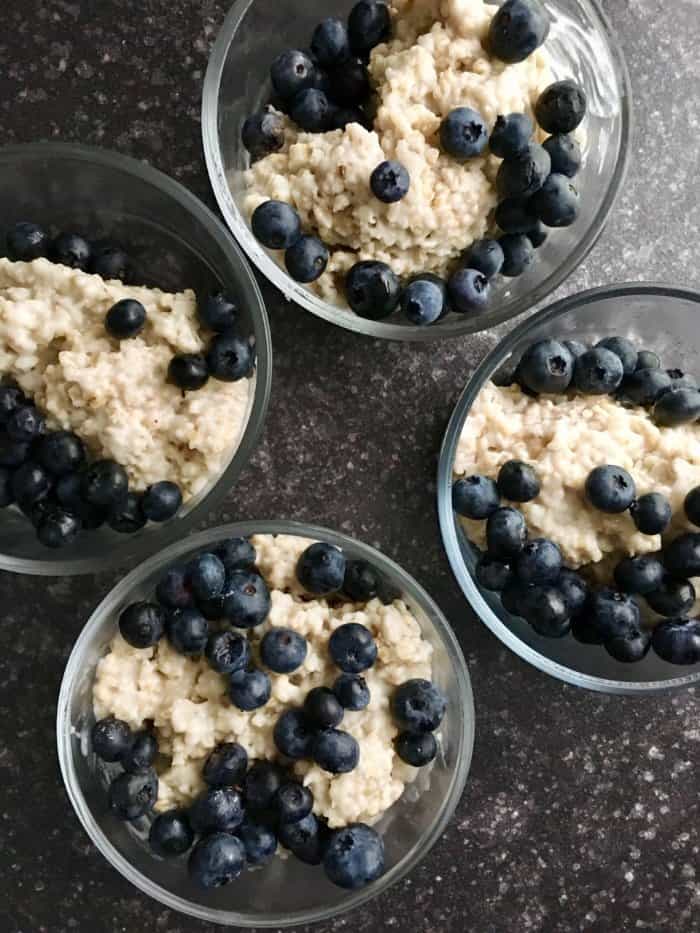 Step 4. Prep Snacks as Part of Your Weekly Meal Prep
After I have breakfast prepped, I move onto snacks.
My snacks usually include:
Hardboiled eggs
Almonds
Cheese and crackers
Vegetables and hummus
I love putting together different snack packs (like these Greek snack packs) to keep everything portion-controlled for the week.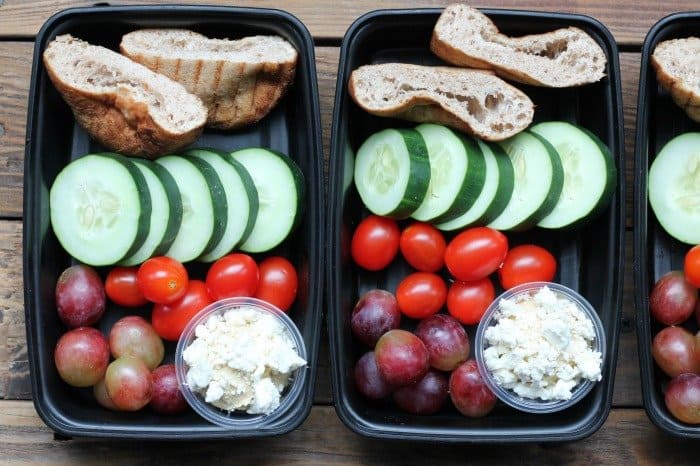 I usually have the eggs cooking while I make the salads, and the cheese and veggies get cut after that. I put the vegetables into containers to create portable veggie or high-protein snack packs. These are great and make eating vegetables everyday easy! I also wash and prep fruits at this time.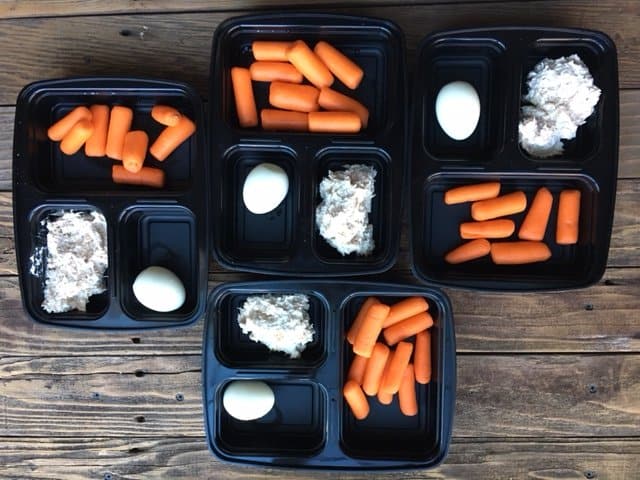 For nuts like almonds, I prep them every 2-3 weeks. I purchase a 3lb bag from my local warehouse store and portion it out into ¼ cup servings. I use the small snack bags for this! Or I put into 2-ounce mason jars.
Here's a post I did on putting together a healthy refrigerator snack bin!
Step 5. Prep Dinner Meals
Once breakfast, lunch, and snacks are done, I move to dinners. I love slow cooker dinners so I try to make a couple each week. After the chicken is done cooking in the slow cooker, I will prep ingredients for a slow cooker meal to be made the next day.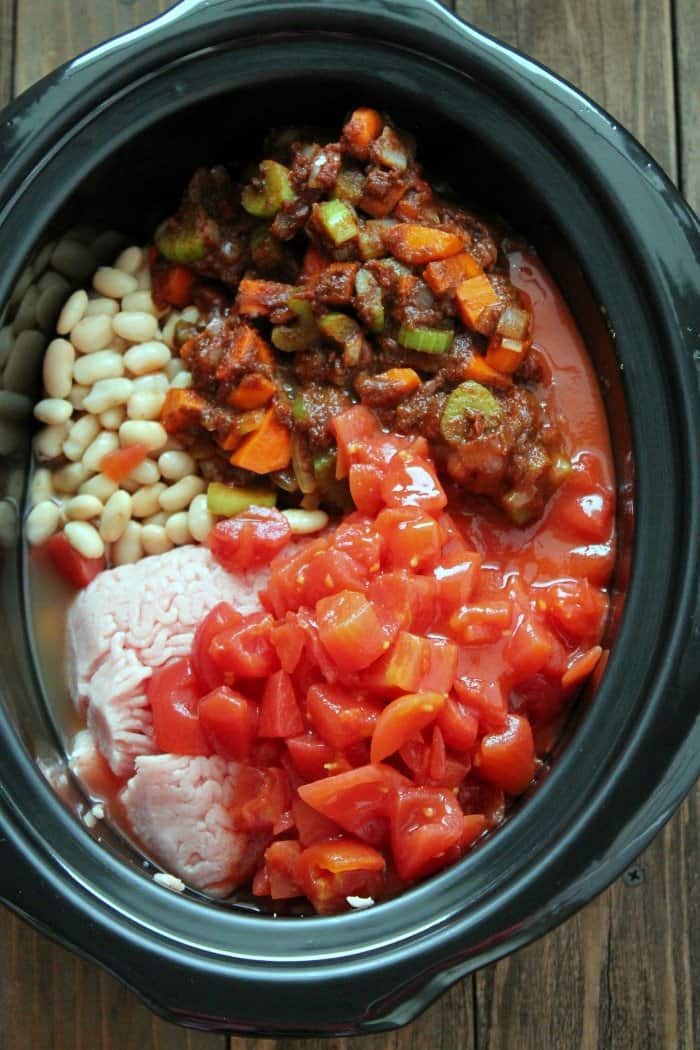 Then, I prep the rest of the meat, if I can.
For example…
Trim and cut up chicken to be recipe ready
Portion up shredded meat
Place meat in marinades
I also like to cook up ground beef/turkey. Most of the time, I am using it for taco bowls, cheeseburger wraps, or stuffed cheeseburger peppers.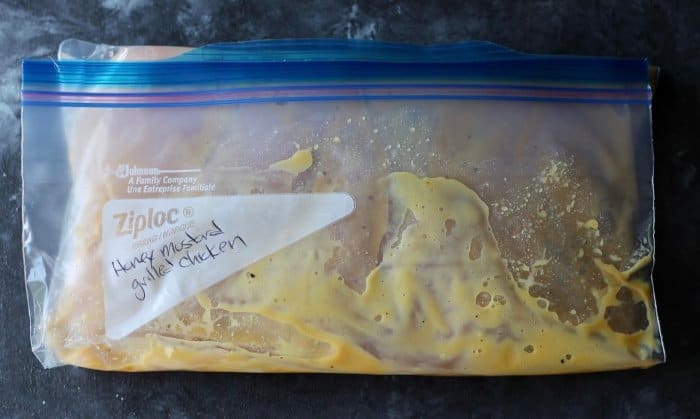 So, that is how I run my weekly meal prep day! Some weeks, depending on the recipes, it might look a little different but this is a general idea. I swear by meal prep and truly believe if you're trying to change your eating habits, you should give it a shot.
What are some questions you have about weekly meal prep? Do you have any tips to share?