These meal prep dinner ideas are just what you need when you're short on time or don't feel like cooking but still want dinner time to go smoothly during the week!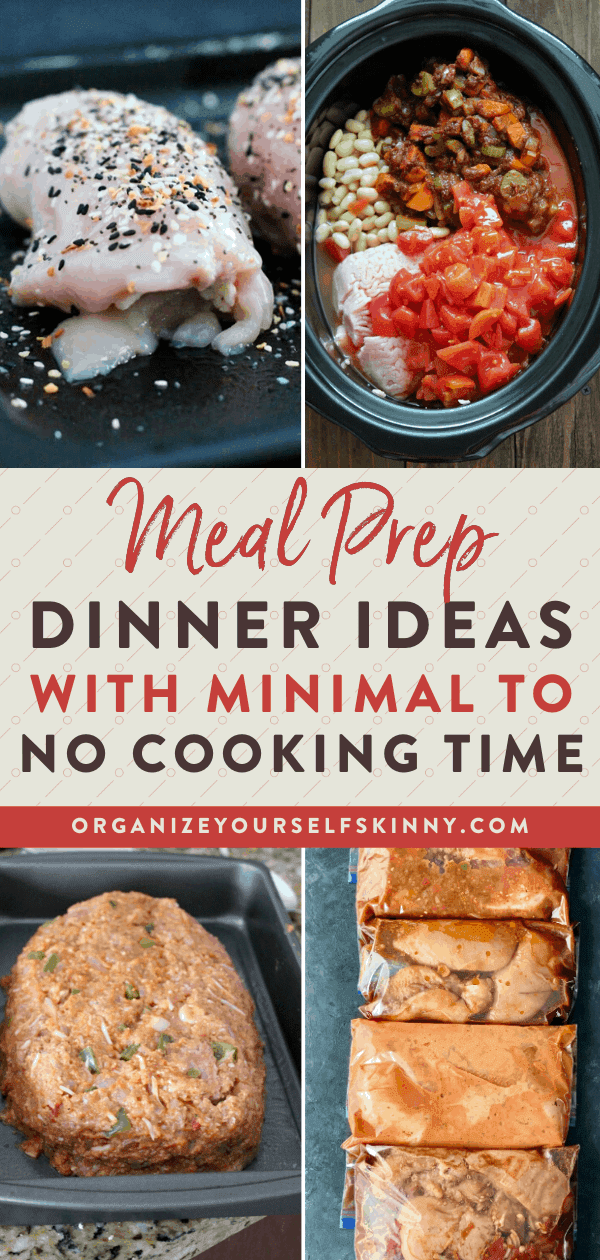 One misconception with meal prep is that you need to cook everything in that one single day. In fact, that's one of the biggest complaints I get with meal prep. Most people would love to put together some make-ahead meals but don't have the time or energy to cook all day.
Here's the thing with meal prep and something I want you to remember – meal prep can work however you want it to.
Its purpose is to make your life easier, not more complicated. So, if you want to cook every meal every single Sunday, then you certainly can. But, I'm guessing you're a busy person like me and the thought of cooking all day is something that doesn't really spark a lot of joy.
I totally understand and I'm with you 100%.
Reasons Why Some People Don't Want to Meal Prep Fully Cooked Meals
There are many reasons why people don't want to cook their dinners ahead of time but the two most popular reasons are:
They want their meals to be fresh and not leftovers. They prefer to have meals made fresh so they think meal prep won't work for them. I've actually had people say to me "I hate eating leftovers so I don't meal prep". This is a huge meal prep misconception and keeps away many people who would greatly benefit from meal prep.
They don't have time to cook everything ahead of time. Schedules are busy and it's hard to block out big chunks of time each weekend to meal prep. Most of us only have a couple of hours and even that might be pushing it. Again, I totally get it. Even when my schedule isn't packed with activities, parties, or whatever, I might just want to relax on my deck with my husband. So, spending hours cooking every weekend isn't always in the cards.
Fortunately, there are many ways to prep dinner ahead of time without having to cook (or cook very minimally) on meal prep day.
Something I've said many times but want to say again is prepping meals even a little bit will shave off a lot of time during the week. And, that's essentially what you want.
So even just getting a few things prepped can really help to get dinner on the table fast during the week.
Meal Prep Dinner Ideas With Minimal To No Cooking Time
In this post, I'm going to share the different methods I use to prepare meals ahead of time without needing to fully cook it. I'll also share some of my go-to recipes for each method. You're going to love it!
Prepare Recipe Components Ahead Of Time
The purpose of this method is to have all the ingredients and components ready ahead of time so you can just throw it together and complete the meal the night you're going to eat it. This method is good for people who don't want to eat "leftovers" or want to cook dinner fresh the night they'll eat it.
These are meal components that can be done ahead of time:
Trim and Cut Chicken or Other Meats
Something I used to hate doing after a long day at work was handling raw chicken. I hated making the mess and then having all the chicken scraps in the garbage. Ewwww!
Not to mention, it added on an extra 10-15 minutes to a recipe just to prep the chicken.
So, one of the things I do to get the chicken recipe ready on the weekend is simply clean the fat off or cut it into strips. I also pound a few chicken breasts into cutlets to make recipes like this baked salsa chicken or this balsamic caprese chicken.
Whatever the recipe needs! I do the same with beef and pork too.
The goal is to have the protein recipe ready to make dinner throughout the week.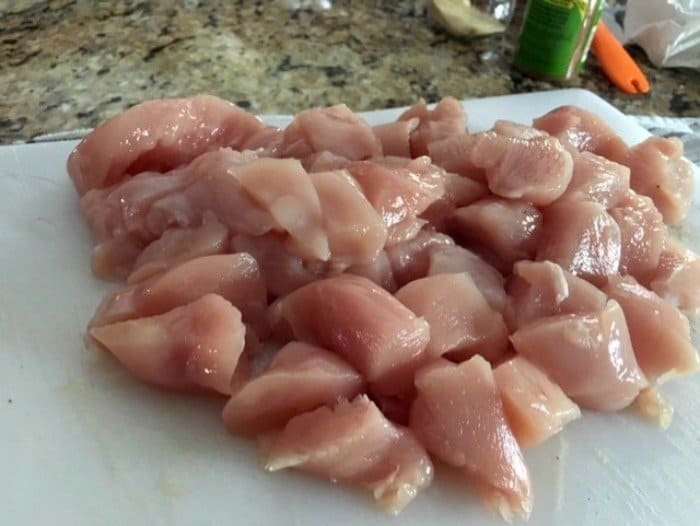 Put Together Dipping or Cooking Sauces
This does require some cooking BUT it'll save so much time during the week. This is another method that is great for those that want to cook fresh during the week but also want to save time.
For example, the cheese sauce that goes with buffalo mac and cheese or cheeseburger macaroni bake can be made ahead of time. Same with the cajun chicken quinoa bake! You can make the sauce, let it cool, and then store it in a mason jar, plastic container, or ziplock bag.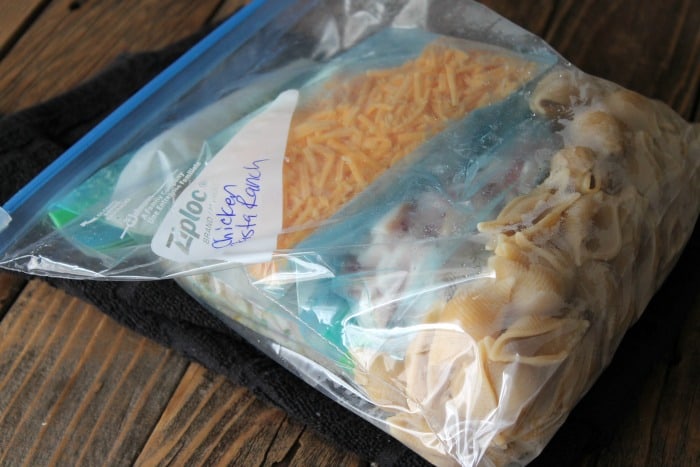 Cook Pasta, Rice, Or Other Grains For Skillet Meals
If I'm eating pasta with some sort of homemade spaghetti sauce, I'll make it fresh the night we are going to eat it. On the other hand, if I'm using pasta in a casserole, then I'll make it over the weekend so it's ready to be added into the casserole. In those cases, the pasta doesn't need to be made fresh since it's being baked.
Cooking Tip: Make sure the pasta is cooked al dente so it doesn't get mushy as it bakes.
Rice and other grains are great to whip up on the weekend for easy meals during the week. It's so easy to throw rice into a rice cooker and then stick it in the refrigerator when it's done. You can do the same with quinoa.
Then, you can easily make fried rice, pasta bakes, or any type of one-pot meal by having rice, quinoa, and other grains ready. One great example is this chicken sausage and mushroom one-pot pasta!
I suggest storing pasta and grains in glass meal prep containers for best results but you can also use reusable storage bags.
Cut Up All Of The Vegetables
This is a great no-cook meal prep tip that many people overlook.
If you don't feel like making a mess or taking the time during the week to chop onions, peppers, garlic, and other vegetables, you can easily do this on the weekend. Then it's ready to be used during the week.
I recommend storing them in rectangle glass containers or reusable storage bags.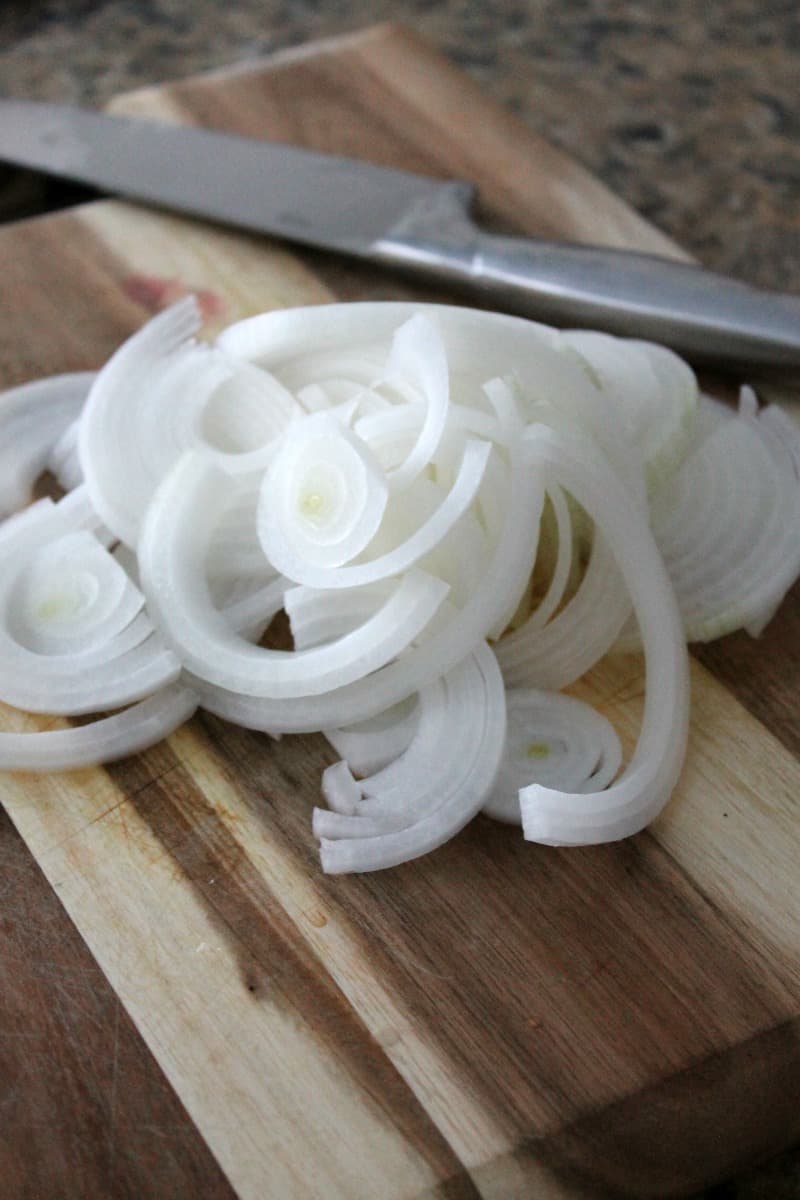 Prepare Slow Cooker Ingredients Ahead Of Time
Besides making slow cooker freezer kits, my favorite way to prepare slow cooker recipes is to prepare the components ahead of time.
Let's take this Guinness beef stew for example. I prep the meat, potato, and veggies ahead of time and put the ingredients into the refrigerator for up to 3 days. When I'm ready to cook it, I put the beef stew into the slow cooker and continue with the recipe.
Many slow cooker recipes don't require much. All you need to do is simply dump the ingredients into the crockpot!
These are easy peasy but there are some recipes that require minimal cooking prior to putting int the slow cooker. If this is the case, I'll do the pre-cooking on the weekend before putting it in the slow cooker. Then, I put everything in a container and refrigerate. This saves a ton of time during the week!
If you don't have time to do either of these things, then you can always prep the slow cooker ingredients the night before you're going to make it.
Nobody ever said meal prep only needs to happen on Sunday.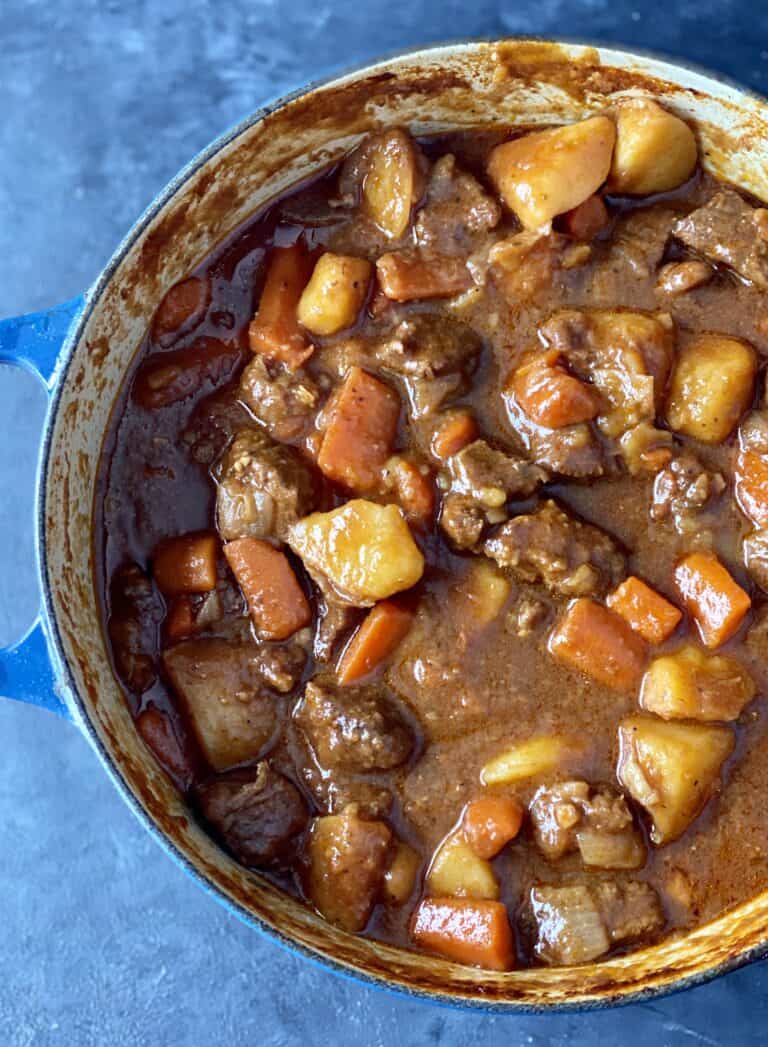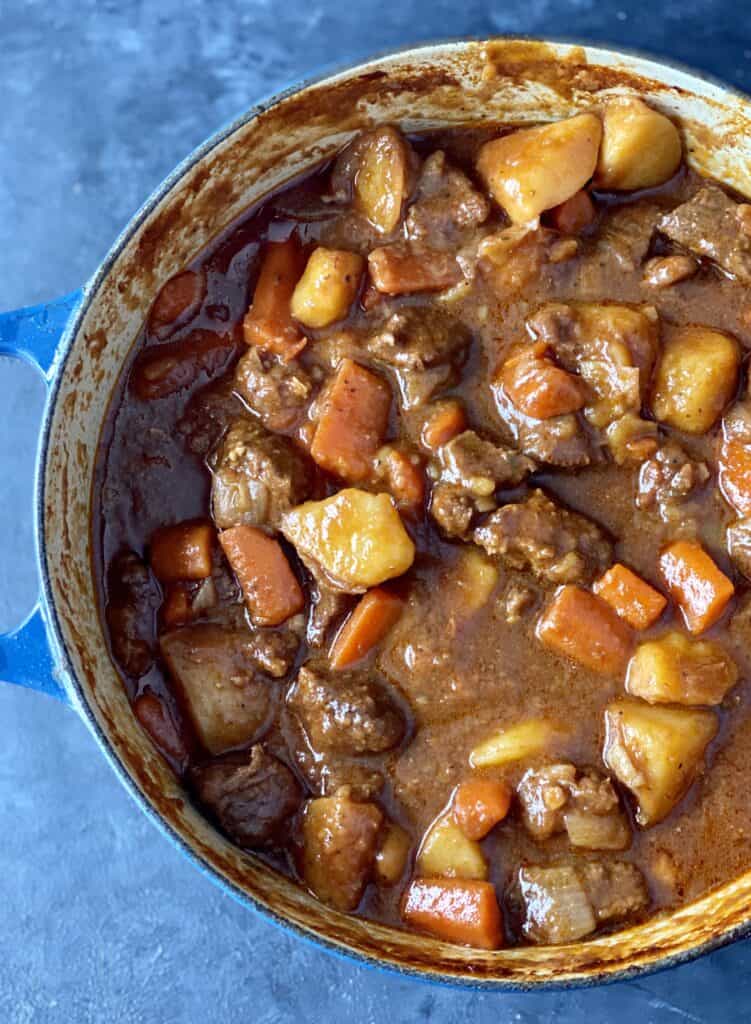 Marinade Chicken or Other Meats Ahead Of Time
One of my favorite ways to meal prep chicken ahead of time is to simply stick it in a marinade to be grilled or baked later on. This method requires no cooking and a minimal amount of time. All you need to do is whip up the marinades and then pour it into a bag with some chicken.
Chicken should be marinated at least 24 hours ahead of time for the best flavor, so this is a great way to have chicken ready to cook during the week.
Plus, you can even do a larger batch and put them in the freezer for later too. Take a peek at some of my favorite freezer chicken marinades!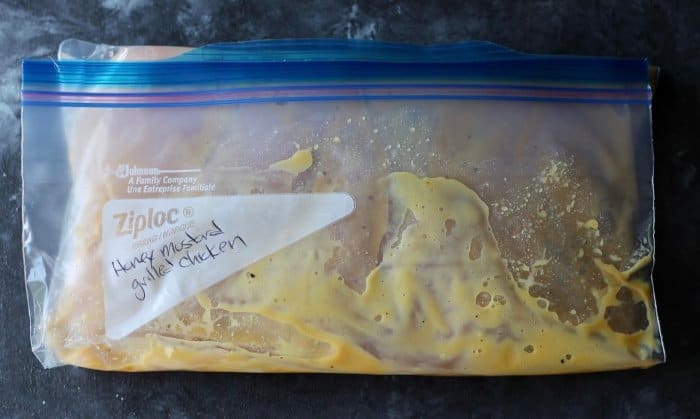 Take The Time To Stuff Chicken Breasts Beforehand
Another way I prep chicken is to stuff the chicken breasts in advance. Again, I do this because I don't like handling chicken and making a mess during the week. I can do this on Sunday and then simply pop the chicken in the oven during the week.
This method requires no cooking until it's time for dinner. All you need is a few minutes to get the chicken stuffed and ready for the week.
I suggest cooking the chicken within 3 days. You can store these in glass meal prep containers and then put them on a baking sheet to cook.
My favorite stuffed chicken recipe is this stuffed cream cheese chicken with everything but the bagel seasoning!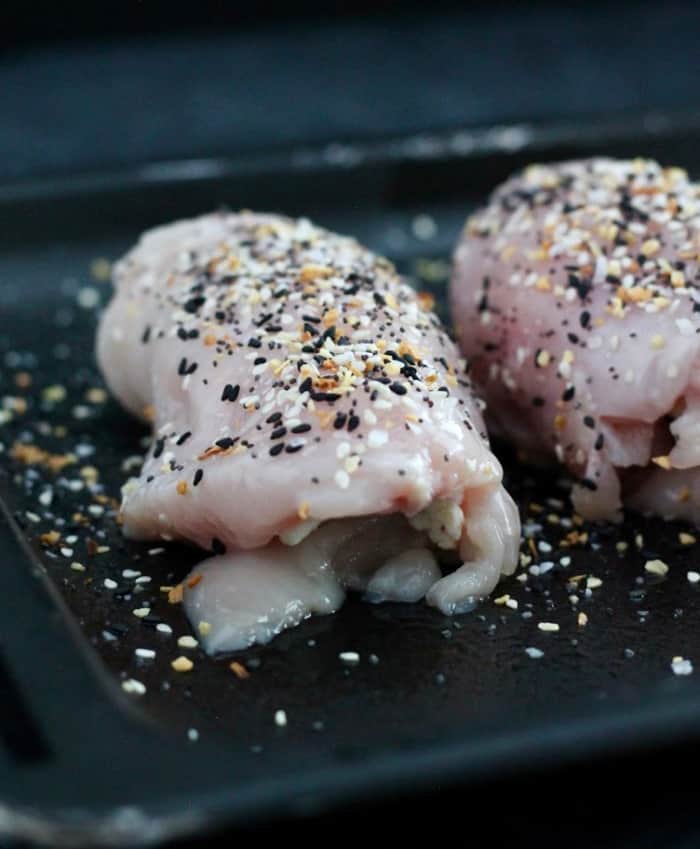 Meal Prep All The Ingredients For A Casserole
This method is somewhat similar to preparing components of a recipe ahead of time but the difference is you put all the of the ingredients together and refrigerate it up to 3 days. Continue with the recipe on the day you're ready to cook.
If you're not going to cook within 3 days, you can freeze everything! Check out this post for some of my best tips and instructions for freezer casseroles.
If you plan on making the casserole within 3 days, I recommend preparing the casserole in the dish it'll be baked in. This way all you need to do is put it in the oven.
This method does take a little more time to cook and prepare but it'll save a ton of time during the week.
Try some of these popular baked casserole dishes: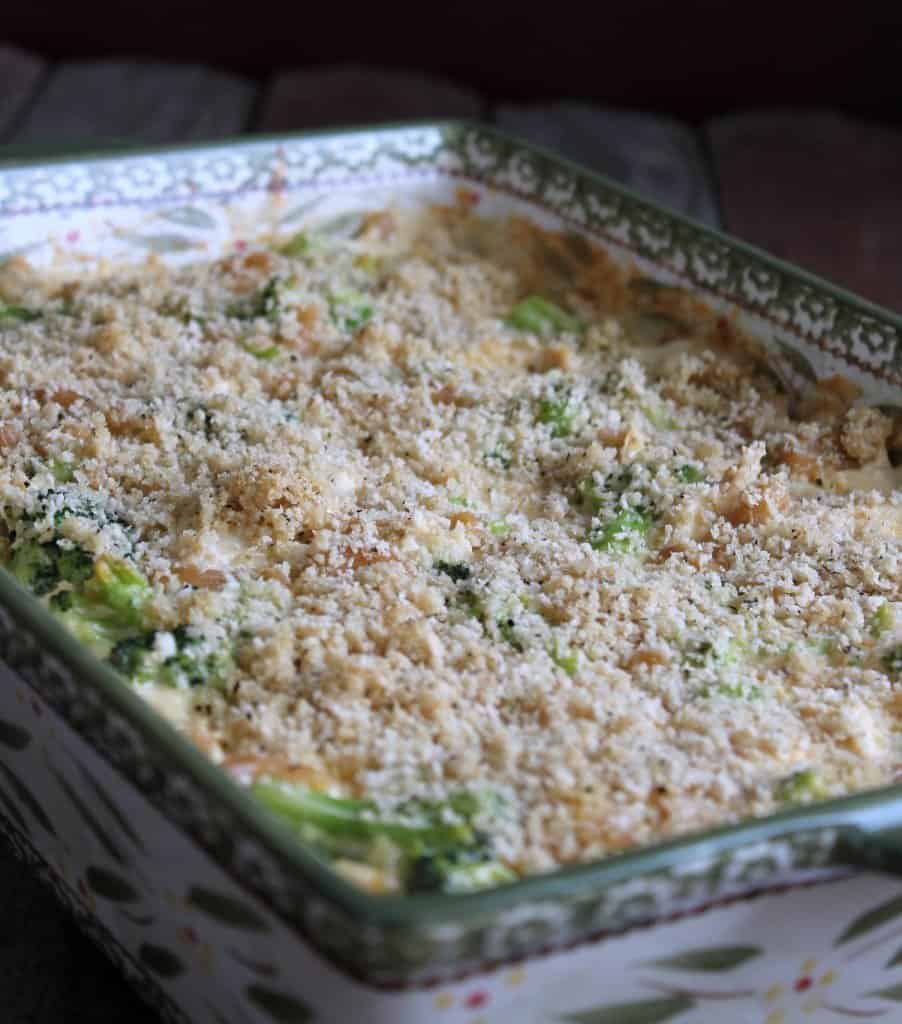 Prepare A Meatloaf A Few Days Before Cooking
One of the easiest dinner recipes I have found to meal prep ahead of time and cook during the week is meatloaf. I prefer turkey meatloaf recipes because they're lower in fat yet they're still super flavorful!
With this cooking method, all you need to do is to follow the meatloaf recipe, prepare it completely, and then refrigerate. I'll either place the meatloaf in the pan I'll use to cook it in or I'll shape the meatloaf on a sheet of aluminum foil and then place it on a dish in the refrigerator.
When I'm ready to cook, I'll put it on a baking sheet and continue with cooking.
I highly recommend making this Greek turkey meatloaf and low-carb pizza turkey meatloaf.
If you're not going to eat the meatloaf right away, or you want to make a few loaves for future dinner then you can freeze meatloaf ahead of time. Here are my instructions for freezing meatloaf!
This is a great method to get dinner prepared ahead of time with minimal cooking on the weekends.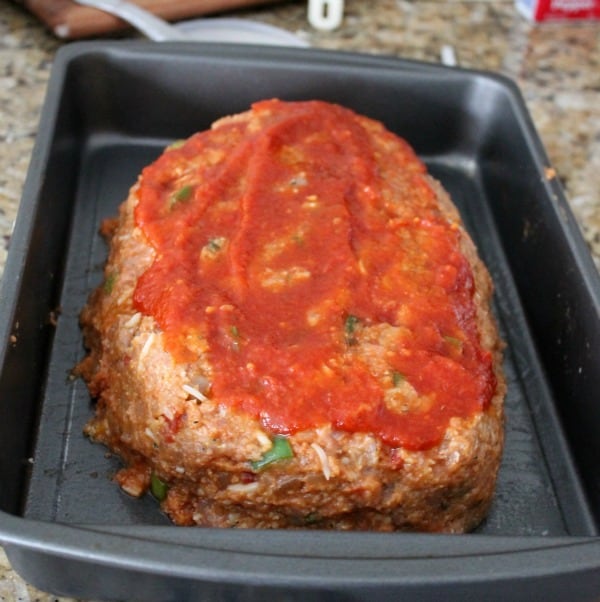 Are You Ready To Meal Prep These Dinner Ideas?
These are my top ideas to meal prep dinner ahead time without having to do much (or any!) cooking. Of course, there are probably a million other methods, tips, and tricks out there but these are the ones I do most often.
The key is to look at the recipe and what your week is going to look like. If you don't want to cook it all ahead of time, then see which components or parts of the recipe can be made in advance.
The goal is to make eating healthier during the week easier by reducing the amount of time your spending in the kitchen.
You can do it!
Meal prep dinner ideas to make your life easier and have dinner ready in no time. Share a picture and tag me on Instagram or Facebook if you decide to make this!