If you're looking for a super flavorful quinoa recipe then you must make this quinoa chicken cajun-style bake. It's filled with tender chicken breasts, meaty mushrooms, and nutritious quinoa. This protein-packed casserole is comforting, wholesome, and delicious.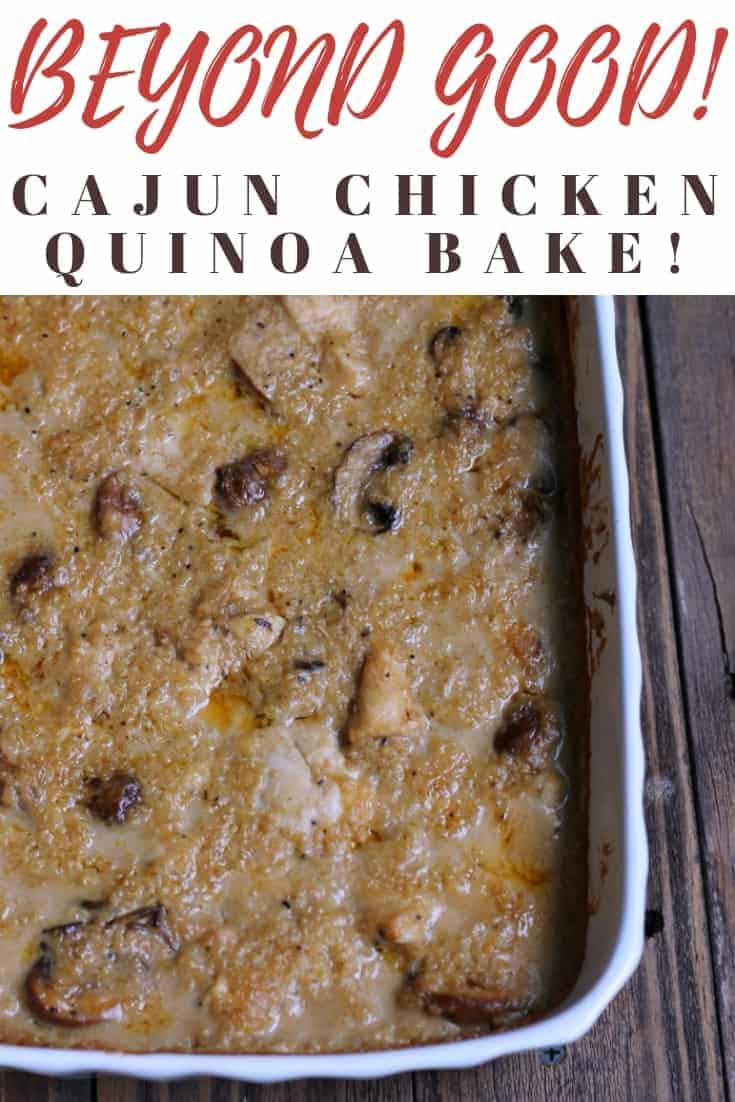 I told you I would be bringing new quinoa recipes your way. Ever since I learned to properly cook quinoa – and used it in a couple recipes – I have been hooked! The first recipe I used quinoa in was a mason jar salad. Delish. Next I made a broccoli quinoa cheddar bake that I still dream about. Today, I give you a quinoa chicken cajun-style bake!
This recipe was inspired from a Cajun pasta dish I had at Tully's. Omigosh it was amazing! Probably, one of the best Cajun pasta recipes I ever tasted. I am positive it was not healthy but it was good and inspired me to make this dish.
What I liked about that recipe was its simplicity. Most Cajun pasta recipes have tons of peppers, onions, mushrooms, and chicken thrown in. Don't get me wrong those recipes are still good – and I created one like that last year – but I really enjoyed the simple flavors of just the sauce, mushrooms, and chicken.
So…I decided to create my own version…enter the quinoa chicken cajun-style bake!
Quinoa Chicken Cajun-style Bake
The first thing I did was place the cooked quinoa in a 9 x 13 casserole dish.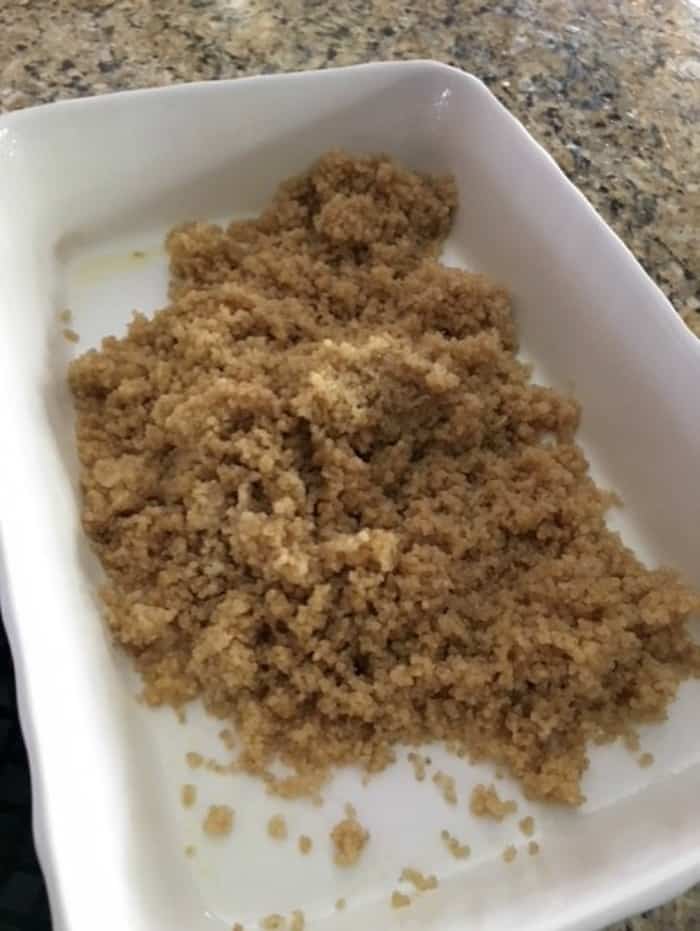 Next I cut the chicken breasts into 1 – 1 1/2 inch chunks. Please note this step can be done ahead of time if you plan bake this during the week. You can even freeze the chicken like this to use later on.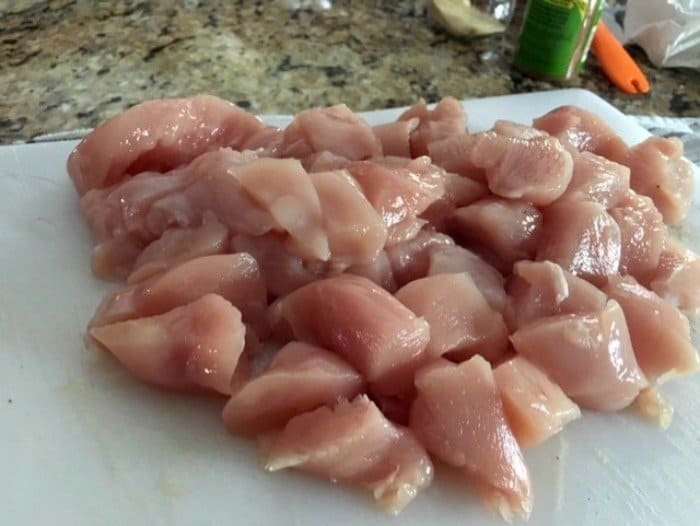 Then I cooked the chicken in olive oil and 1 teaspoon cajun seasoning. I also sprinkled a little salt and pepper on too. After the chicken was cooked I added it to the quinoa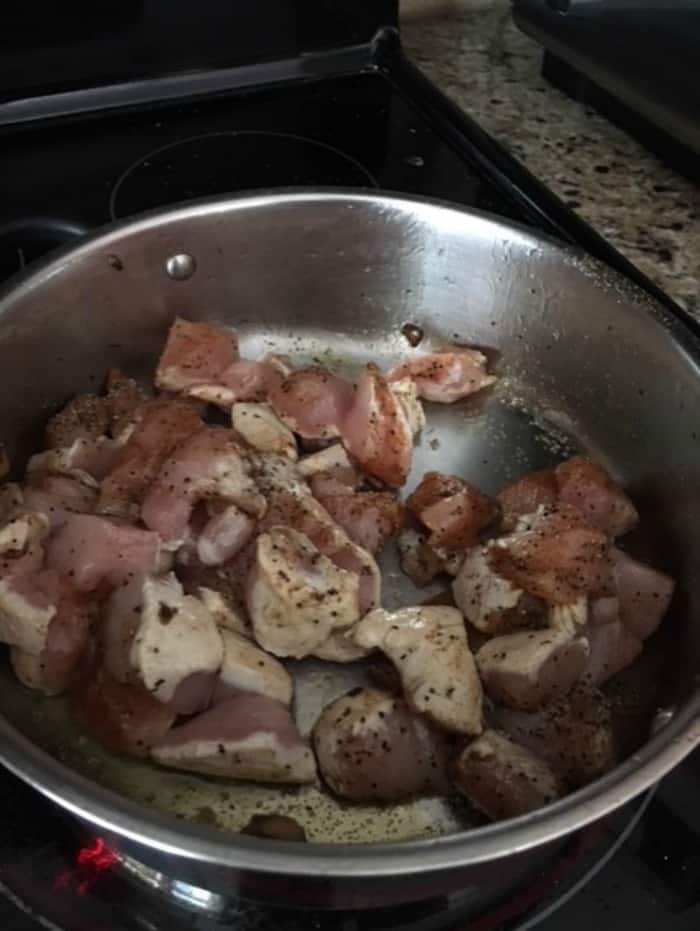 Then, in the same pan, I cooked the mushrooms.
After the mushrooms were done I added them to the chicken and quinoa. The makings of this quinoa chicken cajun-style bake were coming together nicely.
Next I made the sauce quinoa chicken cajun-style bake were coming together nicely. I used chicken stock, milk, and flour to start my sauce. This is the same base I frequently use in my creamy dishes. You can see a variation of this sauce in my broccoli alfredo recipe.
I used some cream cheese and shredded mozzarella to give it a little more creaminess. For flavor I stirred in parmesan cheese, granulated garlic, onion powder, salt, pepper, and of course more cajun seasoning. I added in 3 teaspoons of seasoning. My advice is to start with 2, give it a taste, and then add more if you'd like.
Then before you pour it over the chicken, mushrooms, and quinoa give it a taste for salt. You may or may not need to add a little extra. Typically, I need to add about 1/2 teaspoon but taste and see what you think.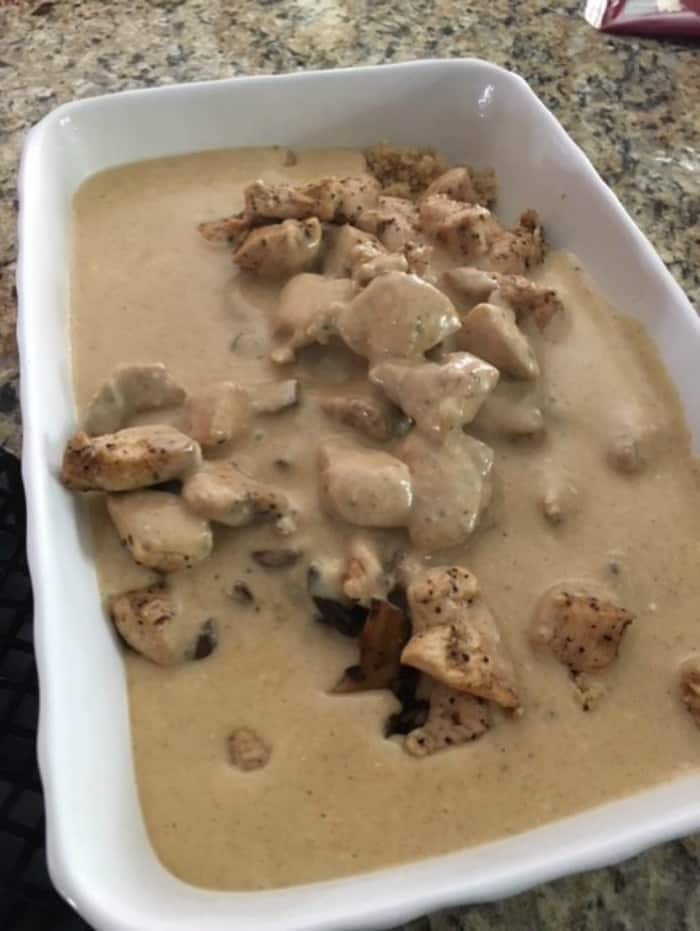 After you pour the sauce into the casserole dish give the ingredients a stir until everything is combined and evenly distributed. I used a 9 x 13 ceramic baking dish for this Quinoa Chicken Cajun-style Bake recipe. I love it but you can also use a glass 9 x 13 pan too. This one by OXO sells for under $19 on Amazon.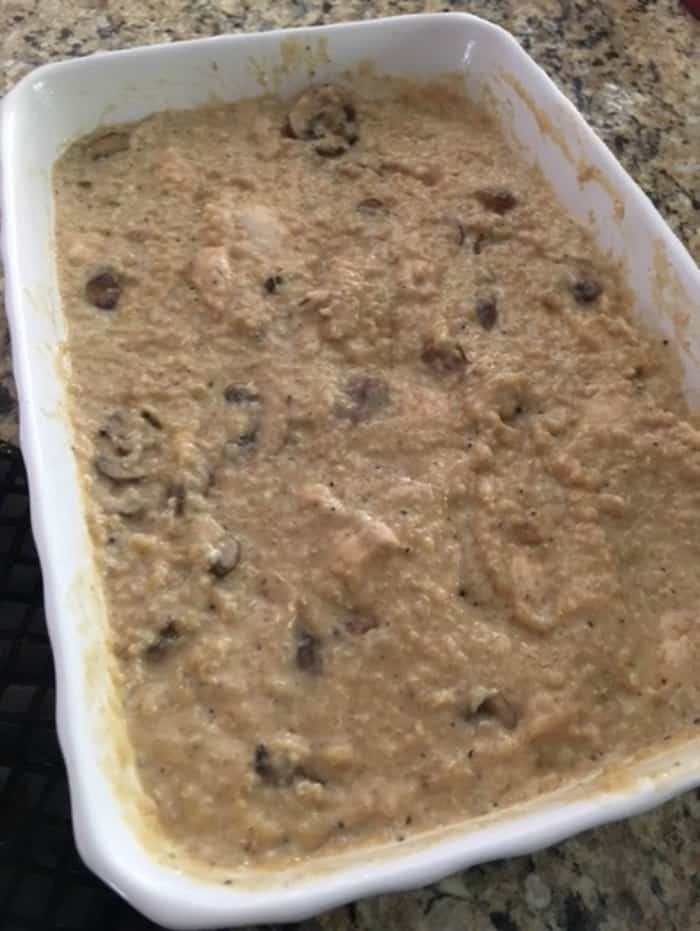 Bake for 45- 50 minutes are until browned on the edges and bubbly.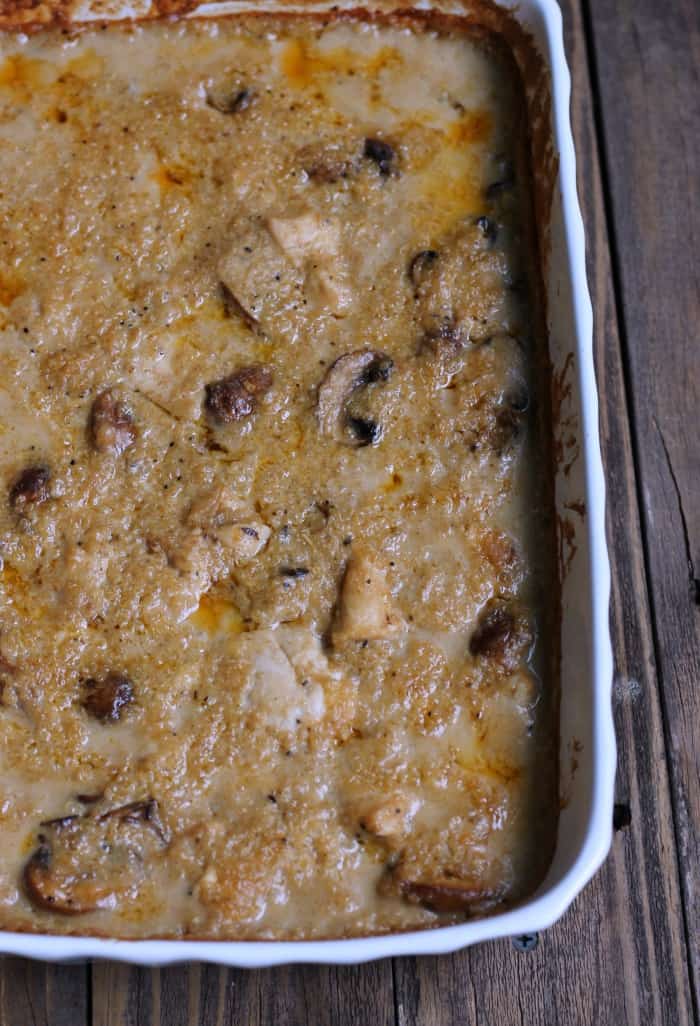 This Quinoa Chicken Cajun-style Bake recipe is so comforting, creamy, and delicious. I love the cajun flavors. It's not too spicy but has just enough kick. My youngest who is not a big "spicy foods" fan tried this and really enjoyed it. If you want more spice just add more cajun seasoning.
You will get about 8 (1-cup) servings from this recipe. Personally, I think 1-cup is very filling, especially if you plan to eat a salad or side with it. But don't worry about leftovers because this Quinoa Chicken Cajun-style Bake recipe freezes great. You can freeze into individual containers for your own homemade lean cuisines. Grab one for a quick lunch or easy dinner.
After the casserole cooled I divided it into 1 cup portions, labeled, and placed into the freezer. I used Ziploc 2 cup freezer containers. They worked great. This recipe also keeps great in the refrigerator for 3-4 days. So it is perfect to make on a Sunday to eat during the week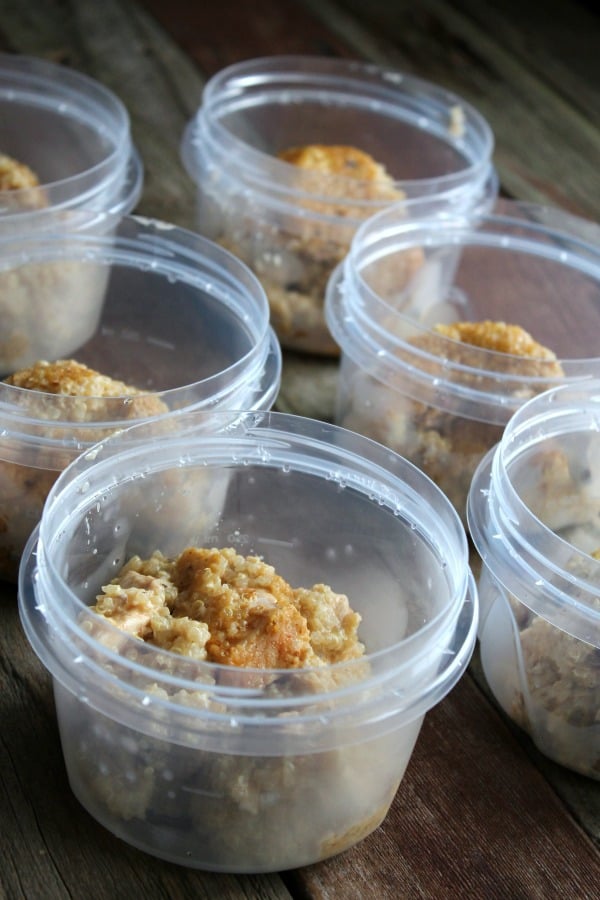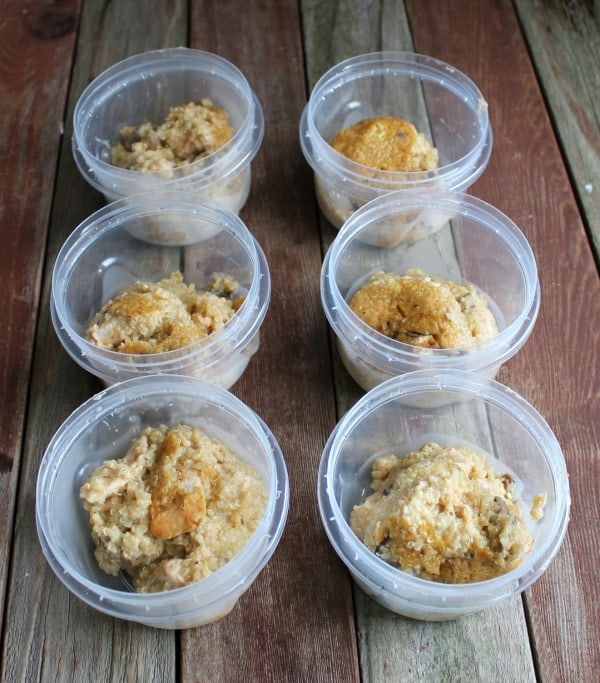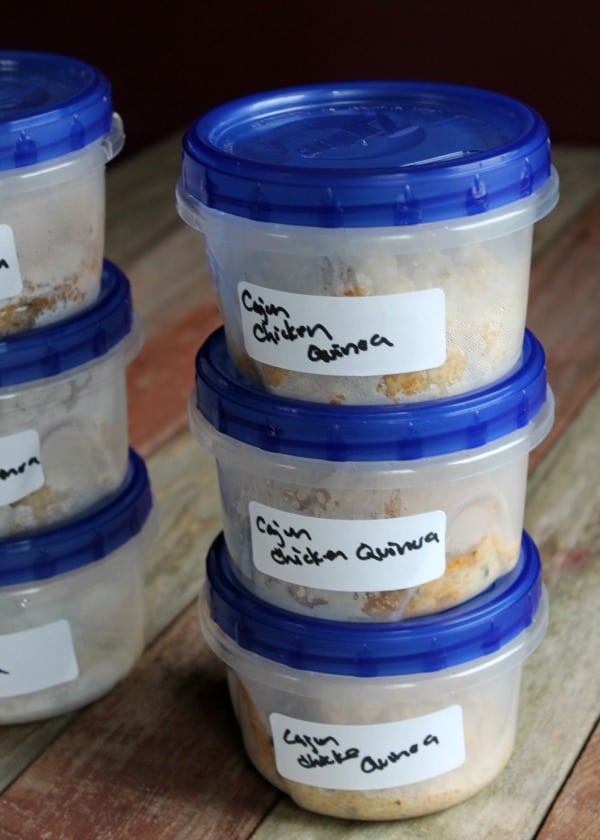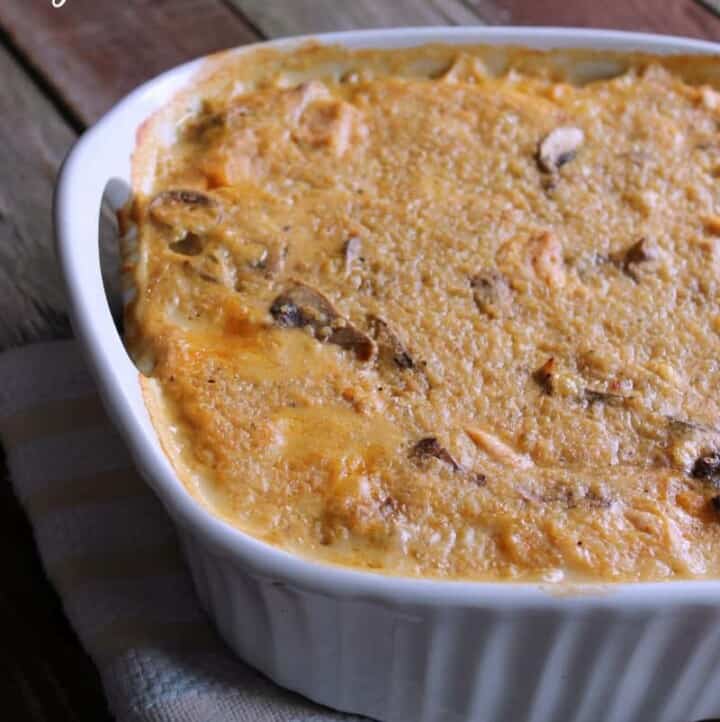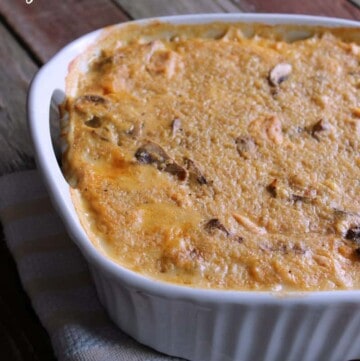 Ingredients
2

cups

cooked quinoa

1.5

pounds

chicken breasts

cut into 1 inch chunks

4

teaspoons

Cajun seasoning

divided

1

tablespoon

olive oil

1

10-ounce package sliced white mushrooms, cleaned

1 1/2

cups

milk

1

cup

chicken broth

2

tablespoons

flour

2

ounces

cream cheese

¼

cup

grated parmesan cheese

1/2

cup

shredded mozzarella cheese

1 ½

teaspoon

granulated garlic

1

teaspoons

onion powder

1/4

teaspoon

salt

1/2

teaspoon

pepper
Instructions
Heat oven to 350 degrees.

Add cooked quinoa to a 9 x 13 pan. Set aside.

In a large sauté pan, heat olive oil over medium high heat then add the chicken breasts, sprinkle with 1 teaspoon cajun seasoning, and cook till both sides are browned and no longer pink in the middle, about 5 minutes on each side. Place cooked cooked in with the quinoa.

Using the same pan cook the mushrooms until soft. if needed ad olive oil. Sprinkle with a little salt and pepper.

Place mushrooms in with the chicken and quinoa.

In the same pan, or using a medium saucepan, pour in the chicken stock and milk. Whisk in the flour until it is dissolved. Cook for 7 - 10 minutes or until the sauce bubbles and it thickens slightly.

Add in the cream cheese and cook until it is melted. Whisk consistently.

Stir in the parmesan cheese, mozzarella cheese, the rest of the Cajun seasoning (3 teaspoons), granulated garlic, onion powder, salt, and pepper. Cook until all the cheese is melted.

Give the sauce a taste for seasoning. Depending on the Cajun seasoning you use more salt might be needed.

Pour the sauce over the chicken, mushrooms, and quinoa. Carefully stir it all together.

Place into the oven and bake for 45- 50 minutes or until bubbly.

Serve hot.
Notes
Make ahead tips
This recipe can be made completely ahead of time and frozen, You can also keep it in the refrigerator for up to 3-4 days.
Nutrition
Serving:
1
g
|
Calories:
257
kcal
|
Carbohydrates:
19
g
|
Protein:
28
g
|
Fat:
7
g
|
Fiber:
2
g
|
Sugar:
6
g