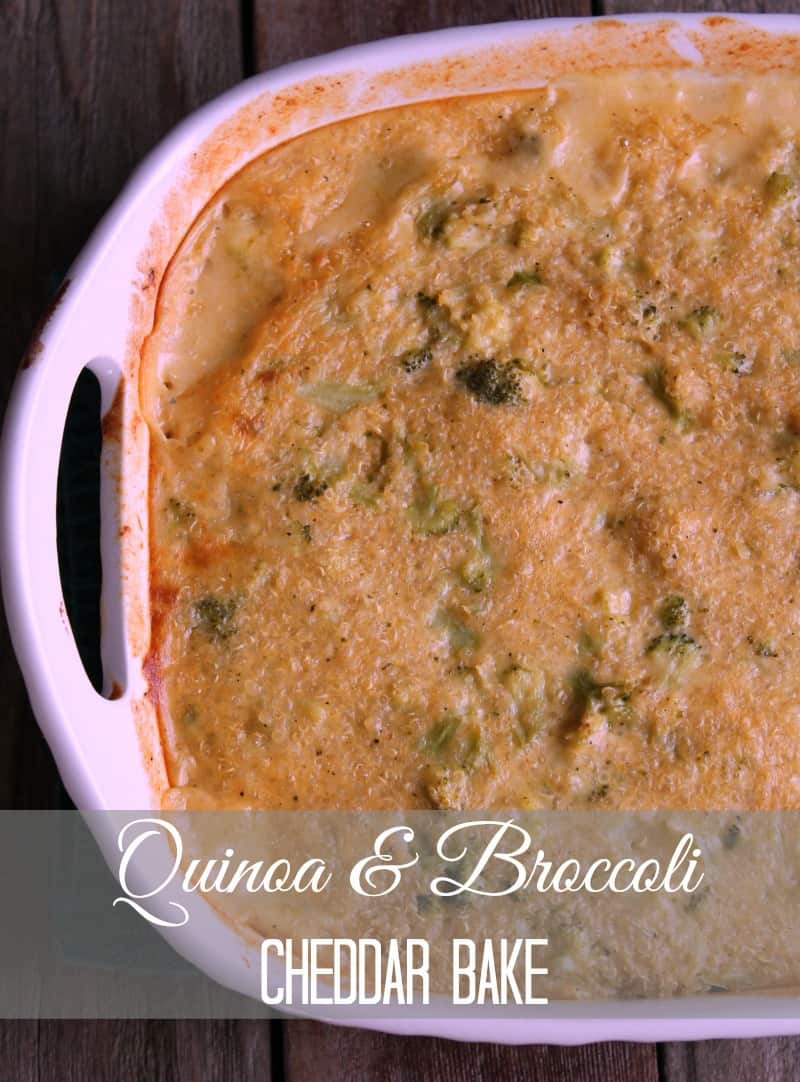 Let's talk quinoa. Seriously, why does it take me so long to discover the beauty of an ingredient? I just don't know.
I used quinoa in a mason jar salad a couple weeks ago and loved the girth it gave to my salad. Sorry the only word I could think of was girth. But you know what I mean. The quinoa provided extra fiber and protein, which made me feel more satisfied after eating it. Plus it soaked up the flavors of the dressing so it was mighty tasty too.
Anyway, I decided to venture out and try quinoa again. This time I was inspired to make a cheesy bake with it. I have seen quinoa used this way a bunch of times on Pinterest and wanted to try it out. Actually, this broccoli and cheddar bake has been on my meal plan for a bout 2-3 weeks now. I don't know why I was hesitating to make this recipe but for some reason I was.
Big mistake.
This recipe is so easy to prepare and absolutely delicious. Honestly, it is one of the best casserole type recipes I ever made. It is cheesy, creamy, and filled with goodness. The quinoa adds a ton of protein and fiber while keeping it somewhat on the low carb side. You will also get a nice dose of vegetables in this recipe with the broccoli. It is like a super food casserole recipe.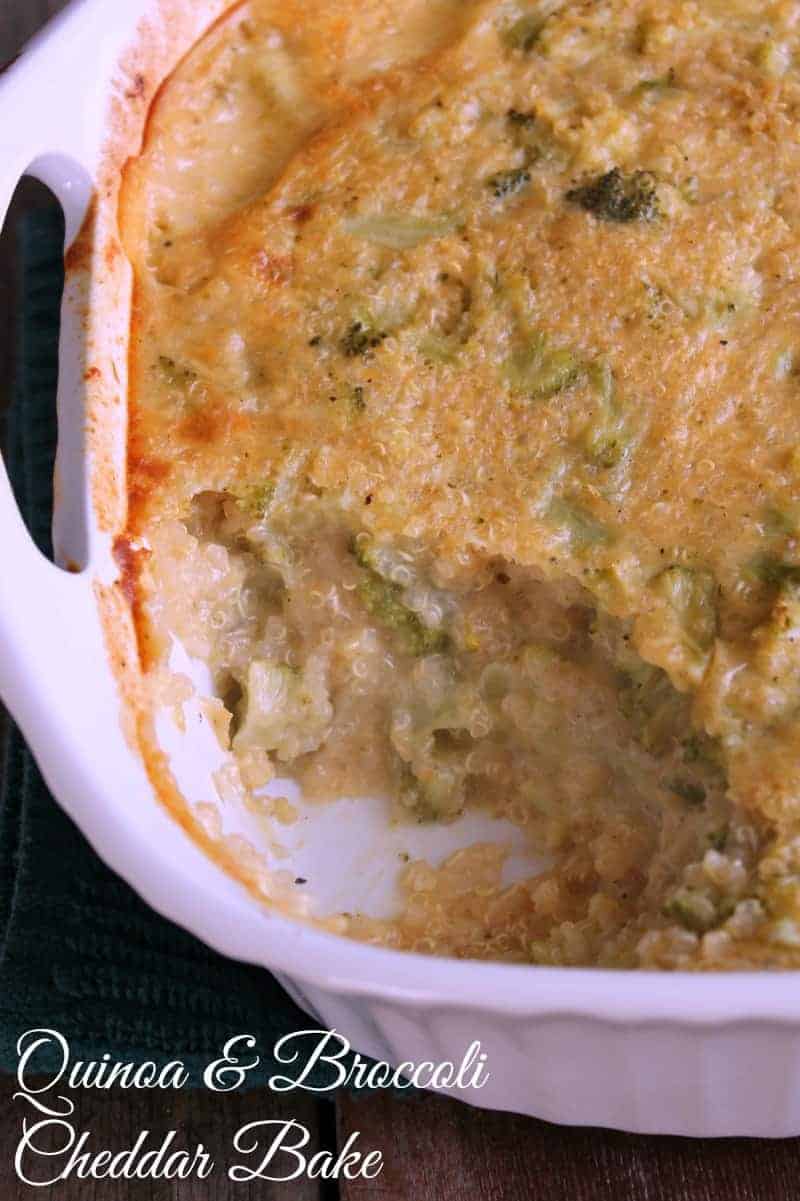 If you are feeling comfort food but trying to stay away from things like macaroni and cheese or chicken and rice casserole then try this quinoa and broccoli cheddar bake instead. This recipe – without a doubt – will curb any comfort food craving. It is delicious! Easily one of my new favorite recipes.
I think one of the reasons I never cooked with quinoa is I just never learned. Now that I am comfortable with it I will be using it more often – a lot more often. Here is a short video I found that talks about quinoa. He provides wonderful easy to follow step-by-step instructions on preparing quinoa. I highly recommend checking it out if you are unsure about quinoa or how to prepare it.
Also, this recipe freezes perfectly. I portioned it out into containers and froze for easy lunches and dinners. I heated it up in the microwave and it came out perfect.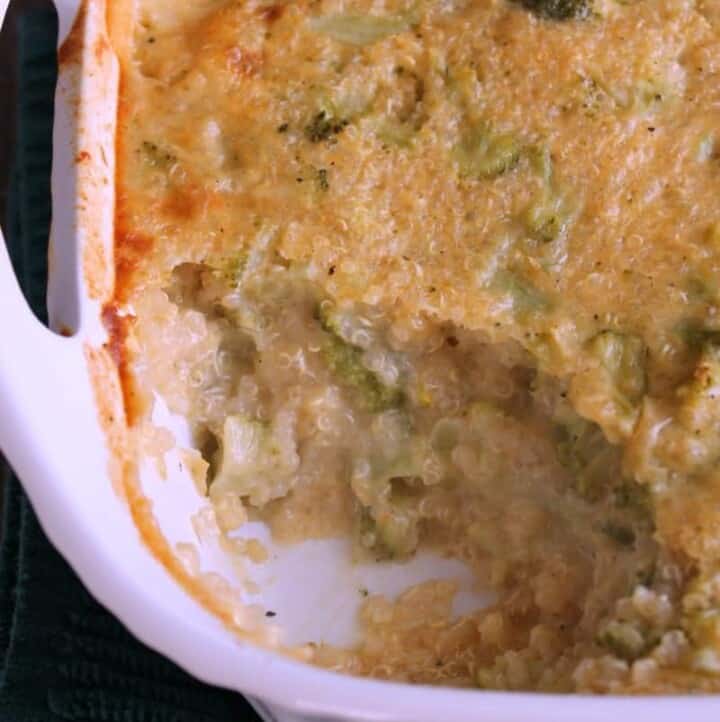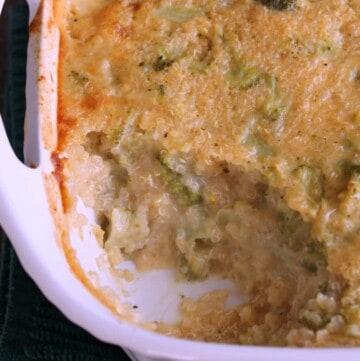 Ingredients
1

cup

uncooked quinoa

3

cups

chicken stock

divided

½

cup

1% milk

2

tablespoons

white whole-wheat flour

½

cup

plain greek yogurt

1

teaspoon

onion powder

1

teaspoon

granulated garlic

¼

teaspoon

salt

¼

teaspoon

pepper

1/2

cup

grated romano cheese

1

cup

shredded sharp cheddar cheese

12-

ounce

bag frozen "steam in bag" broccoli florets and stems
Instructions
Preheat oven to 350 degrees

In a medium sauce pan bring 1 ½ cups of the chicken stock to a boil. Reduce to simmer and stir in the quinoa. Cover and simmer for 10 – 12 minutes. Remove from heat and let it sit covered for another 5 minutes. Fluff quinoa with fork then place into an 8 x8 2 quart casserole dish.

In another medium saucepan, over medium heat, whisk together the rest of the chicken stock (1 ½ cups), milk, and flour. Cook until bubbly and slightly thickened, about 5-7 minutes.

Stir in greek yogurt, onion powder, granulated garlic, salt, pepper, and romano cheese. Cook for another 3 minutes.

Slowly stir in the shredded cheddar cheese. Cook until cheese is melted, about 2-3 minutes. Remove from heat.

Cook broccoli according to package directions.

Place cooked broccoli on top of quinoa in the casserole dish.

Pour cheese sauce over the quinoa and broccoli. Stir until all ingredients are combined.

Bake for 40 minutes or until bubbling on the sides. Let sit for 5 minutes then serve.
Notes
Make ahead instructions
This recipe can be made completely and frozen into portions for an easy lunch or dinner. Reheat in the microwave for 2 minutes on high or until heated through.
Nutrition
Serving:
1
g
|
Calories:
291
kcal
|
Carbohydrates:
30
g
|
Protein:
17
g
|
Fat:
11
g
|
Fiber:
5
g
|
Sugar:
8
g