Delicious Healthy Alfredo sauce with wholegrain pasta and tender broccoli. Perfect for an easy weeknight dinner or freezer to have portioned out meals to eat later on.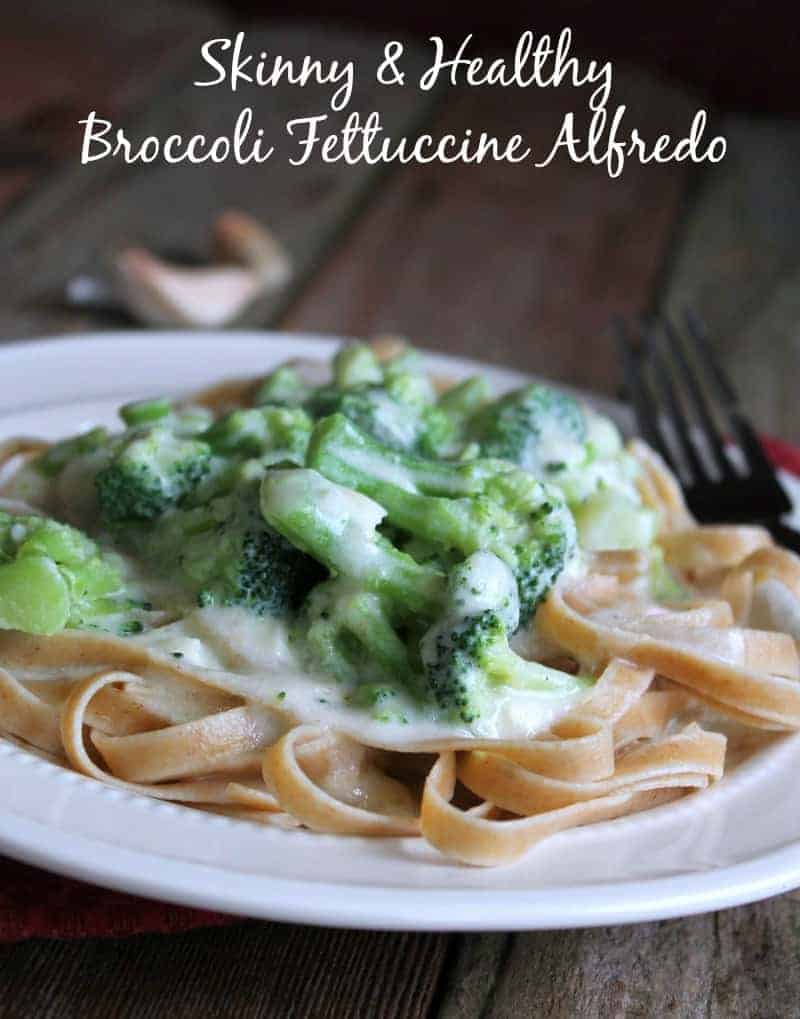 Back in the day, one of my favorite lean cuisines to stock my freezer with was broccoli, chicken, and fettuccine alfredo. At the time I thought it was good and it seemed to serve it's purpose with my busy lifestyle. Now I know better.
Today I try really hard to eat whole foods that are minimally processed. Of course I am not perfect and sometimes, if I am in a pinch, I will still grab a quick meal from the frozen section. But that is more of the exception rather than the rule now. For the most part I try to cook my foods from scratch.
Creating my own homemade lean cuisines or diet freezer meals or portioned out freezer meals or whatever you would like to call them lets me control the ingredients. I can choose to swap out whole grains for white pasta or rice. I can use all organic ingredients. I can bulk up the recipes with more vegetables. Basically, I decide what ingredients go into the recipes I prepare.
Just a FYI these are the ingredients for a Lean Cuisine Alfredo Pasta with Chicken and Broccoli.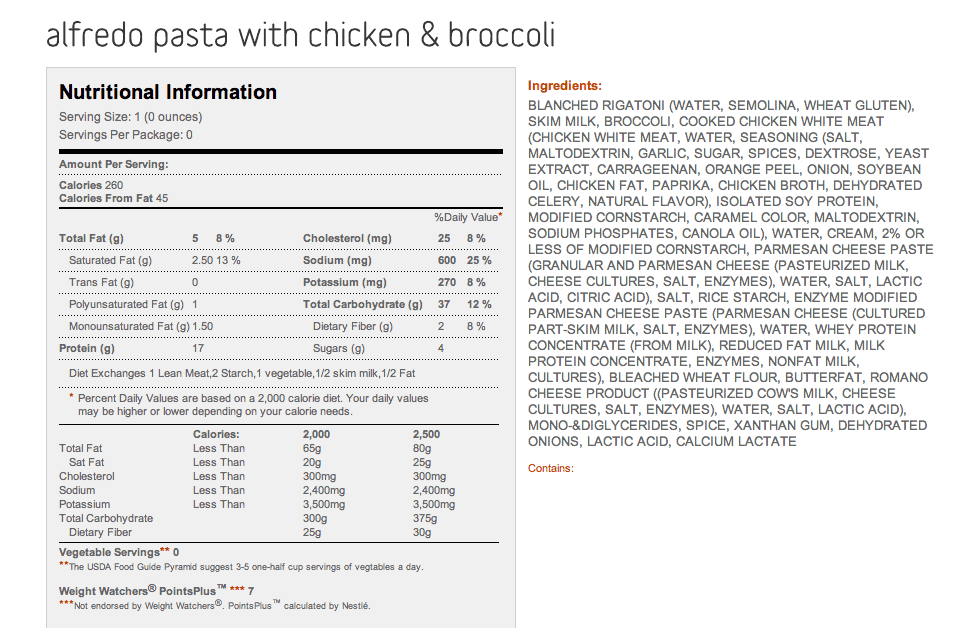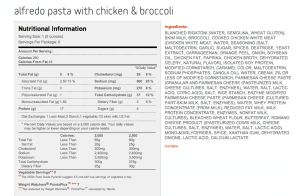 Yikes! As you can see it is filled with lots of ingredients that I am pretty sure I don't have in my kitchen.
For this reason I decided to make my own freezer meals using simple wholesome ingredients.
Of course making portioned out freezer meals from scratch is going to take a little more effort than just purchasing a bunch of lean cuisines. But – in my opinion – it is totally worth it. The result is a better tasting meal that will fill you up and keep you more satisfied than any processed freezer meal can.
In my recipe I chose to leave the chicken out. Mostly, because I already had a bunch of chicken recipes in the freezer and I like to have vegetarian options. If you want to add chicken I recommend a 1.5 lbs of chopped chicken.
Healthy Alfredo with Pasta and Broccoli
Let's talk about the sauce. Because really the creamy alfredo sauce is what makes this recipe. I have been making different variations of this cream sauce for a while. It is a great base and I have used it in a variety of recipes. You can find it in my chicken and broccoli cheddar quinoa bake, buffalo macaroni and cheese, and also my chicken broccoli pasta bake. You will different spices used and maybe other things like yogurt or other ingredients thrown in but for the most part the base stays the same.
The base for my cream sauce is chicken stock, milk, and flour. I use white whole wheat flour but you can use any flour you like. The purpose of the flour is to thicken the sauce so keep that in mind. These three ingredients will give you the thick base. From there you add what you like.
For my alfredo sauce I did things a little differently. I love a garlicky alfredo sauce. Like really garlicky. So I decided to sauté some fresh garlic before adding in the base ingredients. I also decided to use a little nutmeg. A traditional alfredo sauce includes nutmeg. It is one of those ingredients where you know something tastes great with the recipe but you can't quite make it out. It's the nutmeg. I use it in broccoli and cheddar soup too and it is fabulous. But if you hate nutmeg then leave it out.
After the garlic and nutmeg sauté together for a minute or so I pour in the chicken stock, milk, and then whisk in the flour. Bring the sauce to a boil and then let it simmer for about 7 – 10 minutes. Make sure to occasionally give it a whisk so it doesn't burn at the bottom. I know at first it might seem like this sauce won't get thick but trust me it does. And it continues to thicken as it sits.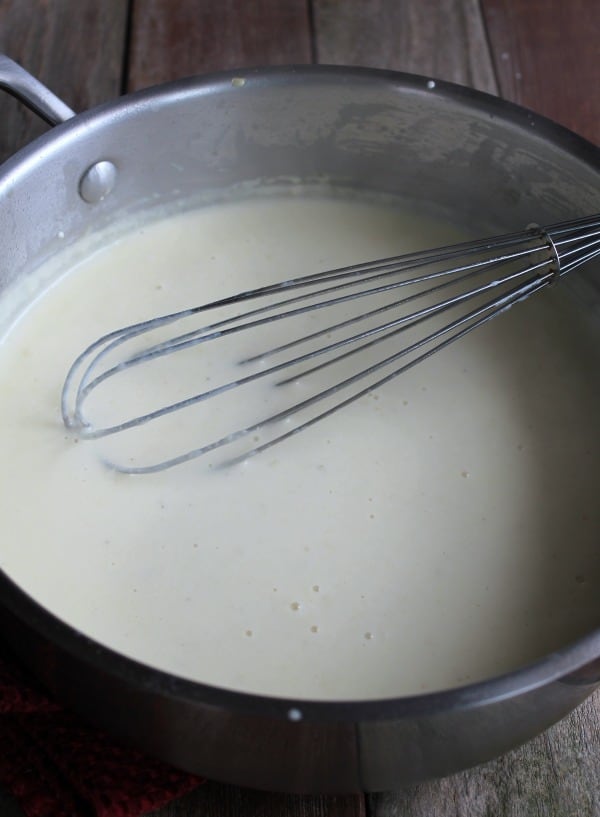 After the sauce thickens a bit stir in the broccoli. I use organic "steam in bag" broccoli. This makes it easy for me. But if you would rather steam up fresh broccoli then go for it. Whatever works for you.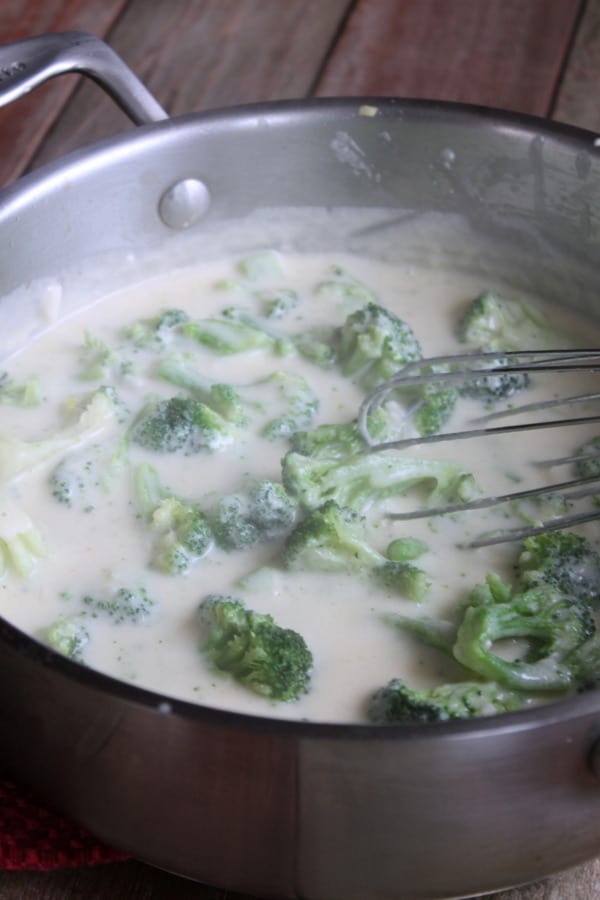 Then once the broccoli is in and coated with the sauce serve it over whole grain pasta and eat.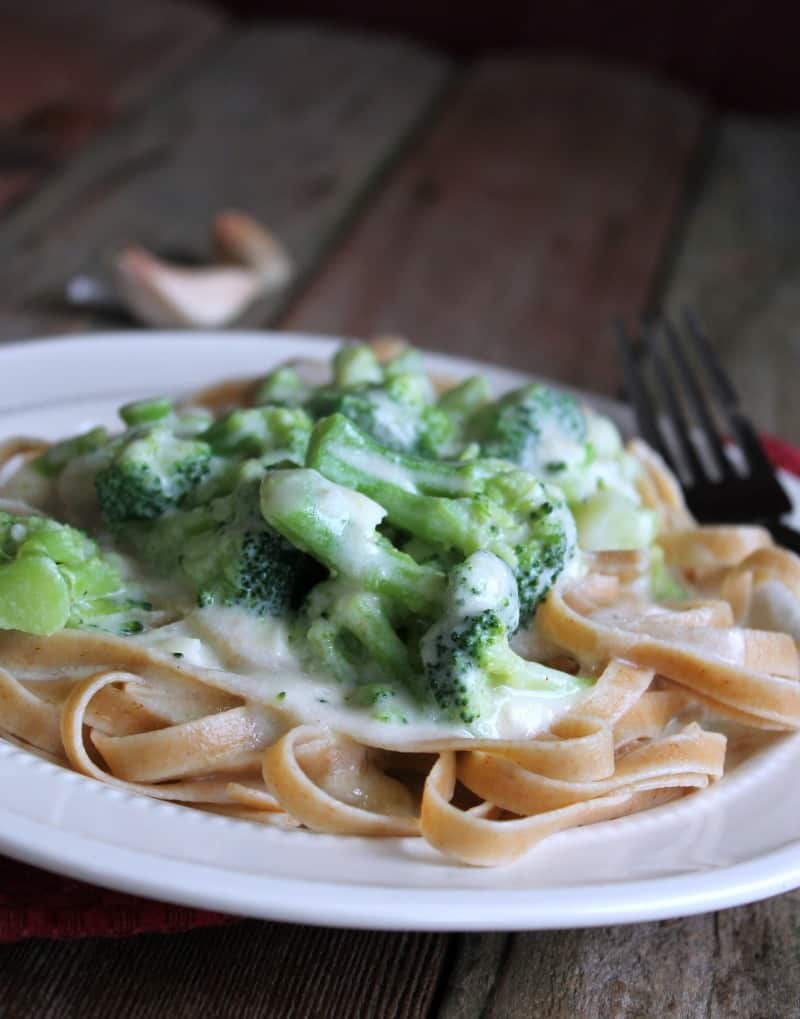 If you would like to portion this recipe out into freezer meals then here are the instructions.
I prepared 1/2 pound of whole grain fettuccine pasta. After the pasta was done I divided it up between 6 ziplock freezer containers. It measured about 3/4 cup of cooked pasta per container. Then I added the sauce. To make it easier I divided the broccoli up between the containers then I poured on the sauce. It was about 1 cup of sauce per container. Maybe a little more. As you can see I kept the sauce separate from the pasta. This will keep your pasta from getting mushy.
The containers used for this recipe are Ziploc medium round containers. I also like Gladware entree containers. Those are perfect for portioned out freezer meals. If you are trying to decide on containers just make sure it can hold about 3 cups of food.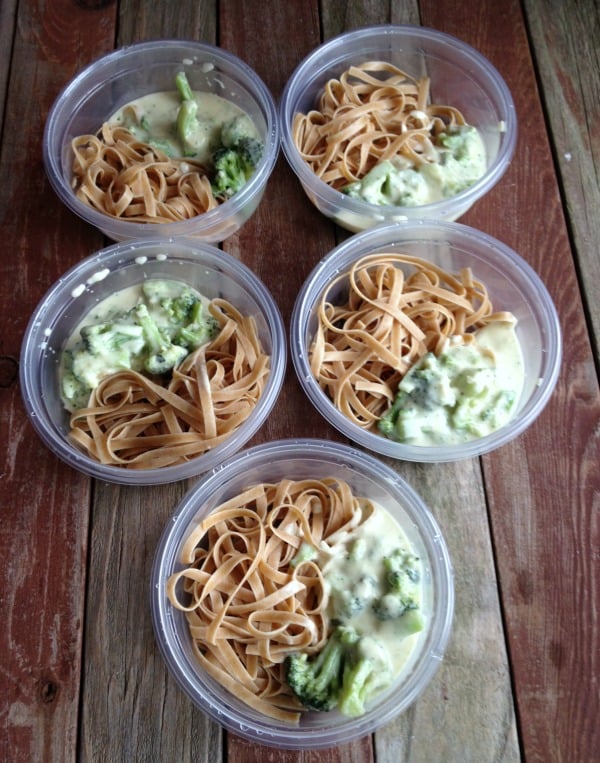 Next I put the lids on, labeled them, and placed in the freezer.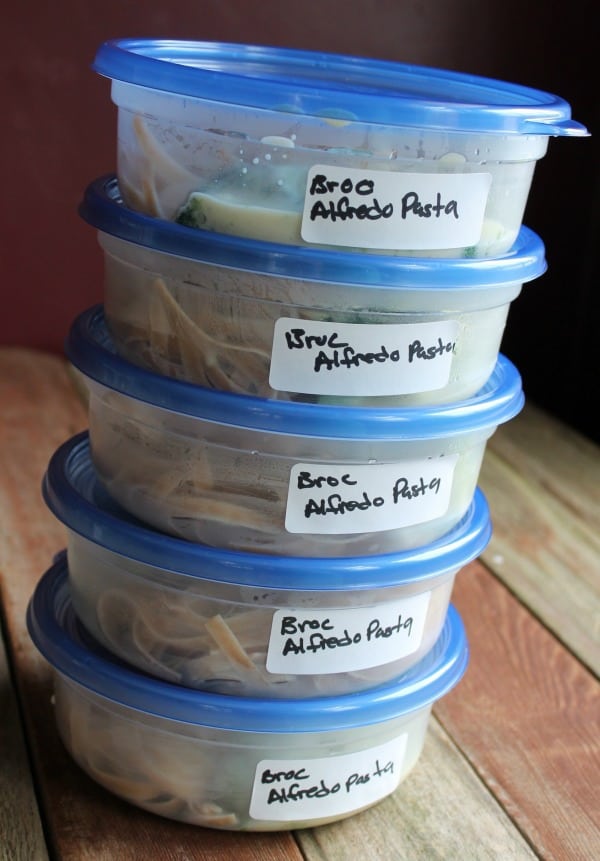 When I heat up these freezer meals I run the container under warm water then place the meal into a bowl. You can warm it up in the container but I prefer not to heat things up in plastic. But its up to you. I heat the broccoli alfredo pasta up for 2 minutes, give it a stir, and then heat up for another 1 minute. For me this was the perfect amount of time but your time might be different depending on your microwave.
These portioned out Skinny and Healthy Broccoli Fettuccine Alfredo freezer meals are 248 calories and 6 weight watchers points each.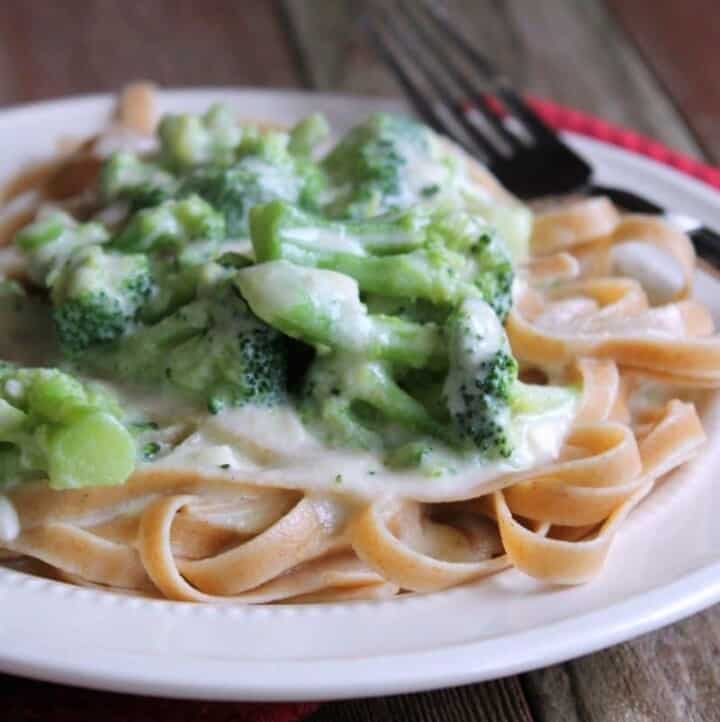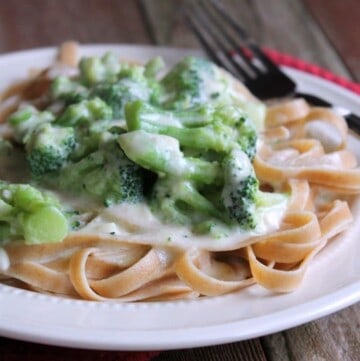 Healthy Alfredo with Broccoli
Delicious healthy Alfredo sauce with wholegrain pasta and tender broccoli.
Print
Pin
Rate
Ingredients
½

pound

whole wheat fettuccine pasta

1

tablespoon

olive oil

6

garlic cloves

finely minced

1/8

teaspoon

nutmeg

1 ½

cups

chicken stock

1

cup

1% milk

2

tablespoons

flour

1/2

cup

parmesan cheese

½

teaspoon

salt

¼

teaspoon

black pepper

1

12-ounce bag frozen "steam in bag" broccoli florets
Instructions
Cook pasta according to package directions and then set aside.

In a large skillet or sauté pan heat the olive oil over medium high. Add the garlic and nutmeg and cook until fragrant, about 1-2 minutes. Do not let the garlic overcook because it will taste bitter.

Pour in the chicken stock and milk then whisk in the flour. Whisk until the flour is completely dissolved.

Let the sauce cook, over medium, until it is bubbly and starts to thicken. This can take about 7-10 minutes. Keep an eye on the sauce and whisk occasionally as it cooks.

Whisk in the parmesan cheese, salt, and pepper. Cook for another 3-5 minutes. **Please note the sauce will continue to thicken as it sits.

Cook the broccoli according to the package directions. Place the cooked broccoli in with the sauce and stir until it is completely coated with sauce.

Serve hot over the fettuccine noodles.
Notes
Make ahead instructions
This recipe can be made completely ahead of time and turned into freezer meals. You can also refrigerate the sauce for up to 3 days or freeze up to 3 months. Heat on the stove and serve with hot pasta.
Nutrition
Serving:
1
g
|
Calories:
248
kcal
|
Carbohydrates:
35
g
|
Protein:
13
g
|
Fat:
6
g
|
Fiber:
5
g
|
Sugar:
6
g