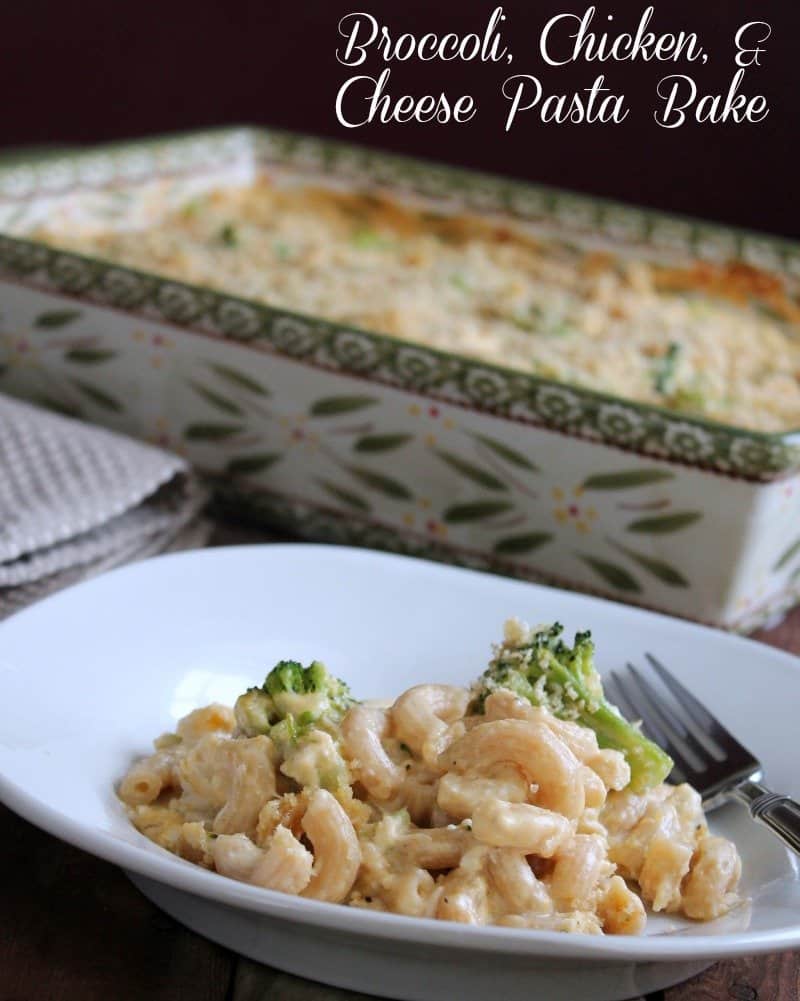 This week I am on a low carb and comfort food kick! Monday I posted my new Turkey Chili Mac recipe; yesterday a new "no bread" roll up recipe went up; and today I give you a delicious comforting Broccoli, Chicken, and Cheese Pasta Bake.
I know it might seem a little odd but those who know me personally will tell you there is always a method to my madness. Well not really, half the time I don't even know what day it is. But I will say this… there is a need, place, and role for both low carb and comfort food in your life. They are like the ying and yang of food. You need both. Without one life gets all off balanced – at least it does for me.
Let's talk about this pasta bake. Originally, this recipe was supposed to include rice not pasta. Well, all week I thought I had rice in my pantry. Then this morning I go to get it and guess what? No rice. Sigh. I had no desire to head out into the freezing cold to get rice so I decided to figure out a substitute. I saw I had 2 cups elbow macaroni left over from the Turkey Mac so that is what I went with. Who doesn't love a good hearty pasta bake on a snowy day? It was meant to be.
I cooked the pasta al dente – actually very al dente. The pasta should still be very firm when you put into the casserole dish. Don't worry it will finish cooking as it bakes.
For the chicken I cooked 3 chicken breasts in my slow cooker earlier in the week. I used this basic shredded chicken recipe but I chopped it up instead of shredding it. I ended up with about 3 cups chopped chicken. You could always use a rotisserie chicken if you didn't prepare chicken ahead of time.
To keep this recipe easy I used frozen broccoli florets. You can use fresh broccoli but then you need to clean it, chop it, and steam it. If that does not bother you then use fresh. For me the "steam in" bags of frozen broccoli are where it's at.
Put the pasta, chicken, and broccoli in a 11 x 13 casserole dish as you cook the cheese sauce.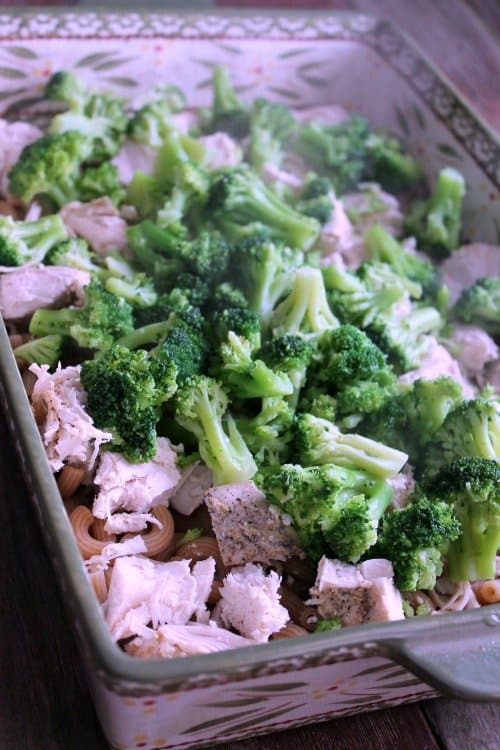 To keep the cheese sauce on the lighter side I used a combination of chicken stock and 1% milk. I flavored it with granulated garlic, onion powder, and dry mustard. It get's its cheesy creamy consistency from cream cheese, grated parmesan, and shredded cheddar.
When the cheese sauce is done pour it over the pasta, chicken, and broccoli. Give it a couple stirs until it is evenly distributed and coats all the ingredients.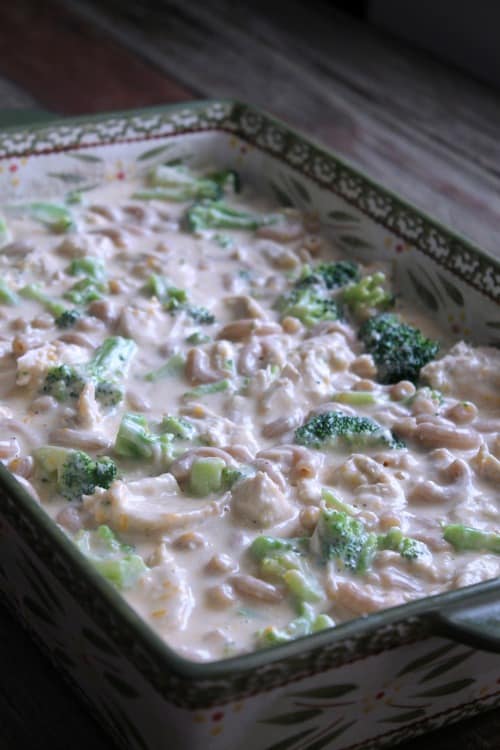 For the crunchy topping take ½ cup panko breadcrumbs and mix with 1 tablespoon of melted butter. I used to just put the panko on top without the butter but the butter makes it so much better.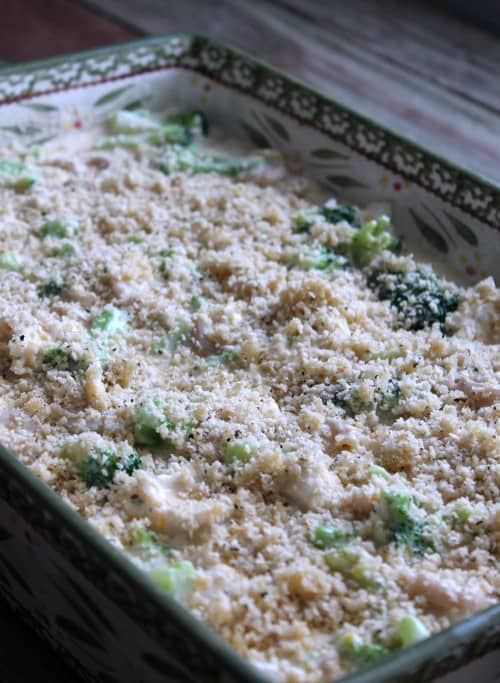 Then stick it in the oven at 350 degrees cook for 30 minutes. It will become bubbly, thick, creamy, and golden brown on top. Deliciously comforting in every way, shape, and form.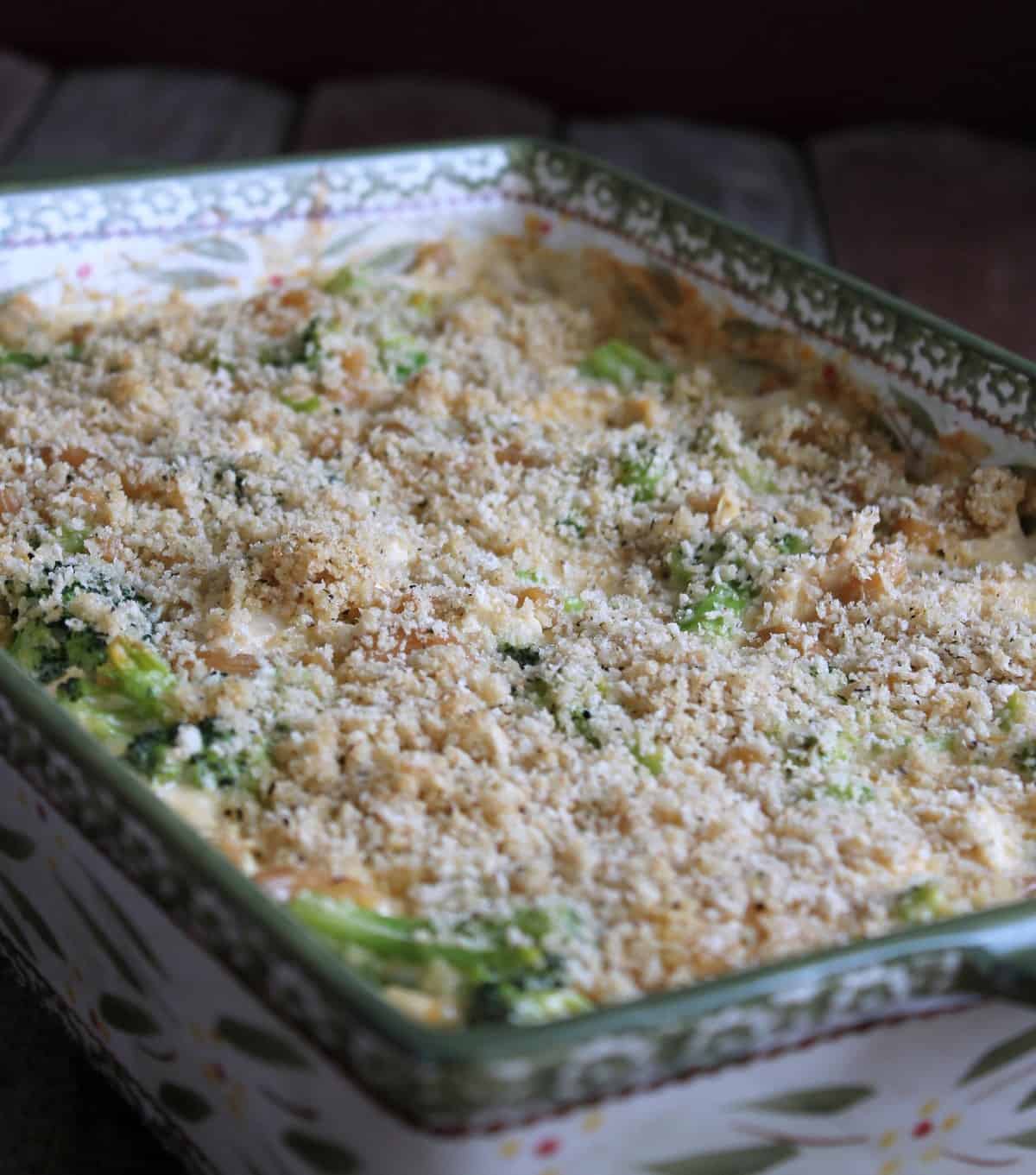 A 1 cup serving of this baked pasta is 259 calories and 7 weight watchers points plus. The calories and points are kept under control because this pasta bake is filled lean chicken and broccoli – not just pasta. Also substituting chicken stock for some of the milk helps to reduce fat and calories. Enjoy!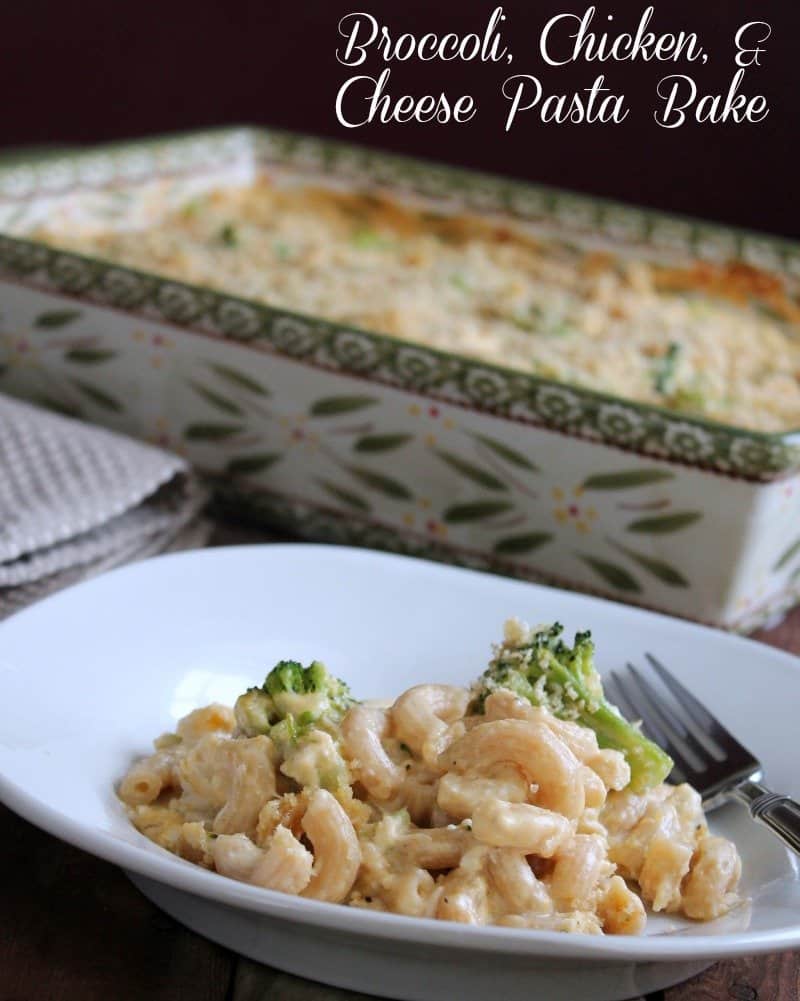 Ingredients
1

lb

dry whole-grain short pasta

elbows, fussili, or penne

3

cups

chopped or shredded cooked chicken breast

12

ounce

"steam in" package frozen broccoli florets

cooked according to package instructions.

2

cups

chicken broth

1 ½

cups

1% milk

3

tablespoons

flour

1

teaspoon

granulated garlic

1

teaspoon

onion powder

½

teaspoon

dry mustard powder

½

teaspoon

salt

4

ounces

cream cheese

cut into small chunks

½

cup

grated romano cheese

2

cups

shredded cheddar

½

cup

whole grain panko crumbs

1

tablespoon

butter
Instructions
Preheat oven to 350 degrees

In boiling hot salted water, cook the macaroni until it is very al dente, only about 5 minutes. The pasta should still be very firm. Drain and place pasta into an 11 x 13 casserole dish coated with cooking spray.

Place the chicken and broccoli on top of the pasta.

Pour the chicken broth and milk into a medium pan. I used the same pan the pasta was cooked in.

Whisk in the flour.

Cook over low to medium heat until it is thick and bubbly, about 10 minutes or so. Whisking consistently.

Whisk in onion powder, granulated garlic, dry mustard powder, and salt.

Add in cream cheese and stir until it is completely melted, about 5-7 minutes.

Slowly add in the parmesan and shredded cheddar cheese. Stir until completely melted, about 3-4 minutes.

Pour cheese mixture over the chicken, broccoli, and pasta. Stir until all ingredients are combined and evenly distributed.

Using a small microwave safe bowl, melt one tablespoon of butter in the microwave for about 25 seconds or until completely melted.

Combine butter and panko crumbs. Sprinkle crumb mixture over the top of the pasta mixture.

Bake for 30 minutes or until browned and bubbly.
Notes
Make ahead instructions
This recipe comes together relatively easy when you have the chicken prepared ahead of time.
You can also completely assemble this meal and freeze before you bake. When ready to use let thaw overnight in the refrigerator and then continue with cooking. You might need to allow more time if it is still partially frozen.
This recipe can also be cooked completely and frozen into portions. Reheat on stove in the microwave. You might need to add a little chicken stock or milk to loosen it up a bit and make creamy.
Nutrition
Serving:
1
g
|
Calories:
259
kcal
|
Carbohydrates:
26
g
|
Protein:
17
g
|
Fat:
12
g
|
Fiber:
3
g
|
Sugar:
7
g