This baked ziti recipe is the ultimate Italian classic comfort food! Pasta baked with a delicious red sauce, ricotta cheese, and mozzarella melted on top. Add in some ground beef or sausage. You can easily make this meatless for your vegetarian guests as well! This lightened-up version does not skimp on the bold Italian flavors or cozy comfort that you look forward to with a pasta casserole baked with sauce and cheese. It can be assembled ahead of time for a make-ahead Sunday dinner or a holiday party.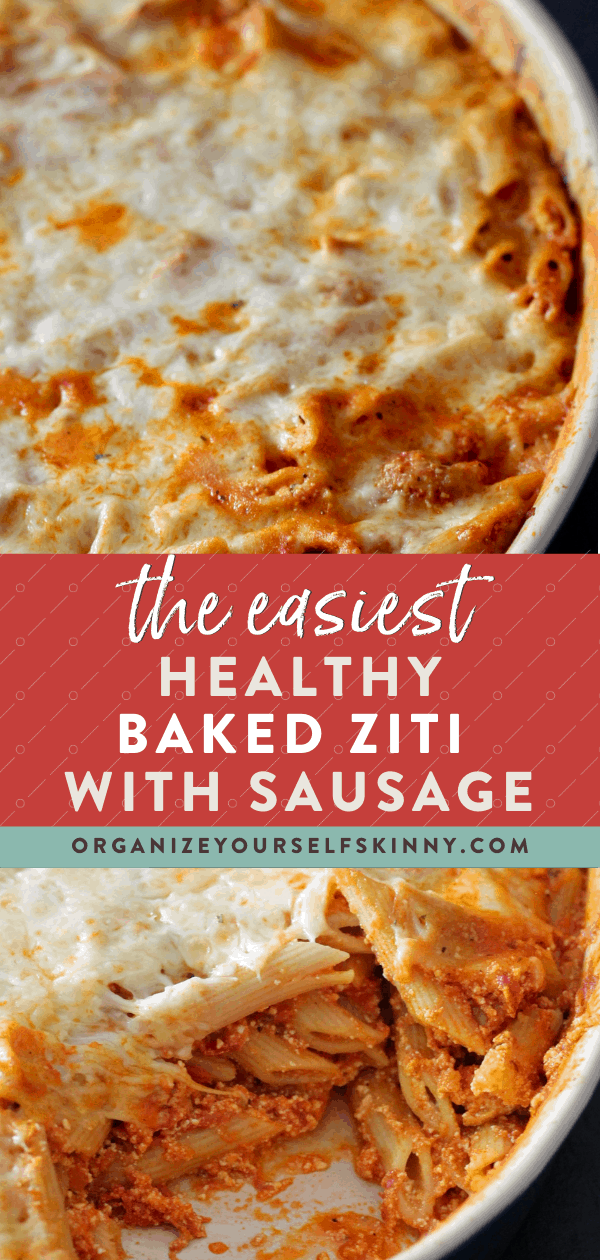 Today, I want to share with you a recipe I've made for my family over a hundred times. This baked ziti recipe is my go-to casserole for a crowd whether it be just my family for Sunday dinner or a big holiday party! You can also easily assemble it ahead of time and keep in the refrigerator or freezer.
I'm going to offer some tips for lightening up baked ziti without losing that classic Italian American flavor.
Frequently Asked Questions About Baked Ziti
Baked ziti is one of those recipes that taste like you've been working all day in the kitchen but it's seriously one of the easiest recipes to throw together.
Before I get to my easy baked ziti recipe, let's go over some common questions you might have along the way.
What is baked ziti?
Baked ziti is ziti pasta mixed with a ricotta cheese mixture, spaghetti sauce, covered in mozzarella, and baked till it's hot and bubbly. There are so many variations, which I'll go over some in a minute, but that's the classic version.
It's basically an easier way to make lasagna- same ingredients just a shorter pasta and everything is mixed together instead of layered and baked.
What type of pasta should I use for baked ziti?
For this classic Italian recipe, you are going to want to use a ziti shaped noodle. If you are not able to find it, penne pasta is a really good substitute.
How can I make baked ziti healthy?
Of course, baked ziti is never going to compare to a salad or chicken and veggies recipe when it comes to low carbs or light on calories but there are some things you can do to keep the calories in check.
Here are 5 ways to keep this baked ziti recipe healthy:
Portion-control! This is first on the list because it's the number one way you'll be able to create a healthier recipe and enjoy it as part of your meal plan.
Measure out the portion you're going to eat. Again, as long as you know how much you're eating ahead of time you can fit it into your daily calories. When you don't portion out a serving then you can easily eat 2-3 servings without evening knowing it. That can be the difference between 500 calories and 1500 calories.
Use whole grain pasta. This doesn't change the calories too much but it will add a lot more nutritional value to the recipe. It will increase the fiber and protein in the recipe along with other nutrients.
Use part-skim ricotta and mozzarella. Of course, whole milk adds more creaminess to the baked ziti but overall, there really isn't a huge difference.
Use clean sauce or homemade. There's a lot of hidden sugar in jarred spaghetti sauce so you want to purchase a high-quality low sugar sauce. My favorite, and one I use all the time, is Rao's marinara sauce. It's on the pricier side but it's totally worth it. Plus you can really stretch the sauce in this recipe. Of course, making your own sauce is best because you control the ingredients. Here's my favorite slow cooker marinara sauce recipe.
Which vegetables taste the best in this baked ziti recipe?
Adding veggies is a great way to add some bulk and nutrients to baked ziti! My advice would be to roast or saute the vegetables first, drain the liquid, and then mix in with the ziti. You can also purchase bags of frozen vegetables, cook in the microwave, drain, and then add to the ziti.
I highly recommend trying some:
Zucchini
Mushrooms
Eggplant
Spinach (I like to mix this in with the ricotta cheese)
Artichokes
Onions
Which meats go well in this pasta dish?
I usually how with some Italian sausage or ground beef. But, if you are looking to keep this Italian dish low fat, I recommend using lean meats like lean chicken sausage or turkey meatballs.
Can I use gluten-free pasta?
Yes, you can. However, gluten-free pasta tends to get mushy when baked in a sauce so I recommend making sure it's cooked very al dente and rinsed well before using in baked ziti. My mom actually made it one time with gluten-free pasta and I could barely tell the difference so this recipe can be made without gluten no problem.
Can I make this baked ziti recipe meatless?
Yes, you don't have to add meat to a baked ziti recipe. Just leave it out of the recipe or swap it out for more veggies!
How long does it take to cook baked ziti?
If you're going to cook a baked ziti using 1lb of pasta, then the recipe will cook perfectly in a 375-degree oven for 1 hour. You'll want to cook it covered and then remove the cover with about 5 minutes left to cook.
Covering it keeps the cheese from cooking faster than the ziti. Removing the foil gives the cheese time to finish cooking and brown a little.
If you're making a large batch of baked ziti like 2-3 pounds, basically doubling or tripling the recipe, then it will cook 1 ½ – 2 hours in a 375-degree oven.
You know the baked ziti is down when it's hot in the middle and the sides are bubbling.
Healthy Baked Ziti Recipe With Sausage
Alright, let's get to this delicious recipe!
You will need:
Whole wheat ziti or penne
Fresh chicken Italian sausage, casings removed
Part-skim ricotta cheese
Egg
Romano or parmesan cheese, grated
Garlic powder
Onion powder
Italian seasoning
Salt
Pepper
Spaghetti sauce
Mozzarella cheese, shredded
Note: Grab the exact measurements for all of these ingredients in the recipe card below 😉
How To Make This Easy Baked Ziti In The Oven
The first thing you're going to do is cook the pasta and sausage (if you're using). The trick with any baked pasta dish is to make sure the pasta is cook very al dente – it should still have quite a bite to it. This helps to keep the pasta from getting mushy as it bakes in the oven!
After the pasta and sausage are done, place into a 9×13 pan.
Make The Ricotta Filling
Next, put together the ricotta mixture. This is where a lot of the flavor comes from in a baked ziti dish.
I mix together part-skim ricotta cheese, large egg, romano or parmesan cheese, garlic powder, onion powder. Italian seasoning, salt, and pepper. After you mix all the ricotta ingredients together, give it a small taste for salt. If needed, add a little more salt.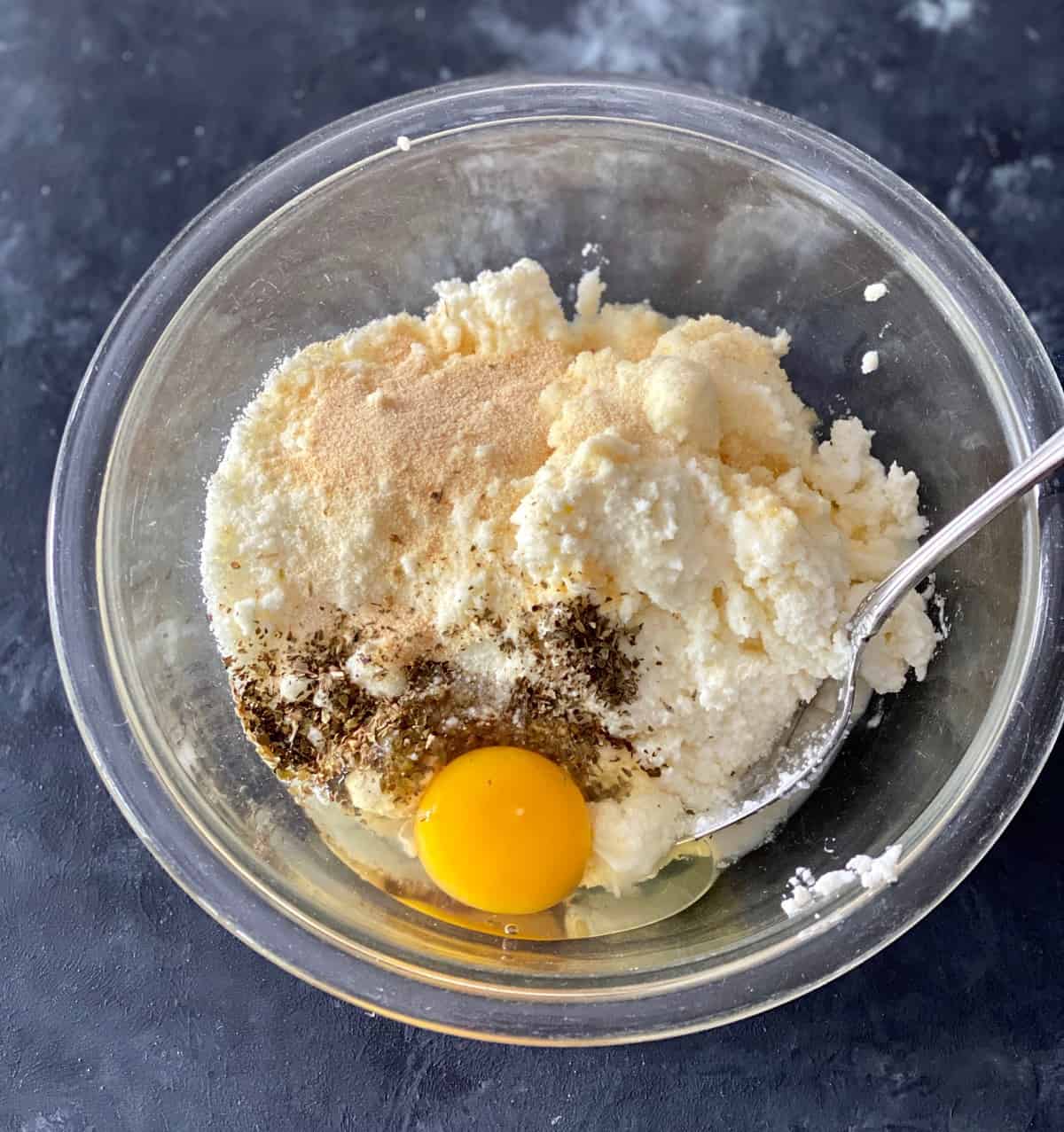 Combine All Of The Ingredients
Mix the ricotta mixture in with the pasta, sausage, and 3 cups of sauce. Add more sauce if needed. All of the pasta should be coated with sauce and ricotta cheese.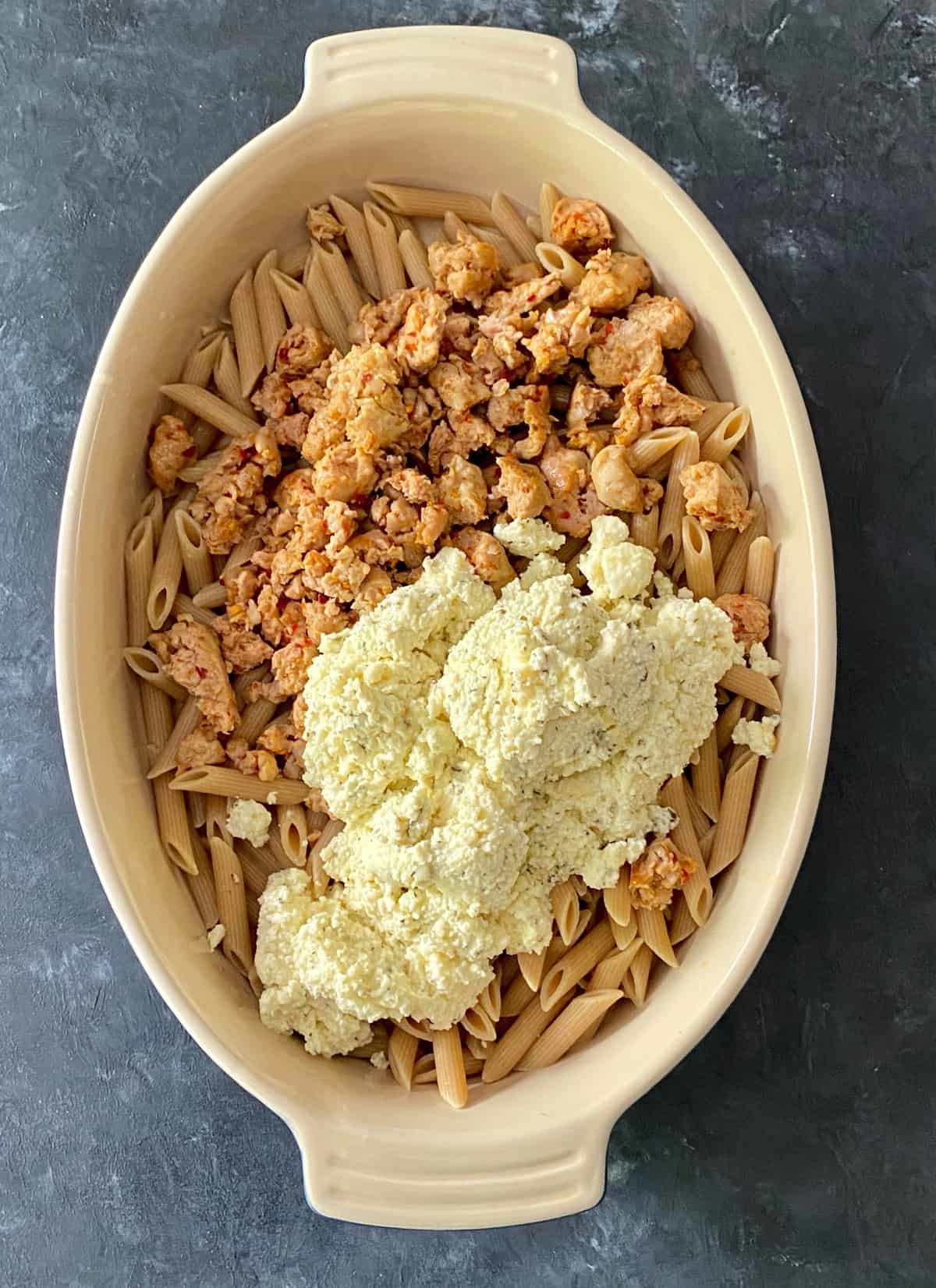 Add The Cheese
Sprinkle the mozzarella cheese on top (remember to measure out the cheese). Then, cover with foil and bake for 1 hour in a 375-degree oven.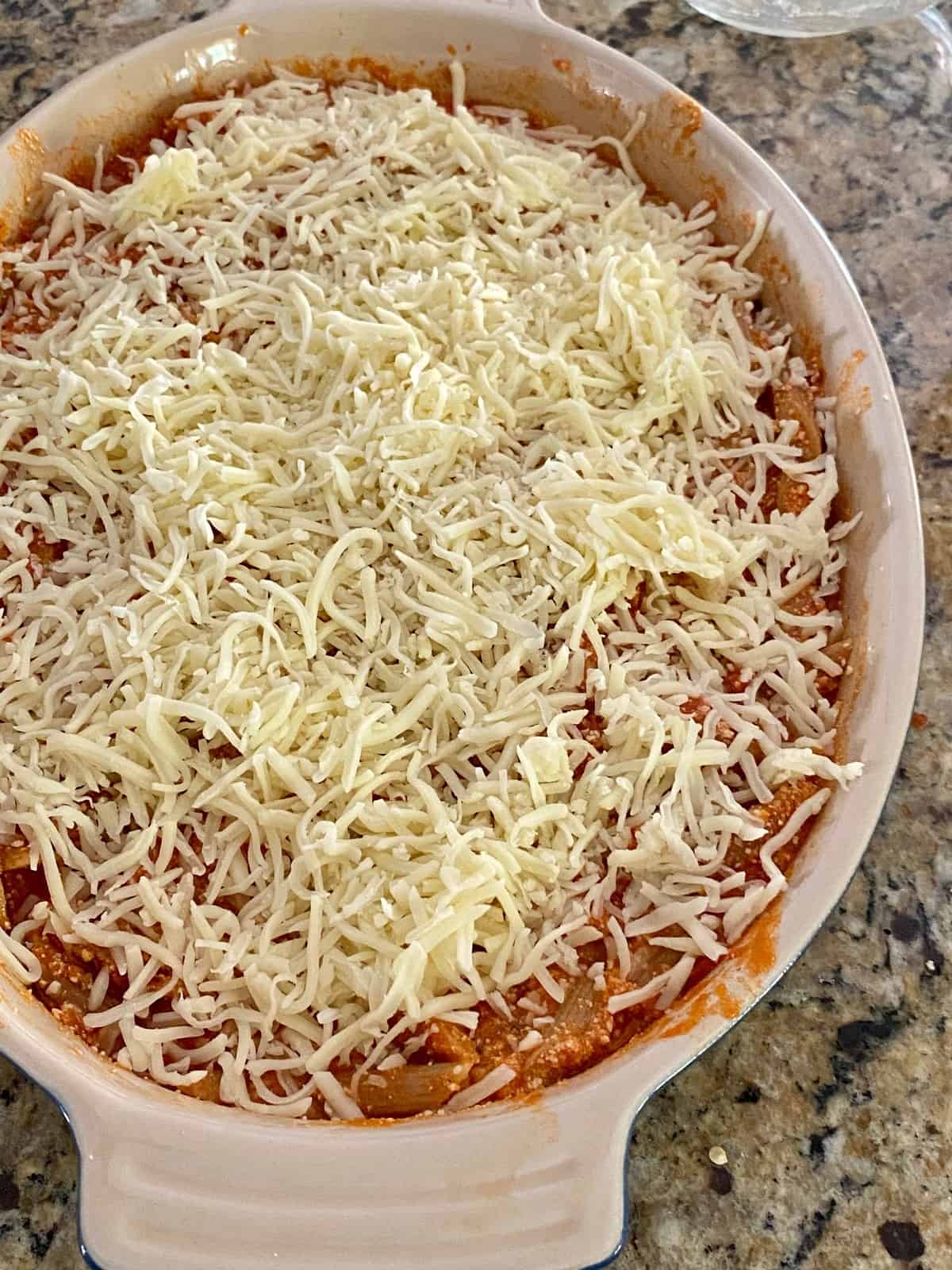 Bake The Baked Ziti Dish
You're going to take the foil off with about 5 minutes left. This gives the cheese a chance to melt and get all ooey-gooey. It's done when it's hot in the middle, cheese is ooey-gooey, and the sides are hot and bubbly!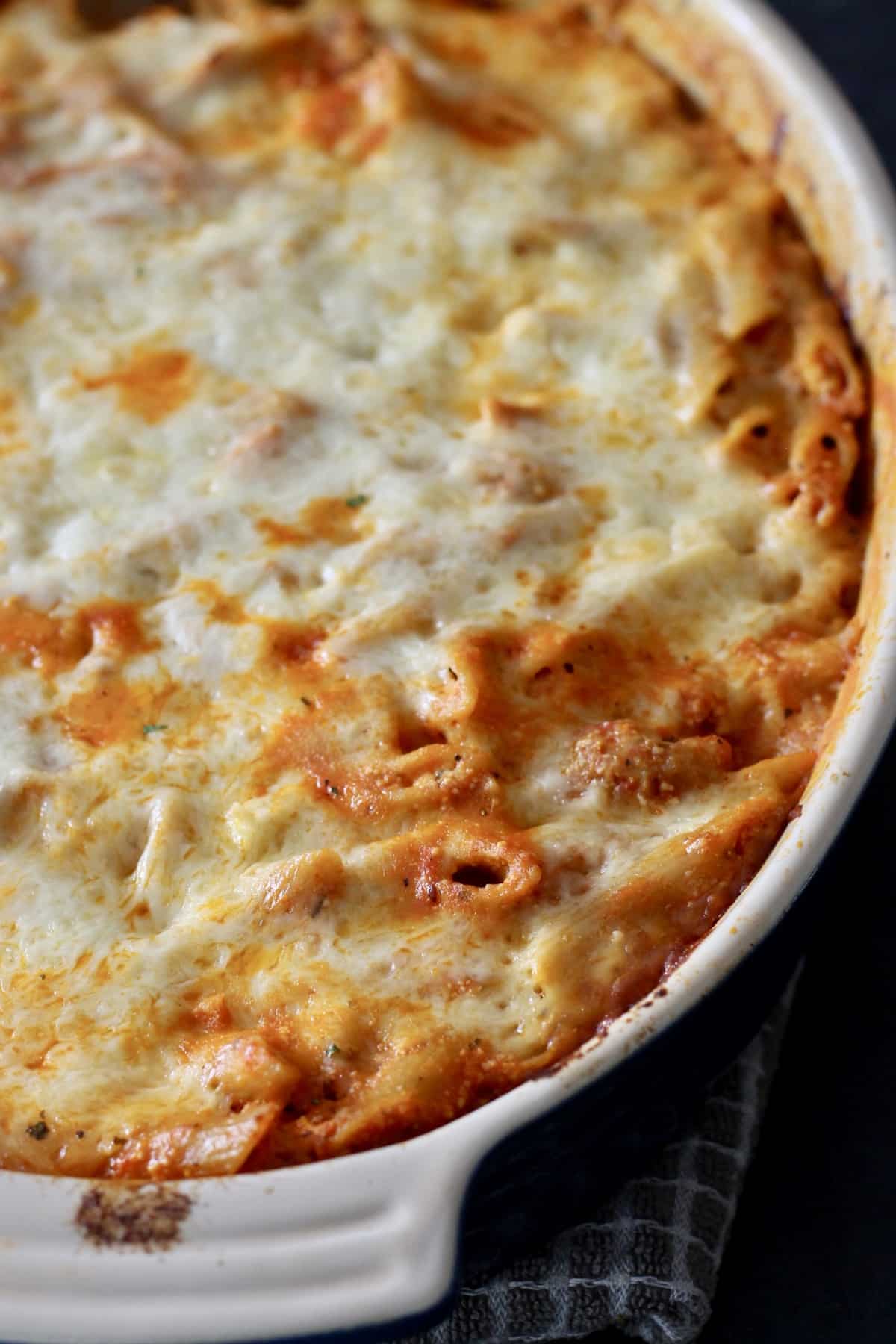 How To Meal Prep Baked Ziti Ahead Of Time
Baked ziti is so easy to make but if you want to make ahead of time, here are the 3 different ways to do that.
Assemble the baked ziti, cover, and refrigerator. I do this whenever I make it for parties. A day or 2 before I'll put the baked ziti together so all I need to do is stick it in the oven on party day.
Cook components and assemble on the day I want to cook the baked ziti. For example, if I'm using sausage, I can cook that a day or so ahead of time. Same with the pasta or the ricotta mixture. I can get the components ready and just mix everything together and baked the night we are going to eat it.
Assemble and freeze. I love freezing casseroles in bulk to eat down the road! Baked ziti is one of those recipes. You can read more about freezing baked ziti, and other casserole recipes, in this blog post all about freezing casseroles. Again, if you do freeze baked ziti ahead of time, just make sure to plan for thawing time when you want to cook it.
Cooking Notes:
If you made it ahead of time and refrigerated, it's likely you'll need to add an extra 20 -30 minutes of cooking time.
If you freeze the baked ziti I strongly recommend letting it thaw completely in the refrigerator (which takes about 2 days) before cooking it. You can cook it frozen but it will take close to 2 ½ – 3 hours to cook completely.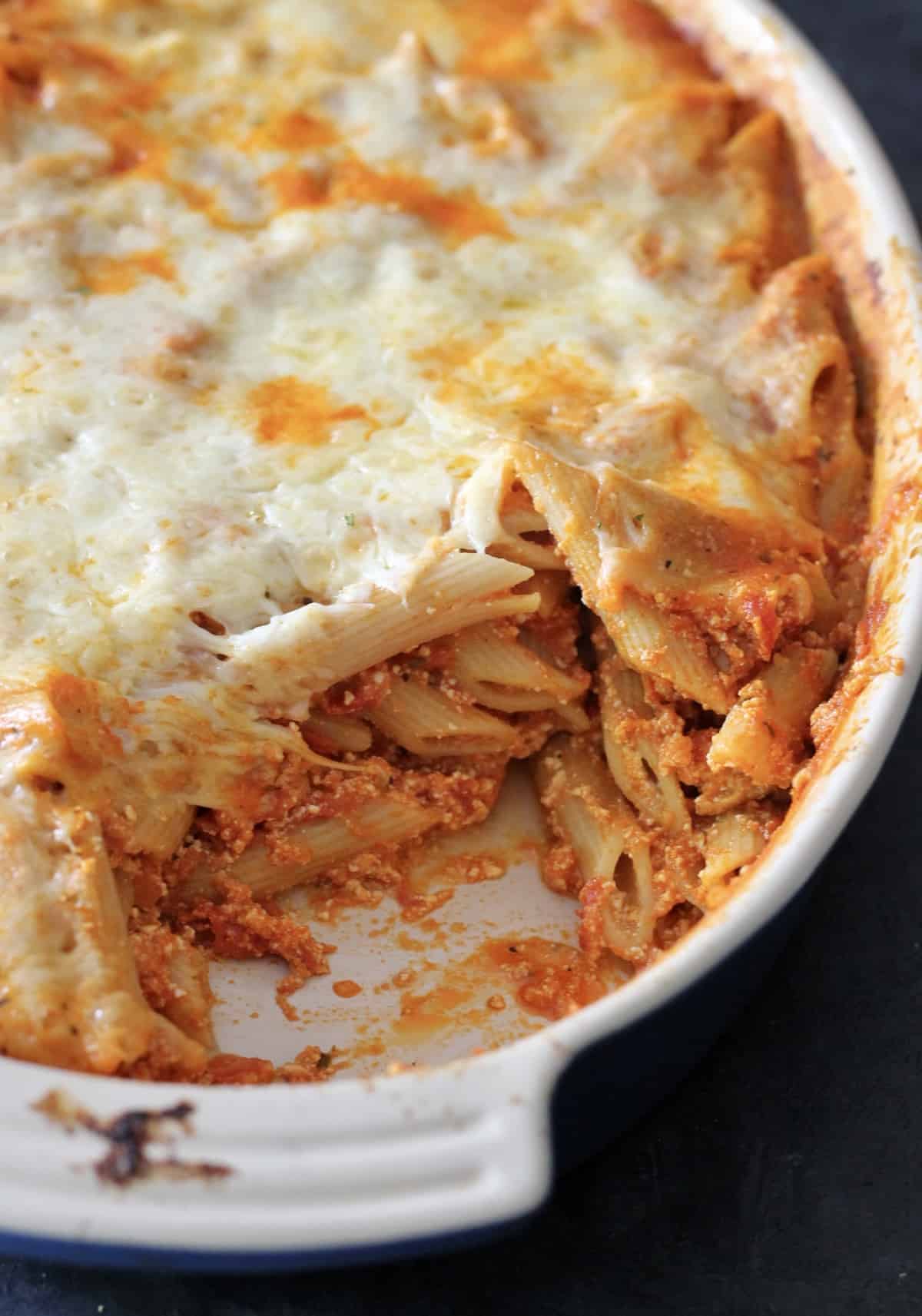 More Italian Dinner Recipes
This recipe for Italian baked ziti has become a family favorite real quick and I'm here for it! Not only is it simple to make but it's a delicious dish packed full of some Italian goodness.
If you are looking for a couple of more Italian themed recipes, take a look at this list:
This baked ziti recipe is lightened up comfort food at it's finest. Share a picture and tag me on Instagram or Facebook if you decide to try making this classic Italian recipe! 

Baked Ziti
Baked ziti is the ultimate Italian comfort food. This classic dish is lightened up and features a pasta baked along with a tomato sauce, two kinds of cheese, and an optional ground meat.
Author:
Organize Yourself Skinny
Recipe type:
casserole, pasta recipe
Ingredients
1 lb of whole wheat ziti or penne
1 lb fresh chicken Italian sausage, casings removed
1 15-ounce container of part-skim ricotta cheese
1 large egg
½ cup grated romano or parmesan cheese
1 teaspoon garlic powder
1 teaspoon onion powder
1 teaspoon Italian seasoning
½ teaspoon salt
½ teaspoon pepper
3 - 4 cups spaghetti sauce
2 cups shredded mozzarella cheese
Instructions
Bring a 5-6 quart pot of salted water to a boil. Add the pasta and cook for 5-6 minutes. The pasta should still have a bite to it after it cooks. This helps keep the pasta from getting mushy.
Drain the pasta and rinse. Place the pasta into a 9 x13 baking dish.
While the pasta is cooking, use a medium pan to cook the chicken sausage until no longer pink and cooked all the way through, about 7-9 minutes. As the sausage cooks break it into small pieces. When the sausage is cooked place it into the baking dish along with the pasta.
In a medium bowl mix together ricotta cheese, egg, romano or parmesan cheese, garlic powder, onion powder, Italian seasoning, salt, and pepper. Give it a little taste for salt. If it needs more then add ¼ teaspoon or more.
Mix the ricotta cheese mixture and 3 cups of spaghetti sauce in with the pasta and sausage. The pasta should be covered with sauce and cheese mixture. If it seems dry then add in a little more sauce.
Sprinkle mozzarella over the top of the ziti.
Cover with foil and bake for 55 minutes. Uncover and bake for another 5 minutes or until cheese is melted and the baked ziti is bubbling on the sides.
Nutrition Information
Serving size:
1¼ cup servings
Calories:
420
Fat:
18
Saturated fat:
6
Carbohydrates:
40
Fiber:
6
Protein:
25
Get Instant Access to My Best Weight Loss Tips & Strategies!
Sign up now for a free step-by-step 7-day email course that I created exclusively for my email subscribers! That's you. I will teach the best habits, strategies, and insider tips so you can enjoy a lifestyle that encourages and supports weight loss! Stop relying on willpower and take control back over your life! You can do this. Let me help!