Everything you love about pizza baked into a wholesome lightened-up make-ahead casserole.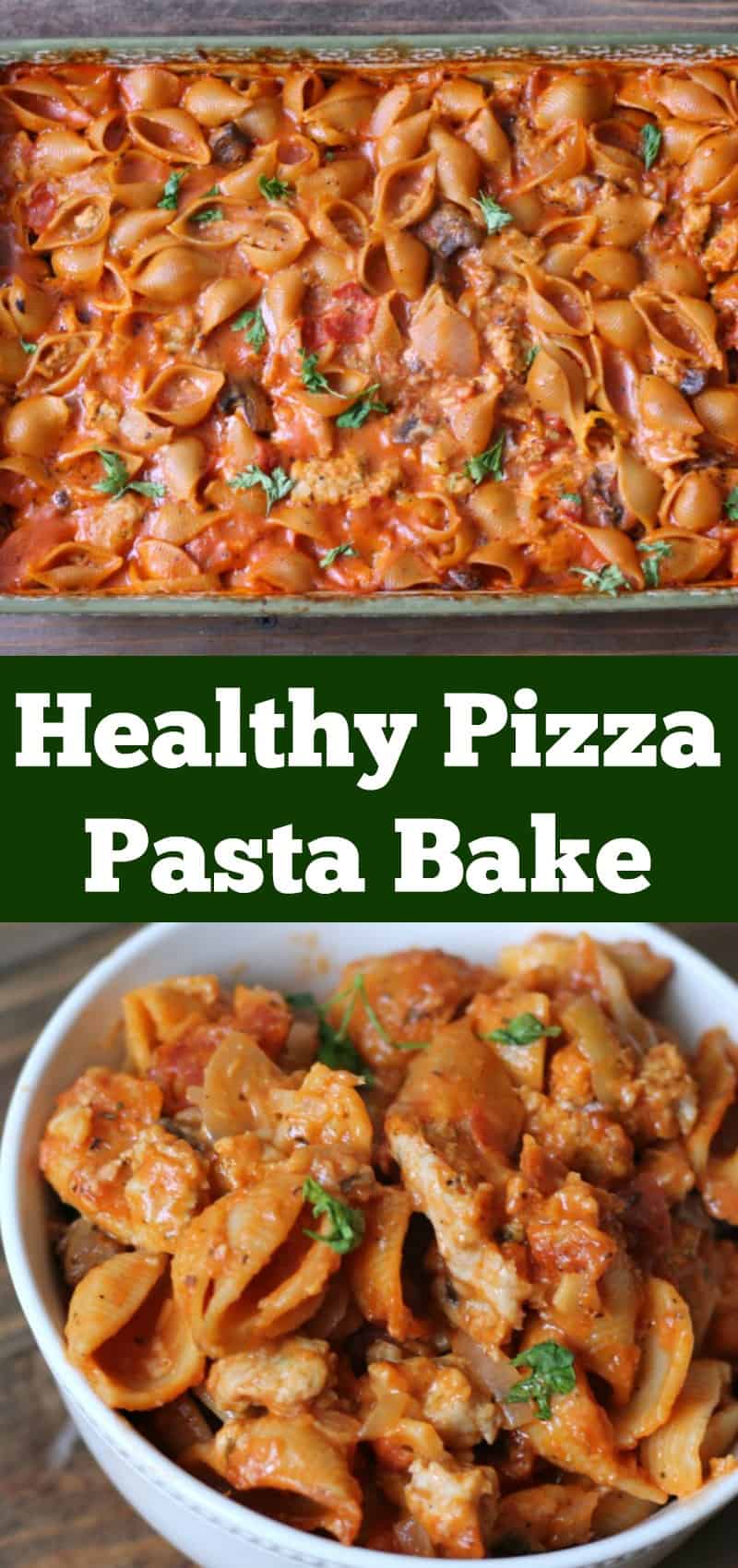 I know we are heading into the New Year, and many of you are stocking up on low-carb recipes, but I also know most of us can't pass up a delicious lightened-up healthy pasta bake! No matter what time of the year. I know things!
Ironically, the inspiration for this recipe came to me while I was running on the treadmill at 6:30am in the morning. I have no clue, or control, why certain foods (or ideas) pop into my head while I run but they do and I'm grateful for that. I have solved many business and life decisions during my 45 minute hamster imitation.
Anyway, after I finished running I wrote out my recipe idea and headed to Wegmans (in all my sweaty smelly glory) to pick up the ingredients. I started to prepare this healthy pizza bake as soon as I got home which means I was cooking a casserole at around 8:00am. The life of a food blogger.
This recipe begins by cooking the pasta al dente. It's important to not overcook the pasta when making any type of pasta bake. By doing so you risk a mushy mess. I get the perfect baked pasta every time by cooking the pasta for exactly 6 minutes in boiling water. The pasta can be cooked ahead of time if you want.
After the pasta was cooked I placed it in a 13 x 9 casserole dish. Next I cooked the sausage, mushrooms, onions, and garlic in my 6-qt Le Creuset. This is the pot I used to cook the cheese sauce in too.
I always use chicken sausage. All of my local grocery stores carry fresh chicken sausage and it's delicious. It works perfectly in any recipe that calls for Italian sausage and reduces the fat and calories tremendously.
I put the cooked ingredients on top of pasta and got started on the cheesy pasta sauce. Before I talk about the cheesy sauce let's talk about the other ingredients. This is a pizza bake which means it calls for ingredients you would like to have on a pizza. I used sausage, pepperoni, banana peppers, mushrooms, and onions but you can throw any ingredients in this pasta bake.
To lighten this pasta bake I also used turkey pepperoni instead of regular. This reduces the calories even more without losing flavor.
Okay let's move onto the sauce. I used the same base that I did for this pasta bake but added in 2 cups of pizza sauce and used mozzarella cheese. It turned out fantastic! For the pizza sauce I recommend making your own or splurging on a high quality brand like Delallo or Rao pizza sauce. Trust me, it makes a huge difference.
After I cooked the pizza cheese sauce I poured it over top of the ingredients and stirred it up until everything was coated with sauce.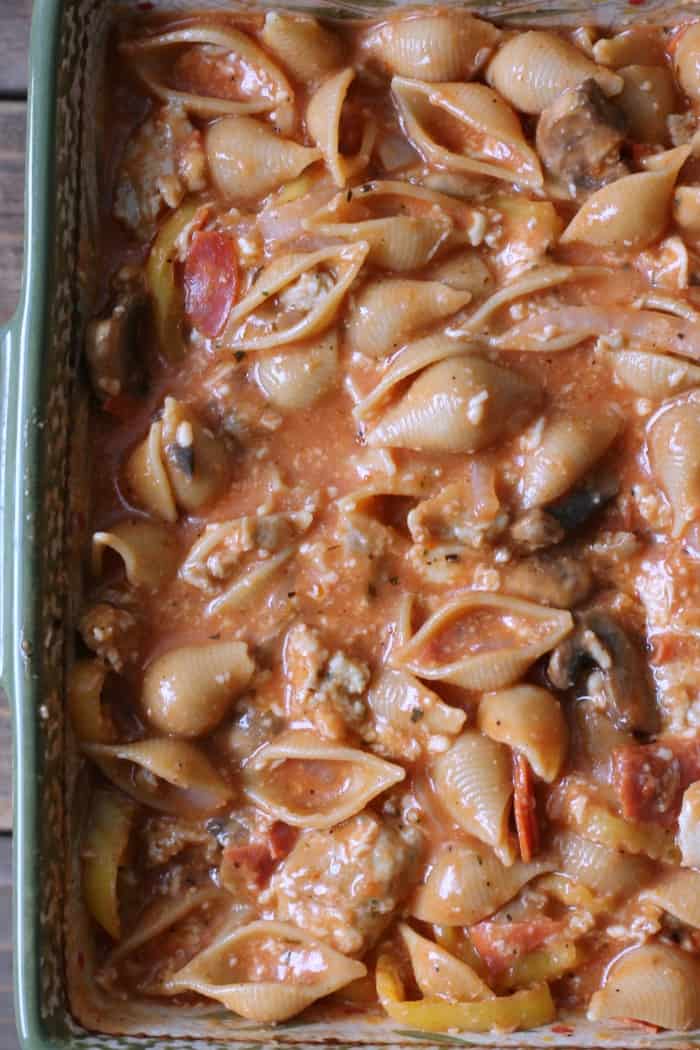 I covered the pizza pasta bake with foil and baked for 55 minutes in a 350 degree oven. Then I took the foil off and baked for another 1o minutes.
This lightened-up comfort food recipe smelled delicious as it baked.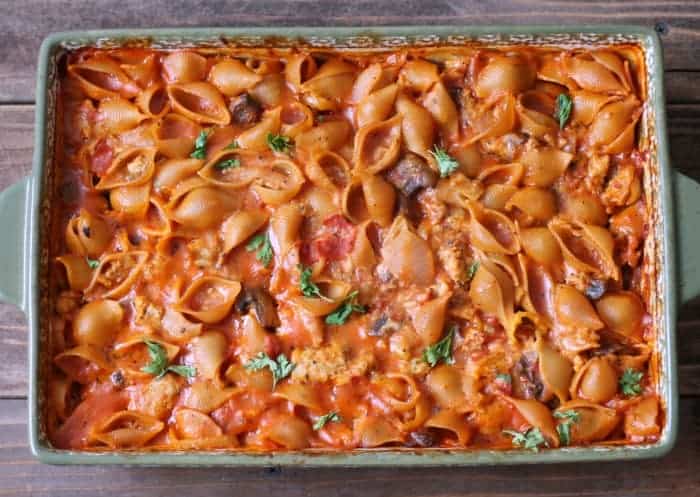 This pizza pasta bake turned out creamy but not thick creamy. The sauce clung to the pasta and other ingredients but without tasting heavy. I absolutely loved it and it was a huge hit. This pasta bakes makes a ton so I sent some home with a friend. Everyone loved this recipe.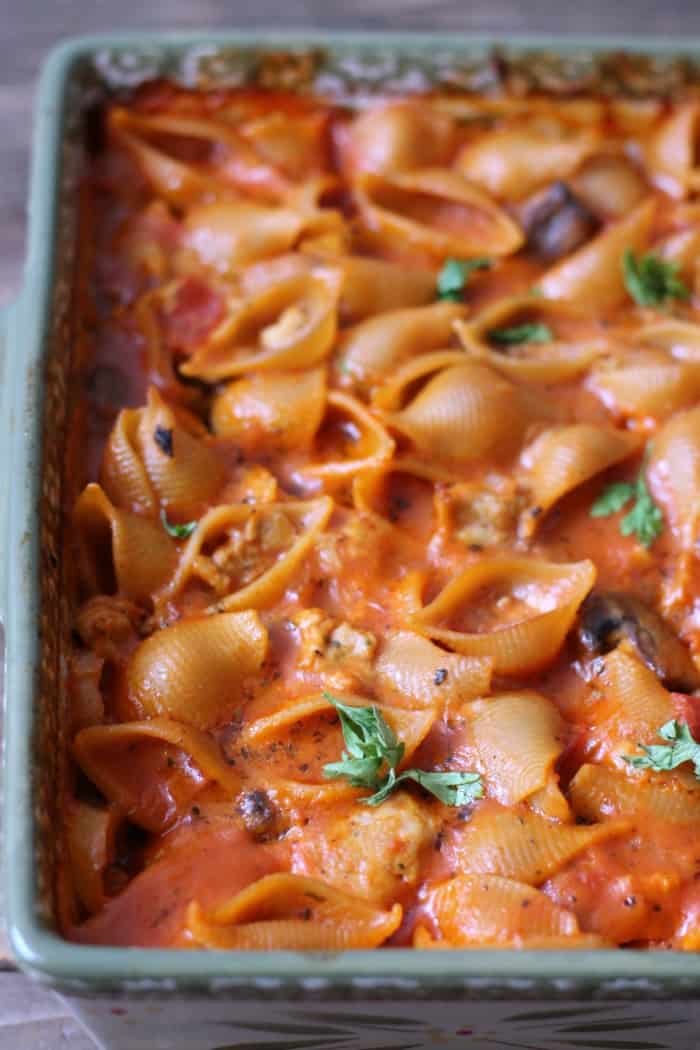 The flavors are out of this world. The sauce is super tasty and the chicken sausage and other ingredients have this pasta bake bursting with all kinds of flavors. If you love comfort food recipes, but are trying to eat healthier, then add this lighten-up pizza pasta bake to your meal plan. A serving is about 1 1/4 cups and only 387 calories per serving. Enjoy this with a light salad and you'll be good to go.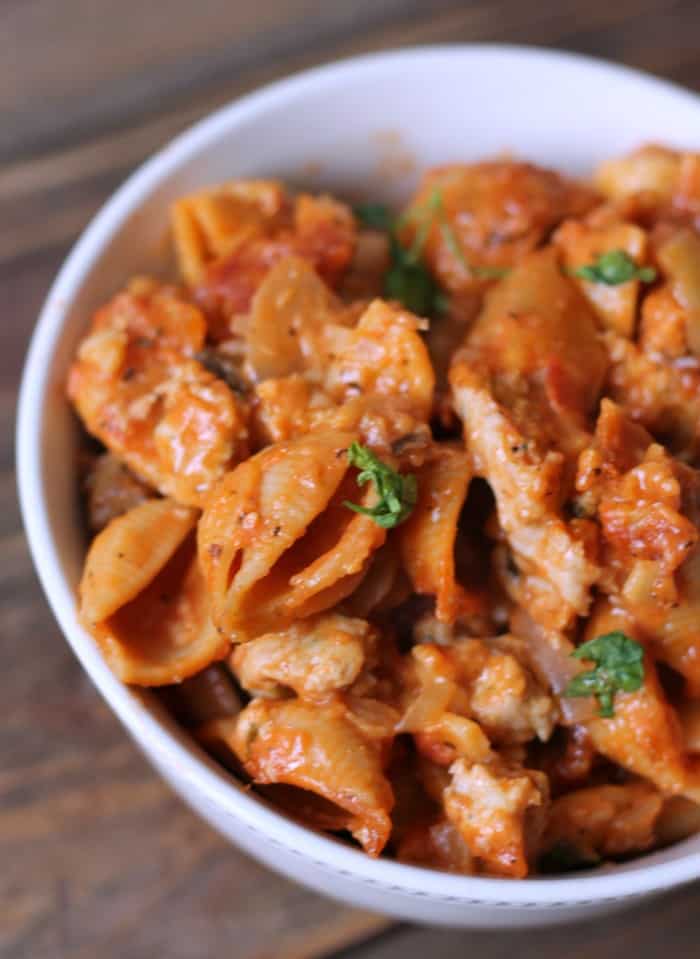 This pasta bake can be made ahead a couple different ways. First, you can prepare the pasta, sausage, and sauce ahead of time and then combine all the ingredients to bake when you're ready to cook it. Or prepare the recipe entirely ahead of time, portion out, and freeze. This is a great way to have a portion control healthy dinner ready ahead of time. I recommend these meal prep containers.
If you make this recipe please share it with me on Instagram using hashtag #OYSrecipes or share it in the OYS private Facebook group.
Ingredients
1

lb

whole grain medium pasta shells

2

tablespoons

olive oil

1

lb

chicken Italian sausage

casings removed

1

medium onion

chopped

3

garlic cloves

chopped

1

10-ounce package sliced mushrooms

1

teaspoon

italian seasoning

1/4

teaspoon

salt

1/2

teaspoon

ground pepper

1/2

cup

banana pepper slices

drained

1/2

cup

turkey pepperoni

chopped

2

cups

chicken broth

1

cup

1% milk

3

tablespoons

white whole wheat flour

2

cups

pizza sauce

1

teaspoon

granulated garlic

1

teaspoon

onion powder

1/2

cup

grated parmesan/romano cheese

3

cups

shredded mozzarella cheese
Instructions
Preheat oven to 350 degrees.

Cook pasta in bowling water until al dente, about 6 minutes. Drain and put into a 9 x 13 casserole dish.

In a 6-quart pot heat 1 tablespoon of olive oil until hot and cook sausage until no longer pink. Break the sausage into small pieces as it cooks. Place the sausage on top of the pasta.

Using the same pot heat the other tablespoon of oil and cook the onions until translucent. Add in the mushrooms and cook until softened. Add in the garlic and cook for another 1 -2 minutes. Stir in the Italian seasoning, salt, and pepper and cook for another minute. Pour the vegetables in with the pasta and sausage.

Add the banana pepper slices and turkey pepperoni in with the other ingredients.

Next make the cheese sauce. Using the same pot, pour in the the chicken broth and milk. Whisk in the flour and bring to a slow simmer and then simmer for about 10 minutes. Continue to whisk so the flour doesn't stick to the bottom and burn.

Stir in the pizza sauce, granulated garlic, onion powder, and grated cheese. Continue to simmer until the sauce is hot.

Stir in the mozzarella cheese. When the cheese is melted pour the sauce over all of the ingredients in the 9 x 13 casserole dish. Stir all the ingredients together until everything is coated with the sauce.

Cover the casserole with foil and bake for 55 minutes. Remove the foil and bake for another 10 minutes.

Serve hot with a salad.
Notes
sugars: 6
Make-ahead Instructions
This recipe can be made ahead of time a couple different ways. First you can make the pasta, sausage, sautéed vegetables ahead of time and then make the cheese sauce the day you put the casserole together. Second, you can make the casserole completely ahead of time and then portion out and freeze for a quick dinner. Warm up in the microwave. It also keeps great in the refrigerator for up to 5 days.
Nutrition
Serving:
1
g
|
Calories:
387
kcal
|
Carbohydrates:
38
g
|
Protein:
28
g
|
Fat:
12
g
|
Saturated Fat:
5
g
|
Fiber:
2
g